Top 5 Fertility Clinics for IVF in Dubai
Featured Image Source: John Looy via Unsplash
When the "usual" way of getting a kid doesn't work, you can try other paths. One of them is IVF, short for in vitro fertilization, which is an alternative method of impregnation involving the union of the egg and the sperm outside of the body.
IVF can be effective but scary, and requires the top medical talents to be successful. To help you make an informed decision, we made a list of the best fertility clinics in IVF in Dubai, as well as a price table of their services and a guide to help you choose the best one for your needs.
How Much Do IVF Services Cost in Dubai?
The IVF procedure is made up of various processes needed to set up a successful fertilization, with each process being charged separately. See below for the table of the usual rates:
| | |
| --- | --- |
| Initial consultation | AED250 – AED750 |
| Gynecological scan | AED300 – AED500 |
| In vitro fertilization (IVF) | AED12,500 – AED20,000 |
| Intracytoplasmic sperm injection (ICSI) | AED16,000 – AED20,000 |
| Artificial insemination | AED200 – AED400 |
| Ovulation induction | AED1,500 – AED2,500 |
| Egg storage | AED1,500 – AED2,500/year |
The Best Fertility Clinics for IVF in Dubai
The success rate for IVF decreases by the minute — let's now head to our roundup of the best fertility clinics for IVF in Dubai! Note that the list is in no particular order.
By the way, be sure to read on after the list for our guide on choosing the best clinic for you.
1. Orchid Fertility Clinic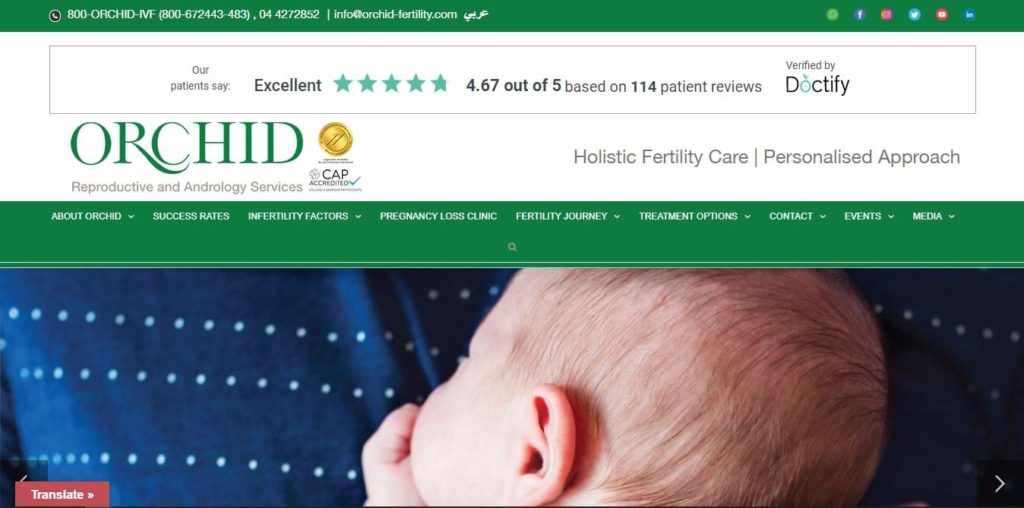 | | |
| --- | --- |
| WEBSITE | http://orchid-fertility.com/ |
| ADDRESS | 4016 Block E, Building # 64 Street # 15, Oud Metha Road, Dubai Healthcare City, Dubai, United Arab Emirates |
| CONTACT DETAILS | +971 4 437 7520 [email protected] |
| OPERATING HOURS | Everyday: 7:00 AM – 7:00 PM |
Given how IVF procedures can be intimidating throughout (and after) the process, we're highly impressed with the level of support that Orchid Fertility Clinic provides.
Their services are grounded in caring for the welfare of the patients both through healthcare and lifestyle. When you're a patient under their IVF treatment, you'll constantly be in communication with them not only to keep you in the know with the procedure but also to ease you in throughout the entire process.
It shows even in the off chance of failure, as they have a dedicated pregnancy loss clinic that treats you physically and mentally to help you cope.
The cherry on top is that Orchid opens its doors everyday for 12 hours, so they're always ready to treat you. In other words, Orchid is excellent for the constant professional support they give to their IVF clients.
While their IVF services are notable, they're more focused on other fertility treatments, so you may have to wait a little while for their staff to open up and accommodate your IVF needs.
Once you do experience their services, you'll know why they deserve a spot here among the best fertility clinics for IVF in Dubai.
Medical and lifestyle management during procedure
Postnatal support
Everyday 12-hour availability
More focused on other methods than IVF
Customer Reviews
Under Orchid's care, Olga Gemin was able to get beautiful twin baby boys:
"Would like to thank Orchid Fertility team, especially Dr Dimitrios for the journey that allowed me to have my twin baby boys.
Dr Dimitrios set the diagnosis quickly and precisely that allowed to establish the treatment plan which worked on the first attempt.
Along the way I was provided continuous support by the doctor and the team of nurses, on the level that was tailored personally for me. Clinic does not practice"one fits all" approach and keeps the track of the patient even after the desired pregnancy is achieved.
Would highly recommend Orchid fertility Clinic and specifically dr.Dimitrios to anyone who is considering having a child."
An initially daunting twin pregnancy became comfortable and exciting for Nelitess del Rosario with Orchid:
"I'm currently on my 36 weeks of twin pregnancy after the successful IVF session with Dr. Dimitrios Kafetzis of Orchid Fertility. Before our lives completely change upside down with the coming of our twins in the next few days, we would like to thank Dr. Dimitrios for his expertise and hands-on service with us since day one. The procedure may sound complicated but he made the experience very simple to deal with. Hence, here we are now enjoying the last few days of being two-gether as we are about to become a family of four with the help of Dr. Dimitrios and Orchid fertility family. To Dr. Dimitrios, may God bless your expert hands to help more couple who are longing for a succesful pregnancy. We wish you more power and the rest of the Orchid fertility family!"
2. Bourn Hall Fertility Clinic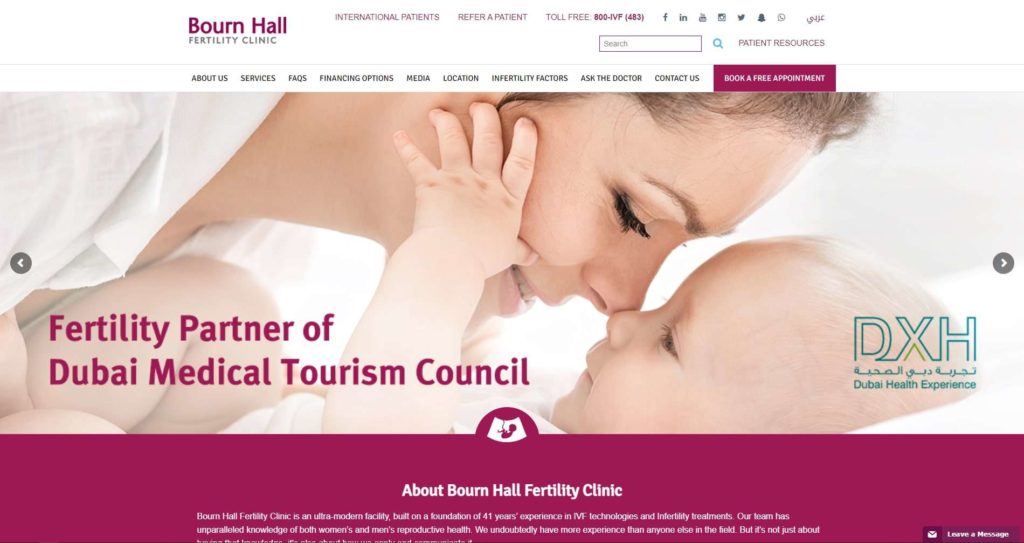 WEBSITE
https://www.bournhall-clinic.ae/
ADDRESS
Al Hudaiba Awards Buildings Block C, 7th Floor Jumeirah P.O. Box 113931, Dubai, UAE
CONTACT DETAILS
+971 4 705 5055

[email protected]

OPERATING HOURS
Monday – Wednesday: 8:00 AM – 8:00 PM Sunday, Thursday: 8:00 AM – 6:00 PM Saturday: 8:00 AM – 4:00 PM
If "nothing's better than the original," then it's obvious why Bourn Hall Fertility Clinic is part of our roundup.
Their facilities and experience are as old as IVF itself — and that's because the clinic is established by the very founders of IVF: Robert Edwards and Patrick Stepfoe.
Having dipped in the waters of IVF longer than practically anyone else, Bourn Hall is the most experienced and advanced fertility clinic for IVF not just in Dubai but in the world, which should be assuring to even the most critical of IVF skeptics.
While not necessarily indicative of their proficiency in IVF, it's worth pointing out their beautiful location in Jumeirah. Being near the top landmarks in Dubai makes them easy to find too.
With all that said, it's very difficult to avail of Bourn Hall's services, since they're accommodating a large clientele across the world.
But when it's your turn, you can expect no less than the best, so they're ultimately worth it.
Founded by original IVF creators
Latest IVF expertise and technologies
Attractive, comfortable atmosphere
Hard to avail of services due to high demand
Customer Reviews
Where another failed many times, Bourn Hall succeeded with only one try for Rona de la Cruz:
"After a couple of failed IVF rounds with another clinic, I had a positive result with Dr. Shazia Magray on my first cycle with her. She is truly great, she would lay everything out for you, explain every option, its pros and cons. You would feel her sincerity and compassion, that she really wants whats best for her patients, she will do everything to make sure you get the best results. I gave birth to my baby a few weeks back, and I have her to thank. She comes highly recommended, truly genuine, a perfectionist. She really is the best.
The facility is impressive, I had my treatment during the peak of the pandemic and I still felt safe. The staff, nurses, and embryologists are all kind and helpful, they do their jobs and they do it very well."
According to Prin Mendoza, she received no less than the best under Bourn Hall:
"I had my first IVF and it was a success thanks to this clinic esp to Dr Shazia. I have a healthy baby boy! She and the staff made sure that I get the best attention and care during the process. They made the journey easy and worry free. Dr Shazia was very accommodating and perfectionist! She wanted every single detail is okay before we did the transfer. She was patient and didnt hurry the process. Glad I chose this clinic. Highly recommended!"
3. Fakih IVF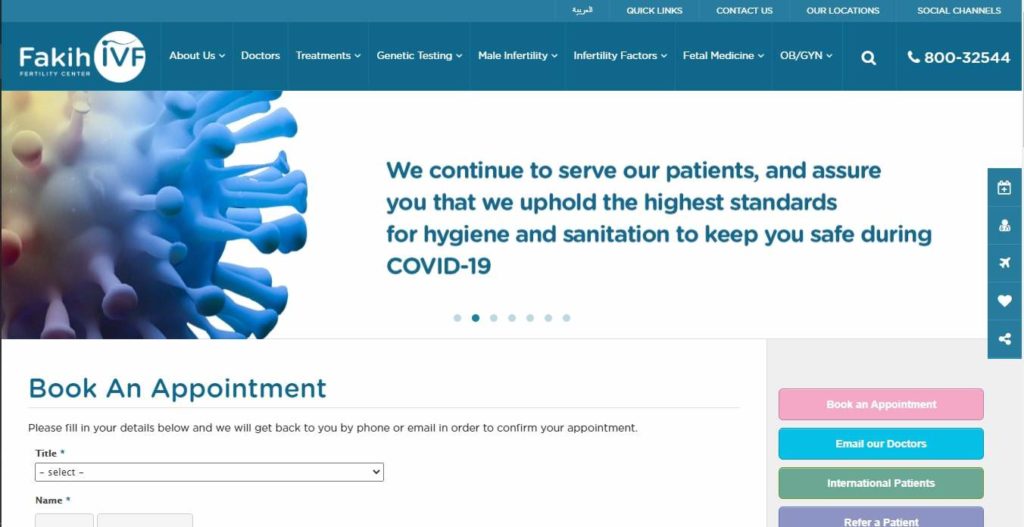 WEBSITE
https://fakihivf.com/
ADDRESS
Al Wasl Rd, – Jumeirah 1, Dubai, UAE
CONTACT DETAILS
+971 4 349 7600
OPERATING HOURS
Saturday – Wednesday: 8:00 AM – 9:00 PM
Thursday: 8:00 AM – 4:00 PM
While the other clinics in our list showcase myriad fertility services, Fakih IVF focuses on IVF treatments.
Its founder, Dr. Michael Fakih, established the clinic to be specialize in IVF treatments. While the clinic itself has been operating for about a decade, it's backed by 30 years of IVF expertise, which makes it almost as old as IVF itself.
Throughout the years, Fakih has developed numerous techniques and technologies to better serve their patients. As a result, another key highlight is how their procedures are highly tailored to each of their patients, ensuring that every detail and issue in their case is precisely addressed.
In fact, one of their chief resources is their genetics laboratory, which can conduct robust assessments on the hereditary aspects of the new life on the way.
If you find yourself looking for alternatives to IVF later, though, you may have to look for an entirely new clinic. Fakih's other services aren't as adept, so it will save you time to enlist the aid of our other entries should you be unsure of IVF.
On the other hand, we highly recommend Fakih if IVF is truly your only option.
Highly specialized in IVF procedures
Custom-tailored procedures in every case
Has in-house genetics laboratory
Other services are not as effective
Customer Reviews
Salamah Sattar was very impressed with the transparency and assurance she received from Fakih:
"Good experience with Doctor Tejashree Singh at Fakih IVF Dubai. Highly satisfied with her service. She's very honest and explains everything in detail. I truly believe she genuinely care for her patients and is very kind, helpful and knowledgeable with her medical plan!"
Vince Ferrer and his wife are very grateful to Fakih for helping create their family:
"Me and my wife had a wonderful experience at FAKIH IVF Dubai. Very welcoming place, you dont had to worried about parking lot.The staff and doctors are warm, friendly and attentive.Each of our appointment was quick and efficient. Thank you Dr ZAKWAN KHRAIT and his personal nurse for bringing happiness in our life.My wife is 2 months pregnant now and It would not have been possible without you. God bless Doctor, hope to see you again next year for our 3rd baby."
4. New Hope Medical Center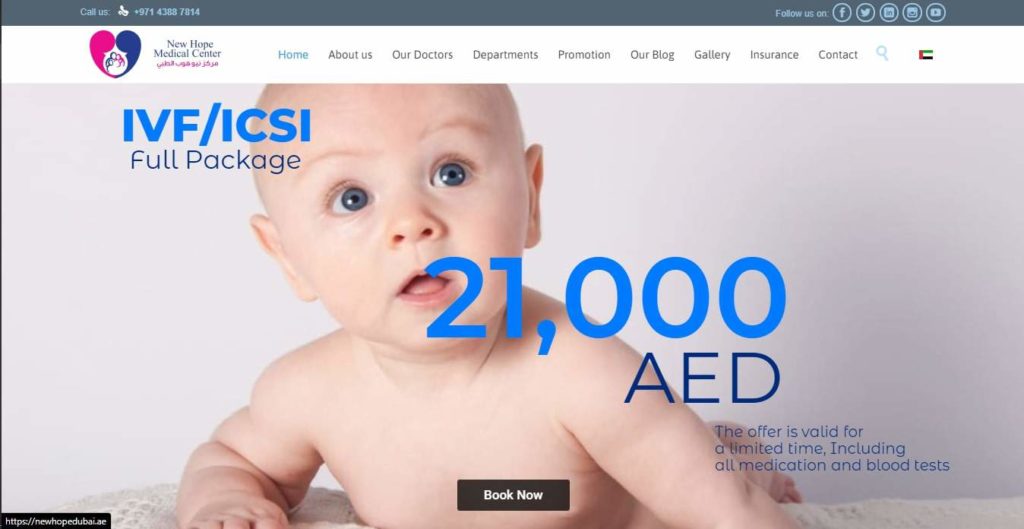 WEBSITE
https://newhopedubai.ae/
ADDRESS
AL Badaa Bldg. C Jumeirah 1 Dubai, UAE
CONTACT DETAILS
+971 4 388 7814


[email protected]

OPERATING HOURS
Saturday – Wednesday: 11:00 AM – 8:00 PM
Thursday: 11:00 AM – 4:00 PM
We listed New Hope Medical Center as one of the best fertility clinics for IVF in Dubai because they're able to simplify IVF for all their patients — and IVF is anything but simple.
The way they handle all their IVF services exude straightforwardness and convenience. They offer IVF, IVF Lite, and Natural Cycle IVF, all of which are explained and conducted plainly so that all patients are able to understand what's happening.
Largely, their convenience comes from their entire hospital staff. Their doctors and nurses are happily reported by former clients to have given them peace of mind and comfort amid the fear brought by IVF.
This is topped by their highly affordable packages, including a 2-in-1 IVF and ICSI package for half the usual price. All in all, New Hope offers their services in a comforting and affordable manner.
What New Hope is lacking in is their experience compared to the other clinics in our roundup. While 13 years of experience in IVF is remarkable, it doesn't shine as much as the decades of experience of other clinics here, which gives others the advantage of credibility and expertise.
For what they offer, however, we simply can't pass up including New Hope in our list.
Simple, convenient services
Friendly, dedicated staff
Affordable packages
Less time doing IVF compared to other entries
Customer Reviews
New Hope's hospitality left a mark on Elaine Villamora:
"I am forever grateful with Dr. Mohamed Eid. He is very supportive and transparent with us all through out the process. He is very informative and keeps a positive outlook that makes you feel secure. Our overall experience is wonderful! The clinic in Dubai is very well maintained, all staffs from the receptionists to nurses, are accommodating and very professional. I highly recommend New Hope Medical Center."
Azizbek Jamoldinov loved the constant support they received even after their treatment in New Hope:
"My experience with Doctor Maher and his assistant was excellent! They're both professional and know what they are doing! Doctor understands me well and follows up constantly that's very nice of him, I'm greatful for that."
5. Samaa Fertilization Center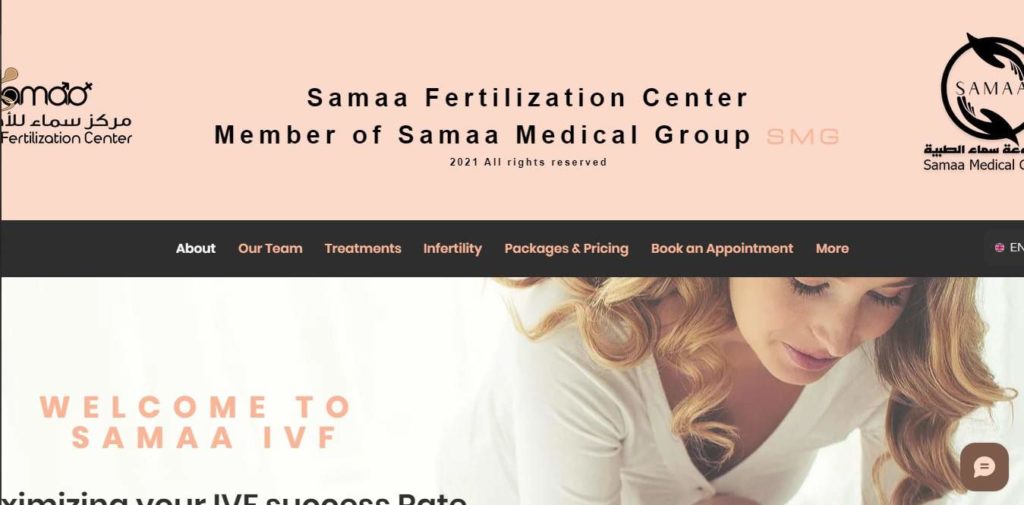 WEBSITE
https://www.samaaivf.com/
ADDRESS
Villa 654, Al Wasl Street, Jumeirah 3, Dubai, UAE
CONTACT DETAILS
Tel: +971 43955288
Mob: 054 4059444
OPERATING HOURS
Saturday to Friday (7 days week)
09:00 AM to 08:00 PM
If you want a clinic that's not only good in IVF but also in all fertility treatments, Samaa Fertilization Center's well-roundedness may be to your liking.
They have over 25 years of experience in fertility treatments. Having encountered multiple cases throughout the years, Samaa is highly capable of dealing with infertility cases and conducting fertility treatments.
This means that if you're indecisive on IVF, Samaa is still a great choice for other fertility treatments. Across all their services, they take pride in giving constant support to their patients.
We can see this in their offered "Narak" program, which accommodates 3 IVF cycles for the price of 1. If you're looking to maximize the success rate of impregnation without having to pay extra for cycles, their program may just be what you're looking for.
They also host a lot of promos for their fertility treatments, including a 25% discount on IVF-ICSI and a 50% discount on IUI. Admittedly, it's not totally clear what all their promos are on their website, so you'll have to inquire about them through a phone call.
A major drawback of Samaa's services is their limited staffing, though, which may lead to long queue times to enjoy their services.
For affordability and cost efficiency, however, we highly recommend Samaa.
Highly experienced in fertility treatments
Cost-effective Narak program
Multiple fertility treatment promos
Long queue times due to limited staffing
Customer Reviews
Ahad Ali never felt left in the dark thanks to Samaa's transparency:
"Highly recommended IVF center in UAE. All the Doctors are competent and facility is amazing along with the lovely nursing staff. Dr Nawal followed me throughout the whole process, explaining everything in ways so we could easily understand the process along the way."
Zohaib Ahmad's experience with Samaa can be summed up as wholesome:
"Samaa IVF i had a great experience. Dr. Shahad (CEO) and the Samaa IVF Doctors and Staff are really the most GENUINE people whom i have met in. They have done us a miracle which changed our life. Thank you SAMAA IVF❤🙏….."
How to Choose the Best Fertility Clinic for IVF in Dubai
The IVF procedure is a very scary endeavor, especially when you don't know which fertility clinic to trust with your reproductive system.
Thankfully, you don't have to know much about IVF to know which fertility clinic is the best for you. Here are some tips to help inform your choice.
1. Verify services
We mentioned earlier that IVF is made up of various processes. Hence, practically every IVF procedure by a fertility clinic is a package deal.
However, it doesn't mean that you go with the fertility clinic that offers the most offerings in a package. Rather, you have to choose the package with the highest level of quality, as these ensure not only higher chances of success but also a greater assurance of safety.
Check their used technologies and certifications to see if they're capable of doing IVF safely. You don't need to know everything used in an IVF — just see if they match top fertility clinics as a baseline.
2. Compare prices
The entire IVF procedure can put a huge dent on your bank account, so you have to go with the fertility clinic that will deliver the best bang-for-buck.
If possible, you should also check what they offer in their packages and determine which ones give you just what you need to lower your expenses.
3. Read reviews
Nothing is as useful as actual reviews by former clients.
What you should look out for is how the clinic treated their customers throughout the entire process, the transparency in how they explain the procedure, and the comfort and convenience they provided during such processes.
FAQs about the Best Fertility Clinics for IVF in Dubai
---
Being infertile need not be an obstacle to having a baby when you hire the services of any one of the fertility clinics for IVF in Dubai that we listed here.
Know any great fertility clinics for IVF that we missed out on? Hit us up with your suggestion and we'll consider adding that clinic to our list!
Oh, and if you're in the search for a cake to celebrate new life, let us help you out with our roundup of the top shops with the best cake delivery services in Dubai.