The 6 Best Options for Hypnotherapy in Dubai
For people having difficulty focusing due to psychological issues and pain management, a hypnotherapy service is what they need. This therapy utilizes a relaxing technique as well as an intensive concentration method.
Now, there are so many options out there, but fret not! Our article today is here to suggest the best hypnotherapy services in Dubai.
How Much Does Hypnotherapy Cost in Dubai
The average rate of hypnotherapy services varies every session. Please take note that it may take several sessions to get results.
The cost of your first hypnotherapy appointment may include an initial consultation and treatment. It may also vary depending on the number of sessions required for the entire therapy.
We've included some basic fees in the table below to give you an idea of how much consultation and therapy fees could cost:
| Procedure or Consultation Type | Estimated Cost |
| --- | --- |
| Initial Consultation | AED 360 - 500 |
| Per Session | AED 440 - 600 |
| Pediatric Hypnotherapy | AED 400 - 900 |
| Package Treatment | AED 900 - 1850 |
| Additional Visit | AED 275 - 700 |
The Best Options for Hypnotherapy in Dubai
The following criteria have been used to evaluate the service described in this article:
1. Positive Living UAE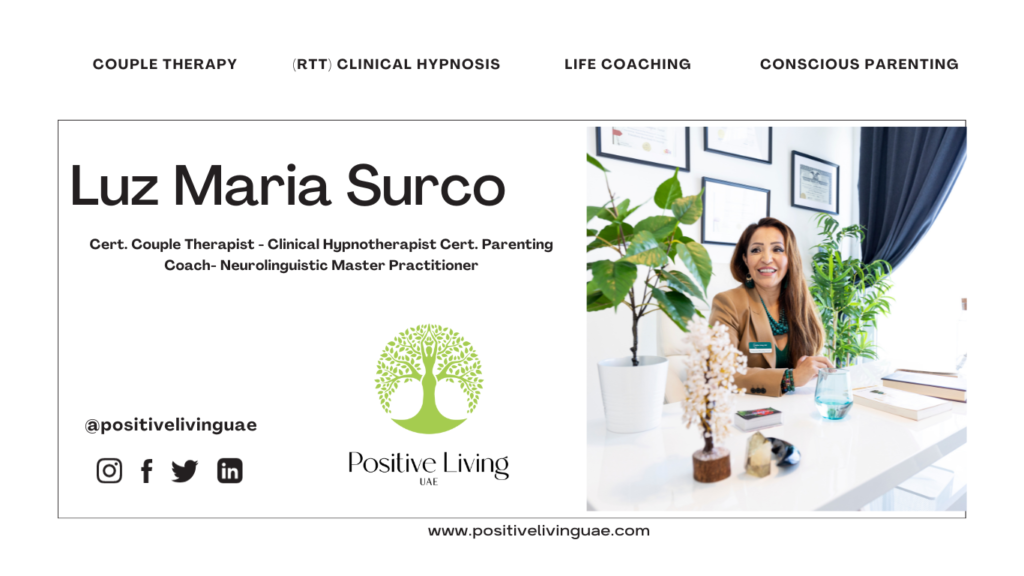 | | |
| --- | --- |
| WEBSITE | https://positivelivinguae.com
 |
| ADDRESS | AKOYA DAMAC HILLS 2 – VARDON, VARDON VILLA 384 – Dubai – United Arab Emirates |
| CONTACT DETAILS | +971 56 795 6416 |
| OPERATING HOURS | Monday: 8:00 AM–9:00 PM Tuesday: 8:00 AM–8:30 PM Wednesday: 8:00 AM–9:00 PM Thursday: 8:00 AM–9:00 PM Friday: 9:00 AM–5:00 PM |
| | |
| --- | --- |
| Criteria | Ratings |
| Expertise | ★★★★★ (5/5) |
| Service | ★★★★★ (5/5) |
| Procedure | ★★★★★ (5/5) |
| Pricing | ★★★★★ (5/5) |
Luz Maria is a Clinical Hypnotherapist with the Rapid Transformational Therapy (RTT)approach.
Rapid Transformational Therapy (RTT) is an innovative therapeutic approach developed by Marisa Peer. It combines various techniques like hypnotherapy, psychotherapy, Theta Healing, and Neuro-linguistic programming to facilitate profound and rapid transformation.
How Does Rapid Transformational Therapy Work?
Rapid Transformational Therapy (RTT) works by delving into the subconscious mind to identify and address the root issues behind a person's challenges. In a personalized session with Luz Maria, the client goes back in time revealing specific memories, and traumatic events to where, when, and how many dysfunctional restricted beliefs were formed in that particular client.
Whether you are grappling with anxiety, battling addictions, or struggling with any other challenges, RTT is designed to usher in lasting change. Engaging directly with the subconscious mind, fosters the creation of new neural pathways, fostering positive behaviors and beliefs. This holistic methodology empowers individuals to break free from the limitations of their old patterns and embrace a more fulfilling and vibrant life.
What Does RTT Help With?
• Lack of Self-confidence
• Sleep issues and Insomnia
• PTSD and Trauma
• Depression
• Panic Attacks
• Smoking
• Fears and Phobias
• Procrastinating Patterns
• Drug and Alcohol Addiction
• Pain Relief
• Addictive Behaviors
Why choose Positive Living UAE?
Highly Qualified Therapists: Luz Maria the CEO of Positive Living UAE, employs a team of highly qualified and experienced therapists who specialize in Rapid Transformational Therapy. Our therapists have undergone extensive training and are certified in RTT, ensuring that you receive the highest standard of care.
Rapid Results: RTT is known for its ability to produce rapid and transformative results. By addressing the root causes of your challenges and facilitating deep healing, RTT helps you achieve lasting changes in a shorter period compared to traditional therapy methods.
Customized Approach: At Positive Living, we understand that each individual is unique, and there is no one-size-fits-all approach to therapy. Our therapists tailor the RTT sessions to your specific needs, goals, and challenges, ensuring a personalized and effective treatment plan.
Holistic Healing: RTT takes a holistic approach to healing, considering the interconnectedness of mind, body, and spirit. It addresses the underlying beliefs, emotions, and thought patterns that may be holding you back, promoting holistic healing and overall well-being.
Empowering Techniques: RTT incorporates a range of powerful techniques from various therapeutic modalities, such as hypnotherapy, cognitive behavioral therapy (CBT), and neuro-linguistic programming (NLP). These techniques help you gain insight, reframe limiting beliefs, and develop empowering strategies for personal growth and transformation.
Holistic Powerful Tools
Tailor Made Programs
Excellent Reviews on Services
Highly Qualified Therapists
Rapid Results
Need Booking in Advance
Availability Might Be a Constraint
Not Direct Billing With Insurances (Reimbursement only available)
Customer Reviews
Good afternoon Luz, I wanted to just send a message as this day 20 years ago, is the day I got shot in my childhood home. I wanted to thank you for how far you've helped me on my healing journey, the Hypnosis session is the best thing I've ever done. I recommend it to so many people. I was once too hurt to even believe in God and within my journey I've realized that he has always been there every step of the way. I never imagined being at this point where I am in life but you and my partner have had the biggest parts to play in that and I just want to say thank you. ❤️❤️❤️❤️
Ms. Mk Dathar
I believe meeting Luz was magic! From the discovery call, I knew I needed her in my life and the Universe made it happen. Throughout all my sessions with Luz, she helped me change my perspective and become more conscious, especially in my relationships with my husband and children. I am not easily triggered now and I come from a place of compassion and understanding in many situations in my life! I am much more self-aware and my mindset has shifted completely. She has helped me lean into my authentic self and that has improved my boundaries with other people. Her program from NLP, Conscious Parenting to Hypnotherapy is one of a kind and I cannot recommend it enough to those who want and need enlightenment and profound changes in their lives. I am forever grateful to Luz and I always enjoy talking to her 🙂
2. Healing with Sree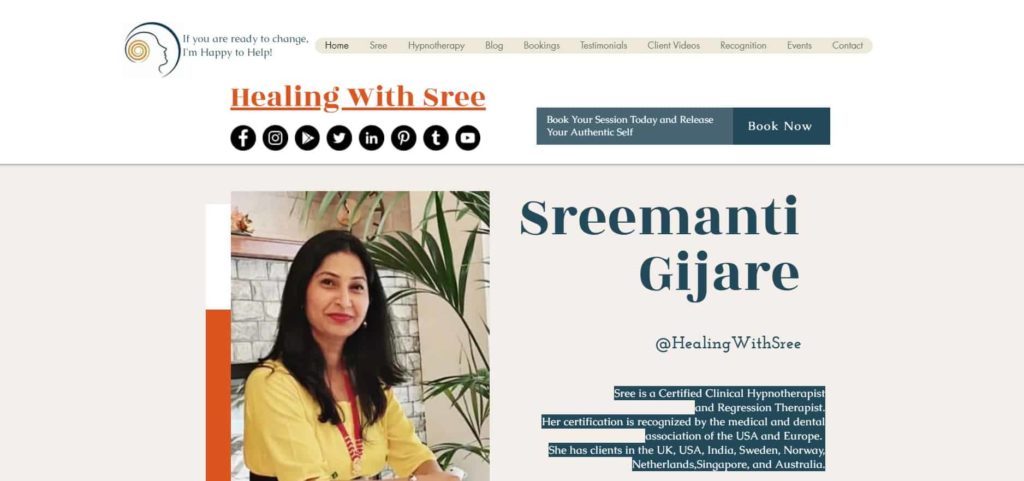 Test
Info
SERVICES
Weight Loss, Low Self-Confidence, Cessation of Smoking, Public Speaking Issues, Bad Habits (drinking/smoking), Accident Trauma Release, Attention and Focus Deficiency
WEBSITE
https://www.healingwithsree.com/
ADDRESS
18 9th St - Dubai - United Arab Emirates
CONTACT DETAILS
Phone: +97150 661 3053

Email: [email protected]

OPERATING HOURS
Monday to Sunday: 9AM–6PM
| | |
| --- | --- |
| Criteria | Ratings |
| Expertise | ★★★★☆ (4/5) |
| Service | ★★★★★ (5/5) |
| Procedure | ★★★★★ (5/5) |
| Pricing | ★★★★☆ (4/5) |
Healing with Sree was established by Sreemanti Gijare, a certified hypnotherapist and regression therapist. Before starting her practice, she spent two decades working as a geophysicist.
What makes her stand out is that she implements alternative therapeutic techniques on both the conscious and unconscious levels in her treatment. It helps Sree's clients bring a positive change when experiencing mental issues to bring out empowerment and well-being.

Her service does not just end with mental and psychological therapy. She also helps her clients with physical issues, such as thyroid, acidity, menstrual cramps, and constipation.

One client we spoke with testified that her spinal and acidity problem has been managed by Sree. Another mentioned that they were seeking treatment for stress and have now successfully recovered.

Another good thing about Sreemanti Gijare is that she is also spreading awareness of healing through hypnotherapy. She conducts corporate awareness events for large MNCs, international schools, universities, colleges, and other organizations online.
Moreover, she has expanded her services to several countries. This includes the UK, USA, India, Sweden, Norway, Netherlands, Singapore, and Australia.
Now when it comes to her rates, she has a great deal on her hypnotherapy service, with both online and face-to-face sessions costing AED 750 per hour. However, they have a discount package for 5 sessions and get a free session for only AED 3,600 per hour.
You can book your appointment on their website, but please note that if you must cancel, you'll need to reschedule at least 48 hours in advance.
Certified Hypnotherapist and Regression Therapist 
Offers services to international clients 
Has affordable rates
Open daily
Offers online and face-to-face services
There can be a long queue due to the large volume of clients
Client Review
Positive and energetic healing sessions!
"I have attended Sree's healing sessions and now I feel more positive, and energetic and I'm regaining my trust towards the almighty.
I've noticed significant relief in my back pain, have overcome anxiety issues significantly, and also feel more confident about myself." – Sulagna Mandal
New perspectives to misunderstood topics.
"Hi Sree, Last Sunday we were extremely fortunate to attend your book launch event at Antarman Coffee with Coach in Bangalore. The program was extremely well coordinated. Your life's journey from a Geo physicist to a clinical hypnotherapist was amazing. The case studies about how hypnotherapy has enabled people to heal their chronic problems by unlocking their subconscious mind through your help have enlightened the audience and I am sure everyone got a new perspective on this otherwise very misunderstood topic. The questionnaires and discussions in the end remained in our minds long after. It was an evening with a difference and thank you for making it happen. Your book "The Only Way Out is in" will be the first of your many endeavors and I wish you all the best for it." – Deepankar De
2. Peta Cavanagh
| Test | Info |
| --- | --- |
| SERVICES | Trauma and PTSD, Anxiety, Addiction, Weight Loss, Pediatric Hypnotherapy, Confidence and Self Esteem |
| WEBSITE | https://www.petacavanagh.com/ |
| ADDRESS | One Space Building 3 Office 1 - Dubai Investments Park - Green Community West - Dubai - United Arab Emirates |
| CONTACT DETAILS | Phone: +971501480744 |
| OPERATING HOURS | Monday to Saturday: 6AM-8PM |
| | |
| --- | --- |
| Criteria | Ratings |
| Expertise | ★★★★☆ (4/5) |
| Service | ★★★★★ (5/5) |
| Procedure | ★★★★★ (5/5) |
| Pricing | ★★★★☆ (4/5) |
Peta Cavanagh is a licensed clinical hypnotherapist who received her training from the EKAA Clinical Integrated Hypnotherapy Training. She frequently helps people suffering from physiological and physical issues as well as poor habits.
In terms of expertise, she's an expert in past life regression, emotional tapping, and is also a pediatric hypnotherapist.
One of Peta's unique procedures is virtual gastric band therapy which is a 4-week long treatment. This is advisable for clients who want to reduce weight safely without doing heavy exercises and diet techniques.
Thus, this is worth considering because you can achieve weight loss without any surgical procedures. It mostly happens to be effective in a 4-week session to help clients achieve their desired weight.
In addition, we prefer Peta because of her procedure of Virtual gastric band therapy that focuses on weight loss for clients. This is more unusual than other hypnotherapy services that only offer the usual method for the conscious and subconscious procedure.
Peta Cavanagh has treated addiction, weight loss, and anxiety to name a few, through combined hypnosis and psychological treatment. We've conversed with one of her clients struggling with anxiety issues that have a brighter future because of the help and professionalism of Peta.
Overall, if you need a licensed hypnotherapist skilled in various techniques.we encourage you to schedule your appointment on Peta's website. She can help resolve psychological issues, addiction, or poor habits.
EKAA Clinical Integrated Hypnotherapy Training
Offers Virtual gastric band therapy
Cost per session may be high in comparison to other clinics
Client Review
She is very attentive & considerate & the sessions worked wonders
"I have absolutely loved working with Peta doing the Hypnotherapy sessions. She is very attentive & considerate & the sessions worked wonders." – Natalia Sergeenko
She was so reassuring and helped put us at ease instantly
"We approached Peta a while ago to help us with one of our children. She was so reassuring and helped put us at ease instantly. Her assessment of the situation, her approach to the child and her overall demeanor is so professional (and flexible)! My daughter enjoyed all her sessions and, almost a year onwards, she's still able to implement all the strategies Peta had shared with her to help her with her self esteem, anger management and overall outlook. Highly recommend her services!" – Christina Thomas
3. Rapid Mind Redesign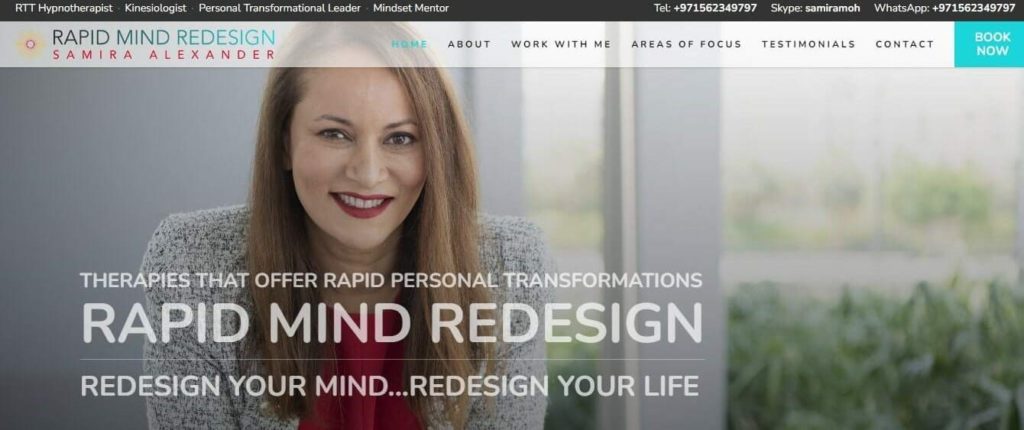 Test
Info
SERVICES
Kinesiology, Rapid Transformational Therapy-Hypnotherapy, TRR & Kinesio Coaching, Pranic Healing Practitioner
WEBSITE
https://www.rapidmindredesign.com/
ADDRESS
Bahar 7 - Flat 2602 - Jumeirah Beach Residence - Dubai - United Arab Emirates
CONTACT DETAILS
Tel: +971562349797

Skype: samiramoh

WhatsApp: +971562349797

OPERATING HOURS
Monday to Sunday: 8:30AM–10PM
| | |
| --- | --- |
| Criteria | Ratings |
| Expertise | ★★★ ★ ★ (5/5) |
| Service | ★★★★★ (5/5) |
| Procedure | ★★★★★ (5/5) |
| Pricing | ★★★★☆ (4/5) |
Rapid Mind Redesign is well-known for its Rapid Transformational Therapy (RTT) for effective change and results. It is the process of helping clients to control or manage their subconscious and conscious thoughts.
Samira Alexander, as the owner, began her career in the corporate sector, business, and acting before becoming one of the world's trained RTT and advanced RTT therapists. She obtained her MA in economics with distinction for her dissertation and her credentials as a licensed hypnotherapist.
One of the issues she is known to address is smoking. A client we conversed with said that she was able to stop smoking and maintain a happy, healthy lifestyle after a session with Samira.
Put in mind that each of her sessions may last up to 2 hours and clients need 1 to 3 sessions depending on their issue. It's a good thing Samira Alexander gives potential clients a free 30-minute evaluation call before proceeding with the session.
We were a bit disappointed that Samira Alexander's website doesn't provide her rates.. However, one of the clients we've spoken to says that Samira offers a reasonable cost because of the successful result of the sessions.
Has Best Hypnotherapist and Coach 2021 Certification
Offers an individual package bundle program 
Open daily
Offer a free 30-minute evaluation call
Cost per session may high in comparison to other clinics
2 hours every session
Client Review
Each subsequent session with her was deeper
"Samira is one of the warmest individuals and she makes you feel extremely comfortable while enabling you to become more confident in tackling your challenges. Each subsequent session with her was deeper and I felt I could connect with my body and inner self to perceive some of the answers and clear certain blocks. I would recommend everyone to try this Therapy out, the changes can often be subtle and happen overtime but you will definitely perceive a more vibrant post." – Roma Kashyap
Samira is an amazing person in and out
"Samira is an amazing person in and out, much before we talk about her therapy skills. She makes a person feel comfortable and takes you gradually from confusion to clarity and issues to solutions. I loved my journey with her. If anyone is looking for a therapist, I would highly recommend her to you all to reach your dream goals."– Rajshree M.
4. Hypnotherapy Dubai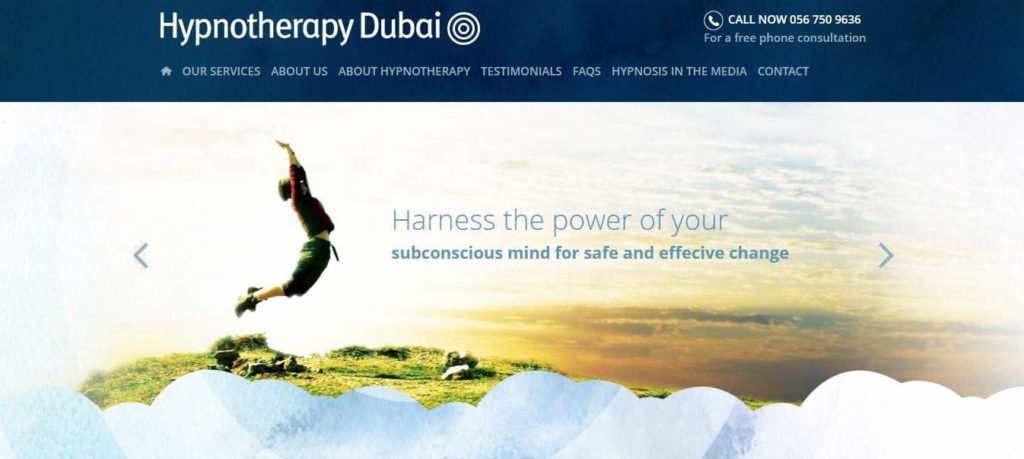 Test
Info
SERVICES
Smoking, Depression, Panic Attacks, Weight Loss, Stress, Phobia, Public Speaking
WEBSITE
https://hypnotherapydubai.ae/
ADDRESS
Kharbash Building - Jumeirah Beach Road Umm Suqeim 1 Billqetair Street 37B Street - 2nd Floor - Dubai - United Arab Emirates
CONTACT DETAILS
Phone: +971567509636
OPERATING HOURS
Friday to Saturday: Closed

Sunday to Thursday: 8:30AM-6PM
| | |
| --- | --- |
| Criteria | Ratings |
| Expertise | ★★★ ★ ★ (4/5) |
| Service | ★★★★☆ (4/5) |
| Procedure | ★★★★☆ (4/5) |
| Pricing | ★★★★☆ (4/5) |
Hypnotherapy Dubai is owned by Amina Virji, a qualified hypnotist and a member of the National Guild of Hypnotists. In terms of expertise in hypnotherapy service, she has proved her knowledge through her 9 years of experience and 17 certifications earned..
Amina offers help to people who suffer from depression, weight loss, public speaking, and smoking, to mention a few. She addresses these conditions through her modern techniques.

One such method is her Emotional Freedom Technique which brings positive results to her clients by tapping at a certain point in the body (such as the palm, head, and nose). Usually, it's helpful to people experiencing anxiety, stress, and depression.

Another of the frequent issues she treats is panic attacks. Through hypnosis, she can uncover the cause of the anxiety and give the patient freedom and a balanced life.

We've spoken to one of her clients who shared that the sessions he received helped him to get a great amount of comfort and clarity in life after being lost.

Another thing we like about Amira Virji is that she offers a free phone consultation. This allows you to determine whether hypnosis is the right therapy for you before beginning treatment.
In addition, if a client is interested in her service, an inquiry form is provided on Amina's website for further details.
Member of National Guild of Hypnotists 
Free phone consultation
No service on Friday and Saturday
No pricing information offered
Client Review
Amina helped me identify through hypnotherapy
"Before I took Hypnotherapy, I saw my life as a constant pattern of things going wrong and history repeating itself. I took control and decided that this has to end. Amina helped me identify through hypnotherapy the underlying issues, solved them and made me into a better and positive person today. It wouldn't have been possible without her." – Niki, India
I am amazed with the results
"I would like to thank Amina Virji for helping me to conquer my battle with eating and binging on sugary food. I had sessions with Amina Virji and I am amazed with the results. I used to be constantly eating sugary snacks, after the sessions, I no longer crave sweet things or even take sugar in my coffee. I feel brilliant and am in control! Thank you! Thank you! A life changing experience." – Nicky Chapman, UK
5. Clarity With Carlee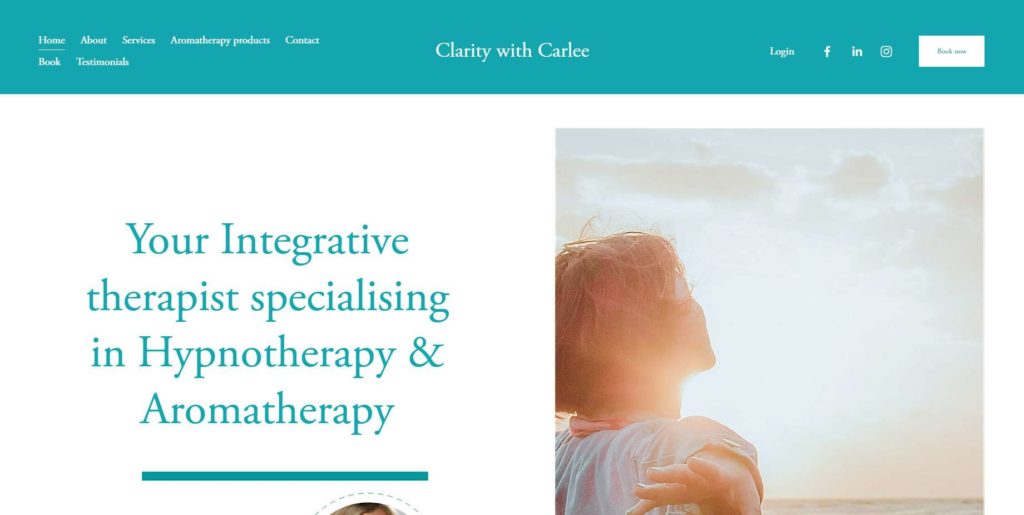 | | |
| --- | --- |
| Criteria | Ratings |
| Expertise | ★★★★★ (5/5) |
| Service | ★★★★★ (5/5) |
| Procedure | ★★★★★ (5/5) |
| Pricing | ★★★★☆ (4/5) |
Clarity With Carlee is an enterprise founded and operated by Integrative therapist Carlee Smith Venegas who specializes in providing clients with professional hypnotherapy and aromatherapy treatments.
Having a diverse background when it comes to clinical hypnotherapy, we like that she readily offers clients sessions that focus on a particular need such as relaxation and fertility support among others.
Past clients who have experienced her sessions have commended her for her sincere attention and caring approach when it comes to helping clients better deal with their issues and making each meeting more fruitful.
Note though that rates of her package sessions aren't readily available online to which interested clients may need to inquire further about this matter.
Nonetheless, with her caring approach to dealing with clients, positive and effective feedback, and diverse background in the field, we recommend interested clients to check her out.
Diversely experienced and professional
Nurturing sessions given
Effective therapy combinations used
Flat rates for her sessions aren't readily available online
Client Review
Here are some reviews from their clients:
"Carlee helped me to reach that inner peace and confidence that I can have whatever I set my mind to achieve. After just one session with her I felt empowered and in harmony with my inner desires. Her calm and yet very confident voice and the whole relaxing feeling she created during the session remained with me weeks after, as she makes you feel you are the most important person in the universe."
"I have had trouble sleeping so I decided to try Hypnotherapy.I didn't know what to expect,I am thrilled to say ,I felt so relaxed and managed to have a full 8 hour sleep that evening."
FAQs About Hypnotherapy in Dubai
---
We hope that this article is useful to you if you need to seek hypnotherapy for your health. If you want to learn more about other services in Dubai, visit our article about the top cleaning service in Dubai.