Top 6 Clinics for the Best CoolSculpting in Dubai
Featured Image Source: Tammy Gann via Unsplash
If you wish to lose fat but don't want to go through surgery, clinics today offer plenty of non-invasive fat-loss procedures. One of these is CoolSculpting. For quick, easy, and painless fat reduction, go to one of the clinics for the best CoolSculpting in Dubai.
In this article, we've provided a guide on how to choose a trusted clinic for CoolSculpting. We've even included a list of the best clinics for CoolSculpting in Dubai so you can get on with the procedure ASAP.
Plus, to prepare you for the cost of CoolSculpting in Dubai, we've also done the research and attached a price list which you will see in the portion below.
How Much Does CoolSculpting Cost in Dubai
The table below contains the cost of CoolSculpting in Dubai depending on the size of the area. Note that the actual price may vary depending on your provider.
| | |
| --- | --- |
| Medium-sized area (upper abdomen, love handles, behind the arms) | AED749/session |
| Large area (lower abdomen, inner and outer thigh) | AED999/session |
| Double chin CoolSculpting | AED650/session |
How to Pick the Clinic for the Best Coolsculpting in Dubai
To guarantee that you're getting the best value for money for your fat reduction procedure, choose only a reputable aesthetic clinic. Find the best clinic that offers CoolSculpting in Dubai with the help of these tips below.
Check the practitioner's qualifications
When undergoing any procedure, it's important to check the practitioner's education, fellowships, and training. These assure you that your provider has the required knowledge and skills to offer aesthetic treatment.
At the same time, you should look for their medical licenses and memberships in societies in their field. Having these mean that they have not failed in any of the procedures they offer, which guarantees your safety.
You can also look at their years of experience in CoolSculpting as a more experienced aesthetician is more likely to give you better results.
Make sure the clinic is well-equipped
If you can, ask to have a look at their clinic. In particular, you'd want to see the facility where the procedure would be conducted. Make sure that the area is clean and private.
A well-equipped clinic for CoolSculpting should also have a selection of applicators. This enables a more effective procedure for different areas of the body, so be sure to ask the aesthetician about these, too.
Read patient reviews
Reviews from previous patients tell you a lot about a clinic's service. Here, you would normally find comments about are the rates of the clinic and the effectiveness of their procedures.
However, you should also look for reviews on your aesthetician's communication style.
Make sure that you're getting services from someone who understands your concerns and who would not push for procedures you don't need.
The Clinics for the Best CoolSculpting in Dubai
Now that you know what to look for in a reputable aesthetic clinic, check out this list of clinics for the best CoolSculpting in Dubai.
1. Lucia Aesthetic & Dermatology Clinic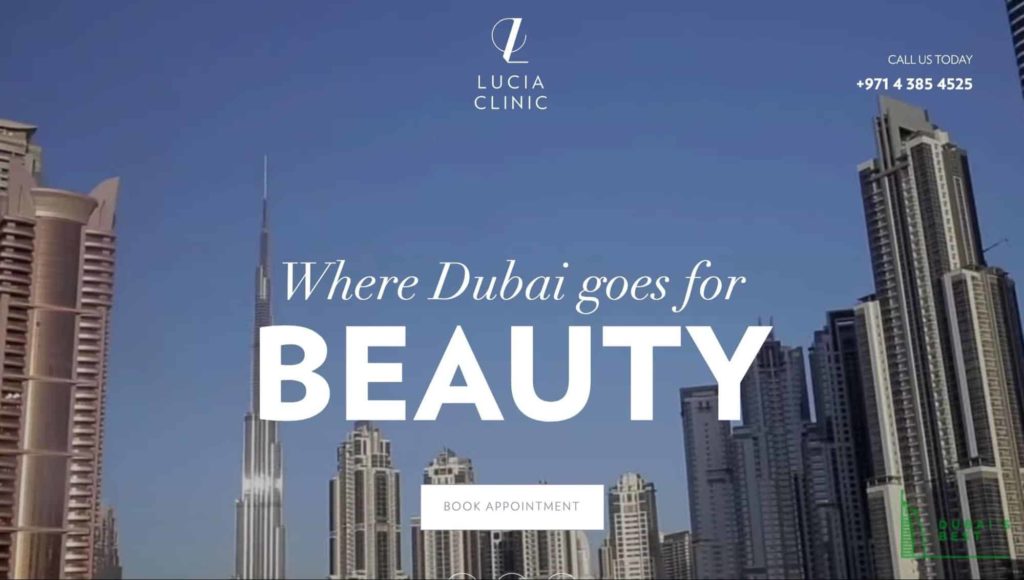 BEST FOR
Partnership with medical aesthetic brands
WEBSITE
https://www.luciaclinic.com/
ADDRESS
Jumeirah 2, Jumeirah Beach Road, Villa 323, Dubai, United Arab Emirates
CONTACT DETAILS
+971 4 385 4525
+971 56 115 9194
OPERATING HOURS
Saturday – Thursday: 9:00 AM – 8:00 PM
Lucia Aesthetic & Dermatology Clinic provides an array of tried-and-tested dermatology and aesthetic procedures in Dubai, including CoolSculpting.
Their specialist takes a personalised approach to every procedure to give their clients the best results according to their features.
To guarantee your safety, their specialist first asks about your medical history and conducts a physical exam to make sure whether you are a good candidate for CoolSculpting. Only then can you undergo their 35-minute CoolSculpting treatment.
The clinic works in partnership with the best skincare and body contouring brands such as CoolSculpting and VenusFreeze to provide their clients with the best service.
They are a trusted aesthetic and dermatology clinic by actresses, models, influencers, and athletes around the world.
35-minute treatment
Limited time offers
Expensive services
Tendency to be fully-booked
Customer Reviews
Huda Kattan, founder of the makeup brand Huda Beauty, reviewed Lucia Aesthetic & Dermatology Clinic:
"Lucia Clinic has the best team and treatments in Dubai. Dr Radmila Lukian, with her tailor-made program, has transformed my body and face completely."
Another previous client, Sahand Malakouti, shared:
"Recently been to Lucia Clinic for laser and fat freezing. The staff were so professional, friendly and very helpful, both before and after the procedure. Very useful and clear information given.
Highly suggested and super happy with my treatment. I can say it's perhaps the number 1 clinic in Dubai."
2. Silkor Laser & Aesthetic Center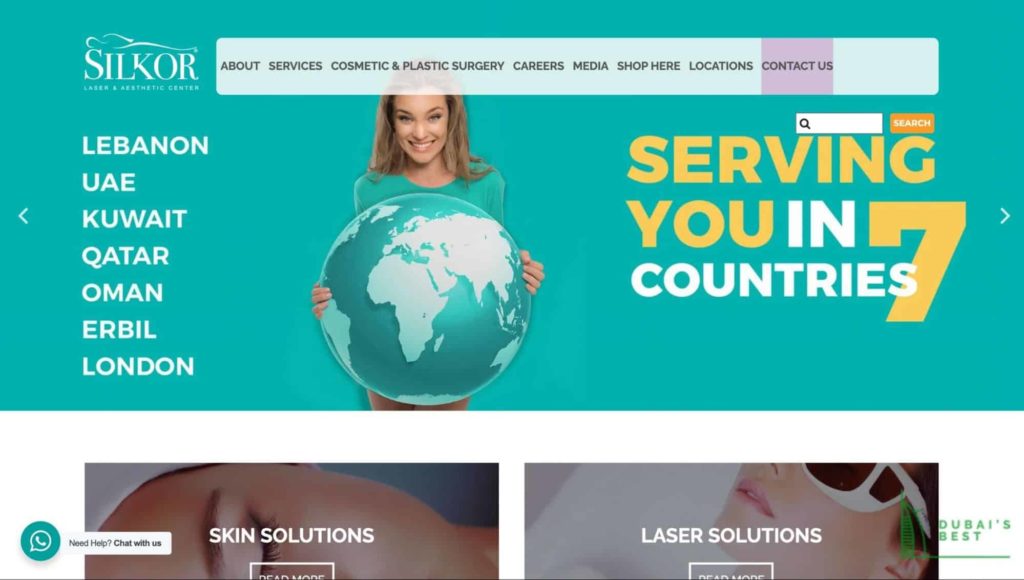 | | |
| --- | --- |
| BEST FOR | Dual coolsculpting treatment |
| WEBSITE | https://www.silkor.com/lebanon/en/ |
| ADDRESS | 1st Floor, Yansoon 9 Bldg, Sheikh Mohammed Bin Rashid Blvd., Burj Khalifa District, Dubai, United Arab Emirates |
| CONTACT DETAILS | +971 4 554 9049 |
| OPERATING HOURS | Saturday – Thursday: 9:00 AM – 9:00 PM |
Silkor Laser & Aesthetic Center is an aesthetic clinic founded in Lebanon in 1997. Now, the clinic has branches all around the world, including several branches in Dubai.
Their unique CoolSculpting offering is their dual coolsculpting treatment. Here, they use 2 coolsculpting machines to help you lose weight faster.
In fact, their method is known to reduce fat by 20 to 30% in one session. You should start seeing results anywhere between 3 weeks to 3 months.
They can do the procedure for your double chin, jawline, upper arm, back, abdomen, love handles, buttocks, and thighs. For men, they also do CoolSculpting on the chest area.
What makes the clinic one of the best for CoolSculpting in Dubai is that they have staff trained to provide excellent follow-ups to ease the side-effects of the treatment.
4 branches in Dubai
Free consultation
Multi-awarded clinic
Phone line is often busy
Difficult to set an appointment
Customer Reviews
Rania Hassan was highly satisfied with Silkor Laser & Aesthetic Center's service. They shared:
"The service was great! The ladies there were very friendly, professional and ensured I was as comfortable as possible.
The whole procedure was explained to me step by step and that made me feel at ease." Fantastic Job! Now waiting to see the results!"
Jennifer Jones also reviewed:
"Excellent experience— friendly and knowledgeable staff and professional procedure. I highly recommend it."
3. Eternel Clinic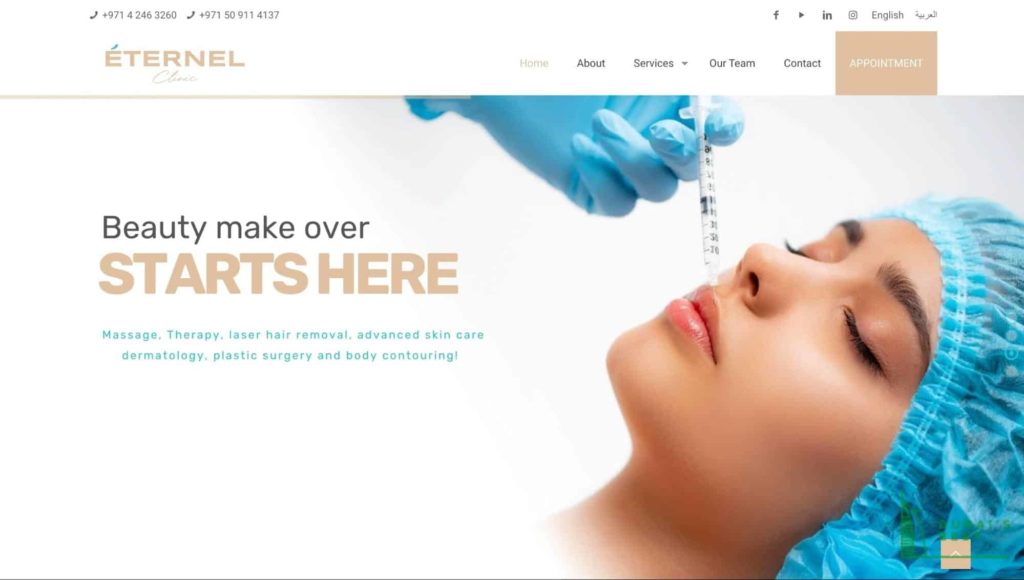 BEST FOR
Wide range of body contouring treatments
WEBSITE
https://www.eternelclinic.com/
ADDRESS
Villa 116, Jumeirah St, Dubai, United Arab Emirates
CONTACT DETAILS
+971 4 344 0008
+971 50 911 4137


[email protected]

OPERATING HOURS
Saturday – Wednesday: 10:00 AM – 8:00 PM
Thursday: 10:00 AM – 7:00 PM
For over a decade, Eternel Clinic has provided Dubai with a wide range of world-class aesthetic treatments.
They can be regarded as one of the best clinics in Dubai for CoolSculpting for their expertise. As a matter of fact, they were one of the first clinics to offer the procedure in the city.
From CoolSculpting, they now also offer a variety of other modern body contouring technologies to provide their clients with options. Other services they offer are skin tightening procedures, laser treatments, plastic surgery procedures, and dietetics, among others.
CoolSculpting at Eternel Clinic lasts 35 to 60 minutes. It takes 1 to 3 sessions per area to achieve the best results.
Offers a variety of body contouring methods
Each area needs only 1 to 3 sessions
Procedure can take an hour depending on the area
Expensive services
Customer Reviews
Maria, one of Eternel Clinic's previous clients, said:
"Eternel Clinic is a place to trust! The staff are professional, friendly and helpful.
I had a free slimming consultation and finished up with a successful fat freezing coolsculpting treatment plan and amazing results on my love handles.
Special thanks to the whole team. I highly recommend this clinic for their expertise and professionalism."
Amjad Al-Dghaimat also shared their experience with Eternel Clinic, reviewing:
"Good place for slimming and laser. Excellent cool sculpting procedure and many more."
4. Aesthetics International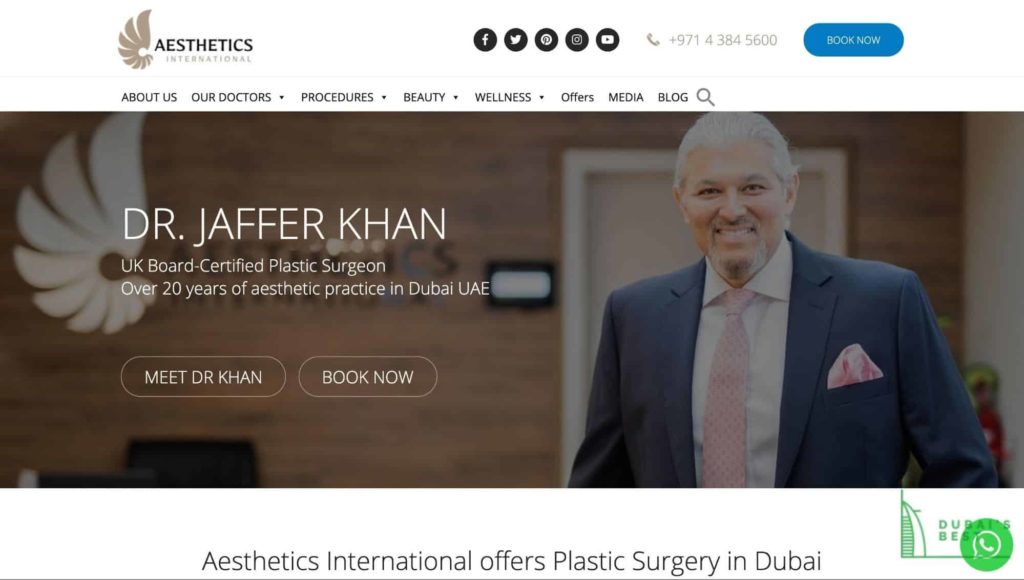 BEST FOR
Newest CoolSculpting applicators
WEBSITE
https://aesthetics.ae/
ADDRESS
Utamah Villa #1049c, Jumeirah, Dubai, United Arab Emirates.
CONTACT DETAILS
+971 4 384 5600


[email protected]

OPERATING HOURS
Saturday – Wednesday: 9:00 AM – 8:00 PM
Thursday: 9:00 AM – 6:00 PM
Aesthetics International has provided dermatology, plastic surgery, and body contouring procedures in Dubai for more than 2 decades.
The clinic has done over 1,000 CoolSculpting procedures, which qualifies them as one of the most experienced providers for the treatment in the city.
They also have authentic equipment as well as the newest applicators available in the market to give their clients the best results.
To attest to Aesthetics International's expertise in CoolSculpting, the medical aesthetic company Allergan has even chosen the clinic as the Middle East's "Centre of Excellence" for CoolSculpting.
Moreover, Aesthetics International is known for its personalised approach. They take time to discuss their clients' requirements to ensure that they can suggest the right services.
Has the latest CoolSculpting applicators
Centre for Excellence for CoolSculpting
Costly services
No female doctor
Customer Reviews
Rosalind Berdos left Aesthetics International a positive review. They said:
"My go-to aesthetics clinic in Dubai. Dr Jaffer Khan is the best when it comes to your face, you couldn't be in better hands.
I also had a very good coolsculpting experience here. It was comfortable and everything was explained to me in-depth. Expect value for money in a clean and safe environment!"
Nesrin Aldik also reviewed:
"I was delighted with the service at this clinic. Very nice and clean environment. Professional doctors. I highly recommend them."
5. The Nova Clinic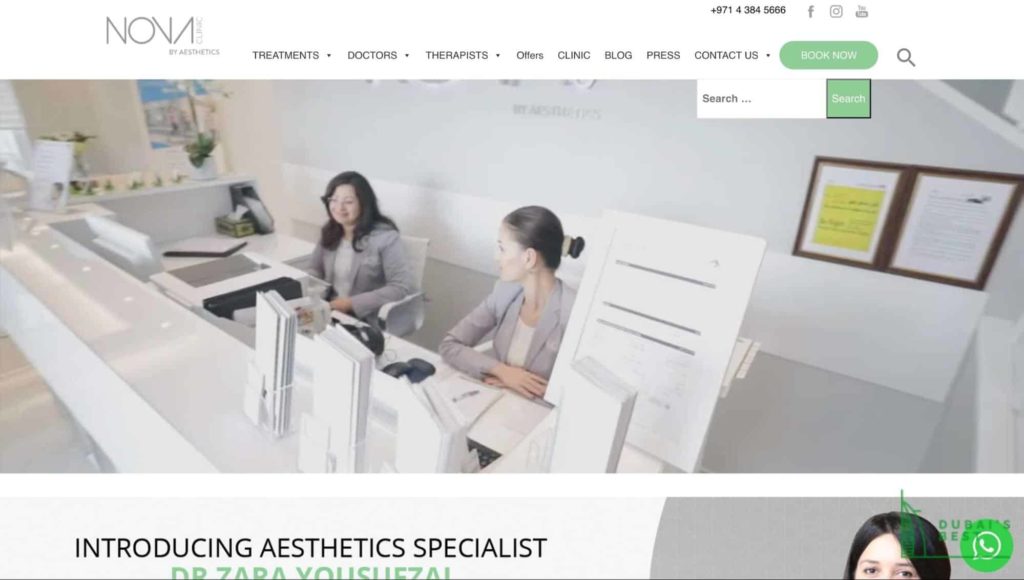 BEST FOR
Quickest CoolSculpting procedure
WEBSITE
https://thenovaclinic.com/
ADDRESS
Utamah Villa 1047, Al Wasl Road, Al Manara, Jumeirah, Dubai, United Arab Emirates
CONTACT DETAILS
+971 4 384 5666


[email protected]

OPERATING HOURS
Saturday – Wednesday: 9:00 AM – 8:00 PM
Thursday: 9:00 AM – 6:00 PM
To give their clients the best cosmetic procedures in Dubai, The Nova Clinic has the latest equipment, tried-and-tested methods, and highly-qualified professionals.
They partner this with their top-notch services. They make sure that clients get the best experience from consultation to follow-up visits.
Among the clinic's offerings is their CoolSculpting treatment. The clinic does this quick, the process lasting only 30 to 35 minutes.
Despite the speed of the procedure, The Nova Clinic guarantees your safety. Before pushing through with the procedure, they will ask about your existing health conditions and family medical history.
You can also discuss your concerns with them and what you want to achieve with the procedure to make sure you get your ideal outcome.
Free consultation
Accredited by medical authorities worldwide
Only one female cosmetic doctor
Expensive services
Customer Reviews
Mahnima Shah gave The Nova Clinic a 5-star rating. They also reviewed:
"Came for a coolsculpting treatment here 3 months ago. Went to several other clinics offering the same treatment at cheaper rates.
From the moment I entered Nova, I understood why it is so special and decided to complete my treatment here. 5 stars for the whole team!"
Meanwhile, Rosalind Berdos shared:
"The best clinic in Dubai. I had both coolsculpting done here and also attended PRP with Dr Timm Wolter. Very happy with the results!"
6.   Aesthetics Medical Spa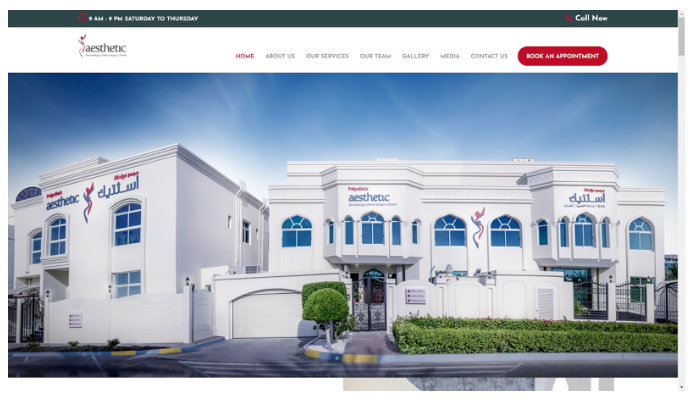 Aesthetic Polyclinic offers quality aesthetic services through the use of the latest technologies.
They make sure to have what is new and the best in the market for their patients to experience.
Their excellence paved the way for them to grow into a polyclinic. Today, they specialize in dermatology, plastic surgery, dental services, medspa, and Revive IV therapy.
Their doctors are highly skilled and knowledgeable of their field making sure that their clients are in good hands. Their receptionists are highly accommodating and friendly which adds to the great atmosphere of the clinic.
Great place
Wide range of services
Rates are a bit expensive compared to other clinics
Customer Reviews
Here's a review from one of Aesthetics Medical Spa's clients:
"This clinic was recommended by my sister, and honestly I haven't seen such service .. everything was smooth from A to Z .. lovely staff and very friendly.. I had my hydrafacial with Ms. Aida.. she was so gentle and professional .. I'm very happy with my experience especially that I was seen on time. Thank you esthetic team x" -Fatima Osman
Here's another one:
"The experience was wonderful, carbon laser and dermapen lips, everyone is helpful and the service is very good at aesthetic clinic Abu Dhabi. There are current discounts for two sessions 30%" -Aisha Ahmad
FAQs about the Best CoolSculpting in Dubai
---
With one of these clinics for the best CoolSculpting in Dubai, you'll surely get your ideal body in no time!
Do you know any other clinics we should add to this list? Let us know by sending us a message.
If you're also looking to have other cosmetic procedures done, check out our list of the best clinics for plastic surgery in Dubai.