The 5 Best Vet Clinics in Dubai
Furry pets are important members of our families, too, and making sure they are healthy can save them from complications in the future. That's why it's critical to know which are the best vet clinics in Dubai.
To give your pets the best care when they are sick or just going in for a checkup, we searched all over Dubai for the best vet clinics it can offer. We'll discuss the factors that we considered while choosing and answer FAQs for vet clinics.
How much do vet clinics cost in Dubai?
Your pet's hospital bill can vary depending on the vet clinic, your pet's species, and the services you will be availing of.
Here's a table of estimated prices of common services you can find at a vet clinic in Dubai.
| SERVICE | ESTIMATED PRICE |
| --- | --- |
| Consultation | AED150 – 400 |
| Spay/Castration | AED230 – 500 |
| Vaccination | AED700 – 2000 |
The Best Vet Clinics in Dubai
Before we get right into our list of the best vet clinics in Dubai, check out the criteria we used in choosing them:
1. Modern Vet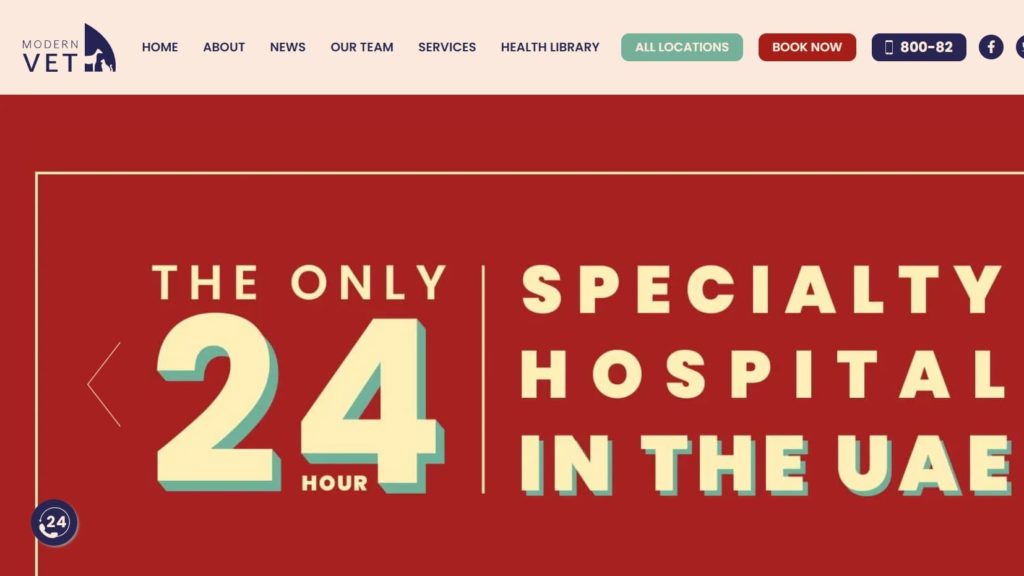 Test
Info
WEBSITE
https://modernvet.com/
ADDRESS
Fortune Tower, Cluster C, Dubai, United Arab Emirates

Platinum Residences, Dubai, United Arab Emirates

Umm Suqeim, Al Wasl Road, Villa #793, Dubai, United Arab Emirates

South Ridge Tower - Downtown - Dubai

CONTACT DETAILS
800-82
OPERATING HOURS
Every day: 7 AM–10 PM
| | |
| --- | --- |
| Criteria | Ratings |
| Cost | ★★★★★ (5/5) |
| Cleanliness | ★★★☆☆ (3/5) |
| In-HouseTreatments | ★★★★★ (5/5) |
| Customer Service | ★★★★☆ (4/5) |
| Availability | ★★★★★ (5/5) |
With over two decades in the pet healthcare industry, Modern Vet, is the only multi-specialty, 24-hour emergency hospital in Dubai.
Modern Vet is our go-to vet clinic for common pet services, such as vaccinations, castrations, spaying, and consultations.
With their services on the lower end of the price range for a vet clinic in Dubai, Modern Vet makes pet healthcare more accessible for the residents of the city.
We brought in our dog, Max, for a regular check-up at their Al Wasl branch to check out the clinic and their services.
When we came in, we were greeted by a regular waiting area for a vet clinic with a receptionist, shelves of pet accessories and food, and some socially distanced chairs.
The waiting time was fine, and we didn't really encounter any problems until more patients came in and the lobby got crowded.
We think the overcrowded shelves made the room feel smaller, and the dogs and cats interacting with each other may have contributed to the unease in the room.
Still, we're happy to note that the clinic was clean and sanitary overall. The cages that held the animals were clean and didn't emit any odor, and the merchandise, although overcrowded, was arranged well.
When it came to our time for Max's checkup, the staff greeted us enthusiastically. They were all very friendly and nice to our dog.
We inquired about their services, and they informed us that besides the common pet services, they also have a Pet Taxi to fetch and drop pets if their owners are busy.
In addition to the services they offer outside of the clinic, they provide mobile grooming that goes around the city daily. We had Max get groomed later that week to try it out, and we became such big fans of it.
The grooming team managed to get Max to calm down for the whole session and returned him to us smelling very nice with a thoroughly brushed, shiny coat.
One unique aspect of their services is that they offer holistic medicinal treatment. This utilizes natural herbs to not just cure your pet's sickness but also improve their overall health.
However, besides these services, there really isn't much to add. We suggest that if your pet has special health issues or needs specialized treatment, check out our other entries on the list.
Another thing that we love about Modern Vet is that they are open 24/7 for emergency services. Not a lot of vet clinics in Dubai can say that, and having that kind of service proves to be invaluable.
To make it even better, they have four branches all over the city. So they're not just accessible anytime, pet owners can also reach them wherever they are in the city.
All in all, Modern Vet is your one-stop shop for your pet's regular health services at an affordable price. They're also the best groomers on our list, and we definitely recommend you try them out.
Cheaper than usual vet clinics
Offers mobile services like Pet Taxi and mobile grooming
The only multi-specialty hospital that's open 24/7 in Dubai
They have four branches 
Their waiting area can get crowded and rowdy
Only offers common services and simple surgeries
Customer Reviews
Professional and compassionate
"We went to MVC for physiotherapy for two paralyzed animals with Meghan. We highly recommend her for her professionalism and deep care for the patients and their owners. Meghan does muscular stimulation,acupuncture, laser, and physiotherapy. She was very patient with Aspen (paralyzed cat), Anteur (paralyzed dog) and me. Both animals are incontinent and many times "accidents" occurred, and never was a problem, the opposite, she helped me clean 😉" —Zahara, Google Reviews
Best surgeons around!
"Dr. John is one of the best surgeons that we have come across. He has saved countless animals that we have brought to him (rescue) and most notably a house cat with a tumor that was obstructing the digestive tract. Multiple veterinarians have failed to diagnose the cat and seemed to have been after draining our bank accounts with multiple intrusive procedures. Once we brought the cat to Dr. John, he carried out the surgery and accomplished something that was not meant to be possible. The cat recovered and is back to its' original happy life." —Nikita Kalinin, Google Reviews
2. Noble Veterinary Clinic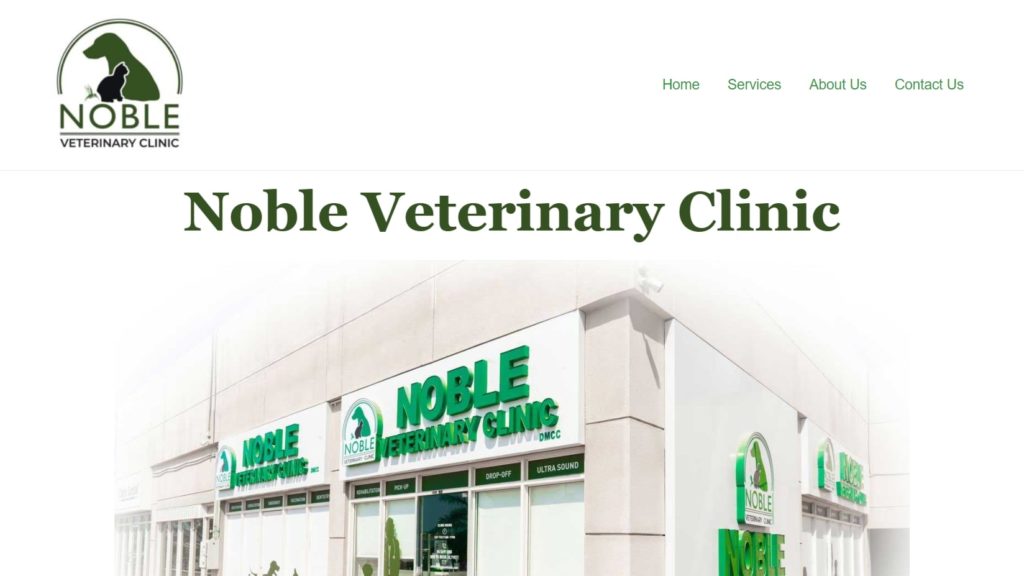 Test
Info
WEBSITE
https://noblevetclinic.com/
ADDRESS
Retail #5 Ground Floor, Al Merdas Building After Park 'N' Shop Super Market Green Community, DIP

Retail #R3-A Ground Floor, Lake Point Tower Jumeirah Lake Towers

CONTACT DETAILS
+971 55 201 635, +971 4 569 1888
OPERATING HOURS
Everyday: 8 AM–9 PM
| | |
| --- | --- |
| Criteria | Ratings |
| Cost | ★★★★☆ (4/5) |
| Cleanliness | ★★★★☆ (4/5) |
| In-HouseTreatments | ★★★★☆ (4/5) |
| Customer Service | ★★★★★ (5/5) |
| Availability | ★★★★☆ (4/5) |
Noble Veterinary Clinic's staff is what makes them one of the best vet clinics in Dubai. Knowledgable and willing to educate pet owners, their staff will not only treat your pets well, but they will also teach you how to prevent future problems with their health.
We also brought our dog, Max, to Noble Veterinary Clinic for a quick checkup and consult about what we can do to further improve his health.
Right off the bat, we were surprised at the cost of just a normal consultation, but we pushed through anyway.
Thankfully, we immediately knew why. The way the vet treated Max throughout the general checkup was very meticulous and careful.
He explained to us what he was doing the whole time and gave us detailed explanations of why Max is the way he is.
Our vet even did more than what was asked and recommended us certain brands of dog food to enhance Max's overall well-being.
The clinic was also very clean and orderly, and we enjoyed hanging out in the waiting lobby because they designed it to be kid-friendly.
We even joked about how this clinic looked better than most hospitals for humans and passed the time by watching children play with the dogs and cats that were waiting for their checkup.
Another admirable thing about their service offerings is that it's well-rounded. The staff shared with us that they treat all kinds of cats, dogs, smaller pets, and even birds.
We also talked to some of the pet owners who were there, and they shared with us that their rehabilitation services are excellent for pets that got into an accident.
Adding to the list of advantages this clinic has over other entries is their use of VetDrop technology, which allows vets to deliver medicine without a needle. It permeates up to five inches deep through the skin, reaching the area of concern.
This is perfect for pet owners who can't take seeing and hearing their furry companions get hurt during injections. We're one of them!
The last positive point we'd like to note about the vet is their 24/7 hotline for emergency services. Our vet assured us that they are always on-call and ready to spring into action if anything bad happens to our Max.
One minor drawback we saw for this clinic is that they only have two branches in the city, making them less accessible.
Overall, Noble Veterinary Clinic shines when pet owners are looking for someone to help them in raising and taking care of their pets. Their staff is friendly and willing to share their knowledge on top of giving great service.
Clinic is very clean and kid-friendly
Offers services for different species
Friendly staff gives great explanations
Offers 24/7 emergency services
More expensive than other vet clinics
Customer Reviews
Lifesavers!
"Excellent experience at this veterinary practice. We adopted a 9 year old pug in May 2021 who unfortunately has been very sick. Literally they have saved her life twice. They run a very thorough and professional diagnosis service every time we visit.
Our new adopted pug has just had her first appointment, the vets quickly diagnosed the problem and she is well on her way to a full recovery.
Can't thank them enough." —Steve Carmichael, Google Reviews
Best service for our furchild
"Congratulations to Noble Clinic (JLT branch) and Dubai for getting the most amazing veterinary and human that is Dr Davor. The knowledge and thorough care that me and my furchild receive is second to none. That is the reason why I yesterday drove from Abu Dhabi to Dubai, as I know that it is the best I can possibly do for my pet. While some vets would hardly give you the time of day but happily take your money Dr Davor genuinely and thoroughly addressed all our concerns and I know has 100% best interest at heart for the animal. I can't possibly recommend him enough but just wish he was a bit closer than a 1h+ drive." —Anna Nanna, Google Reviews
3. The City Vet Clinic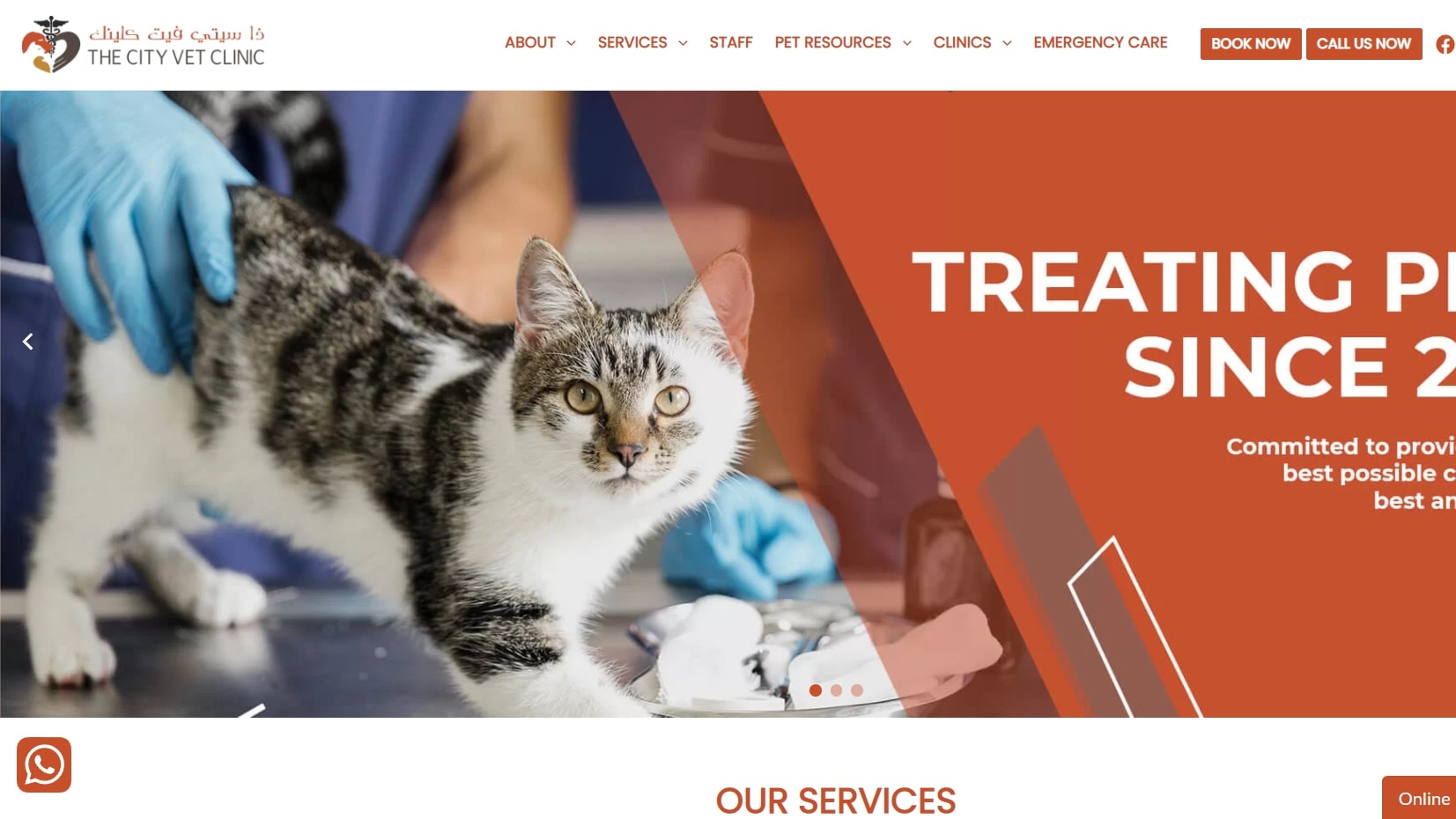 | Test | Info |
| --- | --- |
| WEBSITE | https://thecityvetclinic.com/ |
| ADDRESS | Al Wasl Road, Corner Al Manara, Villa No. 881, Dubai |
| CONTACT DETAILS | 800 3990 |
| OPERATING HOURS | Every day: 8 AM–9 PM |
| | |
| --- | --- |
| Criteria | Ratings |
| Cost | ★★★★☆ (4/5) |
| Cleanliness | ★★★★☆ (4/5) |
| In-HouseTreatments | ★★★★★ (5/5) |
| Customer Service | ★★★☆☆ (3/5) |
| Availability | ★★★★★ (5/5) |
The City Vet Clinic is a great budget-friendly vet clinic for all kinds of pets. Being one of the largest vet clinics in Dubai since 2012, you can find almost any treatment for any kind of pet here.
We accompanied our friend and her pet cat, King, for his last dosage of vaccines, and we were pleasantly delighted by the whole experience.
First off, the reason why our friend chose this vet clinic is that The City Vet Clinic offers a 10% discount for everyone who works at her company. We checked the prices, and it was pretty average, even without the discount.
When we came in, we immediately saw the certificates that show that they have met the standard sanitary guidelines imposed by the government of Dubai.
This was impressive, although the scent of multiple animals in the lobby and in the holding area wafted throughout the waiting area, and it got a little overwhelming at times.
We understand that a large clinic like this holds a lot of pets and the scent can't be avoided, so we put up with it and got used to it eventually.
While waiting, we asked about their services, and the receptionist gladly shared with us that they have all the necessary treatments for felines and canines.
But what impressed us is that they can also treat avians and exotic animals, too. This is the only clinic on our list to openly share that they can handle exotic animals.
Besides that, we are also big fans of their pet nutrition counseling services. Our friend had this service, and we found out that the vet asks what you want to do with your pet.
Then they will draw a nutrition plan that can address those goals. The vet shared with us that they do this for pets who join animal shows, pets who are trained to do strenuous activities, and pets that have their physical appearance prioritized.
And speaking of our vet, their staff is composed of well-accomplished doctors. Some are members of international organizations like the Global Network of Veterinary Surgeons.
You can see this kind of excellence in the way they handle pets. King was treated like royalty the whole time he was in the room with the vet—he even received a treat afterward.
However, we had a problem with one of their staff when we asked if we can see their trade license to double-check their credentials.
They were very apprehensive about it and reasoned with us that the request has to go through numerous administrative processes. They even told us that we don't need to see it because they are already the largest vet company in Dubai.
This attitude was disappointing, and we decided to stop pressing. Them being the largest vet company around isn't an excuse not to show a copy of your trade license from the government of Dubai.
Other than that, we enjoyed our overall experience. We also learned that they also have a 24/7 emergency service and told us they perform an initial triage to assess our pet's condition.
Another advantage for you if you choose them is they have seven branches all over Dubai, making them the most accessible vet clinic in the city.
All in all, The City Vet Clinic owns up to its title as the largest vet company in Dubai by offering pet owners the best service and treatments around.
Offers 10% discount to employees of certain companies
Services and treatment applicable to many species
Offers pet nutrition counseling
Staff are well-accomplished in their field
24/7 emergency services are available
Has seven branches
The waiting area may have an unpleasant odor
Apprehensive when it came to showing credentials
Price is average without the discount
Customer Reviews
Rescued my rescue kitten!
"Went to City Vet Clinic with a rescue kitten. They were able to fit me in without a prior booking, which was appreciated.
I was seen by Dr Livia who was excellent – professional, knowledgeable and great with the kitten. The rest of the staff were lovely as well.
Would be nice if they have discount rates for rescues / TNR, but overall it's a great clinic." —Harley Oliver Stewart, Google Reviews
Loyal service
"We have been taking our dog Simba to City Vet Clinic for almost 9 years and we are so happy with the level of care and professionalism shown by all the staff. Dr Stella, in particular, is just amazing!" —Awhina Houpapa, Google Reviews
4. The Veterinary Hospital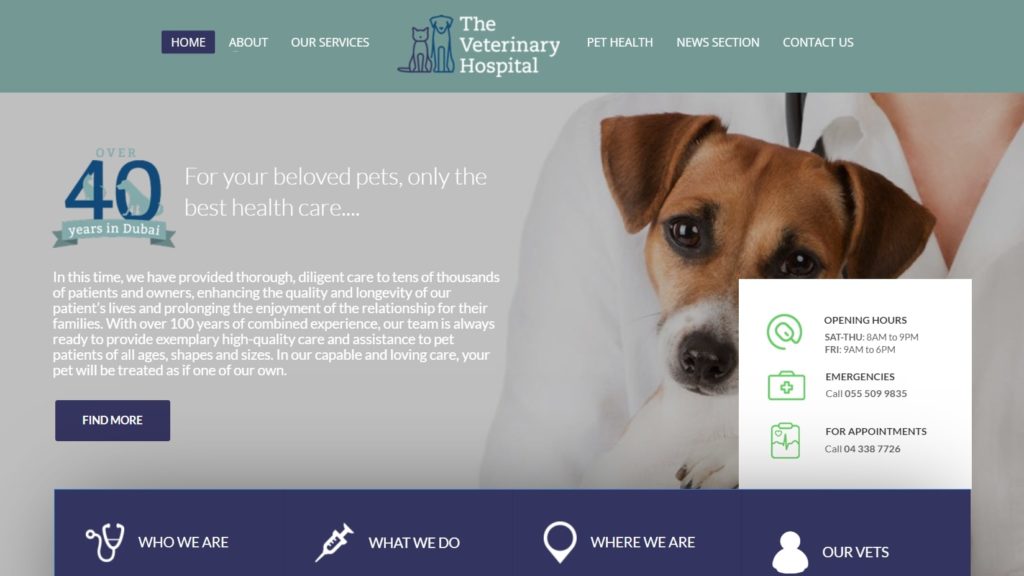 Test
Info
WEBSITE
https://www.vet-hosp.com/
ADDRESS
Villa 4, Al Wasl Road, Umm Al Sheif, Dubai, UAE
CONTACT DETAILS
04 338 7726, 055 509 9835
OPERATING HOURS
Saturday – Thursday: 8 AM – 9 PM

Friday: 9 AM – 6 PM
| | |
| --- | --- |
| Criteria | Ratings |
| Cost | ★★★☆☆ (3/5) |
| Cleanliness | ★★★★★ (5/5) |
| In-HouseTreatments | ★★★★★ (5/5) |
| Customer Service | ★★★★☆ (4/5) |
| Availability | ★★★★☆ (4/5) |
Having to go through a surgery is not easy, and it's not easier when your pets need it, too. But with The Veterinary Hospital, you can rest assured that your pet is in great hands.
One of their clients, Samantha, and her pet dog, Cookie, came in for orthopedic surgery. This was after Cookie accidentally got a fractured rib from falling while playing with another dog.
The Veterinary Hospital is the leading emergency vet clinic in UAE, making them the most expensive vet clinic on this list.
However, what makes them expensive is the fact that they offer intensive surgeries. Their services that are commonly availed still fall within the average price range.
Another reason why they are expensive is that they issue medicine that is imported from UK. This is due to the fact that they follow the standards set by The Royal College of Veterinary Surgeons (TRCVS).
Samantha also shared with us that the clinic was very clean, orderly, and most of all, quiet. It reminded her of hospitals for humans.
We think the calm environment is made to help veterinarians focus on intensive surgeries, and noisy surroundings might distract them from that.
Samantha admired how the staff was very serious and attended to things very urgently. It was obvious that they do emergency surgeries regularly.
We appreciate the fact that this clinic knows the importance of being serious, especially when someone's pet is in pain.
But that doesn't make them cold or uncaring towards the animals. In fact, they are the first animal hospital in Dubai to be awarded the Gold Standard award by the International Society of Feline Medicine (ISFM).
This makes them one of the most cat-friendly clinics in the world.
As for their in-house services, they don't really offer much besides specialized and common surgeries. Alternative and extra services are unavailable.
This is understandable because we can't really imagine having our pet groomed right after surgery, but services like this could come in handy for nearby pet owners.
And of course, as a clinic that specializes in emergency surgeries, they offer 24/7 emergency services. But they only have one branch, which was disappointing to learn.
All in all, what makes The Veterinary Clinic one of the best is that they can and are willing to do what most vet clinics wouldn't do.
They are ready for any emergencies, and we recommend that you really keep this clinic in mind just in case something serious happens to your pet.
Leading emergency vet clinic in UAE
Clinic is clean and quiet
Does things in an urgent manner
First vet clinic in Dubai to have the Gold standard award by ISFM
Follows standards by TRVCS
Offers 24/7 emergency services
Expensive services and medicine
Lacks in other in-house treatment
Only has one branch
Customer Reviews
Great service!
"We found about this clinic because we adopted a rescue dog from K9 friends and she was booked in here for a spay. Dr Amber and her team were fantastic and so we also brought our other dog in for a spay and annual vaccinations. Recently, Dr Amber was not available for an emergency recently and recommended Dr Ruben – he was great as well and they are now our vets of choice. Have no hesitation recommending you to bring your dogs here." —Julian Hodda, Google Reviews
Thank you for saving my cat!
"Dr. Rúben helped my cat get better. My cat fell from the balcony and had a broken jaw. After the x-ray, Dr Ruben diagnosed my cat with a broken jaw but emphasized that no surgery was necessary. Time, a wet food diet, and pain killers will heal my cat's jaw. Slowly but surely, I can see my cat returning back to normal. Thank you, doctor and all the friendly staff." —Adam Ahmed Alrasheed, Google Reviews
5. Amity Veterinary Clinic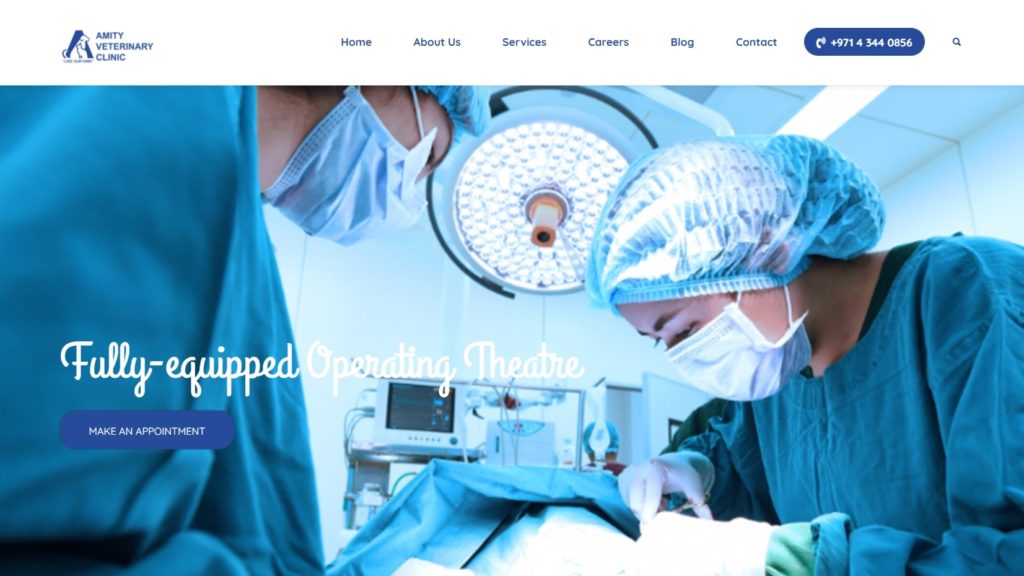 | Test | Info |
| --- | --- |
| WEBSITE | https://amityvet.com/ |
| ADDRESS | Villa 1 (next to civil defense) - 39th St - Dubai - United Arab Emirates |
| CONTACT DETAILS | +971 55 128 7940 |
| OPERATING HOURS | Saturday – Thursday: 8 AM – 10 PM |
| | |
| --- | --- |
| Criteria | Ratings |
| Cost | ★★★★★ (5/5) |
| Cleanliness | ★★★★☆ (4/5) |
| In-HouseTreatments | ★★★★★ (5/5) |
| Customer Service | ★★★☆☆ (3/5) |
| Availability | ★★★☆☆ (3/5) |
Regularly having your pets checked and making sure they're healthy can be expensive. However, Amity Veterinary Clinic can help you with that with their budget-friendly rates.
We brought along our dog, Max, to try out their clinic and booked him for a regular checkup. The price they gave us was highly satisfactory.
Besides that, they also always prescribe generic versions of medicines for pets, which is great if you're saving money.
The clinic is very homey and orderly. The merchandise on the shelves didn't feel cluttered, and the waiting lobby never felt crowded even if it was packed with owners and their pets.
However, the holding area for pets was right beside the lobby, and so the smell of newly-bathed pets and the noise comes into the lobby.
It got rowdy multiple times while we were waiting, and the pets who were waiting also started making noise because of this.
We are big fans of the staff as a whole. It was evident that they were compassionate and knowledgeable on how to handle pets.
We came in with another rowdy dog that the staff managed to calm down during his checkup, and the owners were mightily impressed with what they did.
By far, they had the best pet care before, during, and after the treatments. We really enjoyed how they interacted with the animals, and they always knew how to read their behavior.
They were very generous with the treats, too. Max was spoiled rotten with all of the treats he got throughout the whole checkup.
They also have a well-rounded set of services, including the common ones like castrations and vaccinations.
However, you're better off checking other vet clinics if your pet requires special attention or has an uncommon case that needs to be addressed.
What they lack in special treatment, they make up in other unique services. Our favorite is their daycare facility where you can leave your pets while you go out and do some errands.
We tried this out on Max so we can go out grocery shopping, and they returned him to us all tuckered out and content with all the friends he made that day.
Unfortunately, another area where they fall short is emergency service. They don't have any, and they only have one branch in the city, which makes them quite inaccessible to some interested pet owners.
But on the bright side, they do house calls for immobilized pets, and they even do follow-up checkups for them a day or two afterward.
All in all, Amity Veterinary Clinic should be your go-to clinic if you want a budget-friendly option without compromising on the care and excellent service for your pet.
Budget-friendly services and medicine
Excellent pet care throughout the whole process
Offers daycare services for pets
Offers house calls with follow-up checkups.
Holding area for pets is rowdy and gives off smells
Only common services available
No emergency services
Only has one branch
Customer Reviews
House calls are excellent!
"Highly recommend Amity Vet Clinic. I have taken in a stray cat who gets extremely stressed and agitated. At 8 months pregnant, I didn't feel comfortable attempting to get her into a cat box and bring her to the clinic itself. Amity has a call-out service and I was impressed with their flexibility. They also handled Brisket (my cat) with care and kindness and were quick, so Brisket didn't have to go through a long "ordeal". I'll definitely continue using them! They also follow up and have great client service, which is a bonus. Very impressed." —Alison Anderson, Google Reviews
Always a smooth experience with them
"We absolutely loved Amity Vet and their home visit for annual vaccinations. The staff was friendly and professional and everything went very gently and smoothly. Their home visit will not cause any stress for animals and I can really recommend it if you are having a busy life, have an old pet, or have many pets at home. It also comes very handy with animals who hate car rides. It's not easy to find good and trusted vet in Dubai, but they are absolutely amazing!" —Maija Pajamaki, Google Reviews
Things to Consider When Picking a Vet Clinic in Dubai
Not every vet clinic in Dubai offers the same care for your pets. Different clinics specialize in different aspects of animals' health.
It's ideal for your pet to be cared for by a clinic that offers you the services you need at the most affordable price. For that, here are some tips in determining the best clinics in Dubai for you.
1. Check the clinic's locations
Health emergencies don't happen every day, but it pays to be near a vet clinic when an accident or an urgent health matter happens to your pet.
So, always make sure that your preferred vet clinic should be somewhere accessible to you.
2. Compare clinics
Finding the perfect vet clinic for you and your pet won't happen on the first try, and it shouldn't be.
Visit several clinics and compare their equipment and prices, so you can land on the one that works for you.
3. Pick a personality
When visiting a vet clinic in Dubai, you will instantly feel the general mood of the establishment. Some clinics are more businesslike and urgent, while others are friendly and vibrant.
Decide the type of clinic you want to go to to help you narrow down your options.
FAQs About the Vet Clinics in Dubai
---
We hope this helps you better meet your pet's needs. If you also want to save your pet from the stress of moving, check out our list of the best places for pet relocations in Dubai.