The 7 Best Business Consulting Firms in Dubai
Featured Image Source: Austin Distel via Unsplash
Starting and running a business is no easy feat. These days, it's not enough to simply have a great product or a service—which is why seeking advice from business experts is a worthy investment!
Approach professionals who can help you strategize, grow your business, and make sound decisions backed up by relevant data. In order to maximize the potential of your company, business consulting firms are definitely your best bet!
If you're a budding entrepreneur and just don't know where to start and how to keep your business afloat, read on and find out everything you need to know about business consulting in Dubai.
The Cost of Business Consulting Firms in Dubai
Like many other services, there is no one answer to the question of how much it costs to hire a business consultant. Other than the fact that most firms don't publish their rates, there are a lot of things that need to be considered before they can put a price tag on their services.
Some of the key factors that affect consultancy rates include the scope and complexity of your business (Obviously, small and straightforward businesses will be easier to handle and require less services), the skills and experience of the firm, and how long you'll be availing of their services.
To give you a rough estimate, freelance business consultants with less experience are likely to bill you around AED 250 per hour. If you're running a small to medium business enterprise on a tight budget, then you might want to invest in this first.
If your business operates on a larger scale, then business consulting firms may fit you better because of the amount of work that needs to be done and the wider range of services they offer. Rates for this usually start at around AED 1,200 per hour.
The Best Business Consulting Firms in Dubai
Now that you know a little more about what to look for in hiring business consultants, we've looked into some of today's most promising business consulting firms. When you're ready to hire, check out five of the best business consulting options in Dubai below!
1. McKinsey & Company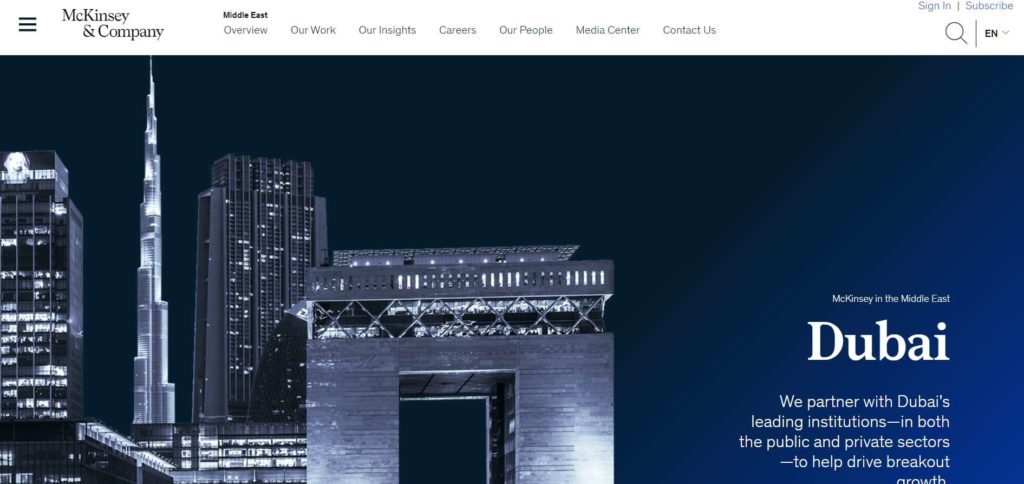 | | |
| --- | --- |
| WEBSITE | https://www.mckinsey.com/middle-east/dubai# |
| ADDRESS | Dubai International Financial Center Gate Precinct 4, Level 4 Dubai UAE |
| CONTACT DETAILS | +971 (4) 389 9000 |
| SERVICES | Analytics, Digital Transformation, Design, M&A, Marketing and Sales, Operations, Crisis Response, Cybersecurity, Risk Data and Digitization, Risk and Regulation, Strategy and Corporate Finance, Sustainability |
One of the world's pioneers in business consultancy, McKinsey & Company boasts of almost a century's worth of experience. Any business expert knows that McKinsey is one of the best in the global industry of business consulting firms, with offices in more than 130 cities around the world.
In transforming your company and making your business profitable, McKinsey believes in undergoing an all-in, enterprise-wide transformation, while executing and renewing at a fast pace.
To lead companies towards the right direction, McKinsey partners with academic institutions and technology partners to help clients get more out of learning science, technology, and execution.
Maximizing technology is also integral in the firm's process. They urge businesses to go digital so that your products and services can stay relevant and keep up with the competition.
If digital transformation is a priority for your company, McKinsey can help you with features like digital sales and marketing, analytics and AI, robotics and automation, and cybersecurity.
In order to sustain your company's capabilities, they also equip you with enough skills and tools to keep the company going even when you've stopped availing of their services. Part of this is training your staff through consultations, workshops, and seminars.
From retail to agriculture, McKinsey has clients in almost every industry. Some of their biggest clients include companies like Coca-Cola and Microsoft.
Caters to several local and global industries
Proven track record of successful clients
Offers solutions to enhance sustainability and environmental efforts
Client Reviews
Many of McKinsey's clients appreciate their professionalism and expertise.
A former client and manager of an oil and energy company dubs McKinsey as "the best consulting firm in the world" and commends them for having "a clear plan about each and every process that has to be done and perfect factual data."
Guruprasad Venkatesha, CEO of an investment management company, described the firm as "innovative" and "ready to work on any challenge and deliver on time."
2. AON Management Consultants
WEBSITE
https://www.aondubai.com/
ADDRESS
Suit No. 1906, City Tower 2 Sheikh Zayed Road, Dubai UAE
CONTACT DETAILS
+971 50 210 6787
+971 50 697 4352


[email protected]

SERVICES
Business Consultancy, Project and Feasibility Reports, Accounting and Bookkeeping, Audit and Assurance, Payroll Processing, Asset Management, Taxation
Founded less than a decade ago, AON Management Consultants has grown to be a firm trusted by clients from all over the world. As a business consulting firm, its primary goals are to add value to the client's business and ensure its efficient functioning—both while helping the client save up on cost.
If you've yet to get the ball rolling, part of their business consultancy services involves assisting you in setting up the company—a tedious process that involves a lot of research, important paperwork, and dealing with government rules and regulations.
If you're a foreign entrepreneur in Dubai, AON can also help you manage your investments, avoid double taxation, and start businesses in UAE's free zones.
Cementing their reach both locally and globally, AON prides itself in keeping updated on the laws and policies in major countries, as well as maintaining good relations with the government and private authorities.
Though based in Dubai, AON's clients are from various industries, mostly from the US and the UK.
Global reach
Offers services on free zone company formation and offshore company formation
Website features 24/7 live customer support
More focused on company setup and accounting
Does not offer consultancy services on technology in relation to business
Client Reviews
Many of AON's clients commend the firm for maintaining good relations and delivering worthy results.
According to their client, Dr. Isaac Yaw Ani: "[AON Management Consultants] helped us establish our company and were of great assistance throughout the process."
In a review posted by Harsha S, she praises them for their "excellent service," with a special nod to the accounting team.
3. A and A Associate LLC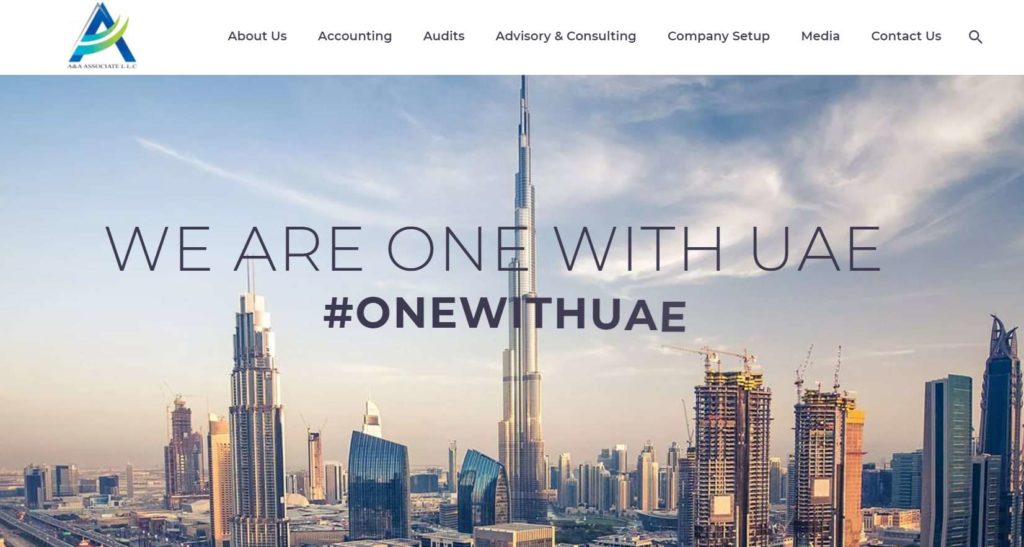 WEBSITE
https://www.aaconsultancy.ae/
ADDRESS
Office No: 208, Rawdat Al Wasl Bldg, Near Mazaya Center, Business Bay, Dubai
CONTACT DETAILS
+971 505302603


[email protected]




[email protected]

SERVICES
VAT Compliant Accounting Services, Audit Services, Financial Management Advisory, Corporate Finance, Feasibility Study, Business Plan, Business Consultancy, Company Formation, PRO Services, Liquidation Services, Tax Residency Certificates and Offshore Registration
Founded in 2010, A & A Associate came to be one of the best business consulting firms in Dubai because of its wide range of services, knowledgeable team of experts, and stellar work ethic.
From setting up your company to accounting and bookkeeping, A & A Associate aims to be a one-stop shop for all your business solutions.
As part of their services on business strategy and planning, A & A Associate gives you financial forecasts, competitive analysis, business modeling, benchmarking, feasibility studies, and capital budgeting.They help you iron out your business plan and efficiently implement it.
From the get-go, the firm's mission has always been to produce "happy customers" through innovative business models that maximize profitability and sustainability.
Some of A&A Associate's satisfied clients include companies like Iqarus, Televes, Medcytes, and Restrata.
Offers services on free zone company formation and offshore company formation
Offers accounting accounting workshops
Provides assistance with licensing and business office rental
Firm focuses on taxation, accounting, and bookkeeping
Client Reviews
As proven by several testimonials, A & A Associate has been succeeding in their mission of making customers happy over the years.
According to Ivy dela Cruz of Beetle and Goliath Innovation and Marketing Pod: "They are pretty much responsive and they are very good at mapping out actionable plans for our team to follow."
John Abin, a client from AjCreations, has described them as "friendly and responsive." He adds that "they care more about the client relationship than money."
4. Affility Consulting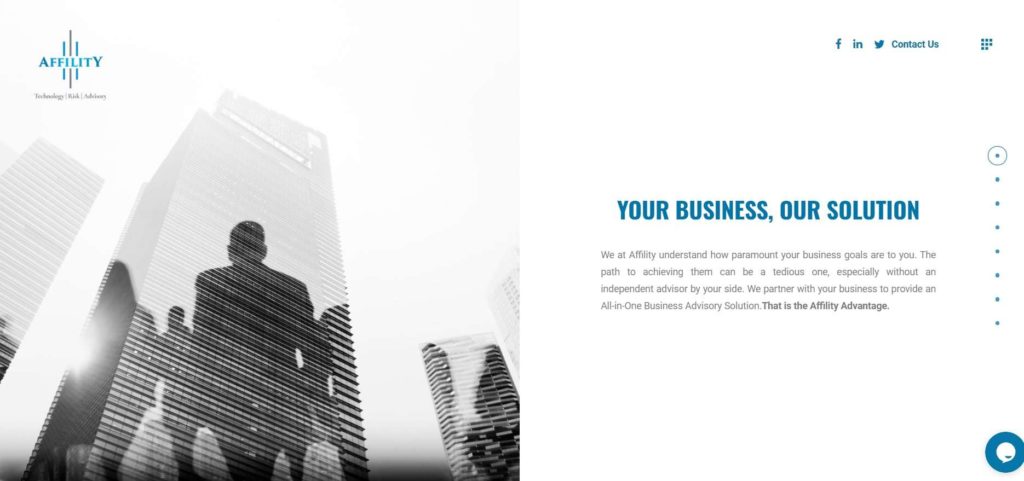 WEBSITE
https://www.affilityconsulting.com
ADDRESS
Office #110, Sobha Sapphire, Business Bay, Dubai – UAE
CONTACT DETAILS
+(971) 4 4211330


[email protected]

SERVICES
IT Project Advisory, IT Audit, Internal Audit, Value Assessment Review (VAR), Enterprise Risk Management (ERM), Feasibility Study, SOP Development, Business Process Re-Engineering (BPR), Business Restructuring, Corporate Finance, Transaction Advisory Services
Established in 2017, Affility's consultancy services focus on technology, risk and advisory. Aiming to satisfy clients through delivering all-around business solutions, the firm makes use of a unique "out-of-the-box" approach for every business project.
While it is the youngest firm on the list, Affility's partners have over 15 years of experience in business consulting with companies in the UAE.
With Affility, one of the things you can expect is their push for IT solutions to maximize profitability and keep up with today's advancements in technology. The firm's consultants are all experts at IT project management and will provide you with a highly-customized package that fits your budget.
Giving importance to your company's goals, the firm goes beyond simple risk management by dealing with non-insurable risks like strategic goals, social media, third party risks, and innovations.
Based on their experience and well-researched data, they give you unbiased insights on your operations. They alert you of any flaws in your current practices and introduce new approaches you can adapt.
Their clientele includes family-run businesses in the local region, insurance companies, real estate developers, construction, retail trading and services, healthcare, education, and manufacturing companies.
Expertise in IT Project Advisory and IT Audit
Offers comprehensive Enterprise Risk Management program
Does not offer business setup services
Smaller team
Client Reviews
Affility's clients have given positive feedback on their consultancy services.
According to current client, Jeeson Mathews: "They use several methods when identifying IT partners to ensure that the firm selected is the best one, and they have proven to be a cooperative and communicative partner."
Another client, company CEO, Isabel Tapp says: "Affility Consulting offers a personal, tailor made service in business consulting. I was very grateful for Ratheesh's knowledgeable and flexible approach which helped a great deal to prepare financial reports and simplify the whole process for a busy small business owner."
5. Bain & Co.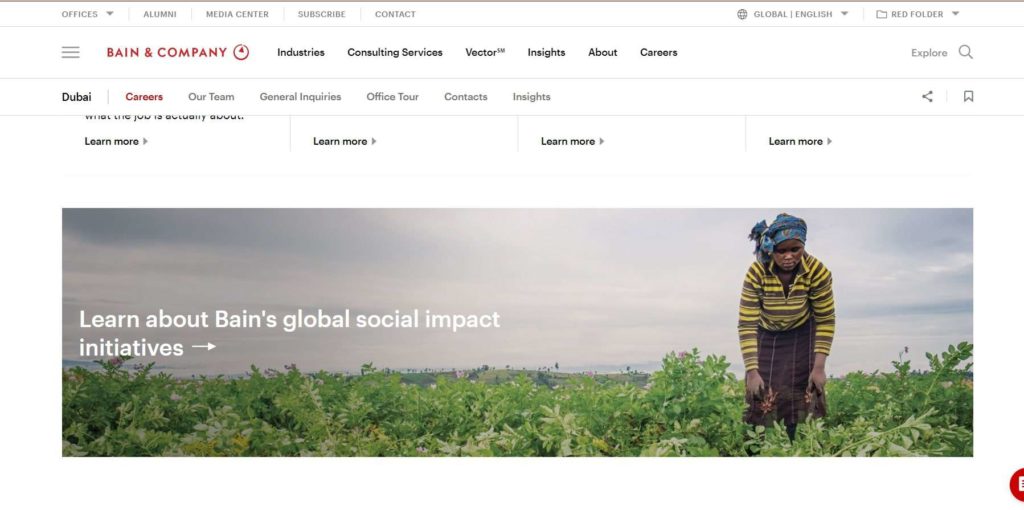 | | |
| --- | --- |
| WEBSITE | https://www.bain.com/offices/dubai/ |
| ADDRESS | Media One Tower, Level 36 Dubai UAE |
| CONTACT DETAILS | +971 4 365 7 365 |
| SERVICES | Agile, Cost Transformation, Customer Experience, Diversity, Equity, and Inclusion, Learning and Development, Mergers and Acquisitions, Operations, Organization, Private Equity, Procurement, Sales and Marketing, Strategy, Sustainability, Transformation, Digital Delivery (Vector) |
Similar to McKinsey, Bain & Co is a firm with decades of experience and a huge global reach. On top of their presence in major business hubs around the world, Bain & Co has bagged several business consultancy awards over the years.
One of Bain & Co's key offerings is their Agile Enterprise method. Through this, they study your company's maturity on critical enablers and customize a program that helps increase your company's speed and flexibility.
The firm also aligns your cost productivity with strategy. This means that everything you spend must serve a purpose that contributes to your company's long-term plans and goals.
Furthermore, in order to sustain your company's profitability, the firm assists you in enhancing your customer experience. Through their Net Promoter System and benchmarking service, NPS Prism, they give you the tools you'll need to keep your customers coming back.
Recently, Bain & Co. also launched Vector, an integrated suite of digital delivery capabilities, expertise, and partnerships. This feature basically helps companies transition into digital smoothly with the help of analytics and emerging technologies.
The firm's clients belong to a wide spectrum of industries, including aerospace and defense, chemicals, entertainment and media, technology, and retail.
Caters to several local and global industries
Offices in various countries
Provides strategies that incorporate diversity, equity, and inclusion
Provides solutions on sustainability and corporate responsibility
Client Reviews
Clients of Bain & Co appreciate the firm's complete range of business solutions and ability to adapt to the rapidly evolving digital era.
A former client in the financial services industry said: "An in depth industry analysis was conducted [by Bain & Co], including how the industry was expanding to grow moving forward."
6. KCCG Consulting LLC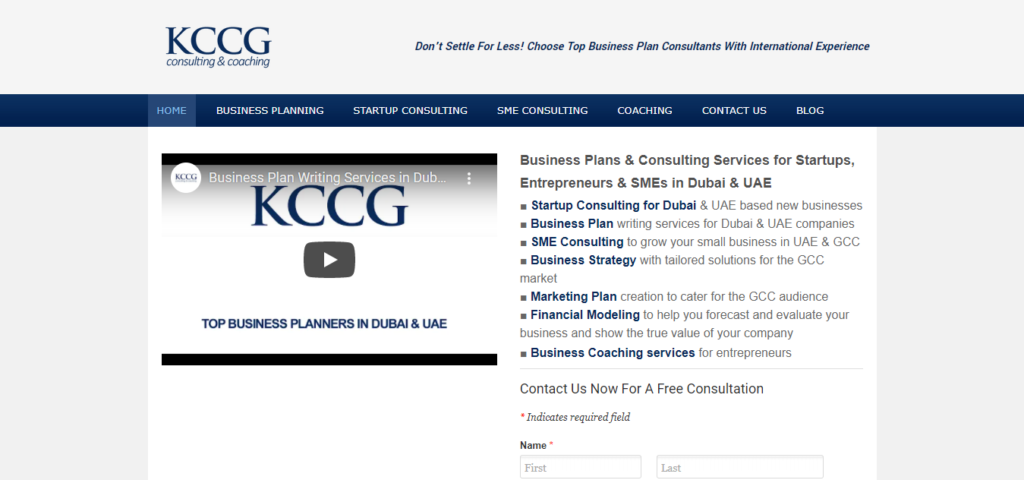 KCCG Consulting LLC has business plan consultants that have international work experience. They are the best when it comes to helping you refine your ideas, turn them into the viable business model, and package them into a compelling document.
Unlike others, KCCG offers customized business consulting services for new ventures and startups in Dubai and UAE. They will provide you with advice on your buiness model and assist you in approaching investors and raising funds for you new business.
Another service they provide is business coaching programs for startup owners and entrepreneurs. With this, your full potential will be unleashed!
Has worked with big brands and companies
Friendly service
Hassle free
Operating hours are not available on their website
Client Reviews
Here's a review from one of KCCG Consulting LLC's clients:
"KCCG helped me transform my dream into reality. I am running my own business now and KCCG played an instrumental role in this thanks to their professional, fast and friendly service.
​Thank you!"
Here's another one:
"Creating a business plan can be quite difficult and time consuming especially when you are just starting out and have so many things to do. KCCG helped me create a professional business plan, hassle free and withing the agreed time."
7.   LMG Consultants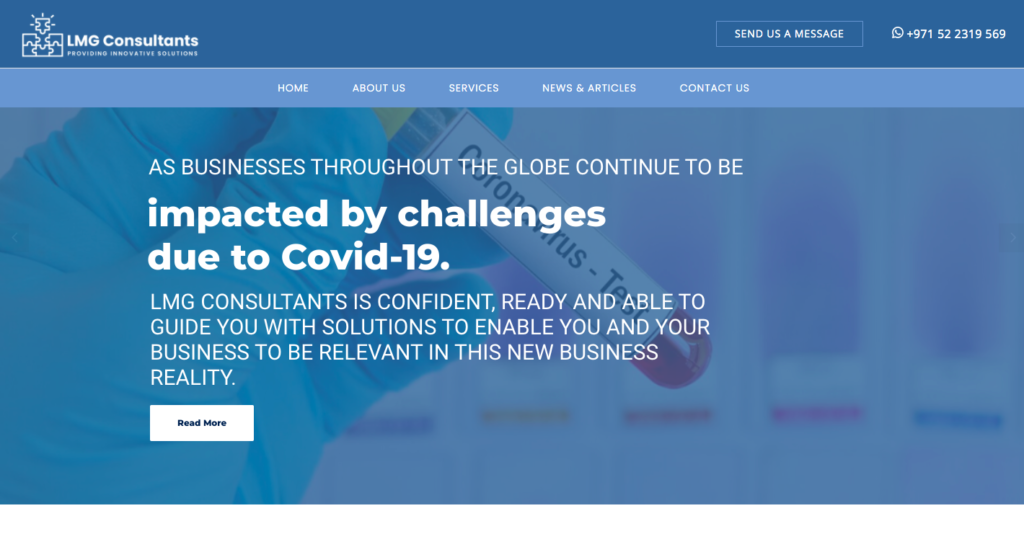 WEBSITE
https://thelmgconsultants.com/
ADDRESS
Al Zarooni Business Center, Al Barsha 1
Office 308 Dubai, UAE, PO Box 50262
CONTACT DETAILS
Phone: +971 454 70228
Email: [email protected]
SERVICES
Incorporation And Administration Of Companies, Leadership Development, Business Development, Energy Efficiency And Solar Advisory, Website Development, Business Coaching, Project Management, Business Tours
LMG Consultants provides customized solutions for businesses and organizations to help them maintain a competitive edge in their respective fields. This British & Emirati Management Consultancy Company has a team of consultants with over thirty years of combined experience.
So whether it's management consulting, project management, coaching, training, business development, or corporate strategy, LMG Consultants has got it covered. They provide fuss-free, practical solutions thanks to their experience and vast network.
LMG Consultants specializes in helping companies and individuals that wish to do business in the United Arab Emirates, Saudi Arabia and Africa. They are knowledgeable in sub-Saharan Africa and Gulf Cooperation Council (GCC) markets and can provide clients with assistance in how to do business in those regions..
So whether you need to consult on business strategies, energy, or fossil fuels, LMG has experience in these industries and many more. They are a diverse team that can offer you unique insights, landing a spot on our list of the best business consultancy firms in Dubai.
Over three decades of experience

Specializes in those who want to do business in the UAE, Saudi Arabia and Africa

Well-versed in a number of industries and sectors
Doesn't indicate rates for services
How to Pick the Best Business Consulting Firm in Dubai
If you're wondering about what you need to take into account in choosing the best business consulting firm in Dubai, here are some tips you should remember:
1. Check if they can work with your budget.
Hiring a business consulting firm is useless if you're spending beyond what you can afford, so stick to your budget and decide on your non-negotiables. If you're running on a low budget, try to ask if they have packages that can accommodate what you're willing to spend.
Just remember not to settle for companies that have bad reviews or can't match what you envision for your business for the sake of saving on cost – that would be a waste too!
2. Ask about their services and how hands-on they can be.
Inquire about what exactly they're offering and how committed they are to helping you manage your business. Clarify your expectations and set your goals to see if it's the right fit.
Before you get into business with them, make sure to iron out every detail of your agreement. This is vital to avoiding any conflict in the future.
3. Research more on their past and present clients.
Look into the experience and success stories of the firm's clients to get a better grasp of what you can expect from the firm. This will also help you decide if the firm is actually worth its price.
Since a lot of business consulting firms don't have published reviews, try to survey social media or personally reach out to clients you know they've worked with.
FAQs about the Best Business Consulting Firms in Dubai
---
Hone your entrepreneurial skills and keep your business afloat with the help of the best business consulting firms in Dubai!
Think we missed some really good business consulting firms? Send us a message and tell us all about them!
If you're looking for another great business investment, check out our list of the best office space companies in Dubai!