The 5 Best Therapists for Marriage Counseling in Dubai
No marriage is perfect. Couples have their ups and downs, and specific advice can help them get through the struggles.
Marriage counseling can help couples overcome challenges and equip them with the right skills to communicate effectively.
That's why we're sharing our top therapists for marriage counseling in Dubai. We also included our criteria in choosing them and answered some FAQs about marriage counseling.
How much does marriage counseling cost in Dubai?
The cost of marriage counseling sessions can vary depending on where you're located, what provider you choose, and the type of marriage counseling you need.
The average cost of marriage counseling can range from AED180 to AED750 per hour.
The Best Therapists for Marriage Counseling in Dubai
Before we get right into our choices of top therapists for marriage counseling in Dubai, here are the criteria we followed as we chose our entries for this list:
1. Dr. Kennon Rider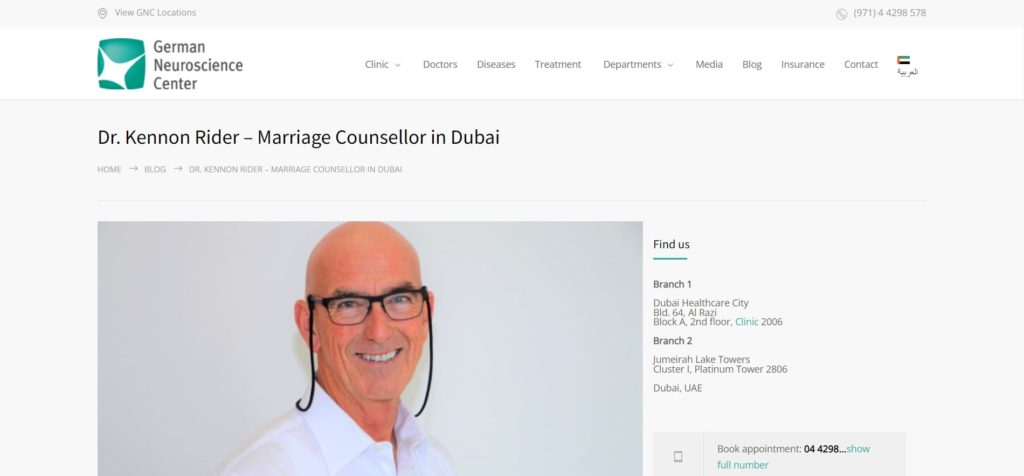 | | |
| --- | --- |
| Criteria | Ratings |
| Education & Training | ★★★★☆ (4/5) |
| Experience | ★★★★★ (5/5) |
| Methods | ★★★★☆ (4/5) |
Dr.Kennon Rider is an expert in guiding couples through many issues. He has 25 years' worth of experience working with these kinds of people.
Trained in the United States, this licensed Marriage and Family Therapist has received both his Master of Science Degree and his Doctorate in Human Development and Family Studies from Texas Tech University.
And while Texas Tech University isn't especially recognized for its Family Relations program, we think it's still impressive for a therapist like Dr. Rider to see through his academic achievements in his career.
And it pays off because his educational attainment and 25 years of experience make him a great choice for older couples who may share the certain mindset you get when you're in his age range.
Jack and Kate, a couple in their mid-50s, wholeheartedly agree with this sentiment. Dr. Rider was able to help them address the issues that started to arise when all of their children moved out of their house.
Dr. Rider's own experience with having to deal with repressed issues that we're put aside to care for his own children helped them understand many things about themselves as a couple and as individuals.
His age doesn't limit him, either. Dr. Rider teaches as a professor at the Zayed University in Dubai.
His classes have included courses like Children and Families in Crisis, Family Relations, and many more.
This means that he gets to interact with younger people every day, sharing and learning from each other about how young couples operate in modern times.
As for his methods, Jack and Kate shared with us that his primary strategy would be to get couples to join seminars and workshops that he holds.
These group sessions train couples to face issues such as grief, crisis management, anxiety, communication, and many more.
And while these are effective and simple solutions to complicated problems, we believe that not everyone may be comfortable with a group setup.
Airing out dirty laundry in front of strangers may not be effective for many, but it can give a sense of community that some couples may be looking for.
All in all, Dr. Kennon Rider's multi-decade experience and exceptional educational background make him a formidable choice for marriage counseling.
He's tried and tested many approaches throughout his career and continues to expand his perspectives by teaching and learning from students, something that is extremely valuable for therapists.
Has 25 years of marriage counseling experience
Has a Master's degree and a Doctorate in Family Relations
Seminar and workshop approach creates a sense of community
University he trained from is not known for significant programs
Seminars and workshops may be uncomfortable for some couples
2. Sailaja Menon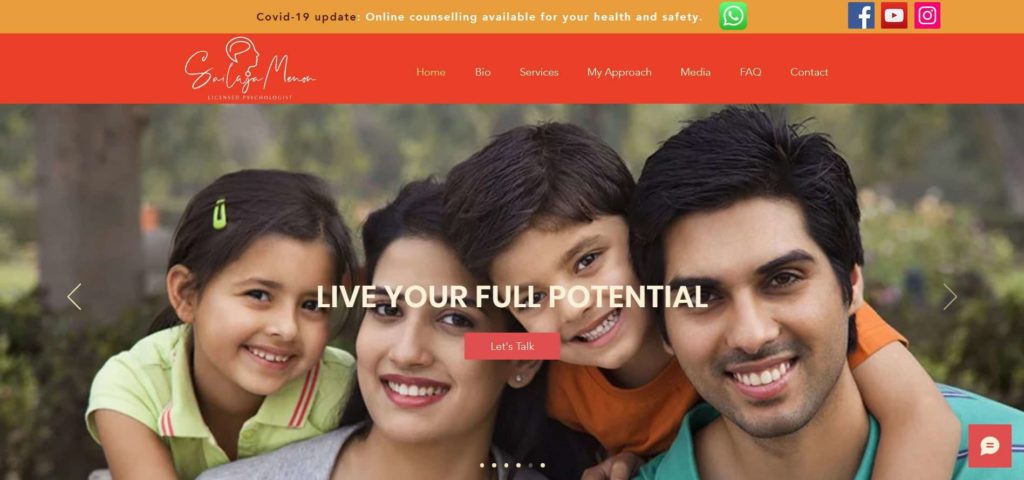 | Test | Info |
| --- | --- |
| WEBSITE | https://www.sailajamenon.com/ |
| ADDRESS | The One Tower Suite, Suite 904-905, Tecom, Al Barsha, Dubai, UAE |
| CONTACT DETAILS | +971 56 743 1266 |
| OPERATING HOURS | Saturday to Thursday: 8:30 AM–8:30 PM |
| | |
| --- | --- |
| Criteria | Ratings |
| Education & Training | ★★★★★ (5/5) |
| Experience | ★★★★★ (5/5) |
| Methods | ★★★★☆ (4/5) |
For 25 years, Sailaja Menon has been helping married couples work through their issues within the confines of their culture, beliefs, and perspectives in life.
She graduated as a psychologist with a post-master degree (CAGS) specializing in multicultural counseling from the world-renowned and prestigious Johns Hopkins University in the United States.
Sailaja's training has equipped her to be a great therapist for both individuals and couples alike, and her exceptional educational background really adds great credibility to her approaches to counseling individuals, couples, and families.
Ahmed and Natasha are a young couple who have been struggling to reconcile their different beliefs and religious upbringing. They came to Sailaja because of her multicultural background.
American of Indian origin, Sailaja was born in Malaysia and spent her childhood there before moving to India for her formative years.
She has been working in Dubai as a psychologist for the last 10 years but has also worked in the US, India, and Singapore.
Her multicultural background allows her to be empathetic to the struggles and challenges that many cultures bring to a married couple.
It also allows her to reconcile multi-cultural differences and harmonize different beliefs that are mostly the root of many issues in relationships.
We think this is especially important in a diverse city like Dubai, where different ethnicities, cultures, and religions co-exist with each other. Her multicultural experience also plays an important role in her methods.
We love that Sailaja follows the belief that in therapy, what a client requires is not necessarily a brilliant mind that speaks but a patient heart that listens.
She has an eclectic approach and often integrates other models of therapy such as cognitive behavioral therapy, solution-focused compassion-based therapy, mindfulness-based therapy, emotion-focused therapy, and acceptance and commitment therapy.
This is because she firmly believes that no approach fits all couples and that she addresses unique issues with different approaches.
And while we agree that it's important for therapists to have an array of approaches to suit the clients, we also think that the unpredictability of it all may seem daunting to first-timers.
She also focuses on adapting her techniques to best suit the client's cultural background, ethnic identity, level of acculturation, and unique life experiences and situations.
The only problem that Ahmed and Natasha really expressed to us is that it's so hard to get an appointment with her because she is the top choice for expat couples, considering she fits a niche within that multi-cultural community.
All in all, Sailaja Menon backs up her amazing knowledge with her multicultural background as means to really understand the root of every couple's issues.
Her belief that a patient and open heart comes first before having a brilliant mind is what makes her so empathetic and driven to help solve marital problems.
Graduated from a world-renowned university
Multicultural background
Has 25 years of experience as a therapist
Eclectic approach to therapy
Eclectic approaches may be unpredictable for others
Difficult to book an appointment because of popularity
3. Nicola Beer
| Test | Info |
| --- | --- |
| WEBSITE | https://nicolabeer.com/ |
| ADDRESS | One Lake Plaza - Jumeirah Lakes Towers - Dubai - United Arab Emirates |
| CONTACT DETAILS | +971 50 945 4233 |
| OPERATING HOURS | Every day: 9 AM - 10 PM |
| | |
| --- | --- |
| Criteria | Ratings |
| Education & Training | ★★★☆☆ (3/5) |
| Experience | ★★★★★ (5/5) |
| Methods | ★★★★☆ (4/5) |
World-renowned expert in relationship psychology, Nicola Beer, has proven to the whole world that her eccentric approach to marriage counseling gets the job done.
Luna and John, a couple who has been through several marriage counselors, finally found the perfect partner to help them get through their issues with Nicola.
They shared with us that Nicola's formulated program that guides couples through the healing process has done miracles for both of them.
They also shared that once you get past the feeling of skepticism and ridiculousness, you'll find that her practices really change you.
We love that Nicola has become a trailblazer in the industry by introducing a new approach to fixing relationships. She believes that the reason why marriage counselors only enjoy a success rate of 20% is that their techniques are more than likely outdated.
And while it was hard for us to believe that traditional practices that therapists have been using don't work as well as they should, the results pushed us to believe her even more.
While marriage counselors only have around a 20% success rate, Nicola is known for having 90% of her clients reconcile with each other.
Perhaps her lack of a large and prestigious educational background has become more of a strength rather than a weakness. By not being confined within the traditional perspectives of therapy and psychology, she can think outside the box.
Nicola's limited educational background includes a bachelor of science in Sociology with Psychology Modules. Most of her background comes from specialized training in anxiety treatment and hypnotherapy, spiritual coaching, and grief and loss recovery.
Most of her credentials are not at all prestigious, but she has shown great results. She's impressively an Amazon best-selling author of four books and has an award for Middle East Women in Leadership.
Where she lacks in credentials she makes up for in her life experience. At age 14, her parents divorced after a volatile marriage. She considers it a deep loss as a young adult, and she ended up feeling lonely, depressed, and confused.
This sense of disappointment pushed her to find answers and spend years researching, interviewing, and learning from happily married couples about what really works.
All in all, Nicola Beer proves to be one of the best in the world because of her unorthodox approach and life experience pushing her to sincerely help couples.
Innovative and unorthodox approach
Has personal experience with marriage fallout
Best-selling author of 4 marriage counseling books
Her unorthodox approach may seem daunting for couples
Because of how popular she is, most of her sessions are conducted online
4. Sarah Rasmi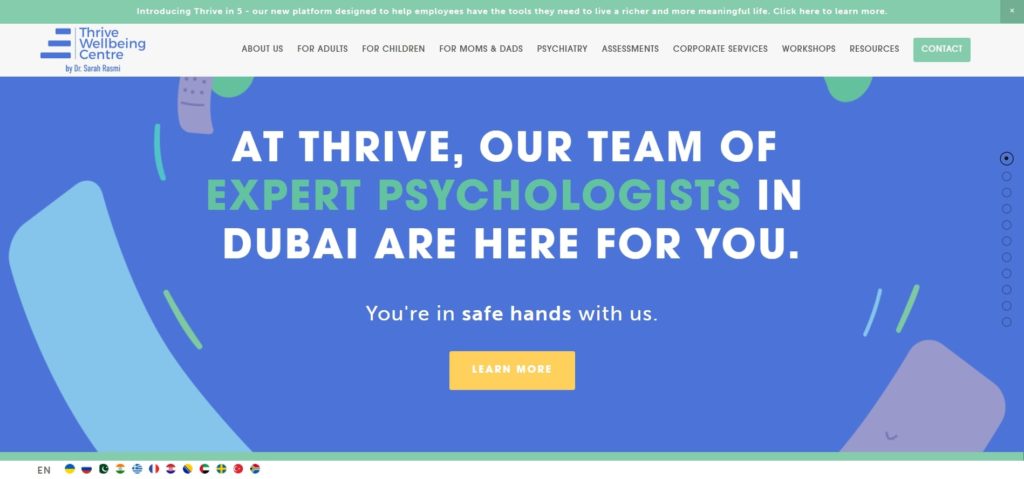 Test
Info
WEBSITE
https://www.thrive.ae/#hero
ADDRESS
Office 301, Saba Tower 1, Cluster E, JLT, Dubai, UAE
CONTACT DETAILS
+971 56 895 2347

+971 4 514 7386

OPERATING HOURS
Sunday-Thursday: 9 am–8 pm

Saturday: 10 am–6pm
| | |
| --- | --- |
| Criteria | Ratings |
| Education & Training | ★★★★★ (4/5) |
| Experience | ★★★☆☆ (3/5) |
| Methods | ★★★★☆ (4/5) |
The managing director and the highly-demanded therapist of Dubai's Thrive Wellbeing Centre, Sarah Rasmi has been helping guide married couples through rough patches for many years now.
She holds an M.A. and Ph.D. in Psychology from the University of Guelph in Canada and has completed couples therapy training via the Gottman Institute, as well as the Humanistic Existential and Relational Therapy (HEART) training.
On top of that, she has also received training in therapy services from the Behman Psychiatric Hospital in Egypt and United Arab Emirates University.
We love that she has received international education from world-renowned institutions. But at the same time, she manages to learn the culture of the middle east by training under middle eastern institutions, perfectly melding global standards with the local cultural context.
Clara and Asanga, who have recently gone through a rocky phase in their relationship after some financial troubles, found solace in opening up their issues to Sarah.
The couple shared with us how easy it was to tell her everything wrong in the relationship because of her warmth and gentleness.
We love that Sarah's approach also follows the center's belief in the power of science and evidence-based treatment options. But on top of that, she's also very aware that nobody knows the client as much as the client does.
With this in mind, she combines the latest research and best practice within the context of the cultural and moral aspects of the client to provide them with the best tools and skills to help couples get through their struggles.
And being the managing director of Thrive, Sarah is exposed to many learnings and experiences on a day-to-day basis.
Whether it's from the things she hears from her patients, or from the findings that her team shares with each other, her experience in counseling is built on the foundation of constant learning from work and personal life.
Though, other than that, there really isn't any other background experience that makes Sarah an impeccable marriage counselor.
All in all, while Sarah's approach to marriage counseling can be seen as very conventional, it's hard to deny that these work.
Her amazing educational background and training, paired with the constant learning on working with colleagues and clients regularly make her a knowledgable choice for couples.
International education with local training
Follows evidence-based treatments
Always contextualizes client's background for approach
Gentle and warm demeanor
Nothing groundbreaking with her methods
Lacking in personal experiences when it comes to troubled marriage
5. Marie Byrne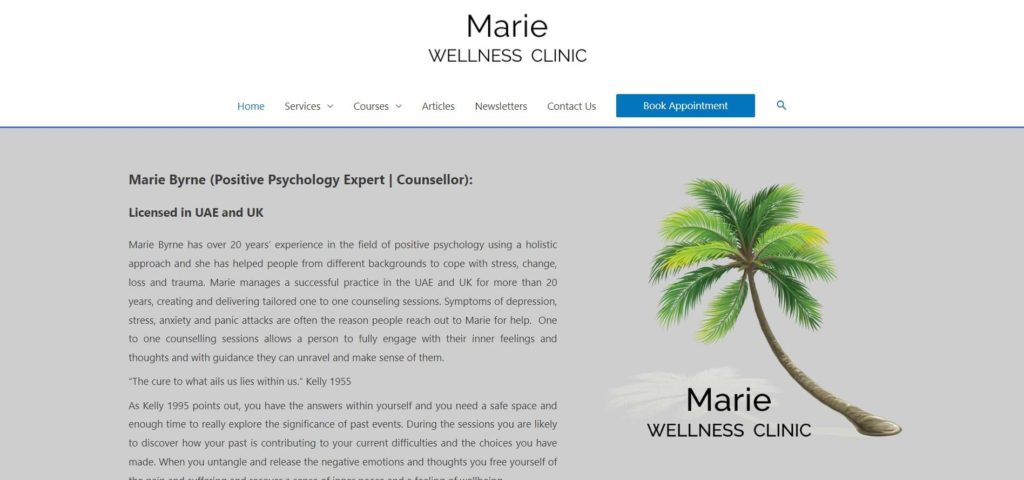 | Test | Info |
| --- | --- |
| WEBSITE | https://mariewellnessclinic.com/ |
| ADDRESS | Within Just Be Wellbeing Center - 102 Al Woushar St - Umm Suqeim - Umm Suqeim 1 - Dubai - United Arab Emirates |
| CONTACT DETAILS | +971 50 108 7592 |
| OPERATING HOURS | Every day: 9 AM - 6 PM |
| | |
| --- | --- |
| Criteria | Ratings |
| Education & Training | ★★★★☆ (4/5) |
| Experience | ★★★★☆ (4/5) |
| Methods | ★★★☆☆ (3/5) |
With a career in therapy for more than 20 years, Marie Byrne has founded a successful practice both in the UK and the UAE.
Throughout those years, she has managed to publish a self-help book based on the results of the study she did during her doctorate program. It was about self-actualization using Maslow's Hierarchy of Needs.
Besides that, she also has an advanced diploma in Mindfulness and Cognitive Behavioural Therapy. And she is a certified life coach and personal development facilitator.
So while her educational background seems limited and pretty much straightforward, it's also important to note that Marie has accomplished significant milestones in a therapist's life.
Other than that, her career and her personal experiences have led her to believe that you have the answers within yourself and you need a safe space and enough time to really explore the significance of past events.
Both her experiences and studies have shaped her perspective on therapy in the sense that the individual has the solutions to their problems. It has also shaped the way she approaches marriage counseling.
Anna and Hugh, a couple from the UK who struggled with moving on from the death of their youngest child, shared with us that Marie implements these Discovery Courses.
It helps couples learn how their past contributes to their current difficulties and the choices they've made. It also emphasizes a lot on inheriting our parents' behavior and bringing that into our current relationships which could cause problems.
And by untangling and releasing all these negative emotions between the couples, she can help free themselves of the pain and suffering they have both caused each other.
Through this, Anna and Hugh were both able to target habits and defensive tactics that were the root of their conflicts and were able to reconcile with each other on the death of their child.
We think that this approach is multi-faceted and can really be effective towards more than just the marriage, but to the growth of the individuals as well.
All in all, Marie's approach to helping couples is by targeting each individual and addressing their past and the issues that come with it.
By doing so, both individuals will be able to find peace within themselves and with each other.
Has over 20 years of experience
Has published a self-help book
Her approach targets the individuals' issues
Limited educational background
FAQs about Marriage Counseling in Dubai
---
Relationships have their challenges and marriage counseling can help overcome that. If you're looking for other therapies and wellness solutions, then check out these articles: