The 4 Best Financial Planners in Dubai
Spending money is an easy task. Managing your money is the opposite.
If you're looking to know how to properly manage your wealth, some companies offer their expertise in financial planning. This means that they guide their clients toward decisions that can maximize their money for meeting their goals.
Here are our recommendations for the best financial planning companies in Dubai!
How Much Do Financial Planners Charge
Some planners offer a flat rate for their services. The table below lists the estimated price range for financial planning fees:
Financial planners usually charge on a percentage basis. This is calculated concerning the number of funds or assets that they are tasked to manage.
| Test | Info |
| --- | --- |
| Pricing Type | Estimated Cost |
| Percentage-basis | 0.25% - 1% per year |
| Flat Rate | 7346.20 AED - 27548.25 AED per year |
The Best Financial Planners in Dubai
Here are the following factors we used to assess the companies we've looked at:
We rated the companies based on how quickly or easily they respond to their client's concerns and inquiries.
1. Finsbury Associates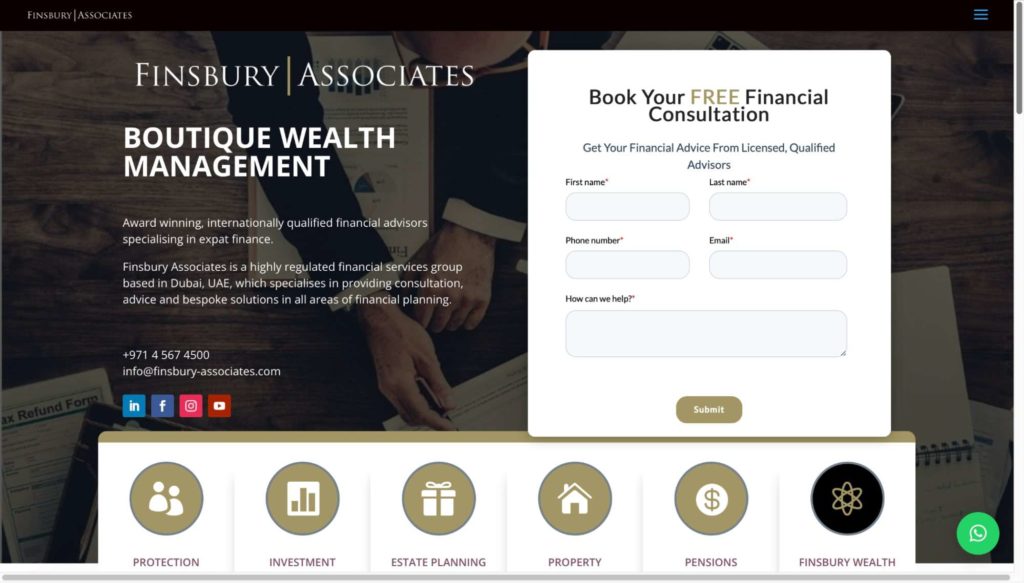 Test
Info
SERVICES
Protection

Investment

Estate Planning

Property

Pensions

Finsbury Wealth Management Solutions

WEBSITE
https://finsbury-associates.com
ADDRESS
U Bora Towers - Commercial Tower - 16th Floor - Business Bay - Dubai - United Arab Emirates
CONTACT DETAILS

Phone: +971 4 567 4500

E-mail: [email protected]

OPERATING HOURS
8:00 AM - 5:00 PM (Monday - Thursday)

8:00 AM - 12:00 PM (Friday)
| | |
| --- | --- |
| Criteria | Ratings |
| Experience | ★★★★☆ (4/5) |
| Services | ★★★★☆ (4/5) |
| Proper Licenses | ★★★★☆ (4/5) |
| Customer Support | ★★★★★ (5/5) |
Finsbury Associates is a financial advisory and wealth management firm in Dubai. The company specializes in providing professional management and advice for its clients concerning various aspects of their wealth.
Established in 2013, the company has garnered high satisfaction ratings over the years. The establishment is noted for its great service in furthering its client's financial goals.
While Finsbury Associates has been serving clients for nine years, the company takes in employees that are experienced in financial planning and are properly licensed. For example, they have CISI-qualified advisors.
Chartered Institute for Securities & Investment or CISI is a certification that is used by employers in the financial industry as a benchmark for the capabilities of their employees.
In addition to the staff's expertise in wealth management and planning, we noted that the company also easily responds to emails and calls. According to the customers we've conversed with, they were able to work with employees that will update them at every turn, and communicating with them was very easy.
So rest assured that the company has the right staff for your concerns!
Speaking of the right staff, the company provides various financial management services depending on the type you would want to focus your money on. Some examples of this include estate planning and investment advising or services.
We noticed that Finsbury Associates has a separate general wealth management service for people who have a net worth of over $1,000,000. This focuses more on advising in different aspects of financial management.
While this is great, we also noticed that they do not have a general wealth management service for those who have a net worth lower than million-dollar threshold.
In addition, there is a limitation on their pension-related services. This particular offer is only available for customers in the UK, unfortunately.
However, the company does offer a free financial consultation so you can get a feel of how they work.
Overall, we recommend Finsbury Associates for its variety of financial planning services, and its capability to work with people who invest in varying amounts. Regardless of the amount, the establishment still provides its best services to its customers.
Has different sections of wealth management
Separate service for investments of more than $1,000,000
Offers free financial consultation
Works with individuals and businesses
No general financial planning service for investments lower than $1,000,000
Limited information on their website
Customer Reviews:
Helpful and Supportive Staff
"I cannot stress enough how helpful and highly supportive Neil Stewart from Finsbury Associates has been during our investment journey. As a skeptic when it comes to financial advisory services, I was somewhat nervous about finally doing something with my savings. Neil was so very responsive and extremely transparent about everything and gave me confidence in him first and foremost, but also the group. Another reassuring feature of Finsbury Associates is that there is no cold calling and clients have to seek them out. I am very happy and hugely satisfied to have taken what was a big step for my family with Neil and Finsbury Associates." – Jade Peter-Swain
2. AES International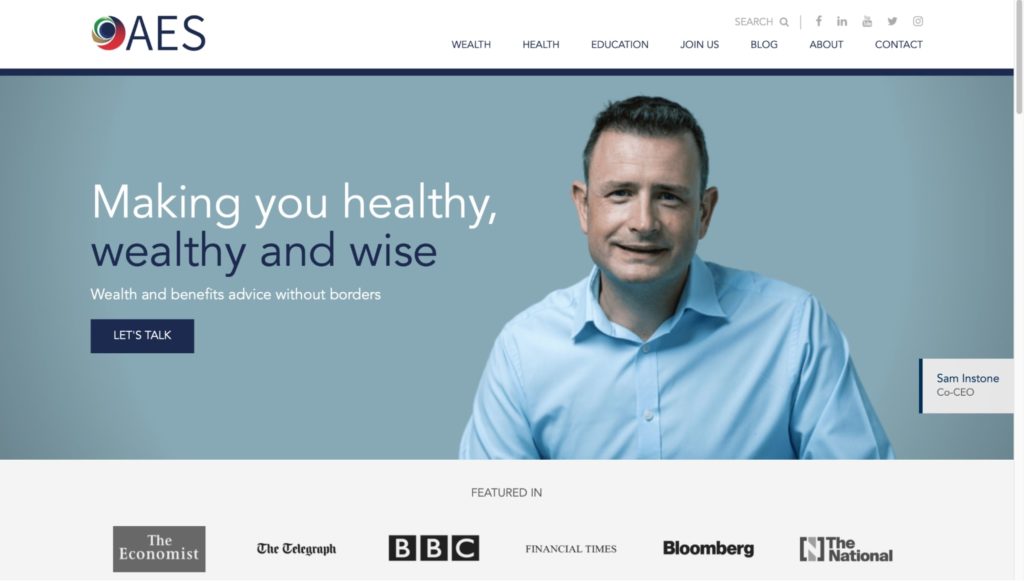 Test
Info
SERVICES
Investing

Financial Planning

Health Insurance

WEBSITE
https://www.aesinternational.com
ADDRESS
Level 2, Exchange Tower - Al Mustaqbal St - Dubai - United Arab Emirates
CONTACT DETAILS

Phone: +971 (0) 4559 4900

E-mail: [email protected]

OPERATING HOURS
8:30 AM - 5:00 PM (Monday - Friday)
| | |
| --- | --- |
| Criteria | Ratings |
| Experience | ★★★★★ (5/5) |
| Services | ★★★★☆ (4/5) |
| Proper Licenses | ★★★★★ (5/5) |
| Customer Support | ★★★★☆ (4/5) |
AES International has been helping clients with their finances for almost two decades.
The company is a certified fiduciary. This means that they are ethically and legally bound to act in the best interest of the client or party whose assets they are managing.
The establishment is the only company we've noted to have the Centre for Fiduciary Excellence (CEFEX) certification. This recognition is obtained by allowing the Centre to assess and audit the company.
But what does that mean for us customers? It means that we can be reassured that the company will do its best to act in our interests… and not scam us out of our money.
When it comes to services, AES evaluates its clients' current financial position before providing a plan for them. This kind of attention to detail is good, as the resulting advice or assistance they provide to their customers would be tailored to them.
In addition, the company revisits these goals and revises them every few months based on market trends. We noticed that they usually handle more ex-patriot clients though.
For customer support, AES International is noted to be hands-on with its clients. Their staff responds fast to inquiries and concerns.
In addition, they are very transparent with their customers. This is a boon, as you would want to know what's happening with the asset or money you've trusted them with, right?
Overall, we recommend AES International for its hands-on financial planning services. Since they operate as fiduciaries, we can be reassured that this company will do its best in making sure your best interests will be fulfilled!
CERTEX certified
Fee-based services
Requires a call or appointment for more information
Ex-patriots focus
Customer Reviews:
Fantastic Customer Service
"I found AES International Dubai a very professional company, easy to do business with, time keeping is excellent and above all their level of Customer Care is fantastic. Also one point of contact strategy is very good and I found working with Mr. Arsalan Aziz excellent, has has all the good attributes and Custer Care at foremost. I would recommend AES International Dubai to others with confidence." – Dr. Zahid Rizvi
3. Holborn Assets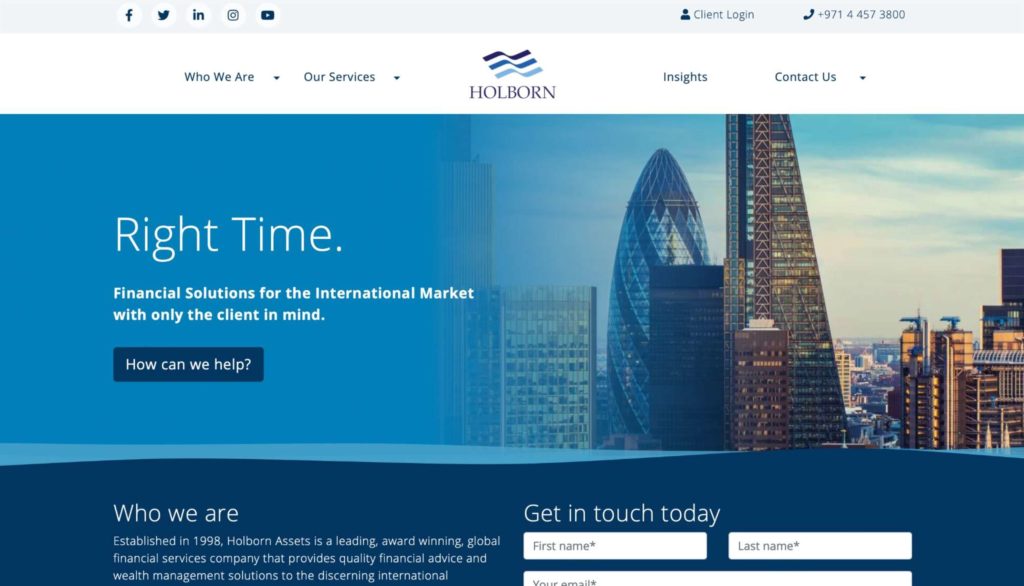 Test
Info
SERVICES
Financial Advice/Planning

Investments

Retirement Planning

Insurance for Expats

Mortgage for Expats

Citizenship by Investment

WEBSITE
https://holbornassets.com
ADDRESS
Al Shafar Tower 1 - Level 15 - Dubai - United Arab Emirates
CONTACT DETAILS

Phone: +971 4 457 3800

E-mail: [email protected]

OPERATING HOURS
8:30 AM - 5:30 PM (Monday - Friday)
| | |
| --- | --- |
| Criteria | Ratings |
| Experience | ★★★★★ (5/5) |
| Services | ★★★★★ (5/5) |
| Proper Licenses | ★★★★☆ (4/5) |
| Customer Support | ★★★★☆ (4/5) |
Holborn Assets, founded in 1998, is known for its services for ex-patriots. Aside from them, the company also helps out other individuals and businesses.
The company has been in the financial industry for more than a decade. When it comes to their employees, Holborn Assets hires CISI-qualified financial advisors and planners.
This qualification can reassure clients that the company's services would be of good quality.
Part of their planning services include a personal financial review. This is to let the company identify what areas you need help in, and how they can suggest best plans and practices for you and your assets.
Their attention to detail in financial planning is what we like about this company. Aside from their financial reviews, we noted that Holborn's advisers also take into account how their customers would invest or spend their money.
In addition, their advisors are also quick to answer any inquiries or concerns their clients have. The staff in this company are also proactive when it comes to meeting up with their clients to update them on their investments and other financial plans.
Aside from its financial planners, the company also provides other services. These include visa assistance and corporate solutions.
We would like to note that their visa assistance usually relies on citizenship by investment. Alternatively, they also offer their help in applying for specific visas in the UK.
For corporate solutions, Holborn offers their help in securing insurance for these businesses. In addition, the company also aids corporations in hiring outsourced employees that they can't afford to hire on an in-house basis.
What we noticed about this company is their focus on assisting expatriates and those who plan to move to the UK from other countries. For expats, they offer insurance and mortgages.
On the other hand, the company offers its expertise and assistance in making sure those who aim to migrate in obtaining their citizenship, whether it's by investment or other methods.
Overall, Holborn Assets is a good choice for financial planning because of its good staff and financial planning services. We recommend checking this company out!
Attention to detail
CISI-qualified financial advisers
Quick responding staff
Focuses on ex-patriots
Requires a call or appointment for more information
Customer Reviews:
Great Staff
"Stuart is a star! Nothing but love and gratitude for the advice and help he has provided me down the years. Having someone so experienced and knowledgeable in your corner is invaluable. He has my family's best interests at heart and is always on hand to provide advice when called upon. If you get the opportunity to work with Stuart grab it with both hands!" – Finley, via Google Reviews
4. Patronus Wealth
Test
Info
SERVICES
Wealth Management

Asset Management t

Financial Planning

WEBSITE
https://patronuswealth.com
ADDRESS
Office 18-33, Central Park Tower Dubai International Financial Center - Dubai - United Arab Emirates
CONTACT DETAILS
Phone: +971 4 309 2111

E-mail: [email protected]

OPERATING HOURS
9:00 AM - 6:00 PM (Monday - Friday)
| | |
| --- | --- |
| Criteria | Ratings |
| Experience | ★★★★★ (5/5) |
| Services | ★★★★☆ (4/5) |
| Proper Licenses | ★★★★☆ (4/5) |
| Customer Support | ★★★★☆ (4/5) |
If you have a high net worth and are looking for a company that solely manages people of your standing, Patronus Wealth is for you!
Patronus Wealth has handled the wealth and assets of High Net Worth Individuals (HNWI) and high-profile offices for over 20 years. Continuing to this day, the company provides various types of wealth management or planning services depending on what their clients would want.
When it comes to licensing, the company is certified by the Dubai International Financial Centre (DFSA). The establishment is legally viewed as a Category 3C Licensed Asset Manager under the organization.
This means that the company is cleared to handle domestic and foreign accounts and assets. So yes, your wealth is in very legal (and good) hands!
What we noticed about this company is that they try to provide different planning services depending on the goals of their clients. This is not the most customized financial planning offer we've observed, but hey– that's still variety.
As we've said earlier, Patronus Wealth solely entertains high net worth individuals. However, the company also serves clients of trustees and fiduciaries, independent asset managers, and private client law firms and family offices.
If you fit their client criteria and are interested in their services, we recommend calling them or visiting their main office. Unfortunately, the information they have published on their website is limited.
Overall, Patronus Wealth is a licensed company that specializes in handling large assets and wealth. We recommend going to them if you fit the clients they specifically serve.
20 years of exp
Offers different types of wealth management
Prioritizes discretion and confidentiality
Requires a call or an appointment for more information
Caters to only a specific subset of clients
FAQs About Financial Planners in Dubai
---
And that's a wrap, folks! Hopefully, our list can provide some insight into what financial planners you should look into.
If you're interested in more wealth management articles, check our piece on the top financial advisors in Dubai here.