The 5 Best Companies with a Mortgage Broker in Dubai
Everyone dreams of owning a home, and mortgage brokers make that easier to attain. By handling your mortgage and ensuring you get the best deal, they are invaluable to buying real estate.
That's precisely why we went out to look for the best companies with a mortgage broker in Dubai. We explain the different factors we considered in choosing them and answer some FAQs about mortgage brokers in Dubai.
How much does hiring a mortgage broker in Dubai cost?
The cost of hiring a mortgage broker in Dubai can vary depending on the broker or the company.
Some brokers ask for a fixed price, while others may charge a percentage of the mortgage as their fee.
To give you a starting point, some mortgage brokers charge a fixed rate of somewhere between AED2000 to AED5000.
If they ask for a percentage of the mortgage, then it's usually between 1 to 2% of the mortgage.
The Best Companies with a Mortgage Broker in Dubai
Before we get right into our list of companies with a mortgage broker in Dubai, here are the criteria we considered in choosing them:
1. Home Matters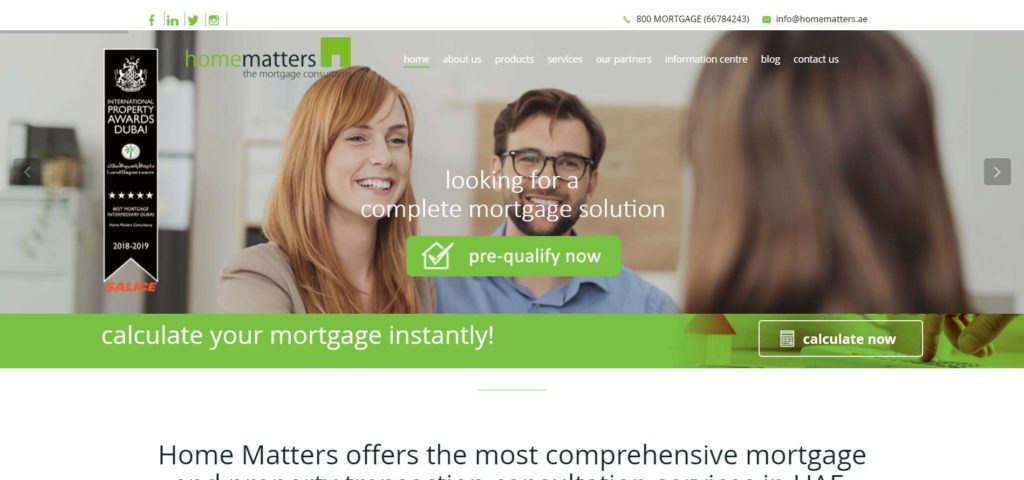 | Test | Info |
| --- | --- |
| SERVICES | Full-Service Mortgages, Assisted Mortgages, Property Transaction Consultation, Life Insurance & Protection, Health Insurance, Will & Estate Planning |
| WEBSITE | https://www.homematters.ae/ |
| ADDRESS | The Bay Gate - 7th floor - Business Bay - Dubai - United Arab Emirates |
| CONTACT DETAILS | 800 MORTGAGE (66784243) |
| OPERATING HOURS | Monday to Friday: 8:30 AM–5:30 PM |
| | |
| --- | --- |
| Criteria | Ratings |
| Experience | ★★★★★ (5/5) |
| Lender Panel | ★★★★☆ (4/5) |
| Customer Service | ★★★★★ (5/5) |
| Accessibility | ★★★★★ (5/5) |
Neither a bank nor a mortgage broker company, Home Matters does consultations on mortgages and property transactions to give you the best mortgage products in the market.
Compared to a bank, this company can provide the right mortgage solution from hundreds of options available in the market, including exclusive offers with its wide lender panel.
It has been in the business for 10 years, using that time to build strong connections and formal agreements with all leading banks in Dubai.
We love that it has maintained an independent status in the industry, allowing it to freely make connections with over 30 banks.
This means that its mortgage brokers are able to scour an abundance of mortgage options to provide solutions to any kind of budget that its clients have.
On top of that, its team has the DREI Certified Mortgage Broker (CMB) qualifications, which means they are competent in handling mortgages.
The only weak point we noticed from this company is its independent status, which means that it is not able to score exclusive deals all the time since it is never the priority in the banks it works with.
As for its customer service, Nancy, who was looking to buy her first apartment in downtown Dubai was glad she found the company.

She shared with us how the team she was given explained everything to her step-by-step, not only keeping her in the loop but also helping her learn the process for when she needs to apply for another mortgage next time.
All in all, Home Matters is one of the best companies with a mortgage broker because of its wide lender panel and ability to look for solutions for any kind of budget.
Has strong connections with over 30 leading banks
Team has DREI certified Mortgage Broker qualifications
Team explains and guides the clients clearly
Its independent status does not guarantee exclusive offers from banks
Customer Reviews
A service like no other
"I'd like to take this opportunity and thank both you and Nathan on the continued support since day 1 until the completion of the mortgage process.
Definitely, I would rate the service provided a total of 5 – Very good, or even exceptional.
Nathan has been a great support and an amazing guide from the first time I inquired about a mortgage with Home Matters. Since our initial discussion and receiving the early mortgage proposals he had always answered my questions and provided me with all the details I needed.
In other words, he made my life much easier while aligning with the bank and providing me a step-by-step guide along the way. Additionally, I enjoyed working with him from a professional yet friendly perspective, as even when he followed up with something from my end, he did it in a very respectful manner without being a typical pushy salesman!
No matter how much I write further about my positive experience with Nathan and the team at Home Matters, it will still not be enough to suffice my exceptionally positive experience.
All thanks to you and definitely I would highly recommend Home Matters to any of my contacts who might be looking for a mortgage in the future, as I've done already." —Roland Ghanem, Google Reviews
A job excellently executed
"Home Matters have been an absolute pleasure to work with. Kevin Davies has gone above and beyond to support us every step of the house purchase. We are eternally grateful for helping us buy our forever home. Thank you" —Frank Pain, Google Reviews
2. Allsop & Allsop
Test
Info
SERVICES
Property Mortgage Assistance, Property Searching, Property Development, Property Management
WEBSITE
https://www.allsoppandallsopp.com/dubai
ADDRESS

The 26th Floor, Vision Tower, Business Bay, Dubai, United Arab Emirates, PO Box 55720


Has 3 other locations in the city
CONTACT DETAILS
+971 4 429 4444
OPERATING HOURS
Monday to Friday: 8:45 AM–5 PM
| | |
| --- | --- |
| Criteria | Ratings |
| Experience | ★★★★★ (5/5) |
| Lender Panel | ★★★★☆ (4/5) |
| Customer Service | ★★★★★ (5/5) |
| Accessibility | ★★★★☆ (4/5) |
A leader in the industry, Allsop & Allsop is the first real estate agency in the UAE to become ISO Certified Residential Lettings with awards such as the 'Highly Commended Lettings Agency' by the Arabian International Property Awards.
Prestige is its game, and we love that it is the best at providing mortgage assistance and property development.
Its experience involves multiple awards that have helped it skyrocket to the top of the industry, with multiple wins almost every year since 2011.
As for its lender panel, it also maintains an independent status among all the banks in Dubai.
But compared to Home Matters, it's not as widely connected. This means that while it may not be able to access mortgage solutions for all budgets, it does have great connections with banks that afford them access to exclusive deals.
Priyanka, who found a small commercial space for her boutique because of Allsopp & Allsopp, was so happy with the whole experience.
She told us that the team was composed of excellent professionals who were passionately driven to get the best deal for her. They took initiative and consistently kept her in the loop throughout.
All in all, while its lender panel may not be the most impressive, the best thing about this agency is its strong connections to those who are a part of it.
Exclusive deals, highly-competent brokers, and its prestigious reputation are what make it one of the best in Dubai.
Multi-award-winning real estate agency
Strong connections with banks afford it exclusive deals
Customer service is driven and highly professional
Less impressive lender panel
Customer Reviews
Truly professional and always willing to help a newbie!
"I had a great experience with Dan Laycock, who handled our mortgage application from start to finish. I was really nervous at the beginning, not knowing what to expect in terms of documents and procedures to follow, and especially how long it would take. Dan was just a breath of fresh air, really friendly, and a true professional. He initiated contact, gave me all the information I needed to understand the process and the documents required, and contacted me proactively every single day to either request additional documents or to update me on the application. He really did everything to make our experience a breeze. All In all, the entire process took about two to three weeks and we couldn't believe it! We are so grateful to Dan for easing all our worries and making the process actually enjoyable, which is something I never thought possible. Thank you, Dan, you are truly an asset to Allsopp & Allsopp" —Sandra Azizi, Google Reviews
Went above and beyond with the service
"Dan Laycock was our mortgage adviser for our recent property purchase. He was really excellent and went well beyond the call of duty, often replying out of hours and always pushing our best interests. He's got knowledge beyond just the mortgage and has great relationships with the banks. He's also just a really nice person so working with him was so easy. Thanks, Dan and look forward to working with you again in the future." —Carly Kilshaw, Google Reviews
3. Just Mortgages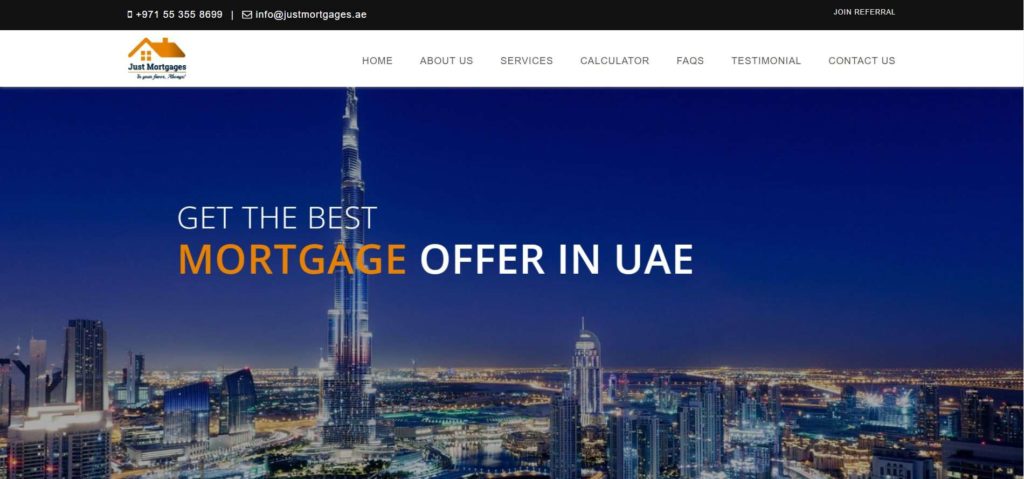 Test
Info
SERVICES
Mortgage Assistance, Buyout Assistance, Equity Release, Mortgage Assistance for Non-Residents, Debt Restructuring
WEBSITE
https://www.justmortgages.ae/
ADDRESS
Office 322, Al Masaood Tower, Opposite Emaar Towers, Al Maktoum Street, Deira, Dubai, UAE
CONTACT DETAILS
+971 55 355 8699
OPERATING HOURS
Monday to Thursday: 9 AM–6 PM

Friday: 9 AM–12:30 PM & 2:30 PM – 6 PM
| | |
| --- | --- |
| Criteria | Rating |
| Experience | ★★★★☆ (4/5) |
| Lender Panel | ★★★★☆ (4/5) |
| Customer Service | ★★★★★ (5/5) |
| Accessibility | ★★★★☆ (4/5) |
Just Mortgages is an independent financial consultant that manages to build on what makes other financial agencies successful.
Offering end-to-end services, such as mortgages, this company is one of our top choices for first-time property buyers.
It being independent means it can cross from one bank to many others to look for the right mortgage solution for the client's budget.
But what makes it great, in our opinion, is its detail-oriented approach. Its brokers are able to provide the best deals from their wide lender panel, meticulously understanding the profile of each client.
We also love that the company's service really focuses on holding your hand throughout the process, no matter how complicated it can get.
However, being independent means that its access to exclusive deals from the bank is as limited as the other options.
This means that while it can find a solution to a wide range of budgets, there may be some cases where its lack of connections won't give the best results.
On top of that, its lack of awards or significant milestones throughout its time in the industry makes the company seem less credible.
Despite that, we think its meticulous and dedicated customer service makes up for what it doesn't have. Just Mortgages shines in providing first-time property buyers an easier experience.
Excellent customer service
Independent status makes it connected to numerous banks
Lacks awards
Independent status means exclusive deals from banks are not guaranteed
Lack of exclusive deals is a big obstacle for clients with a small budget
Customer Reviews
Excellent customer service
"Excellent service, My mortgage took almost 5 months due to complications from developer side and Ramesh never gave up and ensured my dream came true. He was always available along the way and offered competitive products that suit my budget.
If you are reading this post, please don't go anywhere else as he is not one of those typical agents just out for a deal.
Superstar!! Highly recommended!!" —LiJo Sabu, Google Reviews
Never left my side
"Ramesh helped me with my mortgage and it was an absolute pleasure working with him. He was constantly updating me on the process and was providing full support till the end. Very professional work and kudos. I would always recommend Ramesh." —Ramachandran Srihari, Google Reviews
4. Capital Zone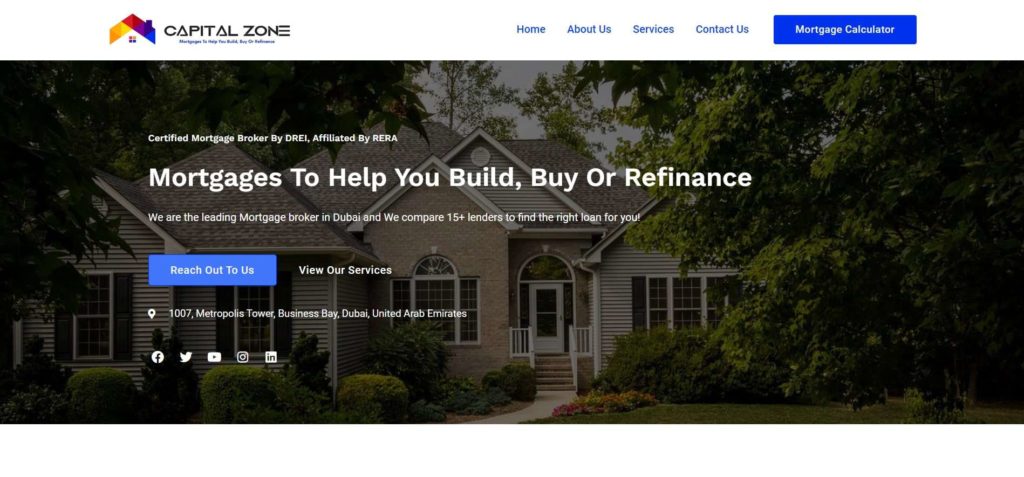 | Test | Info |
| --- | --- |
| SERVICES | Mortgage Assistance, Equity Release Assistance, Off Plan Services, Commercial & Building Finance Assistance, Construction & Land Financing |
| WEBSITE | https://www.capitalzone.ae/ |
| ADDRESS | 1007, Metropolis Tower, Business Bay, Dubai, United Arab Emirates |
| CONTACT DETAILS | +971 4 547 1111 |
| OPERATING HOURS | Monday to Friday: 9 AM–6 PM |
| | |
| --- | --- |
| Criteria | Ratings |
| Experience | ★★★☆☆ (3/5) |
| Lender Panel | ★★★★☆ (4/5) |
| Customer Service | ★★★★★ (5/5) |
| Accessibility | ★★★★★ (5/5) |
With a deep understanding of the complex UAE property transaction and mortgage process, Capital Zone supports clients with a team of experts with years of banking and corporate experience.
With an average of AED1500 for monthly payments with mortgages arranged by this company, we love the fact that this is one of the most accessible mortgage companies on our list.
Another great thing about Capital Zone is that it is an independent mortgage service provider. This means that it has spent its years creating meaningful long-term relationships with its clients and banking partners.
But based on the more narrow range of lender panels, we can see that this company prefers to create more stable connections with banks to get exclusive deals compared to having a wide variety of mortgage products.
As for its customer service, Jenna, who hired a mortgage broker from Capital Zone to help her purchase her second rental property, was very happy at how straightforward its process is.
We love that for such a complicated process, Jenna was able to fully grasp and understand the process of getting a mortgage in the UAE thanks to Capital Zone.
But where it falls apart for us is its experience. For a company that's been long in the industry, it lacks awards to show for it.
Despite that, its expertise in the complexities of UAE mortgage laws is undeniable and is one of our top picks for first-time property buyers as well.
Deep understanding of UAE property buying
Low average monthly payment for mortgages
Strong connections with its lender panel
Straightforward customer service
Lacks awards
Narrow range of lender panel
Customer Reviews
Helped get our new home in time for the holidays
"Capital Zone was very helpful in completing my mortgage process. It was not easy dealing with the developer where we both our first home in Dubai. With the help of Mr. Gourav from Capital Zone, we were able to spend our new year this year in our new home. They have been very supportive , helpful in getting things done professionally . Full knowledge of the mortgage process . We highly recommend their service" —Liezel Landicho, Google Reviews
Great job with the groundwork
"It has been a good experience dealing with Capital Zone and I'm glad the deal went through for my mortgage. The team did the ground work and helped me a lot. I would recommend them as a wonderful broker. I only wish they explained some of the choices in more detail but in the end it all worked out well." —Savio Menezes, Google Reviews
5. Lion Mortgage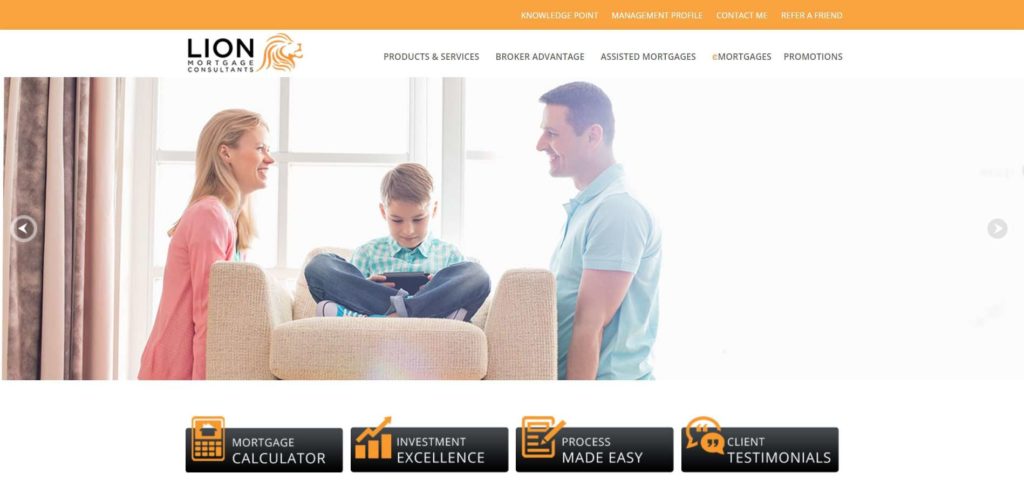 Test
Info
SERVICES
Mortgage Assistance, Portfolio Consolidation, Islamic Financing, Equity Releasing, Refinancing
WEBSITE
https://lionmortgage.com/
ADDRESS
1907, Al Manara Tower ETA, Al A'amal Street, Business Bay, PO Box 25789, Dubai, UAE
CONTACT DETAILS
+971 54 305 6889

+ 971 4 447 4710

OPERATING HOURS
Monday to Friday: 9 AM–6 PM
| | |
| --- | --- |
| Criteria | Ratings |
| Experience | ★★★★☆ (4/5) |
| Lender Panel | ★★★★★ (5/5) |
| Customer Service | ★★★★★ (5/5) |
| Accessibility | ★★★★☆ (4/5) |
Licensed by the Dubai Economic Department (DED) and the Dubai Real Estate Regulatory Authority (RERA), Lion Mortgage has handled both resident and non-resident property buyers in Dubai.
Since 2013, this mortgage service provider has quickly earned the trust of both the locals and the expats of the city with its proactive and unbiased services.
And while the company doesn't have any awards yet, its management team trio has combined years of experience totaling up to 50 years.
We love how the company is headed by veterans with so much wisdom and know-how that can help navigate clients through the tricky process of getting the best mortgage deals.
It is also an independent company, which means it has had to build connections with different banks in Dubai.
And since it also specializes in handling expats, it has taken it upon itself to include international banks within its lender panel, as well.
This also means that the brokers here understand that each client is different, thus they always tailor their approach based on the client's situation and budget.
And the best part about this provider is that it knows how to ensure that the terms and conditions surrounding mortgages are free of any financial ambiguity for the client.
All in all, Lion Mortgage is one of our top picks mostly because its combined knowledge and expertise in navigating through this industry are unrivaled.
Highly experienced team
Lender panel includes both local and international banks
Tailored approach for each client
Customer Reviews
Professional service
"Thank you Lion Mortgage for helping me secure the best mortgage deal and supporting me through the entire process. Some things could have been managed better with the bank but overall i was happy with their service.
I would recommend Lion Mortgage to anyone interested in buying property in Dubai." —ARitesh Paunikar, Google Reviews
Helped me navigate buying property
"Buying a house or apartment is a complex activity. What is of primary importance is expertise. However, that is of secondary importance to clear and effective communication alongside a feeling that someone is actually working for you. Not pushing personal agendas or preferences. What we got in dealing with Sumana was a high level service, faultless communication, and a feeling that we had a Mortgage Consultant working for us. We've already recommended her to friends and family and have no hesitation in doing so publicly. If you're reading this, you might be thinking of buying a property. Look no further." —Stuart McGachen, Google Reviews
FAQs about Mortgage Brokers in Dubai
---
We hope this helped you find companies with mortgage brokers in Dubai. If you're looking for other financial services, then check out these articles: