The 6 Best Loan Agencies in Dubai
Featured Image Source: Chris Liverani via Unsplash
The cost of living and doing business in Dubai can be pretty high and discouraging. For those who need a boost to go a long way, loans have become a primary option.
Going into the risks of getting a loan may be frightening, though, especially since it can lead to you having even less money in the end. Thankfully, in the hands of the right loan agency, you don't have to worry about that problem.
We want to help you in your search, so we made a lineup of the agencies that can give you the best loans in Dubai, with a price table and a guide to choosing the best one for you.
How Much Do Loan Services Cost in Dubai?
Your way of paying back to a loan agency is to reimburse the loan, often with an interest rate. Other expenses include the down payment and processing fee, which agencies typically take from your loan.
To know the average rates, refer to the price table below:
| | |
| --- | --- |
| Personal loan – Flat rate | 3% – 6%/year |
| Personal loan – Reducing interest rate | 5% – 11%/year |
| Car loan – Processing fee | 1% – 4%, or AED200 – 700 |
| Car loan – Down payment | 0% – 20% |
| Car loan – Interest rate | 2% – 10%/year |
| Mortgage – Interest rate | 2% – 4%/year |
| Business loan – Processing fee | 1% – 3% |
| Business loan – Flat rate | 10% – 20%/year |
| Business loan – Reducing interest rate | 15% – 30%/year |
The Best Loan Agencies in Dubai
Let's now look at the best loan agencies in Dubai.
Be sure to read our guide after the list to make an informed decision on which agency to go with.
1. Emirates Loan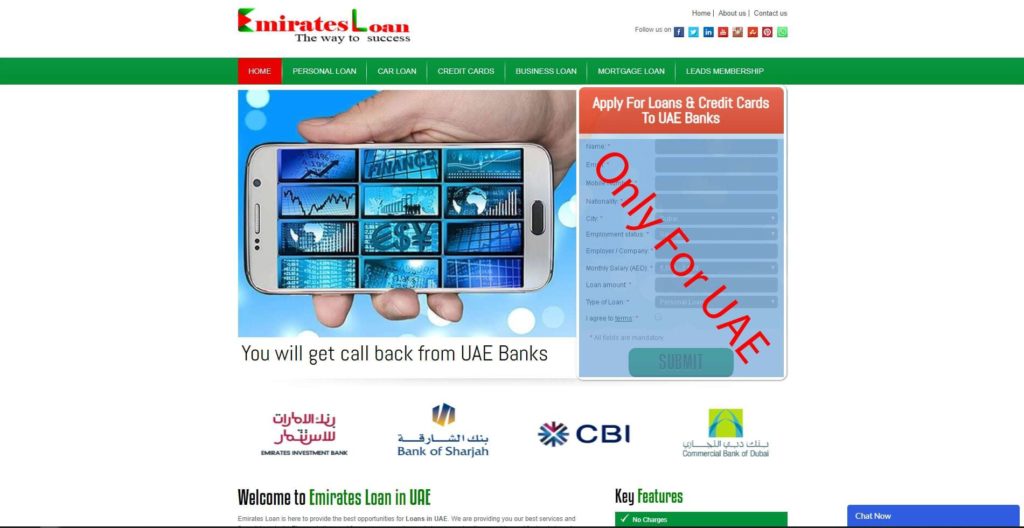 Emirates Loan is an agency that serves as a marketplace for borrowers to browse through the most suitable loans for their needs.
They're a portal for borrowers to use in order to get the best kinds of loans from various banks in the city. You don't have to worry about their credibility either, as they have a legitimate selection of banks that are known to offer loans.
To access loans from up to 26 banks, you only have to fill in a form and submit the required documents that are legally required to be eligible for a loan in Dubai.
When these are accomplished, Emirates Loans gives you fast access to the most suitable loans to your needs according to the evaluation of their financial analysts.
You may also specify which repayment plan you desire for them to consider in their deliberation. Overall, Emirates Loan is fast, flexible, and convenient.
Unfortunately, Emirates Loan isn't suitable for expatriates who have only started living in Dubai for less than 3 months. One of the requirements to utilize their services is a bank statement of at least 3 months.
On the other hand, Emirates Loan is a very easy choice for long-term residents in Dubai.
Convenient loan portal
Free processing
Easy repayment plan selection
Not suitable for new expats
2. Smart Finance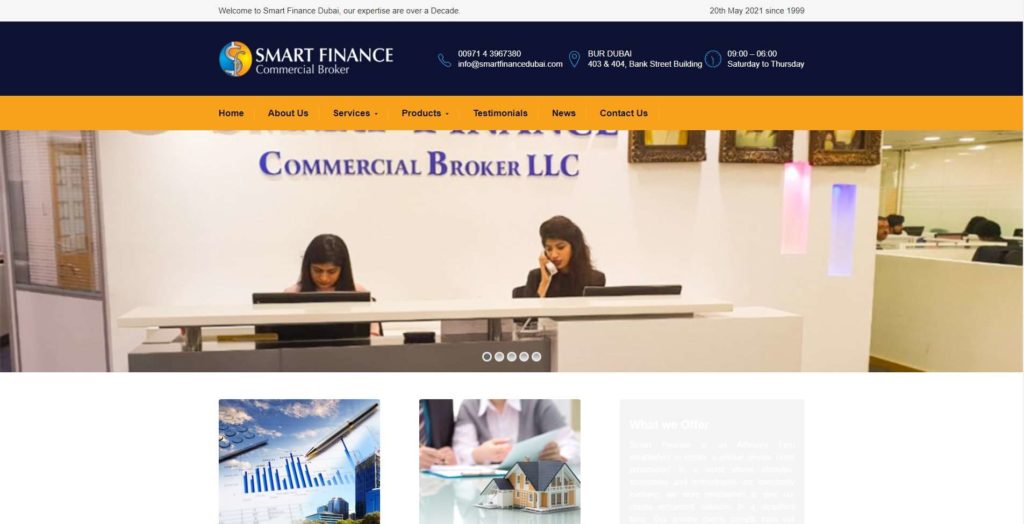 WEBSITE
https://smartfinancedubai.com/
ADDRESS
Office Address #: 403 & 404, Bank Street Building, Bur Dubai, P.O.BOX: 62380, Dubai U.A.E.
CONTACT DETAILS
+971 4 2855840
+971 4 3967380


[email protected]

OPERATING HOURS
Everyday: 9:00 AM – 6:00 PM
Smart Finance is a commercial brokerage firm that also offers loaning services.
We find that those who want an all-in-one kind of loan agency will see Smart Finance's loaning services very attractive. They offer many common types of loans including personal, business, housing, and car loans, the latter two also being flexible for either commercial or non-commercial purposes.
Besides that, Smart Finance boasts considerable knowledge of finance in various areas, particularly for commercial functions. This is great for people looking for expertise in improving and handling their finances beyond taking out a loan.
With that said, they focus their business primarily on commercial services and clients. Residential clients will still be humored by their services, but they won't receive the same amount of attention or service from their commercial clients.
Overall, with over 10 years of experience under their belt in financing and brokerage, Smart Finance is a smart choice for a loan agency that can offer loans and help to alleviate your financial situation.
Offers various types of loans
Expertise in financial advisory
10 years of experience
Focuses more on commercial than residential services
3. Loans For Gulf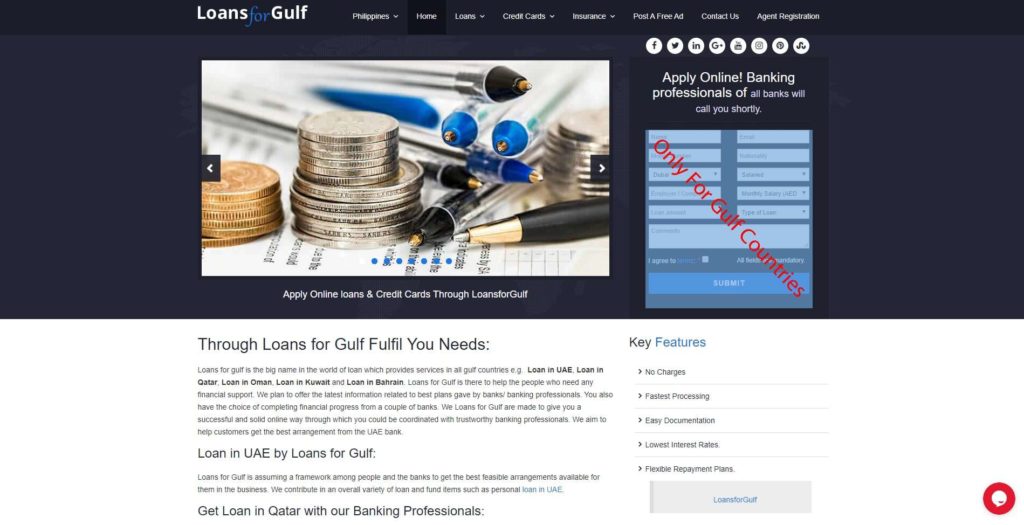 Similar to our first entry, Loans For Gulf is a loan agency that services borrowers through a convenient marketplace for loans.
What makes their loan marketplace unique is their versatility. They offer personal, business, car, and housing loans, as well as a respectable number of options for each kind of loan that caters to the specific needs of some customers.
Perhaps their biggest feature is that they show loans not just in Dubai but also in Bahrain, Kuwait, Oman, Qatar, and the UAE. Should you find yourself staying in any of the said countries, Loans For Gulf is a reliable service that you can easily rely on.
Our only gripe is that the results they show may be unreliable, given the wide selection of banks that they potentially associate with across 5 countries. You may have to conduct a little of your own research to verify what they show you.
Loans For Gulf also offers versatile credit card services, tiered according to increasing benefits from their silver cards to platinum cards.
In general, Loans For Gulf is a fantastic choice for a loan agency to those Dubai residents who travel frequently within the Persian Gulf.
Versatile loan marketplace
Shows loans in UAE, Bahrain, Kuwait, Oman, and Qatar
Offers credit cards
May have unreliable results
4. HDFC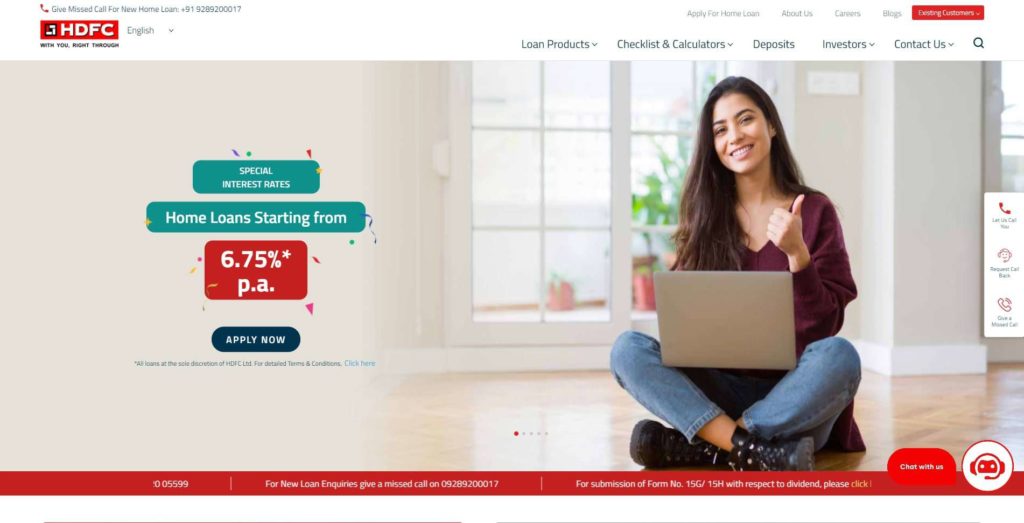 WEBSITE
https://www.hdfc.com/
ADDRESS
Office No 105, First Floor Juma Al-Majid Commercial Building Opp. Burjuman Centre, Dubai, UAE
CONTACT DETAILS
+971 4 3961825
OPERATING HOURS
Saturday – Wednesday: 9:30 AM – 5:30 PM
Thursday: 9:30 AM – 1:00 PM
HDFC is a loan agency that specialises in providing mortgages for aspiring homeowners in Dubai.
Their selection of home loan offerings is vast and should satisfy those who want to borrow money for a house in particular. Some of these include the basic home loan, plot loan for getting house lots, and rural home loans for housing in areas far from the city.
They also offer loans for affordable housing like their Reach loans, as well as loans for home renovation and extension. In general, HDFC is an all-around incredible choice for housing loans.
On the other hand, HDFC doesn't offer much in the way of loans for other purposes. Commercial loans for plots and properties are within their repertoire, but besides that, their selection isn't as extensive as their mortgage options.
However, they do offer an impressive set of investor services, such as listings, credit ratings, and shareholder's information, which can greatly help you in your investment ventures. We like to think this makes up for the lack of commercial loan services through an alternative option to improve a customer's financial situation.
Whether you're taking a loan or utilizing their investor services, HDFC has fantastic customer support that greatly assists their clients. Besides calling or emailing them, you can also try their useful loan calculator and interest rate sheet to better inform your decision.
Though it's a shaky prospect for commercial loaning, HDFC is an obvious choice as a loan agency for your next mortgage.
Extensive mortgage offerings
Has investor services
Helpful and informative customer support
Limited selection of non-housing loans
5. Easy Loan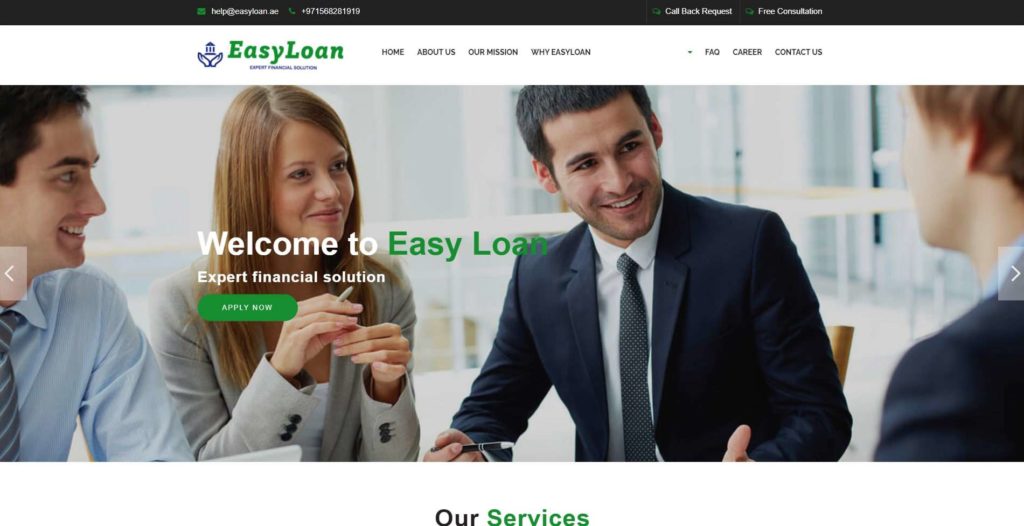 WEBSITE
http://www.easyloan.ae/
ADDRESS
Office 905, 9th floor, Al Saheel Tower 2, Near Stadium Metro Station, Al Nahda 1, Dubai, UAE
CONTACT DETAILS
+971 4 5660983
+971 56 8281919


[email protected]

OPERATING HOURS
Saturday – Thursday: 9:00 AM – 6:00 PM
Easy Loan is an agency that features simple loan services coupled with useful financial amenities.
Their loan offerings are a staple for the average loan agency, including a personal loan, business loan, and a car loan. For the former two, you can be flexible and opt for either a salary transfer or non-salary transfer, or go for a loan buyout.
What we love about Easy Loan are their supporting services that help people improve their financial situations. For instance, they offer personal and business accounts, each with complimentary financial consultancy from Easy Loan.
They also have various debt services, including debt consultation, debt settlement, and debt consolidation. These are very helpful to people who may be struggling heavily with their financial situation and may need a little more than a loan for a solution.
You may, however, be turned off by Easy Loan's relative youth compared to our other entries. Having only a year of operation, their credibility may be overshadowed by the rest of the list entries, which have been in the business for far longer.
Thankfully, Easy Loan does boast a roster of experts who have been working in the industry for over 2 decades. If you can overlook the fact that they're young and focus on the many benefits they can give you, we easily recommend Easy Loan as one of the best loan agencies in Dubai.
Offers personal, business, and housing loans
Provides personal and business accounts
Useful auxiliary debt services
Inexperienced compared to other entries
Customer Reviews
From the loan services to the customer support, Safiya Qureshi's review describes their experience with Easy Loan with high praise:
"Very quick and hassle free loan service by easy loan. Very good and responsive team which is always there to support you and answer your queries. Mrs. Hani from easy loan team did my support and handled my queries. Appreciate her work and her team"
Easy Loan's services left a strong impression on Inam Khab:
"It was Outstanding customer service, quick response. Especially ms.Nazish warsi she's very polite and really helpful. I really recommend this company."
6.   Bankbychoice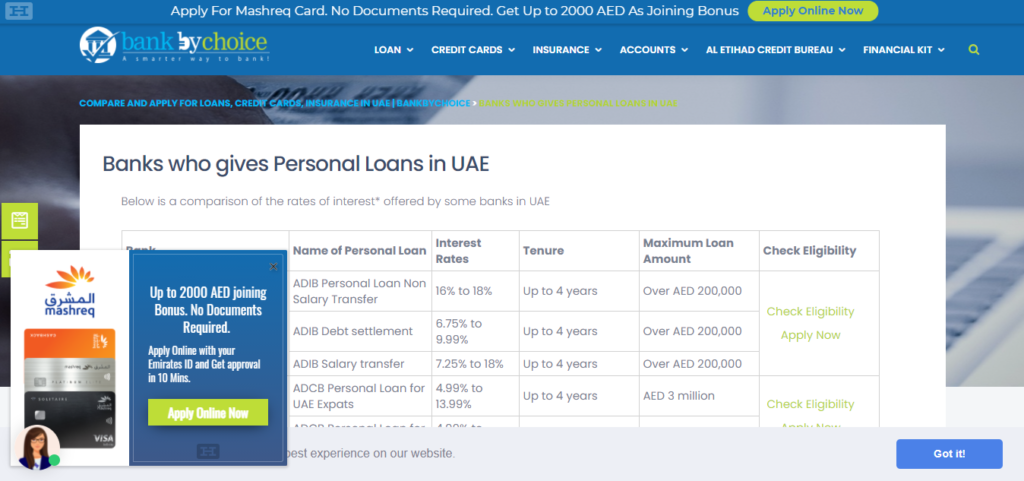 Bankbychoice is a unique neutral online marketplace launched by professionals from the banking industry. Previous clients mentioned that they recommend them because they will understand your exact requirement, compare the various available options in the market, and guide you until product fulfillment.
We took the time to other companies. Unlike the others on this list, their cutting-edge technology, smart algorithms, financial expertise, and pragmatic advice will enable you to choose a wise choice of financial products from the wide range of available options in the market.
A factor why people prefer to contact them is because they offer customized eligibility and offers. They tend to listen first to the situation of their client and then curate the perfect service for them.
In comparison to other companies, previous clients stated that they really stay by your side from the beginning up until the end. They do this in order for the clients to stay calm and have a peace of mind.
Can get a customized estimate online
One point solution for all finance requirements
Professional team members
Operating hours are unavailable on their website
How to Choose the Best Loan Agency in Dubai
Loan agencies vary greatly in various aspects, such as rates, schemes, and customer support. It's important to carefully consider these factors when selecting an agency.
Here are some tips to help you in your deliberation.
1. Compare interest rates
If you borrow AED 200,000, what you give back to the agency is slightly more than that. Interest rates are how agencies profit from lending money.
More importantly, they also determine how much you'll have to repay for the loan, which is vital to consider alongside your sources of profit.
It's in your best interest (no pun intended) to get your loans from an agency that charges an interest rate for which your earning power will suffice.
2. Check repayment plans
There are two main ways of repaying a loan: lump-sum and amortization. Lump-sum makes up for the entire loan in one payment, while amortization breaks down the payment into smaller amounts, paid regularly over a fixed length of time until the entire amount is repaid.
Many borrowers will opt for the latter due to the convenience and flexibility, as they have a variety of schedules to choose from. Loan agencies may require you to pay yearly, monthly, bi-monthly, quarterly, and so on.
The most ideal choice of repayment schedule is one where you can time the payment period such that you have enough money both to pay it off and to sustain yourself.
3. Ask for a consultation
In the end, only financial experts can really understand a financial situation. Fortunately, some loan agencies do have some loan consultants and experts in store to help borrowers make the best decision.
They'll analyze your current situation and tell you the most viable approach to solving it. And while it may not seem important, their friendliness and dedication are also important to making you feel comfortable amidst the risks of borrowing money.
FAQs about the Best Loan Agencies in Dubai
---
Take a safe and sustainable shortcut to your dream investment when you borrow money from any of our top picks for the best loan agencies in Dubai.
Have you ever tried borrowing money from any of these agencies? We would love it if you send us a message describing how it went!
If you want to up your investment game through stock broking, we can help you start with our list of the top stock brokers in Dubai.