The 8 Best Furniture Movers in Dubai
One of the biggest obstacles in moving to a new home is transferring your furniture. Thankfully, you can hire furniture movers, who not only have the muscle to move your tables and chairs for you but also the brains to reassemble them.
To help you ease your big move, we made a list of the best furniture movers in Dubai, along with a price table and a guide to help you choose.
How Much Do Furniture Mover Services Cost in Dubai?
Prices for furniture mover services are based on the number of hours and type of room from which the furniture will be transferred. See below for the average rates:
| | |
| --- | --- |
| Hourly rate | AED100 – AED200/mover/hour |
| Studio | AED3,500 – AED4,500 |
| 1-bedroom | AED5,500 – AED9,000 |
| 2-bedroom | AED11,000 – AED16,500 |
| 3-bedroom | AED22,000 – AED26,000 |
The Best Furniture Movers in Dubai
We'll now proceed with our roundup of the best furniture movers in Dubai!
By the way, it can be difficult to know the difference between movers, so we recommend you stay after the list for our guide to choosing the best furniture mover for your needs.
1. Unique Home Movers
SERVICES
Office Moving
Apartment Moving
Paint Services
House Moving Services
Furniture Assembling Services
Packing/Unpack Services
Storage Services
WEBSITE
uniquehomemovers.ae
ADDRESS
4th Floor, Office 44- Adnan Building, Deira – Al Murar – Dubai – United Arab Emirates
CONTACT DETAILS

[email protected]

 
00971 525280886
OPERATING HOURS
Monday – Sunday, 24 hours
Unique Home Movers is one of the most reputable movers and packers in Dubai. They are a recognized moving business that serves the whole UAE, including Sharjah, Ajman, and Abu Dhabi. They are known for providing high-quality services with a 100% success record and they have been in the furniture moving business for over 9 years and have pleased multiple clients.
As one of the top removal firms in Dubai, with a staff of 70+ skilled removal specialists. They not only move products with care, but they also ensure that the clients' walls and furnishings are completely healthy thereafter.
After the relocation is complete, they will reorganize the space in the same manner as it was at your previous location. This clearly demonstrates the exceptional professionalism of Dubai movers and packers.
Their team of highly experienced specialists is constantly enthusiastic about what they do in order to provide their clients with the best packing and moving services at an accessible price. If you are seeking a cheaper way to relocate your house, villa, office, or apartment in Dubai, look no further.
Experienced movers
Available 24/7
Prompt customer support
Their vehicles are compliant with international standards
They don't charge during the pre-move survey
Customer Reviews
Very professional and perfectly capable people for home shifting.
"Very professional and perfectly capable people for home shifting. Arrived on time and provided excellent service. Disassembled and reassembled all furnitures and equipment, and placed them neatly in my new apartment. Will definitely recommend!" – Saritha Baburaj
Highly recommended.
"Great service. Mr. Faheem is very professional and kind person, services were much better then promised. He even provided us extra packaging material to complete our project. Highly recommended." – Naeem M.
2. Sunstars Movers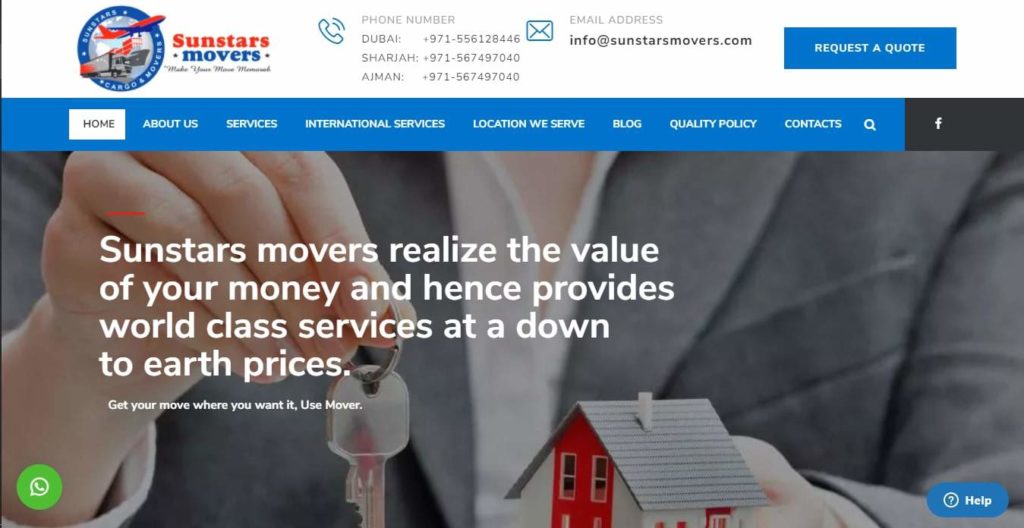 If you want to rely on an international furniture mover in Dubai for moving globally, Sunstars Movers may be the mover for you.
One of their key offerings is moving furniture across the globe, which is beneficial to those who want to have a consistent furniture mover across all their relocations.
In fact, many of their moving services are on a highly industrial level. Aside from having the tools to relocate your fixtures, they also have GCC land transportation, custom clearance, and various forms of transport for your furniture.
They also give regular updates on the status of your transfer to ensure that you'll always be in the know about your expensive fixtures.
Sunstars Movers is currently focused on international furniture moving, so they may not be as efficient as other entries when moving furniture within Dubai.
Otherwise, Sunstars Movers is one of the best furniture movers in Dubai for being able to move furniture anywhere under the sun — on Earth, of course.
Worldwide coverage
Industrial-grade moving services
Constant transfer updates
Specialize more in international moving
Customer Reviews
Halah Rashed would love to hire Sunstars Movers in their next big move:
"Excellent moving company, the workers were very efficient and professional, all our furniture and machines were moved and assembled as required. I recommend them to anyone who plans to move, they make moving much easier. I will certainly deal with them again."
Ayesha Kaiser's transfer to her spanking new apartment was a breeze thanks to Sunstars Movers:
"I moved from 2bedroom to 3bedroom apartment . I did not touch any item and was only relaxing.The team was very brisk, always smiling ,patient , handled every item with utmost care ,did all the fixtures with zeal and enthusiasm. I am really happy and had a wonderful experience."
3. E-Movers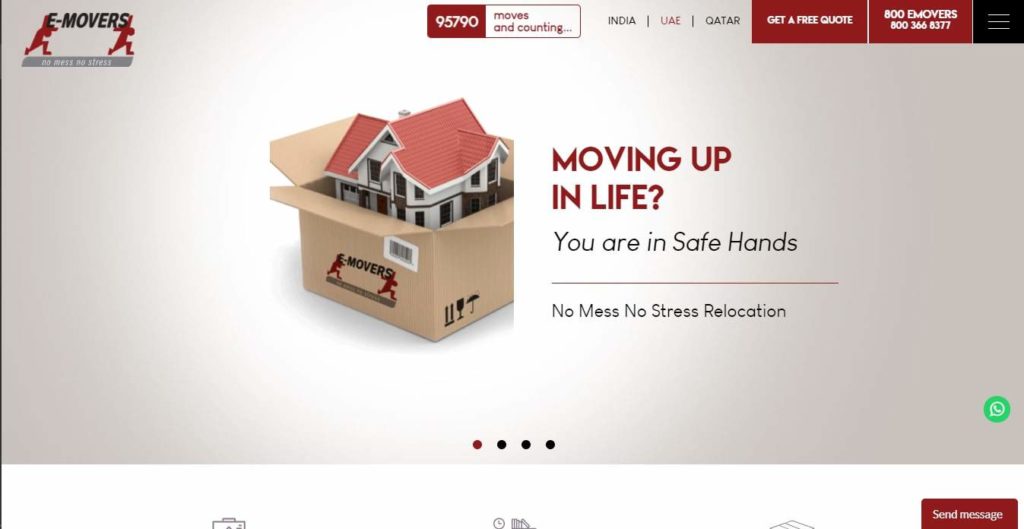 What makes E-Movers one of the best furniture movers in Dubai is that their business model is grounded on streamlining the moving process.
They only have four categories for their offerings — home relocation, office relocation, handyman services, and moving out services — which makes it very simple and stress-free for you to choose the best service for your situation.
You don't have to be worried about where the process is going, either. E-Movers assigns a program coordinator to your transfer who oversees the entire process and lets you know the current happenings with your furniture.
Lastly, with 18 years of experience under their belt, their streamlined services are guaranteed to satisfy customers.
Such streamlining comes at the cost of customizability of their services, though. If you're searching for a package deal custom-tailored precisely to your needs, look through our other entries.
But if you want your moving experience to be as simple as "move this, please," look no further than E-Movers. Their other services include:
Domestic and international house moving (Import and Export Services)
Office moving and project management
Warehousing services for AC and non-AC
Furniture supply and installation services
Leather care (refurbishing, recolouring, reconditioning and customized curtains
Onshore and offshore project management
Handyman and Maid services
Highly streamlined moving services
Personal coordinator
Most experienced of the other entries
Customer Reviews
Amal Ali's review emphasized how smooth the transfer process was from end to end:
"Excellent company that you really trust and relax.
The team is well organized, arrange zoom meeting for checking the furniture to be transfered, directly send the quotation and the payment process.
I appreciate the way of packaging the furniture and the glasses, the way of transporting, the facilities and arrangement. With every team there is team leader that instruct and help.
I recommend this company for any one need to transfer without waisting time and effort."
Donna Al Suwaidi was very impressed with the efficiency of E-Movers' services:
"Excellent team, came on time did everything they can to make sure we are done on time. Labeled everything. Super professional. The team manager name is Prasad and the team with him really need to be rewarded! Great team great service will def use them again!"
4. Furniture Movers and Packers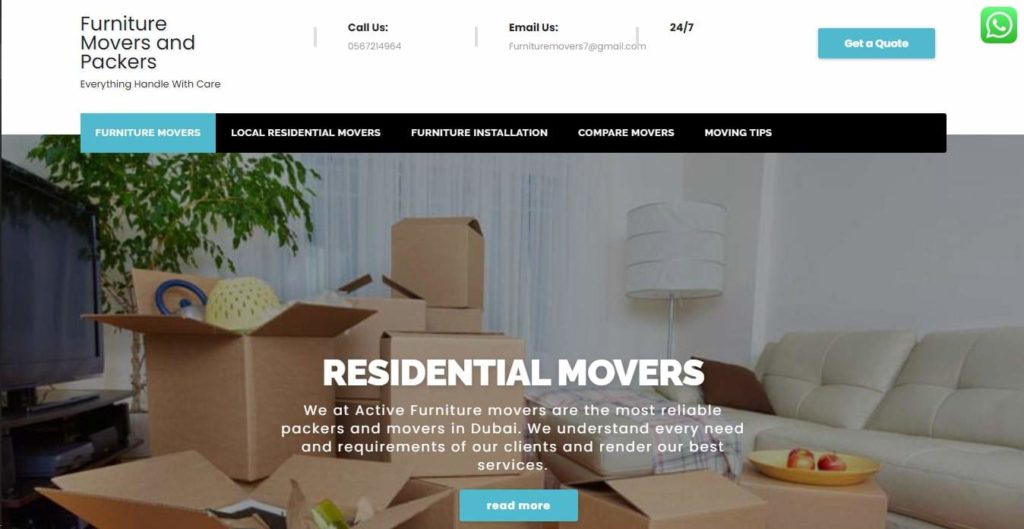 Furniture Movers and Packers may be your best choice for moving a lot of furniture items that require reassembly.
While many other furniture movers also offer assembly services, Furniture Movers and Packers are skilled in putting together a lot of complex home equipment. This includes gym cable machines, playground equipment, and intricate wooden furniture.
In that regard, they're your best choice if you're looking for a furniture mover that can not only move but also reassemble complex furniture that other movers can't put back together.
This is largely thanks to their eclectic staff, which is made up not only of professional movers but also carpenters and craftsmen who make sure that things are put back together the way they should be.
To top it off, their services are offered 24/7, so you don't have to worry about having to wait until the next morning for your furniture to be reassembled.
Consequently, this can make their main moving services quite slow, as they usually take time ensuring the integrity of the reassembling process.
Still, if you firmly believe in the saying that "slow and steady wins the race," we highly recommend Furniture Movers and Packers to you.
Able to assemble a wide variety of furniture
Professional, experienced staff
24/7 services
Customer Reviews
Anwar Arman, a former customer, was greatly satisfied with their services:
"I just move my 5bedroom villa in Dubai, i am really happy from the services of furniture movers and packers, one of the best villa movers in Dubai, Furniture movers and packers services,"
Hassan Akram considered them as the best not just in Dubai but in all of UAE:
"According to my experienced i have chose this company named by active furniture movers one of the best and safe furniture shifting company Among all companies in United arab emirates..best up luck keep your work safe and secure Thank you…"
5. Fast Movers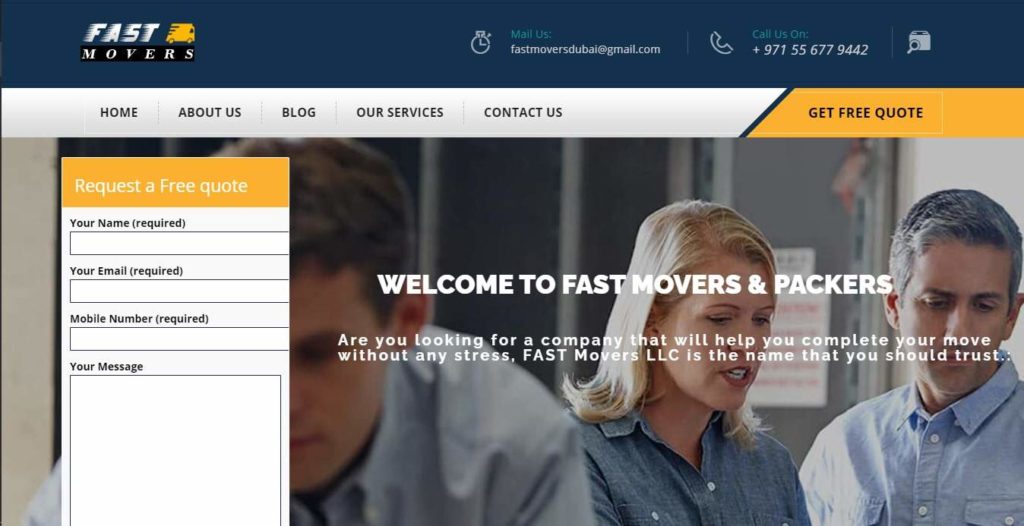 Fast Movers's name gives a very direct description of what they do best: quick, in-a-snap moving services.
Whether you're moving many small items or even a couple of large furniture pieces, Fast Movers is capable of transferring your items in less than 2 days. This makes them a good choice if you want your relocation done and over with quickly.
You don't have to be concerned about them rushing, either. While they're fast in moving furniture, they're also careful in packing them for the ride.
They make sure to pack all the furniture, whether fragile or not, in a way that keeps them pristine throughout the transport. This is highly beneficial to you if you have a lot of furniture made of breakable materials such as glass.
In addition, they have a strong grasp of a lot of the ins-and-outs of Dubai and its urban planning, so they know the safest and fastest routes to transport your furniture.
The only drawback with Fast Movers is their lack of experience compared to our other entries. They only entered the furniture moving business in 2013 – they're younger than most of our other picks as a business.
If you can look past that, however, we definitely recommend that you hire Fast Movers to get your relocation done in a jiffy.
On-time moving
Safe, secure packaging
Strong local expertise
Least experienced of the entries
Customer Reviews
Kaare Danhi's move was huge, but that didn't stop Fast Movers from transferring their furniture quickly:
"It was a three-hour move with two drop-off points. They were both fast and friendly! I moved about 20 boxes, including a king-size bed, two dressers, one wide sofa, and one desk and chair. The truck I ordered was a big 24-26 foot truck."
Saira Malik, a pleased client, gave a concise review of Fast Movers's services:
"Reliable, dependable, on time, and tidy. They used my costly and delicate furniture as though it were their own. Thanks to them, moving was a pleasure.."
6. Safa Movers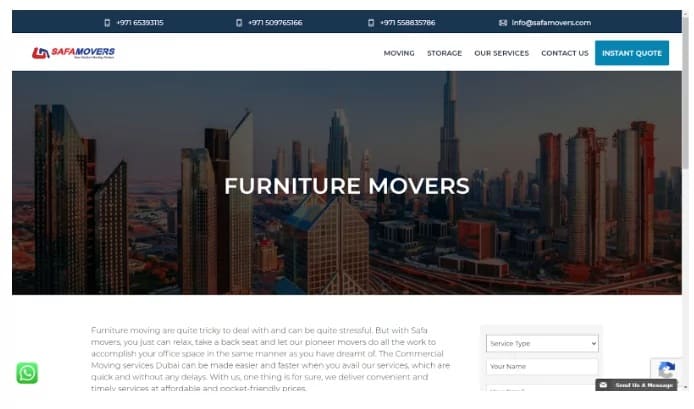 Safa Movers is the leading Movers from Dubai, United Arab Emirates with the widest network in and around UAE.
They offer premium moving and packing services in Dubai, UAE for the most affordable pricing.
They have been in the industry since 2005 on various services like storage and warehousing in UAE, villa shifting service, office shifting, and many more offering with world-class professionality.
Safa Movers is the biggest moving & packing company in UAE headed in Dubai. They have a very dedicated team of employees working for Safa Movers making us the largest team of moving companies in Dubai.
They are committed to making moving stress-free for their customers.
Respectful staff
Reasonable price
Quick
Customer Reviews
Here's a review from one of Safa Movers' clients:
"The best company in UAE by far. I have shifted many times within the UAE states and By far this was my best experience. Very humble and respectful stuff, reasonable price and they complete the job with the best shape and form. I only can say thank you all for this great team work and effort." -Mohammed Ahmed
Here's another one:
"Very happy with their work. I had used their service 8years back and now again. They are too good. Punctual, friendly and responsible. No complaints at all. Thank you so much guys. Keep up the good work." -Oscar Pacheco
7. GI Movers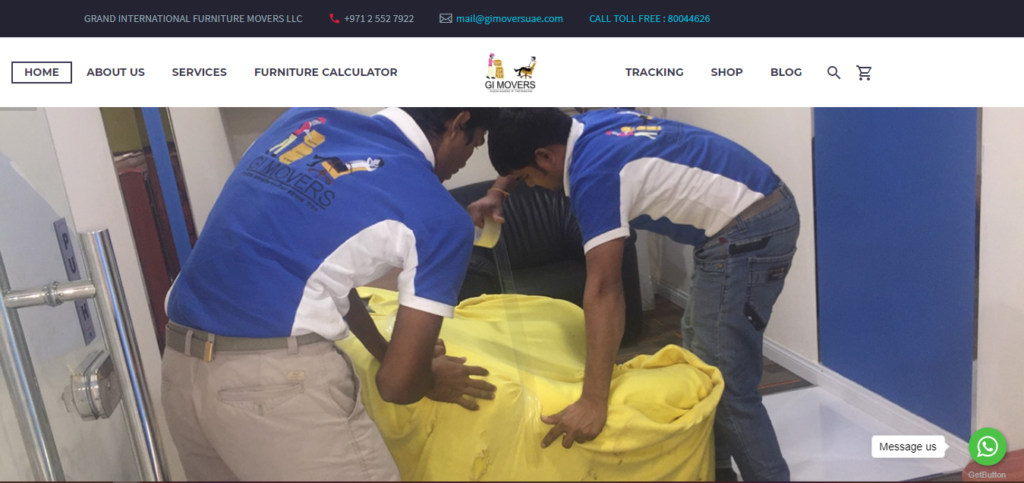 WEBSITE
https://www.gimoversuae.com/
ADDRESS
Mussafah – 45,
Plot No: 2,
Store No: 101
PO BOX: 133359,
Abu Dhabi,
United Arab Emirates
CONTACT DETAILS
TELEPHONE
Abu Dhabi Branch : +971 25527922
Dubai Branch : +971 42865542

Fax: +97125527977
CALL TOLL FREE : 800 GIMCO (44626)
OPERATING HOURS
Office Working Hours
Sunday to Thursday 8:00 – 18:00
Saturday: 9:00 – 14:00

Store Working Hours
Sunday to Thursday 9:00 – 17:00
Saturday: 9:00 – 14:00

Operation working hours is 24/7

Holiday – Every Friday
GI Movers is the best moving and storage service provider in Abu Dhabi. Their team consists of internationally trained workers and their core team is filled with professionally experienced members in the logistics field.
They offer a lot of services that range from home relocation to cargo transport. They can truly make you move stress-free!
For shipments, you will not need to call them for a follow-up because they regularly update their clients about their shipment status.
Their team always arrives on time, has a smile on their face, and will never leave you unimpressed. Trusting them with your move is the perfect first step in moving pleasantly.
One call away
Planned and organized
Professional team
Offers services in Abu Dhabi and Dubai
Closed on Fridays
Rates are unavailable online
Customer Reviews
Here's a review from one of GI Movers' clients:
"GI MOVERS you have done an excellent job in moving all my furniture. None of my furniture had even a scratch. I did take 3 quotes as normal, but their quote was the best. Their staff is so cooperative. They unpacked and placed everything where i wanted to. Great job guys. You guys are much better than my previous movers."
Here's another one:
"Used the services of GI Movers for my house shifting from Abu Dhabi to Dubai. Interacted with Mr. Amal from quotation stage till the eventual movement of goods and re-installation. This movement has been in the midst of COVID related movement restrictions and challenges. Mr. Amal and his team has been customer centric in their approach all along and did a very good job. I will surely recommend this company."
8. Professional Furniture Movers and Packers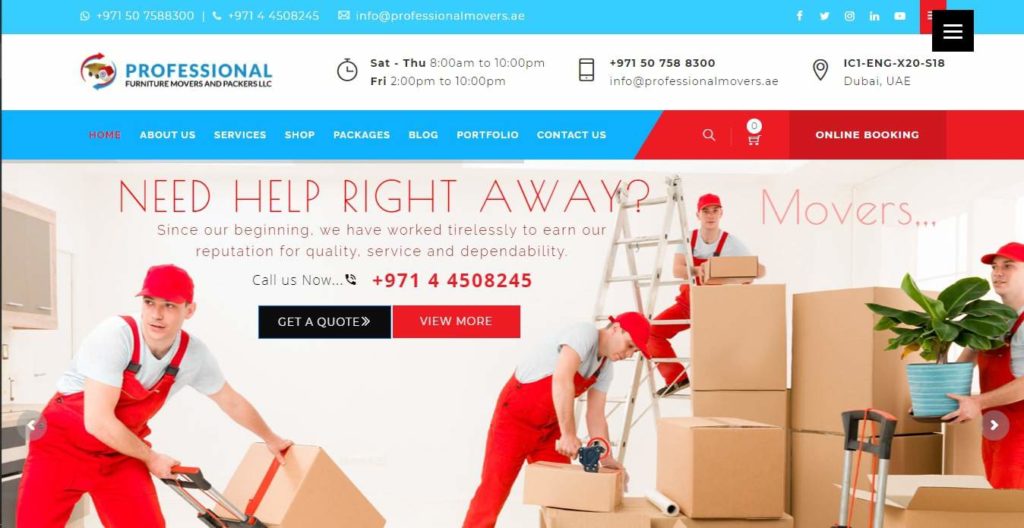 WEBSITE
https://www.professionalmovers.ae/
ADDRESS
International City Phase 1, England Cluster, Building # X20, Office # 18, Dubai, UAE
CONTACT DETAILS
+971 50 758 8300


[email protected]

OPERATING HOURS
Saturday – Thursday: 8:00 AM – 10:00 PM
Friday: 2:00 PM – 10:00 PM
What convinced us to pick Professional Furniture Movers and Packers (or Professional Movers for short) as one of the best furniture movers in Dubai is their flexibility and versatility. Their offerings strike the balance between streamlining and customizability.
On one hand, you can choose one of four package levels, each differing by the number of services offered within that deal. On the other, you can also pick which services you'd want if such package levels don't exactly cater to your needs.
Aside from moving furniture, Professional Movers also offers other home services such as home maintenance, assembly, storage, and furnishing. Some of these can be enjoyed separately or enjoyed in conjunction through the package deals we mentioned previously.
This makes Professional Movers a good all-rounder for not just moving your furniture but also for home services as a whole. For us, it's a huge plus because it makes them a great choice as a go-to for all your residential handyman services.
Plus, if you're looking to do your own packing, Professional Movers can ease your search by selling you the tools they use. Since these are sold from the furniture movers themselves, it's clear that they're very reliable and guaranteed to satisfy your personal packaging needs.
Such versatility is not unsung throughout Dubai — Professional Movers is usually preoccupied with many other customers who like their flexible offerings.
That notwithstanding, we give Professional Movers a glowing recommendation for overall versatility and quality.
Versatile service offerings
Can do other home services
Sells quality packaging tools
Hard to avail of services
Customer Reviews
As a returning customer, Moiz Zafar gave a clear picture of how much they enjoyed Professional Movers's services:
"Thanks professional movers again…😊Actually i give five stars I really like the services of professional movers n packers. I used them now second time they are very professional friendly and reliable. It was stress free moving and we felt very comfort with this company and very happy on my house moving job done by professional movers. They are providing all kind of packaging to safe our household stuff, handyman services for furniture dismantling n reassembling n fixing all kind of wall mountains like wall frames, pictures, mirrors n curtains also…my job pictures attached…Recommended to all of you…👍"
Sara Ghorra greatly praised how well Professional Movers does their assembly services:
"The team is very efficient and does the job well in a short time. They were all employees at IKEA and are familiar with the products. Great hire for installation or dismantling of furniture. My experience was very good with them. I recommend their services."
How to Choose a Furniture Mover in Dubai
At first glance, it seems that you're good to go with any mover. Truth be told — there are actually a lot of factors to consider in choosing the best furniture mover for your needs.
Here are some tips to guide you in your decision:
1. Check deals
Moving furniture is just one of many services of furniture movers. Others include installation, reassembly, and positioning your fixtures upon arrival.
Furniture movers usually come up with package deals that offer these other services along with moving, which can make your transfer much more convenient.
You can check a furniture mover's website for their offerings, or contact them directly for the best clarity on what they can do for you.
2. Ask for a quote
As we mentioned earlier, many furniture movers price their services based on numerous factors. However, it can be hard to get a clear picture of how much the final price will be.
Thankfully, you can ask for quotes from each potential mover so that you can compare them and determine which rate has the best value for you.
In your comparison, make sure that all the quotes are of similar deals to make the most informed decision.
3. Read reviews
Reviews are the best source of information on how good a furniture mover will be, since they have hands-on experience of their services.
When browsing through reviews, try to look for a former customer with similar circumstances as yours to see if the furniture mover can satisfy your needs as well.
FAQs about the Best Furniture Movers in Dubai
---
You'll never have to break a sweat when you hire any of the best furniture movers in Dubai we listed here.
Did we miss a mover that helped you smoothen your big move? Send us a message and we'll consider adding them!
Oh, and if you're looking to spruce up your new home with a spruced up garden, we welcome you to read our list of the top providers for the best landscaping in Dubai.