7 Dental Clinics for the Best Braces in Dubai
Featured Image Source: Yingpis Kalayom via Unsplash
Braces straighten and realign your teeth to significantly decrease the amount of dental problems that come with crooked teeth.
Luckily, you can now get braces from almost any dental clinic, with the top clinics going over and beyond with extra dental services to go with your braces.
Of course, we only care about the best ones, so today, we'll go over our list of the best dental clinics for braces in Dubai.
How Much Do Braces Cost in Dubai?
The cost of getting braces is based on the type of braces you choose, the condition of your teeth, the amount of time you'll spend wearing braces, and the discretion of the dental clinic.
See the table below for the typical costs of the four common types of braces in Dubai.
| | |
| --- | --- |
| Metal braces | AED3000-5000 |
| Invisible braces | AED8000-10000 |
| Ceramic braces | AED11000-13000 |
| Damon braces | AED12000-14000 |
Top Dental Clinics for the Best Braces in Dubai
Now we can check out our top picks of the best dental clinics for braces.
1. NOA Dental Clinic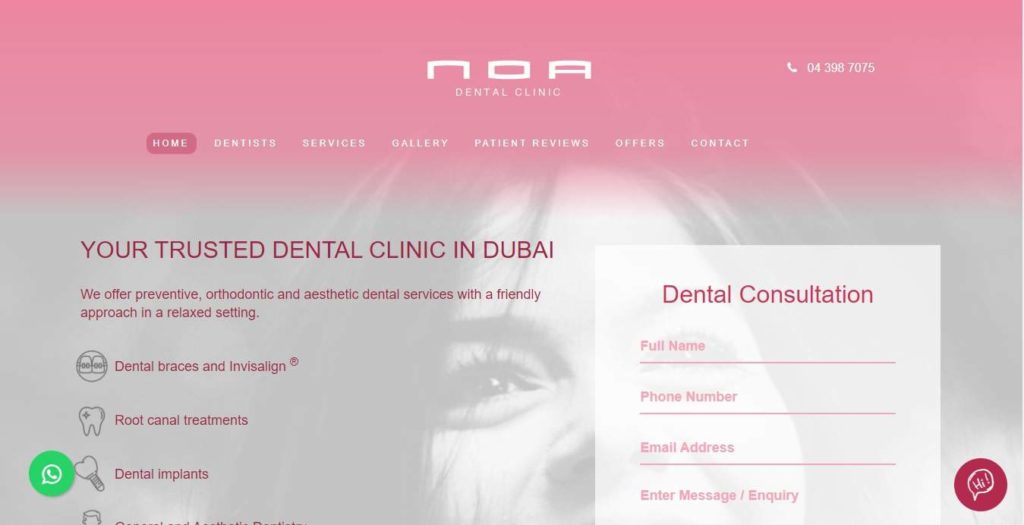 WEBSITE
https://www.noadentalclinic.com/
ADDRESS
Unit 109, Al Hana Centre, Mankhool Road, Near to Trade Centre Roundabout and adjacent to Chelsea Plaza Hotel, Al Jaffiliya, Dubai, UAE
CONTACT DETAILS
+971 4 398 7075

[email protected]

OPERATING HOURS
Saturday – Thursday: 11 AM – 8:00 PM
In general, NOA Dental Clinic boasts a wide array of dental offerings. One especially of note is their braces service, thanks to their sole orthodontist, Dr. Abhishek Parashar.
His career is highly prolific, as he has received topnotch training from German experts in dentistry. Backed by NOA Dental Clinic's own facilities and customer support, braces services under his care are sure to be pleasant and convenient.
You also get to choose from a considerable selection of braces, including traditional metal braces, damon braces, and lingual braces.
After the installation of your braces, NOA Dental Clinic will provide you a lot of support to help you in maintaining your teeth in the coming months that you'll be wearing your braces.
However, should you choose this clinic, you might have to wait your turn. Having only one orthodontist in their roster means you won't be getting your pearly whites adjusted right away.
Still, the best is always worth waiting for, and NOA Dental Clinic is no different.
Illustrious orthodontist
Offers many types of braces
Extensive support for teeth maintenance
Customer Reviews
Johnny Taylor loved NOA Dental Clinic's consistency when they were handling his braces treatment:
"Have been coming for my braces and routine cleanings. I've already seen great improvement in alignment of my teeth since I started coming here. Dr Naem and the rest of the staff always make sure I am comfortable and communicate what they are doing each appointment effectively."
Fatima Abdulla was happy with how the dental clinic improved her smile:
"I highly recommend their orthodontist Dr. Naeem. I always felt very well taken care of during the course of my braces treatment and am really happy with my smile now."
2. Vanilla Smiles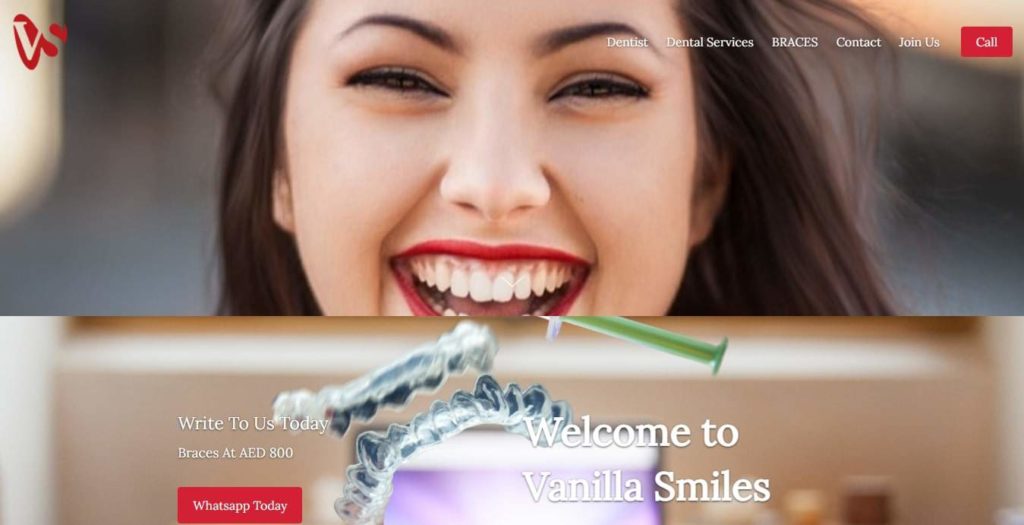 If you prefer having braces that are plain and simple, Vanilla Smiles can give them to you without any sugar coating. The modesty in their offerings comes in three ways.
The most appealing thing about them is their jaw-dropping affordability. AED800 for braces services? Absolute steal!
Secondly, the simplicity of their services calms even the most anxious of patients, as they won't shower you with a lot of buzzwords that probably aren't even helpful. You want something done, they'll do it.
Lastly, all of this is wrapped in a very welcoming environment, formed by their friendly staff, straightforward services, and warm facilities.
Unfortunately, their modesty is its own drawback. Braces services from Vanilla Smiles are pretty cookie cutter, and you won't get much more unless you pay a little more.
Otherwise, if simple utility is your cup of tea, we highly recommend Vanilla Smiles for your braces.
Great affordability
Simple services
Welcoming atmosphere
Customer Reviews
The only thing Karen Gonzales lamented about Vanilla Smiles was that she couldn't give them more than 5 stars:
"It's been 2years and i found it so quick now that my braces were taken off. I admit that my smile is better now and ended up with a proper bite. Thanks to Dr. Nair who is exceptional in doing his craft. If you want the best result about your teeth specially braces, Dr. Nair is your man. He is very accommodating and such a professional orthodontist. I highly recommend Vanilla Smiles for the friendly services in their dental clinic. The location is also next to Burjuman metro station which is really convenient. I would give 10 stars but only 5 is the highest on this review. 🙂 I guarantee you won't regret the experience under Dr. Nair's expertise! Keep it up and more power Vanilla Smiles! Thanks for everything! Cheers!"
To Candy Almodal, getting her braces at Vanilla Smiles was so worth the distance for getting a "model smile":
"Three years I go, I have spent months looking for a reliable and budget friendly dentist clinic in Dubai for my braces adjustments until my friend recommended this clinic. At first, I was skeptical to go because the location is way too far from where I used to live however, I am really glad that I did. Dr. Nair who is my dentist is such an amazing dentist. He handle clients with care and provide valuable advices on oral care. The fee matches the results that you will get by the time you get a perfect tv commercial model smile. I highly recommend this clinic!"
3.   Dr Basel Mofti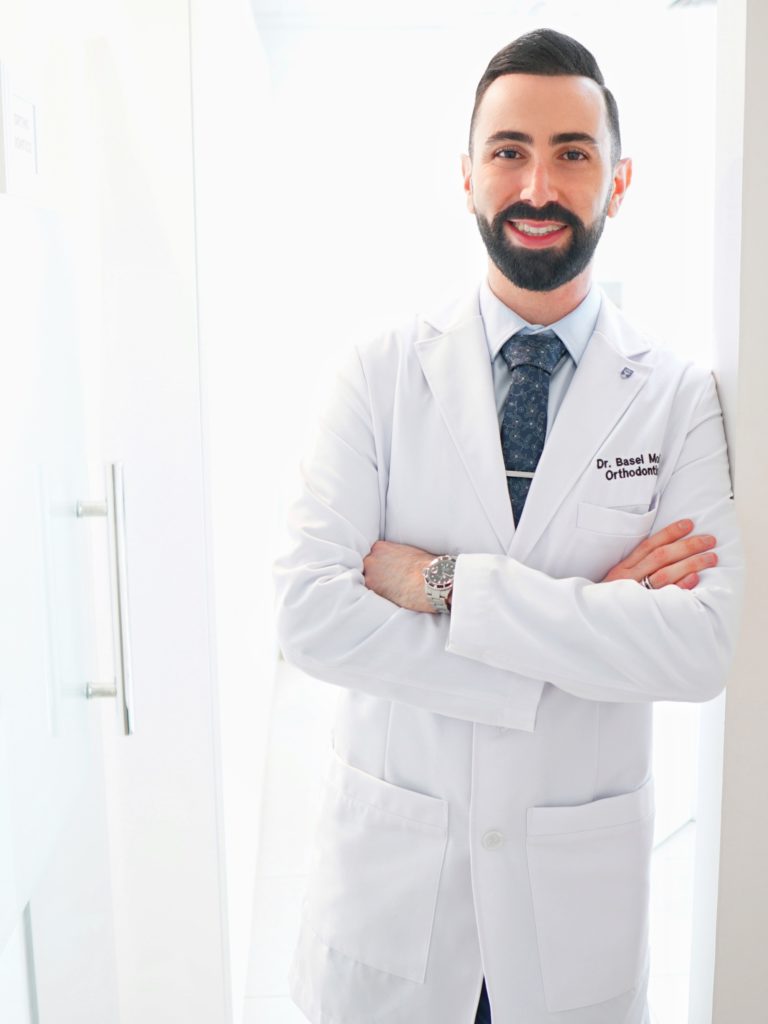 | | |
| --- | --- |
| WEBSITE | https://drbaselmofti.com |
| ADDRESS | Circle Mall – Dr Joy Dental Clinic, Jumeirah Village Circle – First Floor – Dubai – United Arab Emirates |
| CONTACT DETAILS | +971 50 644 6004 |
| OPERATING HOURS | Monday – Sunday: 11 AM – 7 PM |
Dr. Basel Mofti's board certification in orthodontics is a clear indicator of his expertise in the field. This is particularly advantageous for individuals seeking braces or orthodontic treatments, as it ensures a high level of specialized knowledge and skill.
His recognition as an award-winning clinician reflects his commitment to providing excellent patient care. This dedication is vital in orthodontics, where the patient experience and treatment outcomes are crucial.
Dr. Mofti's specialization in orthodontics makes him an ideal choice for individuals seeking braces. He can offer a range of orthodontic solutions, including traditional braces, Invisalign, and other advanced options, to address specific orthodontic issues.
Patients considering orthodontic treatment should schedule a consultation with Dr. Mofti to discuss their specific needs and expectations, ensuring that his approach aligns with their goals for braces.
In summary, Dr. Basel Mofti, a UK board-certified Specialist Orthodontist practicing in Dubai, offers several advantages for individuals seeking orthodontic treatments, especially braces.
Board-Certified Specialist Orthodontist
Respected Researcher
Acquired international Education and Training
Accommodates a range of Cosmetic Dental Procedures
Limited Information on Pricing
Customer Reviews
Here are some reviews from their clients:
"I had a an amazing experience with Dr. Basel. He did a beautiful job with my invisalign treatment. he's very detail oriented and wouldn't let me finish my treatment until he was happy with the outcome. If you're looking for the best orthodontist in Dubai then Dr. Basel is your guy."
"I can't express how thrilled I am with the results of my Invisalign treatment under the care of Dr. Basel Mofti. From the very beginning, he took the time to explain every step of the process, ensuring I was comfortable and informed. His expertise and attention to detail were evident in every adjustment and progress check. Thanks to Dr. Mofti's skillful hands, I now have a confident smile that I've always dreamed of. The staff at the clinic were friendly, accommodating, and made each visit a pleasant experience. If you're considering orthodontic treatment, I wholeheartedly recommend Dr. Mofti – he's a true professional who genuinely cares about his patients' well-being and results."
4. Avance Dental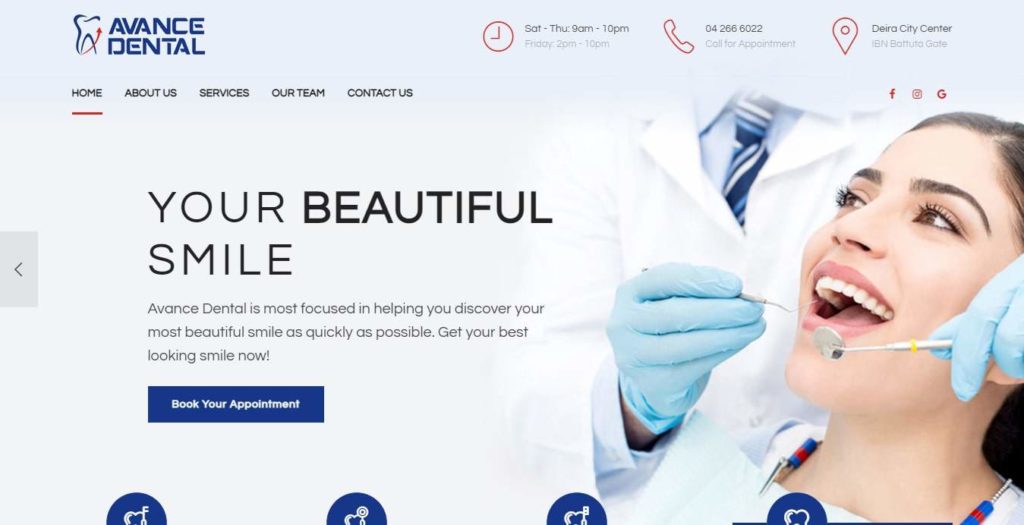 WEBSITE
https://avancedental.net/
ADDRESS
901, Block A, Centurion Star Tower Same building of DAMPA Restaurant, Behind Day to Day Centre Exit 2, Deira City Centre Metro Station, Deira, Dubai, UAE
CONTACT DETAILS
+971 4 266 6022
OPERATING HOURS
Saturday – Thursday: 9:00 AM – 10:00 PM
Friday: 2:00 PM – 10:00 PM
Located in the heart of Deira, Dubai, Avance Dental satisfies even the most demanding of dental patients looking for a lot of bang for their buck.
Aside from having a wide selection of braces, Avance Dental boasts a lot of service packages that each make sure the client will never want for anything.
One of these packages is their "Hollywood Smile" service, where they'll give you a total cleanup and whitening to go along with your braces. This is definitely what a lot of people would want to go for, and we firmly believe it's for good reason
Another point of reassurance is that their facilities are constantly clean and equipped with the best dental technology, all bound to deliver no less than the best quality of service.
And being right in Deira means that Avance Dental's services are highly accessible to anyone seeking a-listers in the dental industry.
For what they take pride in, Avance Dental tends to charge quite a bit more compared to the other entries in this list. If money is no object for you, we highly recommend Avance Dental as one of the best dental clinics for braces in Dubai.
Versatile service packages
Clean, high-tech facilities
Convenient location
Slightly more expensive than the other entries
Customer Reviews
Avance Dental's quality of service amidst the COVID-19 pandemic reverberated to Czarina Bangon:
"Got my teeth Aligned with Braces for 7 months. Avance team is well accommodating. scheduled my appointments at ease. i can understand the current situation of pandemic.. but yet they were to the mark. Well recommended!"
Though still a patient at the time of the review, Bronson Abbot was satisfied with Avance Dental's consistency and professionalism:
"I'm still undergoing the process of aligning with ceramic braces checked every month and I would say i am definitely happy with the professionalism. Dr. Deepak from Avance Dental Clinic has gone above my expectations and beyond his duty to make me understand whats going on and what should i be doing with my teeth and always makes sure that my treatment is in the right way. he is very professional and truly caring about my oral health. Highly recommended dentist. All staff are also very humble and responsive. Great service.. completely satisfied."
5. Best Dental Clinic LLC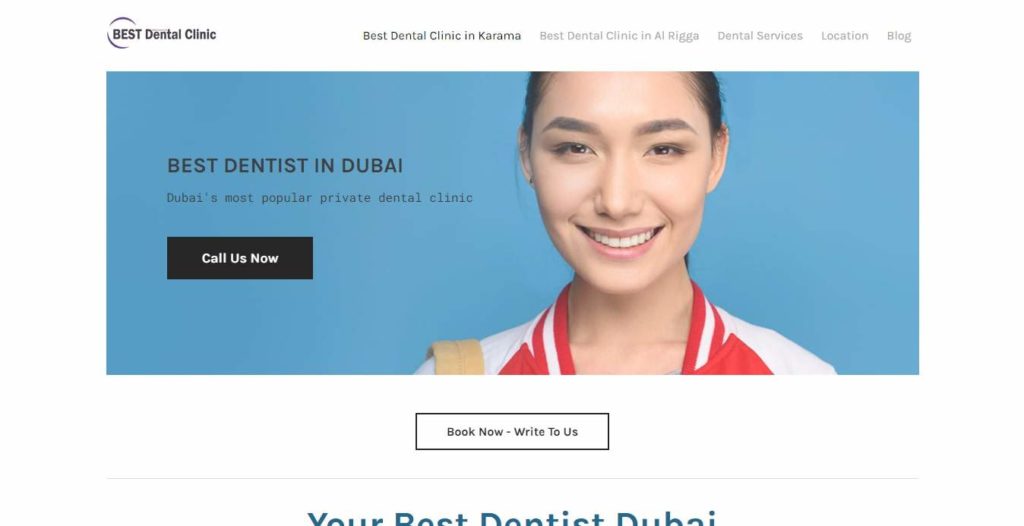 | | |
| --- | --- |
| WEBSITE | https://bestdentalclinic.ae/ |
| ADDRESS | 103, Al Karama 3, Kuwait Street Opposite to Al attar plaza and Karama Centre, ​Dubai, UAE |
| CONTACT DETAILS | +971 4 358 8965 |
| OPERATING HOURS | Everyday: 9:00 AM – 10:00 PM |
Notwithstanding their somewhat aggressive branding, Best Dental Clinic LLC deserves a spot here as one of the best dental clinics for braces in Dubai.
For this clinic, hospitality is the name of the game in braces treatments. The first thing that many clients notice is the feeling of friendliness and warmth from all of the staff.
Their dentists are dedicated to taking away any anxiety or stress that their patients may have about the process. This includes a very informative, transparent consultation that comes free for anyone looking to get the best braces services.
Even after installing the braces, dentists constantly keep in touch with their patients and welcome them with open arms whenever they need dental help. This makes for an overall smooth, comfortable experience to hire their services.
Unfortunately, their location doesn't share the same convenience, being far away from the usual landmarks in Dubai.
When you do decide to go to them, you're always guaranteed a pleasant experience, though, thanks to the friendly atmosphere and culture. So, it's still worth it to find their clinic if you need braces done up for you.
Friendly, professional dentists
Free, extensive consultation
Dedicated after-treatment support
Customer Reviews
Marisse Ramirez felt right at home with Best Dental Clinic:
"Dr. Lalaine Santos Jugueta and her staff are amazing. They are caring and compassionate, and truly concerned about your overall Dental health. I highly recommend Dental Clinic Lounge because the staff are very professional, the facility is clean, and the services are outstanding. I just adore this wonderful group of people who provide a family atmosphere, individual focused attention to every concern, dental need, and so much more, "Their care is great and all the while, they give me comfort and a beautiful smile! ☺️"
The clinic's hospitality made for a soothing experience for Thoubin Kan:
"Receptionists are fantastic with excellent customer service right from the start, they really make you feel welcome and made my visit very comfortable"
6. Dr. Michael's Dental Clinic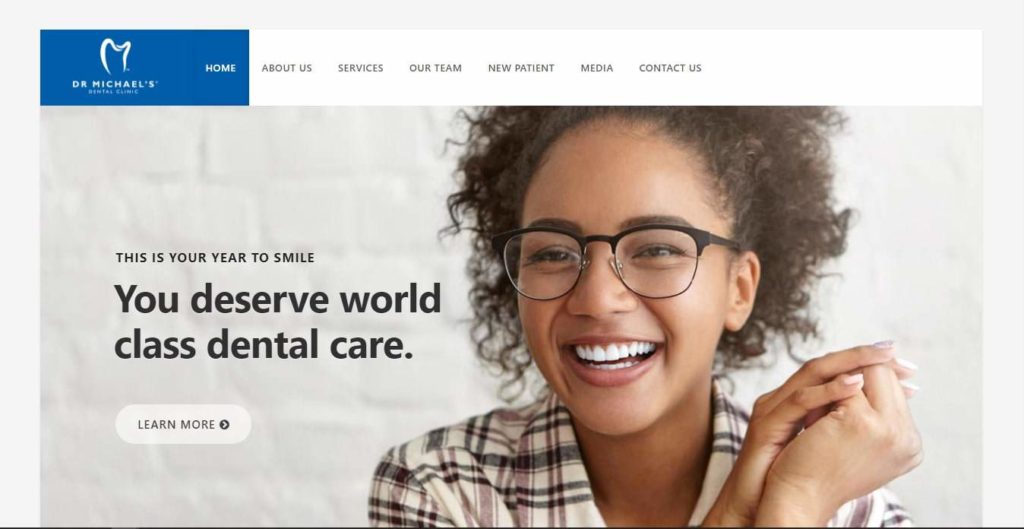 The offerings of Dr. Michael's Dental Clinic are as straightforward and no-nonsense as its title. This clinic is run by a veteran in the field of dentistry, which basically means you're guaranteed no less than the highest level of service for your braces.
This shows in their impressive roster of expert orthodontists, who all have vast experience in improving smiles with braces. With efficiency and results as their maxim, they get the job done well.
In no small part is this also because of the kind of braces that they give to their patients. From high-quality ceramic braces to the ever-reliable Invisaligns, Dr. Michael's Dental Clinic clearly doesn't cut any corners.
Finally, they've been operating for 37 years, making them one of the most experienced dental clinics for braces in Dubai.
Such testament of success makes this clinic highly regarded in Dubai, which means that you'll probably have to wait in line with other people who are looking to get their braces done by the best.
In our opinion, though, it's very well worth it.
Professional, specialized dentists
Latest braces technology
Extensive experience in orthodontics
Customer Reviews
Gi Men's entire experience with Dr. Michael's Dental Clinic can be summed up as thus — quality, efficiency, and complete satisfaction:
"I had my braces done by Dr. Teertha, for 10months, only 10months my teeth looks awesome! Each appointment, she will explain the procedure first before she starts doing it. So you will know what will happen and what kind of adjustment she'll do to your teeth. In a few minutes or just a few seconds it's already done. She will give you advise on how you can take care of your teeth while you still have your braces. I definitely recommend Dr. Teertha. Dr. Michael's have a world class doctors! will definitely recommend Dr. Michael's Dental Clinic to everyone i know! 🙂"
Nishant Sharma wasted no words in expressing her satisfaction with Dr. Michael's Dental Clinic:
"This place needs no introduction…Its the best dental clinic in UAE.. Excellent service!!! Certified and humble staff… Was suggested by my friend, she is one of the support staff here and actually guided me through the whole process… It will be worth every penny you spend here… Highly recommended"
7. NLV Medical Center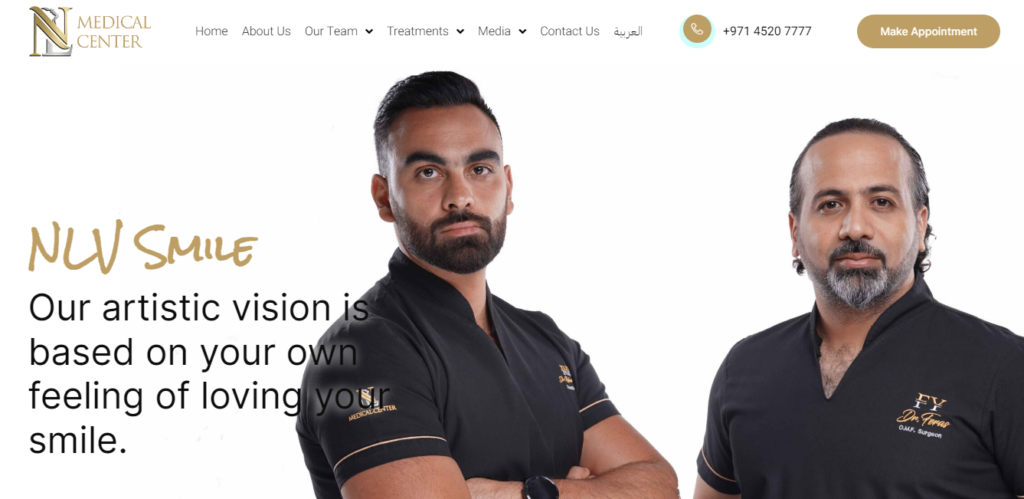 NLV Medical Center is a multi-disciplinary clinic that specializes in medical, dental, and aesthetic treatment and services. It is founded by Dr. Feras Yabroudi and Dr. Rabee Cayoub and has since then grown into a team of specialists and professionals on various practices such as cosmetic dentistry.
Sporting a 4.6-star rating, they are largely commended for their professional approach and for providing their patients a pleasant experience during their services. However, some shortcomings identified were occasional long waiting times and the absence of testing protocols prior to the treatment.
Their website also includes various resources that could be useful for clients in need of most asked questions and concerns for their dental treatments. While they have a wide array of services, their center is mainly founded and known for their dental services which could overshadow other services at other disciplines.
Currently having 27 specialists under their belt, they are largely online appointments from which clients can get a detailed and comprehensive quotation for the treatment they will undergo.
Wide range of specializations
Welcoming environment
Pleasant patient experience and interaction
Services and diagnosis could be improved
Customer Reviews
Here are some reviews from their clients:
"I personally had an excellent experience in the clinic. The staff are friendly and the doctor (Rabee) is so professional. The results were more than expected. I highly recommend NLV for everyone who dreams of a genuine and non artificial change in smile." – Rawad Saad
"One of the most professional Medical Centers all Over the UAE with High quality and well prepared team ,kind receptionists , Collaborated Doctors and amazing Dietitian , Dr.Razan . Highly Recommended." – Natalie Ibrahim
How to Choose the Top Dental Clinic for the Best Braces in Dubai
Your teeth are among the most important parts of your body. Hence, you should choose a clinic that knows how to treat them for you and, more importantly, how to put braces on you in the best way possible.
But there are just so many dental clinics in Dubai that all say the same thing: "We're the best professionals at putting braces on you, and we'll be nice to you all the way!"
The best dental clinics for braces in Dubai are more than talk, though. Admittedly, at the top level, it can be difficult to tell which one is the best for you.
We want to make it easy for you, so here are some tips to help you know how to choose the best clinic for you.
1. Check offered services
Aside from installing braces, all dental clinics offer a wide variety of services to treat your teeth.
The best dental clinics in Dubai don't just put braces on you, end of story. They provide a lot more services to go along with it.
Some examples include exams, cleaning, whitening, and follow-up consultations at little to no additional cost.
This can save you a lot of time and money from having to go to the clinic repeatedly, especially for reasons not involving braces.
In other words, go for a dental clinic that gives you a lot of bang for your buck.
2. Read reviews
Getting braces is pretty commonplace, so it's easy for the top dental clinics to receive at least one published review of their braces treatments.
These reviews are invaluable to your decision, since they usually let you know what it's like to get braces from the clinic without you spending money or time to go there yourself at all.
A lot of dental clinics boast of having professionalism, cleanliness, and quality of service. Sans benefit of the doubt, you can seal the deal with these reviews on whether or not such a clinic has a lot more than just marketing buzzwords.
3. Book a consultation
At the end of the day, you can only tell if a dental clinic is the best for you once you actually experience the services they give. However, no clinic would give you a "free taste" of their braces services (for obvious reasons).
What you can do is dip your toes in the water by booking a consultation. The top dental clinics in Dubai offer free consultations to show prospective clients what they can do for them.
For them, it's a good marketing strategy. For you, it's an excellent way to get an inside scoop.
With free consultations being… Well… free, it's easy to be able to get a small glimpse of each dental clinic and to compare which is the best for you.
Professionalism, cleanliness, hospitality, services offered — these are some of the many bits of information you can get from a single visit.
FAQs about the Best Braces in Dubai
---
Getting celebrity teeth demands nothing short of the best services, which you're guaranteed to have from any one of the top dental clinics for braces in Dubai we listed here.
Did we miss any dental clinic here? We would be glad to know your suggestions!
If you're looking for other ways to improve your teeth, we have plenty of other roundups to help you out! We suggest you check out our list of the best dental clinics for teeth whitening in Dubai, for instance.