6 Clinics for the Best Rhinoplasty in Dubai
Featured Image Source: Ayo Ogunseinde via Unsplash
Changing the look of your nose alone can improve your appearance significantly. For nose augmentation, you should get the services of one of the clinics for the best rhinoplasty in Dubai.
This article contains a guide on how to choose a clinic for the best rhinoplasty in Dubai. We've also listed the top-rated clinics in the city to make your search much easier.
Plus, we've even researched the cost of rhinoplasty in Dubai to prepare you for your procedure.
How Much Does Rhinoplasty Cost in Dubai
The table below contains the estimated costs of common nose surgeries in Dubai. Note that actual prices may vary depending on your chosen clinic.
| | |
| --- | --- |
| Cosmetic nose surgery | AED28,000 |
| Secondary nose surgery | AED35,000 |
| Septorhinoplasty | AED35,000 |
| Nasal septum surgery | AED20,000 |
How to Pick the Clinic for the Best Rhinoplasty in Dubai
For any cosmetic surgery, you should make sure to get only the services of the most trusted clinics in Dubai. To select the best clinic for rhinoplasty in the city, check out these tips below.
Check for board certification
The first thing you should check in a rhinoplasty clinic is its surgeons' board certifications. This proves that the cosmetic industry's governing body has authorised them to perform surgeries.
This ensures you that you'll be in safe hands during the procedure and that you're likely to be satisfied with the results.
See before-and-after photos
When you go in for a consultation, take note to ask to see before-and-after photos of previous clients. There may also be some clinics that show these on their site.
This should let you know whether or not the results previous clients have gotten align with your vision of your ideal nose.
Select a clinic that offers personalised care
When it comes to choosing cosmetic surgery clinics, it's best not to go for the cheaper, one-size-fits-all solution.
During your consultation, the surgeon should consider your opinion as well as inform you of the right size and shape of the nose that best suits your face.
Taking time to consult and come up with the best solution shows that the surgeon is dedicated to giving you their best service.
The Clinics for the Best Rhinoplasty in Dubai
Now that you know what to look for in a reliable rhinoplasty clinic, here are some clinics in Dubai you should definitely check out.
1. Al Shunnar Plastic Surgery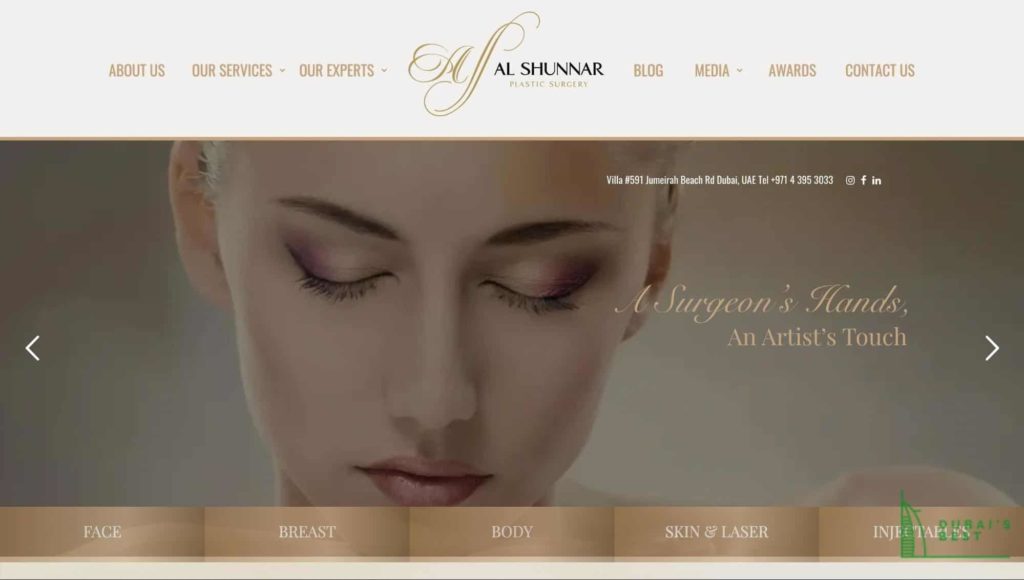 BEST FOR
Tailor-made rhinoplasty procedure
WEBSITE
https://alshunnarplasticsurgery.ae/
ADDRESS
Villa #591, Jumeirah Beach Rd, Dubai, United Arab Emirates
CONTACT DETAILS
+971 4 395 3033
+971 50 435 8760


[email protected]

OPERATING HOURS
Saturday – Thursday: 9:00 AM – 6:00 PM
Rhinoplasty at Al Shunnar Plastic Surgery is done by highly-trained, board-certified plastic surgeons in Dubai. With them, clients can expect an in-depth consultation for a tailor-made rhinoplasty procedure.
Their specialists can modify the height, length, width, as well as the tip of the nose. They can also do additional rhinoplasty for those who are not satisfied with the result of their first procedure from another provider.
Moreover, their plastic surgeons can also address breathing problems, birth defects, and nose injuries through their expert rhinoplasty.
Besides providing the best rhinoplasty in Dubai, the clinic's specialists also perform follow-ups to ensure that their patients recover well.
Aesthetic and corrective rhinoplasty
Award-winning clinic
Customer Reviews
A satisfied client Sally Emelee said:
"This is hands down the best clinic in UAE. Dr Buthainah really cares about her patients and I think this is what makes this clinic different from any other.
I had a hard time trusting clinics but after finding this one, I felt completely safe and wouldn't want to go anywhere else! They are very professional and the place is very clean."
2. Aesthetics International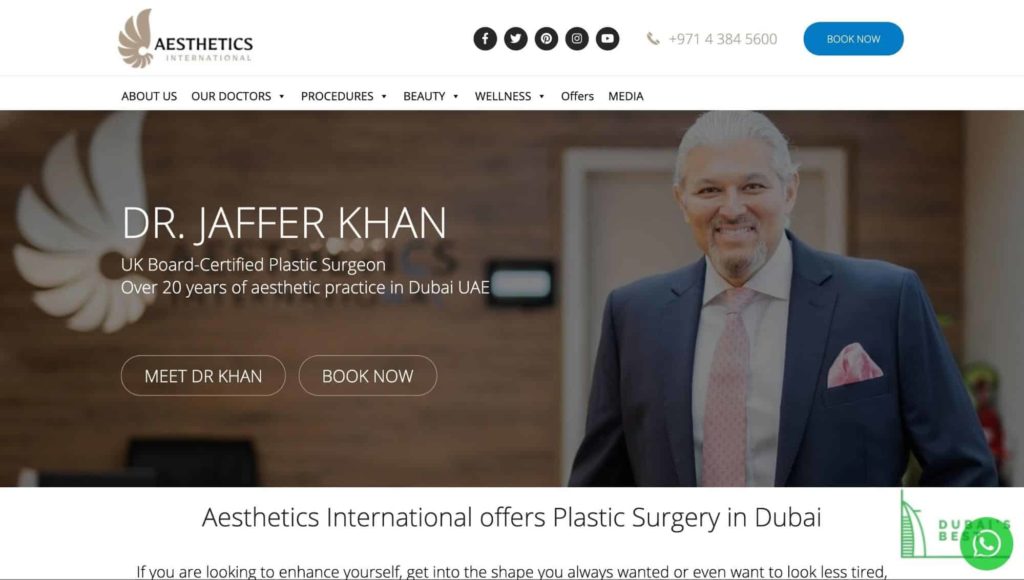 BEST FOR
System imaging technology
WEBSITE
https://aesthetics.ae/
ADDRESS
Utamah Villa #1049C, Intersection of Al Wasl Rd & Al Thanya Rd, Opposite Union-Coop Supermarket, Jumeirah, Dubai, United Arab Emirates
CONTACT DETAILS
+971 4 384 5600

[email protected]

OPERATING HOURS
Saturday – Wednesday: 9:00 AM – 8:00 PM
Thursday: 9:00 AM – 6:00 PM
Aesthetics International has a team of board-certified surgeons accredited by authorities in medicine around the world. Their specialists can do both open and closed rhinoplasty to suit your specific needs.
Open rhinoplasty is for a more drastic reshaping as it allows the insertion of a cartilage graft.
On the other hand, closed rhinoplasty is more suitable for minor adjustments. It produces no visible scarring and has a short recovery time.
To help you see the prospective result of your rhinoplasty before the procedure, the clinic has the latest system imaging software that they use in your consultation with their surgeon.
What's more, Aesthetics International lets you get your rhinoplasty done in a relaxing environment.
Relaxing environment
Advanced imaging software
Can perform open and closed rhinoplasty
Closed on Fridays and Saturdays
Only two in-house surgeons
Customer Reviews
A previous client, Chloe Chernenko, has this to say:
"Dr Francisco was AMAZING!! I couldn't recommend him more. He's been so supportive and available all of the time for any problems or worries I had.
His assistant, Princess was extremely efficient, understanding and dedicated. I felt so comfortable with her. I thoroughly recommend this team.
This clinic is truly amazing and waaaay better than Harley Medical Group in London!! I got a true feeling that they cared so much about me, my recovery and what was best for me. 100% recommend!!!"
3. Maison Lutétia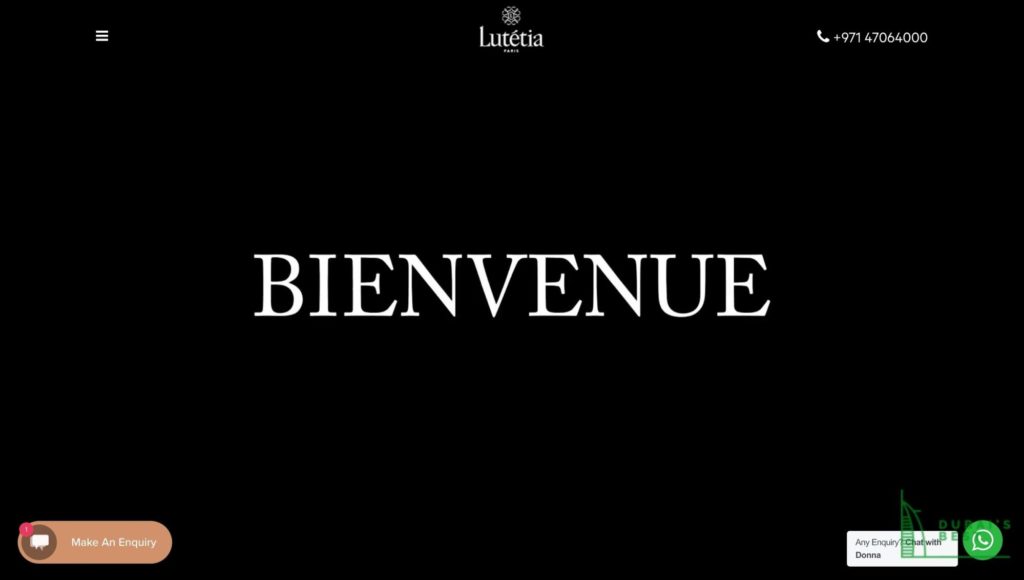 BEST FOR
Luxury plastic surgery experience
WEBSITE
https://lutetiaclinics.com/
ADDRESS
Crescent Dr, Dubai Festival City, Dubai, United Arab Emirates
CONTACT DETAILS
+971 4 706 4000

[email protected]

OPERATING HOURS
Saturday – Thursday: 10:00 AM – 8:00 PM
Maison Lutétia's celebrity plastic surgeons can perform a wide variety of procedures, including open and closed plastic surgery in Dubai.
What makes Maison Lutétia one of the clinics for the best rhinoplasty in Dubai is that it guarantees its patients a hands-on and bespoke rhinoplasty procedure.
On your consultation, you can expect to discuss the outcomes as well as risks of your rhinoplasty. Your chosen surgeon will also lay down a post-surgery plan, which assures you that you will be taken care of until your full recovery
Ultimately, Maison Lutétia offers a luxury plastic surgery experience. Their clients have the option to be treated in one of their 14 lush treatment rooms or their exclusive VIP suite.
Celebrity plastic surgeons
Provides bespoke solutions
Provides a post-surgery plan
Tendency to be fully booked
Expensive services
Customer Reviews
Hannah Collis shared her experience with Maison Lutetia:
"Wonderful state of the art clinic, with amazing staff that really take care of you and your needs. Dr Rory is not only fantastic at what he does but is also incredibly reassuring and makes you feel totally at ease.
I would highly recommend Dr Rory and am very thankful that I am a patient of such an experienced, ethical and talented doctor."
4. OCP Medical Center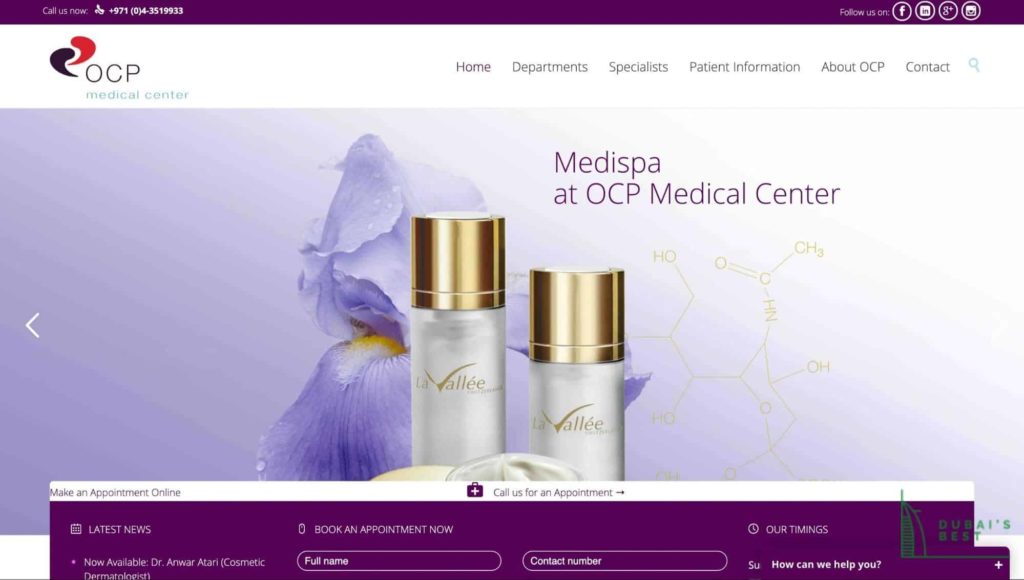 BEST FOR
Seamless plastic surgery experience
WEBSITE
https://www.ocp.ae/
ADDRESS
The Fairmont Dubai, Office 620-621, Sheikh Zayed Road, Dubai, United Arab Emirates
CONTACT DETAILS
+971 04 351 9933

[email protected]

OPERATING HOURS
Saturday – Thursday: 9:00 AM – 9:00 PM
OCP Medical Center's highly experienced and board-certified plastic surgeons do both open and closed rhinoplasty.
For a seamless plastic surgery experience, the luxury clinic provides each client with their own patient coordinator, making them one of the clinics for the best rhinoplasty in Dubai.
Your assigned patient coordinator will explain the procedure, help you select a plastic surgeon, schedule an appointment, and provide you with any other service you may need.
Then, you will proceed to have your initial consultation where your surgeon will explain the procedure, risks, as well as the aftercare for your rhinoplasty.
Luxurious amenities
Dedicated patient coordinator
Easy online booking system
Rhinoplasty procedure is done at another hospital
Customer Reviews
Evelyn Duyog left OCP Medical Center a positive review:
"I highly recommend OCP clinic. I've been doing different services for years with them and always see great results. Most importantly, all staffs are friendly and accommodating."
5. Dr Adnan Tahir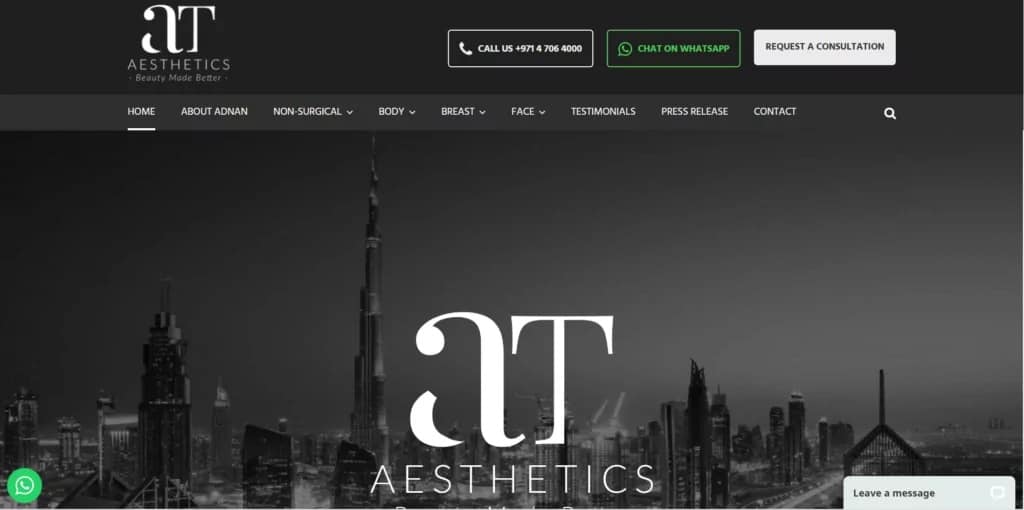 BEST FOR
Rhinoplasty (Nose Job or Reshaping)
WEBSITE
https://adnan-tahir.com/
ADDRESS
Lutétia
CONTACT DETAILS
Maison Lutetia Clinic: +971 4 706 4000‬
Appointments (Tamaya) : +971 50 508 6695
[email protected]
OPERATING HOURS
Saturday to Thursday: 10 am-8 pm
Dr Adnan Tahir is passionate about delivering quality outcomes in aesthetics. He is a UK trained plastic surgeon and is registered with the UK General Medical Council as a Plastic Surgeon.
He started his career in Plastic Surgery in 2003 after completing his basic surgical training from the Royal College of Surgeons leading to MRCS (Eng). Having worked in a number of teaching hospitals across the UK, he was then awarded a National training post in plastic and reconstructive surgery in England, which lead to him attaining the Certificate of Completion of Training by Royal College of Surgeons.
For the past 7 years, Dr. Adnan has been practicing aesthetic surgery on a full-time basis as a consultant. Currently, he is providing cosmetic treatments in Dubai and well known as celebrity plastic surgeon.
Follows the most current best practices backed by science
5-star ratings from past patients across various platforms
State-of-the-art facility
Only one plastic surgeon
Tendency to be fully booked
Customer Reviews
Here's what some of his patients have to say:
"I couldn't be happier with my experience with Dr Adnan. After researching many surgeons in Dubai and having a few consultations, I knew immediately when I met him I wanted him to carry out my surgery. He listened to everything I wanted, gave me a few different options and just made me feel completely at ease. I am 1 week post surgery and am so so happy with the result! He really is amazing 😊"
"I had a great experience with Dr. Adnan Tahir and would highly recommend him to everyone. I was treated with great care and respect. Dr. Adnan is very empathic when it comes to understanding patient needs. He not only understood my requirements but also had great suggestions of his own. I found his approach very realistic and his promises of outcome very reliable. His professionalism and honesty made me very comfortable and his skills are among the best out there. Thanks Dr. Adnan for a wonderful experience!"
6. Dr. Parag Telang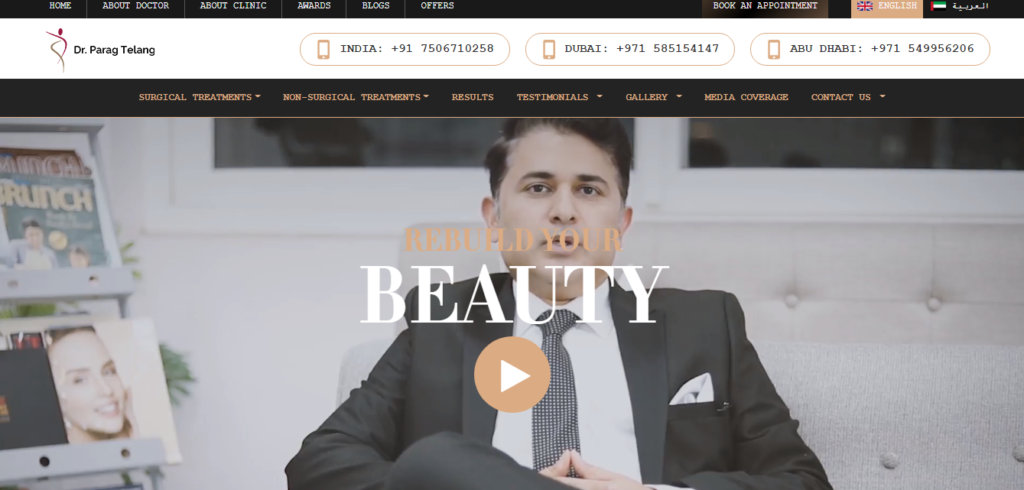 BEST FOR
Facial Aesthetic Surgeries
WEBSITE
https://www.drparagtelang.com/
ADDRESS
India
Designer Bodyz, 401-402, Vastu Precinct, Opposite Mercedes Benz showroom, Sundervan, Lokhandwala complex road, Andheri West, Mumbai- 400053
Dubai
Berlin Healthcare LLC, Nad Al Hamar, Dubai, UAE
Abu Dhabi
Elyzee Day Surgery Medical Center, King Abdullah Bin Abdulaziz Al Saud St – Abu Dhabi – United Arab Emirates
CONTACT DETAILS
+971 2 566 4222
+971 54 995 6206
+971 56 328 3297


[email protected]

OPERATING HOURS
Monday: 8:30 AM – 9:00 PM
Tuesday: 8:30 AM – 9:00 PM
Wednesday: 8:30 AM – 9:00 PM
Thursday: 8:30 AM – 9:00 PM
Friday: 8:30 AM – 9:00 PM
Saturday: 8:30 AM – 9:00 PM
Dr. Parag Telang is one of the most preferred and accredited cosmetic and plastic surgeons in Mumbai. He is highly accredited as he underwent and attained a number of courses in various aesthetic practices such as a Fellowship in Ear Reconstruction in Paris, France, and a Fellowship in Advanced Facial Aesthetic Surgery & MACS-Lift in Gent, Belgium among others.
He is also well-known in the industry as he is the only one who was able to perform complete Ear Reconstruction Plastic Surgery in Mumbai using the patient's own rib cartilage and without the use of any artificial implants. Furthermore, with a lot of years of expertise in the said field, he has consistently delivered clients with their wanted results.
Dr. Telang is also a member of various organizations in the said field such as the American Society of Plastic Surgeons, the Indian Association of Aesthetic Plastic Surgeons, the Association of Plastic Surgeons of India, and the International Society of Aesthetic Plastic Surgery among others. He was also awarded a plethora of awards such as one of the top plastic surgeons in Mumbai 2019 and Page3 Awards 2018 among other awards in healthcare.
We recommend Dr. Telang for clients looking for a highly accredited and reliable plastic surgeon that is known to deliver the best results in the field of aesthetic and plastic surgery.
Multi- awarded in wellness and healthcare
Highly experienced and well-renowned in the field
Highly accredited
Customer Reviews
Here are some reviews from their clients:
"I recently underwent the jaw reconstruction surgery under the supervision of Dr. Parag in Mumbai and I can tell you that he is an expert surgeon. Thank you for your support." – Mahesh Mandal
"I was treated for signs of aging by Dr. Parag Telang. He used anti-wrinkle injections to treat me. He treated me with minimal pain and discomfort. Now, I have clear and smooth skin. Thank you, for suggesting and treating me the best." – Vishwas Mishra
FAQs about the Best Rhinoplasty in Dubai
---
With one of these clinics for the best rhinoplasty in Dubai, you'll be sure to get your ideal nose.
Do you know other plastic surgery clinics that offer rhinoplasty we should add to this list? Send us a message and let us know!
If you also happen to be looking to get a hair transplant, you should definitely check out our list of clinics for the best hair transplant in Dubai.