The Top 5 ENT Specialists in Dubai
For patients who are suffering some health issues on the areas on the head and the neck, an otolaryngologist, commonly known as an ENT specialist will be of help to you.
Here are recommendations for the top ENT specialists in Dubai for your reference. We'd like to note that these doctors are displayed in no particular order or ranking.
How Much Do ENT Specialists Cost
ENT specialists can diagnose your current symptoms by running through some tests or procedures. These professionals can diagnose and treat patients with conditions that affect their voice, breathing, hearing, and taste.
They can also provide extra procedures such as a nasendoscopy. This is where the doctor will look at the back of a patient's mouth, nose, pharynx, and larynx with a thin, flexible apparatus.
Additionally, they can also clean the ears of wax, discharge, and debris. This process is known as an ear toilet procedure.
The following table lists the estimated fees that can be charged should you avail the common procedures during an ENT consultation:
| Procedure or Consultation Type | Estimated Cost (in AED) |
| --- | --- |
| Initial Consultation | 800 - 900 |
| Review Appointment | 500 - 600 |
| Subsequent Appointment | 400 - 450 |
| Nasendoscopy | 650 - 700 |
| Ear Toilet | 550 - 600 |
The Best ENT Specialists in Dubai
The following criteria were used in assessing the doctors featured in this article:
1. Dr Murtaza Najmi of King's College Hospital Dubai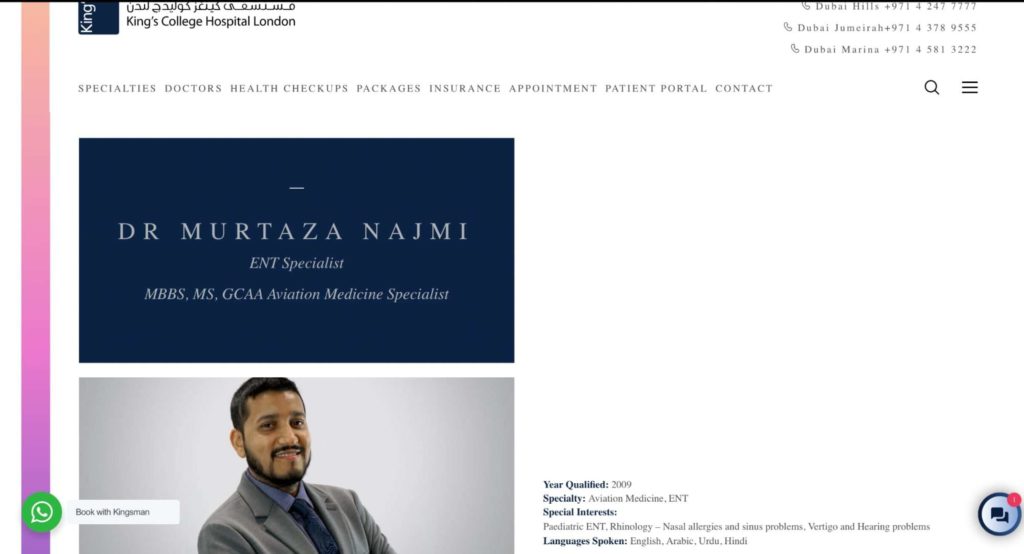 | Test | Info |
| --- | --- |
| SERVICES | 24/7 Emergency Department, Anaesthesiology, ENT, Cardiology, Aviation Medicine, and More! |
| WEBSITE | https://kingscollegehospitaldubai.com/dr/murtaza-najmi/ |
| ADDRESS | Kharbash Building - Jumeirah Beach Road Umm Suqeim 1 Billqetair Street (37B street - 2nd Floor - Dubai - United Arab Emirates |
| CONTACT DETAILS | Phone: +971 4 519 9999 |
| OPERATING HOURS | 8:00 AM - 8:00 PM (Monday - Sunday) |
| | |
| --- | --- |
| Criteria | Ratings |
| Expertise | ★★★★★ (5/5) |
| Price | ★★★★☆ (4/5) |
| Facilities | ★★★★☆ (4/5) |
| Support | ★★★★★ (5/5) |
King's College Hospital London is a multi-specialty international hospital that opened a branch in Dubai in 2004. The hospital is a spacious, 100-bed facility that hosts multiple doctors in various fields in medicine.
A notable thing about the hospital's services is that their official website also serves as an online platform for booking appointments. This is convenient for the potential patients because they can compare their doctor's schedule with their own availability.
Looking at the hospital's facilities, we noticed that the interior is pretty spacious, with large comfortable waiting areas with plenty of seating.
Moving on to the expert medical care provided by the hospital, the company hires a roster of doctors from various countries such as India, the UK, the UAE, and the US. We like that their medical professionals have at least five years of experience.
One of the doctors at King's College Hospital London's roster is Dr Murtaza Najmi. He is an ENT specialist that has over ten years of experience.
He has his master's degree in Otolaryngology with a gold medal from Gandhi Medical College, Barkatullah University, India. After finishing his education, he worked for American Hospital in Dubai before moving to King's College.
He is knowledgeable and experienced in diagnosing ENT conditions in adults and children. He can also treat nasal allergies, sinus problems, vertigo, and hearing problems!
We recommend looking for Dr. Murtaza Namji for his over a decade of medical experience in treating ENT issues!
Online platform for appointment booking 
GCAA-approved ENT specialist 
10+ years of experience 
Appointment required 
Limited parking space 
Customer Reviews:
Honest, Expert Medical Advice
"Such a nice experience that I really have to share! So I have been examined by many doctors earlier for an issue that I have but none was able to treat me and other doctors suggested to have a surgery but I wasn't convinced. Many friends advised me to reach out to Dr.Murtaza Najmi, although he is usually fully booked and engaged with many surgeries but I was willing to wait in order to finalize this issue once and for all. Honestly I was surprised when he told me that I don't need a surgery and that we can treat this with minimal amount of medications! Today I feel much better and I'm fully satisfied with the results, I would really recommend this doctor for anyone looking for an honest consultation and great results." – Bazel Kezia
Transparency, Explains Well
"Had a stress and worry free consultation on my sinusitis. Doctor Murtaza is transparent and his explanation is easily understandable for a layman like myself" – Manoj Kumar
2. Dr. Muhammad Jabbr of Medcare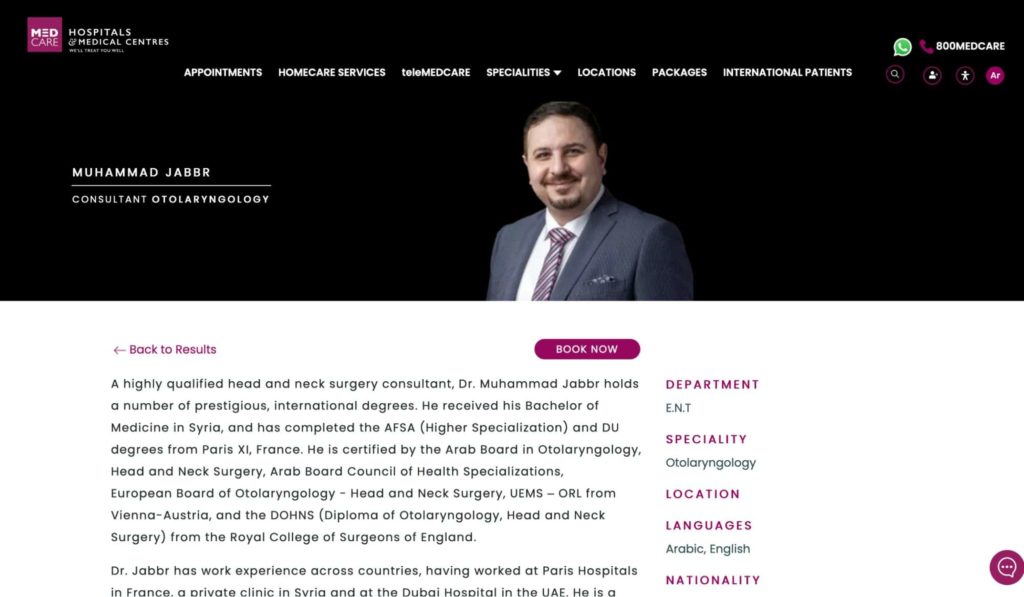 Test
Info
SERVICES
Cardiology, ENT, Endocrinology, Neurosurgery, Physiotherapy, and more!
WEBSITE
https://www.medcare.ae/en/physician/view/muhammad-jabbr.html
ADDRESS
Medcare Hospital - 12 A St - Al Safa - Al Safa 1 - Dubai - United Arab Emirates
CONTACT DETAILS
Phone: +971 4 561 0124
OPERATING HOURS
10:00 AM – 1:30 PM, 4:00 – 7:30 PM (Monday - Wednesday)

10:00 AM – 5:00 PM (Thursday)

1:00 – 5:00 PM (Saturday)

9:00 AM – 6:00 PM (Sunday)
| | |
| --- | --- |
| Criteria | Ratings |
| Expertise | ★★★★★ (5/5) |
| Price | ★★★★☆ (4/5) |
| Facilities | ★★★★☆ (4/5) |
| Support | ★★★☆☆ (3/5) |
Medcare is a premium hospital that started out as a single clinic in 1987. Years after their founding, the company has now reached over nine countries such as the UAE, India, and Africa.
One of the nice things about this hospital is that they have a very big parking space– so no need to worry about where you can place your car when you drive there!
In terms of medical services, Medcare's doctors have certifications from various countries. We think this broad range of experience helps them provide better advice to patients.
In addition, some of them even hold master's degrees or specialization certificates necessary for their chosen field of practice.
For Medcare's ENT department, they have Dr. Muhammad Jabbr as one of their experts. He obtained his bachelor of medicine in Syria, and has special degrees including the Advanced Specialist Training Certificate from Paris, France.
He also obtained a Diploma of Otolaryngology, Head and Neck Surgery from the Royal College of Surgeons of England. Moreover,, he is also certified by the Arab Board Council of Health Specializations in Otolaryngology .
He can perform a variety of ENT procedures which include sinus surgeries (functional endoscopic sinus surgery), as well as head and neck tumor surgery. He can also treat disorders such as vertigo and imbalance.
However, do take note that his availability in the clinic varies per day. We do recommend trying to book around Thursdays and Sundays, as that is the longest number of hours that he is available.
Overall, Dr. Muhammad is a great ENT surgeon that boasts an amazing educational background and over 13 years of experience. If you're looking for a very experienced professional, he is definitely one of them!
13 years of experience 
Multilingual (Arabic, English, French) 
Obtained education degrees from various universities 
Telemedicine consultations offered 
Availability a bit limited 
Appointment required 
Customer Reviews:
Good Service, Great Attention to Detail
"One of the best ear, nose and throat doctor. A doctor takes care of every detail of the patient, and the process was simple and easy with him and I didn't feel anything. God willing! 👍🏻" – Shahd Mahdi
3. Dr. Hatem Dalati 
| | |
| --- | --- |
| Criteria | Ratings |
| Expertise | ★★★★★ (5/5) |
| Price | ★★★★☆ (4/5) |
| Facilities | ★★★☆☆ (3/5) |
| Support | ★★★☆☆ (3/5) |
Dr. Hatem Dalati is an ENT specialist and rhinoplasty surgeon that has over 15 years of medical experience. He is usually hopping from one establishment to another, but he has a specialization clinic in Dubai's Galleria mall.
As this is a specialty clinic located in a mall, don't expect big, spacious rooms or multiple floors. It's a small space that fits a one doctor and a few nurses that cater and guide patients.
Despite the small space, the clinic still has the necessary equipment for Dr. Dalati to practice. There is also a waiting room where patients can relax while waiting for their appointment or procedures.
If small spaces aren't your thing, we do recommend visiting Dr. Dalati when he's in other hospitals, such as the American Hospital Dubai. If you are, however, looking for a more accessible and convenient space, then his clinic is the place to go.
We do have to point out that you can only meet him here on very specific days. These are Mondays, Thursdays, and Fridays only.
Moving on to Dr. Dalati's medical expertise, he obtained his ENT specialization from Aleppo University in Syria. He is also certified for Otolaryngology and Head & Neck Surgery by the Arab Board of Health Specializations.
We do note that he specializes more in rhinoplasty, and most of his patients request for that procedure. However, Dr. Dalati also deals with nasal problems such as nasal abnormalities, nasal polyps, chronic sinusitis, and snoring.
If you're looking for an ENT specialist that leans on the nose area and its corresponding problems, we recommend seeking Dr. Dalati!
15 years of experience 
Obtained ENT specializations 
Limited space  
Three days only in this clinic 
Customer Reviews:
Professional and Expert Service
"The hospital visits in general are always smooth and very professional, you always get in on time when you arrive and they dont let you wait to long. Dr. Dalati always takes his time for his patient to check everything carefully and to make everything sure before any procedure. He is always making sure you got everything right and dont have any question so you walk out with a clear and comfortable mind and even in his private time always responds very quickly to your questions. I had my very first surgery ever done by him and it went smoother and much less painful than I have ever thought and already see the difference in my health. Great doctor & great work" – Hozan Haji
4. Dr. Maher Khalil of Saudi General Hospital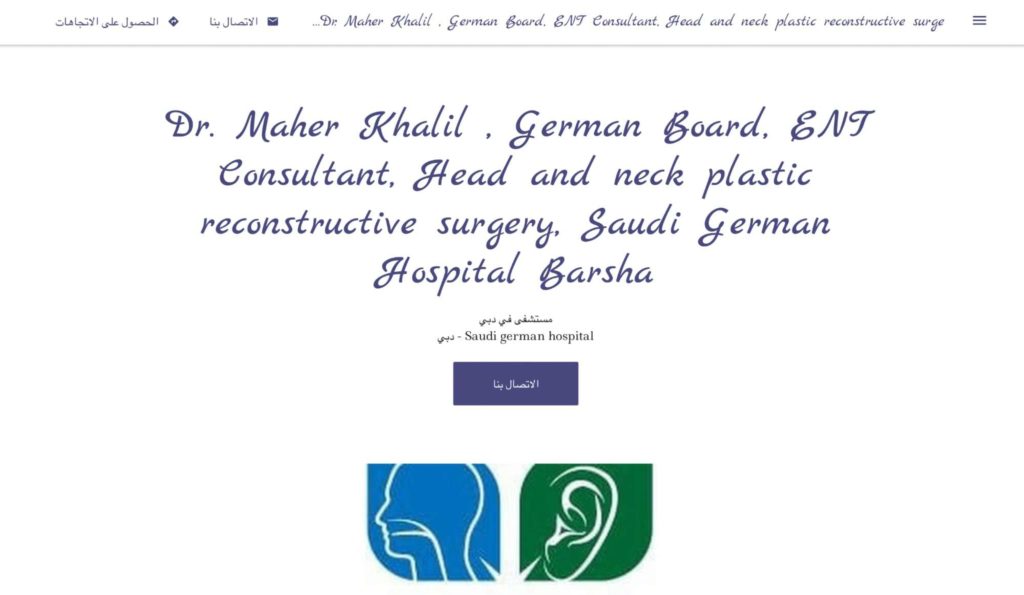 | | |
| --- | --- |
| Criteria | Ratings |
| Expertise | ★★★★★ (5/5) |
| Price | ★★★☆☆ (3/5) |
| Facilities | ★★★★☆ (4/5) |
| Support | ★★★★☆ (4/5) |
Saudi General Hospital is a 300 bed multi-specialty medical facility founded in 2012. From what we've seen so far, this hospital is by far the largest hospital we've looked at.
We noticed spacious reception areas that are filled with comfortable and expensive-looking couches and chairs. Their operating rooms and testing areas are also well-equipped for their procedures.
If you're a patient here or accompanying a loved one, you'll be happy to know that Saudi General Hospital has its own boutique coffee shop. You can step in for a much needed cup of coffee if you want to take a break from the overbearing white walls of the hospital.
This hospital is unique because they promote diversity, which is evident in the doctors they have employed. We've observed that they hire medical professionals of different nationalities and genders that have five to twenty years of experience.
Dr. Maher Khalil is one of these professionals that has over 18 years of experience under his belt. He also has a board certification from the German Board in Otorhinolaryngology head and neck surgery.
As an ENT specialist, Dr. Khalil focuses more on treating his patients via laser-assisted surgery. His offered procedures include narrowing auditory canals, endoscopic operations on the nose, vocal cords microscopic surgery, and more.
We recommend looking for Dr. Maher Khalil if you would want to get surgery for your ENT-related medical issue!
18 years of experience 
Underwent post-grad ENT specialist training
Spacious, and luxurious-looking facilities
Has valet parking 
Appointment required 
Can get expensive 
Customer Reviews:
Professional and Expert Service
"Dr. Maher is an extremely professional, personable and a talented doctor. I experienced his warming nature and love for what he does through a recent surgery, which was a stressful situation for me. He has been truly outstanding on all fronts and is an asset to the medical institute he represents and more so, the patients he assists. Thank you and continue doing the amazing work you do. May God always protect you and continue to bless your abilities to heal Dr. Maher. All of the best for your future endeavors." – Salim Pandor
5. Dr. Muddazir Ali Ibrahim – ENT Specialist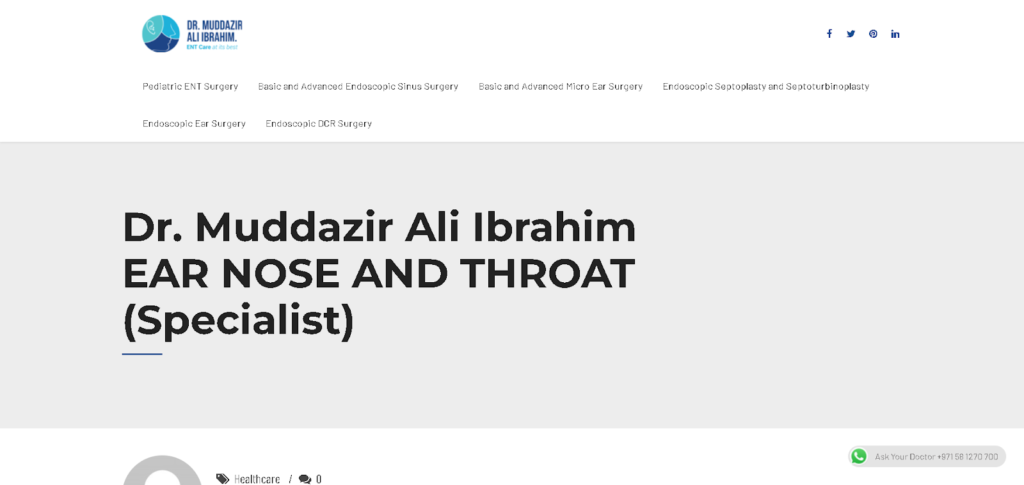 SERVICES
Pediatric ENT Surgery
Basic and Advanced Endoscopic Sinus Surgery
Basic and Advanced Micro Ear Surgery
Endoscopic Septoplasty and Septoturbinoplasty
Endoscopic Ear Surgery
Endoscopic DCR SurgeryFacebook
Twitter
ENT SurgeryBasic and Advanced Endoscopic Sinus SurgeryBasic and Advanced Micro Ear SurgeryEndoscopic Septoplasty and SeptoturbinoplastyEndoscopic Ear SurgeryEndoscopic DCR Surgery
WEBSITE
drmuddazir.ae
ADDRESS
CONTACT DETAILS
Facebook
Twitter
OPERATING HOURS
| | |
| --- | --- |
| Criteria | Ratings |
| Expertise | ★★★★★ (5/5) |
| Price | ★★★★☆ (4/5) |
| Facilities | ★★★★★ (5/5) |
| Support | ★★★★☆ (4/5) |
Dr. Muddazir Ali Ibrahim is a well-known Otolaryngologist who specializes in endoscopic and microscopic ear surgery. Expert in microscopic and endoscopic ear surgery, endoscopic skull base procedures, and all standard ENT surgeries such as tonsillectomy, adenoidectomy, septoplasty, and microlaryngeal surgery.
He is well-renowned for his expertise in his craft specially in his endoscopic ear surgery, often known as Transcanal Endoscopic Ear Surgery (TEES). It is one of the most cutting-edge surgical breakthroughs utilized to operate on the minute and fragile components of the middle ear.
If you are seeking for an experienced ENT practitioner with advanced surgical equipment and knowledge, go no further than Dr. Muddazir at Aster Hospital. In that scenario, Dubai is without a doubt an excellent ENT Surgeon choice for you to seek assistance and help. He has extensive expertise doing crucial ear procedures over a number of years.
Highly credible and experienced ENT specialist
Has advanced surgical equipment
Informative website
FAQs About ENT Specialists in Dubai
---
We hope that this article can help you when you need to seek an ENT specialist for your health. If you're interested in reading more about other specialists in Dubai, check out our piece on the top eye specialists in the city!