The 6 Best Photographers in Dubai
Photography is one of the most commercially successful art media in the world, and it's obvious in the number of photographers making a living out of their craft.
Dubai is the perfect place for photographers because its grand celebrations and the beautiful Arabian desert make the city one of the most photogenic in the world.
That is why we're sharing with you our favorite photographers in Dubai, along with the factors we considered in choosing them, and we also answered some FAQs about photographers in Dubai.
How much does it cost to hire a photographer in Dubai Dubai?
The cost of hiring a photographer may vary depending on the type of project, the length, and duration of it, and the budget of the client
To give you a starting point, we've made a table of the range of rates per hour from both freelancers and studios.
| Photographers | Rates |
| --- | --- |
| Freelancers | AED200 - AED500 |
| Studios | AED750 - AED1500 |
The Best Photographers in Dubai
Before we get right into our top picks for photographers in Dubai, here are the factors we considered for our entries on this list:
1. Blue Eye Picture Studio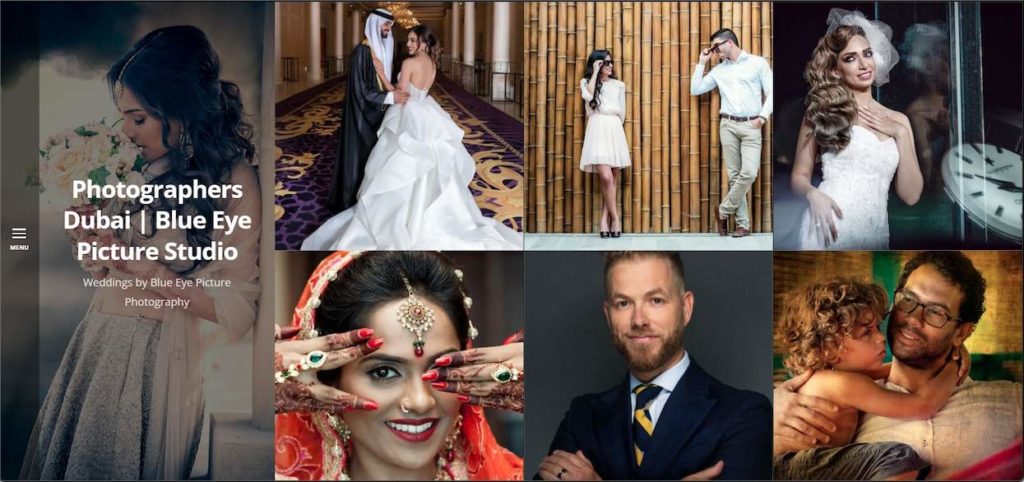 | | |
| --- | --- |
| Criteria | Rating |
| Technical Proficiency | ★★★★★ (5/5) |
| Creativity | ★★★★★ (5/5) |
| Professionalism | ★★★★★ (5/5) |
| Range | ★★★★☆ (4/5) |
One of the premium photography studio in Dubai, Blue Eye Picture Studio, immortalizes intimate moments and grand celebrations with finesse and authenticity.
Their team of photographers has gone through apprenticeships and training under some well-known event photographers, including their founder Gregory Grytchenko.
And what we love about them is that more than just their mastery of the fundamentals and principles that guide photography, they understand that an unobtrusive approach to personal events reveals the most authentic of expressions.
Claire and Daniel, who got them as photographers for their wedding, shared with us how they took the time to get to know them because they believe that they can tell their story beautifully if they do.
We love how they take their client's story and turn it up a notch by adding some sense of drama in the lighting, composition, and editing.
We think that their photojournalistic approach to weddings makes the viewer of these photographs feel like they are a part of the intimacy, and that's a very powerful effect to evoke.
We also loved it when we discovered from Claire and Daniel that the team was very personable and friendly all throughout the whole process.
And we just find it so admirable how they can really take your story and make art out of it, and that comes from a place of passion that you can feel through their photos.
This feeling of passion doesn't just show in their wedding coverages—they cover all kinds of weddings—but also in corporate executive portraits and family portraits.
So while they only heavily focus on portraits and events, their wide range of styles and approaches to events make up for it.
All in all, Blue Eye Picture Studio proves why they are a premium photography studio, and that's by knowing and understanding the importance of showing the beauty of small and intimate moments.
Specializes in wedding photography
Team of photographers are experienced and artistic
Has an authentic approach to photography
Personable and friendly team
Wide range of styles and approaches for different events
Only focuses on portraits and events
Customer Reviews
Great experience being photographed by them
"I reached out to Blue Eye picture last minute and they were extremely responsive and accommodating. A friendly lady called Cheri scheduled us immediately for the same week and responded very quickly. The photographer made us feel very comfortable, was professional, and really took the best poses out of us! After reaching out to many other companies I would recommend only going to Blue Eye Picture, such a great experience!" —Karina Rojek, Google Reviews
Great results and even better staff
"I needed photographs for a very important job. Ma'am was extremely patient and kind to me and actively listened to what I wanted. I am extremely happy with the results and I got more than what I wished for. She is extremely talented. Thank you!" —Sneha Gupta, Google Reviews
2. Dany Eid Photography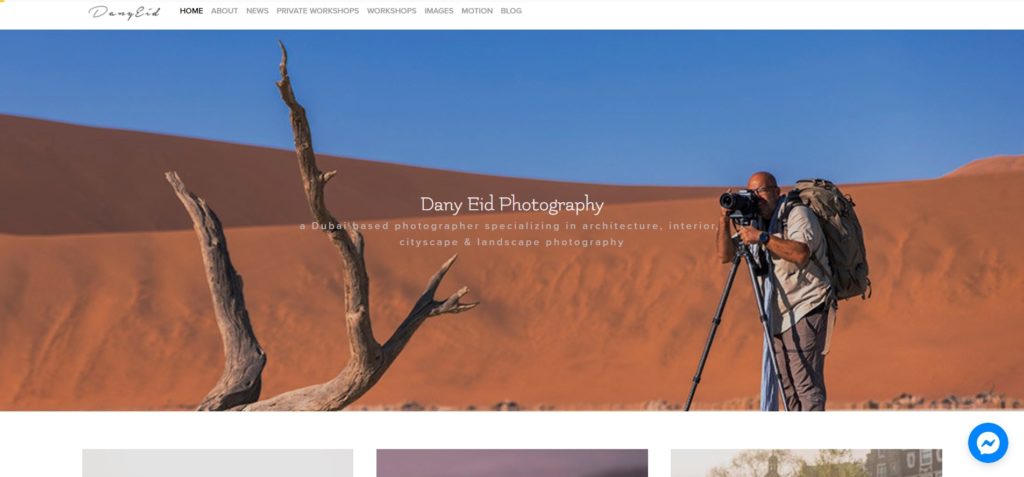 | | |
| --- | --- |
| Criteria | Rating |
| Technical Proficiency | ★★★★★ (5/5) |
| Creativity | ★★★★★ (5/5) |
| Professionalism | ★★★★★ (5/5) |
| Range | ★★★★☆ (4/5) |
A professional photographer since 2014, Dany Eid has built himself a career out of his craft and has become a brand ambassador for Carl Zeiss and an official photographer for Fujifilm X.
Dany is a technical and artistic master at his craft, and you will get that same sentiment from the countless students he has had in his workshops.
Amir, one of his recent students, shared with us that he covers landscape, cityscape, architecture, and interior photography along with the fundamentals.
We think that Dany Eid is our most creative and editorial pick for this list mostly because his clients hire him for his creativity and not for the service he offers.
Going through his portfolio, we get this sense of etherealism and surrealism in his landscape photography, which is amazing because his works are so grounded in reality.
He approaches these beautiful vistas and structures with such a unique perspective that he makes them look otherworldly.
We're also big fans of the way he makes his photos look and feel expansive and vast. It definitely adds that sense of grandeur and drama to his work.
Nina, who hired Dany for an ad campaign for their company, recalls Dany as being a very
down-to-earth person that is so easy to work with.
But the biggest setback when it comes to Dany Eid is that he ultimately just focuses on landscapes, cityscapes, architecture, and interior photography.
So while the possibility of having him for a dramatic pre-wedding session is not impossible, it's most unlikely.
All in all, Dany Eid offers what most of our entries cannot, and that is pure and uninhibited artistry, and we love that his clients get him for what chooses to make and not what his clients ask of him.
Pros
Artistically independent
Offers photography workshops
Unique and one-of-a-kind works
Severely limited type of photography
Customer Reviews
The passion is contagious
"What I love about Dany, aside from his outstanding talent and up to date knowledge, is his passion for photography that doesn't seem to have been ruined by being a professional. He still shoots with the passion and enthusiasm of an amateur and he extends such passion, joy and energy to everyone around him. Dany is also generous in sharing knowledge and experiences and is a very good Instructor. He has a kind heart and I admire how humble and funny he is. I went with Dany to Iceland on one of his photography workshops and I proudly call him a friend since then." —Ayed Tadros, Google Reviews
A great tutor and a better friend
"Dany Eid is an amazing tutor & friend. He goes out of his way to ensure that you know exactly what to do when attending his workshops. His guidance & expertise sets the benchmark for photographers wanting to become better in all aspects of photography. Highly recommended!" —Hilmar Venter, Google Reviews
3. Kamie Photography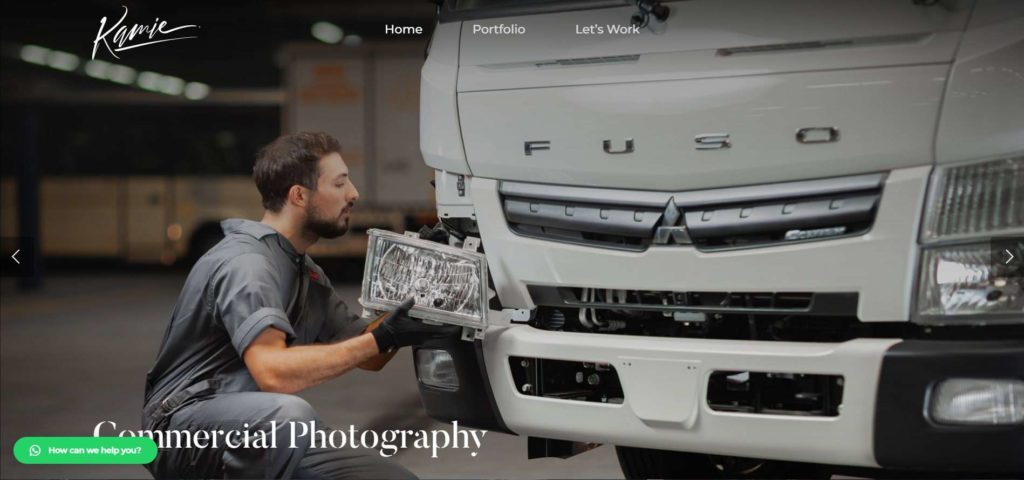 | | |
| --- | --- |
| Criteria | Rating |
| Technical Proficiency | ★★★★★ (5/5) |
| Creativity | ★★★★☆ (4/5) |
| Professionalism | ★★★★★ (5/5) |
| Range | ★★★★☆ (4/5) |
One of our favorite event photography studios is Kamie Photography, and a big reason as to why is the mastery they show at their craft in the most chaotic of environments.
Their event photographers have mastered one thing that normal people do not notice and appreciate enough, and that's being able to bring out details and color in low-light spaces.
Photographing people on stages with focused lighting and unpredictable movements is not easy, but Kamie knows how to rein in that energy, capture it, and do away with the unnecessary visual clutter.
We also love that their style is adaptable for corporate events and editorial shoots for festivals and consumer events.
Their approach lets them adapt to the many kinds of events they work in to ensure that the key details and highlights are showcased within the context of the event.
However, we think that their adaptability is somewhat a detriment to a point. It negates a sense of identity because of how they change up their photography style to match an event's branding.
That being said, their adaptability really shows in the calmness and efficiency that they exhibit during events.
We've seen them in action, and it made us think that they have mental checklists of things that need to be taken pictures of and ideas that they want to execute for more showstopping pictures that can be used as a highlight.
Truly, their adaptability really shows in the broad range of events they cover, too. Their portfolio proudly presents their experience with events, commercials, concerts, shows, and even weddings.
Kamie Photography may be our most versatile pick for this list, and while that comes at a price, they sure are the safest choice for event coverage.
Covers a wide range of events
Adaptable photography style
Photography in low-light settings are excellent
Lacks a strong sense of uniqueness
Only limited to event coverage
Customer Reviews
My perfect wedding captured beautifully
"A perfect photography is all you need for your big day; to capture each and every moment to cherish forever…My dream come true wedding photography & videography is by Kamie's Photography. I cannot thank the team enough for capturing each and every detailed moment of my wedding. As a bride, you will go through so much pressure on your big day and the best thing that happened to me is that Kamie's Photography team was so amazing they were professional, and most importantly they made sure the Bride & Groom is calm and not pressurized. I am extremely satisfied not only with their professionalism but also with their behavior, attitude, friendliness & punctuality. Thank you again to Kamie's Photography for all they did. 100% recommend the team for your big day too." —Salma Sadia Rakhman, Google Reviews
Detailed work and excellent team
"We are absolutely happy with Kamie's and his team's work, I first had contact with him in July for our wedding in December and he's been such a great help for advising about best shooting locations in Dubai, Our pictures are just amazing, it is incredible how they make sure every detail of the picture, light, color, shapes is set to get into somehow a perfect vision, and our video is definitely over any of our expectations, we recommend you to absolutely work with this photographer because you will be relieved by their professionalism," —Jessica Brocchia, Google Reviews
4. Nada Bader Photography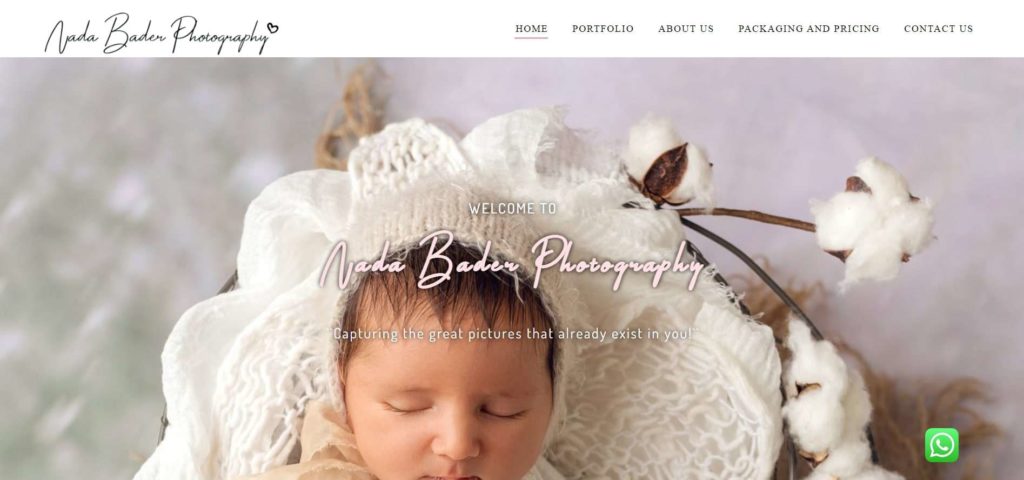 | Test | Info |
| --- | --- |
| WEBSITE | https://nadabader.com/ |
| ADDRESS | Al Tamani Arts Building, Studio 849, Dubai Business Bay, Dubai, UAE |
| CONTACT DETAILS | +971 55 218 1600 |
| | |
| --- | --- |
| Criteria | Rating |
| Technical Proficiency | ★★★★★ (5/5) |
| Creativity | ★★★★☆ (4/5) |
| Professionalism | ★★★★★ (5/5) |
| Range | ★★★★☆ (4/5) |
A full-time mom who has successfully managed to incorporate her skills as one into her own photography, that is Nada Bader.
Besides her mastery at studio and outdoor shoots, Nada is skilled at utilizing calming techniques to make babies comfortable during photoshoots.
We love how she approaches photography with such care for her subjects, the amount of care that can only be found in mothers.
Eva, a young mom, who got Nada to take pictures of her newborn shared with us how much she loved that sense of motherhood that she got when Nada takes pictures of babies.
From a technical standpoint, she also understands how light works for the camera and how to manipulate it effectively so that the subject's skin will look soft and smooth.
Besides that, her approach to color brings a sense of femininity to her photos that are somewhat subtle but makes a world of difference without it.
We're also big fans of her newborn photography because of how much attention she puts into details. And it's noticeable in the handcrafted cribs, the poses for the baby, and the coloring and editing of the baby's complexion.
However, we do find her maternity photos a little too mundane, especially with the poses she gives to her clients. It certainly needs a bit more uniqueness and personality to it.
And that's about the range of her photography. She mainly focuses on families, babies, and moms.
It's easy to say that it's a niche, especially in a time where everyone can just take family photos on their own, but it's admirable how she deeply relates to these kinds of people and knows how to work with these kinds of dynamics.
Focuses on family, baby, and maternal portraits
Skilled at outdoor and studio shoots
Knowledgable about baby calming techniques
Newborn photos are creative and unique
Maternity photos lack uniqueness

Customer Reviews
Her work speaks for itself
"We were so privileged getting our newborn shoot done by Nada. It was such an incredible experience, she's got such a passion for what she's doing. Her work speaks for itself, she's an amazing photographer and made us feel very comfortable. Thank you Nada we appreciate you!" —Marelize Maree, Google Reviews
Nada is the best!
"Nada is an amazing photographer with a lovely personality and very professional work! I loved my experience and would surely recommend her to everyone." —Raghad Shurbaji, Google Reviews
5. Kashyap Sagar Photography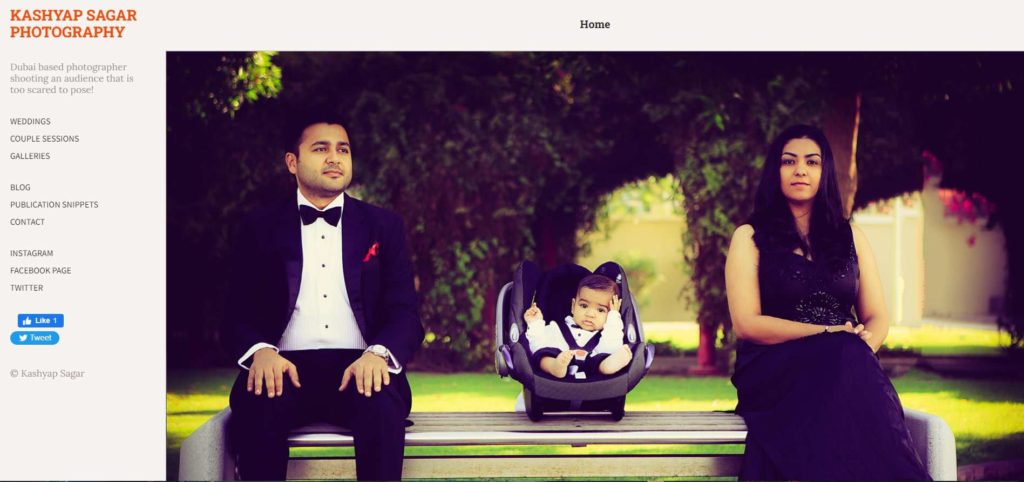 | | |
| --- | --- |
| Criteria | Rating |
| Technical Proficiency | ★★★★☆ (4/5) |
| Creativity | ★★★★★ (5/5) |
| Professionalism | ★★★★★ (5/5) |
| Range | ★★★☆☆ (3/5) |
Wedding photographers are one the most commercially successful photographers out there in the world, and a prime example of that is Kashyap Sagar.
Nadya and Samesh got Kashyap for their pre-wedding photos and shared with us their experience with him.
They enjoyed how Kashyap made the whole experience so simple and straightforward. He gave clear instructions and was very engaged with the couple throughout the whole shoot.
With a masterful understanding of the fundamentals, Kashyap does away with the frills and over-stylized approaches to pictures that can make memories look dated.
We love his use of leading lines and his amazing attention to the details of a photo's composition.
However, we often found ourselves thinking that he may need some improvement on the balancing of the colors because there are some photos that may be a bit too oversaturated that it sometimes comes off as a stock photo.
Despite that, there is a sense of understatedness and simplicity to his photos. We think this really works for weddings because it really lets the authenticity of moments shine through.
Nadya and Samesh also noted that he had such a perfectionist nature about him, and it brought out the best in them.
He took the time to really assess his surroundings and finds different ways to have his subjects interact with their environment.
And while it's easy to dismiss Kashyap's versatility considering how he heavily focuses on photographing people, his range really lies in capturing spontaneous moments and photographing more produced and posed pictures.
All in all, Kashyap really captures that sense of intimacy and sincerity between couples. He uses simple but effective techniques to frame the relationship of people and let the story come out of the photos.
Focuses on weddings and couples
Simple and understated photography style
Perfectionist nature
Friendly and patient towards clients
Color balancing needs improving
Limited to weddings and couples
Customer Reviews
Being photographed by Kashyap was worth the money
"What an absolute pleasure it was to have Kashyap's photography services for our engagement pictures.
I was apprehensive about having a professional there, but after seeing the pictures, it was well worth it. Kashyap and his amazing wife were resolute professionals who went above and beyond to provide a perfect service.
We would definitely use them again.
Thank you, Mr. and Mrs. Sagar!" —Frank Nsubuga, Google Reviews
A genius behind the lens!
"7 stars if available
Kashyap is a Perfectionist and a genius with his Canon. He captured moments we never ever imagined at our wedding. Upon receipt of the photos, 6 weeks after my wedding at Saadiyat beach club, I was super shocked at the emotions we had no idea existed. He is very attentive to detail and very creative.
He makes sure to be well prepared for every location, making sure to get the right light.
I and my wife honestly would say we were lucky and blessed to choose Kashyap to head the photography of my wonderful and most memorable day.
Honestly, I don't know how he managed the whole day from 10 am until midnight, but I know this is his passion and you can tell he loves what he does and is extremely great at photography.
Trust me, you get the best. I feel like I have the best wedding photos ever made. if you doubt, contact me.
Thank you very much, Kashyap. We really really loved every photo.
Mel & Jay" —Jerry Afan, Google Reviews
6. 4Dimension Studio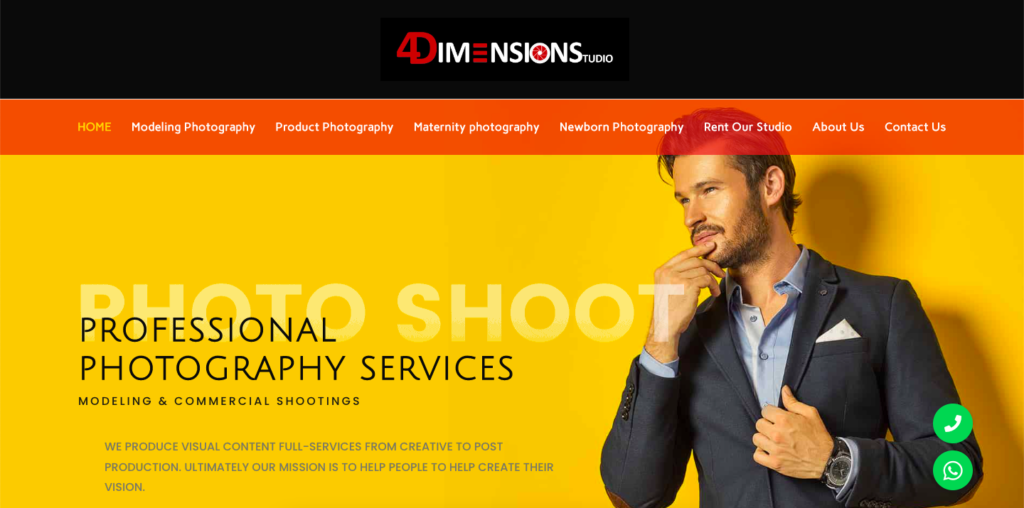 | | |
| --- | --- |
| Criteria | Rating |
| Technical Proficiency | ★★★★☆ (4/5) |
| Creativity | ★★★★★ (5/5) |
| Professionalism | ★★★★★ (5/5) |
| Range | ★★★★☆ (4/5) |
4Dimension Studio offers professional photography services for modelling, creative portraits, product shooting, and family and maternity sessions.
We like the range of services that they offer and what's great is that they also have videography services, so you can get most, if not all, of your needs at their studio.
If you'd like to just rent their studio, you can! Their studio has all types of professional equipment and is well equipped for a wide range of photography/videography needs.
We also like that their studio is available from 10 AM to 10 PM the entire week! You just have to book the place depending on its availability.
All in all, we highly recommend 4Dimension Studio to get your pictures done!
Offers a wide range of professional photography services
Well equipped studio for rent
Rates available on website
Open all week
Customer Reviews
"Great studio for photography shooting, the space really big and the stuff so helpful."
"Very professional and kind team. I Felt really comfortable during the photoshoot and loved all the taken photos!
I highly recommend their service.."
FAQs about photographers in Dubai
---
We hope this helped you in finding a photographer that's for you. Also, if you're looking for other services to help you produce a photo shoot, then check out these articles: