7 Picks for the Best Interior Designers in Dubai
Featured Image Source: Toa Heftiba via Unsplash
Designing your home interior can be rewarding, but sometimes, an appreciation for art isn't enough to make your home look beautiful and put-together. For a magazine feature-worthy home without all the hassle, hire one of the best interior designers in Dubai.
This article provides a guide on how to select the best interior designer for your home renovation. We've also included a list of the best interior designers in the city so you can start your project ASAP.
Plus, to prepare you for the cost of hiring the best interior designer in Dubai, we've also researched their rates and compiled them in the list below.
How Much Do Interior Design Services Cost in Dubai
The table below contains the rates of interior design services according to the size of the space. The actualThe a prices may vary from provider to provider.
| | |
| --- | --- |
| Price per sqm. | AED1,500 |
| Studio apartment | AED12,000 to 20,000 |
| 3-bedroom apartment | AED65,000 t0 90,000 |
| 5-bedroom villa | AED110,000 to 150,000 |
| 7-bedroom villa | AED200,000 to 250,000 |
How to Pick the Best Interior Designer in Dubai
For a hassle-free home renovation that gives you the results you want, hire only the best interior designer in Dubai.
To select a reliable interior design provider, use these tips we've prepared below as a guide.
Determine what you want
Before you meet with an interior designer, it is best to have an idea of the style you want for your home. There are plenty of resources online that can help you with this, such as Pinterest.
Then, you can start searching for providers online. You can narrow down your options by looking at their online portfolios.
After picking out interior designers that you think can fulfil your vision, contact them and arrange for a meeting.
For your meeting, prepare all your questions. Ask the amount of client involvement they allow as well and make sure this aligns with your plans for your home renovation.
Know the services they offer
For your interior design experience to be stress-free, get a provider that covers all the services you need from the beginning of your project to its end.
A good interior designer does not only present you with concepts. They also take care of site measurement, procurement, and project management, ensuring that all needs are met.
Ask for references
To know more about an interior designer's work ethics, ask them for references. Clients who were satisfied with their service would be more than willing to share with you their experience.
Some things you should ask about are the experience, use of budget, and the interior designer's problem-solving skills.
The Best Interior Designers in Dubai
Now that you know how to select a qualified interior designer, you should now be ready to choose your provider.
Let's make your search for your interior design partner easier with this list of the best interior designers in Dubai.
1. Moujaher International Design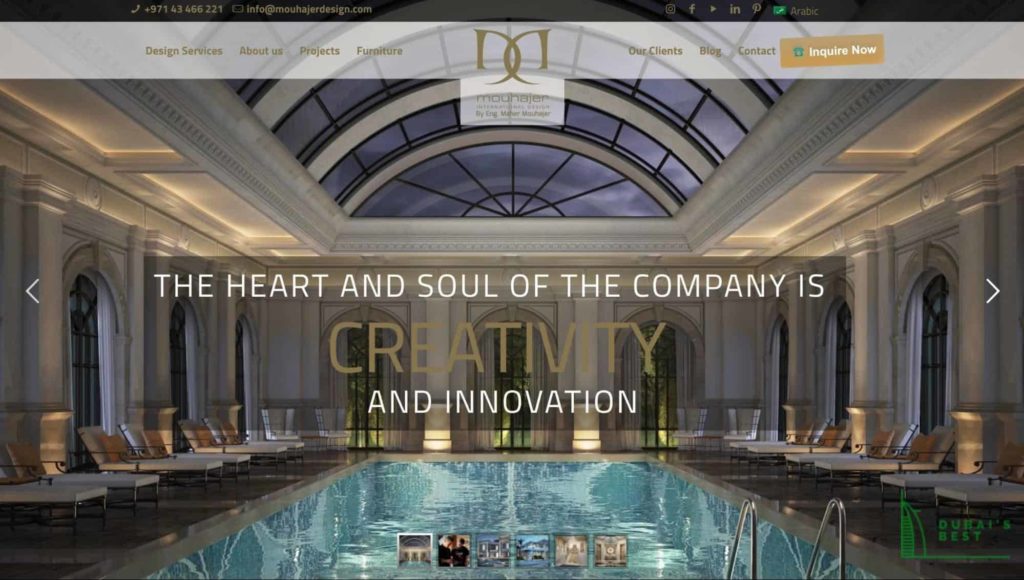 | | |
| --- | --- |
| BEST FOR | European-style interior |
| WEBSITE | https://www.mahermouhajer.com/ |
| ADDRESS | Office No. 1807-1808, Westbury Tower 1 Business Bay, Dubai. |
| CONTACT DETAILS | +971 4 346 6221 +971 4 431 8426 [email protected] |
| OPERATING HOURS | Saturday – Thursday: 9:00 AM – 6:00 PM |
If you wish to have a classic European-style interior with a modern twist for your Dubai home, get the services of Moujaher International Design.
They provide their elegant designs for various rooms in homes, as well as offices, spas, hotels, and restaurants.
To make a cohesive design for your space, they also offer custom furniture such as beds, headboards, and dressers.
Moujaher International Design is a trusted interior design company by celebrities. Their commercial clients also include Sheraton, DoubleTree by Hilton, and Burj Khalifa Residences.
Further proving its excellence as an interior design firm, the company also offers services in other places in the U.A.E. and around the world.
Wide range of interior design services
Can customise furniture
Not for modern, maximalist style interior design
Does not do retail spaces
Expensive services
Customer Reviews
Moujaher International Design has an overall rating of 5 stars on Google. A previous client, Mahmoud Nabil, shared:
"The best thing about Mouhajer International Design is that they are very professional, punctual, and they always provide the best solution to any kind of problem they face."
Zeyneb Bouraoui also said:
"Amazing and stunning luxury design for different kind of projects. Best interior design company in Dubai. Highly recommended! Keep it up!"
2. Design Nomad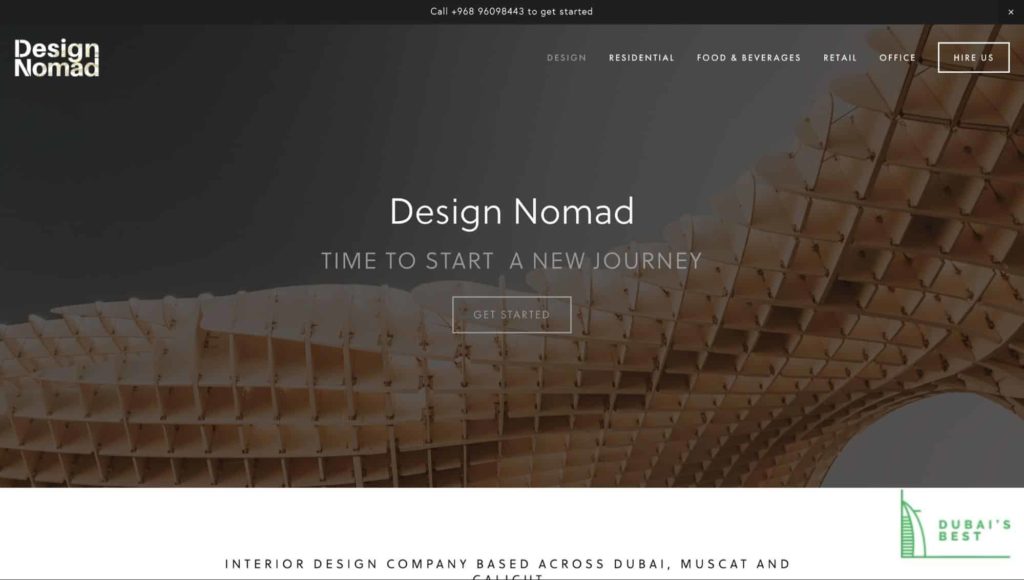 | | |
| --- | --- |
| BEST FOR | Retail interior design |
| WEBSITE | https://designnomad.studio/ |
| ADDRESS | Floor 3, Building 3, Dubai Design District, United Arab Emirates |
| CONTACT DETAILS | +971 52 576 4258 [email protected] |
| OPERATING HOURS | Sunday – Thursday: 9:00 AM – 6:00 PM |
Design Nomad offers expert interior design services for homes, offices, retail spaces, and restaurants in Dubai.
They are experts in designing lighting that fits your space's aesthetic and helps set the mood.
The company also lets you see the result of their work before the beginning of the construction process. For this, they use modern technology called photorealistic 3D visualisation.
An experienced interior design company, Design Nomad helps you save costs with their skilful fit-out and project management.
They are the ideal interior design partner for clients who lease their space from malls. With their vast experience with this kind of clients, they can guarantee fast mall approvals for your interior design project.
Photorealistic 3D visualisation
Topnotch fit-out and project management skills
Fast mall approvals
Provides furniture design and procurement services
Customer Reviews
Majjad Makbool was pleased with Design Nomad's service. They said:
"If you are looking for a detail-oriented team, then Design Nomad is the answer. We wanted our place to be modern as well as a reflection of local culture. The results delivered to us were magnificent.
I personally appreciate the attention to detail and the synergy they form between modern and cultural designs which create a window from the past to the future. They are an amazing team to work with and I wish them more success."
Meanwhile, Mohammed Abdul Jawad reviewed:
"What I have noticed about Design Nomad is that they make a strong effort to educate themselves on your business and operations and enrich the project with their own critical thinking skills. You could end up enhancing your overall business when designing with them."
3. SLM Interiors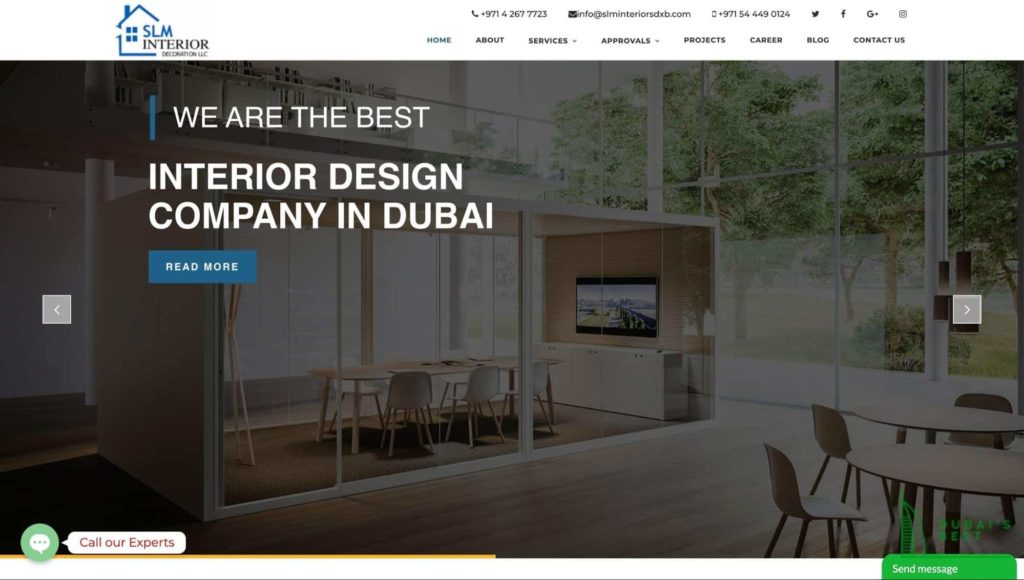 BEST FOR
Quick approvals process
WEBSITE
https://slminteriorsdxb.com/
ADDRESS
Ras Al Khor, Industrial Second, Dubai, United Arab Emirates; Office No. 132, Al Zarouni Building, Al Quasis, Damascus Street, Dubai, United Arab Emirates
CONTACT DETAILS
+971 4 267 7723
+971 54 449 0124
+971 54 449 0125


[email protected]

OPERATING HOURS
Saturday – Thursday: 8:00 AM – 6:00 PM
SLM Interiors is known for its interior design and fit-out services in Dubai. Their offerings also include lighting and joinery, contracting, renovation, and consultancy.
They offer all of these services to offices, restaurants, hotels, salons and spas. Their expertise also allows them to provide their services to hospitals and gyms.
They make the renovation process hassle-free through their dedicated approvals team. With their help, you can get the approvals needed for your project from the Dubai municipality and various other authorities.
Wide array of services for a vast clientele
Dedicated approvals team
Affordable interior design services
Not suitable for big, high-end projects
Customer Reviews
One of SLM Interiors' previous clients, Rachelle Divakaran, reviewed:
"SLM interiors have worked on building Charlies Angels Ladies Salon. The levels of professionalism displayed was remarkable. From getting approvals to getting all the nitty gritty's in place.
They are averagely priced. There was constant communication between us and the SLM team during the entire process. They deliver what has been negotiated and very close to deadlines. The follow up after handover is still very prompt and they have obliged as much as possible.
We appreciate so much the efforts put in. Thank you, dear Sekhar, Sirish and your team of hardworking crafters who did their best and helped us build our business from scratch."
Avinash Gharge also left a review. They said:
"SLM Interior Decoration LLC is definitely the company that we would recommend if you also want to give your villa an incredible makeover.
The design team from SLM perfectly accentuated the balcony in my villa that overlooked a beach into a comfort haven, which was otherwise an underutilized area in the home for lack of enough space. Good job, people!"
4. Zylus Interior Design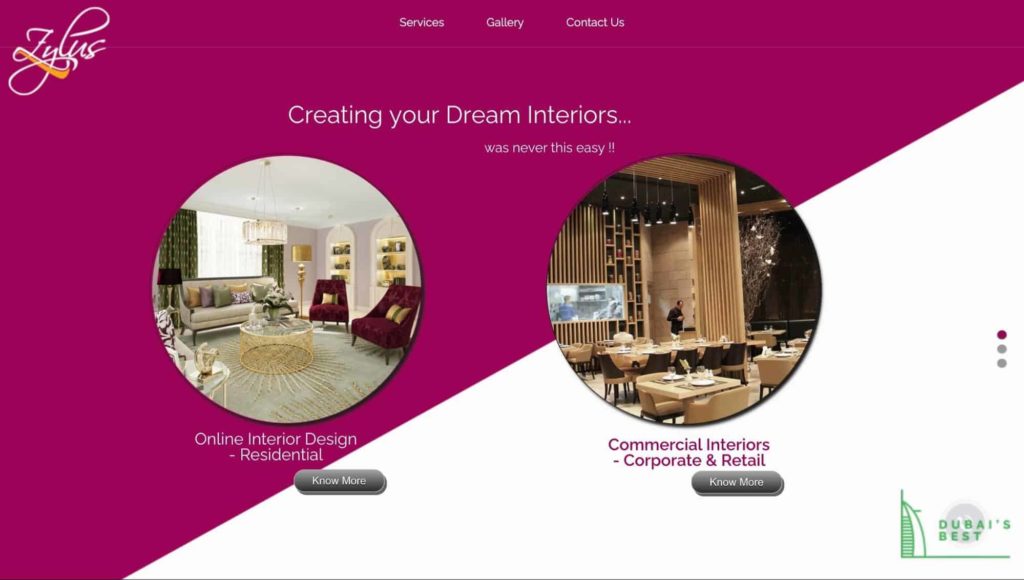 BEST FOR
Online residential interior design
WEBSITE
https://zylus.com/#Home
ADDRESS
Boulevard Plaza, Tower 1, Tower 2, Dubai, United Arab Emirates
CONTACT DETAILS
+971 54 702 4488


[email protected]

OPERATING HOURS
Saturday: 9:00 AM – 1:00 PM
Sunday – Thursday: 9:00 AM – 6:00 PM
Zylus Interior Design offers online interior design services for residential spaces in the U.A.E.
You simply have to answer a quiz and you'll receive several interior design options from their designers.
Once you've made the choice, they can send you 3D renders and plans to show your renovation contractor. They even include a shopping list so you can buy the needed furniture and decor for the design.
Zylus Interior Design can also execute the project for you, should you choose to avail this added service.
Provides pre-project 3D renders
Serves the U.A.E.
Also accepts commercial clients
No online commercial interior design service
Does not provide customised furniture
Customer Reviews
Highly satisfied client Ahmed Odeh shared:
"Loved working with Zylus particularly Shalini. I worked with Zylus on my villa project and I found that they always went above and beyond to satisfy any requirements.
My contractor also found that the drawings made by Zylus were very well done which simplified the BOQ process much more."
Another previous client, Linda Davis, reviewed:
"Very professional team. The design concepts were great and the whole process was very convenient."
5. Studio Lykos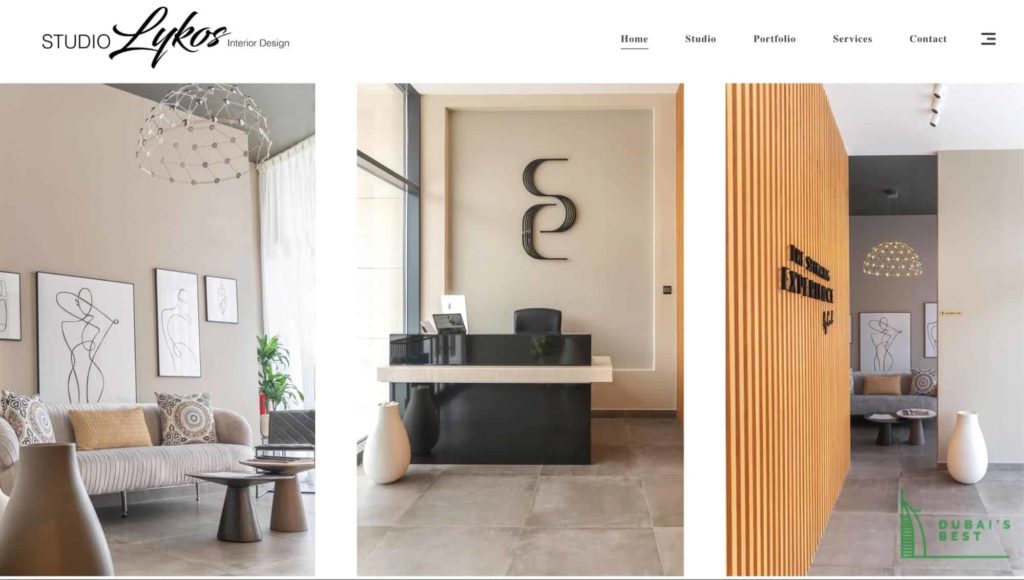 Dubai interior design company Studio Lykos originated in Sweden is widely known for their modern, minimalist interiors.
The spaces they create for their clients are guaranteed to be conducive, functional, and allows for nice flow of movement.
Their designers also possess fine attention to detail. They note the specific furniture they envision for your space and tell you what materials and finishes have to be used to realise them.
Upon your approval, they will procure all the furnishings and decorations for your space. They will also supervise your renovation project to ensure that it turns out exactly as planned.
Studio Lykos also offers a free consultation to help potential clients determine their interior design needs.
Free consultation
Suitable for small and large projects
Not for non-minimalist interior design projects
Does not provide customised furniture
Customer Reviews
Christof Elsener left Studio Lykos a positive review. They said:
"I hired the interior design firm Studio Lykos and had an incredible experience with their lead designer.
Although I was hesitant at first to commit to the project, she put my mind at ease and went above and beyond to support me. She and her team designed and managed the entire project through every stage and presented a flawless end product.
I am very happy with their work! The renovations not only increased the market value of my apartment but have also transformed my daily mood. I will definitely use their services for future projects."
On the other hand, Torkel Knudsen's review reads:
"We are very pleased with how Madeleine Latti carried out the assignment. She was always ahead of what was to be done and did the job as we agreed. She constantly gave feedback, so we were updated on every detail. I can highly recommend her."
6. Slate Interiors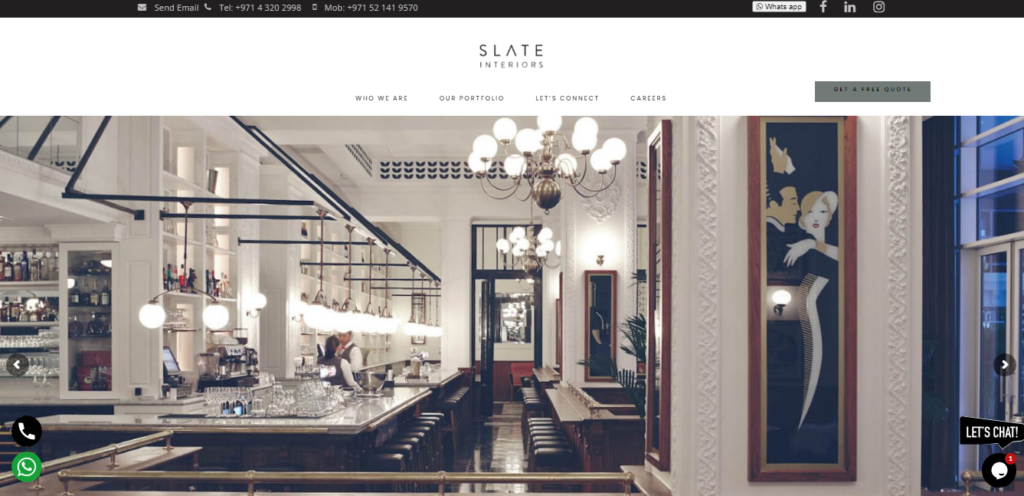 BEST FOR
Interior Fit Out
WEBSITE
https://www.slateinteriorsme.com/
ADDRESS
308, Business Venue Building, Umm Hurair Rd Oud Metha, P.O.BOX 122918, Dubai
CONTACT DETAILS
Tel: +971 4 320 2998
Mob: +971 52 141 9570
Email:

[email protected]

OPERATING HOURS
Contact for more details
Slate Interiors is a company that specializes in professional interior fit-out in Dubai and is also considered to be one of the top figures in the said industry. Well established in UAE, they provide excellent solutions and services to all processes concerning interior fit projects.
The company also prides itself on its highly skilled team of professionals who are passionate about what they do and is eager to deliver high-quality customer service. Furthermore, due to their time-efficient and effective approach in each project, they have established their reputation to be one of the most prominent companies renown in interior fit in Dubai.
They have a wide range of experience in projects with various facilities such as Residential Homes, Health & Wellness Facilities including gyms, Restaurants, and Commercial Offices Spaces in which they also cover external solutions should the project require it. They are comprised of a team that is highly knowledgeable in electro-mechanical design in order to create practical spaces yet maintain elegant and unique aesthetics.
We recommend this company for clients in Dubai looking for an excellent interior fit-out company that pays close attention to detail and makes sure to try their best to make each client's vision a reality through every design and project.
Prominent figure in interior fit in
Practical solutions
Competitive rates
Operating hours are not available
7. Muse Design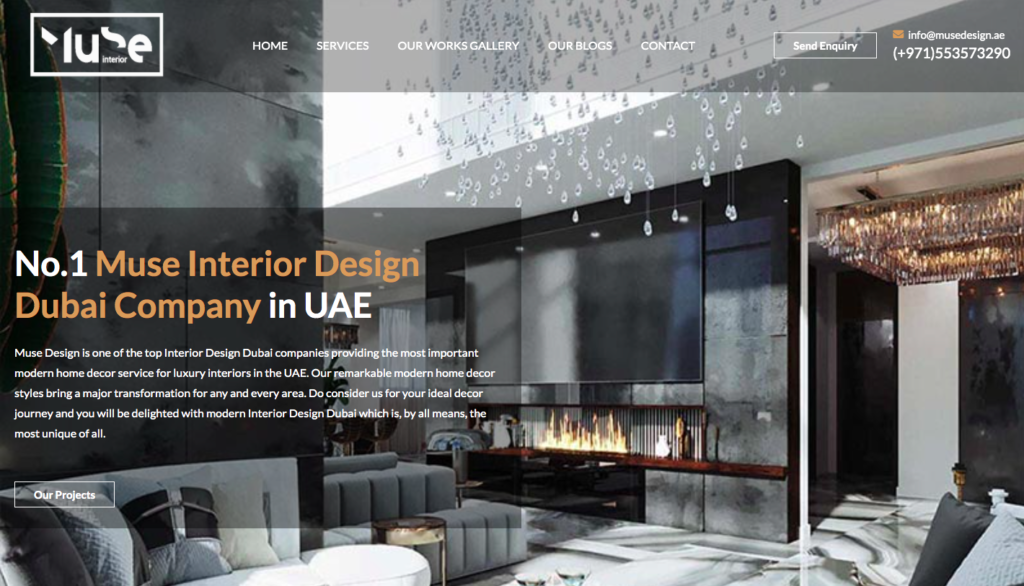 BEST FOR
Beauty Salon Interior Design, Office Interior Design, Barbershop Interior Design, Hotel Interior Design, Landscape Design, Restaurant Interior Design, Villa Design, Penthouse Interior, Apartments, Curtains
WEBSITE
https://musedesign.ae/
ADDRESS
Muse Interior Design Tamani Arts Tower, Dubai, UAE
CONTACT DETAILS
Phone: +971-55-357-3290
Email: [email protected]
OPERATING HOURS
Contact for more details
Muse Design is one of our top picks in Dubai if you're looking for a lavishly designed interior. They have a range of services that include creative space planning, 3D rendering, and project supervision for both residential and commercial projects.

They've been offering their services in the city for over a decade, which also includes window treatments and flooring. So, whether your next project is to transform your home, to make your office more modern, or to create an opulent villa, Muse Design has got it covered.
If you're looking for just a quick fit out, Muse Design may not be the ideal choice – they focus primarily on high-end transformations and luxurious designs. Although they may focus on the lavish side of things, they offer a wide network of high-end design options and materials to outfit your space.
Muse Interior Design can handle a range of projects and have a team of professionals that can execute your concept from idea to reality. They offer assistance with furniture, wall decor, curtains and drapery, paint colors, and more, making them one of our top interior designers in Dubai.
Specializes in high-end designs and materials
Can execute projects from concept to finish
Also offers assistance with decorating
Operating hours and rates are not listed online
FAQs about the Best Interior Designers in Dubai
---
That's it for our list of the best interior designers in Dubai! Whichever you pick, they will surely be able to help you bring your dream home, office, or business space to life.
Know other interior designers in the city you think we should add to this list? Send us a quick message and we'll gladly look them up.
In case you're also looking for a moving company, check out this list of the best movers in Dubai!