8 Shops With the Best Cake Delivery in Dubai
When organising an event by yourself, you may not have enough hands to do everything. If you can't find time to pick up a cake for a loved one's big day, choose to get your sweet treats from one of the shops that offer the best cake delivery in Dubai.
This article contains a guide on how to choose a cake shop that offers a reliable delivery service. We've also listed the shops that do the best cake deliveries in Dubai so you connect with them ASAP.
To prepare you for the cost of cake delivery in Dubai, we've even done the research and included them in the portion below.
How Much sCake Delivery Cost in Dubai
Below is a list of the usual cost of cake delivery in Dubai and its neighbouring areas. The actual price may vary depending on your provider.
Separate charges may apply for express delivery. Some cake shops don't deliver to certain areas in Dubai.
| | |
| --- | --- |
| Dubai | Free to AED45 |
| Abu Dhabi | AED35 to 85 |
| Sharjah | AED35 to 85 |
| Al Ain | AED45 to 85 |
| Ajman | AED40 to 85 |
| Fujairah | AED60 to 185 |
| Ras Al Khaiman | AED45 to 185 |
How to Pick the Best Cake Delivery in Dubai
When purchasing a cake to surprise a loved one, you want to make sure that your gift arrives at the right date and time and in one piece.
To guarantee this, use these tips below to select the cake shop that offers the best cake delivery in Dubai.
Know their delivery terms
Read the shops delivery terms and conditions thoroughly.
First off, know whether the shop you want to buy a cake from delivers to you or your recipient's area.
Then, check if their charges are affordable. Most cake shops offer free same-day delivery services in Dubai. If not, they charge only a minimal fee.
Lastly, you should also make sure that they can deliver on your desired date and time.
Opt for a shop with a tracking system
A tracking system keeps you at ease by letting you know whether the cake is getting to the recipient on time. It is convenient, removing the need for call and message exchanges with the shop staff.
In case the recipient fails to receive the item, a tracking system would also let you know about this faster.
Read online reviews
Before finally deciding on a provider, you should check online for reviews about their delivery services. Reviews tell you whether the cakes they deliver arrive safely and on time.
You'd also want to know what the shop does in case there is no one to receive the package.
More so, you should know whether the shop provides a refund or a replacement if the cake gets to the receiver in bad shape.
The Shops for the Best Cake Delivery in Dubai
The guide above should help you select the best provider for cake delivery. So you can find a shop that does the best cake delivery in Dubai much faster, check out this list we've prepared below.
1. The Hummingbird Bakery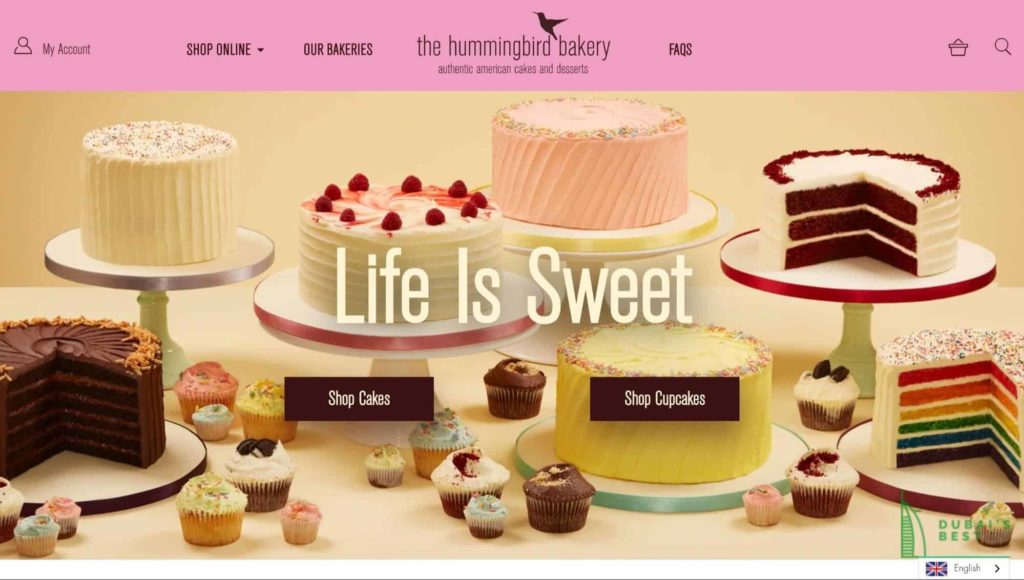 | | |
| --- | --- |
| BEST FOR | Classic American flavours |
| WEBSITE | https://hummingbird-bakery-ae.myshopify.com/ |
| ADDRESS | Dubai Mall, Financial Center Rd, Downtown Dubai, Dubai, United Arab Emirates |
| CONTACT DETAILS | +971 800 42473 |
| OPERATING HOURS | Sunday – Wednesday: 10:00 AM – 11:00 PM Thursday – Saturday: 10:00 AM – 12:00 AM |
The Hummingbird Bakery offers authentic American flavoured cakes in Dubai. The cake shop makes a limited variety of cakes but has definitely perfected its recipes.
While The Hummingbird Bakery doesn't stray from the classics, you can still customise your cake. This can be done with cake decor and personalised messages.
Because The Hummingbird Bakery bakes a limited number of cakes per day to ensure freshness, cakes for delivery are made-to-order. Just make sure to order a week prior for deliveries from Friday to Saturday to successfully reserve a cake for your event.
Offers customisation
Cakes for delivery are made-to-order
Limited selection of cakes
Some products require a minimum order
Cannot guarantee time of delivery
Delivery areas not stated on their website
Customer Reviews
Anoop Sreekumar was pleased with The Hummingbird Bakery. They shared:
"It is well-known that they make excellent cakes. What makes them so special is their outstanding customer service. Raquel (Kaye) was exceptional and gave her best to deliver our red velvet cake this Christmas as she promised. I would like to mention Mykee who gave the final touches to the cake. You guys are really good at what you do. Keep up the good work."
2. House of Cakes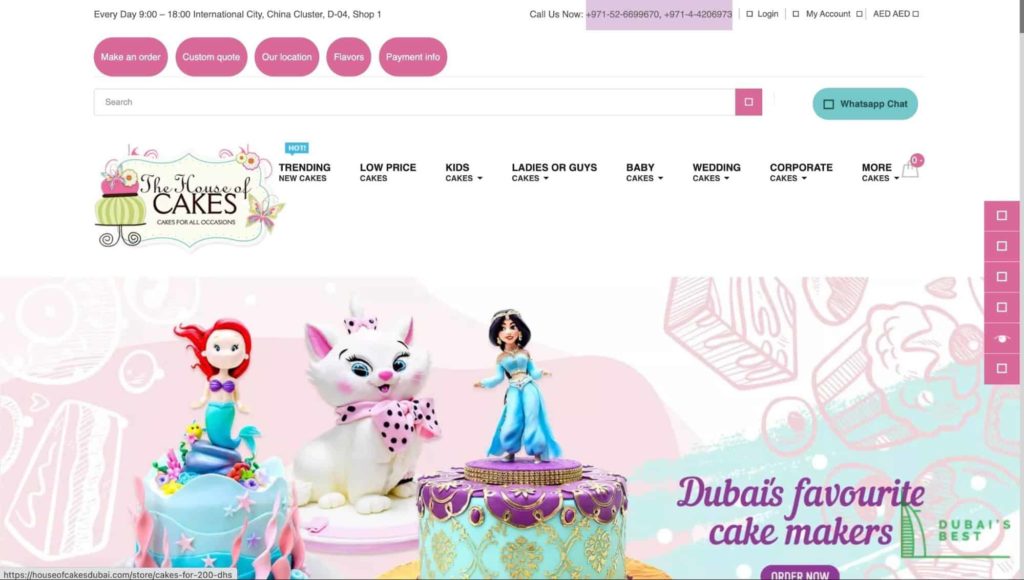 | | |
| --- | --- |
| BEST FOR | Customised cakes |
| WEBSITE | https://houseofcakesdubai.com/store/ |
| ADDRESS | Shop 1&2, Building D-4, International City, China Cluster, Dubai, United Arab Emirates |
| CONTACT DETAILS | +971 52 669 9670 +971 4 420 6973 |
| OPERATING HOURS | Saturday – Friday: 9:00 AM – 6:00 PM |
If you want the best character cake for your child, House of Cakes is the way to go. With the top cake decorating skills in Dubai, they specialise in customised cakes for every occasion.
With this cake shop, you can book a design appointment with their cake decorator to make sure that you get a cake exactly as you envisioned.
They don't only customise the look of your cake. They can also modify their ingredients for clients with food allergies or dietary requirements.
Furthermore, to accommodate different diets, House of Cakes provides egg-free, dairy-free, gluten-free, and vegan options.
Moreover, the cake shop delivers every day to Dubai and surrounding areas, namely Sharjah, Abu Dhabi, Ajman, Al Ain, Ras Al Khaimah, and Fujairah.
Delivers daily
Wide variety of cakes
Delivery time is scheduled per city
Complaints about being fully-booked too often
Customer Reviews
Highly-satisfied customer Minnie Grace shared:
"I received my order this morning with secure packaging. My son was so happy when he saw his favorite Paw Patrol characters. He jumped and clapped with excitement when blowing candles.
The taste was really excellent, red velvet with lemon cream filling (not too sugary) which everybody enjoyed."
Another previous client, Merissa, said:
"Ordered two birthday cakes here and believe me when I say they did not disappoint. From the order confirmation to the cake delivery. Everything was done in the most professional and friendly manner.
Everyone loved the taste and the presentation of the cakes. I could not be happier with your services. I will be pleased to order again in the very near future."
3. SugarMoo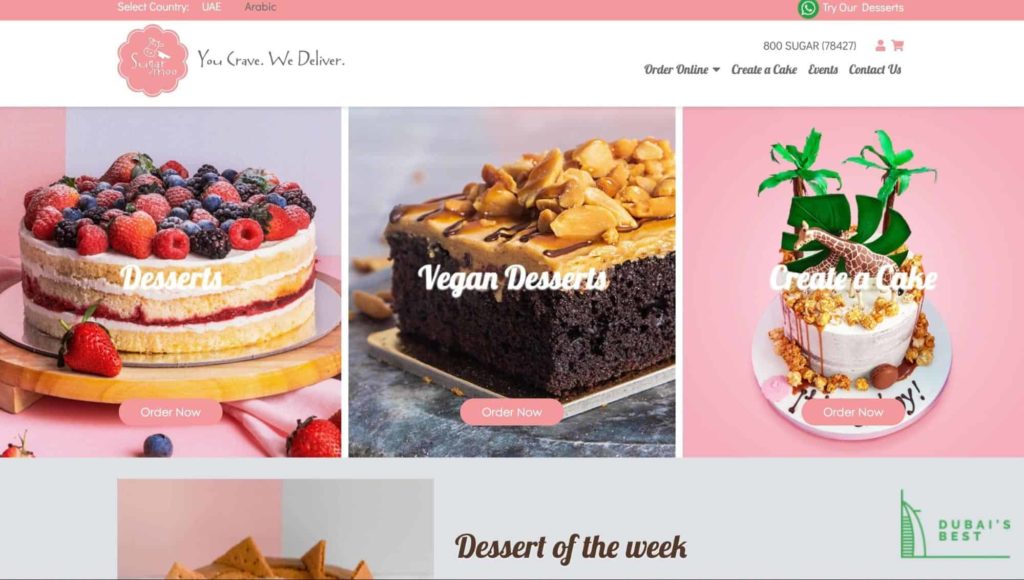 BEST FOR
Express delivery cakes
WEBSITE
https://www.sugarmoo.com/
ADDRESS
Al Quoz Industrial Area 4, DIB Warehouse #4, 318 Road, Al Asayel Street, Dubai, United Arab Emirates
CONTACT DETAILS
800 78427
+971 4 399 7371


[email protected]

OPERATING HOURS
Saturday – Friday: 10:00 AM – 10:00 PM
SugarMoo guarantees freshly-baked, rich-flavoured cakes in Dubai. They deliver fast daily, so you can count on them to bring your cravings right to your doorstep within an hour.
The cake shop also accepts custom orders.
You can get a free consultation with them to ensure that your cake is perfectly personalised to your liking. They go above and beyond to bring your ideal cake to life!
SugarMoo also doesn't only deliver to homes. In case you don't have time to pick up your cake before an event, they can bring it right to the venue.
Express delivery available
Customised cakes available
Daily deliveries
Does not deliver outside Dubai
Customer Reviews
Yahya Mohamed gave SugarMoo 5 stars on Google. They said:
"We got the Baby Cakes bundle delivered as a birthday surprise from family abroad. Because of the current situation in Dubai, they weren't too sure if delivery would be as planned but SugarMoo made sure it came on time!
The cakes were so fresh and light and every single one had its own unique flavour. So thrilled with it and can't wait to try more from SugarMoo! We were even given 2 extra jar desserts that are waiting in the fridge to be enjoyed!"
Kate Davey was also impressed with the shop's service. Their review reads:
"My first experience with SugarMoo was at the beginning of this month. I ordered a Baby Cakes bundle for my husbands birthday. I had a lovely welcoming, personal chat with Rena/Rio that made the occasion feel really special.
It was no trouble to deliver on a Friday and the cakes were absolutely delicious. I'm so looking forward to my birthday in June!"
4. BloomingBox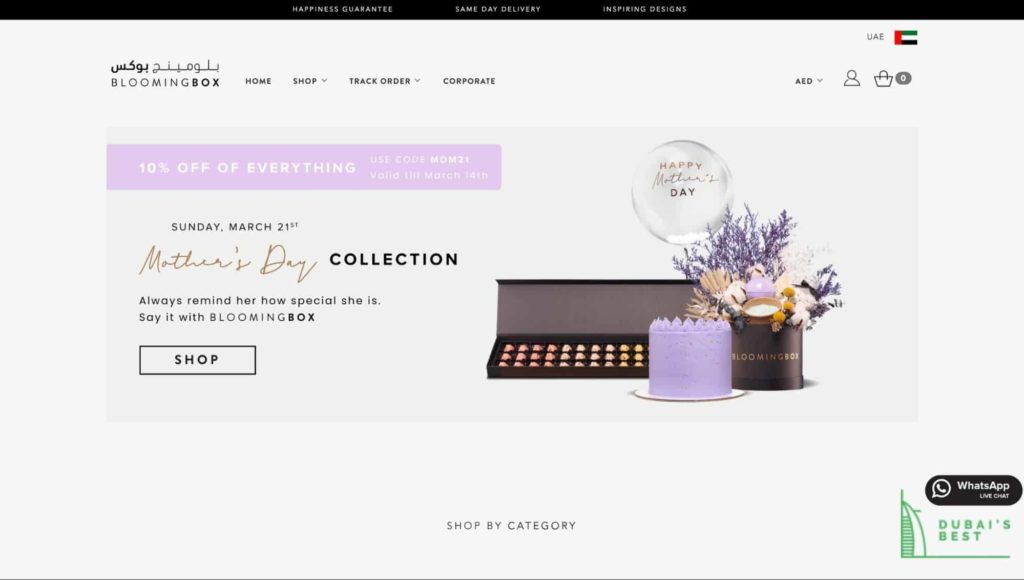 | | |
| --- | --- |
| BEST FOR | Cake and gift delivery |
| WEBSITE | https://bloomingbox.com/ |
| ADDRESS | Al Quoz, Al Quoz 4, Dubai, United Arab Emirates |
| CONTACT DETAILS | +971 52 620 6060 [email protected] |
| OPERATING HOURS | Saturday – Thursday: 10:00 AM – 10:00 PM Friday: 10:00 AM – 7:00 PM |
BloomingBox offers timeless flavours and a wide selection of chocolate cakes in Dubai. Besides these, they also make themed cakes, cheesecakes, and vegan cakes to cater to every need.
Because they function mainly as a gift shop, you can send other presents along with your cake without the extra hassle. They have flowers, chocolates, and even plants and home fragrance that can make the recipient's day extra special.
The shop provides same-day delivery in Dubai and next day delivery to the rest of the Emirates. Specifically, they deliver to Abu Dhabi, Sharjah, Ajman, Al Ain, Fujairah, Ras Al Khaimah, and Umm Al Quwain.
Free delivery applies for orders above AED150.
Wide variety of cakes
Same-day delivery in Dubai
Free delivery for orders above AED150
No same-day delivery for areas outside Dubai
Customer Reviews
BloomingBox is rated 4.6 stars on Google.
One of the shop's previous clients, Krystel Encarnacion, shared:
"Ordered a Belgian Chocolate cake on Wednesday night for my boyfriend's birthday today. Totally impressed with their service, just arrived right on time. The cake itself was amazing, too bad I wasn't able to taste the cake because I wasn't in Dubai right now.
Thank you Blooming Box! I'll definitely order again here for sure. "
Frankie Goss also reviewed:
"Sent some flowers and cakes to a friend in Dubai for her birthday. They were beautiful! Amazing customer service. Dealt with Mahmoud via WhatsApp and they were so helpful."
5. CakeTeaLicious

Cannot see the perfect cake for your event? Well you are in luck because CakeTeaLicious can make unbelievable cakes, those you have never seen before!
What made us really recommend the is the fact that for every cake they make, its design is from the creative collaboration between their team and the client. As mentioned on their website, if you can dream it, they can make it.
This is the first pure Filipino cakeshop and cafe in Dubai. With their very own recipes for their delicacies, your mouth will surely be watering just by seeing their desserts.
Even though most of their items are cheaper than usual, they do not compromise on the quality of their making!
So no matter what event that is and you do not know what cake to pick, simply browse their website and see the most jaw-dropping designs ever.
Online bank transfer is available
Wide range of products
Also sell party accessories
Customer Reviews
Here are some testimonials of their previous customers:
"i just want to give feedback for my natilla cake and cupcakes,we did not expect but really that was the best flavour ive ever tried(not so sweet),that was really good,we love every detailed, Thank you for your service and the hospitality of your awesome team Godbless you highly recommended!" –
Desirie Zamora Borja
"My daughter's first year birthday became special with the amazing Baby Shark cake with assorted cupcakes and pop-cakes! Not only excellent appearance but amazing taste too! Chef Tristan and his team make amazing job and I highly recommend ordering from Caketealicious!" – Smaro Angelidou
6. Looshi's Macarons Cakes Pies

BEST FOR
Aesthetic Cakes
WEBSITE
https://www.looshis.com/
ADDRESS
Dubai – United Arab Emirates
CONTACT DETAILS
JLT Shop: Cluster Y, Lakeshore Tower, Shop B07
Hessa Shop: Order through Careem, Talabat or Deliveroo
DIFC Shop: Order through Careem, Instashop or Deliveroo
Call us at: 04-2776190
OPERATING HOURS
Delivery Hours are from 12:30pm to 10:00 pm
Looshi's Macarons Cakes Pies is a homegrown bakery in the UAE. With them, you can get your macarons, cakes, or pies delivered to your doorstep within hours of ordering.
They also offer pickup from their JLT shop with free delivery in Dubai.
Their most popular product is the macarons, but they also have cakes and pies for all occasions. Aside from this, they also offer customized cakes, perfect for those who has a specific design idea in mind.
If you have a sweet tooth, this might be the perfect shop for you. With their extensive range of products, your special day will be even more memorable
Everything is made to order
Has small and big serving sizes
Provide bulk order pricing, you just need to message them
Specific addresses per location are not seen on their website
7. Shugah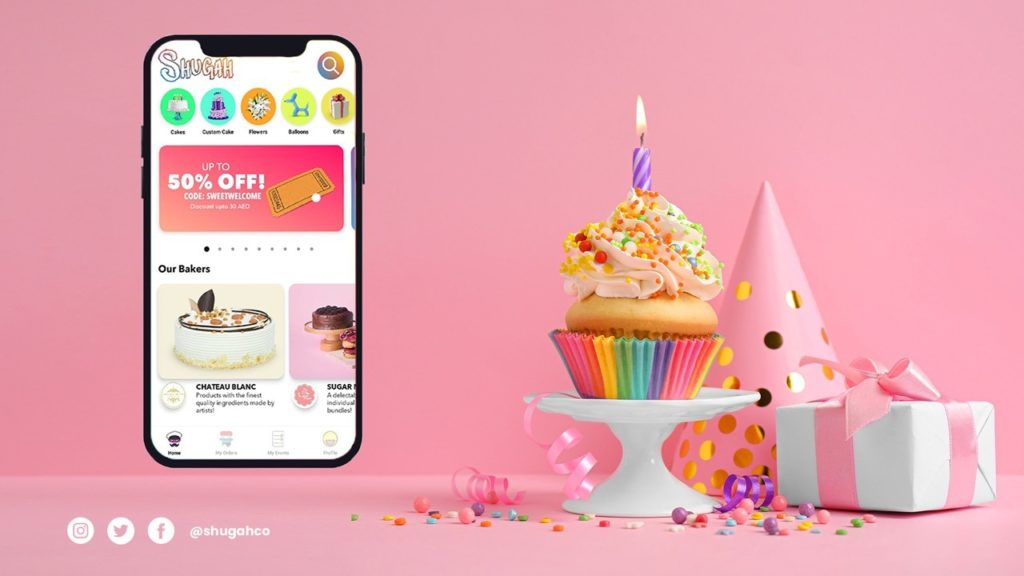 Shugah has most of the top bakeries (including some already on this very list) and have the largest collection of cakes and desserts in all of UAE. They are a curated marketplace that allows people to not just order cakes and desserts, but also flowers, balloons and gifts.
Hence, they are a one-stop-shop for all celebrations. Furthermore, their dietary sections is not just limited to vegan but all dietary requirements including Dairy free, Shugah free, Gluten-free, Eggless and much more.
Plus, their lead time is shorter compared to other stores, making them the ideal option if you're looking for something last minute to give. All you need to do is place your orders either on the same day so that they can get it to the recipient on time.
Their delivery time ranges would depend on the products you ordered. However, majority of them have same-day delivery in Dubai and Sharjah.
They even have a range of flavors you can choose from, chocolate vegan cakes to red velvet berry ones. And if nothing in their pre-made selection catches your eye, worry not because they also accept customization.
Unfortunately, one downfall of theirs is that they don't have a physical store. However, based on their reviews online, they're certainly a great option nonetheless!
Same-day deliver

Accepts customizations

Offers vegan options
8. Joyful Treats
BEST FOR
SIGNATURE CAKES
CUPCAKES
BROWNIES
OAT CHUNKS
WEBSITE
joyfultreats.me
ADDRESS
The treat catering llc – Al Quoz – Al Quoz Industrial Area 3 – Dubai – United Arab Emirates
CONTACT DETAILS
+97 1551019596   
[email protected]
OPERATING HOURS
Monday – Sunday, 8:30 AM – 6 PM
Joyful Treats is a delightful boutique bakery offering an array of gourmet brownies, cookies, tortes, and celebration cakes. With a passion for bringing premium-quality ingredients to artistic baking, they create stylish and sophisticated treats that spread love and joy to every customer. Founded by Tasneem Manasawala, the bakery's journey began with childhood baking experiments, and it has now evolved into a local home-grown favorite.
What sets Joyful Treats apart is their commitment to crafting custom cakes that add a personal touch to every celebration. From jungle-themed cakes to unicorn and farewell cakes, they offer a wide range of creative designs that cater to diverse occasions. Their cakes are made to order with hand-picked ingredients of the finest quality, ensuring a memorable and delightful experience.
The bakery also caters to customers with special dietary needs, offering guilt-free feasting with their gluten-free and refined sugar-free treats. Feast fearlessly on their delicious treats without any guilt.
Joyful Treats provides delivery services across Dubai, ensuring your order reaches you on time and in perfect condition. For custom cakes, they require a lead time of minimum 3 days to bake and create the perfect masterpiece for your celebration.
Customers have praised the bakery for their attention to detail, fresh and delicious treats, and excellent customer service. With an easy ordering process through their website and WhatsApp, placing an order for these delectable treats is a breeze.
Whether it's a birthday, wedding, baby shower, or corporate event, Joyful Treats adds joy and happiness to every celebration with their beautifully crafted and scrumptious desserts. Experience the edible incredible with Joyful Treats and create joyful memories with your loved ones.
Gourmet brownies, cookies, and celebration cakes.
Personalized custom cakes for diverse occasions.
Guilt-free feasting with gluten-free treats.
Customer Reviews
The quality is always excellent
"I have been ordering delicious birthday cakes from here for 3 years. The quality is always excellent with lovely designs made exactly like you want them. Highly recommend!" – Namita Johri
IT WAS AMAZING!!
"I ordered a customized cake from Joyful Treats. IT WAS AMAZING!! The theme of the cake (colours and extra details) were so beautifully done. The cake itself (salted caramel chocolate cake) was perfectly sweet. HIGHLY RECOMMENDED" – Khadija Gheewala
FAQs about the Best Cake Delivery in Dubai
---
That's it for our list of shops that do the best cake delivery in Dubai! With one of these providers, you can get a cake for all of your special events without all the stress.
Do you know other cake shops in Dubai we should add to this list? Let us know by sending us a message.
If you want to surprise your loved ones with a memorable birthday or anniversary celebration, you can also check out this list of providers for the best yacht rentals in Dubai.