The 7 Best Dentists in Dubai
Featured Image Source: Jonathan Borba via Unsplash
Tooth problems can sometimes cause so much discomfort that it starts to affect our daily lives. To address such issues, you need the best dentist in Dubai to help you bring your pearly whites back to optimal health.
In this article, we have listed down some of those very dentists. To help you decide which provider to go to, we've also provided a guide on how to choose the right dentists.
So you know how much money you should allot for your dentist appointment, we have also determined the cost of the most common dental procedures in Dubai, which you will see in the table below.
How Much Do Dental Services Cost in Dubai
These are the estimated costs of the common dental services people get in Dubai. However, note that actual prices may vary at each clinic.
| | |
| --- | --- |
| General Consultation | AED100 |
| Composite Filling | AED250 to 400 |
| Root canal treatment | AED1000 to 1800 |
| Dental Sealant | AED150/tooth |
| Dental Implant | AED5500 |
| Extraction | AED400 to 1500 |
| Laser Teeth Whitening | AED700 |
| Dental Clean and Polish | AED300 |
| Veneers | AED1400 |
| Lumineers | AED2000 |
| Lingual retainer | AED500/arch |
| Acrylic Partial Denture | AED350 |
| Complete Acrylic Denture | AED1500/arch |
How to Pick the Best Dentist in Dubai
Changes you make to your teeth are often irreversible, so it is important to make sure you're getting dental services from experts.
To guide you in finding the right dentist, check out these tips we have prepared for you below.
1. Get referrals
It's always helpful to get the opinion of people you trust when it comes to getting any service. A dentist your friends and family trust is likely one you can also trust to satisfy your demands.
In deciding which dental clinic to visit, you can also check with your health insurance provider for their affiliate clinics. This can save you a lot of money if you find a suitable clinic on the list.
2. Check credentials
In finding a qualified dentist, it is important to look for board certification.
This proves that they have the license to perform dental services in Dubai. You should be able to see this on their website.
You'd also want to get the services of a dentist with no history of malpractice, for obvious reasons.
A quick search online can help you find and verify information of this sort about your chosen dentist and clinic.
3. Read reviews
Taking time to read customer reviews online can save you from future stress.
Reviews tell you what previous clients think about a dentist's service as well as the quality of their dental work.
These can also give you an idea about the cleanliness of the clinic, the experience of scheduling appointments, and the customer experience in general.
The Best Dentists in Dubai
With the tips above as your guide in choosing the best dentist in Dubai, you should now be ready to select your dental service provider.
To help you find the right dentist for you faster, we've prepared a list of some of the best dentists in Dubai below. Bear in mind that the list is in no particular order.
1. Dr. Aiman Obeid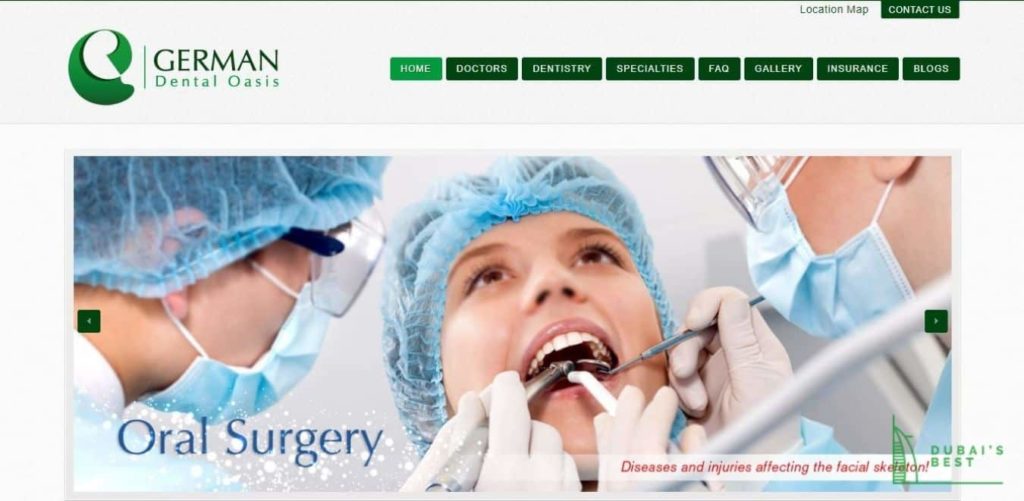 BEST FOR
Removable orthodontics
WEBSITE
http://www.germandentaloasis.com/index.html
ADDRESS
Dubai Healthcare City Al Razi Building No. 64 Block C, 2nd Floor, Room 2017 – Dubai – United Arab Emirates
CONTACT DETAILS
+971 4 363 5367
+971 4 363 5370


[email protected]

OPERATING HOURS
Saturday – Thursday: 9:00 AM – 8:00 PM
German Dental Oasis's Dr. Aiman Obeid is an experienced orthodontist in Dubai who studied in Syria and was trained in his specialty in Belarus.
Since 2013, he began to work in the U.A.E. after passing the Ministry of Health's orthodontic exam. Then, he moved to Dubai after passing the Dubai Health Care City Authority's exam in 2019.
Dr. Obeid believes that orthodontic care should start in childhood to avoid future complications on the teeth. Due to this, he specialises in removable orthodontics.
In particular, his work includes a variety of braces, aligners, as well as small implants called Temporary Anchorage Devices. He also provides expert treatment for impacted teeth.
To best provide his services to clients, Dr. Obeid can communicate in both Arabic and English.
A lot of experience with treatments for impacted teeth
Speaks Arabic and English
Services are expensive without insurance
Customer Reviews
Happy customer James Daines reviewed:
"I changed dentist recently and I am very happy with German Dental Oasis!
Their staff are so friendly and they take time to answer all of my question!! They don't force services on you and are honest with their treatments. Overall a great experience at the dentist and I love the email appointment reminders!!"
2. Dr. Walter Goriwoda & Dr. Omar Aldaoudi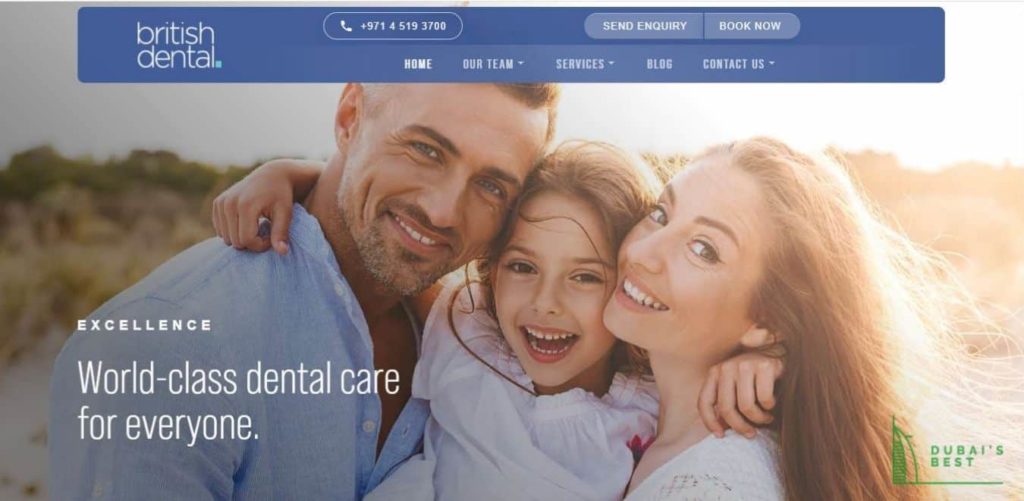 BEST FOR
Collaborative treatment for complex dental cases
WEBSITE
https://www.britishdentalclinic.com/
ADDRESS
Villa 16/1194, Al Wasl Road, Umm Suqeim 2, Dubai – UAE
CONTACT DETAILS
+971 4 519 3700 | [email protected]
OPERATING HOURS
Saturday – Monday, Wednesday: 8:30 AM – 6:00 PM
Tuesday: 8:30 AM – 8:00 PM
Thursday: 8:30 AM – 5:30 PM
Dr. Walter Goriwoda and Dr. Omar Aldaoudi make up a team from the British Dental Clinic. They are the best dentists in Dubai for challenging dental implant and dental rehabilitation cases (being an oral and maxillofacial surgeon and a specialist prosthodontist).
As an oral and maxillofacial surgeon, Dr. Goriwoda does a variety of oral and dental surgical procedures, including the extraction or exposure of impacted teeth and removal of soft and hard mouth tumours.
On the other hand, Dr. Aldaoudi addresses dental rehabilitation for complex cases. He does full mouth rehabilitation with implants as well as performs the necessary bone augmentation techniques prior to prosthetics.
The two dentists collaborate to provide their patients with an evidence-based diagnosis and a treatment plan that requires less time on the dental chair.
Between the two of them, they can communicate in English, Arabic, German and French, which enables them to cater to a wide clientele.
Extensive experience in complex dental implant and dental rehabilitation cases
Prefers treatments that require less time on the dental chair
Can speak English, Arabic, German, and French
Different hours daily
Costly services
Customer Reviews
Kenneth Mackinnon, a satisfied customer, shared:
"Dr Walter (Oral and Maxillofacial Surgeon) and Dr Omar (Specialist Prosthodontist) are absolutely excellent specialists, and are very highly trained and skilled experts
Both have a warm and friendly manner with their patients. They work individually and together as a specialist team, for example when they are preparing for and fitting dental implants."
3. Dr. Zoubi Jamal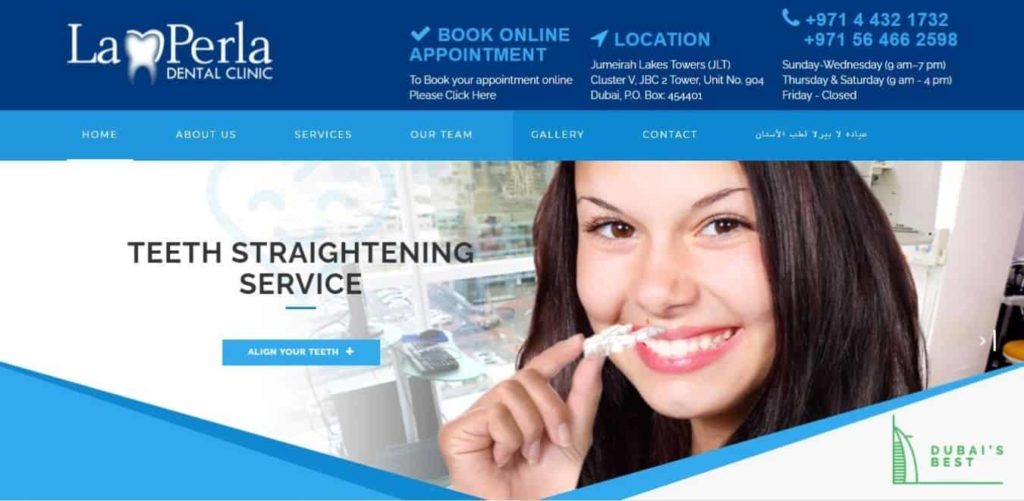 BEST FOR
Implant surgery
WEBSITE
https://laperladental.com/
ADDRESS
Jumeirah Lakes Towers (JLT) Cluster V, JBC 2 Tower, Unit No. 904 Dubai
CONTACT DETAILS
+971 4 432 1732
+971 56 466 2598


[email protected]

OPERATING HOURS
Saturday: 9:00 AM – 5:30 PM
Sunday – Wednesday: 9:00 AM – 7:00 PM
Thursday: 9:00 AM – 2:30 PM
La Perla Dental's Dr. Zoubi Jamal is a successful implantologist with almost 30 years of experience. Besides implant surgery, Dr. Jamal's also specialises in cosmetic dentistry.
Dr. Jamal's experience comes from running his own dental polyclinic in Italy and his constant participation in conferences on implant surgery and bone regeneration.
Moreover, he consistently keeps himself up to date with the latest discoveries in dentistry. To do this, he often attends local and major international dental conferences.
Dr. Jamal's efforts to provide the latest dental advancements to his clients makes him one of the best dentists in Dubai, in our opinion. It assures you of fairly cutting-edge options for your concerns, and that's never a bad thing.
Updated with the latest discoveries in dentistry
Provides the latest dental technologies
Customer Reviews
Satisfied client Natalie Coleman said:
"Great dental clinic and would recommend to anybody. I get nervous when trying to find a new dentist other than one from my childhood and Dr Jamal was so friendly, open and supportive. It was the best dentist experience and I will happily return. Many thanks!!!"
4.   NOA Dental Clinic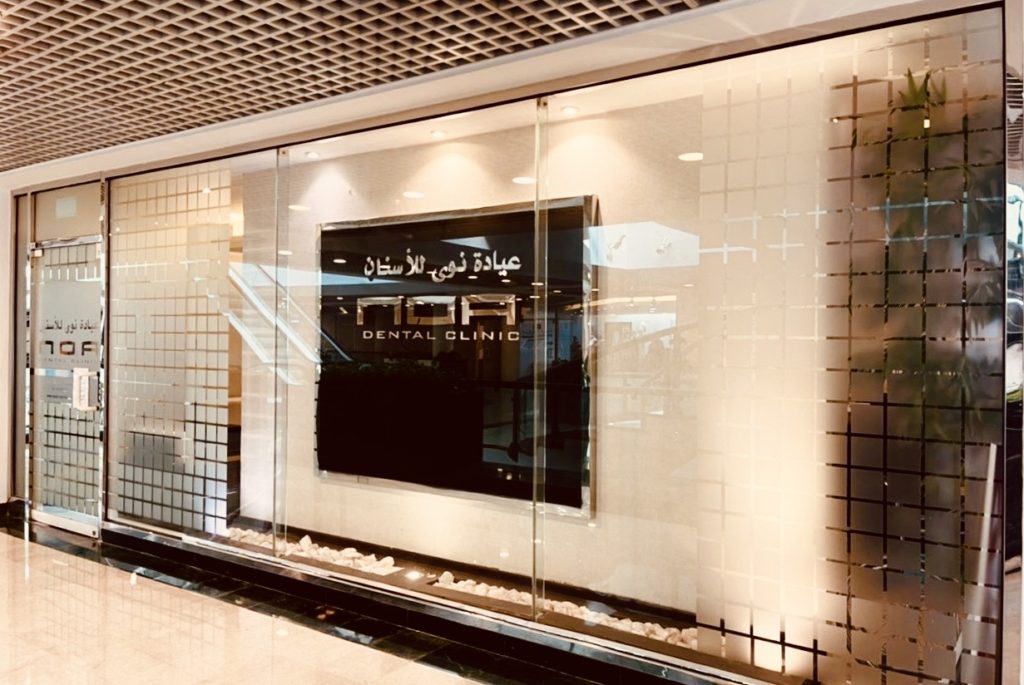 BEST FOR
Preventive, orthodontic and aesthetic dental services
WEBSITE
https://www.noadentalclinic.com/
ADDRESS
Unit 109, Al Hana Centre, Mankhool Road, Near Trade Centre Roundabout, Dubai
CONTACT DETAILS
+971 4 398 7075


[email protected]

OPERATING HOURS
Monday, Wednesday to Saturday: 11:00 AM – 8:30 PM
Tuesday: 11:00 AM – 7:30 PM
Sunday: 11:00 AM – 9:00 PM
Mother, Baby and Child Awards Nominee for the Best Dental Provider of 2020, FACT Spa & Wellness Awards Dubai Nominee for the Best Dental Clinic of 2018, Invisalign, Platinum Elite Provider, and 5-Star Treatment as rated on WhatClinic.com, NOA Dental Clinic in Dubai truly provides top of the line dental services.
As described by one of its patients as a hidden gem, we are amazed by how this clinic offer a lot of dental services such as Lingual Braces, Dental Braces, Invisalign, Teeth Whitening, Porcelain Veneers, Porcelain Crowns, Dental Implants, Root Canal, Wisdom Teeth, Tooth Colored Fillings, Lumineers and Cosmetic Dentistry.
Your teeth are in safe hands when you avail of these dental services for this clinic have chosen multidisciplinary team of dental experts that has over 150 years of combined clinical experience.
Aside from that, they also understand that not all people are that well off to under go a dental procedure so they do offer 0% interest-free payment plan for 3 / 6 /12 months if you are an Emirates NBD card holder.
Truly this clinic doesn't only focuses on the dental procedures being done to their patients but also on their whole well being.
Free basement parking available
Free WiFi
Accepts all major credit cards
If you are an Emirates NBD card holder, they offer 0% interest-free payment plan for 3 / 6 / 12 months
Complimentary consultations for Invisalign and dental braces
Free dental consultations in Dubai for patients planning to get dental implants
Offer monthly payment plans for selected dental treatments such as orthodontic braces & Invisalign
Doesn't accept walk-ins
Appointments are available Saturday-Friday
Customer Reviews
Lancelot Xjo was pleased on the service received from Dr. Noor at NOA Dental Clinic Dubai:
"Hidden gem when it comes to dental clinic! Dr Nour is my favorite. She thoroughly explained what needs to be done. Her assistant also was caring to adjust and hand he tools. The receptionists were friendly and attentive. Place is clean and smells really good."
Hari Paremal also left a positive review for Dr. Anupama at NOA Dental Clinic Dubai:

"Would recommend Dr. Anupama at NOA Dental wholeheartedly. She is a talented dentist with a keen eye for detail. Before my procedure, she was very considerate and took a lot of time and effort to make sure I understood the various alternatives and their consequences before letting me commit to the procedure. Overall I am extremely happy with the work she had done."
5. Dr. Yasmin Omran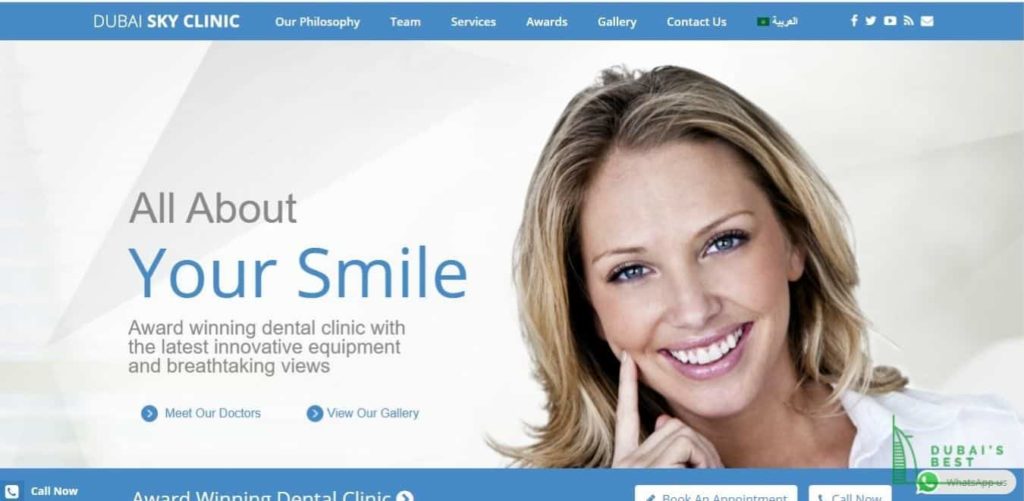 BEST FOR
Laser dentistry and emergency dental procedures
WEBSITE
https://www.dubaiskyclinic.com/
ADDRESS
Unit #2109, Level 21 , Burjuman Business Tower, Burjuman – Dubai – United Arab Emirates
CONTACT DETAILS
+971 4 355 8808


[email protected]

OPERATING HOURS
Saturday– Friday: 9:00 AM – 8:00 PM
Dr. Yasmin Omran, a member of Dubai Sky Clinic's team since 2013, is a well-educated dentist who has trained in various parts of the globe.
While she practices periodontology and cosmetic dentistry, her special interest lies in laser dentistry, which is the treatment of mouth sores using laser technology.
In fact, after graduating from dental medicine and surgery at the Alexandria University in Egypt in 2005, she acquired her Master's degree in Lasers in Germany and her European Master's degree in Oral Lasers Applications from Germany, Belgium, and France.
Despite being one of Dubai's best dentists, Dr. Omran also offers her services at competitive rates.
Besides providing her services daily at Dubai Sky Clinic, she can also conduct emergency dental procedures on her clients.
Trained in various countries and boasts an impressive professional record
Competitive rates
Open daily
Can do emergency dental procedures and operations
Clinic is difficult to locate
Customer Reviews
Malek Bitar was pleased with his experience with Dr. Omran. He shared:
"If your looking for the best dentist in Dubai, look no further than Dr. Yasmin Omran! Her work is of highest quality and always goes the extra mile to give the perfect result.
What makes me come back is not only her work but also her personality. She makes you feel super comfortable and she will treat you and talk to you like a friend. Thank you Dr. Yasmin for your service :"
6. Dr. Ahmed Amer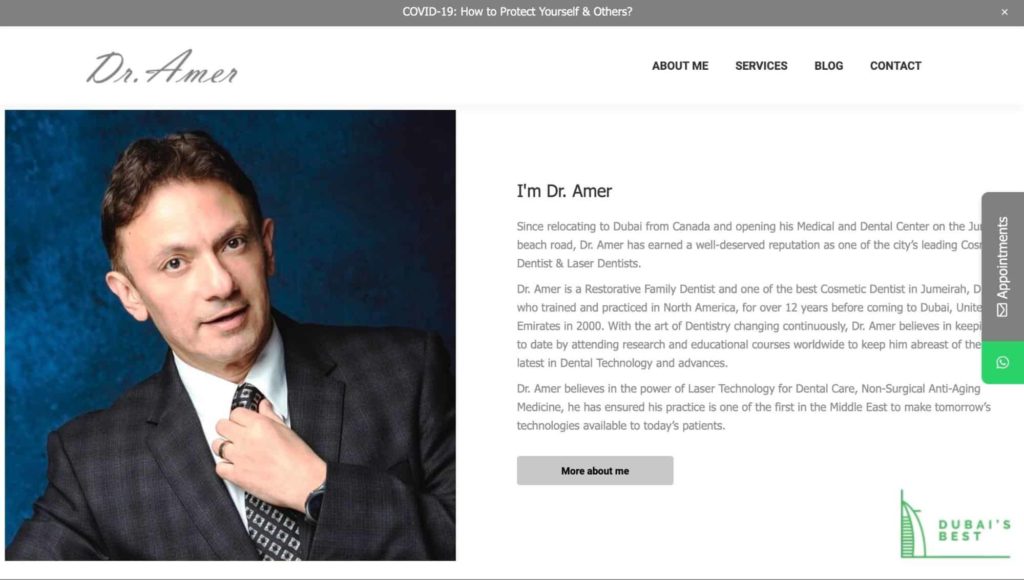 BEST FOR
Wide range of services; laser technology
WEBSITE
https://www.dr-amer.com
ADDRESS
1st Floor, Magrudy's Centre, Jumeirah St, Jumeirah 1, Dubai, United Arab Emirates
CONTACT DETAILS
04 344 9150 050 563 0611


[email protected]

OPERATING HOURS
Saturday – Thursday: 9:00 AM – 7:00 PM
Dr. Ahmed Amer is a restorative family dentist who has gained a reputation as one of the leading dentists in the city ever since he moved from Canada to Dubai in 2000.
Prior to his practice in Dubai, he trained in North America for over 12 years. However, learning has not stopped there for Dr. Amer.
Even with over 30 years of experience, he keeps up with the ever-changing industry of dentistry through research and educational courses from all over the world.
From this new knowledge, Dr. Amer ensures that his Jumeirah dental clinic is equipped with the latest technology to best serve his patients. In fact, although he offers a wide range of dental services, Dr. Amer puts emphasis on the utility of laser technology in dentistry.
Equipped with the latest technology
Wide range of dental services
Limited staff to see to patients on busy days
Customer Reviews
Ingrid Liekens left Dr. Amer a positive review that lets you know why he's highly recommended:
"Dr Amer has a gentle professionalism about him that puts you at ease, even in a dentist's chair. His knowledge and techniques are ahead of the times and he will make sure to explain in detail what he is doing and why he is choosing a particular treatment over another. I highly recommend his services."
7. True Smile Works Dental Network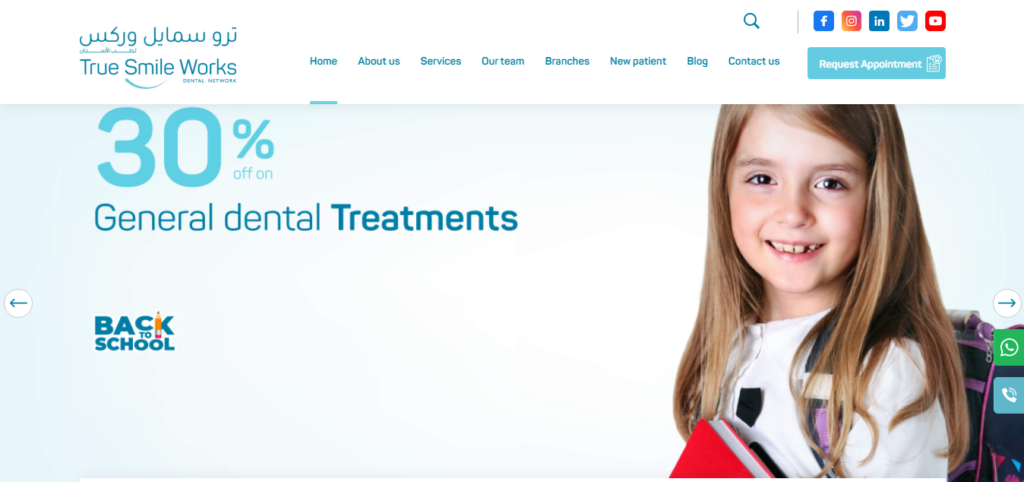 BEST FOR
International Dental Services
WEBSITE
https://truesmileworks.com/
ADDRESS
Abu Dhabi
Ground Floor, Leaf Tower, Al Reem Island, Abu Dhabi

Dubai
Ground Floor, Marsa Plaza, North Wing, Dubai Festival City
CONTACT DETAILS
Abu Dhabi
+971 2 444 9951

Dubai
04 222 2866
OPERATING HOURS
Abu Dhabi
Sat-Thu 9:00 am – 8:00 pm

Dubai
Sat-Thu 9:00 am – 8:00 pm
True Smile Works Dental Network provides international dental services, that concentrate on quality, integrity and world-class offering. We think they are great because they do not only focus on the results of the treatment, but also on the post-treatment effects, follow-ups, and necessary assistance that can help the patient.
A fun fact about them is that they are a joint venture between Faisal Holding and the Asisa Group. Which means they have over 50 dental clinics in five countries.
They are one of the clinics we can recommend because of how wide their services are. From oral surgery, prosthodontics, orthodontics, to general, cosmetic, and children's dentistry, they got you.
We love them because they offer Easy Payment Plans on dental treatments valued at AED 1,000 or more for a 3, 6, or 12 months period. The banks they are in partnership with are ADCB, FAB, Emirates Islamic, and Spotii.
May request an appointment online, via the telephone, or on WhatsApp
Has 6 dentist
Offers direct billing options for insurances
Have allocated parking spaces
Customer Reviews
Here are some reviews from their Facebook Page:
"The service is brilliant. I had fantastic care from Dr Lais and her nurse. Nothing is too much trouble and the results are perfect. I highly recommend True Smile Works!"
"It is the best Dental Clinic I have been in the UAE. They have advanced technology, luxurious facility, the doctors' work are amazing and the Staff are friendly. If you wish to have a guaranteed beautiful smile and be treated like VIP, I would recommend True Smile Works Clinic in Dubai❤️😁👍
PS.
They serve good coffee too⁇⁇"
FAQs about the Best Dentists in Dubai
---
Did this article help you find the best dentist in Dubai? If we missed your go-to dental service provider and think they deserve to be here, simply send us a message and we'll gladly check them out.
If you're also looking to get a massage to improve other aspects of your health, do check out our list of the spas for the best massages in Dubai.