The Top 5 Providers of the Best Serviced Apartments in Dubai
Featured Image Source: Brandon Griggs via Unsplash
If you're relocating to Dubai for work or other reasons, you'll need a comfortable place to hunker down in. Serviced apartments are a very practical choice because they're already furnished from the get-go and contain everything you need for a long-term stay.
Very rarely are there serviced apartments that make you feel like home, so to help you in your search, we came up with a list of the best serviced apartments in Dubai, as well as a price list and a guide to choose the best one for you.
How Much Do Serviced Apartments Cost in Dubai?
Unit rates vary based on size of room, length of stay, and other factors determined by the providers.
See below for the average rates for serviced apartments in Dubai.
| | |
| --- | --- |
| 1-7 days | AED500 – 700/night |
| 8-14 days | AED475 – 675/night |
| 15-21 days | AED450 – 650/night |
| 22-28 days | AED425 – 625/night |
| 29-35 days | AED400 – 600/night |
The Best Serviced Apartments in Dubai
Let's now jump straight into our list of the best serviced apartments in Dubai!
To help with your search, we included a guide after the list to teach you how to choose the best serviced apartment for you.
1. Address Dubai Mall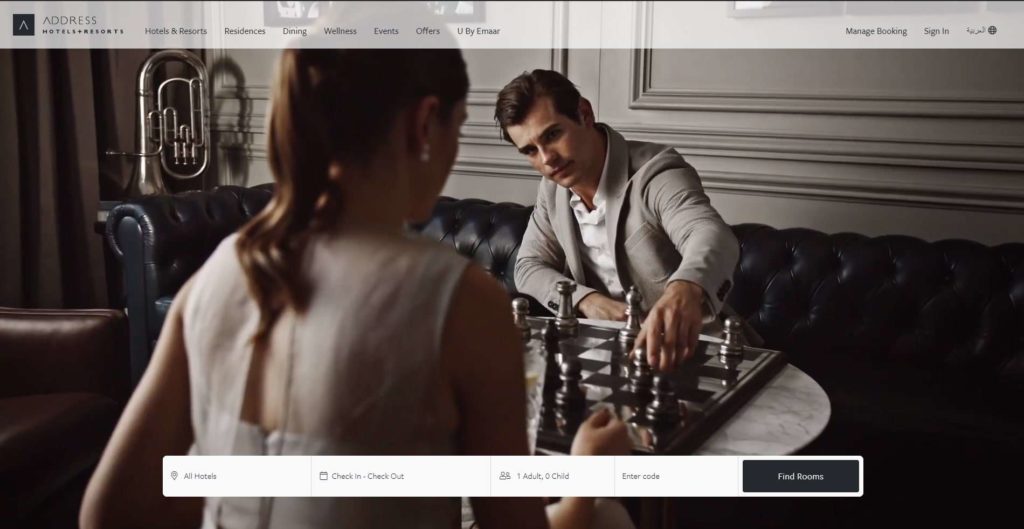 Address Hotels and Resorts is one of the top luxury lodging franchises in the UAE, so one of their branches is an easy pick for one of the best serviced apartments in Dubai. However, what makes us choose Address Dubai Mall in particular from their lineup is their strategic location.
Particularly, this branch is part of Dubai Mall, which is one of the premier malls in the world. For frequent mall-goers who don't want to stray far from their apartment rental, Address is a very easy choice.
Tenants won't hit the hay in a hotel that's just cashing in on the hype behind Dubai Mall, as Address's serviced apartments are very spacious, clean, and modern. All of these rooms also have clear views of Dubai from high above, including those of landmarks like Burj Khalifa and The Dubai Fountain — this depends on your chosen suite.
Address also offers a wide variety of its own services, including a spa, a swimming pool, dining areas, and a gym, giving tenants a lot to do even if Dubai Mall hasn't opened yet.
Living in a suite in Address Dubai Mall is a major object of envy, and so it's very difficult to quickly rent a room with many serviced apartment seekers having Address as their first choice.
When you do get a room, consider yourself very (very) lucky.
Part of Dubai Mall
Spacious, clean-looking rooms
Great views
Variety of complementary facilities
Hard to avail of rooms due to demand
Customer Reviews
Argyro Constatinou loved everything about the serviced apartment from the building itself to the staff:
"The hotel and the staff was excellent. The location was perfect! I definitely recommend this hotel and for sure I will stay again. Many thanks also to Mr Moses, Mr. Dil and all the staff therel.They were very kind and very helpful."
Daniela Garcia Mendoza's stay at Address Dubai Mall was nothing short of perfect:
"Great stay at this hotel. The location is perfect, you have a direct entrance to the mall from the hotel. The installations are very good.
And the staff very nice, Samuel treated us very well until the last day."
2. Leva Hotel Mazaya Centre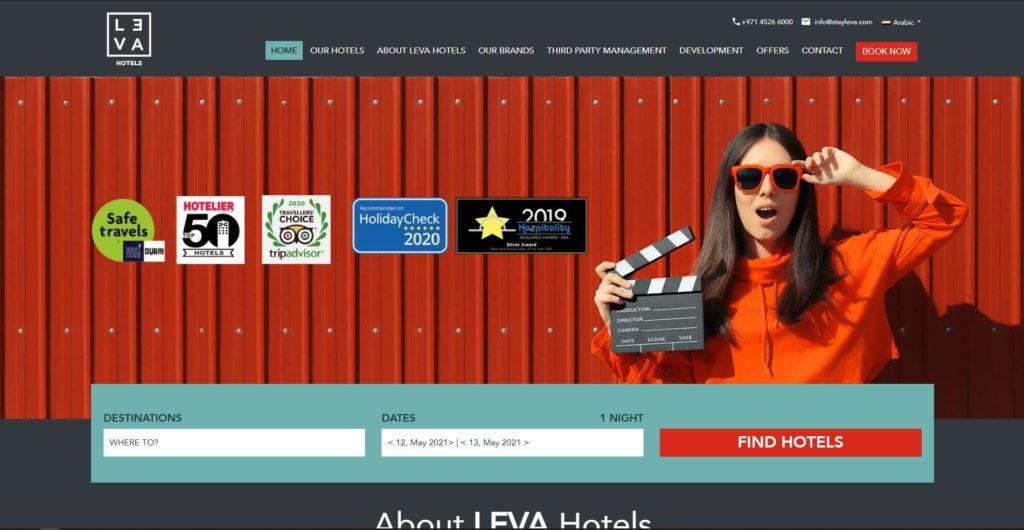 Leva Hotels is a franchise of serviced apartments across the Middle East that set up shop in Dubai. Their main strength is striking the balance between comfort and stylishness.
One of its key features is its location in Mazaya Center, which is found along Sheikh Zayed Collector Road. Similarly with our previous entry, this means that tenants can do a lot of things there since they'll be within walking distance of a lot of stores.
The rooms are also designed with royalty in mind, dominated by colors like purple, ivory, and gold. A lot of their furniture is also made from soft, comfortable materials that let you rest easy after a day out.
This branch in particular has over 170 suites of various sizes, so it won't be difficult to get a rental. The main drawback of booking a room here is that their complimentary facilities are quite small, which forces you to look outside the building for other services.
Regardless, it definitely deserves a spot here in our list for the coziness and convenient location.
Located at Mazaya Center
Cozy, stylish rooms
Multiple suites
Complimentary facilities are small
Customer Reviews
Bradley Pierce's stay in this hotel was calm and peaceful:
"I love how all the staffs from the entrance to the housekeeping and kitchen were so friendly and accommodating. The hallway and the balcony were very clean and with nice colours. The room was super clean, good fragrance and the interior colours were relaxing and warm. I especially love the peaceful stay even though the location is in the middle of downtown Dubai. I love how I had the escapade that I wanted. Will definitely come back soon!"
At the time of her review, Elena Girlya had been staying for 8 months and was nothing short of
"I'm staying in this hotel 8 month in a row.. very satisfited for service which they provide.. clean rooms, good service, affordable price, convenient location, good choice of food with discount for hotel guests,. Very clean and nice pool. Highly recommend Leva Hotel."
3. Marriott Executive Apartments Dubai Creek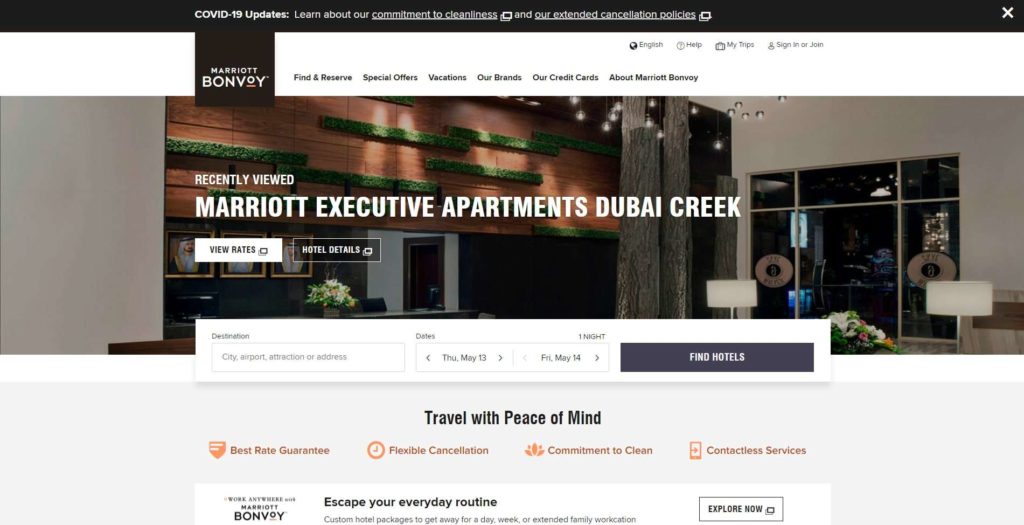 Marriott is an international hospitality franchise headquartered in the US. Its world-renowned vision for giving a pleasant, cheerful stay to all of its clients has found its way in Dubai with Marriott Executive Apartments Dubai Creek.
Located in a quaint branch in Rigga Al Buteen, it offers a very quiet and secluded stay for its tenants, which is a far cry — both literally and figuratively — from many serviced apartments located deep in the more urban areas of Dubai.
Their rooms are designed with a "sunrise" kind of theme, featuring bright, warm colors that make you feel as though you never relocated. While there are a lot of room sizes offered, they all offer more than enough space for its tenants.
While being near a few landmarks, restaurants, and shopping centers, the serviced apartment hotel itself is quite distant from most of the major monuments of the city and several popular malls, though. To travel to them, you'll have to pretty heavily rely on ride-hailing services.
Thankfully, Marriott Executive Apartments Dubai Creek has a variety of its own complimentary services to keep you satisfied, such as a gym, a swimming pool, a sauna, and a dining area with multinational delicacies.
We'd like to think that Marriott sought to be an all-in-one package with this branch, where you don't have to go far to enjoy a lot. This reason alone, among many others, is why we placed it as one of the best serviced apartments in Dubai.
Quiet location
Warm, spacious rooms
Multiple services with high availability
Far from many major landmarks and businesses
Customer Reviews
Even though it's quite distant from malls, Manas Kumar Datta had a lot of great things to say about this serviced apartment's location.
"It's a very nice place to stay long or short term, the location of this hotel is very good, it's at the heart of the city ( Deira ) in front of Clock Tower (famous landmark) business village and Dubai Creek with fantastic views of modern Dubai from the balcony. specially designed sky walk connected two towers above 17th floor is an added attraction of this exiqutive apartments ."
Winifred Umerah would stay at Marriott Dubai Creek again if she needed a place a stay in the future:
"Lovely place . Excellent service. Staff friendly and courteous. Linson was so helpful! Well equipped kitchen. Close to Diera City Centre Mall . Yes . Will opt for this place again."
4. The Apartments Dubai World Trade Centre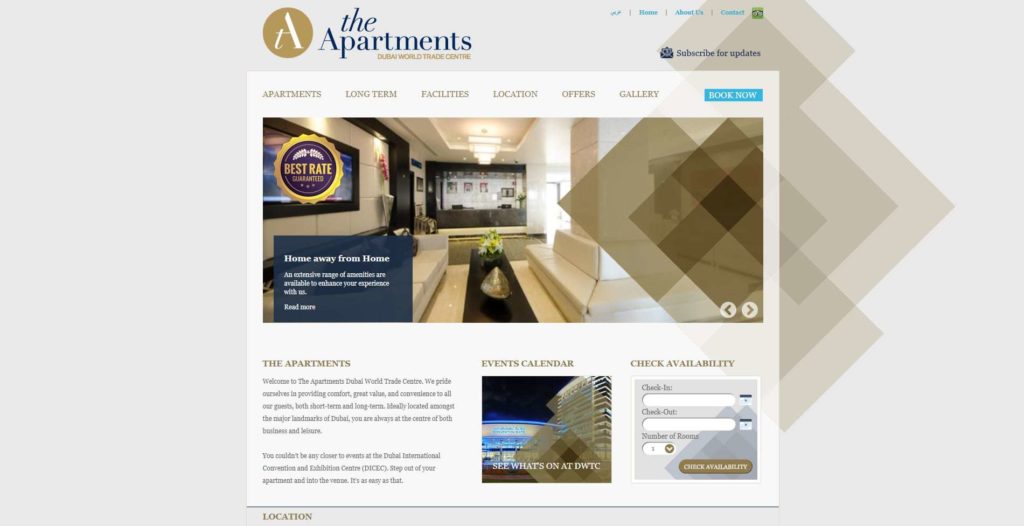 The Apartments is a standalone serviced apartment unlike our other entries. For what it offers, however, we can't help but feature it as one of the best serviced apartments in Dubai.
Its sole location is along Sheikh Zayed Road, making it near countless other businesses, restaurants, and service shops to the advantage of its tenants.
Their own facilities are also quite notable. Apart from its own gym and dining area, it also has "The Club", which hosts a list of recreation activities for its tenants, as well as other amenities that improve overall quality of life when staying there.
Tenants who love simple and understated styles would love the designs that The Apartments chose for its rooms, featuring a clean and cozy style. On top of that, many tourists looking to get an affordable stay will like The Apartments' discounts and promos, which are welcoming to a large number of people.
The downside of choosing The Apartments is that, since it's located along Sheikh Zayed Road, there's a very high likelihood that your stay may not be quiet and calming.
Your mileage may vary, however. And for everything it can give you for staying there, The Apartments is definitely worth giving a try for your next serviced apartment.
Located along Sheikh Zayed Road
Unique facilities
Simple, minimalistic room designs
Various promos and offers
Customer Reviews
Faisal Nasir Chachar gave The Apartments a strong recommendation for tourists:
"Old building but renovated recently. Has good ambiance and atmosphere. Overall good experience, the location is next to World Trade Centre, suitable for tourists visiting specially for exhibitions"
For Benhur Kurian, The Apartments is a great choice for those looking for a place to stay along Sheikh Zayed Road:
"Great hospitality with clean and spacious rooms with easy access to metro,would totally recommend for anyone looking to stay in the sheikh zayed road area."
5. Abidos Dubailand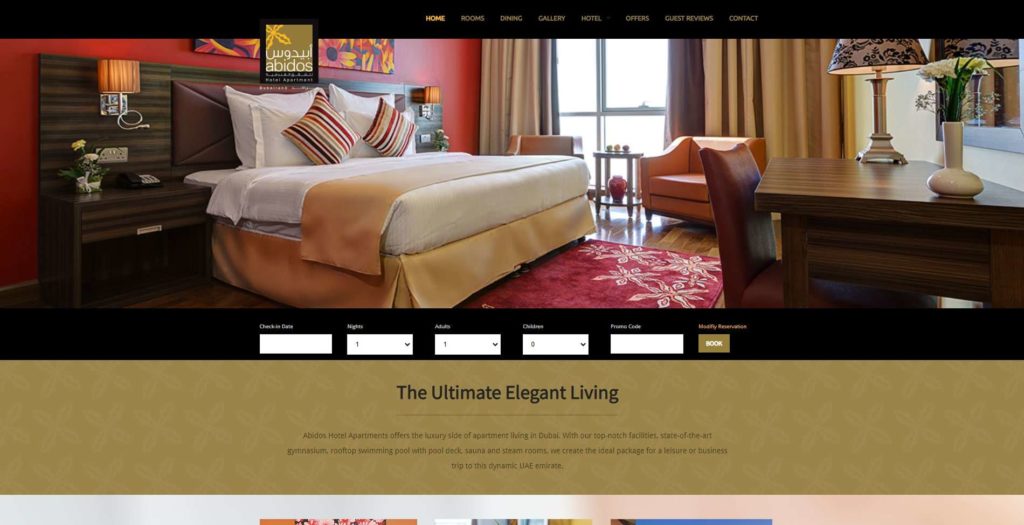 WEBSITE
https://www.abidosdubailand.com/
ADDRESS
Dubailand Residence Area, Dubai, United Arab Emirates
CONTACT DETAILS
+971 4 3164028


[email protected]
For those who want to live right inside a theme park, Abidos Dubailand may be a very appealing choice for you.
The apartment is located within the residence area of Dubailand. While the entertainment complex is currently quite bare, there are still plenty of notable places to go to from Abidos, like Dubai Outlet Mall, Dubai Sports City, and IMG Worlds of Adventure.
As for the hotel itself, family travellers would be happy to know that their atmosphere caters to both kids and adults alike. Aside from using homey room design, Abidos offers a kid's play area for parents to leave their children in while they enjoy the apartment's other facilities.
Likewise, avid restaurant-goers will also love Abidos' various dining areas, including a cafe, a restaurant, and bar lounge.
Its location in Dubailand means that staying at Abidos Dubailand won't exactly give you the best views compared to other entries, though.
Living in a well-serviced lodging in a theme park area is such a novel concept, however, and it's one that Abidos Dubailand is highly capable of delivering.
Located in Dubailand
Family-friendly atmosphere
Variety of in-house dining options
Customer Reviews
Sans a hiccup when looking for the place, Tomy Xavier loved their overall stay in Abidos Dubailand:
"The entrance to the premises was little confusing as RTA construction was going on the leading roads. Once we checked in then things were all well in place. Crews were really good, spacious rooms,out door pool, restaurant .. Worth for what we spend."
Phani Ayinampudi's stay at Abidos Dubailand was convenient and pleasing:
"Hotel Apartment within quite and most accessible community of Dubai-land. Staff is well groomed, cleaning and hygiene very well taken care. Keep up the good work."
How to Choose the Best Serviced Apartments in Dubai
Since all serviced apartments have the essentials for staying for a long time, a random apartment in Dubai seems to be as good as any.
In case of confusion, what you need is a guide for choosing the best serviced apartment in Dubai for you. Here are some tips to help you make the perfect pick.
1. Take a tour
Some serviced apartment units may look good in pictures but end up being worse in person. This is especially when you're searching for a particular size.
To avoid this, you should ask for a tour from the provider to get a feel of being in the place. Virtual tours are alright if you can't travel to the apartment, but physical tours are always better to give you a more informed decision.
2. Evaluate destination
One of the main benefits of serviced apartments is being near the workplace that you're planning to stay long for. Also considered are nearby restaurants, malls, or other shops for your convenience.
When picking a serviced apartment unit, check its distance from wherever you need to be near to, as well as any stores that you'll benefit from.
3. Read reviews
Former tenants are excellent sources of information, as they describe what it's like to actually stay in the unit for a long period of time.
Your initial evaluation of a serviced apartment may be drastically different from your actual experience staying in it, so customer reviews can save you a lot of time, money, and regret.
Booking sites and other travel websites on the Internet should house a catalog of published reviews for your perusal.
FAQs about the Best Serviced Apartments in Dubai
---
Get the best of both worlds of autonomy and convenience when you rent any of the best serviced apartments in Dubai in our list.
Know any great serviced apartments we missed in the roundup? We encourage you to send us your recommendations.
If you're planning to rent a sweet ride to go with your serviced apartment, by the way, you should definitely check out our list of the best luxury car rentals in Dubai.