The 12 Best Digital Marketing Agencies in Dubai
Featured Image Source: Austin Distel
Digital marketing, when used to its full potential, can boost your brand's visibility. But unless you're a digital marketing expert yourself, you have to work with a great digital marketing company to get appreciable results.
To help you find the best digital marketing agency in Dubai for your brand, we've prepared a guide for you below. There's also a table of the expected cost for each digital marketing service in Dubai.
Furthermore, we've listed some of the leading digital marketing agencies in this article. This should give you all you need to get you started on your search for the best digital marketing agency in Dubai.
How Much Do Digital Marketing Services Cost in Dubai
The table below contains the estimated costs for different digital marketing services. Actual costs may vary depending on your chosen provider.
Note that some digital marketing agencies in Dubai also offer comprehensive packages with a combination of these services. You can typically get those for a cheaper price than getting each individual service separately.
| | |
| --- | --- |
| Web Design | AED599 to 8000 |
| Web Hosting | AED9 to 63/month |
| Email Hosting | AED11 to 52/month |
| SEO | AED599 to 1000/month |
| Graphic Design | AED249 to 1399 |
| Email Marketing | AED240 to 750/month |
| SMS Marketing | AED500 to 6000 |
How to Pick the Best Digital Marketing Agency in Dubai
Obviously, it's imperative to make sure that you're getting top-quality services from your chosen agency.
These tips below can guide you in choosing the best digital marketing agency in Dubai if you don't know where to begin.
1. Check their portfolio
A stable and reliable digital marketing agency should have a sizable portfolio. They should be proudly showing their best work on their websites.
This should give you an idea of how well the agency does in web and graphic design.
You may also want to know who their past clients are to see if successful companies trust the agency's digital marketing strategies.
What's more, see if their clients tend to stay or go to them again! If they do, the agency must be worthwhile.
2. Read reviews
Portfolios show you the end result of a digital marketing agency's efforts, but reviews give you an idea of how they work.
Reviews by previous clients can tell you about a company's work ethics, particularly their timeliness and ability to communicate and collaborate with clients.
You'll also know from reviews if their clients were satisfied with their overall work.
3. See if they have a strong reputation
Successful digital marketing agencies often feature the accolades they have received on their websites. This shows that the industry acknowledges the agency's expertise and perceives their work as something of the highest quality.
However, do note that award-winning digital marketing agencies often charge higher, as they are also expected to deliver great results.
You don't have to worry if you're working on a small budget, though, as there are still plenty of digital marketing agencies that can help you reach your goals at a lower price.
The Best Digital Marketing Agencies in Dubai
You should now be ready to find the best digital marketing agency in Dubai that can help you attain your company's goals.
To get you started, here are some of the best agencies we found.
1. McCollins Media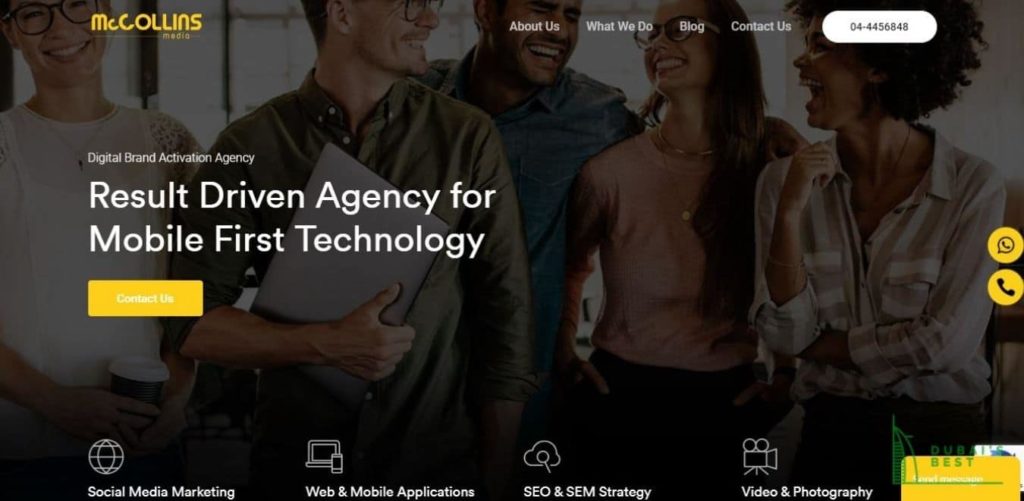 BEST FOR
Video and photography services
WEBSITE
https://mccollinsmedia.com/
ADDRESS
209, Loft Offices 1 – Dubai Media City – Dubai – United Arab Emirates
CONTACT DETAILS
04-4456848


[email protected]

OPERATING HOURS
Sunday – Thursday: 09:00 AM – 6:00 PM
McCollins Media is a digital activation company in Dubai that has provided top-notch digital marketing services since 2010. To address clients' problems and help clients reach their goals, they use a combination of strategy, customer insight, and the latest technology.
They create engaging web and mobile apps, applying SEO and SEM strategies to generate leads. They also employ proven social media marketing strategies to increase their clients' social media presence, which is key to surviving a competitive market.
Demonstrating their knowledge of today's consumers, they also provide video and photography services to appeal to younger audiences, who are most likely to consume audiovisual content.
McCollins Media's multicultural team is also an asset for the agency, as their comprehension of different perspectives can help create a unique yet spot-on digital marketing plan for your brand.
Applies a combination of strategy, customer insight, and the latest technology
Video and photography services designed specifically for brands that want to appeal to younger audiences
Multicultural team
Office is difficult to locate
Erratic schedules
Customer Reviews
Nikhil Hari Das, a satisfied client, said:
"It's my pleasure working with McCollins Media. They really impressed me with their web development and video production skills. I should mention here about their digital brand promotions, It's really effective and awesome.
I highly recommend them for any type of digital brand activation and web development."
2. Nexa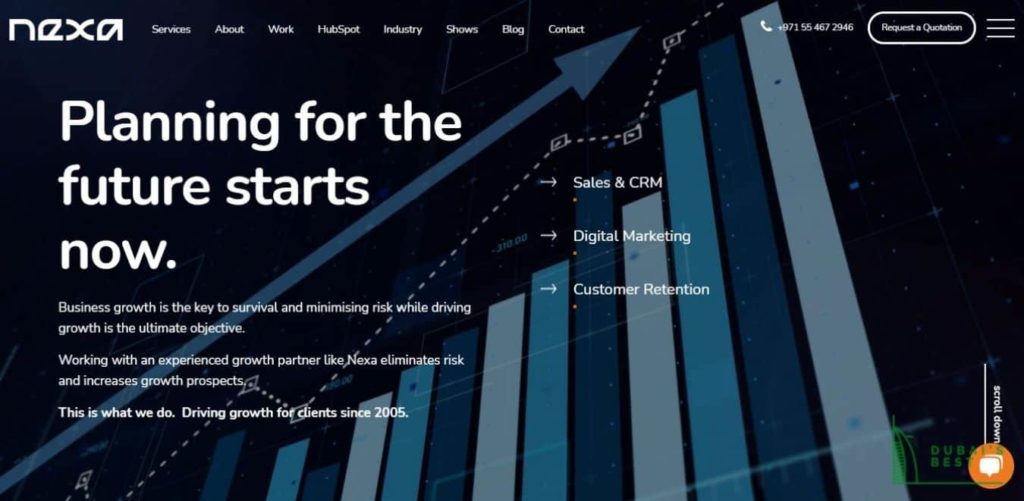 If you want an experienced agency to secure your brand's growth, Nexa could be the best digital marketing agency in Dubai for your brand. For 16 years, they've worked with everyone from small startups to large multinational businesses, helping these brands attain their objectives.
They have a wide range of digital marketing services, including website and app design and development, content marketing and lead generation, social media marketing, and SEO.
The agency also uses the business software Hubspot, which is an all-in-one solution for efficient sales and marketing management.
They can evergreen give your company guaranteed leads at a faster turnaround time through Pay-Per-Click marketing.
Very experienced team
Wide range of services
Efficient sales and marketing management
They're have been a few reports of below-average customer service, at least compared to the others on this list
Customer Reviews
Gloria Morris, marketing manager of Preparation for Life, reviewed:
"Nexa played a vital role at helping us boost the visibility and leads for our Study in Australia and Study in UK Programmes.
They managed our budgets for display ads, search ads, and YouTube ads. Nexa were efficient, friendly, and had a lot of patience, catering to a number of last minute requests.
Overall, Nexa assisted us in achieving great success within our markets internationally through an extremely well executed integrated campaign!"
3. Digital Marketing Sapiens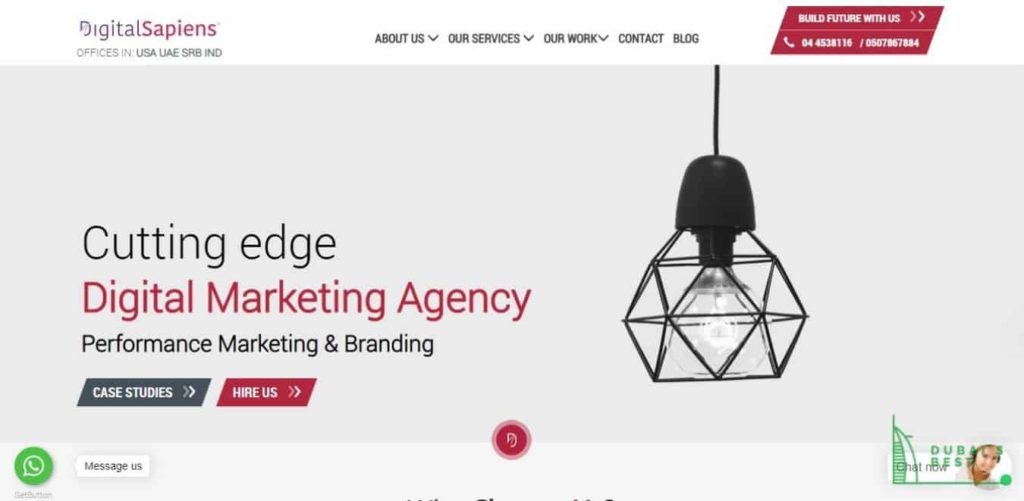 BEST FOR
Online reputation management
WEBSITE
https://www.digitalmediasapiens.com/
ADDRESS
Office 104, 1st Floor, Jumeirah Bay – X2, Cluster X, Jumeirah Lake Tower, Dubai.
CONTACT DETAILS
+971 4 4538116


[email protected]

OPERATING HOURS
Sunday – Thursday: 09:00 AM – 6:00 PM
Digital Marketing Sapiens offers a comprehensive and cutting-edge range of digital marketing services in Dubai.
Besides the usual web and app design and development, SEO, and SMS and email marketing, however, this digital marketing agency also helps its clients with online reputation management.
Their online reputation management helps you project a positive image for your brand in various platforms, placing you ahead of your competitors.
Their version of this strategy includes influencer marketing, online review management, monitoring brand mentions, crisis control and more.
Comprehensive range of services
Expertise in online reputation management
Customer Reviews
Satisfied client Jasmeed Hameed shared:
"Digital Media Sapiens have been providing SEO,Social Media & Google Ad services for our e-commerce for the last 34 months and we have been pleased with the results. Traffic has increased Very professional and forward thinking."
4. Igloo
BEST FOR
Digital marketing for education, healthcare and e-commerce companies
WEBSITE
https://www.weareigloo.com/
ADDRESS
1204, Fortune Executive Tower Cluster T, Jumeirah Lake Towers PO.Box: 336101, Dubai, UAE
CONTACT DETAILS
+971 4 4310831
+971 4 5521267


[email protected]

OPERATING HOURS
Sunday – Thursday: 09:00 AM – 5:30 PM
Digital marketing agency Igloo offers an array of services in Dubai, such as web design and development, social media marketing, email marketing, SEO, and PPC.
Moreover, the company also provides creative design services to help clients build a unique brand identity that resonates with their values.
The team takes on a variety of clients, but they specialise in creating digital marketing strategies for companies in the sectors of education, healthcare and e-commerce, in particular.
So you can get a better feel of whether they are the best digital marketing agency in Dubai for your brand, they also offer a free consultation.
Creative design services
Specialises in education, healthcare, and e-commerce
Free consultation
Customer Reviews
Romain Liot, Adecco Middle East managing director, said
"As a leader in our industry, communication, marketing and branding are important part of our day-to-day business. Brand awareness and positioning are of strategic importance and this is best left to experts.
The Igloo team have assisted us with our social media activities, marketing and website solutions so far as well as working on special projects."
5. Brand Stallion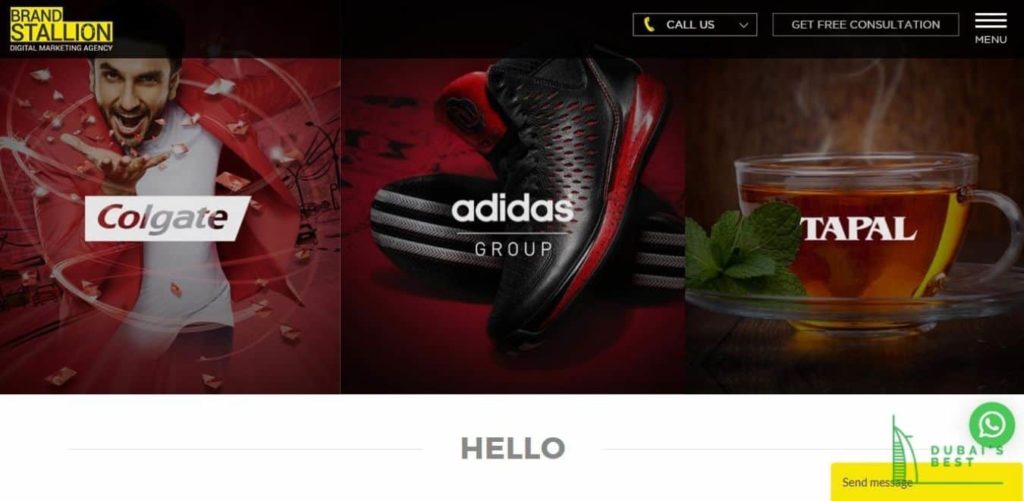 | | |
| --- | --- |
| BEST FOR | Knowledge of the regional market environment |
| WEBSITE | https://brandstallion.ae/ |
| ADDRESS | Burlington Tower, Office Suite 1502 Business Bay, Al Abraj Street, Sheikh Zayed Road, PO Box 393770 Dubai, UAE. |
| CONTACT DETAILS | +971 50 180 0278 |
| OPERATING HOURS | Monday – Friday: 0:00 AM – 0:00 PM |
A full-service digital agency, Brand Stallion offers digital marketing, social media management, web design, and graphic design in the U.A.E.
The campaigns they create are guided by their vast knowledge of the regional market environment. Their team of creatives, content writers, analysts, and social strategists uses this to give you your desired outcome.
Their staff are also Google AdWords and Analytics-certified, ensuring that they're experts in using these platforms to help you achieve your brand's goals.
They also offer a free consultation so you can determine if they are the right agency for your brand.
Vast knowledge of the regional market
Google AdWords and Analytics-certified
Free consultation
Limited staff
Works more on web and app design than other areas of digital marketing
Customer Reviews
Nejoud Nasr left a positive review for Brand Stallion:
"These guys are by far the best in the business.
They completely revamped our company's branding and helped us get more leads through digital marketing. They have a certified team and are extremely supportive. Just give them a call and you'll know what I mean. Can't go less than 5-stars!"
6. Scarlet Media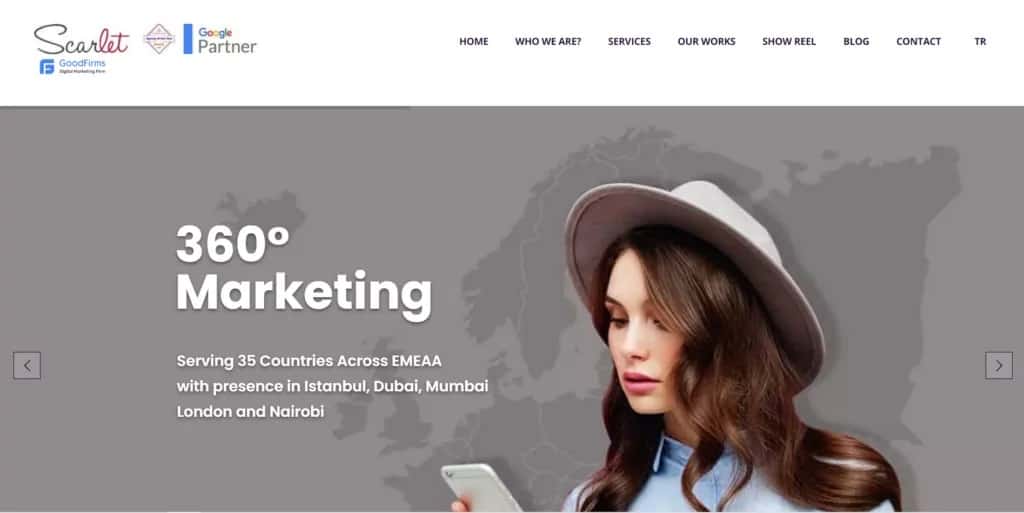 BEST FOR
Ecommerce and Performance Marketing
WEBSITE
https://www.scarletmedia.net/
ADDRESS
Churchill Towers 5402 – Dubai – United Arab Emirates
CONTACT DETAILS
Phone: +971 52 699 8809
Email: [email protected]
OPERATING HOURS
Contact for more details
Scarlet Media is an advertising agency and a digital communication partner located in 35 countries across 4 continents focused on digital communication and consultancy.
They build long term relations while deeply comprehending our clients' businesses, in order to develop effective strategies and digital marketing solutions in line with their business plans and goals. Their portfolio spans luxury, retail, culture, food and drink, charity and professional services.
As well as providing great creative, high-tech and online marketing solutions; they also believe in working with, supporting and building the skills of our clients.
Strategic planning team
Creative team available
Worked with various brands over the years
Prices are not available online
Customer Reviews
Here's what some people say about Scarlet Media:
"It was great working with this creative marketing agency. They really took the time to understand my company and the industry, delivering amazing results. Their creative process has helped on our social media platforms to deliver amazing results and their high-level marketing experience really shows with their quality work. I would highly recommend."
"We are a very old company in Dubai that manufactures women's shoes. We have been using the services of another company for a long time, recently we hired Scarlet Media for our advertising. We assumed that our campaign would not end well. But they really surprised us. They also brought in about 10% more leads than we got from previous companies. We are really happy and we will do the next projects with them. I recommend those who really need their ROI on advertising."
7. Amplify Marketing Agency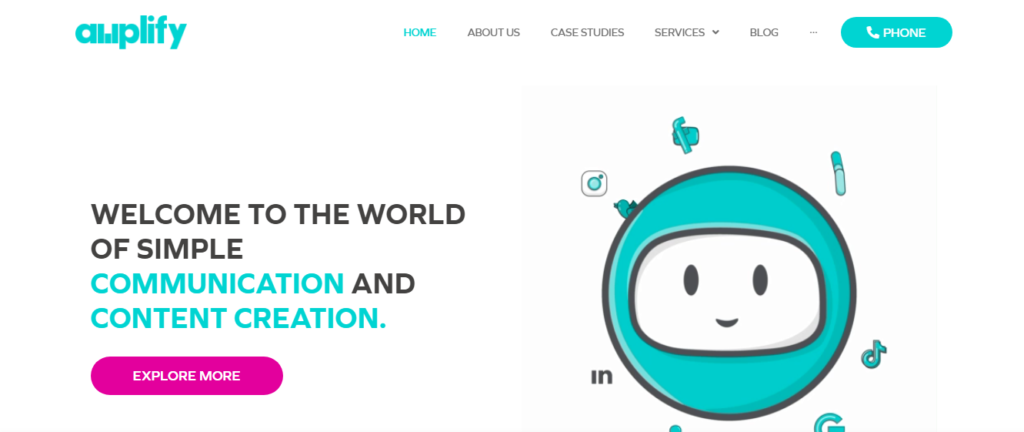 BEST FOR
Marketing Advertising Services
WEBSITE
https://amplifydubai.com/
ADDRESS
Office 1805, X3 Jumeriah Bay 3, Cluster X, JLT PO Box 503404 Dubai, United Arab Emirates
CONTACT DETAILS
04 234 3498 |

[email protected]

OPERATING HOURS
Monday: 9:00 AM – 6:00 PM
Tuesday: 9:00 AM – 6:00 PM
Wednesday: 9:00 AM – 6:00 PM
Thursday: 9:00 AM – 6:00 PM
Friday: CLOSED
Saturday: CLOSED
Sunday: 9:00 AM – 6:00 PM
Amplify Marketing Agency is a marketing agency that has over 25 years of experience in the marketing field which they have over 10 years of the said experience in the Middle East.
With a client-centered understanding and solid creative and marketing skills, they also have a balanced approach of being able to be innovative in the platforms that they use and creative with each design they deliver.
They also have access to the latest augmented reality, multitouch displays, interactive displays, and virtual reality programs that will aid their clients in growing their brand and business as well.
We recommend this agency for businesses looking to grow their business in an innovative yet effective way that will make use of advanced platforms and the latest marketing solutions and techniques.
Advanced programs and platforms
Highly experienced staff and company
Trusted by major brands in the MENA region
Price range is not available
8. INCYCLE Marketing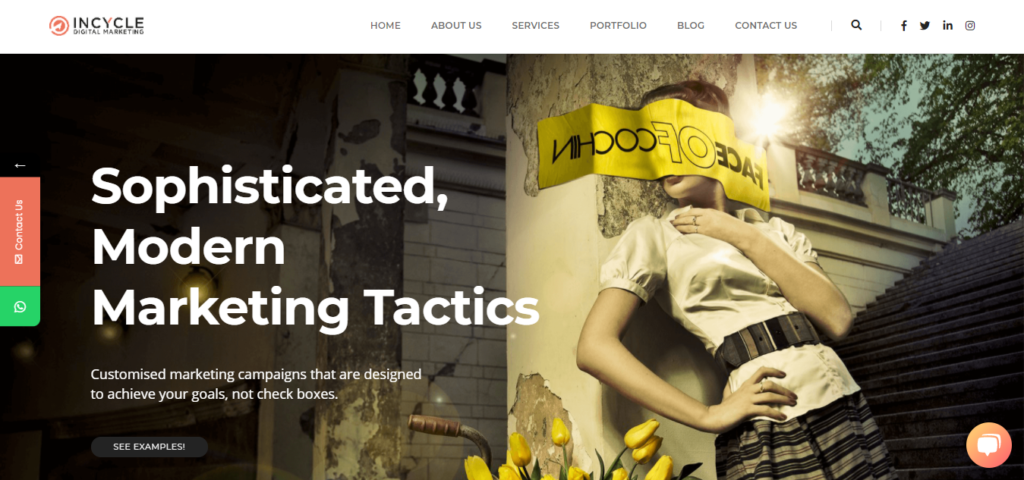 It is now the time to trust INCYCLE Marketing as your digital marketing and web development agency. What's great about them is that they are well versed in delivering services for businesses covering search engine optimization, website design & development, social media, paid to advertise, and everything else in between.
Aside from this, unlike other agencies, you only need to follow four steps in working with them. The first step is to explore your domain, generate options, develop solutions, and lastly, create the website.
What's even more amazing about them is that they are data-driven, goal-focused, and they have custom strategies. To be more specific they let the numbers and results dictate their marketing efforts, break their goals down from macro to micro to ensure that they are hitting their targets, and create a specific road map to success based upon your particular needs, objectives, and challenges.
Lastly, they are pretty much aware that no two businesses are alike. Therefore, they always curate a different layout for different companies, which makes each more unique.
Over 40 years of experience
Can cater all types of businesses
100% Full Solutions Delivered
Price range is not available
9. Global Media Insight
Don't have a professional and well-designed website yet? Build your online presence now with Global Media Insight.
The team at GMI believes that a website's design plays a big role in improving a brand image that is why they only offer the right tools and expertise that can absolutely help you to launch your online presence. Aside from building an amazing website, they offer a great user experience and an effective information architecture with the use of texts, images, and animations.
In comparison to other companies, their web design service has helped local and international businesses build distinct and extraordinary digital identities that made them attract more customers, provoke engagement, and inspire growth.
We can recommend them because of how fast they work. Their time frame for a small website is 3 days and only a few months for a larger website.
Develops website in Arabic, English, French, German, Japanese, Chinese
Costs start from AED 5,000
Offers redevelopment and redesign services
Specific rates are unavailable on their website
Client Reviews
Here are some reviews left by their previous clients:
"This was a great experience working with a brilliant team of digital marketing. Thank you for providing us a beautiful website exactly like how we wanted and also a big thank you for a successful social media campaign and for the SEO requirements. We are really happy with your service :)"
"My business website was done by them and i really like it. thanks for the fast service and creative new ideas . Plus the SEO performance got better numbers in a short time"
"Working with Liz and her team was an absolute pleasure and they were extremely professional. They managed to replicate exactly what we had in mind but also went way above and beyond that to develop a unique, easy to navigate and beautiful looking website. We have received nothing but complements and praise and the website has been key in the growth and development of the new practice. Once again I would like to take this opportunity to thank – Well Done!"
10. Tidal Digital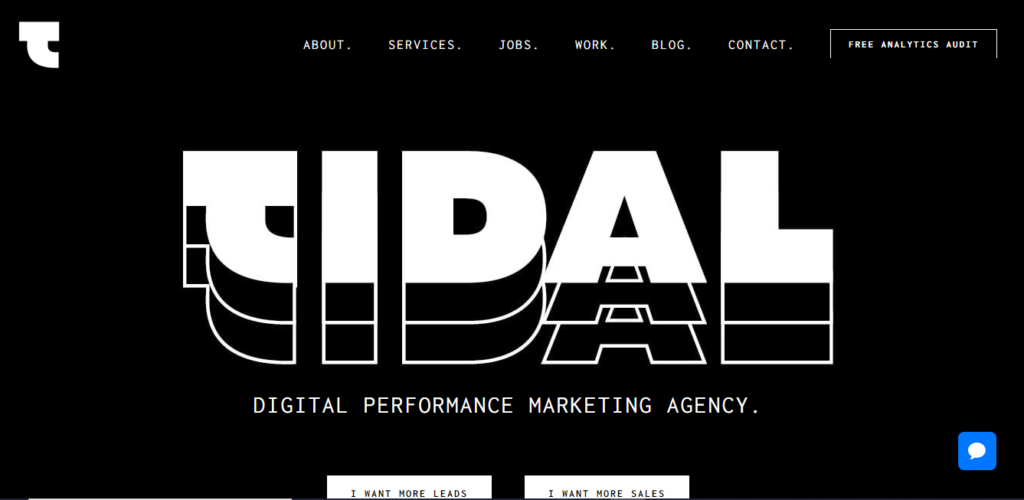 Tidal Digital is a company that specializes in digital marketing services that focuses on conversion, efficiency, and ROI. They are also an agency that has won multiple awards during their years of excellent servitude such as the Best Start-Up Agency at Global Digital Excellence Awards 2021, the Best Use of Personalization at Global Digital Excellence Awards 2021, the Best Start-Up Agency at Global Search Awards 2021, the eCommerce Website of the Year at Global eCommerce Awards 2021, and the Best Start-Up Agency at UK Digital Growth Awards 2021 among others.
Founded back in 2019, they are composed of 11-50 employees and is based in Dubai with a lot of interrelated specializations in the said field such as Performance Marketing, Digital Marketing, SEO, PPC, Retargeting, CRO, Google Analytics, Google Tag Manager, Web Design, Web Development, Content Marketing, Social Media, Marketing Strategy, Digital Media, Programmatic, Branding, Display Advertising, Email Marketing, and CRM.
The company prides itself in its reliance on data-driven decision-making and utilizing the said data in order to deliver the best results possible for the said company. They also capitalize on collaboration with clients with a proactive approach to involve them in the decisions and goals for their respective companies.
We recommend this agency for digital marketing services due to the multiple accreditation and recognition brought by their various awards accompanied by an excellent balance of high-quality service and return of investment for the client.
Data-driven decisions and strategies
Proactive client collaboration
Multi-awarded company
Takes about an hour of response
11. Gr8 Services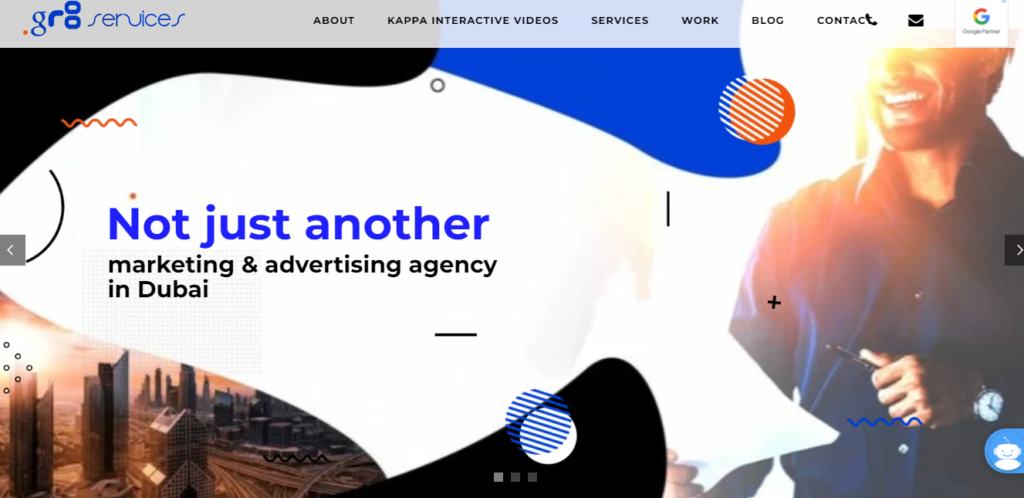 Gr8 Services is an agency that offers innovative digital marketing services all throughout the Dubai area. Their services are centered on passion and growth, so they strive in creating websites that make an impact on their target audience and allow the business to new heights.
They are also proudly a WSI agency which has a lot of benefits for businesses who wish to avail of their services such as access to global knowledge and expertise and lower costs at global platforms. They have since then managed over 200,000 SEO campaigns and 230,000 websites created which comes to show their ability to handle all project sizes and competitiveness in managing numerous projects at a time.
Their website and the company itself can also provide reliable and valuable resource materials for clients who are new to the field and intend to have more knowledge as well. Recognizing their expertise, they have since then published and sold top-rated Amazon books for the very topic.
The approach they offer is comprehensive, holistic, and sustainable since not only will they provide digital resolutions for their clients but also train the staff to continue it afterward as well. Furthermore, they can service over 80 countries since they have over 1000 offices worldwide to help them focus on local businesses more.
Clients highly commend them for giving them satisfactory results and engaged customer attention and exposure. Furthermore, since they offer Kappa technology as their approach – clients have also praised the flexibility of services and effective content marketing as well.
Wide global reach
Content creation is also accommodated and covered
Able to advertise on various platforms
Operating hours unavailable
Customer Reviews
Here are some reviews from their clients:
"Working with Gr8 Services is always an incredibly productive and satisfying experience. The team always gets the brief from the get go, and any parameters and considerations that need to kept in mind – whether operational or budgetary – are grasped in a single sitting, retained for the entire period of the project and extending to future projects; I have never felt the need to constantly remind the team of our objectives and brand culture – something incredibly valuable when working with an agency over multiple channels. I have worked extensively with the team, especially Pooja and Haider, to develop digital marketing campaigns, web pages, landing pages and social media content and have always been impressed with the considered advice given and the speed and attention to detail with which plans are executed.
Quotes are clear and timelines are always adhered to – having this level of reliable support is invaluable when attempting to push content and marketing activities forward. Campaigns are tweaked quickly and effectively to maximise ROI, the team always takes responsibility for each activity they are tasked with, they do not need to be chased and work in an incredibly ethical manner. The service and support we receive always goes beyond what is expected and I would not hesitate in the slightest to recommend Gr8 Services to anyone looking for a fantastic digital marketing partner to support their business objectives." – Radhina Almeida Coutinho, Director of Communication, PassPro Immigration Services
"We are extremely pleased with the performance of Gr8 Services in helping our business grow. They understand my brand and know my customers well." – Poon Haemapun, Owner, Little Bangkok & Culex Hospitality Group
12. grow
SERVICES
Strategy: growth strategy, brand strategy, marketing strategysales strategy, and retention strategy.
Brand: brand strategy, brand identity, brand assets, brand roll-out, and brand guardianship.
Website: wireframing, web design, web development, conversion rate optimisation, and landing pages.

Marketing: linkedin marketing, email marketing, google ads (search & display), social ads, and remarketing search engine optimisation (seo).

Sales: sales consultancy, crm integration, performance analysis, and sales psychology.

Retention: client-specific marketing, account growth strategies, exposure to multiple roles, and motivating advocacy.

Analytics: client-specific marketing, account growth strategies, exposure to multiple roles, and motivating advocacy.
WEBSITE
grow.ae
ADDRESS
Parkside Retail Level – Cluster R – Jumeirah Lake Towers – Dubai – United Arab Emirates
CONTACT DETAILS
[email protected]
+971 4 456 0220
971 58 649 688
OPERATING HOURS
Sunday – Thursday, 8:00 AM – 6 PM
Grow is a Dubai-based strategic growth consultancy and digital marketing organization. They specialize in assisting B2B enterprises in the UAE achieve quick and sustainable growth with a team of highly trained marketing and business growth professionals. Their distinct structure and complete approach to development strategy make them a perfect partner for growing organizations.
Grow's focus on strategy is one of its primary characteristics. They look at the broad picture and question assumptions to ensure that their customers have a good growth plan in place. its top consultants have decades of expertise in business growth, and its CEO has even served as a consultant for Google, assisting in the creation of their unicorn channel partners.
The organization provides a variety of specialist services oriented toward corporate expansion. They cover all critical aspects for success, from brand planning and site building to B2B marketing and sales consulting. Their professional staff guarantees that customers receive world-class assistance and value in all aspects of their growth journey.
Grow's utilization of a mathematical model to build growth methods sets them distinct. When compared to traditional lead generation approaches, this methodology generates bigger revenue gains while also laying the groundwork for long-term success. They help companies create more leads, convert them into customers, raise average spend, and keep them coming back for more by concentrating on marketing, sales, and retention.
Grow, in general, provides comprehensive and specialized digital marketing services that may assist firms in Dubai in achieving long-term and exponential growth. Their knowledge, strategic approach, and emphasis on outcomes make them a dependable partner for firms aiming to accelerate their growth.
Dubai-based strategic growth consultancy and digital marketing organization.
Utilizes a mathematical model for effective growth strategies.
Provides comprehensive and specialized digital marketing services for sustainable growth.
Customer Reviews
Anyone would be lucky to work with such a fantastic agency!
"I have worked with Grow for several years across a variety of projects, including website design and build, and SEO services and I couldn't recommend them more! They are an incredibly skilled team, but not only that, they are an absolute pleasure to work with. They are so attentive and supportive in everything they do and they genuinely care. Anyone would be lucky to work with such a fantastic agency!" – Karen Aherne
They are experienced, creative, and responsive
"We've been working with Grow for a couple of years now. They are experienced, creative, and responsive. I definitely feel like our projects are always a priority. I highly recommend them!" – Expat Sport
FAQs about the Best Digital Marketing Agencies in Dubai
---
With this list of the best digital marketing agencies in Dubai, you should be able to find the agency that aligns with your goals for your brand. If not, you can use our guide in finding the most suitable digital marketing agencies for you in the plethora of these in the country.
In case you've decided that you only need a web designer, you can also check out our list of the best web design firms in Dubai here.