6 Options for the Best Health Insurance in Dubai
Featured Image Source: Marcus Frieauff via Unsplash
These days, people are always on the go. We have so much to do that our health becomes the least of our priorities. When living a busy lifestyle, it is important to get the best health insurance in Dubai in case any health concern arises.
This article will help you find the best health insurance in Dubai for your needs through a guide which you will find below. We've also listed down some health insurance service providers that are worth checking out.
To help you even further, we've prepared a table of the expected cost of health insurance in Dubai.
How Much Does Health Insurance Cost in Dubai
Below is the table of the prices of various types of health insurance in Dubai. Note that actual prices may vary depending on the provider, coverage, and the number of people insured.
| | |
| --- | --- |
| Health Card (basic health insurance for expats) | AED 100 (0-9 years) AED 200 (10-17 years) AED 300 (18+ years) |
| Essential Benefits Plan (for low-income individuals) | AED 650 to 725/year |
| Individual Health Insurance | AED 17,500/year on average |
| Joint Policy | AED 36,400/year on average |
| Family Plan | AED 43,500/year on average |
| Group Health Insurance | AED 1,500 to 5,500/year |
| Travel Insurance | 4 to 10% of travel costs, depending on several factors |
How to Pick the Best Health Insurance in Dubai
When dealing with health matters, it is important to make sure that you're getting the best out of any product or service.
To help you choose the best health insurance in Dubai, check out these tips below.
Check the Coverage
You might think getting cheaper health insurance will save you money, but less comprehensive coverage is likely to cause you to pay more when a crisis arises.
With the cost of treatments continuously rising, consider getting a health plan with maximum coverage. This does not only protect you from more medical concerns but also offers more useful benefits, such as coverage for transportation and day-care expenses.
When choosing a family plan, it is also important to make sure each family member's possible medical needs would be covered.
Another thing to check is the duration of the insurance coverage. For this, you should opt for one with lifetime renewability so you won't be burdened by medical expenses when you get older.
Determine the sum assured and claim-settlement ratio
An insurance provider can say that they cover a comprehensive range of medical needs, but these can come with certain limitations.That's why you need to read the policy thoroughly.
One of the things you should check is the sum assured, which is the amount of money you will receive in case of disability or death.
Since there are instances when people fail to receive their claims because their case violates a certain clause in the policy, you should also find out the claim-settlement ratio from your insurer.
This assures you that many other insured individuals with the same plan have successfully received their claims.
Compare different health plans
Take a look at different insurance plans from different providers as this can save you from stress and even save your life in the long run.
Specifically, you need to compare the price of the insurance plans, the features—including the illnesses they cover—added benefits, the panel hospitals, the sum assured, and the length of coverage.
This way, you'll be getting the best value for your money on an insurance plan that truly does its job to protect you.
The Options for the Best Health Insurance in Dubai
Now that you know what to look for in a health insurance plan, let's get you started with this list of some of the best health insurance providers in Dubai.
1. Emirates Insurance Domestic Healthcare Insurance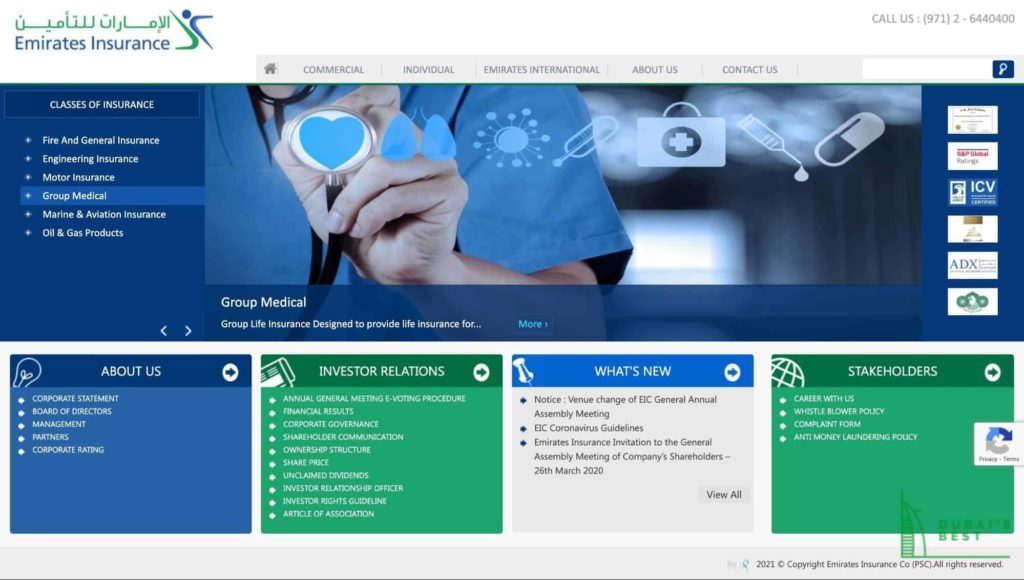 Emirates Insurance offers a variety of health insurance plans to best suit the needs of different types of individuals.
The Basic Plan mainly caters to blue collar workers. On the other hand, the Standard Plan is targeted to individuals and families who can afford more than just the basic coverage.
They also offer Enhanced Plans and VIP plans for people with more complex health insurance needs. The Enhanced Plan goes beyond the standard annual and territorial limits, while the VIP Plan includes coverage for your medical needs abroad.
Emirates Insurance guarantees its clients an efficient medical benefit and claims management system. They provide insured individuals a card which allows them access to their affiliate hospitals and gives medical service providers information about their insurance coverage.
Variety of health insurance plans
Efficient medical benefit and claims management system
No online processing
No teleconsultation services
Hotline is not available 24/7
Customer Reviews
Munir Hussein Abdul Ghani reviewed:
"One of the best national insurers in UAE. Credible, excellent service and consistent."
2. AMAN Healthcare Himaya Plan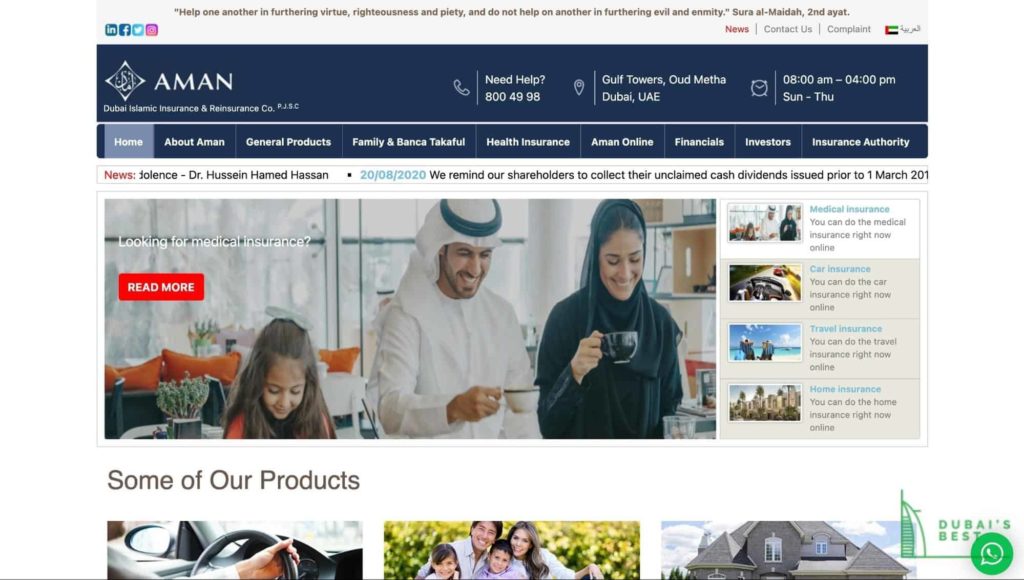 BEST FOR
Quick, no-surprises settlement
WEBSITE
https://aman.ae/home/
ADDRESS
Gulf Tower, B1 Mezzanine Floor, Oud Metha Road, Bur Dubai
CONTACT DETAILS
8004998


[email protected]

OPERATING HOURS
Sunday – Thursday: 8:00 AM – 4:00 PM
AMAN provides comprehensive health insurance plans which can be modified to suit the needs of different organizations at a reasonable cost.
Since their founding in 2002, they have provided their clients with insurance plans that have all the elements of the best health insurance in Dubai.
Firstly, the coverage of their health insurance plans are clearly stated in their policies.
For instance, their AMAN Healthcare Himaya plan provides cover in the U.A.E. and the rest of the Middle East, plus India, Pakistan, Bangladesh, Sri Lanka, and the Philippines. With this health plan, the insured is covered to up to AED250,000 per year.
The plan also covers overseas medical emergencies for up to 30 days per year, except in the United States and Canada.
AMAN also assures you a quick claims settlement with no hidden clauses that would cause you to get less compensation than promised.
Clear insurance coverage
Comprehensive U.A.E. cover
Overseas emergency cover
Quick, no-surprises claims settlement
Overseas emergency cover excludes US and Canada
Slow response to queries
Customer Reviews
Satisfied AMAN client Mohammad Al Falasi said:
"Very smooth and fast procedure. I'm really satisfied with the service. Special thanks to Yousef Al Mulla for his amazing customer service."
3. Oman Insurance Essential Benefits Plan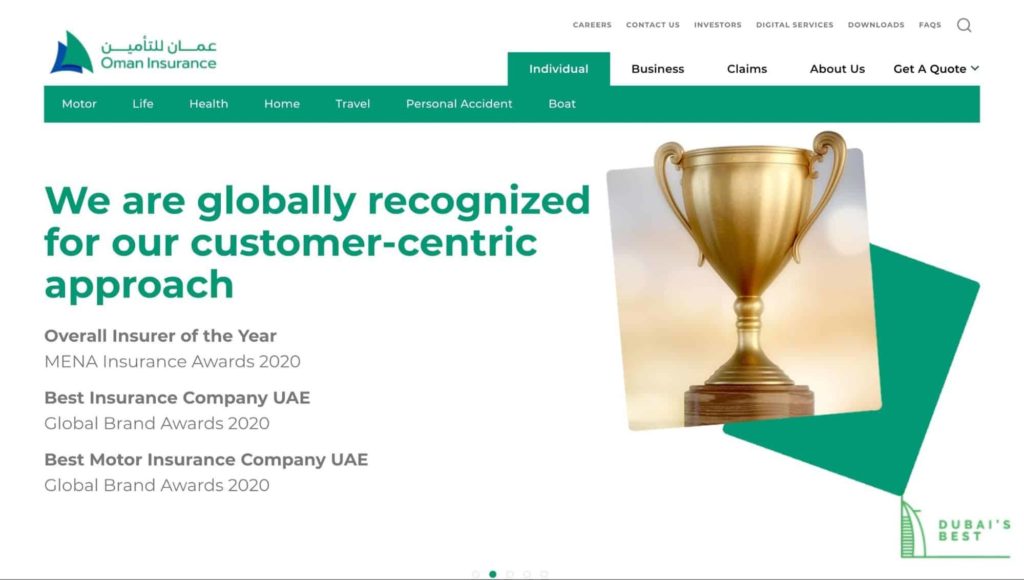 | | |
| --- | --- |
| BEST FOR | Domestic staff insurance |
| WEBSITE | https://www.omaninsurance.ae/ |
| ADDRESS | Find the branch nearest to you here |
| CONTACT DETAILS | [email protected] |
| OPERATING HOURS | Sunday – Thursday: 8:00 AM – 5:00 PM |
Oman Insurance offers the best health insurance in Dubai for house help, drivers, and other domestic staff at an affordable price. This can also be availed by companies with less than 100 employees.
While their health plan offerings are cost-friendly, they cover all kinds of chronic and pre-existing health conditions. The insured individuals are also fully-covered in all emirates, except Abu Dhabi where only emergency coverage applies.
On top of these, clients also get access to a wide network of hospitals and are entitled to Oman Insurance's comprehensive online support.
You can also opt to get direct billing for easier claims settlement for both in- and outpatient procedures.
Cost-friendly
Covers all kinds of chronic and pre-existing health conditions
Comprehensive online support
Option for direct billing
Emergency coverage applicable only in Abu Dhabi
Claims approval may take time
Customer Reviews
Mahmoud Subhani, one of Oman Insurance's clients, said:
"Oman Insurance company is the Best service provider in the Region. According to my personal experience, Oman insurance dubai life Insurance department having professional staff. "
4. AXA Smart Health Insurance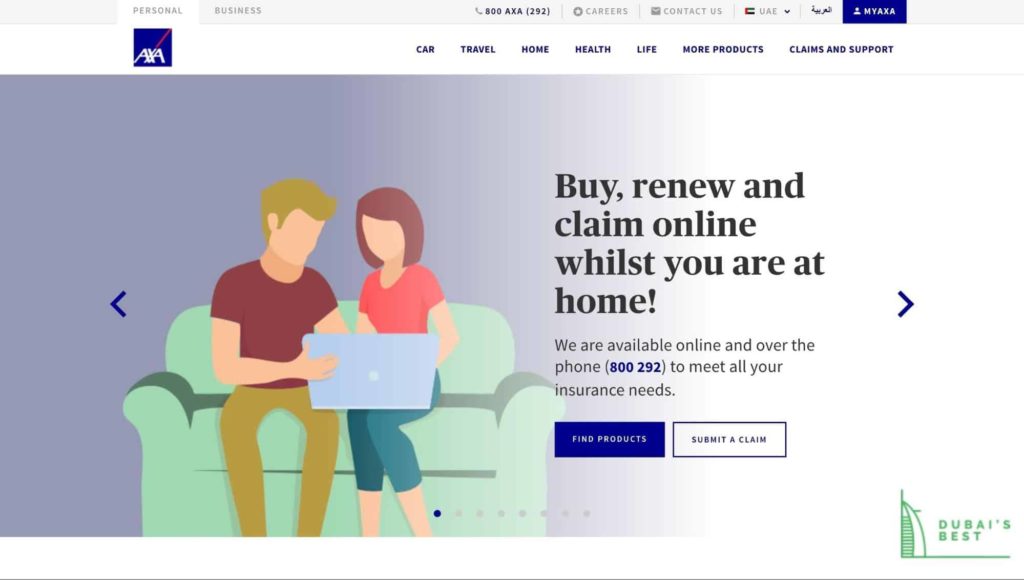 BEST FOR
Affiliation to a vast number of hospitals in the U.A.E. and worldwide
WEBSITE
https://www.axa.ae/en/personal
ADDRESS
Showroom #4, Um Al Sheif Building, Plot #514-0, Makani #19694 80701, Next to Metropolitan Hotel, Um al Sheif, Sheikh Zayed Road, Dubai
CONTACT DETAILS
800 292
+971 800 292
OPERATING HOURS
Sunday – Thursday: 9:00 AM – 6:00 PM
What makes AXA's Smart Health insurance one of the options for the best health insurance in Dubai is that it offers five customised plans for different lifestyles.
With AXA, you can opt for your plan to include features such as coverage for in- and outpatient procedures, routine dental treatments, pre-existing and chronic illnesses, as well as coverage for cancer and viral hepatitis and its complications.
Insured individuals can even get access to free teleconsultations with top Dubai doctors 24/7 for advice on their medical concerns. They can also get treatment from any of AXA's 3,000 affiliate hospitals in the U.A.E. and 800,000 partners worldwide.
On top of these convenient features, AXA's online systems also make processes hassle-free. With them, you can make a quick claims reimbursement online, get 24/7 multilingual customer support, and store all your healthcare requirements in their MYAXA app.
Five customised plans
Comprehensive coverage
Free 24/7 medical teleconsultation
3,000 affiliate hospitals in the U.A.E. and 800,000 partners worldwide
Convenient online systems
Does not cover congenital diseases, dementia, and Alzheimer's
Does not cover injuries due to flying, extreme sports, and martial arts
Does not cover vitamin-deficiency conditions
Customer Reviews
Gen Cananea, a satisfied client, said:
"I had an excellent experienced with the branch. Thanks to Rosemarie M., she is approachable, friendly, fast service, will listen and give advise what insurance that suits you."
5. MetLife CritiCare
BEST FOR
Critical illness coverage
WEBSITE
https://www.metlife.ae/
ADDRESS
Vakson Building P.O. Box 1817 Offices No. 112, 113 and 114 Sheikh Zayed Road (Exit 41), Umm Al Sheif, Dubai
CONTACT DETAILS
800 6385433
(971) 04 376 7900


[email protected]

OPERATING HOURS
Sunday – Thursday: 8:00 AM – 5:30 PM
Many health insurance plans offer comprehensive coverage but do not offer a cover for critical illnesses. However, MetLife's CritiCare protects you from critical illness, providing financial support for treatments as well as loss of income.
In particular, CritiCare provides coverage for 32 critical illnesses, such as stroke, paralysis, coma, brain tumour, Parkinson's disease, Alzheimer's disease, and cancer, among others. This health plan provides a compensation of up to AED735,000 for income loss.
You'll also be covered in the majority of countries all over the world with this health insurance plan.
The best thing about this insurance plan is that most of your money will return to you if unused. MetLife will return 75% of your premiums for no claims in the entire duration of your insurance coverage.
Critical illness coverage for up to 32 illnesses
Compensation of up to AED735,000 for income loss
Coverage in majority of countries
75% no-claims returns
Long claims approval process
Customer Reviews
Ram S. left MetLife a positive review:
"Good supportive staff. Fast and good in followup."
Another satisfied client, Subeena Aneesh, said:
"Assured insurance service…trustworthy."
6. Pacific Prime Insurance Brokers Limited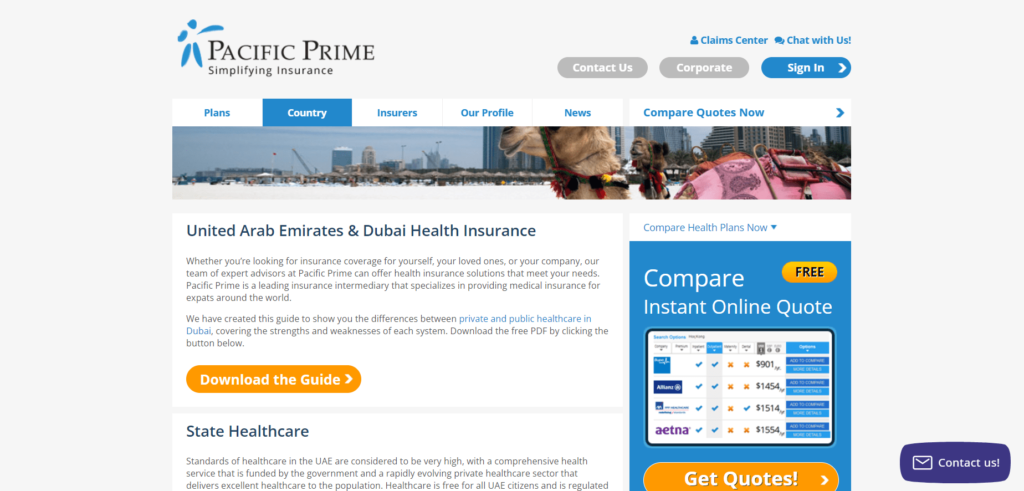 If you are looking for health insurance in Dubai that can cover any emergencies from the UAE to Beijing, you might want to consider Pacific Prime as your best health insurance provider.
Pacific Prime offers different insurance plans to cover you depending on your needs. Their plans include international, family, maternity, and others, which makes it specific to your lifestyle. Other insurance plans can be occupation-based such as teacher, individual, or corporate health insurance.
Through a thorough understanding of different plans, Pacific Prime offers flexible and tailored insurance plans for you to enjoy. They also offer travel and global health insurances for those who are traveling a lot outside Dubai and UAE.
They also provide comprehensive education on insurance and 100% free online or via call impartial advice and insurance planning.
As an award-winning insurance company with 20 plus years of experience, Pacific Prime ensures that you find the right plan for you through their trained experts and in-house technology for their clients to make the informed decisions within their resources.
Although pricing is not stated, there are contact details available for you to book your next talk with an agent to plan your insurance.
Overall, Pacific Prime offers an extensive amount of insurance plans to cover the different needs of people while opening opportunities for you to be happy and insured.
Occupation-based insurances are available
Well-awarded insurance company
Insurance company covers 28+ languages
Has long years of experience
Insurance claims may take a long while
Customer Reviews
Reliable international services
"They just make life easier! As a Brit working in Poland, I needed health insurance. There are a lot of options and agencies and to be honest it can all feel like a bit too much effort when you are busy with work. However with the help of Svitlana and Christian I was quickly able to sort my insurance with no stress. Very attentive, fast responses and clear communication, can't fault them!" – Dave Swanwick
Responsive and supportive
"dealt with 2 relationship managers for a period of 2 years for my insurance and that of my children. Both Emilou Lirit and Sam Higgs were very responsive, supportive, and patient with me. They followed up when needed and took the time to provide me with the support and options that would make my experience and that of my children better. I highly appreciate their service and professionalism." – Samar Naim
FAQs about the Best Health Insurance in Dubai
---
With the best health insurance in Dubai from this list, you should be able to protect yourself and your family from illness and medical emergencies as well as their effects.
Do you know other commendable health insurance providers in Dubai that we should add to our list? Shoot us a message and we'll gladly check them out!