5 Companies for the Best SEO in Dubai
Featured Image Source: Nathana Rebouças via Unsplash
SEO or search engine optimisation helps drive traffic into your website, potentially increasing your sales. If you want SEO's magic to work on your business, it is imperative to get the help of a company that provides the best SEO in Dubai.
In this article, we'll provide all you need to ensure that. First, we'll provide a guide on how to choose the best SEO company, followed by a list of companies you can consider.
We've also included a table of the cost of SEO services in Dubai so you know how much to allot from your company's budget for the service.
How Much Does SEO service Cost in Dubai
Below are the costs of SEO services depending on the size of your company.
These may vary from actual prices. The actual cost may also go up if you get the service of a more experienced SEO agency.
| | |
| --- | --- |
| Geo-Target and Small Business (typically inclusive of keyword research and optimisation, ranking report, on-page optimisation, XML sitemap generation and submission, webmaster tool management, web page content, and unique articles) | AED900/month |
| Medium Business (typically inclusive of keyword research and optimisation, ranking report, on-page optimisation, XML sitemap generation and submission, webmaster tool management, web page content, unique articles, guest posts, backlinks reporting, and social media optimisation) | AED1500/month |
| Enterprise (typically inclusive of keyword research and optimisation, ranking report, on-page optimisation, XML sitemap generation and submission, webmaster tool management, web page content, unique articles, guest posts, backlinks reporting, social media optimisation, blog creation and promotion, article writing, video optimisation, and RSS Feed Creation and Syndication) | AED2500/month |
How to Pick an SEO Company in Dubai
Since you're going to be shelling out quite an amount for SEO services, it is important to make sure that the agency you get will deliver your desired outcome.
To help you determine which agency will benefit you and your company, we've listed a few things you should keep in mind when choosing your business's SEO partner.
1. Get to know their process
A successful SEO agency lays out its process from the start, giving you an idea of how their team is supposed to give you the best SEO service in Dubai.
An effective SEO program should generally include a review of your existing site (site audit), audience analysis, competitor analysis, site optimization, content building, link building, and content promotion.
2. Know their previous clients
SEO agencies usually put up the logos of the brands they've worked with on their websites. This shows you how much experience they have in providing SEO services.
Knowing the industries their previous clients belong to can also help you determine whether they're experienced enough in yours to help you with your company's growth.
3. Read reviews
Online reviews can give you an idea of how an agency works. SEO agencies' former clients usually comment about their expertise, punctuality, and customer service.
Similarly, previous clients' comments on the perceived effectiveness of an agency's SEO service can also help you determine whether the agency can give you the results you want.
The Companies for the Best SEO in Dubai
Now that you know what to look for in a good SEO agency in Dubai, let's get you started with this list of SEO companies below.
1.   Igloo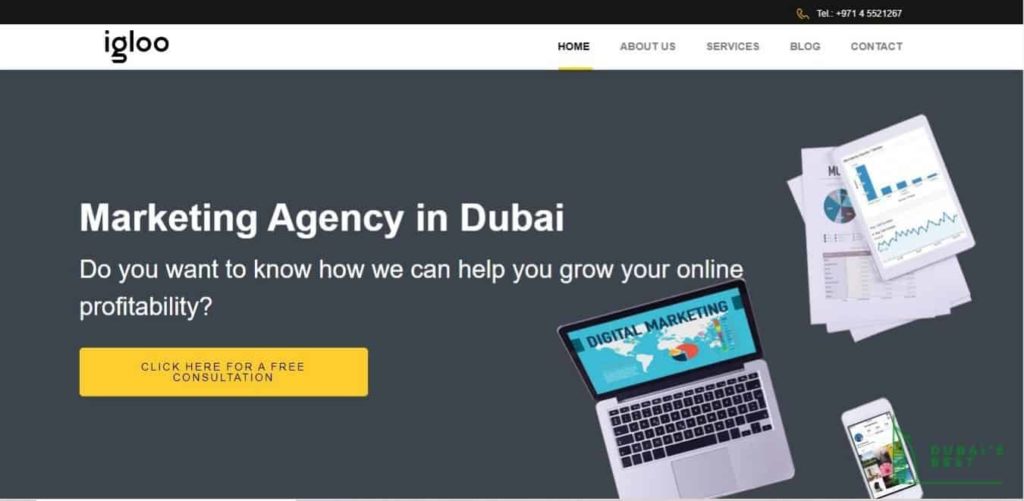 BEST FOR
Communication: they even give you your choice of frequency in reports
WEBSITE
https://www.weareigloo.com/
ADDRESS
1204, Fortune Executive Tower Cluster T, Jumeirah Lake Towers PO.Box: 336101, Dubai, UAE
CONTACT DETAILS
+971 4 4310831
+971 4 5521267


[email protected]

OPERATING HOURS
Sunday – Thursday: 9:00 AM – 5:30 PM
Among its many digital marketing services, Igloo also offers one of the best SEO services in Dubai. The agency uses only white-hat SEO techniques, which means they improve your search rankings without breaking search engines' terms of service.
Before they proceed with their comprehensive process of on-page optimization, off-page optimization, and technical optimization, the team puts great effort into understanding your objectives.
They can report your website's performance bi-weekly, monthly or bi-monthly, depending on your chosen package. Along with this, you get access to a real-time report that shows Igloo's efforts in boosting your site's rankings, your current website traffic, and keyword ranking
What's more, you get a free consultation with Igloo to help you decide whether or not to work with them.
White-hat SEO techniques only
Bi-weekly, monthly or bi-monthly report
Access to real-time report
Free consultation
Limited staff makes one-on-one meetings or reports a little hard to schedule at times
Customer Reviews
Sarah Collins, a previous client of Igloo, said:
"Our relationship with Igloo comes back to 2015 when they were starting in UAE. Since then we realised how professional Igloo was and how different from other agencies they were.
They were very goal oriented and they were able to understand our needs as a client. They have been our digital marketing arm since then and we are so satisfied with their services."
2.   BEONTOP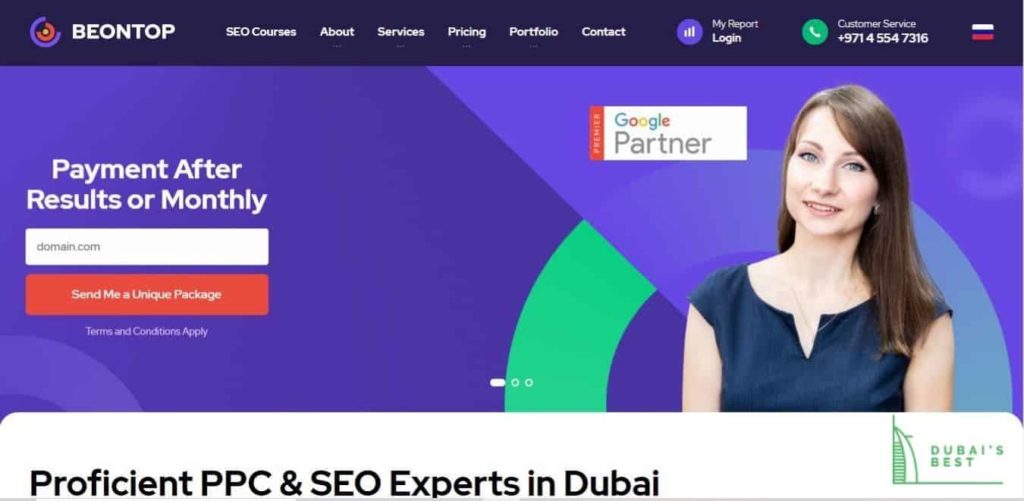 BEST FOR
Helping clients rank in multiple searches
WEBSITE
https://www.beontop.ae/
ADDRESS
Jumeirah Lakes Towers, Cluster T, Fortune Executive Tower, Office #701 – Dubai
CONTACT DETAILS
+971 4 554 7316


[email protected]

OPERATING HOURS
Sunday – Thursday: 9:00 AM – 6:00 PM
BEONTOP's approach to SEO focuses on increasing their clients' return on investment, conversion rate, and website traffic. To do this, they use their own formula of the best white-hat SEO tactics.
Through SEO-friendly content, technical optimization, and online reputation management, they can optimize your website to rank in at least 100 search queries.
They have also developed their own reporting system so their clients can monitor how their websites are performing under certain keywords every day.
With them, you can choose to pay monthly or only after you get results. As seen on their website, BEONTOP has successfully ranked many of their clients' websites on Google in U.A.E.
White-hat SEO
Own reporting system
Payment-after-rank programme for those anxious about results
Some clients find unnecessarily wordy content at times from their copywriting services (this may be a matter of preference, though)
Customer Reviews
Satisfied client Abdenur Mohammed reviewed:
"I have the chance to work with digital marketing agencies over the years. And I have found BeOnTop as a knowledgeable and effective on the task.
Within few months our company entertained good results. I recommend BeOnTop for any business for SEO and Digital Marketing efforts."
3.   Traffic Digital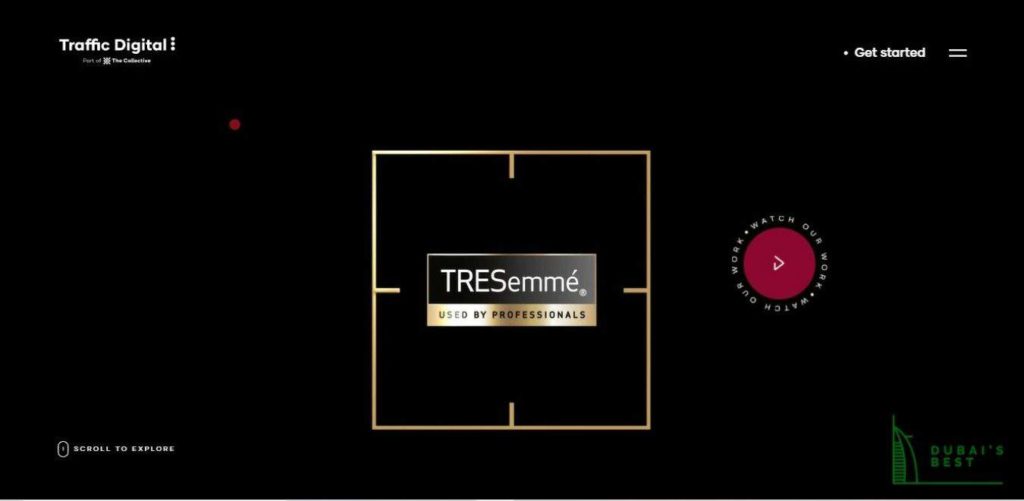 Traffic Digital's team is made up of digital veterans with a knack for Gen Z marketing. They do not just promise to deliver the performance you need but also execute it creatively to catch the attention of younger audiences.
They guide their clients in making the right strategies and ensure that they drive the right kind of traffic through SEO and technical SEO techniques.
They also measure every milestone of your campaign to ensure that they are giving you the best results based on your goals.
Knack for Gen Z marketing
Talent for creative execution
Monitors your campaign's progress with great care
May not be best for brands with an older audience
Customer Reviews
Asad Jaffery reviewed:
"I have always been impressed by the quality of their work & Excellent online marketing perspective they offer to clients."
4.   ParamInfo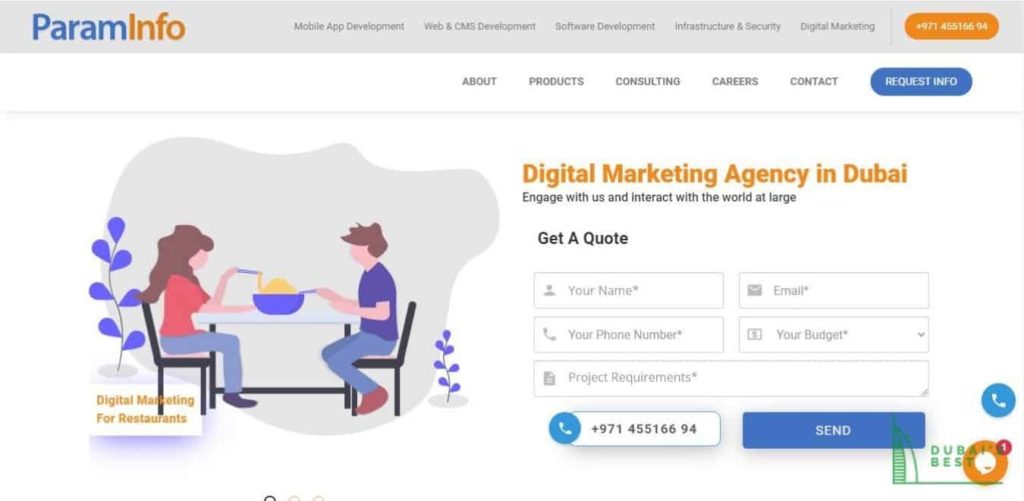 BEST FOR
Close client collaboration and customer support
WEBSITE
http://www.paraminfo.com/
ADDRESS
Office # 1101 The Burlington Tower Business Bay Dubai UAE
CONTACT DETAILS
+971 4 55166 94


[email protected]

OPERATING HOURS
Saturday – Thursday: 8:00 AM – 6:00 PM
As a digital marketing agency, ParamInfo shows a deep understanding of digitalisation and global marketing. Due to this, they strive to provide their clients with services that help them market, promote, and sell their products easily in the digital sphere.
In providing their digital marketing services, including their SEO service, customer satisfaction is their top priority. Their team collaborates closely with clients to ensure that their goals are attained.
Their SEO service also doesn't stop at the completion of a project, with friendly customer support staff ready to help at all times.
Deep understanding of digitalisation and global marketing
Customer satisfaction is top priority
Close collaboration with clients
Friendly customer support staff
Below-average employee management in some regards
5.   7G Media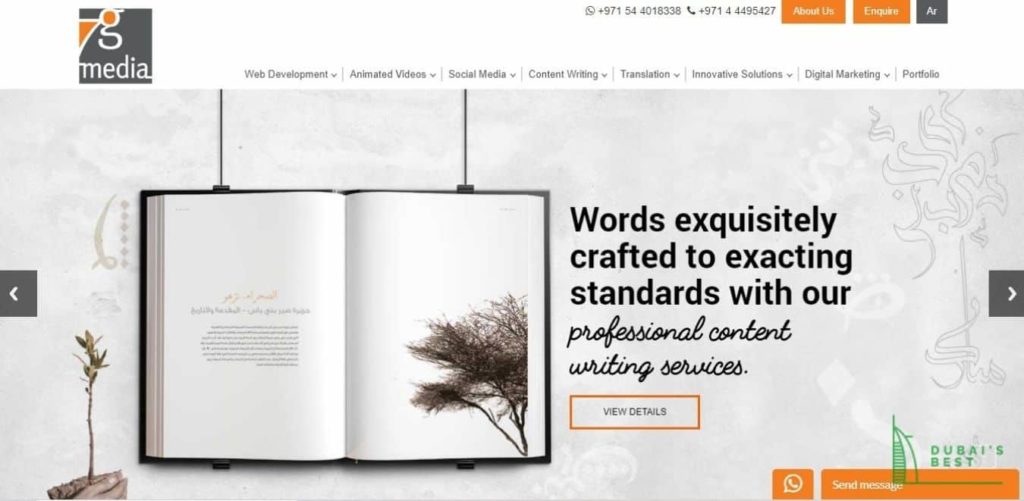 BEST FOR
Well-written, informative, and SEO-optimised content
WEBSITE
https://www.7gmedia.com/en/
ADDRESS
Citadel Tower, Office 404, Business Bay, Dubai, UAE
CONTACT DETAILS
+971 54 4018338
+971 4 4495427  


[email protected]

OPERATING HOURS
Sunday – Thursday: 9:00 AM – 6:00 PM
7G Media offers an array of digital marketing services. However, what makes them one of the top SEO agencies in Dubai is their Arabic and English SEO writing service: it may give your website an edge against your competitors.
In order to give you the best results for their SEO services, they start with analysing your audience and figuring out what drives them.
After that, they not only write content that ranks high on search engines. Their copywriters also ensure that they provide substantial, well-written information to convince your audience to make a purchase.
As for off-page optimisation, they make sure to submit guest posts with your backlinks to niche, credible, and high-ranking blogs to drive traffic to your site.
In short, they combine SEO writing with conversion rate optimisation and link-building strategies. That's just one reason they come so highly recommended.
Strong array of professional writing services offered
Arabic and English SEO provided
Good backlink building record
No website code optimisation service
FAQs about SEO
---
Getting the services of one of these agencies for the best SEO in Dubai can help your company's online presence and sales. Even if none of these SEO agencies resonates with you, there's no need to worry as there are still plenty of good ones you can find online.
Looking to improve your business' website as well, by the way? Check out our list of the best web designers in Dubai here.