The 8 Best Creative Agencies in Dubai
Featured Image Source: Timothy Exodus via Unsplash
One of the key ingredients to the success of any business is effectively drawing in customers to your products or services. When the competition gets fierce, standing out is vital—and that's exactly what a creative agency can help you do!
With a creative agency, you can easily increase brand awareness, improve your aesthetics, and eventually, maximize your profitability.
Most creative agencies often offer a wide range of services. These include working on your brand's logo, producing ad campaigns, and even developing your next product's design!
If you've been on the hunt for a great creative agency, look no further! We've got everything you need to know about searching for the best creative agency in Dubai!
But before we get to our list of the best, find out more on how much a creative agency in Dubai can cost below.
The Cost of a Creative Agency in Dubai
In Dubai and many other countries, creative agency costs vary. Fixed rates are rare because every client's needs are different.
While rates highly depend on the scale and scope of each project, agencies bill clients in various ways.
The most common set-up for agencies and their clients is when the rate depends on the time and materials required for a certain project. Here, a maximum budget is set prior to getting work started and the agency bills you as the project moves forward.
Some agencies also offer hourly pricing and monthly retainers. Hourly pricing usually benefits companies with small and fewer projects, while monthly retainers favor companies with multiple projects.
For standard services, boutique creative agencies in Dubai start at around AED 5000, while bigger firms will start at around AED 15000. Some standard services include simple branding and graphic design jobs.
More complex jobs will likely hike up the rates. If you need a team to work on things like motion graphics, website development, or large-scale campaigns, then be prepared to spend more too.
Here are a few other factors that contribute to a creative agency's rates:
Years of experience and expertise
Agency's clientele
Technology fees
Licensing fees
Media fees
Travel costs
The Best Creative Agencies in Dubai
Now that you know the basics on creative agencies in Dubai, it's time to check out some of the biggest names in the industry. Read up on the best creative agencies in Dubai below!
1. Emirates Graphic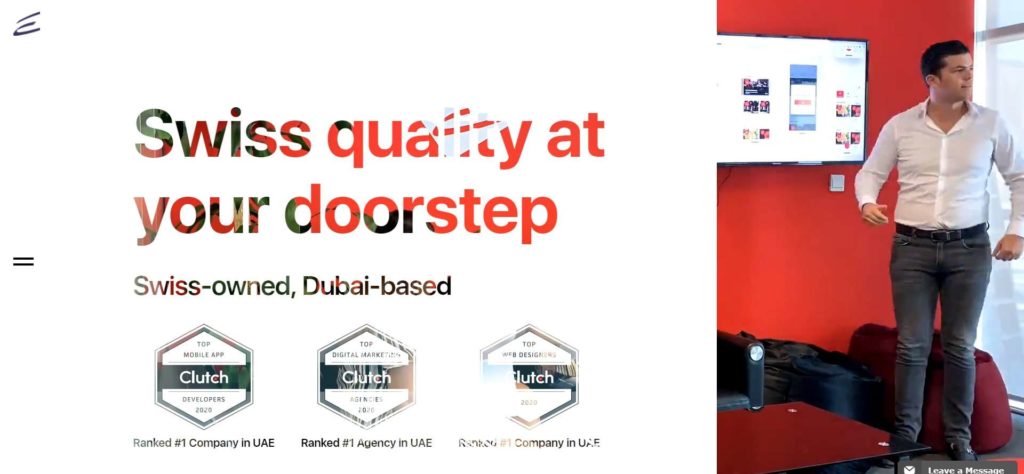 WEBSITE
https://www.emiratesgraphic.com/
ADDRESS
Office 1406, 14th Floor, Tiffany Tower, Cluster W, Jumeirah Lake Towers – Dubai, UAE
CONTACT DETAILS

[email protected]


+971 4 456 6953
SERVICES
Web Design and Development, Mobile App Design and Development, Digital Marketing Services, Branding
Established in 2012, Emirates Graphic has been one of the UAE's most trusted creative agencies for years. In 2020, the agency was ranked #1 in website design, mobile app development, and digital marketing by Clutch.
Always challenging the conventional, the agency is greatly responsible for the success of many businesses in Dubai and around the world. In executing a client's vision, communicating and engaging with the target audience in the most innovative way possible is the top priority.
When it comes to their web design services, Emirates Graphic provides each client with a custom CMS to ensure that they have full admin control over their content. They also include 3 months of technical support and SEO optimization.
As for their mobile app development services, Emirates Graphic guarantees that the apps they design and develop are functional, user-friendly, and optimized. The apps they develop include e-commerce apps, utility apps, game apps, business apps, and augmented reality apps.
Though not their speciality, the agency also offers branding services. They design logos, brochures, flyers, banners, and business cards that match your brand identity.
Emirates Graphic's clientele includes Smart Ship, DineSouq, Modastelle, and Aladdin.
Multiple award-winning agency
Custom CMS for every web design client
Focuses mostly on website design and mobile app development
No 24/7 support
Client Reviews
Many of Emirate Graphic's clients applaud their stellar design ability and professionalism.
Khaled Baghi, one of the agency's current clients, said: "The design of the creative ads and content is professional, and the customer service is good."
Former client and company CEO, Steve Schwartz, added: ""They're better than any agency we've worked with, and they always take time to understand our business in detail."
2. Grassroots Creative Agency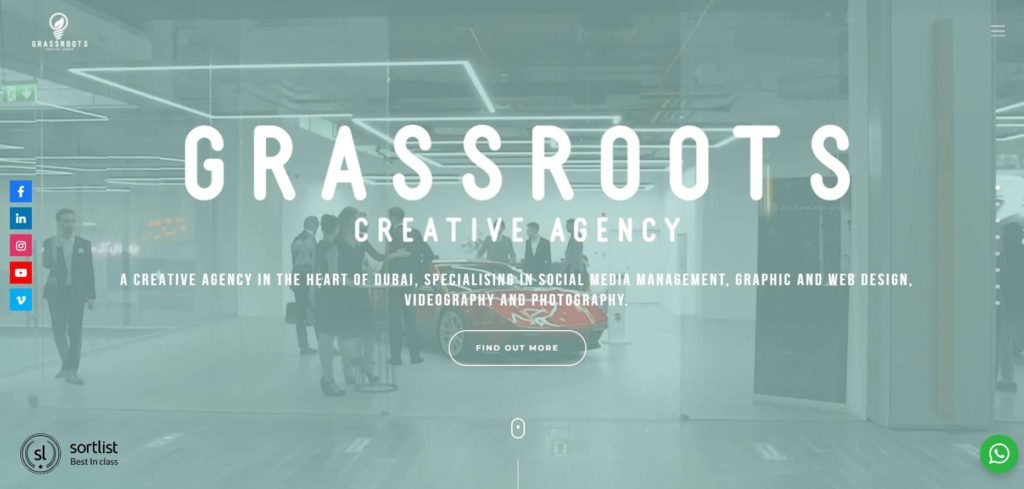 WEBSITE
https://www.grassroots-creativeagency.com/
ADDRESS
Office 902, Al Habtoor Business Tower Dubai Marina Dubai, UAE
CONTACT DETAILS
+971 56 800 1833


[email protected]

SERVICES
Social Media Management, Graphic Design and Branding, Website Design, Content Creation, Digital Marketing, Social Auditing and Reporting
Located in the heart of Dubai, Grassroots Creative Agency was established with the goal of producing innovative creative solutions that incorporate modern design and crucial aspects of social media marketing and growth.
While the agency's small team is still growing, Grassroots boasts of dedicated creatives with over 30 years of combined experience. Some of their most successful work has been on projects in social media management, graphic and web design, videography, and photography.
Believing that no two clients are the same, the agency makes the effort to thoroughly get to know each business before starting on a project.
For social media management projects, multiple kick-off meetings are done before the takeover. This is followed by a review of the client's and their competition's channels, as well as the research phase for relevant information on the industry.
Putting a premium on effectively communicating with customers visually and verbally, Grassroots makes use of both traditional and digital art in creating posters, print ads, and other corporate materials. To save you from hassle, the agency partners with trustworthy suppliers for reproduction too!
Many of the agency's clients are from the hospitality and F&B industry. Their roster of clients includes Nando's, Bagel Yard, Movenpick Hotels and Resorts, and Lexus.
Free strategy call
Offers photography and video production services
Clientele includes both international and local brands
Small team compared to other firms on the list
No 24/7 support
Client Reviews
Grassroots Creative Agency's clients are happy with the agency's output and customer service.
According to their former client, Dr. Francisco de Melo: "What hooked us to Grassroots was the ability to understand our needs as a client, and to provide a versatile range of solutions adequate to our business and profile. They evolve and adapt rapidly to different situations, and always keep us in the loop as decision makers."
In a review posted by another former client, Grant Sommerville: "Grassroots helped us with multiple aspects for our new business including website, shooting content and our social media pages. Everything was clear and simple from start to finish. I would highly recommend."
3. House of Comms.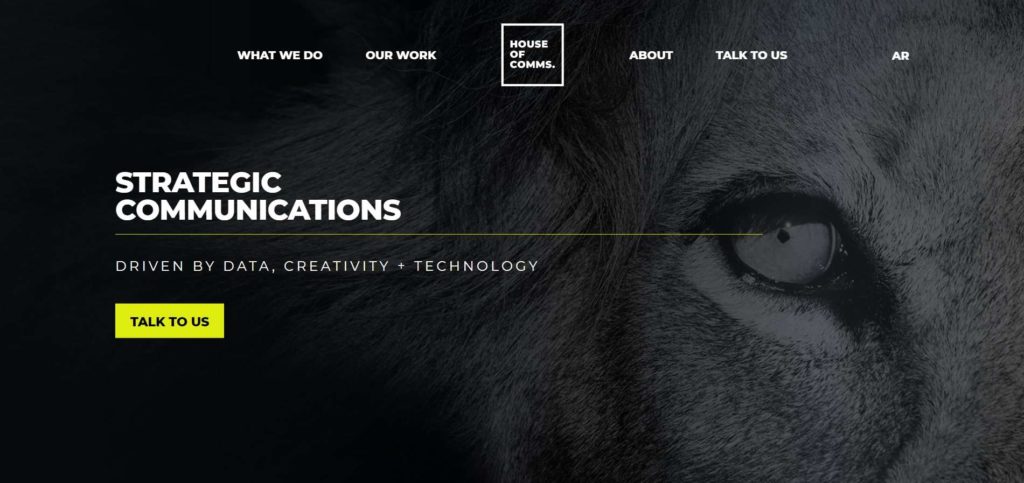 WEBSITE
https://www.houseofcomms.com/en/
ADDRESS
Apex Atrium – 212 Dubai, UAE
CONTACT DETAILS

[email protected]


+971 4 275 4900
SERVICES
Branding, Comms Planning, Research and Insights, Service Design, Advertising, Animation, On-Ground Activation, Graphic Design, Data Science, Digital Marketing, Sitecore, UX Design, Web and App Development, Social Media Management, Content Creation, Paid Media, Film, PR
Founded in 2012, House of Comms has transformed from a small comms agency into an international marketing agency. Other than Dubai, the agency also has offices in Abu Dabi and Riyadh.
In its quest of ensuring your brand makes maximum impact, House of Comms is always on the hunt for the "next awesome thing" that appeals to audiences. As one of the biggest creative agencies in Dubai, it offers a great variety of services, including graphic design, digital marketing, content creation, and even film production.
One of the most important services House of Comms does well is strategy—which is basically your overall game plan. Every month, the agency analyses and tweaks the strategy based on real-time data they get with the latest in analytical technology.
Another thing that sets House of Comms apart from a lot of other creative agencies is their PR services. This includes reputation management, influencer activation, media relations, and crisis communications.
Some of the clients House of Comms has worked with are Acer, Fujifilm, Swiss Global, and Uber.
In-house film and video team
Offers animation services
Offers PR services
No 24/7 support
Concentrates on the Middle East and Africa markets only
Client Reviews
Several reviews from clients testify that the House of Comms team really delivers.
According to a representative from Acer:
"We have been working with the HOC team for the past year and are extremely pleased with the quality of coverage we continue to receive. The team's knowledge of the PR landscape and their strategic focus ensure we are getting the right coverage in the right places and that we are visible. They are proactively always on the lookout for opportunities which fit our brand and challenging us to do things differently. "
Another client, the Dubai Opera, said: "You could not ask for a more committed team of people, who consistently go above and beyond to create exceptional levels of awareness across all platforms and markets. We are absolutely delighted and long may it continue."
4. Epic Communication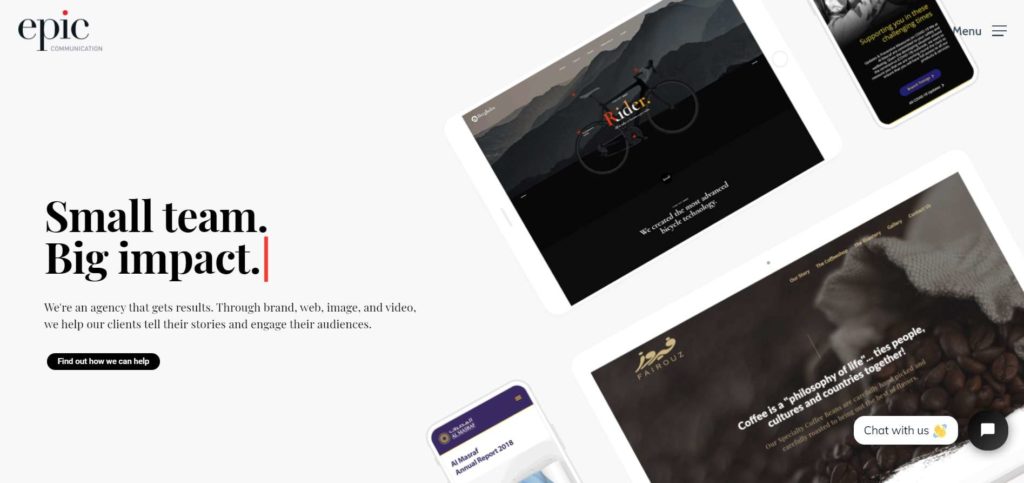 WEBSITE
https://epicdxb.com/
ADDRESS
Office 221, Mardoof Bldg, Block C, Al Safa 1 Dubai, UAE
CONTACT DETAILS
+971 4 320 3525


[email protected]

SERVICES
Social Media Advertising, Web Design and Development, Creative Design, Press Release Distribution, Strategy and Consultancy, Brand Positioning, Videography, Photography, Motion Graphics
Started in 2016 by a passionate marketer, Badr Soueidan, Epic Communications is an all-around creative marketing agency aiming to help brands make a lasting impact on their target audience.
Working on the principle that "anything less than exceptional isn't good enough," the agency promises clarity in your brand essence and genuine and effective communications.
Another one of the few creative agencies that also offer PR services, Epic believes that brands are able to communicate with potential customers in the most authentic way through media relations and influencer marketing.
True to its name, Epic has been instrumental in the monumental increase in the growth of several companies. These include Al Masraf, the United Arab Bank, and the Commercial Bank of Dubai.
While the agency has a variety of services, so far, most of the creative solutions they've worked on have been for banks and finance companies. If your business falls somewhere along those lines, then Epic might just be the perfect fit.
Website features live chat support
Offers PR services
Offers photography and videography services
Presently focuses on UAE market only
Specializes mostly in advertising for banks and finance companies
Client Reviews
Epic's has received positive feedback from past clients.
According to Rejoy Koithara, Epic Communications is "a great agency with apt solutions for any marketing and designing needs."
5.   Vowels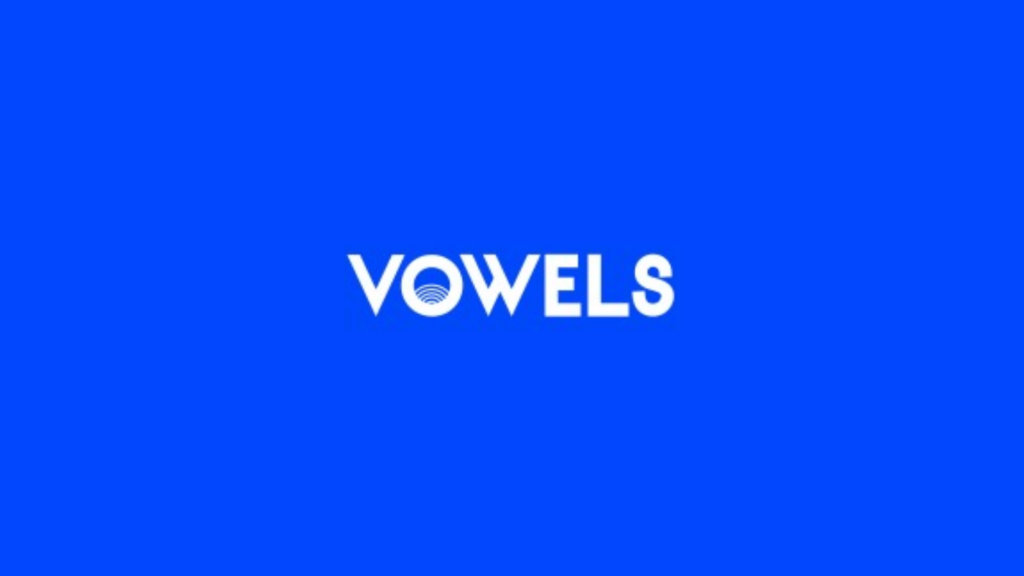 WEBSITE
https://vowels.ae/
ADDRESS
Office Suite 2701, Level 27 API TRIO Tower, Sheikh Zayed Rd, Dubai, UAE
CONTACT DETAILS
+971 800 06512004


[email protected]

SERVICES
Advertising, Brand Marketing, Digital Marketing, Graphic Design, Local Advertising, Marketing, SEO, Social Media Marketing, Video Advertising, Web Design
The success of any creative project relies mostly on smart choices about where and how it will be distributed. This is one of the reasons why Vowels has earned a spot on our list.
Vowels is a branding agency that relies on 21st-century marketing practices to convey the right message to consumers living in the social media age.
With Vowels as your branding agency, you're partnering with professionals who offer real value through intelligent differentiation. Their designers and writers promise to craft identities that are memorable and meaningful, and can deliver a return on investment because their projects are valuable and unique.
What we love the most about them is how they do one-to-one appointments for in-depth discussions for any branding ventures in order for their clientele to see their own vision in a brand-new light.
Though if we had to nitpick something about them, it would be that getting an appointment scheduled with them would be better than being a walk-in customer. Since it is a popular service in a busy part of town, doing so could save you some time.
Overall, Vowels is a go-to branding service that demonstrates a keen awareness of its clients' needs and exceptional examples of creative expression.
Utilizes updated branding techniques
Professional and approachable staff
No 24/7 support
Website is occasionally down
Client Reviews
Vowel's clients have left glowing reviews, raving about their experience with our team.
"We had approached Vowels for a corporate rebranding. We required a complete logo makeover and a corporate identity. Vowels had worked extensively with us to understand our company's values, vision, and requirements. We began with a Discovery Session – a deep discussion that helped us rediscover our company persona and helped align our future direction. This has been very helpful for our team. Vowels had an intuitive understanding of our requirements and a remarkable creative expression. We were presented with multiple options in different directions, and we were highly satisfied with the final chosen logo as it matched our vision." – Praveen Kumar
"TThe level of creativity VOWELS showed for a complete rebranding was impressive. We needed to take our brand in a completely different direction, and they did it very quickly. It was impressive what they understood about the brand and what they put forward from a presentation standpoint .Their enthusiasm for our projects is unparalleled, and it's great to have a partner that's optimistic about what you can create together. Despite both our team and their team being remote (pandemic), they've managed to maintain outstanding communication!" – Ashish Mathur
6.   Amplify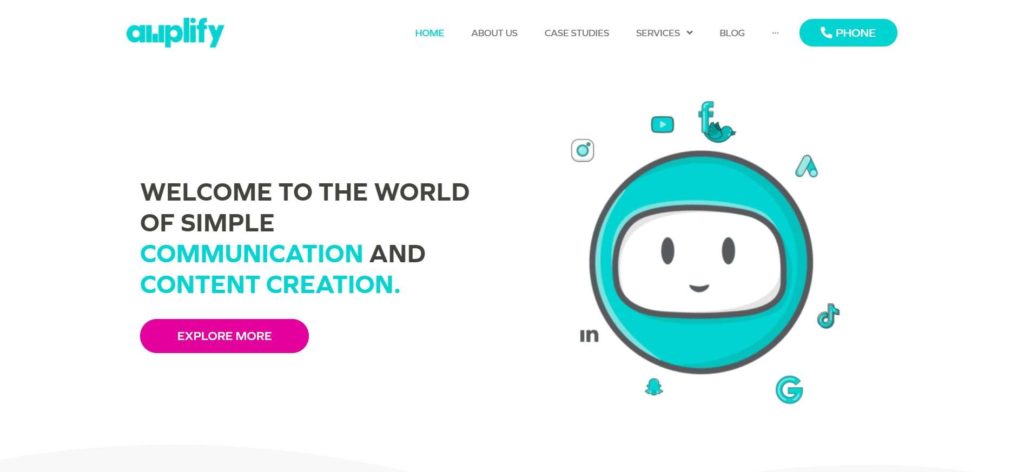 WEBSITE
https://amplifydubai.com/
ADDRESS
Jumeirah Bay X1 Tower X3, Cluster X Dubai, UAE
CONTACT DETAILS
+971 4 234 3498


[email protected]

SERVICES
Creative Design, Digital Marketing, Social Media Management, Content Creation, Strategy, Website and Mobile App Development, Games, Interactive Displays, Mixed Reality Experiences, Events and Activations, Videography, Photography, Animation, Digital Signage, Digital Wayfinding, Influencer Marketing
A firm believer in unrestrained creative thinking, Amplify has been in the business of marketing in the Middle East for over 10 years. A favourite of many major brands, the agency was awarded the prestigious Silver Agency of the Year Award by Ad World Masters in 2019.
Using their methodology, "Discover, Define, Design, Deliver, Data," they assure clients that great results and ROI are guaranteed. For Amplify, it's all about appearing before a potential customer on the right network, at the best possible price.
Marketing, being the agency's primary of expertise, has taken on a whole new modern form at Amplify. They cover all your bases—SEO, digital content creation, social media, influencer activation, and a whole lot more depending on what your brand calls for.
On top of their marketing services, Amplify is totally ahead when it comes to technology! They offer digital services such as holographic displays, AR, VR, interactive floors and walls, and video mapping.
Knowing how much gamification can attract customers and create brand loyalty, the agency has also started to offer mobile and web game development. Here, it's all about competitions, scoring systems, leaderboards, and badges.
At present, Amplify has worked on brands like Fiji Water, Spotify, Victoria's Secret PINK, and Sambazon.
Multiple award-winning agency
Major industry clients
AR, VR, and interactive displays
Develops games
Client Reviews
Many of Amplify's former clients were happy with their project's results and have left great reviews.
Valter of Sambazon said:
"Had the pleasure to work with the Amplify team when launching our Sambazon Açaí Social Media channels in the UAE. Super committed and reliable team! Experts in the digital field with a lot of insights for the approach we needed it. Very organized from planning to execution."
Another client, Dana Buchawieki, said: "The knowledge base, professionalism, and overall project management were second to none…I highly recommend them to anyone needing professional consulting, development, or guidance within the tech field. Well done, Amplify!"
7.   Whyletz Designs LLC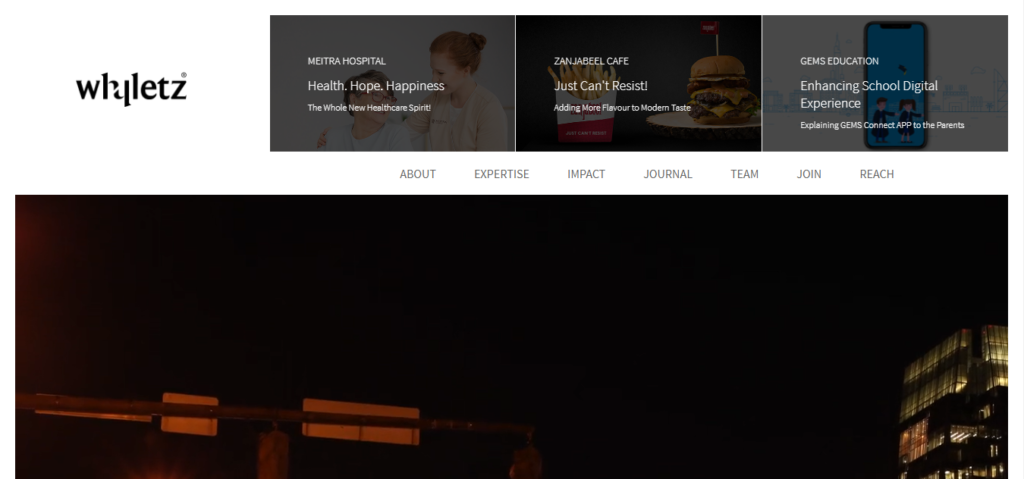 WEBSITE
https://whyletz.com/
ADDRESS
Whyletz Designs LLC
601, Business Village-B
Port Saeed, Deira Clock Tower
Dubai, United Arab Emirates
CONTACT DETAILS
+971 52 739 4696
+971 55 677 9878
SERVICES
Strategy, Design, and Management

Whyletz Designs LLC is a strategic branding agency and creative design studio. With their incomparable striking strategy and powerful communication tools, they are able to build brands that can inspire!
Their core expertise is in brand development – they are very good at developing the right brand strategy and creating the best brand identity design for your company.
Apart from that, they deliver good quality designs for digital, web and packaging. They manage digital marketing for clients to activate and grow the brands online.
Experts in brand development
Quality oriented boutique agency
Excels in strategy and design
Retail branding and space design
Not into 360 degree communications as an advertising agency
Takes up limited and quality projects at a time.
Client Reviews
Here are some reviews of Whyletz Designs' previous clients:
"Just in simple words. This team is awesome!!!!"
"Great team who can deliver amazing experiences and can take your digital experience to a whole different level. Thanks for the truly exceptional work, that always exceeded expectations. I am glad to be associated with Whyletz"Great team with highly creative works. Delivery on time and perfect client communications ensure that there is no space for any uncertainty. Very professional in understanding the client brief and in their work timeline. Would highly recommend them to anyone!"
8.   Trivium

WEBSITE
https://www.triviumconcepts.com
ADDRESS
2303, Palace Towers, Dubai Silicon Oasis
P.O. Box 27504 Dubai, UAE
CONTACT DETAILS
+971 4 332 3302
[email protected]
SERVICES
Brand consultancy, Brand positioning and naming, Photography, Website Design and Development, Social Media Marketing

Trivium is an independent creative agency that caught our eye because of its experiential marketing. Seeing that the world is oversaturated in content and social media, it takes a great agency to not only stand out in a crowd but also pull in people.
We were impressed by the services that Trivium offers its clients. These range from brand positioning, brand identity, and design, to 3D modeling, animations, and web design and development.
Compounded with their expertise in experiential marketing, they are a good pick if your niche is particularly on your online branding or presence. They may be a good part of your team if your main goal is to grow your online following.
Though we note that currently there are no reviews for them on Google or any other platform. Thus, we couldn't really get the total feel of how their current and former clients' thoughts on the company.
That being said, we are willing to bet that Trivium offers quality services. They are willing to work closely with their clients and are willing to think outside of the box.
Wide variety of services
Branding is a strong specialty
Corporate gifts available
Arabic translation and adaptation available
No reviews for their services can be found
How to Choose the Best Creative Agency in Dubai
If you're wondering about what you need to factor in when choosing the best creative agency in Dubai, here are some tips to remember:
1. Choose an agency that can work within your budget.
Once you set a budget, it's always important to stick to it. Many agencies are flexible with rates, so negotiate for the best deal if you can.
Remember: the end goal of hiring a creative agency is really to maximize your profit. You clearly can't do that if you're overspending on your ads or website design.
2. See if their expertise matches what you need.
Creative agencies have different strong points and you'll definitely want to get one that specializes in the things you need.
Simply put, don't pick out an agency that's best in social media content if what you really need is a solid website design.
3. Look at their portfolio and list of clients to see if they work for your brand.
Creative agencies also have different styles and methods. Check out the work they've done for past clients to get a feel of how they might execute your project.
While you're at it, try to look up more client reviews too. On top of their styles and methods, you're going to want to get a team with an excellent work ethic.
FAQs about the Best Creative Agencies in Dubai
---
Advertise effectively, increase your website traffic, and dominate social media with the help of the best creative agencies in Dubai!
Want to recommend another creative agency in Dubai that should be part of our list? Drop us a message!
Found the perfect creative agency but haven't actually started your business? Set up your company with the best firms for company formation in Dubai!