Top 5 Financial Advisor Firms in Dubai
Featured Image Source: Geralt via Pixabay
Want your money to work hard for you? To be honest, it's easier said than done.
Monitoring investments regularly or allocating assets is a tedious process that may not be for everyone. But don't worry because you don't have to deal with it all alone.
Need help in keeping your short-term or long-term financial goals on track? You've landed in the right place because today, we're going to review some of the top financial advisor firms in Dubai.
How much do financial advisory services cost in Dubai?
Most financial advisor firms in Dubai cater to a broad range of services. Due to that, the fees they charge can change depending on the requirements of the client.
Most firms are paid through the commission they get from the sales of their investments or financial products, while others are remunerated based on the assets they manage.
A few firms also charge their customers a flat fee for a list of services they offer for a certain period of time. Others offer hourly rates.
We made this table below for you to have a glimpse of the most common ways a financial advisory firm charges for its services. Please note that these are just estimates, and the rates can still vary depending on your chosen provider.
Commission-Based Fees
3% to 5% – per year for insurance products
0.25% to 1% – per year for mutual funds
1% to 4% – per year for annuities
Assets Under Management Fees
1% to 2% – per year depending on the client's net assets
Flat Annual Fees
7000 AED to 28000 AED on retainer
Hourly Rates
700 AED to 1500 AED
Top Financial Advisor Firms in Dubai 
Here are the factors we used to analyze each of the advisory firms:
1. Arlo and Harrison Rowe (AHR) 

SERVICES
Investment Management
Insurance
Trust Planning
Retirement Planning
International Wills 
Currency Transfers
Property Investment
Education Fee Planning
Pension Transfers
Tax Planning
Lifetime Allowance
Inheritance Tax Planning
ESG Investments
WEBSITE
https://ahr-uae.com/ 
ADDRESS
1201 Marina Plaza Tower 214984 – Dubai – United Arab Emirates
CONTACT NUMBER
+971 4 571 2600


[email protected]

 
OPERATING HOURS
Sunday – Thursday 9 AM – 6 PM
Arlo and Harrison Rowe (AHR), also known as AHR Private Wealth, is an independent financial service provider formed by merging two leading financial advisory firms in the UAE – Arlo Wealth and Harrison Rowe.
Although AHR is newly formed, its extensive global networks and highly experienced teams from both sides made it easier for the company to establish a trusted reputation. It's also the reason why it's not surprising to see excellent reviews from their clients.
Now, it's primarily led by Daniel Dickinson, a financial advisor with over a decade of experience. He is Arlo Wealth's former chief executive officer and also the chief commercial officer of another financial service group, PraxisIFM, which we like because it speaks volumes about his expertise in the industry.
Aside from that, we also admire their goal to provide holistic services and impartial professional advice to help their customers attain their unique financial needs and expectations. That may be the reason why their regular menu of services covers a broad spectrum of personal finance.
However, if your requirements do not fall under it and you need expert advice and guidance for your business's finances, don't worry because they have a separate team for you.
AHR Corporate Advisory Services is an independent and multidisciplinary branch of AHR that is responsible for identifying and resolving business issues as well as optimizing and maximizing possible business opportunities.
For your convenience, they also have helpful tools on the website, which include an education fees calculator, life insurance calculator, mortgage calculator, and retirement calculator.
Offers a range of financial advisory services for individuals
Has a separate financial advisory team for businesses 
Has calculator tools on their website
Closed during Fridays and Saturdays 
Newly built company
Client Reviews
Honest and genuine
"For the past year I have been a client of Harrison Rowe's and couldn't be happier. When I first contacted my advisor for financial consulting and advice I always found him to be honest and genuine. He never pushed me towards any particular product but rather showed me a list of option and gave solid facts on them based on extensive knowledge. One year on and I am happy with the recommendations that my advisor gave me, and the pension plan that he helped me set up, my savings have grown and when we meet every quarter it is always a pleasure." – Sarah Mackenzie
Good advice and results
"Delighted with the professionalism and performance from Asad and his support team. Always there when you need them. Good advice and results with my investments. Looking forward to a prosperous future working together." – Israel Sanders
2. Century Financial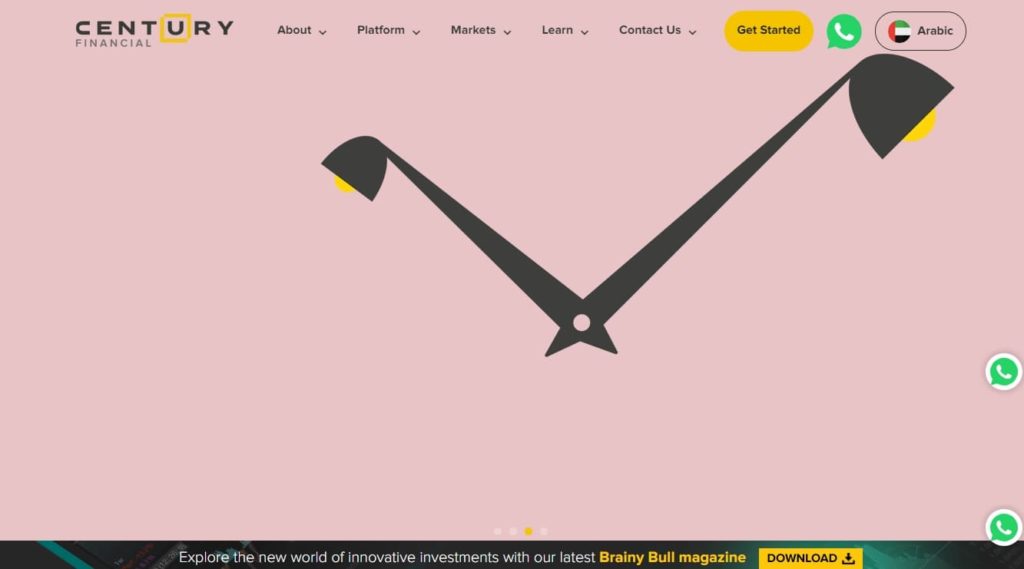 SERVICES
Investments and Trading (through currencies, indices, shares, commodities, treasuries, ETP, CFDs)
TradeRoom (trading)
MT4 Platform (currency trade) 
CQG Platform (trading, market data, charting, analytics)
TWS Platform (in-depth news, technical research, risk analysis)
WEBSITE
https://www.century.ae/en/ 
ADDRESS
Level 6, Building 4, Emaar Square, Downtown – Dubai – United Arab Emirates
CONTACT NUMBER
+971 4 356 2800 


[email protected]

 
OPERATING HOURS
Monday – Friday Open 24 hours
Saturday – Sunday 9 AM – 10 PM
Century Financial is an excellent financial advisory firm for investors who wish to experience trading on the go. With over three decades of focus on investments and trading, they have become a leading firm for local investors and expatriates in Dubai.
What's worth noting about this multi-awarded firm is the variety of trading instruments and platforms they offer. Their trading apps can be easily downloaded on mobile devices so clients can conveniently keep up with their assets and investments no matter where they are and what they're doing.
Of course, you still need to schedule a consultation with them before you can start anything, but this will not be a problem since you can do it all on their website. Should this not be enough, their office is available 24 hours during weekdays and also open on weekends.
And there's more! They also gained some brownie points with the 'Learn' button on their website, which features webinars/seminars, video tutorials, and other helpful information about trading and investments.
All told, Century Financial's great customer service and offers are worth considering.
The only problem we see is that it doesn't offer insurances or plans compared to other entries in this list. So if you're looking for educational plans, retirement plans, or life insurance, this company is not the best pick for you.
Open 24 hours during weekdays
Offers various mobile apps and platforms 
30+ years in the industry
Services are more focused on online trading and  investments
Client Reviews
Very responsive customer support team
"I have always been able to resolve all of my queries with Century Financial with the help of their customer service team. They have a very responsive customer support team. I received a prompt and accurate response." – Deo Marcol
Help me change my life
"I have been trading with Century for more than 1 year now, and with that I am really satisfied with my investment that I have withdrawn, it will help me change my life." – Edmosh VJ
3. AES International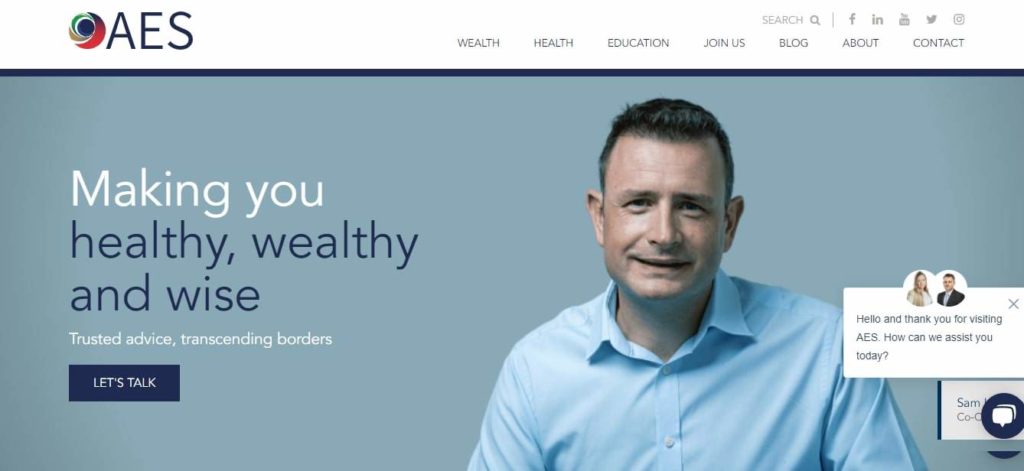 SERVICES
Wealth Management
Investment Advisory
Consultancy Services
Financial Planning
Retirement Planning
WEBSITE
https://www.aesinternational.com/ 
ADDRESS
Level 2, Exchange Tower – Al Mustaqbal St – Dubai – United Arab Emirates
CONTACT NUMBER
+971 4 559 4900


[email protected]

 
OPERATING HOURS
Sunday – Thursday 8:30 AM – 5:30 PM
AES International was founded in 2004 with one mission – create positive change for their clients and also their profession. You see, this financial advisory firm aims to offer independent investment management and financial planning using a different approach.
Compared to most traditional financial advisory firms in Dubai, AES does not earn from any commissions or sales incentives.
Since they are the only fee-based planning firm within the Gulf Cooperation Council (GCC), you can expect a fairly distinct way of transacting. It means that you will be paying for their professional advice and services at the "à la carte" rate.
Well, some might think that it's a disadvantage. But remember: not everything that's different is bad, so hear us out.
We like this approach because all their services will be quoted upfront, so you can use their transparent charging model and avoid getting surprised by any hidden fees.
You can pay a percentage for the assets you're letting them manage, opt for a fixed fee or use a combination of both if you prefer.
Among other things, there's not much to dislike about their offers as a whole. However, AES International's full financial planning services are geared towards investors with 1,000,000 AED (250,000 EUR) or more, so it might be better to look for other options if you're still not in that bracket.
19 years in the industry
Fee-based planning firm
Not open on Fridays and Saturdays
Full financial planning services are most suited to investors with assets over 1,000,000 AED ( 250,000 EUR)
Client Reviews
Transparent and easily accessible
"I feel confident that AES International are managing my investments professionally within the risk boundaries set by myself. Information regarding performance and fees is transparent and easily accessible. When I have questions, they are answered promptly and personally." – Kevin Smith
AES International have my best interests at heart
"I'm confident the AES International have my best interests at heart as they took time to understand my personal situation and goals before recommending a suitable and appropriate investment. All of the team are readily contactable, and advice is offered in an easy understandable manner, but with as much detail as you require. I like the regular reviews with my adviser to ensure that my investment is on track, and matches my current goals. I really couldn't be more content with my decision, and would happily recommend them." – Mark Showler
4. deVere Acuma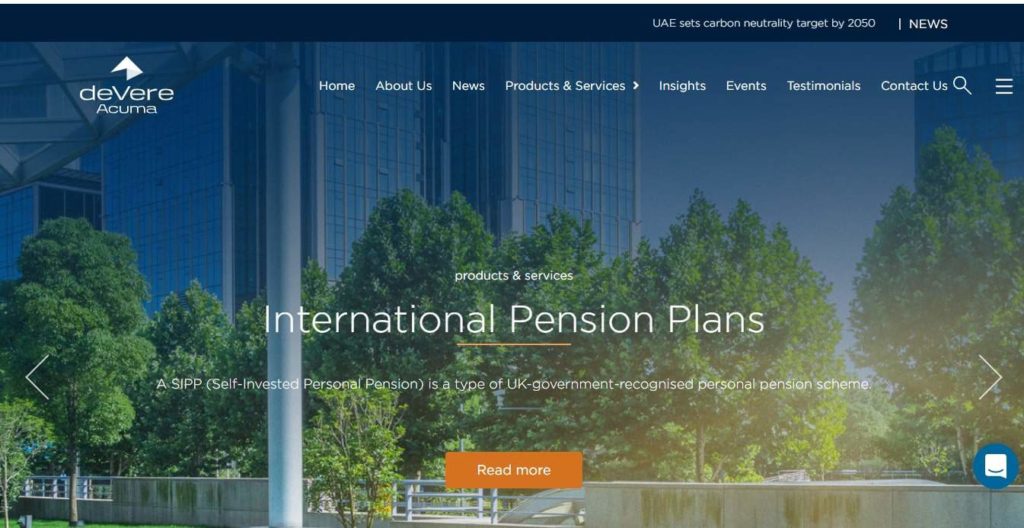 SERVICES
Life Assurance Policies
Education Planning
Savings Planning
International Pension Planning 
Tax Planning
WEBSITE
https://www.devere-acuma.com/ 
ADDRESS
401, H Hotel Office Complex – 1 Sheikh Zayed Rd – Dubai – United Arab Emirates
CONTACT NUMBER
+971 4 503 4700


[email protected]

 
OPERATING HOURS
Sunday – Thursday 8:30 AM – 5:30 PM
Nigel Green, founder and CEO of deVere Group founded this firm in 2002. Since then, deVere Acuma has become one of the most trusted independent financial advisory companies in the world.
Although their managerial and administrative center is in Dubai, they also operate over 70 office locations worldwide, which is a great advantage. This only means that they have created extensive global networks and formed reputable relationships with other financial institutions.
To address each of their client's financial needs and goals, they offer a range of bespoke financial planning solutions, including savings plans, education plans, retirement plans, pension plans, and even international life assurance policies.
Once you become their client, they will immediately provide you with a personal financial advisor. You can contact and meet them regularly, so if you have any queries or concerns, you can guarantee that they will be addressed on a one-to-one basis.
Based on the numerous positive reviews from their clients, this firm seems to be getting the results they promise.
Just note that their services are heavily focused on insurance. Although an insurance plan is a form of investment or security, this might not be the best pick for you if your goal is to invest and grow your money now.
Caters to expatriates and international clients based in the UAE 
Offers bespoke financial plans 
Not open on Fridays and Saturdays
Only offer insurances 
Client Reviews
Imperative to my financial planning
"After being an expat for many years and meeting an abundance of IFAs. I have to say that the quality of service, advice and information i have recieved from my consultant Martin O'Malley has been imperative to my financial planning." – Kelvin Matthews
Meticulous, competent and very efficient
"Ali presents himself in a professional way as he is meticulous, competent and very efficient. When it comes to the issue of financial advice he is the man to go to as he is fully aware of what he is talking about. He breaks the smallest of things down for me as I am new to this and is very supportive. I would definitely recommend his services" – Himmesh Malthora
5. Finsbury Associates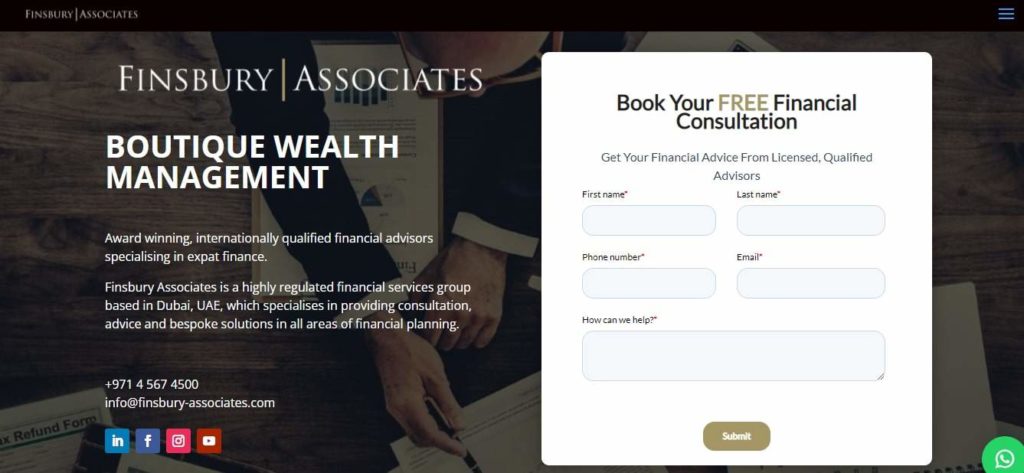 SERVICES
Critical Illness and Life Insurance
Investment Planning 
Estate Planning
Property Consultation
Pension Planning
Wealth Management
WEBSITE
https://finsbury-associates.com/ 
ADDRESS
16th Floor Ubora Tower, Business Bay – Dubai – United Arab Emirates
CONTACT NUMBER
+971 4 567 4500


[email protected]

 
OPERATING HOURS
Sunday – Thursday 8 AM – 5 PM
With over four decades of experience in the field, Finsbury Associates has become a well-established and award-winning financial advisory firm in Dubai.
One of its best features is the broad range of services it offers, including investment planning, estate planning, property consultation, pension planning, wealth management, and even insurance.
However, we do think this was part of their plan: to get their clients to find all their financial service requirements in one place.
Some would think that finding all you need in one firm is also an excellent advantage for the clients, especially now that Finsbury Associates is offering a free financial consultation.
Well, it is (in some aspects), just don't forget to be careful when doing so because, as the saying goes, it's not always good to put all your eggs in one basket.
Among other things, their team is also commendable when it comes to talent and expertise because, according to them, they only employ internationally qualified advisors who are level 4 to level 7 Chartered Institute for Securities & Investment (CISI) qualified.
That backs up their goal to ensure that their client will always have easy access to qualified financial advisors that can help them safeguard their financial situation and attain their financial goals.
Provides a range of financial advisory services 
Experienced financial advisors
Closed on Fridays and Saturdays
Client Reviews
Very responsive and extremely transparent
"I cannot stress enough how helpful and highly supportive Neil Stewart from Finsbury Associates has been during our investment journey. As a skeptic when it comes to financial advisory services, I was somewhat nervous about finally doing something with my savings. Neil was so very responsive and extremely transparent about everything and gave me confidence in him first and foremost, but also the group. Another reassuring feature of Finsbury Associates is that there is no cold calling and clients have to seek them out. I am very happy and hugely satisfied to have taken what was a big step for my family with Neil and Finsbury Associates." – Jade Peter-Swain
No hard sell or cold calling
"I was told about Finsbury Associates and Ben Stockton from a good friend. When I asked more friends it seems many had the same positive feedback and transferred their savings plans over to him. There is no hard sell or cold calling. He is straightforward and very personable. I transferred my offshore savings plan over to him and saw an immediate positive growth , the likes I had not seen in years. I recommend Ben Stockton at Finsbury associates for all your financial needs." – Lee Holmes
How to Select the Best Financial Advisory Firm in Dubai
Now that you've finished our review of the top financial advisory firms, let's dive right into the ways you can pick the best one for your financial goals.
1. Determine what services you really need.
Before you even schedule a meeting with a financial advisor, it is essential to assess and determine which part of your financial life you require help/guidance with. This can help you better explain your money management requirements and also your financial goals when you first meet them.
2. Research how they charge for their services.
As we've discussed above, financial advisory firms are paid in a variety of ways. It can differ based on the services/products they offer and the client's requirements and goals.
There can be traditional financial advisors in Dubai who might take advantage of you when offering commission-based services/products. So, we recommend that you always check if the ones they are offering will work in your financial situation's best interest.
3. Check their credentials and rates.
Money matters are always a big deal. No matter how substantial or how little you plan to invest, it is vital to look for a firm you can trust and depend on.
Make sure to check their credentials before signing up. Besides that, don't forget to look into their rates because you don't want to end up draining your savings just to avail of their services.
FAQs about the Financial Advisory Firms in Dubai 
---
Is there a financial advisory firm in Dubai that you might want to share with us? Just shoot us a message, and we'll look into your recommendations as soon as we can.
Anyway, if you prefer to know more about where you can invest your money, don't forget to see our reviews on the best stock brokers in Dubai.