The 8 Best Bookkeeping Services in Dubai
Featured Image Source: Scott Graham via Unsplash
There are no easy days for thriving businesses. With the number of financial transactions that happen on a daily basis, it gets hard to keep track of everything—that's where bookkeeping services come in!
In a nutshell, bookkeeping is a systematic way of recording and organizing a company's financial transactions and activities. This includes your funds, expenses, receipts, and sales.
While bookkeeping may be optional for small businesses, Dubai law requires registered companies to maintain the books of account. UAE laws also dictate that books of account must be kept for a minimum of five years.
If you've got a business and need help managing your ledgers or a company looking to hire efficient bookkeepers, we have everything you need to know about the best bookkeeping services in Dubai!
But before we continue to our list, let's talk about how much you'll need to spend on bookkeeping services in Dubai.
The Cost of Bookkeeping Services in Dubai
Many top bookkeeping services are provided by accounting and audit firms that provide a full range of services. Because of this, rates vary for bookkeeping alone as most of the rates published are packages that include both accounting and bookkeeping.
Nonetheless, bookkeeping packages can cost you somewhere around AED 600–AED 6,000/month or AED 10,000–AED 25,000/year.
These rates heavily depend on the following factors:
Package inclusions
Expertise of a firm
Size of your business or company
Number of transactions
How many months you'll be availing of their services
The Best Bookkeeping Services in Dubai
Now that you know more about the cost of bookkeeping services in Dubai, it's time to choose a bookkeeping service that fits your company's needs! Check out our top picks of the best bookkeeping services in Dubai!
1. CDA Accounting and Bookkeeping Services LLC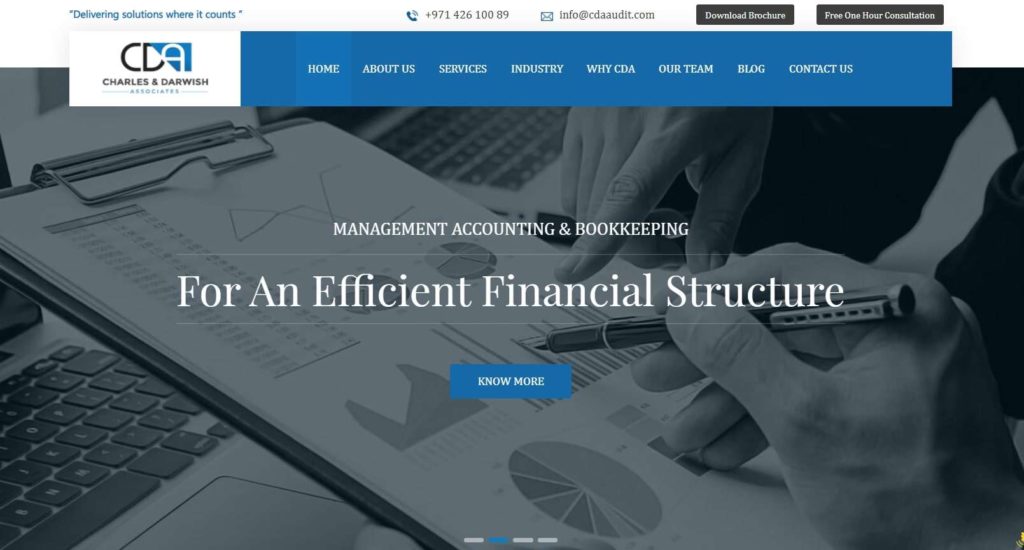 With the main goal of providing trustworthy financial services to various ventures, CDA provides services that include accounting, business advisory, auditing and assurance, VAT consultancy, accounting software consultancy, and payroll services.
CDA boasts of a team of skilled management accountants and bookkeepers that you can count on for well-organized work and full transparency. Their services relieve you of plenty of administrative burdens and legalities.
Their bookkeeping services include recording and compile your transactions, categorizing expenses within the ledger, reviewing the accuracy of the ledger, reconciling bank statements, and eventually producing financial statements based on the gathered data.
CDA guarantees to bring cost-effectiveness and financial discipline into your business. Beyond bookkeeping, they consider your financial goals and advise you on strategies that can enhance your company's growth.
Flat fee advance payments are done monthly. Their rates depend on the frequency of visits, number of transactions, and level of activity.
CDA's clients include businesses in real estate, construction, trading, and oil and gas.
Customizable bookkeeping packages
Firm's focus is on management accounting and bookkeeping
Offers 24/7 live customer support
Offers free consultation
Offers virtual bookkeeping services
Exact rates are undisclosed
Client Reviews
CDA's clients have left stellar reviews.
A current client, John Sebastian, says he was "driven away by their financial expertise."
He also adds: "The team handles their work effectively, helping the client improve the company's business. They are experts on what they do and deliver work accurately."
According to another client, Nabil Yasin: "They have vast experience in the industry and an extremely qualified staff."
2. Farahat & Co.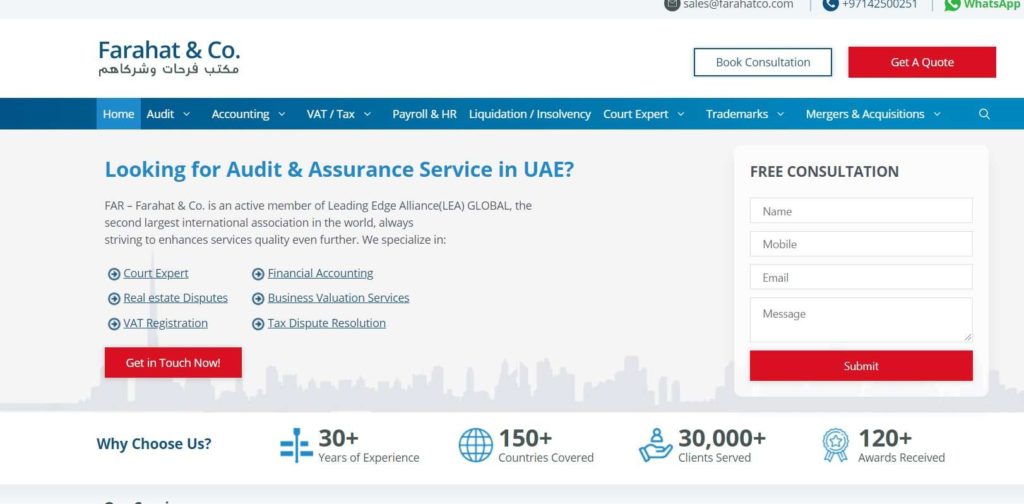 WEBSITE
https://farahatco.com/
ADDRESS
IBIS Hotel Building Office Entrance 5th Floor, Office No.: 5001, Rigga Road Dubai UAE
CONTACT DETAILS
+971 55 370 1232


[email protected]

COST
AED 1000/month for 100 transactions
AED 1500/month for 101-500 transactions
AED 3000/month for 501-1000 transactions
AED 5000/month for 1001-5000 transactions
Consistently offering quality financial and legal expertise, Farahat & Co is a multi-awarded company with over thirty years of experience and more than 30,000 clients served.
Farahat & Co's bookkeeping services essentially includes cleaning your books and getting your disorganized records in order. This ensures that your records are always up-to-date and accurate.
You also get to monitor your finances closely through their monthly/quarterly/year-end reviews and financial statements. With these services, you're always aware of your company's financial condition and able to quickly deal with any areas of concern.
More specifically, bookkeeping packages include journal entries preparation, posting of revenue/sales, posting of payments, petty cash accounting, payroll accounting, project accounting, and other tasks to ensure your company's finances are systematized.
Among Farahat & Co's list of bookkeeping clients are companies like GameLoft and Halcom.
Reasonably-priced accounting + bookkeeping packages
Multi-awarded firm
Offers legal consultancy
Offers free consultation
Company's focus is not bookkeeping
Contracts are on a yearly basis
No 24/7 customer support
Client Reviews
Many clients have commended Farahat & Co. for their professionalism and skilled experts.
Ahmed Derda, CEO of ADMA Capital General Transport, says: "They're well-organized and do the work on time without mistakes."
Another client, the founder of Aghaty Cafe, highly recommends Farahat & Co, saying: "They gave me the guidance and support I needed for my business accounts."
3. IBG Consulting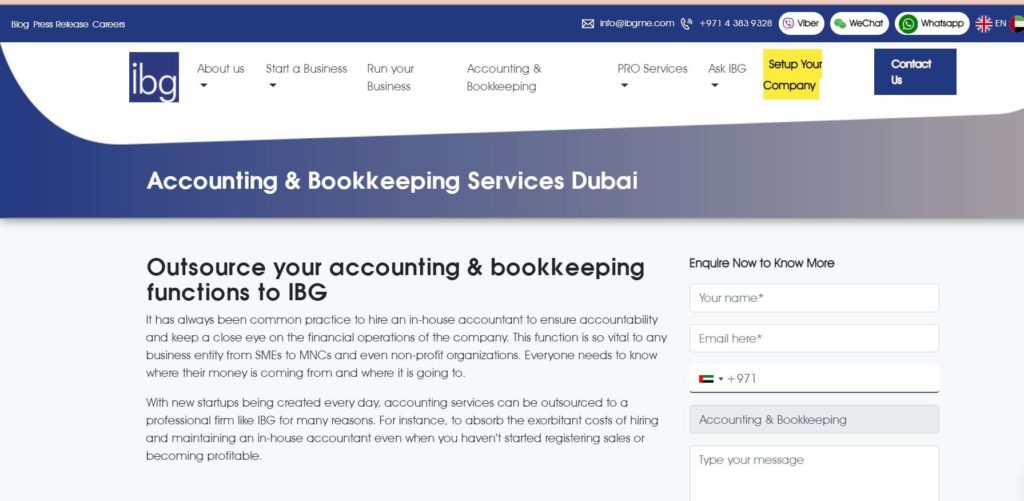 WEBSITE
https://ibgme.ae/
ADDRESS
Office No. 2008, Regal Tower, Business Bay, Dubai UAE
CONTACT DETAILS
+971 4 383 9328


[email protected]

COST
AED 600/month or AED 1620/quarter for 20 transactions (Bronze Package)
AED 800/month or AED 2160/quarter for 50 transactions (Silver Package)
AED 1200/month or AED 3240/quarter for 100 transactions (Gold Package)
Established in 2013, IBG Consulting has been providing companies with several business solutions such as forming onshore and offshore companies and handling complex international business structures.
Although bookkeeping and accounting are not the focus of their firm, many companies still choose to avail of this service from them because of their affordable rates and quality service.
Their packages are also more conducive to SMEs on a tighter budget. For only AED 600/month for 20 transactions or AED 800/month for 50 transactions, you get accounting and bookkeeping services that cover everything from financial reports to VAT services.
If you run a large company, you obviously have more day-to-day transactions that require constant monitoring. For only AED 1200, you get accounting and bookkeeping services for up to 100 transactions.
Apart from their affordable rates, what sets IBG apart from other firms is their accessibility. For every package, they assign an account manager who serves as your primary point person for all of your needs and queries.
Reasonable rates for Accounting + Bookkeeping packages
Offers free consultation and quotation
Offers 0% instalment plan
Dedicated account manager per client
Choice to pay monthly or quarterly
Bookkeeping is not their specialty
No 24/7 customer support
Client Reviews
Many of IBG Consulting's clients have left great feedback over the years
Former client, Jennifer Silva of AromaPlus, described them as "very professional and supportive."
On the other hand, Rickee of PRO Services said: "They go above and beyond—SUPERB customer service!"
4. Alpha Equity Management Consultancy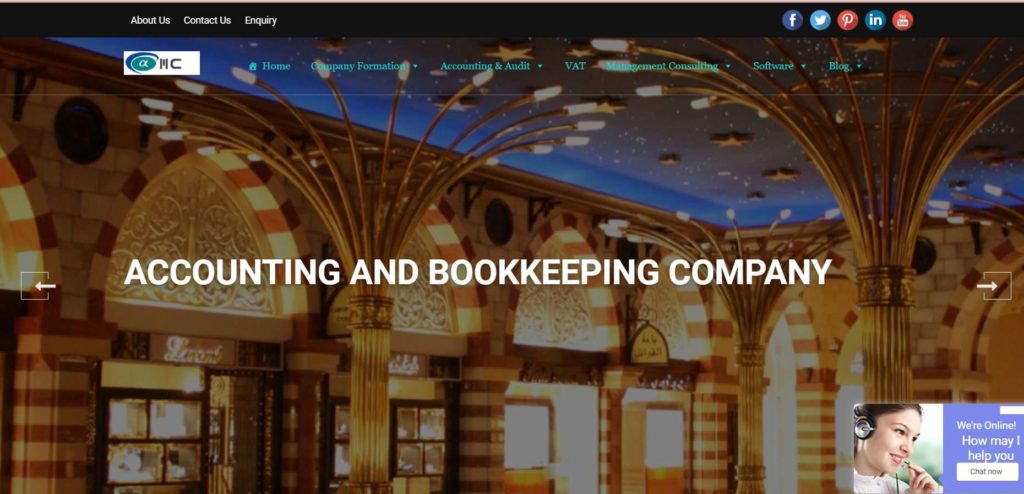 With two decades in the industry of accounting and business consultancy, Alpha Equity has managed to garner a long list of loyal clientele. Some of their clients include Shaboury, Departer, and Quintis.
Alpha Equity endeavours to customize their accounting and bookkeeping services according to the client's needs and in line with international standards and practices. Through their accounting and bookkeeping services, your company gets an upgrade in efficiency and solid systems of recording monetary information.
Keeping up with the times and ensuring your company gets the best quality of service, Alpha Equity also offers clients regular advisory on financial management and the best systems they can use to maximize profitability.
Alpha Equity supports your company's goals by going beyond standard bookkeeping. They identify financial concerns that may cause problems in the long run and equip you with the information you need to plan ahead.
The firm also acknowledges the importance of technology in executing their job successfully. They utilize the latest accounting software available to guarantee a less complicated system of overseeing your transactions.
Their firm's focus is on accounting and bookkeeping
Offers 24/7 customer support
Exact rates undisclosed
Small team of 10 employees
Client Reviews
Alpha Equity has received superb feedback from many satisfied clients.
A current client, Advisory Group DMCC, said: "Alpha Equity Management Consultancy managed to deliver reports on time while keeping things accurate. They understood each output that was asked of them and they always delivered efficiently and effectively which secures their partnership with the firm."
On the other hand, Marie-Christin Gabel said: "Excellent service, always available for questions; our company is very happy with the service."
5. Ethics Plus Public Accountants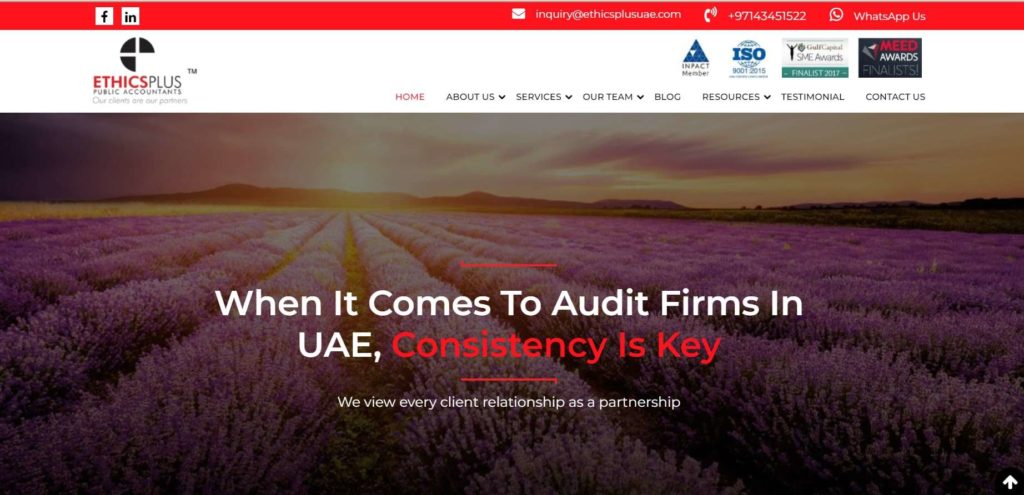 WEBSITE
https://ethicsplusuae.com/
ADDRESS
Suite No. 108 & 109, Mezzanine floor, Al Diyafah Shopping Center, 2nd December Street, Al Bada'a, Dubai.
CONTACT DETAILS
+971 4 345 1522


[email protected]

SERVICES
Approx. AED 3600
Established more than two decades ago, Ethics Plus is a medium-sized accounting and business advisory firm that caters to all kinds of companies.
Composed of a team of professionals with years of experience and vast knowledge of the Middle Eastern market and regulations, Ethics Plus delivers satisfactory bookkeeping work that helps keep their clients' finances intact.
Their packages for Accounting and Bookkeeping are customized to include Compilation Services, Design & Documentation Services, Management Reporting, Record Reconstruction, Chart of Accounts Review / Setup, Compliance and VAT-related services, Online / Cloud Accounting, and Data Entry.
These packages may be further customized to limit the scope of coverage to specific areas instead. This especially favours SMEs with fewer transactions per day.
On top of bookkeeping, they also offer other services such as audit and assurance, VAT consultancy, market research and techno-feasibility studies, CFO services, and IT services.
Some of their clients include World Vision, Nestle, Avebe, and Grand Hyatt Dubai.
Multi-awarded firm
Experts in all kinds of accounting software
Bookkeeping packages include compliance and VAT-related services
Flexible contract duration
Accounting and bookkeeping services are limited to the UAE
Exact rates undisclosed
No 24/7 customer support
Client Reviews
Ethics Plus has been given excellent feedback for their great service at affordable rates.
According to one of their current clients: "The team continues to provide quality services at a reasonable price. Ethics Plus Public Accountants has guided the company towards implementing the right practices that help their business reach its maximum potential."
The CEO of VRMADA, who is also a current client, shared: "They're professional, and the execution of their work is excellent."
6. Xact Auditing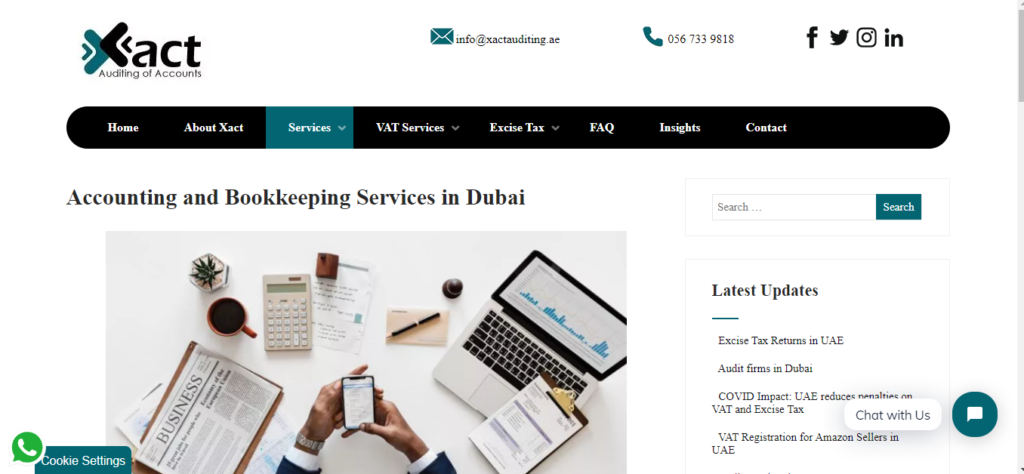 WEBSITE
https://www.xactauditing.ae/
ADDRESS
Level 14, Boulevard Plaza, Tower One, Sheikh Mohammad Bin Rashid Boulevard, Downtown Dubai – UAE
CONTACT DETAILS
Email:

[email protected]


Call: +971 (56) 706 2771
Mobile: +971 (56) 733 9818
What's app: +971 (56) 733 9818
SERVICES
Audit, Accounting, VAT, Excise Tax, Liquidation, Consultancy
Image Source: Xact Auditing
Xact Auditing is one of the well-known audit firms in Dubai. They specialize in audit services, accounting services, VAT services, excise tax services, and tax advisory services.
In their audit firm they have diversity, a team of professional auditors and chartered accountants from different regions and nationalities with different languages. For clients, that means working with a team of professionals who work with passion and purpose every day.
Working with them, you can ensure that they will give you professional assistance and guidance in you financial affairs like no other!
Positive Outlook
Flexible
Quality Services
Timely Fashion
Rates are unavailable on their website
Client Reviews
Here's a review from one of Xact Auditing's clients:
"Best Audit & Accounting Firm in Dubai"
7. BookRobo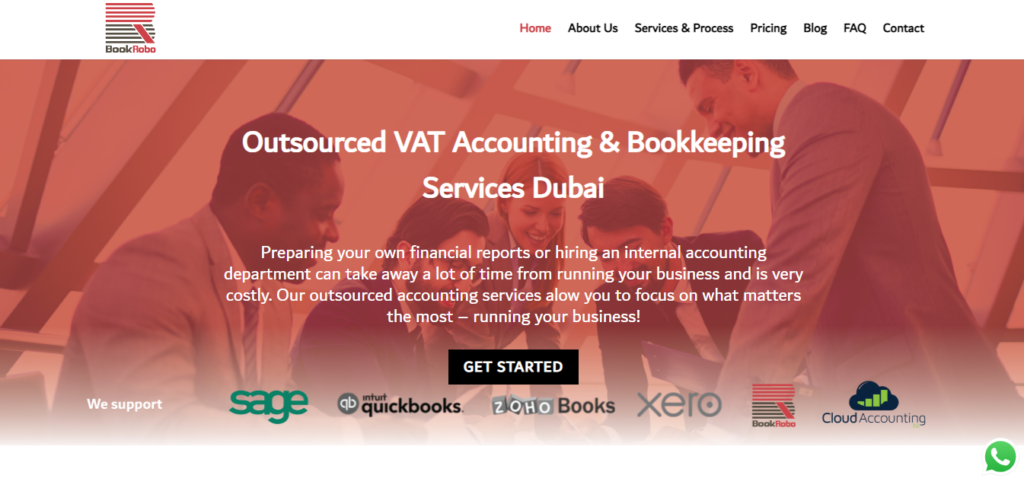 What makes BookRobo unique from other companies is their approach to their clients. They always understand their clients processes and business which will make their cooperation smooth and easy to manage.
People love how they have a fixed-fee pricing. They would not need to worry about their fees because they are consistent and clients will be able to budget for their outsourced accounting services.
Another factor why people prefer them is because they provide a custom app-based system for cloud-based accounting systems. Some examples are QuickBooks, Xero, and Sage.
Before they start doing business with people, they offer their clients a complimentary consulting review in order to see the current financial status.
Never share the numbers of their clients with anyone
Give quality advice
Customize their services to fit the business
Rates are available on their website
8.   MNV Associates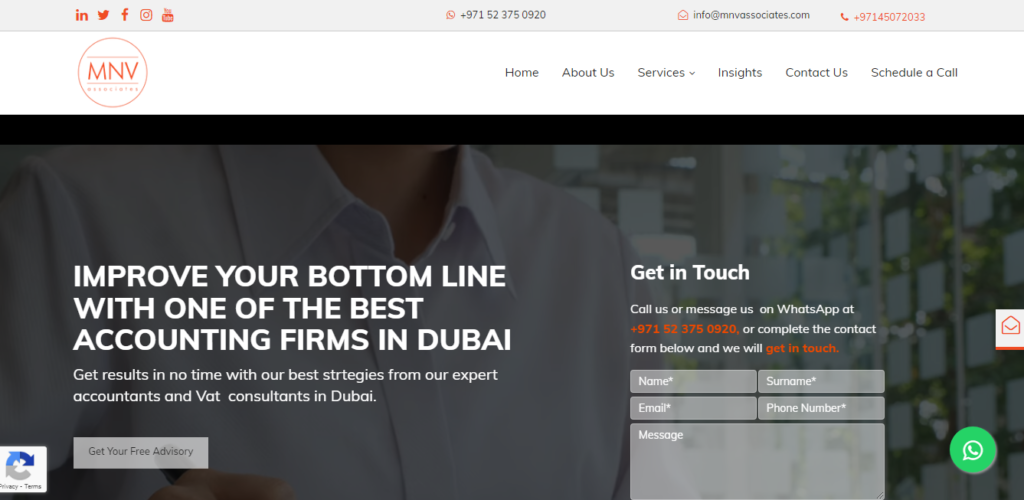 MNV Associates is one of your top choices to consider if you are looking for premier accounting and bookkeeping services. Not only do they provide stellar performance at their services but also all at an affordable cost.
They are highly rated and commended by their past clients and they continue to work hard to deliver consistent services to you as well. Should you be interested in their services, they offer you a 30-minute free advisory session regarding your situation.
They are comprised of a team of professional individuals who are able to offer you practical and efficient solutions for your business. They also help you analyze the results produced and strategize toward what is best for you and your business in the long run.
We recommend this company for your accounting needs due to their efficient approach when it comes to operations and an amazing system and resource which you can avail of as well.
Provides a personalized portfolio
Home to FTA Approved taxation specialists
Innovative services
Client Reviews
Here are some reviews from their clients:
"One of the best and professional accounts I worked with in Dubai. They know what's best for you and they help you to save your money. I would definitely recommend them! Keep up the good work and thank you for your help!"
"I have worked with other companies offering accounting services before however, I must say that MNV Associates was definitely one where I felt most satisfied. They have offered me the best services, while having a good working relationship with their clients. I truly recommend them to everyone."
Tips on Choosing Bookkeeping Services in Dubai
Choose one that's within your budget.
Just because a bookkeeping service is expensive, it doesn't necessarily mean it's the best fit for your business. Set a budget and stick to it.
If you find a company that you really like but see their rates are too expensive, try to negotiate. Maybe you can work out a special deal that benefits both parties.
Research on their track record.
The best way to figure out whether a company can deliver satisfactorily is by checking on their past work. Look up feedback from clients who have availed of their bookkeeping services and see how it has benefited those clients.
If you spot a bad review, you can still give them a chance if you think they really fit the bill! However, consistent bad reviews should be a sign for you to run!
Find a company that's reliable and best understands your goals.
Bookkeeping services involve a fiduciary duty — this means the firm or company has to be one that you can really trust!
Be sure to thoroughly get to know the team and their methods before you sign any contract with them. Set expectations and layout your non-negotiables.
FAQs on Bookkeeping Services in Dubai
---
Invest in organizing your company's day-to-day financial transactions and choose from our list of the best bookkeeping services in Dubai!
Know any awesome bookkeeping services we might have missed? Shoot us a message and let us know!
Thinking of another good investment for your company? Why not a PR agency? Check out our list of the best PR agencies in Dubai!