The 5 Best French Bakeries in Dubai
The French do many things arguably better than any other nation. One of those things is making pastries and bread that are buttery, flaky, and indulgent.
Thankfully, Dubai has its own selection of places where we can get these treats any time of the week, so we don't have to fly to France.
So we tried some highly recommended spots to give you our favorite French bakeries in Dubai!
How We Picked the Best French Bakeries in Dubai
Before we get right into our list of the best French bakeries in Dubai, here are the factors we considered for our entries on this list:
1. French Bakery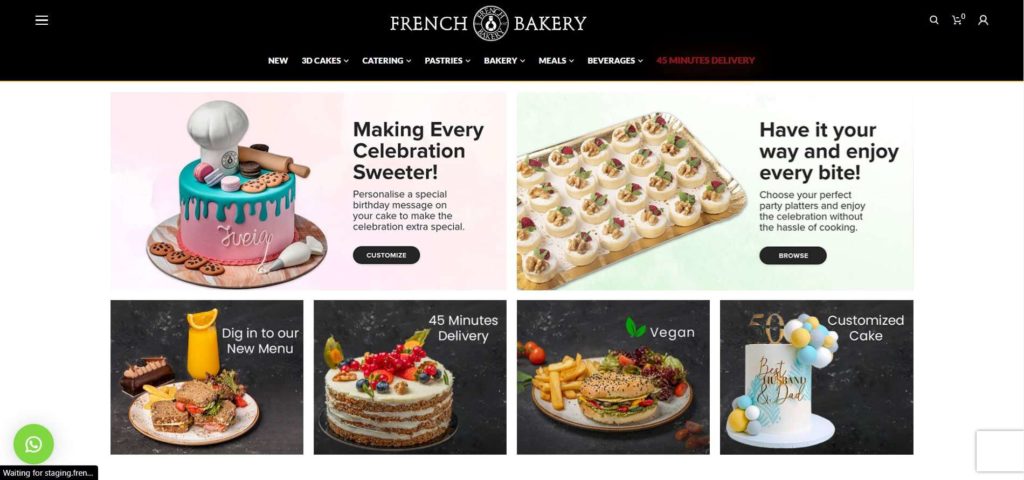 WEBSITE
https://frenchbakery.cafe/
ADDRESS
Behind Shangrila Hotel - شارع المركز المالي - Al Satwa - Al Safa - Dubai

Has 10 more locations around the city

CONTACT DETAILS

PHONE: +971 55 123 3171, +971 4 383 7575

OPERATING HOURS
Open 24/7
| | |
| --- | --- |
| Criteria | Rating |
| Menu | ★★★★☆ (4/5) |
| Service Quality | ★★★★★ (5/5) |
| Ambiance | ★★★★☆ (4/5) |
| Authenticity | ★★★★☆ (4/5) |
Hailed as having some of the best croissants and muffins in the country, French Bakery is the most prominent, well, French bakery, in the city of Dubai.
It has definitely banked on the vibes of sipping coffee and savoring the delicious aroma of freshly baked goods without having to go to France with its menu.
The bakery serves more than just pastries. It's got meals, vegan options, cakes, and Danish treats, as well.
However, as you can see, the menu is not a hundred percent authentically French, which we are somewhat willing to overlook because of how well-rounded the bakery's offerings are.
We also love how efficient and timely the service moves. We got our dishes, pastries, and drinks within 10 to 15 minutes, which is actually quite excellent for places like these.
The ambiance, however, is hit-and-miss and heavily dependent on the branch. Some locations have alfresco seating, which we love, but others are located inside malls or hotels, which is not as great for us.
But whenever we find ourselves in its better locations, it totally shines. Being able to soak in the sun while enjoying our coffee and croissants definitely proved to us that the French know how to enjoy life.
Well-rounded menu with diverse offerings
Timely and excellent service
Ambiance in some locations are excellent
This bakery is not 100% authentically French
Some locations are less enjoyable than others
Customer Reviews
Brilliant first-time dine-in experience.
"Brilliant first-time dine-in experience. Though have ordered from them multiple times through different platforms, the dine-in experience was completely worth it. Approximately AED 200/- or lesser for 4 people. The food came in within 10-12 mins and it was superbly cooked and prepared and it was healthy and delicious. The cakes and pastries look like a delight ." —Sanish Cherian, Google Reviews
This place has a great vibe
"The place has a great vibe. Is open 24 hours. Well priced and the items are fantastic flavors. Ordered the butter croissant and the craquiline pastry. Superb is an understatement and the service by Patrick was wonderful (at midnight)! Well done and count on me returning soon to enjoy the rest of the goodies!" —Karthik Mahalingam., Google Reviews
2. Paul Bakery & Restaurant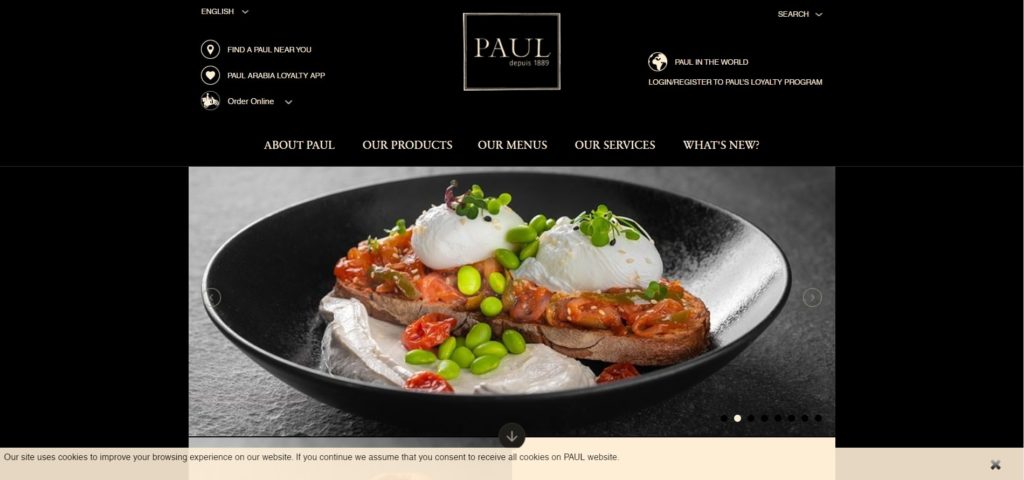 | | |
| --- | --- |
| WEBSITE | http://paularabia.com/en/ |
| ADDRESS | Dubai mall - G Floor - Downtown Dubai - Dubai - United Arab Emirates |
| CONTACT DETAILS | PHONE: +971 4 339 8036 |
| OPERATING HOURS | Every day: 8 am - 11:30 pm |
| | |
| --- | --- |
| Criteria | Rating |
| Menu | ★★★★☆ (4/5) |
| Service Quality | ★★★★☆ (4/5) |
| Ambiance | ★★★★★ (5/5) |
| Authenticity | ★★★★☆ (4/5) |
Founded by Charlemagne Mayot and his wife in 1889 in the Artois region of France, this French bakery has since then expanded across the world.
We love that it has a separate menu for breakfast, which immediately tells us that spending mornings here would be more than worth it.
And we were not wrong. The freshly baked pastries that it serves in the morning are simply to die for.
We swear the aroma and the buttery texture of its croissants are something that is ingrained into our minds.
On top of that, since these pastries are made the traditional French way, you can really taste and feel the difference.
However, the menu, as a whole, felt tarnished. Some food items, such as the Salmon Poke Bowl, definitely felt out of place in its classic French menu.
The service was pleasant enough, but nothing to write home about which is somewhat disappointing since we definitely expected more for the price range that we paid for.
When it comes to its ambiance, we love how it has brought the rustic French countryside to Dubai.
The cottage-core wooden furniture and tiled flooring felt cozy and elegant at the same time.
Its authenticity is sadly slightly brought down by the relatively careless curation of its menu.
We don't need poke bowls and acai bowls, because we know what the cafe does best, and these are pastries and coffee.
Serves traditional French pastries
Great breakfast menu
Cozy and elegant ambiance
Pleasant service
Some menu items feel out of place
Nothing exceedingly special about the service
Customer Reviews
Paul is a treat
"Paul is a treat and should be treated as a place for your special pick-me-ups. We have always gotten their amazing coffee/lattes and our favorites are their croissants!
They are priced according to their quality of service so come with those expectations. Always a fantastic treat for us and we will be back!" —Aseem, Google Reviews
Amazing breakfast and coffee
"Amazing breakfast and coffee. Their orange juice is fresh and tasty as well.. overall we have tried different items on their menu and everything we tried was very good. Their bakery items are particularly great.. must visit for breakfast" —Syed Johar Gillani, Google Reviews
3. Pascal Tepper French Bakery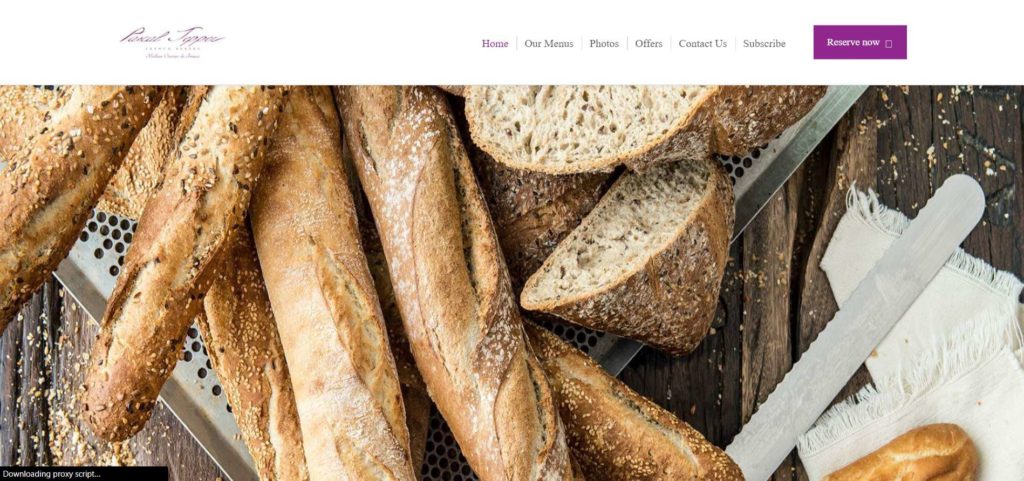 | | |
| --- | --- |
| WEBSITE | https://www.pascaltepperszr.com/ |
| ADDRESS | Four Points by Sheraton - Sheikh Zayed Road - Trade Centre - Trade Centre 1 - Dubai - United Arab Emirates |
| CONTACT DETAILS | PHONE: +971 56 414 2213 |
| OPERATING HOURS | Open 24/7 |
| | |
| --- | --- |
| Criteria | Rating |
| Menu | ★★★★☆ (4/5) |
| Service Quality | ★★★★★ (5/5) |
| Ambiance | ★★★☆☆ (3/5) |
| Authenticity | ★★★★☆ (4/5) |
With offerings such as bread that are fresh out of the oven, Viennoiseries, chocolates and dessert pastries, and many more, it is no wonder that Pascal Tepper French Bakery is so popular among its regulars.
We love how its menu, especially when it comes to bread and pastries, is based on traditional Frech cooking, but the recipes are reworked to give it contemporary twists.
The Toasts À L' Avocat updates a simple sourdough sandwich with a modern combo favorite, avocados with Dukkah spice.
The Croissant Au Jambon Et Fromage, which is a croissant with turkey ham, and Emmental cheese is a French staple that we also love having for a quick bite.
We also love how accommodating the service is at this place. They were willing to work with our special requests, and the chef even attended to us personally to make our food as perfect as it can be for us.
However, the space definitely felt like a generic upscale brunch spot. Nothing about the decor spoke French to us, and you would not know that it is a French restaurant and bakery until you saw the menu.
It also has some menu offerings that felt out of place, such as the Belgian waffles on its breakfast menu.
Serves French pastries and dishes with contemporary twists
Accommodating and friendly service
Pastries are made the traditional way
The space feels and looks generic
Some menu items are not French dishes and treats
Customer Reviews
Lovely place to sit and chill
"Dine in
Lovely place to sit and chill. They have amazing breakfast, pastries, and coffee.
They have so many choices to choose from.
The smell of the fresh bakery section is irresistible.
If you are on SZR, you must pass by!
They have their daily breakfast buffet for just 100 dhs! And everything is delicious and freshly made!
The manager is very helpful and friendly.
I'll be coming back for sure! ❤️❤️" – Hala, Google Reviews
The place is great and the service is awesome
"Very beautiful experience we had here, the place is great and the service is awesome.
It's on Shaikh Zayed road, by the Marriott Hotel.
The staff are friendly and helpful, they recommend a good avocado coffee which is espresso with vanilla ice cream, it has a very good flavor and is tasty.
The location and the quality of the service are great.
Well recommended" – Mohammad Reza Salamati, Google Reviews
4. Ladurée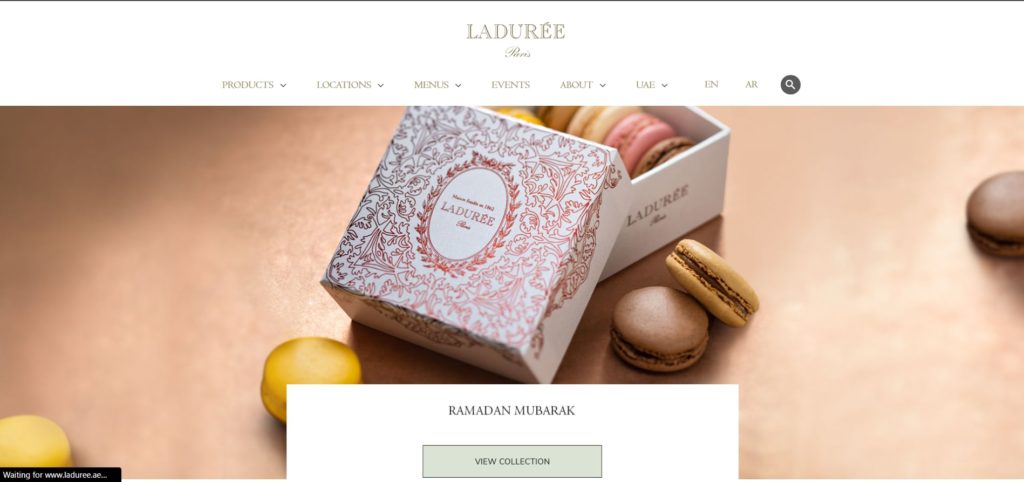 WEBSITE
https://www.laduree.ae/
ADDRESS
Laduree Dubai Mall Restaurant- Ground Floor - Fashion Avenue extension - Dubai - United Arab Emirates

Has 5 more locations in the city

CONTACT DETAILS

PHONE: +971-4511-7373

OPERATING HOURS
Every day: 10 am - 1 am
| | |
| --- | --- |
| Criteria | Rating |
| Menu | ★★★★★ (5/5) |
| Service Quality | ★★★★☆ (4/5) |
| Ambiance | ★★★★★ (5/5) |
| Authenticity | ★★★★★ (5/5) |
Ladurée has been celebrating French confections and pastries since 1862. The multi-generational French bakery offers trademark creations that are hailed for their rarity.
When it comes to menus, nothing is as special as this bakery. It has trademark creations such as the Rose-Raspberry Saint-Honoré, the Liquorice Millefeuille, and the Blackcurrant-Violet Macaroon.
Do you know what makes these special? Besides the unique names, these pastries are actually only served twice a year.
On top of that, it has an excellent wide selection of distinctive seasonal and traditional macaron flavors, perfect for pick-me-ups or as gifts.
The service, however, struggles under the heavy traffic of customers pouring in and out of the restaurant, so we definitely recommend some patience when coming here. Don't worry, it will be worth it.
Despite that, we do love the space. It definitely knows the difference between French and Parisian, and it is clear that it is channeling the latter.
Ladurée feels metropolitan and upscale, and we definitely feel our fantasy every time we sit here for some macarons and coffee.
When it comes to authenticity, while the flavors have definitely been inspired and adjusted to fit the local palette, the technique in its creations is undeniably French.
Serves trademarked pastries and confections
Wide selection of macarons
Everything is made the French way
Great Parisian ambiance
Service is slowed down by the busyness of the bakery
Customer Reviews
Deserts are another level
"If you are hungry or want to grab a coffee or fresh cocktail Ladurée is the perfect spot. Staff is ALWAYS kind and welcoming you after a few visits almost like a family. Coffee is full of taste and has some special kinds which are definitely worth trying. Deserts are another level, you can spend here few hours and don't realize it, the interior is nice, very well done and photo genetic for posting." – Michal Hrabovsky, Google Reviews
Laduree never disappoints!
"Laduree never disappoints! Big selection of desserts and pastries, and they look good too! The latte was good. Service was great and accommodated for a group of 8. The Arabic coffee was very satisfactory at best, and the portion is small- even for one person, but just a personal preference. Recommended for evening coffee and desserts!" – Qabas Al Lawati, Google Reviews
5. Artisan Bakers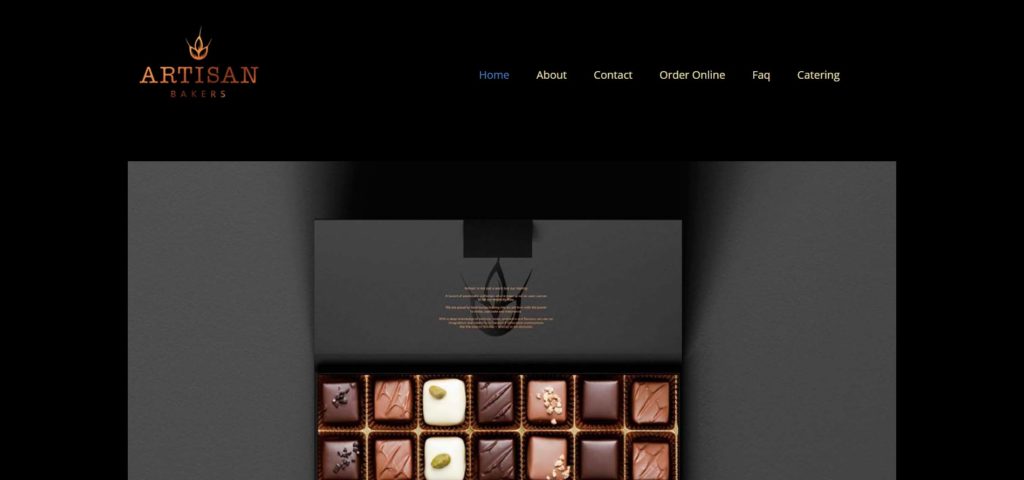 WEBSITE
https://artisanbakers.ae/
ADDRESS
Damascus Street - Al Qusais Industrial Area - Dubai - United Arab Emirates

Has 3 more branches in the city

CONTACT DETAILS

PHONE: +971 4 329 6249

OPERATING HOURS
Open 24/7
| | |
| --- | --- |
| Criteria | Rating |
| Menu | ★★★★☆ (4/5) |
| Service Quality | ★★★☆☆ (3/5) |
| Ambiance | ★★★☆☆ (3/5) |
| Authenticity | ★★★★☆ (4/5) |
This family-owned network of cafes and patisseries has cultivated a strong presence in Dubai because of its approachable take on French pastries.
It is known for offering high-quality teas to accompany its French baked goods that were made with great care in the preparation, baking, and delivery.
While its menu is by no means extensive, what it offers is of excellent quality – with cheesecakes that are known to be some of the best in the city and fruit tarts known for their freshness and addicting balance of flavors.
Some menu items are not authentically French, although this patisserie does not feel like it is aiming for that.
The service was very mediocre. It was slow and distant despite the place not being that busy.
We think the place definitely needs improvement in this aspect because it really stuck in our heads.
When it comes to the ambiance, we think the space is nicely decorated and feels fully thought out.
However, the vision of the ambiance needed some improvements because while we like it, it does not necessarily feel like a French bakery.
But we cannot deny that we keep finding ourselves back here because of how beautifully made the pastries are.
Amazing selection of French pastries
Known for serving some of the best cheesecakes in the city
Has a great selection of high-quality teas
Service needs improvement
Ambiance feels generic
The menu is not authentically French
Reviews
My wife and I had breakfast in this cozy place
"My wife and I had breakfast in this cozy place. They have many selections. The coffee and the food are delicious. We even had to take away the cute little cakes on display. Will be bringing our friends here for some good chat and great food." — Michael Allorina, Google Reviews
Fantastic place to grab cakes and baked goods
"Bakemart is a fantastic place to grab cakes and baked goods. I particularly visit to buy cakes for office birthday parties as cakes are always available in a variety of flavors. Make sure to use your Fazaa discount when paying." —Mustafa Sadaqat, Google Reviews
FAQs about French Bakeries in Dubai
---
We hope this helped you find your favorite French bakery in Dubai. Also, if you're looking for other cuisines to try out, then check out these articles: