The 5 Best Healthy Restaurants in Dubai
Nothing beats eating out at a nice restaurant with great dishes and an even better ambiance. However, if you're a health nut like us, finding one conscious of calories and nutrition can be tricky.
Thankfully, the restaurant industry in Dubai has caught up with people like us, and the city is now inhabited by businesses that cater to our wants and needs.
So we tried some highly recommended spots to give you our favorite health restaurants in Dubai!
How We Picked the Best Healthy Restaurants in Dubai
Before we get right into our best healthy restaurants in Dubai, here are the factors we considered for our entries on this list:
1. Lifter-Life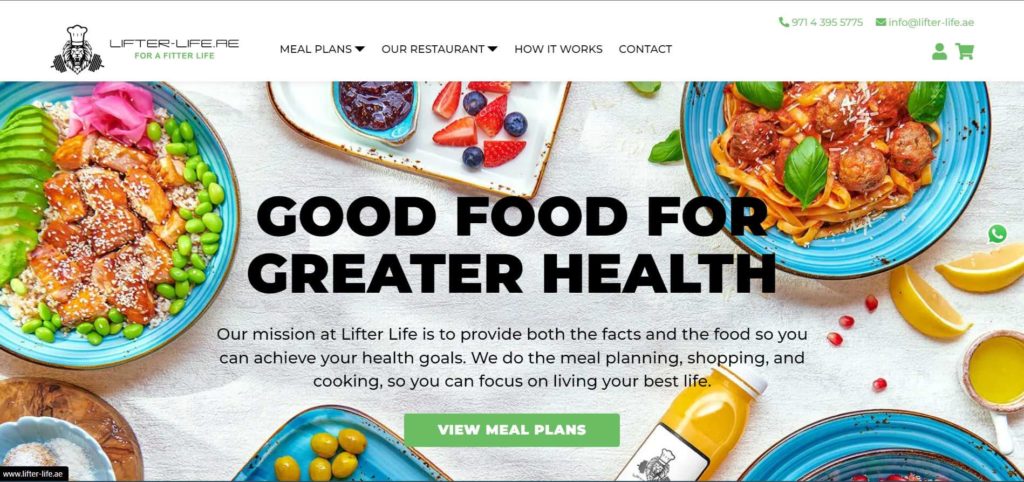 | | |
| --- | --- |
| WEBSITE | http://www.lifter-life.ae/ |
| ADDRESS | Lifter Life, Jumeirah 3 Dubai, United Arab Emirates |
| CONTACT DETAILS | PHONE: +971 4 395 5775, +971 50 448 4220 |
| OPERATING HOURS | Every day: 8 am - 12:30 am |
| | |
| --- | --- |
| Criteria | Rating |
| Menu | ★★★★☆ (4/5) |
| Service Quality | ★★★★★ (5/5) |
| Ambiance | ★★★☆☆ (3/5) |
| Credibility | ★★★★☆ (4/5) |
This health restaurant was made for bodybuilders, by bodybuilders. At Lifter Life, it is all about getting the correct caloric count and the taste perfect.
Trusted by multiple organizations such as Fitness First, Dubai Police Academy, Arz Lebanon, and Zaytoni, Lifter-Life has built a strong client base that has proven that everything it serves gets you to your goals.
Despite the lack of professionals in its kitchens, especially professional nutritionists, its firsthand experience with testing out these meal plans has been amazingly effective.
Its menu is mostly made up of protein-heavy dishes (think eggs and whey protein in your favorite pancakes), but there are also a few options for those looking for a more well-balanced meal.
The only weak part about its menu is that if you are looking into keeping your order within the parameters of a certain diet, it can be tricky.
The menu is a random assortment of dishes that may or may not fit your dietary needs.
When it comes to its ambiance, there isn't anything special about it. We do like that its decor lightens up the place, but we definitely do not like the cafeteria vibe that the food displays are giving.
Despite that, the service was excellent. We love the effort in the plating of the dishes, and everything was served in a timely manner.
Affiliated with multiple fitness organizations
Diverse dishes
Excellent timely service
Lacks nutritional background
The menu is not organized based on dietary needs
Nothing special about the restaurant space
Customer Reviews
Great choice
"Great choice for those who are looking for delicious yet healthy options. The menu is very diverse and every single item's calories are counted along with the macronutrients.
Staff is very helpful, especially Merry who recommended great dishes." —AH, Google Reviews
Very happy with their customer service
"I am very happy with the outstanding customer service provided to me by Sunil, the restaurant supervisor, apart from the tasty yet healthy food selection. Sunil helped me a lot to make this first healthy brunch initiative of our company, a success, given a short period of time (LESS THAN 24HRS). Although they don't do corporate catering such as this, Sunil went above and beyond his job, working till late discussing suggestions to satisfy what I want to happen for this program. Hence the turnout was clearly impressive – how much more if the job was given to them in a standard period of time. I haven't heard of this restaurant before, but thanks to Google and the good reviews, I got to know them. Definitely worth recommending to my family and friends, and I would certainly love to visit one of their restaurants one day." —Tweeny Malinao, Google Reviews
2. Eat Well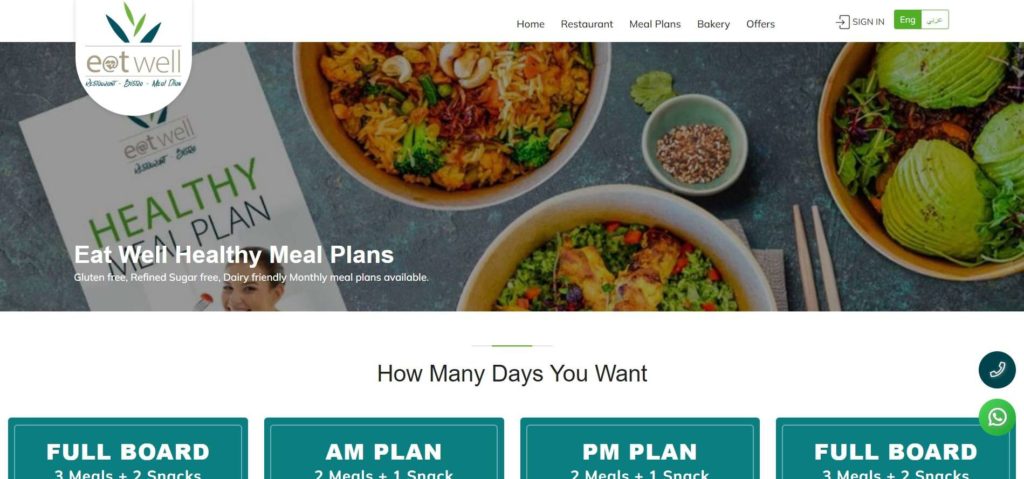 | | |
| --- | --- |
| WEBSITE | https://www.eatwell.ae/ |
| ADDRESS | Za'abeel 1, Oud Metha Road Towards - Al Ain - Dubai Rd - Dubai - United Arab Emirates |
| CONTACT DETAILS | PHONE: +971 507306326 |
| OPERATING HOURS | Every day: 9 AM - 8 PM |
| | |
| --- | --- |
| Criteria | Rating |
| Menu | ★★★★☆ (4/5) |
| Service Quality | ★★★★☆ (4/5) |
| Ambiance | ★★★★☆ (4/5) |
| Credibility | ★★★★★ (5/5) |
Led by the Dubai Herbal and Treatment Centre, Eat Well bases every dish it serves on the knowledge of this highly acclaimed nutrition organization.
We love that Eat Well really has a strong foundation for its dishes with the support of decades of professional wellness guidance.
We love how well-rounded its menu is, offering everything from breakfast, soup, and extremely healthy salads to surprisingly healthy pasta dishes and desserts.
Its credibility really shines through in its dishes because the proportions and the way of cooking these ingredients were conscious decisions that affect the caloric count and the amount of nutrition they will give to us.
The only problem is that its menu is not really organized based on dietary needs. For example, if I were vegan, I would have to pick the menu apart for options rather than just getting a separate one for what I can eat.
When it comes to its ambiance, we love how open and bright it is inside the restaurant.
However, the acoustics of the space really gives off that feeling of being in a cafeteria with voices echoing and bouncing off the walls.
For its service, there was nothing really special about it. The staff was friendly, but we did not really feel an effort to make us feel welcome and comfortable.
A subsidiary of a major nutrition organization
Well-rounded menu
Bright and open ambiance
Nothing special about the service
The menu isn't organized by dietary needs
The space feels like a cafeteria
Customer Reviews
What a unique concept!
"Unique concept! The starters are as unique as the concept but most of them are deep-fried. I believe they use a good type of frying oil. The Salmon meal is very good! And I highly recommend trying their Friday brunch. They do accept the entertainer for the main courses but not sure if they still accept it for the brunch. Extremely welcoming staff." –
iYou iTry, Google Reviews
They serve amazing food
"They serve amazing food. It's fresh, delicious, gluten-free, and has vegan options. They also have a great lunch offer. The view from the restaurant is breathtaking, especially at sunset. It's even worth coming just for the sunset and seeing all the colors play around Burj Khalifa. There is plenty of parking available and it's nice to have a look at the alternative medicine in the shop as well on the way out." – Lara Allegra Lange, Google Reviews
3. Stomping Grounds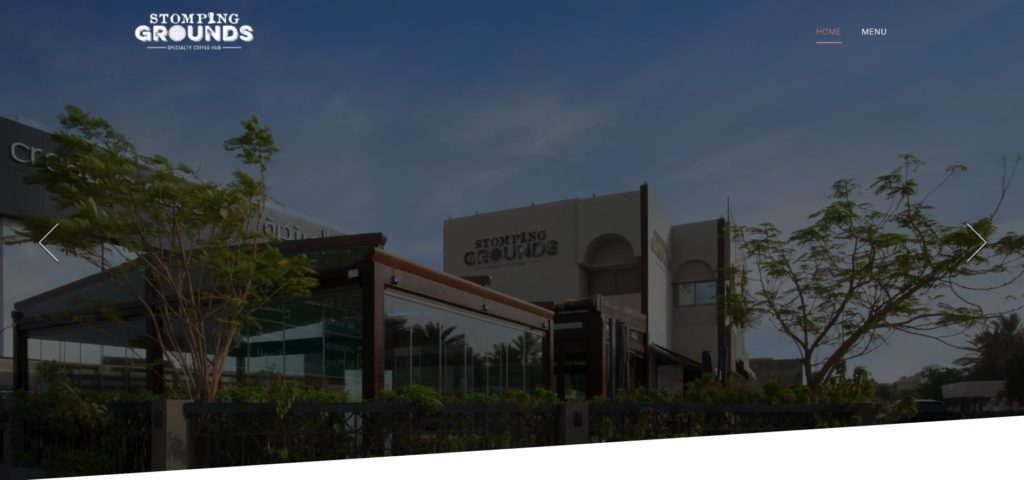 WEBSITE
http://www.stompinggrounds.ae/
ADDRESS
98 12 D St - Jumeirah - Jumeirah 1 - Dubai
CONTACT DETAILS

PHONE: +97143444451

OPERATING HOURS
Sunday to Friday: 7:30 am - 11:30 pm

Saturday: 7:30 am - 12:30 am
| | |
| --- | --- |
| Criteria | Rating |
| Menu | ★★★☆☆ (3/5) |
| Service Quality | ★★★★★ (5/5) |
| Ambiance | ★★★★★ (5/5) |
| Credibility | ★★★★☆ (4/5) |
A health-conscious coffee shop with a penchant for serving up amazingly tasty breakfast food that is sure to perk you up for the day, Stomping Grounds is a well-loved spot in Jumeirah.
While it has excellent breakfast items, especially the Stomping Avo, it also has a great well-rounded set of dishes that are great for lunch, dinner, and snack time.
However, its lack of credibility and background in nutrition really seeps through the cracks because not all of its menu items are considered healthy by conventional standards.
It has some really sugary dishes such as the lotus pancake, Nutella pancake, a whole selection of cakes, and many more.
Despite that, Stomping Grounds is actually the recipient of the Time Out Dubai Restaurant Awards' Best Breakfast Award in 2020, which is a testament to actually how good these are.
The ambiance was also excellent. It was cozy and homey, while also feeling elegant. The wooden accents complemented the natural light very well, and it was the kind of space you'd love to start the day in.
The service was just as good. The staff looked after us very well; they were attentive and very inviting from the moment we stepped into the restaurant.
Award-winning healthy restaurant
Well-rounded menu
Excellent service
Cozy and elegant ambiance
The restaurant has no affiliations or background in nutrition
Some of its menu items are arguably unhealthy
Customer Reviews
This place got a lot of good reviews and it was worth them
"This place got a lot of good reviews and it was worth them. Great Saturday morning breakfast with, a wide variety on the menu, although would have liked to see hash browns and baked beans. The portions are very good and for sure you will leave full. Everything is fresh and well-presented. Highly recommended. Thanks to Tran for looking after us and for Susma for coming over and talking to us about our experience." – Kamal Samarrai, Google Reviews
Beautiful, cozy cafe in Jumeira
"Beautiful, cozy cafe in Jumeira. The ambiance was unique with an antique set up, loved it!
Decent portions of food are neatly presented. The flavor combinations gel well.
French Toast was amazing!
The steak and eggs, and the truffle scramble were good.
The coffee texture is velvety perfection, flavor was decent." – Alister Saldanha, Google Reviews
4.  Vietnamese Foodies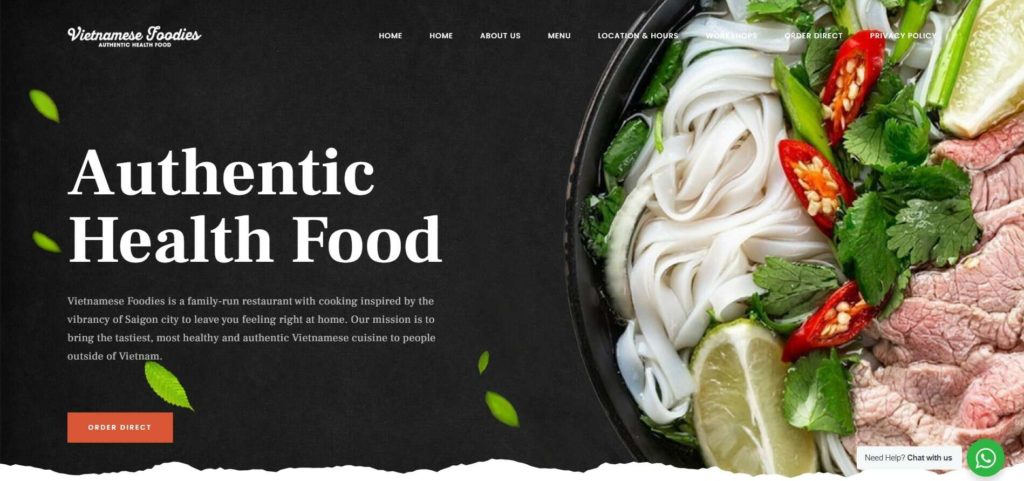 WEBSITE
https://vietnamesefoodies.com/
ADDRESS
Le Meridien Mina Seyahi Beach Resort & Waterpark, Dubai, 34367

Ground Floor, GF 296 (Near Entrance 1), Dubai Hills Mall, Dubai Hills

OPERATING HOURS
Sunday to Thursday: 11:30 am - 11 pm

Friday to Saturday: 11:30 am - 12 am
| | |
| --- | --- |
| Criteria | Rating |
| Menu | ★★★★★ (5/5) |
| Service Quality | ★★★★☆ (4/5) |
| Ambiance | ★★★☆☆ (3/5) |
| Credibility | ★★★★★ (5/5) |
We know that eating healthy consistently can be an expensive lifestyle, especially if you live in a city such as Dubai, but Vietnamese Foodies knows that and provided an answer to our struggle.
Light on the wallet and deliciously fresh and healthy, this restaurant does not focus on dietary needs but on Vietnamese cuisine, arguably one of the healthiest cuisines in the world.
Founded by Lily Hoa Nguyen, this restaurant has gone on to win awards, such as Time Out's Best Budget Restaurant in 2020.
The restaurant serves authentic Vietnamese food that is prepared and served the way it was taught for generations, so we also have to give it credit for that.
The service was fine. Nothing special about it – and we did not expect much anyway because it is just a budget-friendly eating spot.
And the ambiance is just the same. We did not like the lack of windows, the cold fluorescent lighting, and the fake plants that served as wall decor.
We wish that it brought in more natural pieces like wooden decor or a skylight to let the natural light in.
Serves award-winning authentic Vietnamese food
Healthy dishes at affordable prices
Nothing special about the service
Ambiance needs improvement
Customer Reviews
Amazing seafood restaurant
"Dear Team,
Thank you for the great experience. Mr.Chris provided 5* service with a positive smile. The food tastes fantastic. The veggie roll needs a little bit of resizing, but edamame tastes great as usual, best item is Vegetable Soup Pho Chay phenomenal, fresh vegetables and tofu made my day. Highly recommended especially for vegetarians.
Looking forward to trying business lunch during the weekdays.
Team, keep the pace, you showed your passion and you all hold yourself accountable to deliver the best. Thank you, see you next time." – Tibor Kardos, Google Reviews
Had a great dinner with friends here
"My boyfriend and I adore Vietnamese food. Accidentally found this place and decided to visit it. My favorite soup Pho Bo was absolutely delicious. I love this mix of saturated broth, rice noodle, and fresh greens. Just want to warn, don't order medium soup size if you want to order anything else, small absolutely enough
Coconut shrimps include only 4 pcs, but that's enough for starter" – Oksana Zaporozhets, Google Reviews
5. The Raw Place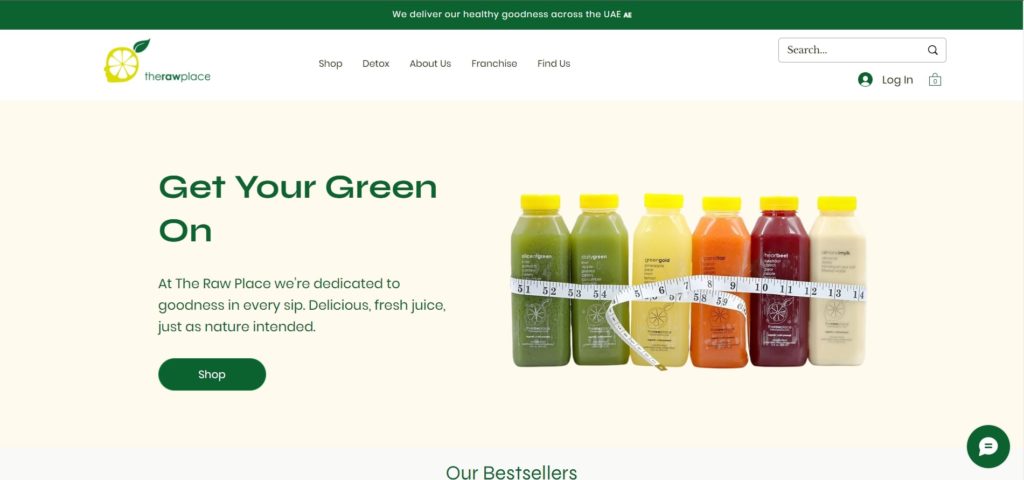 WEBSITE
https://www.therawplace.com/
ADDRESS
Community 364, Plot No. 273 -Al Quoz Industrial Area 1 Dubai
CONTACT DETAILS

PHONE: +9710527590281

OPERATING HOURS
Monday to Saturday: 8 am - 11 pm

Sunday: 9 am - 11 pm
| | |
| --- | --- |
| Criteria | Rating |
| Menu | ★★★★★ (5/5) |
| Service Quality | ★★★★☆ (4/5) |
| Ambiance | ★★★★★ (5/5) |
| Credibility | ★★★☆☆ (3/5) |
Sometimes we go on a fasting period to help us detox and reset our bodies. We do this by eating nothing and stocking up on nutrients through the juices we get from The Raw Place.
This juice and plant-based restaurant serves a variety of cold press juices and meals like salads, granola, and soups that are just as tasty as the bottles we drink from this place.
We especially love the fact that we can mix and match with its menu because the drinks are as much of the focus as its meals, which is not often what you find in restaurants.
We also love that the restaurant advocates and practices using GMO-free and certified organic ingredients, which means that we get the most out of every ingredient we get in our bodies.
And even though it mostly operates like a fast food chain than a restaurant, we do love that the staff still manages to keep the service friendly and warm. The good vibes come from both the food and drinks, and the team.
We also love the ambiance at The Raw Place because it's located by the Jumeirah beaches and is the perfect pit stop for before and after a chill day by the shore.
However, the weak point of this place is that it really does not have any affiliations with nutrition organizations, so we always take everything we get here with a grain of salt.
Serves healthy juices and ready-to-eat meals
Having the beach nearby is amazing
Friendly service
Operates like a fast food chain than a restaurant
No background and affiliations with nutrition organizations
Customer Reviews
Love this place for all the organic, cold-pressed juices and goodies they serve.
"Love this place for all the organic, cold-pressed juices and goodies they serve.
Fresh juices, drinks, and even hot chocolate were so good, my son loved them.
The acai bowl was so fresh and delicious with crunchy toppings and fresh fruits.
I love the cashew milk here and often use them as a salad dressing as well😋
Very friendly and generous staff. Well maintained, with seating areas indoor and outdoor.
They also have monthly body cleansing programs. Do check it out, you will be impressed 👍🏻" — Haneeya Basheer, Google Reviews
Their formulas DO WORK
"Must give your gut a party 🤩 🎊 Really working for feeling good… such as trying battle constipation and low energy. Their formulas DO WORK. The staff is super nice and accommodating with flexible requests. This is my 3rd cleanse and just can't wait to feel light & energized. Make sure to follow their advice on what not to eat or drink … while juiiicing 👌🏻" —Ani Popescu, Google Reviews
FAQs about Healthy Restaurants in Dubai
---
We hope this helped you find your favorite healthy restaurant in Dubai. Also, if you're looking for other ways to improve your lifestyle, then check out these articles: