The Best Fine Dining Restaurants in Dubai
Are you raring to sink your teeth into a world of flavour? Then you might want to browse around the best fine dining restaurants in Dubai.
Whether you are after some exquisite Asian flavours or the smoky, grilled flavours of Western grilles, Dubai's culinary scene will surely have something to offer your palate. Take a look and see which of these restaurants will satisfy your finer cravings.
How Much Will a Fine Dining Restaurant in Dubai Cost
The price you will pay for a restaurant in Dubai will vary from establishment to establishment as well as other factors like your group's size. To get a rough idea, you can check out this estimated price table:
Cuisine Type
Menu Item
Estimated Price
American
Starter

Main Course

Dessert

AED 50 - AED 85

AED 85 - AED 145

AED 35 - AED 45

Italian
Starter

Main Course

Dessert

AED 80 - AED 190

AED 200 - AED 460

AED 50 - AED 100

Chinese
Starter

Main Course

Dessert

AED 55 - AED 125

AED 100 - AED 300

AED 10 - AED 60
The Best Fine Dining Restaurants in Dubai
Fine dining is certainly a memorable experience so it only makes sense to choose the best. With that in mind, we used the following criteria to determine which fine dining establishment makes it on our list.
1. White Orchid Restaurant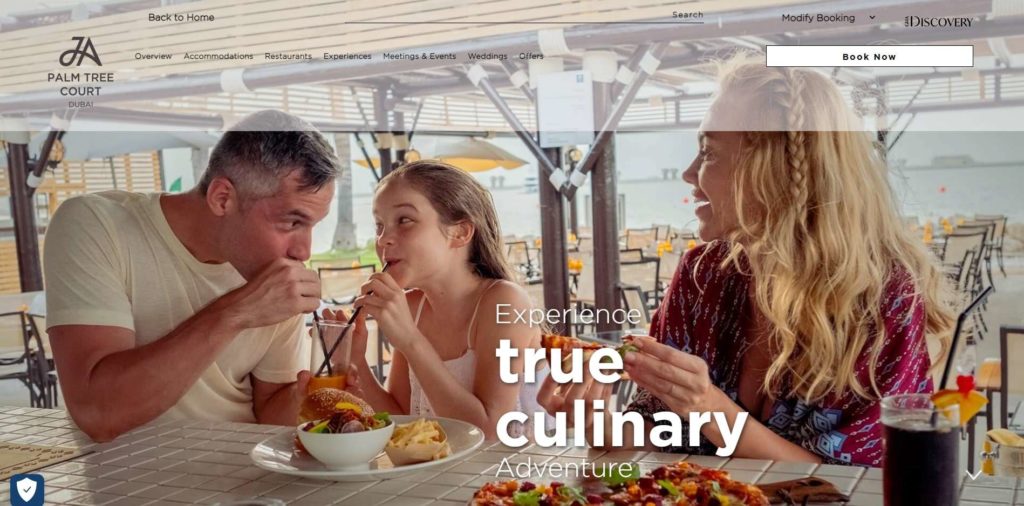 RATING
MENU
★★★★★ (5/5)
AMBIANCE
★★★★★ (5/5)
CUSTOMER SERVICE
★★★★☆ (4/5)
ACCESSIBILITY
★★★★☆ (4/5)
Situated near the lobby area of the resort in JA Palm Tree Court is the White Orchid Restaurant. If you're looking for a fine dining fusion of predominantly Thai and Asian cuisines, then this should be a great stop for you.
When you step inside the restaurant, you are immediately greeted with its rich earthy tones inspired from modern Thai decorations. As a pandemic countermeasure, the tables are decently spaced, giving you a lot of room to maneuver around.
We particularly think the use of dimly-lit candles and lights create a comfortable atmosphere come dinner time. We can see couples both young and old, visiting the place for a nice romantic dinner either with or without their kids.
They have an extensive menu of mostly South East Asian-inspired dishes though they also have a few 'safer' options like chicken strips for children who may not want to experiment. Additionally, they also offer some healthier vegan and vegetarian options for those who want it.
In our opinion, this makes the restaurant quite versatile, being able to accommodate an array of culinary preferences despite their dominant Asian theme. We also found the staff to be very nice and accommodating, especially when you inform them of any allergies your fellow guests may have.
Just note that the restaurant serves dinner only so if it's lunch you're after, you may need to look at other places. They are also closed on Mondays so you might want to keep that in mind before making any dinner plans.
Accommodating staff
Huge selection of flavorful meat and vegetable dishes
Menu options for pickier kids
Dimly-lit room might make it hard to read the menu
Service is dinner only
Changing reservation times at the last minute can be difficult
Customer Reviews
"It was a pleasure to dine in"
"It was a pleasure to dine in. The food was delicious and the staff very friendly. Hao was very professional and friendly with us. He took carefully into consideration the food allergy that we mentioned to him and made sure we will have a pleasant dinner in here. Thank you!" – Camper533811
"The food was brilliant but the service for sure made the experience"
"Hao who looked after our table was fantastic, he recommend dishes, didn't let out drinks empty. The food was brilliant but the service for sure made the experience." – Sean7490
2. Vanitas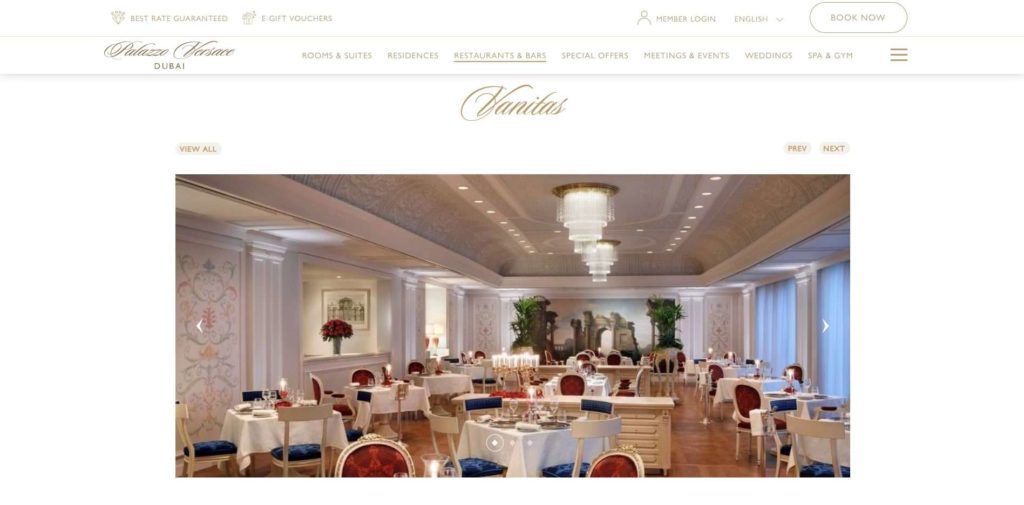 RATING
MENU
★★★★☆ (4/5)
AMBIANCE
★★★★☆ (4/5)
CUSTOMER SERVICE
★★★★☆ (4/5)
ACCESSIBILITY
★★★★★ (5/5)
If it's a tried and tested Italian meal you're craving, then you can't go wrong with signature Italian restaurant Vanitas. It is set against the signature Dubai Creek within the Palazzo Versace Dubai.
Once inside, we found ourselves quite mesmerised by the decor and the interior. Clean tablecloths, sturdy and stylish seats, and the addition of candles at most tables lends well to a classic, romantic night out.
In a way, it does remind us of a Renaissance palace thanks to the adornments found in the walls and even the plates used. In our opinion, the ambience is probably what most people would think of when they imagine fine dining.
We think the menu is quite good, offering a number of Italian dishes beyond the well-known pizza and pasta. However, while they do have some vegetarian options, they don't have a dedicated section for vegan diners so they may want to look elsewhere.
They have two themed nights 'Fly Me To Sicily' every Sunday and 'Ambiente' every Thursday. Keep these two nights in mind in case you want a stunning evening.
Fly Me To Sicily offers an elegant three-course menu that pays homage to Sicilian culture, with a good variety of seafood courses like grilled octopus, prawns, and tuna. Ambiente on the other hand, centers on traditional Mediterranean favourites.
Fortunately, you don't have to wait long to try out the food at Vanitas. They are open pretty much throughout the week and they also serve lunch.
Great selection of Italian-style meals
Good portion sizes
Only a handful of vegan options
Decor might look old-fashioned for those expecting a modern ambiance
Customer Review
"The service, ambiance and first and foremost, the quality of food make Vanitas a must-visit!"
"I recently visited Vanitas for dinner with friends and what an amazing experience it was. Vanitas serves Italian food and they do a great job at it.
The portions are very healthy, the quality of products used very high and the dishes flavoursome. We opted in for starters and I had a mouth-watering vegetarian bruschetta followed by their home-made pasta. We also received complimentary bread to start with and had a selection of apperitivo before to accompany our drinks.
The service, ambiance and first and foremost, the quality of food make Vanitas a must-visit!" – Agnieszka Kurzawa
"Very romantic setting"
"Went to this Vanitas for the first time. It is a very romantic setting. I went with a friend though. You even have roses on every table. They serve Italian dishes which are both delicious but beautifully presented. The service is good, couldn't be happier of the whole experience up to Versace standart." – Amira El Sherif
3. Fire Lake Grill House Restaurant and Bar
RATING
MENU
★★★★☆ (4/5)
AMBIANCE
★★★★☆ (4.5/5)
CUSTOMER SERVICE
★★★★★ (5/5)
ACCESSIBILITY
★★★★☆ (4/5)
People looking for a taste of the US Midwest may want to have Lunch at the Fire Lake Grill House and Bar. It is located at the P3 Level of the Radisson Hotel at DAMAC Hills.
When you step inside, you are treated to a rather stylish restaurant layout with an excellent view of the neighbouring cityscape. They offer different seating arrangements and tables which in our opinion, gives customers a lot of options.
And in the event that an interior dining experience is not for you, you can head out to their terrace. Not only does it offer a great outdoor ambiance, it also gives you a stunning view of the Burj Khalifa; the tallest building in the world.
Fire Lake Grill House is a destination for those looking to sink their teeth into an assortment of smoky homegrown flavours. The restaurant offers a great selection of steaks, seafood and alcoholic beverages.
Vegetarian diners may also find some vegetable dishes on their menu. In our opinion though, this is more of a place that caters to meat lovers across the country.
Service is quite impressive as well, with servers knowing just how to delight their patrons. It also helps that there's very minimal noise in the area which in our opinion, helps with the clarity.
They are open for lunch and dinner on the weekdays. You can also catch a quick breakfast in the weekend mornings as they do open quite early during those days.
Delicious selection of meat and seafood
Great service with chefs ready to accommodate some custom requests
Outdoor seating areas can be quite hot during the summer
Menu is a little on the pricier side
Customer Review
"A great night out at Fire Lake"
"We had a great night out at fire lake. The food was delicious and Zayne & Sanju were super helpful in advising which food is glutenfree. They really understood the allergy, were attentive and with their friendliness ensured that we had a fabulous evening. We will definitely come back." – Charly6403
"Steak was super tasty"
"Fantastic food, steak was super tasty so was the carpaccio. Zayne was very good – nice, professional, recommended us food selection – thank you for amazing service." – Nadia Kaser
4. Kinara by Vikas Khanna
Test
Info
RESTAURANT TYPE
Indian

Healthy:

Vegetables

Seafood

Biryani

Meat Courses

Bread

WEBSITE
http://www.kinaradubai.com/
ADDRESS
JA Lake View Hotel, Jebel Ali, Dubai
CONTACT DETAILS
Phone: +971 4814 5555
HOURS
Monday - Sunday: 6:00 PM to 11:00 PM
RATING
MENU
★★★★★ (5/5)
AMBIANCE
★★★★★ (5/5)
CUSTOMER SERVICE
★★★★★ (5/5)
ACCESSIBILITY
★★★★☆ (4.5/5)
Kinara serves modern Indian cuisine conceptualised by renowned chef Vikas Khanna, who has received multiple awards as well as Michelin star acclaim. It primarily features authentic regional dishes with a bit of a modern twist through the creative use of spices.
The restaurant has both an interior and exterior dining space, both of them quite lavishly decorated in luxury, modern adornments. In our opinion, the ambiance is actually quite intense, possibly to go with the food they serve.
The food is very rich and full of flavour and you can really taste the assortment of spices they use to bring out the different profiles. That said, the service is very attentive and you can easily ask them for recommendations if you prefer milder flavours.
In our opinion, health-conscious and vegetarian diners will find a lot to like about the food. They have a diverse selection of vegetable dishes alongside their meatier selections.
Presentation of the food was top-notch; the courses looked as appetising as they tasted. We think the portions are quite generous as well and you don't have to worry about going home hungry.
It is open pretty much everyday for dinner so you shouldn't have to worry too much about scheduling. Its acclaim means it does lean a little more on the pricier side but the experience is quite worth it.
Diverse selection of food and flavour
Very attentive and knowledgeable staff
One of the more expensive fine dining places
Might not be the best option for those looking for a strictly traditional Indian flavour
Customer Review
"Service and quality was of the highest standard"
"Service and quality was of the highest standard. There was a mango sauce that I had with my starter that had a delicacy to it, started off sweet but exploded into a spicy orchestra in my mouth. Would go back. Kakam delivered an attentive service whilst Chef Pramod delivered food that totally suited my wife's non spicy preference." – simonhK5677CJ
"Children loved the food as did adults"
"What a wonderful restaurant. Loved every minute of the meal and the setting was gorgeous. Food was fantastic. Children loved the food as did adults. Highly recommend. Vinay was outstanding host for us." – H4158EQnicolah
5. Yingsu
Test
Info
RESTAURANT TYPE
Chinese: Soups

Dim Sum

Cold & Hot Starters

Rice & Noodles

Duck

Meat and Vegetable Dishes

WEBSITE
https://www.yingsudxb.com/
ADDRESS
The Walk - Jumeirah Beach Residence Lobby Level, DoubleTree by Hilton
CONTACT DETAILS
Phone: +971 4575 1331
HOURS
Tuesday - Sunday: 6:00 PM to 12:00 AM

Closed on Mondays
RATING
MENU
★★★★★ (5/5)
AMBIANCE
★★★★☆ (4/5)
CUSTOMER SERVICE
★★★★★ (5/5)
ACCESSIBILITY
★★★☆☆ (3.5/5)
If it's a craving for Chinese food you want, then the new Yingsu restaurant might just be up your alley. The establishment promises to serve authentic Chinese dishes in a setting with a good vibe.
Upon entering the restaurant, we found the place to be quite communal. Long rows of tables adorn the place and the seating can sometimes feel a little packed at times.
Still, they do have a good view of the Ain Dubai and Bluewaters should you choose to dine on the terrace area. It's homely enough but it might be better to dine inside during particularly hot evenings in our opinion.
While the place does feel lively with the music mostly centering on house and pop, their dishes are still quite authentic. We think people looking for familiarity with a touch of class will enjoy favourites like dim sums, mains, and rice and vegetable dishes.
Service is quite fast and the food portions are quite generous. And despite the music playing in the room, the staff is still quite attentive to the customers' needs.

One aspect that the restaurant offers is their ladies' night CHI-TOWN. In that time, you can expect reduced prices for female diners with the menu paired with popular R&B and hip hop tracks from their resident DJ.
CHI-TOWN is held every Wednesday starting at 6PM. If you are in a group with a lot of female friends and companions, then we think you might want to treat them to this special night.
Yingsu has just been recently opened but they have already made quite a splash in the local scene. This is definitely one venue to keep an eye out for whenever you're in the area.
Ladies' night offers a great deal and atmosphere for guests
Staff is willing to customise some dishes upon reques
Cocktail selection is a little average
Weekends can be quite busy which may not sit well for those looking for a more relaxed experience
Customer Reviews
"The ambience is very welcoming and charming"
"What a lovely experience. The ambience is very welcoming and charming. Amazing dishes (Peking duck was my fave), cocktails and service. Great photo spot with direct view of Ain Dubai. Staff are extremely knowledgeable and make great recommendations. Will definitely be heading back there soon!" – Chante de Klerk
"Highly recommended the Yingsu Smash!"
"Came to Yingsu with my friend denver, service was fantastic, & the food was amazing, we had a sharing platter, the spring rolls were soooo good! Cocktails were delicious, highly recommended the Yingsu Smash! Dj kept the tunes going, great atmosphere! Defo visit again."
FAQS About Fine Dining Restaurants in Dubai
---
Any particular cuisine do you want to try during your stay? Share your thoughts with us so we can also share them with other guests.
And in case you're craving specifically for French cuisine, then you might also want to give our list of the best French restaurants in Dubai a read. We hope you enjoy your meal!