The 6 Eye Clinics for the Best LASIK in Dubai
Featured Image Source: Arteum.ro via Unsplash
In the grand scheme of things, wearing glasses is a temporary solution to your vision problems. If you've been looking for more "permanent" alternatives to glasses, you've probably been looking up LASIK treatment, sometimes called laser eye surgery.
It's hailed by many as the best way to get perfectly clear vision, which is true if you get the procedure from a top-of-the-line eye clinic.
To help you in your search, we gathered a list of the best eye clinics for LASIK in Dubai, along with a price table and a guide on choosing the best clinic for you.
How Much Do LASIK Services Cost in Dubai?
LASIK treatments generally have fixed prices, though it sometimes varies per person. Additional charges may apply for further procedures needed for more complex cases.
See below for our table of the average rates.
| | |
| --- | --- |
| Laser in-situ keratomileusis (LASIK) | AED1,000 – AED5,000/eye |
| Photorefractive keratectomy (PRK) | AED3,500 – AED7,500/eye |
| Laser epithelial keratomileusis (LASEK) | AED4,500 – AED8,000/eye |
| Epi-LASIK | AED2,000 – AED8,000/eye |
| Refractive lens exchange (RLE) | AED1,000 – AED7,000/eye |
The Best Eye Clinics for LASIK in Dubai
Let's now look at the best eye clinics for LASIK in Dubai!
It can be challenging to decide on which eye clinic to go with, so we highly recommend that you read our guide after the list.
1. Eye Consultants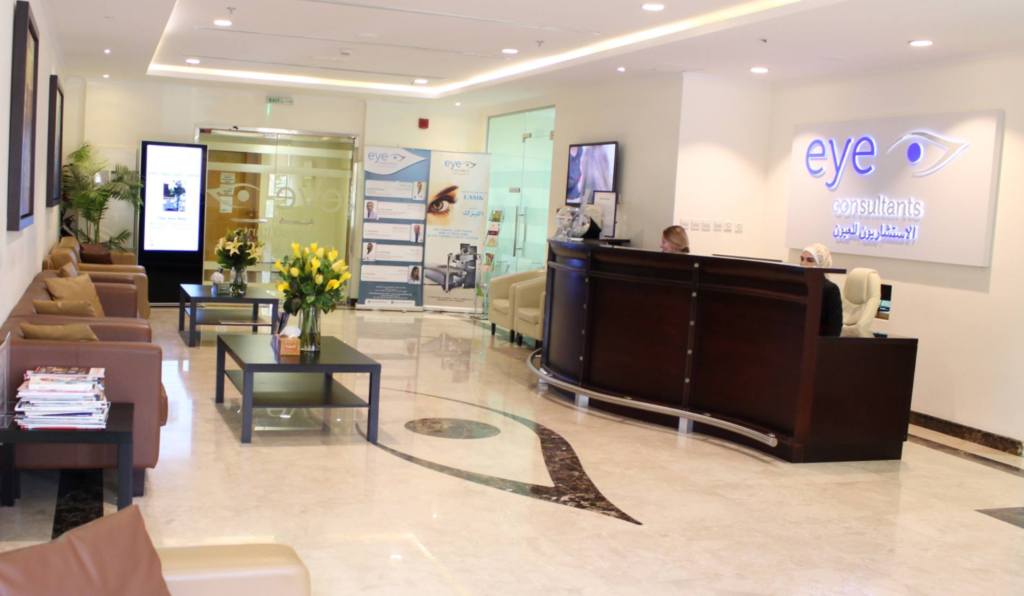 First on our list is Eye Consultants Center, a specialized medical facility that's considered to be one of the best options for Ophthalmology services in Dubai.
The team at Eye Consultants Center is made up of some of the best in the field. While the doctors each have their own specialties, they share the common goal in wanting to optimize medical care with the latest technologies.
Aside from the expert team of doctors, Eye Consultants Center is also home to dedicate staff members, all of which are highly trained professionals who endeavor to satisfy patients by deftly handing their needs. They've shown themselves to be warm, welcoming, and adept at managing the Center and ensuring that it runs smoothly at all times.
LASIK and Refractive Surgery at Eye Consultants Center can address three types of refractive errors: Nearsightedness (Myopia), Farsightedness (Hyperopia), and Astigmatism.
Eye Consultants Center offers different types of procedures to correct these refractive errors. These are Relex SMILE, Femto LASIK, Contoura Vision, ULTRALASIK, Photorefractive Keratectomy (PRK), Phakic IOL, and Refractive Lens Extraction (RLE).They use the most advanced technologies for Lasik surgery with most experienced Lasik surgeons in Dubai.
Additionally, Eye Consultants Center has gained recognition for medical excellence at all times. They accommodate patients who are in need of treatment for various eye conditions, such as vision acuity problems, cataracts, diabetic eye disease, corneal disease, glaucoma, vitreo-retinal, oculoplastic, pediatric ophthalmology and squint treatment.
Now, in terms of service, Eye Consultants Center is second to none. Booking an appointment at the facility is easily accomplished, thanks to the many avenues (e.g. phone, WhatsApp, and email) that can be used.
Moreover, Eye Consultants Center accepts insurance for their services. Some of the providers that they accept include Neuron, NextCare, NAS, Daman, Almadallah, Albuhaira, ADNIC, NGI, AXA, MetLife, SaicoHealth, MedNet and NowHealth.
For the eye treatments, Eye Consultants Center takes the time to meet with each patient to thoroughly assess their current situation. After which, the doctor will recommend the necessary procedure that needs to be done to improve upon the patient's health.
Customized LASIK procedures

Convenient online booking process

Expert team of Ophthalmologists
Addresses a wide range of eye issues
 Most advanced technologies for Lasik and eye care
Free Lasik assessment & consultation
Free post Lasik follow up
Customer Reviews
Alice Dela Cruz had nothing but praise for Eye Consultants Clinic after her experience:
"It is quite ironic to say for someone who wore glasses for such a long time, I remember vividly the year where I started wearing eyeglasses – it was the year of the dog, 2006.
Yes, for 15 long years I suffered from poor eye-sight. My eyeglasses became my constant companion, I wore them every time and any time of the day – sometimes even forget to take them off after a long day at work. I thought I'd need to wear them forever.
Eye Consultants gave me hope! Thanks to their Ultra Lasik surgery, I was able to gain back my vision, just like how they were before! April 11, 2021, it has been 10 days since then, but I can't believe how the 10-minute painless treatment could change my life forever.
I couldn't thank the doctor, Dr. Sherif Hassan Emerah who supervised the surgery, the head nurse, Ms. Maricel, and of course, also to all the friendly and approachable staff who assisted me until the very end.
Sometimes I'd wake up looking for my glasses out of habit only to remember that I don't need them anymore – I would be able to see faces, nature, and everything clearer without the help of my eyeglasses!"
2. Atlanta Vision Eye Clinic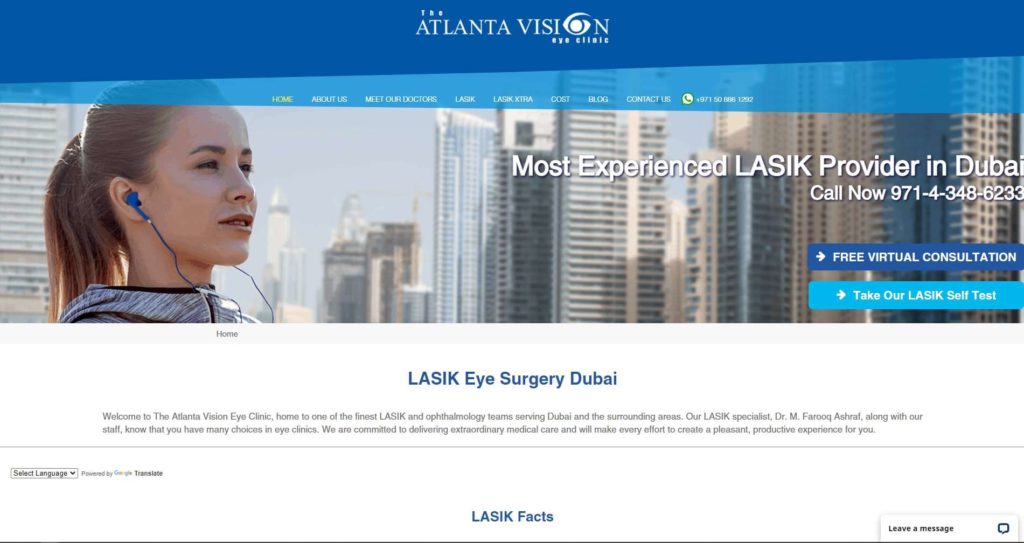 WEBSITE
https://www.dubailasik.com/
ADDRESS
Villa # 1185b, Al Wasl Rd, Dubai, UAE
CONTACT DETAILS
+971 4 3486233
+971 50 8861292
OPERATING HOURS
Saturday – Thursday: 9:00 AM – 8:00 PM
We picked Atlanta Vision Eye Clinic as one of the best eye clinics for LASIK in Dubai for their emphasis on fitting the LASIK procedure to the specific needs of every patient.
They use the Zyoptix LASIK System to store "fingerprint" data of your eyes, with which they profile your case and fine-tune the procedure to best adjust your vision.
For the actual procedure, they use IntraLase LASIK, which uses computer-guided lasers for both accuracy and customizability.
In other words, "personalization" is the tool of their trade.
With how specialized their eye care is, they make sure that their custom tailoring really fits the needs of the customers. Throughout their entire time, patients will be constantly checked up on for updates and information on their treatment.
The strength of the entire medical team is founded on its medical director, Dr. Ashraf, who has over 2 decades of experience in LASIK treatments and conducted over 40,000 laser eye surgeries in his career. Being backed by such leadership means that Atlanta Vision's expertise is always up to par.
Unfortunately, aside from dry eye treatment, Atlanta Vision doesn't have much in the way of treating eye diseases alongside the LASIK procedure. If you're suffering from glaucoma, cataracts, or other disabilities, please keep reading to see our other entries.
That notwithstanding, Atlanta Vision receives a bright green light from us for their emphasis on personalization.
Personalized LASIK procedure
Helpful, informative aftercare
Strong ophthalmological knowledge base
Limited options for eye diseases
Customer Reviews
Josie Holman felt at ease with Atlanta Vision's constant support even after the procedure:
"Excellent service from start to finish. The whole team made me feel very at ease about the procedure and the LASIK surgery itself only took minutes and was painless. So glad I did it and would definitely recommend to anyone thinking of getting LASIK: Dr Ashraf is excellent. The aftercare is also very reassuring as there are several follow up appointments."
Sientania McNeil's overall experience with Atlanta Vision was liberating:
"This was definitely the best decision I ever made! I am almost a week post surgery and have never felt do free in my life! Atlanta Vision Clinic has the best service and Dr Shashikant Shinde and his team made me feel safe and comfortable at every stage of my journey to LASIK. The procedure was just what they explained to me and within minutes after, I could see better than I ever did before. I was even back to work within hours! I am so grateful for a such successful experience, now I can live a life with no more restrictions to the things I can do."
3. Quirónsalud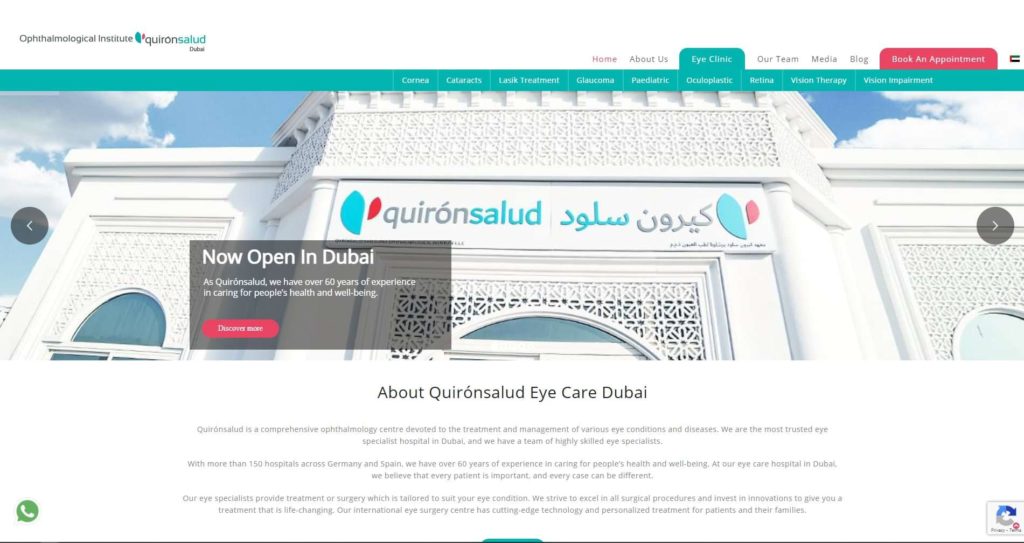 WEBSITE
http://quironsalud.ae/
ADDRESS
Villa 1187, 304 Al Wasl Road District, Dubai, UAE
CONTACT DETAILS
+971 4 3422228
+971 50 744 7757


[email protected]

OPERATING HOURS
Saturday – Thursday: 9:00 AM – 10:00 PM
Quirónsalud is an eye hospital system with over 150 hospitals across Spain and Germany, having only touched down in Dubai a little more than a decade ago.
With their strong presence in Europe, we're confident to say that they're highly qualified to perform LASIK treatments in the UAE region. The expertise they bring is a culmination of over 60 years of medical experience, resulting from which are high-end technologies and techniques made to best serve LASIK patients.
They focus on providing holistic healthcare across all of their services. When it comes to LASIK, they also provide dedicated visual therapy to ensure continuous vision recovery of their patients.
We also can't help but mention the atmosphere of their facilities. The words "welcoming" and "assuring" come to mind at first glance.
The fact that they only have one hospital in Dubai, however, makes it difficult for them to accommodate the resulting constant stream of inquiries from clients who want to enjoy their expertise. In other words, you'll have to wait your turn.
With that said, Quirónsalud is definitely worth waiting for if you really seek their deep expertise.
Spanish medical expertise
Vast experience in ophthalmology
Friendly, reassuring atmosphere
Hard to book for services due to popular demand
Customer Reviews
Sandy Sison regretted not having the foresight of going to Quirónsalud sooner:
"I did my LASIK surgery in Quironsalud last month and now I am living my BEST LIFE. My only regret was: why I did not do it sooner! I am recommending everyone who is thinking to do LASIK to not think twice as it is the best gift you can give to yourself! Just make sure to choose an outstanding eye doctor! Will definitely recommend Quironsalud and Dr. Jan!"
Marby Lebig praised Quirónsalud for their expertise:
"I got this place – Quiron Salud Dubai recommended to me by a friend for my Lasik and I really did not regret going there. All Doctors are from Spain and have their own Specialty for your requirements. I had my Lasik done and I was so happy with the outcome. The facility, staff and service really made me feel safe and well attended to. I highly recommend this to my colleague and friends for their ophthalmological needs."
4. Moorfields Eye Hospital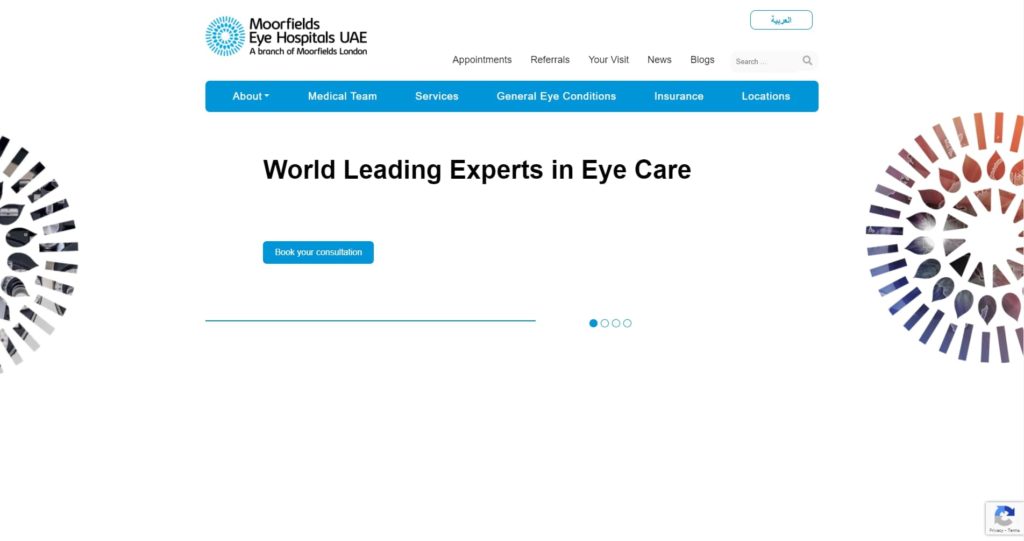 WEBSITE
https://www.moorfields.ae/
ADDRESS
20 Street Al Razi Building 64, Block E, Floor 3, Dubai Healthcare City, Dubai, UAE
CONTACT DETAILS
+971 4 4297888


[email protected]

OPERATING HOURS
Saturday – Thursday: 8:30 AM – 5:30 PM
Moorfields Eye Hospital is the Dubai branch of an old hospital system in London. Just as with Quirónsalud, we list Moorfields as one of the top eye clinics for LASIK in Dubai for the years of expertise they bring.
More particularly, they have centuries worth of medical research brought to the region. Having managed a plethora fields of healthcare, Moorfields has developed effective techniques to address any kind of disease — vision problems included.
They host a strong roster of medical experts in various fields of eye medicine, including ophthalmology, orthoptics, and optometry. Each of their professionals is so highly trained in Moorfields' knowledge base that they're capable of administering not just LASIK procedures but multiple other eye care treatments.
One aspect worth noting is their pharmaceutical expertise, with which they store and sell the latest in eye medication, including eye drops, riboflavin supplements, and other specialized products to help LASIK patients enjoy the best recovery.
Admittedly, Moorfields isn't quite as adept in LASIK as our other entries, as they're more focused in treating major eye diseases than in improving visual acuity.
But if you're looking for an eye hospital that can do both LASIK and eye disease treatment well, you won't ever want more than Moorfields Eye Hospital.
Founded on centuries of London research
Comprehensive staff composition
World-class eye medication
More focused in eye disease treatment than LASIK
Customer Reviews
Antara Gokhale always felt reassured with her LASIK treatment under Moorfields:
"I got my Femto Lasik done last week at Moorfields Dubai by Dr. Osama Giledi and it is perhaps the best decision I have taken. Dr. Giledi is clearly an expert in the area and was very reassuring and patient while answering all our queries. The management of the process on the day of the surgery was perfect and the instructions and care provided was top notch. Carlo and the discharge nurse (unfortunately forget her name) were also really kind and very very good at their job. I want to thank Dr. Osama for such an amazing job and taking care of what has been a life changing event for me 🙂"
Paari Chaddha, a former client, was greatly satisfied with her overall experience with Moorfields:
"Had a fantastic experience – had the LASIK procedure done and was treated by Dr Osama Giledi. I found the entire process (from pre-op consultation to booking to after-op care) to be efficient and very professional. Highly recommend!"
5. Laser Eye Care & Research Center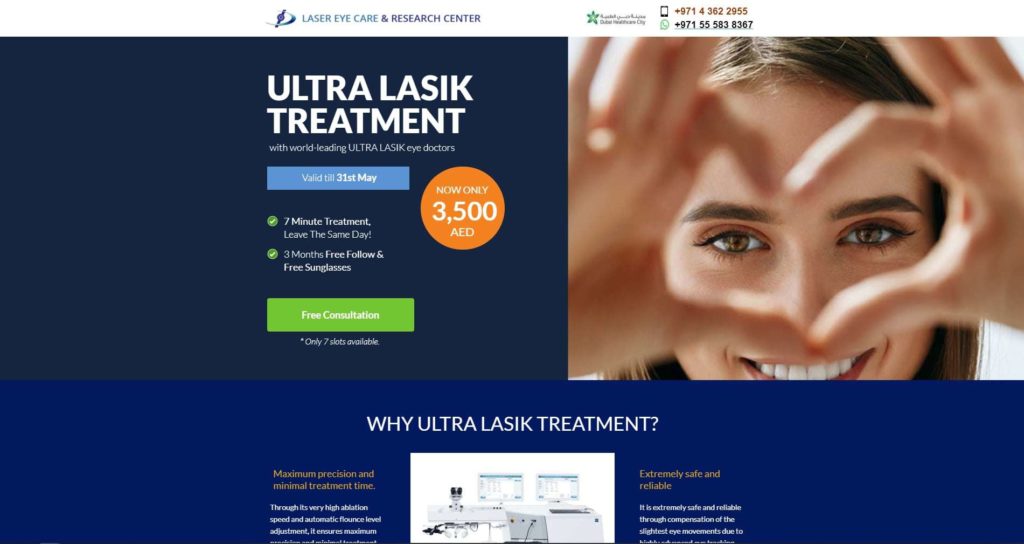 WEBSITE
http://lasikday.lasereyecenter.ae/
ADDRESS
Dubai Healthcare City, Building 27, Block B, Clinic 402, Dubai, UAE
CONTACT DETAILS
+971 4 3622955
+971 55 5838367
OPERATING HOURS
Saturday – Wednesday: 11:00 AM – 8:00 PM
Thursday: 11:00 AM – 4:00 PM
LASIK is fast enough as it is, but Laser Eye Care & Research Center takes it to a whole new level.
Two words summarize the highlights of their services: "fast" and easy." While other eye clinics require you to go through multiple tests, screenings, and lengthy aftercare following the treatment, Laser Eye Care & Research Center uses a very streamlined approach that accomplishes the same results in a much faster time.
Such simplicity is largely thanks to their use of Ultra LASIK treatment, which corrects vision with quickness and precision. The cherry on top is that recovery is also very quick, with some reporting that it takes less than a week to fully recover from the treatment.
However, because they heavily streamline their approach, there's little to no customizability with the services you can receive from them. They do offer some treatments for certain eye diseases, but the clinic otherwise leaves little wiggle room for their LASIK treatment.
Should care personalization not be on your checklist, we definitely recommend Laser Eye Care & Research Center for reliable LASIK treatments in a flash.
Simple, quick services
Specialized in Ultra LASIK treatment
Short recovery time
Customer Reviews
In her review, Andrea Jane Hermogenes loved how fast and easy they did the entire process:
"I went to another clinic and was told I cannot undergo Ultra Lasik so I went to Laser Rye Care Center for another consultation and I am eligible. I got my eyes done the same day with my consultation in this clinic and it was definitely worth it! The procedure was very fast and only took about 8-10 mins. 😊"
Jayrold Lester Aguasin got his clear vision thanks to their care:
"After a month of undergoing lasik, my vision is perfect. I can see everything clearly now. i cant remember the last time I had clear vision, but right now I can enjoy life more seeing clearly the wonders of the earth. Thank you Laser Eye Care Center staff and especially Dr. Sandip Mitra. I highly recommend this clinic."
6. North American Lasik Eye Center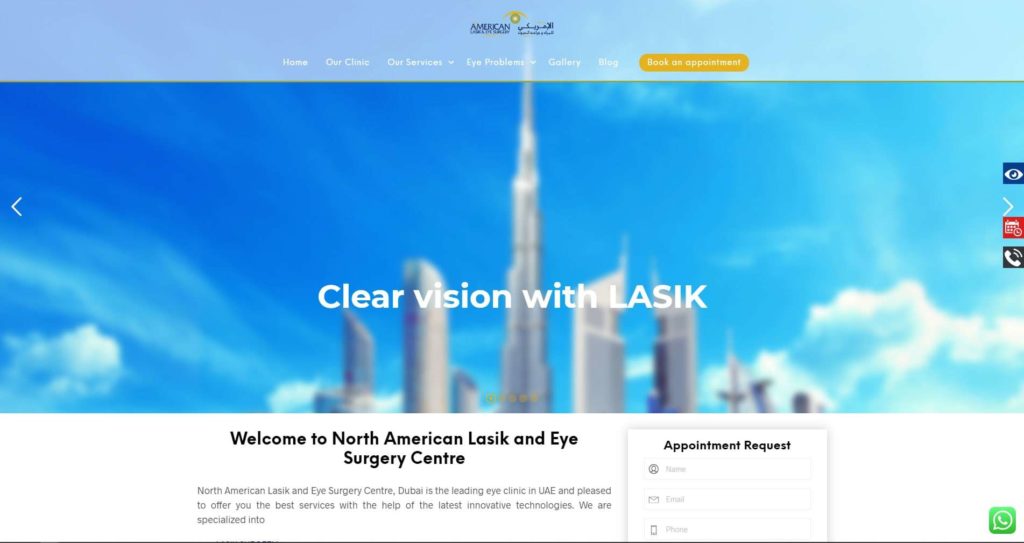 North American Lasik Eye Center is one of the best eye clinics for LASIK in Dubai because they don't hold back in solving your eye problems.
Their main focus is improving eye health first of all, and so they're specialized in identifying and treating eye diseases in patients.
In fact, they so deeply emphasize resolving eye diseases and visual problems that they give an incredibly detailed description of each issue and the best way to prevent or solve them. In our book, it's a great sign for eye clinics to define eye health beyond visual acuity.
Their LASIK facilities are great too. In their website, they explain in great detail the types of lasers they use to administer the treatment.
It's unfortunate, then, that their main medical team is small. You'll have to wait a little while for the queue to free up for you.
However, once it does, prepare to receive nothing but top eye healthcare from North American Lasik Eye Center.
Specializes in addressing eye diseases
Robust assessment
Up-to-date laser eye facilities
Customer Reviews
Khalifa Albelooshi, a pleased client, gave this clinic a glowing recommendation:
"I did a contour eye Lasik surgery with doctor Abdulla Alnaqi, which was 10 minuets surgery without any pain, and after the surgery by one day I continued my life with perfect eyes vision. Really recommended clinic with really friendly staff and a professional doctor 👌🏻"
Adham Chakohi loved the convenience he's now experiencing thanks to the clinic:
"I performed ultralasik with Dr. Ali Fadlallah. He is extremely knowledgeable and makes sure you know everything you need to do! He is also very comforting and professional during the surgery. I was in and out of the operating room in 10 minutes, and my vision was near-perfect by the next day. Would highly recommend, I can finally wear sunglasses!"
How to Choose the Best Eye Clinic for LASIK in Dubai
Because LASIK is often associated with the intriguing term "laser eye surgery," practically any eye clinic offering the treatment sounds qualified to do the job. Not all of them are, however — you'll have to keep an eye out for clinics that can administer the treatment properly.
See our pointers below on how to know which clinic is the best for you.
1. Consult the clinic
One of the best ways of knowing of an eye clinic is suitable to your needs is consulting them not just on LASIK itself but also on how they treat you after the procedure.
How a typical eye clinic in Dubai conducts the actual LASIK treatment isn't a huge concern, since the standard procedures for LASIK are used by a majority of clinics. What you should look out for is how a clinic treats you all throughout your adjustment period, which runs for up to a year after the main treatment.
Great eye clinics regularly check up on you to make sure you're letting your eyes adjust properly. If needed, they also prescribe necessary medications such as eye drops to help your eyes normalize faster.
2. Check prices
Getting a full LASIK treatment can get very expensive, so it's best that you look at clinics charging the most affordable rates.
As you've seen from our entries, there are eye clinics that offer promos and packages that may give you a lot more for a lower price. After you determine whether the clinic is good or not, make use of such deals.
3. Read reviews
Should prior research fail to give a clear answer, satisfied clients will be your best indicators of whether or not an eye clinic is excellent.
There should be plenty of reviews online for many eye clinics in Dubai. While many of them will describe how quickly their vision improved, look for how the clinic helped the patient make the improvement smoother.
FAQs about the Best Eye Clinics for LASIK in Dubai
---
Take one (big) step closer to getting 20/20 vision when you go to any one of the best eye clinics for LASIK in Dubai we listed here!
Think we turned a blind eye to a clinic you think is worth mentioning? Send us a message, and we'll look over your suggestion!
By the way, should you have trouble with people being able to see too much of your personal space, we have plenty of service lists to help you obtain true privacy! You can start with our roundup of the top companies for the best blinds in Dubai.