The 6 Best Companies for Data Recovery in Dubai
Featured Image Source: Filiberto Santillán via Unsplash
Data recovery companies specialize in retrieving data from a broken hard drive. They don't exactly have a time machine, but they do have the tools to take back as many of your important documents as they can.
Searching for a top data recovery company is a breeze with our list today. Here, we'll cover the best data recovery companies in Dubai, what you can expect to pay for data recovery services in the city, and more.
How Much Do Data Recovery Services Cost in Dubai?
Data recovery services vary based on the kind of damage involved, type and size of data being recovered, and other circumstances.
See the table below for the average rates for each common type of data recovery service.
| | |
| --- | --- |
| Logical issue | AED200 – 3000 |
| Physical damage (due to wear) | AED1000 – 2500 |
| Physical damage (due to accidents) | AED1800 – 3000 |
| HDD recovery | AED250 – 1250 |
| SSD recovery | AED400 – 1500 |
The Best Companies for Data Recovery in Dubai
Now we can move on to our list of the best data recovery companies in Dubai!
We highly recommend that you read our guide after our roundup to know which data recovery company is the best for you.
1. Angel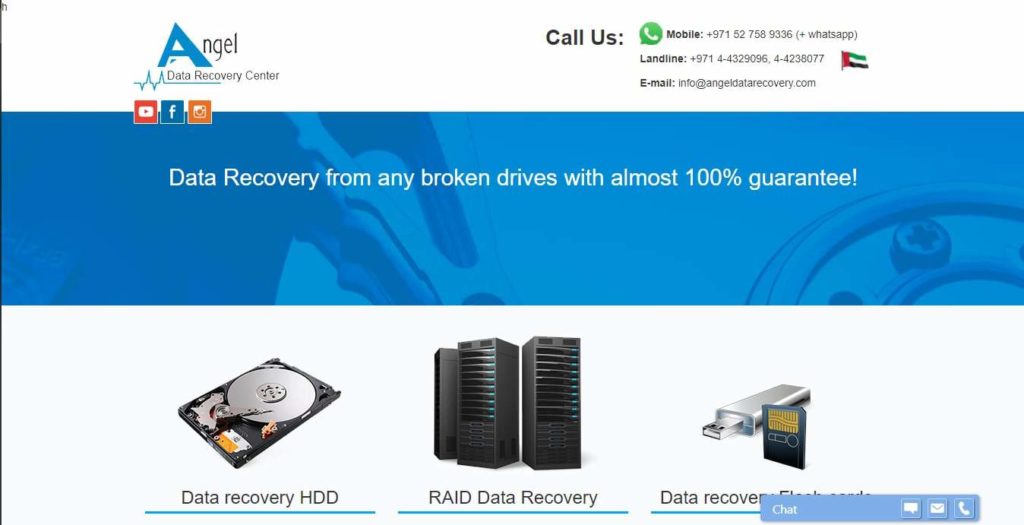 Angel's no-nonsense approach to data recovery may make it weird for them to describe their business as "angelic." But for what they do, trust us when we say they deserve that name.
Their simplistic website notwithstanding, they offer a lot of data recovery services, from basic HDD and SSD damages to industrial-level servers.
This is because they're highly specialized in dealing with an enterprise clientele, making them battle-hardened for even the farthest down of hard drives.
Such expertise trickles down to even the simplest of data recovery services, so you don't have to own a business before they take notice of your call for help.
You can feel all of this through the professionalism of their staff. The moment you call them up for a consultation, they sound ready to help and capable, which is always a comfort.
However, you'll have to wait a little if you want to avail of their services, as their focus on commercial clients has kept them pretty busy. But if it means resurrecting your data, we think Angel is worth the prayer.
Various data recovery services
Specialized in commercial clients
Professional staff
Customer Reviews
Hissah Yosef gave them another moniker besides angels – "superheroes":
"I call them the company of superheroes, I advise anyone who has encountered a problem with the hard disk to deal with these distinguished professionals. They treat more than wonderful and very cooperative. They are my heroes. They managed to save 90% of my data from the hard disk after it fell and was damaged."
And Angel Data Recovery Center saved Lulietta Ash's years of hard work with her PhD project:
"These guys are literally super super professional amazing .. they saved my PHD project .. they retrieved for me 600 GB of data … thanking them is really not enough.. I appreciate what you have done from the bottom of my heart .. thaaaanks a lot
Thanks for Ms. Oxana and Mr. Tolik
Appreciate it .."
2. Alfalab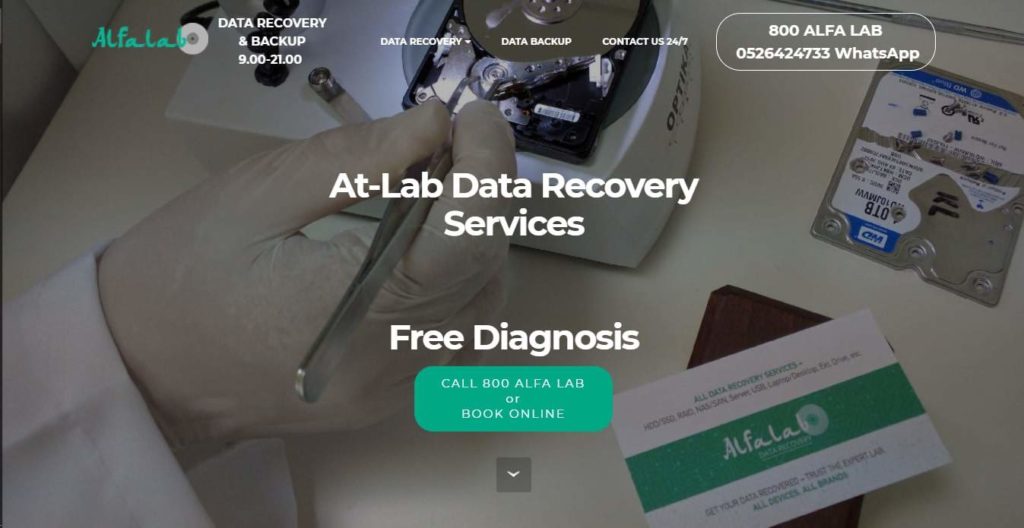 It takes a lot of courage to call oneself an "alpha" — for Alfalab, though, it's a title well-earned.
Convenience is their main draw. Everything from the listings up to the actual services can keep you comfortably satisfied without having to mire you in the complications of repair levels.
That convenience extends to services like free diagnosis. That's definitely a service we appreciate, as it helps you get a sense of their capability as well as whether or not the issue is fixable.
The only problem is that with everything they bring to the table, Alfalab always has their hands full with a lot of customers, so you might have a hard time enjoying their services right away.
Sans the kink in their otherwise perfect convenience, you can definitely feel why Alfalab is one of Dubai's best in the data recovery business.
Very convenient services
Free, quick diagnosis and delivery
International expertise
Customer Reviews
Where many others said no, Alfalab was the yes that Sami Abdelsalam was looking for:
"Many others well known IT shops said no we can't but Alfa was able to recover my data ! Amazing team and professional"
Karthi Koutharapu's experience with Alfalab confirms the "alpha" in their name:
"Alpha Lab, is probably the best data recovery team in Dubai. I have explored almost 6-7 data recovery centers before finally choosing the experts to recovery my all important 7 years data in my Ext. HD .
I am pretty sure, they have got a 100% pass rate, & they kept their brand promise. affordable as well.
When I went there 1st their engineer tried to diagnose the drive and told me to give him 3-4 days to try recovery! Whereas, within 48 hours I got a call confirming that my data is recovered.
Alas, they won my heart with their delightful experience. Their staff, is very proactive, on communication part as well when it comes to meeting expectations…!! Thanks to Alpha Labs engineers
Thanks again team!"
3. ITNerds4U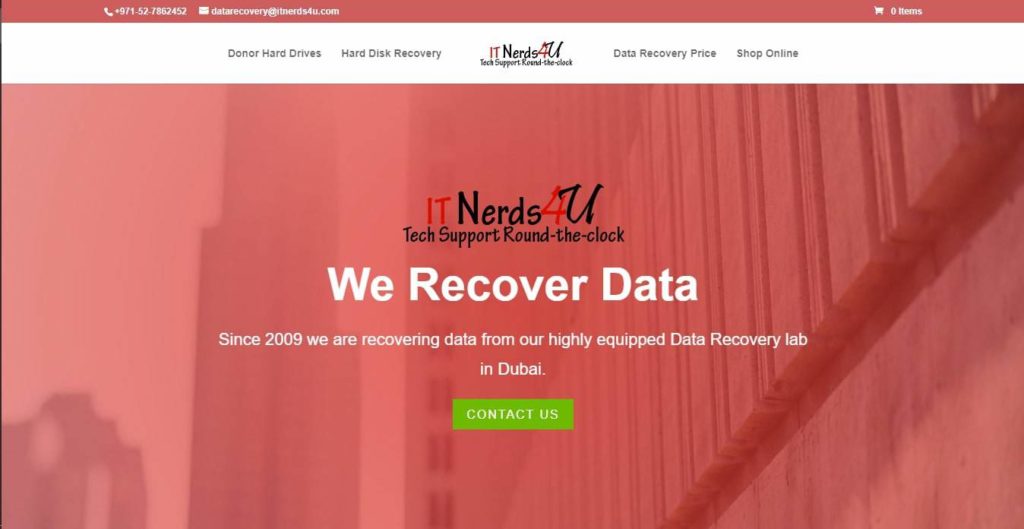 If "super fast" and "super affordable" are what you're looking for, ITNerds4U is the data recovery company – for you!
They boast the fastest data recovery out of all the entries here, going as short as 1 day even for massive data, with their longest being 5 days for "level 3" repairs.
It's understandable to think that they'll be charging you for a high price for such speed, so you'll probably be surprised when we say they're also the cheapest data recovery company in Dubai.
"Fast," "cheap," and "excellent," don't often come together. Yet, ITNerds4U is basically all that, which makes them really easy to recommend if you need data recovery on a budget.
The cherry on top is their 24/7 support team, which is always ready to answer every query thrown at them.
The only gripe with ITNerds4U is their location, which is pretty far from most of the main landmarks in Dubai. If you're coming from the Burj Khalifa, your day may turn sour from your travel to this data recovery center.
That being said, if distance is nothing to you should it mean recovering all your data, we absolutely recommend ITNerds4U as one of the best data recovery companies in Dubai.
Very fast data recovery
 Most affordable in Dubai
 24/7 support
Far from major landmarks, so a bit difficult to locate if you don't know the city's roads that well
Customer Reviews
Sofia Johnson fell in love with ITNerds4U's 1-day data recovery:
"Wow, I got my data recovered in just 1 day! Also the price were cheapest in Dubai. I must say professional service, Thank you guys."
If we lose 40000 photos of our cherished memories, we'll remember what Jonel Aringo said about ITNerds4U:
"Best data recovery company…Always professional and friendly service. Don't say no to any request. they arranged pickup same time and delivered data next day in brand new hard drive with all my data as it is. Always recommend them to anyone who require their service. I am happy :)with all my 40000 photos recovered."
4. Lifeguard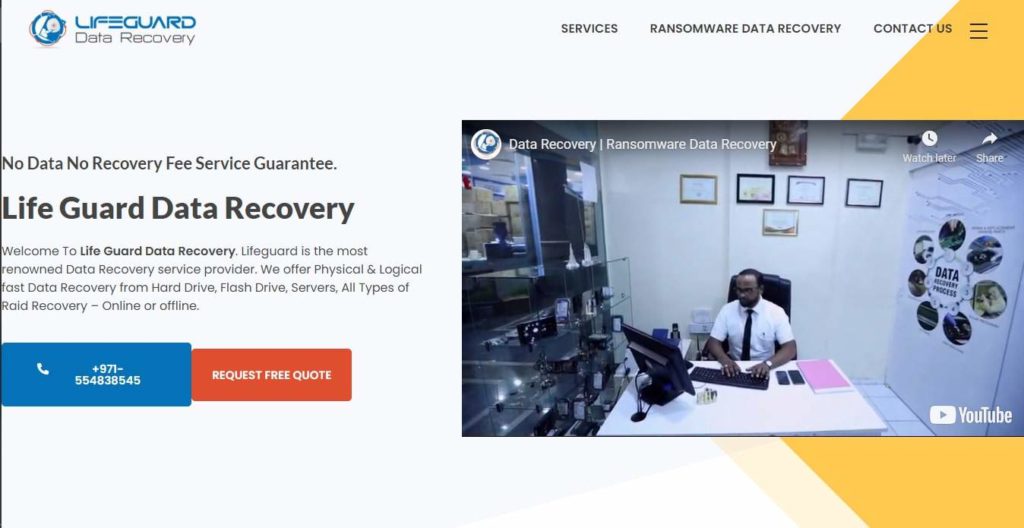 When you think of "lifeguard," you think of someone who saves people from drowning. As you'll see later in the reviews, Lifeguard does exactly that.
Data recovery has been Lifeguard's specialty for over 17 years. Being the most experienced of all the companies in this list, they're guaranteed to give you satisfaction.
They have a plethora of data recovery services. They recover data from broken HDDs, SSDs, broken PCs, network storage, and servers – and even provide ransomware data recovery, which is pretty useful.
In other words, even if your data is practically being held at virtual gunpoint, Lifeguard will save your data no matter what.
Unfortunately, nowadays, Lifeguard is watching over a pretty big beach, so you might have to wear your life jacket for quite a bit if you need their assistance. Scheduling services with them can take a while at times.
Most experienced among the entries
Multiple data recovery services offered
Ransomware data recovery
Customer Reviews
Imran Khan's life memories were rescued by this "lifeguard":
"I had a old portable hard drive with was sitting on my drawer from past 6 years it had my only backup of my childhood memories first job pictures and alot more. Unfortunately it fell and stopped working I took it to many places but couldn't fix it. Finally went to lifeguard a week back and they recovered everything. Definitely one of the best. Highly skilled, very professional. Helped with a good discount also. Thank you sooo much."
Lifeguard also saved Sanish Cherian's entire career, business, and life-savings:
"I can truly recommend them for what they have did . I went to them based on the google reviews as I almost had my hard disk not working which had all my files of the last 14 yrs and if lost mean it's literally winding up my business . I was explained of the issue when they checked my device and was told recovery is possible within few days . In 2 days I was called & said it's ready for collection and it was almost 100% recovery of data Thanks for all the assistance"
5. Guardianz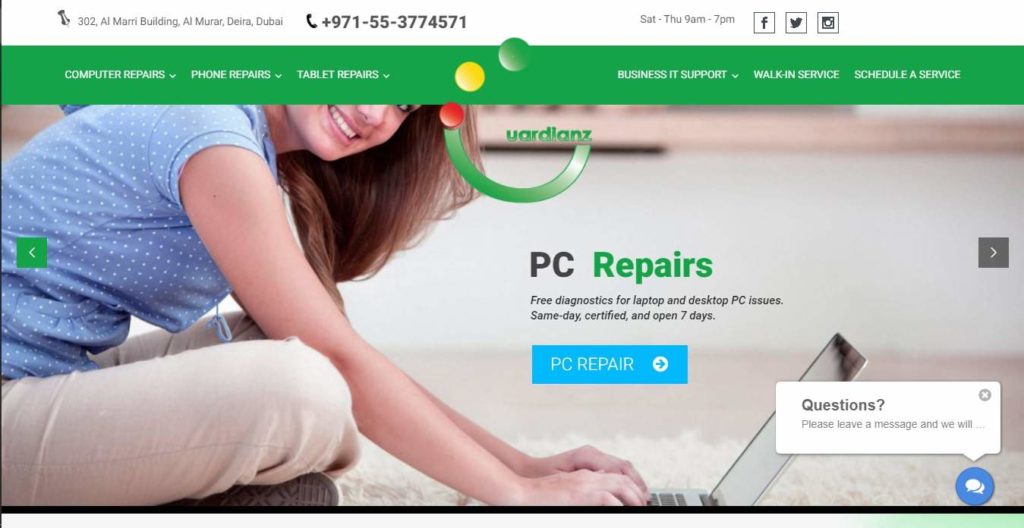 Data recovery is just one of the skills involved in IT engineering, so it's not surprising that an IT service company like Guardianz made it on our list. Their staff is made up primarily of highly experienced IT engineers, many of whom do data recovery.
That said, they offer a wide variety of IT services beyond data recovery. Not only can they fix your laptop's hard drive: they'll fix the laptop itself, and even your phone or tablet if you let them.
Since data recovery is just one part of their skillset, however, Guardianz can get pretty busy too. Probably more so than some others on this list, as they offer so many critical IT support and repair services.
But if you're filled with confidence under the knowledge that your hard drive is on an IT engineer's hands, Guardianz is definitely the one for you.
IT engineer expertise
Business-grade IT services
Extensive experience
Not actually focused on data recovery, even if they are very good at it
Customer Reviews
Tanna Bury got both lost data back and a new hard drive for it to call home:
"Great service from Guardianz. Dropped my external hard drive which caused hard drive head damage. They were able to recover most of my data and transfer it to another hard drive for a decent price that was cheaper than other places. Murtaza was also very helpful and answered all my questions."
From a week and no-go to 2 days and "here you go," Antonio Ramirez was completely satisfied with Guardianz IT Services:
"Professional Recovery Company! Got my data recovered in full. Earlier I gave my damaged hard drive to one data recovery company, they after keeping my hard drive for about a week told that hard drive recovery is not possible. I then gave my hard drive to Mr. Murtaza, They quoted less price and recovered data in 2 days. Superb Service!!"
6.   800Fixing
WEBSITE
https://www.800fixing.com/
ADDRESS
RKM Building, Office 211, Exit 2- Al Qiyadah Metro Station, Abu Hail, Dubai, UAE
CONTACT DETAILS
+971 800 349464


[email protected]

OPERATING HOURS
Monday – Sunday: 9:00 AM – 9:00 PM
If you're looking for the best balance of quality and price, then 800Fixing may be the best choice for your data recovery needs. Not only do their services come off as superb to their regulars, but their warranty periods are top-notch as well!
Their professional technicians offer same-day solutions for their services that go beyond just data recovery. In fact, if you have problems with your go-to gadgets while also needing data recovery, then you can also get them fixed at one shop.
What we love the most about their services is not their quickness in servicing, but how they get back to you with your gadget feeling good as new. And if you're worried about how it'll cost you, they offer checkups and quotations before even working on your device.
Despite their reputable services, we are still left questioning the pick-up and delivery couriering that they offer. While it's handy and all to get it picked up and delivered to your home, it certainly isn't the best one out there when compared to the others on this list.
But if you can look past the courier issue, 800Fixing is definitely a service we can recommend for their professional services and low prices.
One-stop-shop experience
Initial gadget diagnosis can be done in 30 minutes or less
Friendly customer services
6-month warranty periods for repairs
Data recovery isn't their central focus in servicing
Appointment listing can get a little busy
Customer Reviews
Helpful and responsive
"Great professionals and can solve any iPhone issue I think. My data was totally lost and they helped in porting data from the broken iPhone to mine when Apple center also declined to say that data cannot be recovered and Apple can't do anything, this shop turned out to be a savior. They got my data back and also at a very cheap price. I would recommend all to try them for iPhone recoveries before going to the Apple center. Very helpful team and responsive .💯 percentage recommended." – Lavie Perfumes
Convenient services
"It took me a couple of weeks before I took their service data recovery with a broken external drive. Saved my files. The service is convenient, it is clear that these people have experience and have been in business for a long time. Happy with the work!" – Helen J.
How to Choose the Best Data Recovery Companies in Dubai
Your mind doesn't have to be as jumbled up as your hard drive when choosing which data company to consult. Let us guide you on how to choose the best data recovery company in Dubai for you.
1. Ask for a diagnosis
It's common among data recovery companies to have at least three "levels" of repair. Each level refers to a certain type and amount of damage that they need to deal with to restore your data.
The problem is knowing under which level your damaged hard drive is classed. Hence, it's best to ask for a diagnosis from every data recovery company you consult to hear what they can do to recover your data.
Be careful, however, as it's possible for companies to upsell their services by making you think that your hard drive requires far more work than it actually needs.
On the other hand, you wouldn't want companies that vastly underestimate the problem with your hard drive. This will only lead to even more problems in the future.
Hence, it's highly recommended that you go with any of the best data recovery companies in Dubai we listed above. They'll tell you the problem as it is and solve it, plain and simple.
2. Compare prices
Each data recovery company has its own pricing scheme for the types of damage to be treated for recovering the data.
You'll be charged more for higher levels of repair, since they deal with greater types of damage. Not every company is the same in how they define each "level," however.
What counts as a high-level repair for one company may constitute only a medium-level repair for another company, which often means cheaper rates. So, compare!
3. Read reviews
While not all data recovery companies are the same, you at least share the same kinds of experiences with fellow broken hard drive owners of both past and present.
Reading their reviews allows you to know if a company does an excellent job in recovering data, especially considering the type of damage your hard drive sustained.
This also lets you know how long a company takes, how much data is recovered, and how much is charged in the end.
FAQs about the Best Data Recovery Companies in Dubai
---
Lost data is sure to go back to your hands when you hire the services of any one of the best data recovery companies in Dubai listed here.
Know any good data recovery companies we missed? Hit us up with a message and we'll add them if they pass muster!
Oh, and if the kind of recovery you're looking for is of lost time with your Netflix, we invite you to read our list of the best companies for TV repair in Dubai.