The 6 Best Electricians in Dubai
Featured Image Source: Thomas Kelley via Unsplash
It shouldn't come as a shock that dealing with anything related to electricity can be a complex, dangerous, and sometimes even life-threatening endeavor.
Thankfully, you can save yourself the electrocution by hiring an electrician. They're trained precisely in the craft of dealing with your electrical needs.
Finding the ideal electrician need not be complicated — we got you. Here is our list of the best electricians in Dubai, carefully picked for being a cut above the rest.
How Much Do Electricity Services Cost in Dubai?
Prices for electricity services are based on number of hours, expertise, and the type of service. See the table below for the estimated average of how much electricians charge.
| | |
| --- | --- |
| 1 hour | AED100 – 500 |
| 2 hours | AED95 – 490/hour |
| 3 hours | AED85 – 475/hour |
| 4 hours | AED70 – 450/hour |
| 5 hours | AED55 – 400/hour |
The Best Electricians in Dubai
Don't pray for the lights to come back on (and back off). Here is our roundup of the top electricians in Dubai!
To help you make an informed decision, we prepared a guide after the list on how to choose the best electrician for your needs.
1. Toolboys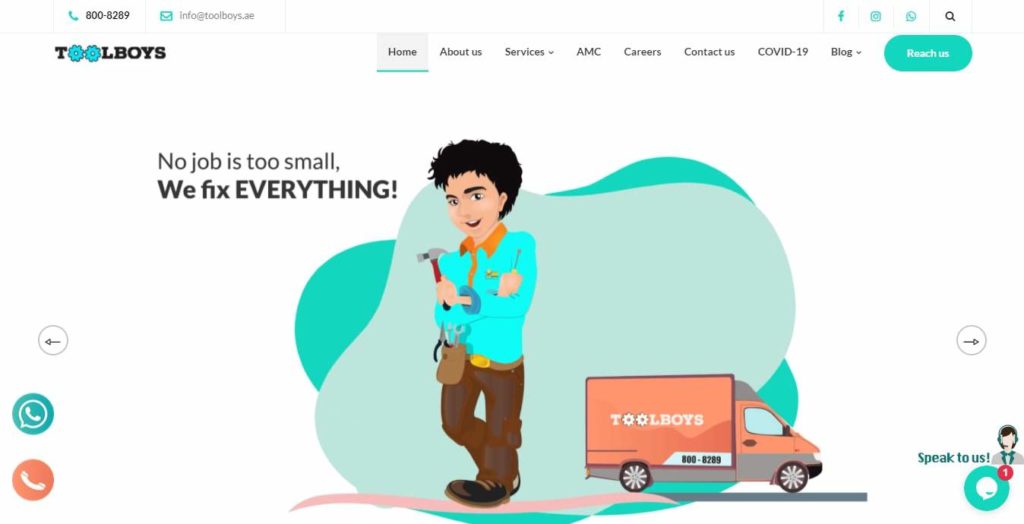 ToolBoys actually offers a lot of different handyman services, but they're also well-known for their topnotch electrical services.
Their electricians are very well-versed in doing a wide array of electrical services, from simple installations and repair to complex tasks such as upgradation and renovation.
Versatility is definitely their strong suit, especially when their services are offered for both major and minor infrastructure. Even the most demanding of customers will be appeased.
The icing on the cake is that their services are up for grabs 12 hours a day, same time, everyday.
But a common downside to being one of the best electricians in Dubai is that their schedule is always packed with customers. So, if you're looking to enlist their services, you'll have to wait in line.
When it does get to your turn, you'll realize their tagline is a lot more than a marketing tactic. They really do fix everything really, really well, in our experience.
Variety of electrical services
Can work on major and minor infrastructure
Works even on weekends
Customer Reviews
After going through some disappointing electricians, Saif Nadeem finally found Toolboys to be the right ones:
"Highly professional – Great team. Very courteous and polite.
Was recommend by a friend who specifically mentioned to call the original VFix guys – there are some bogus companies like VFFIX and yallafix etc which are disappointing
They solved my AC problem and even did a room painting all for under 600 AED ! Highly recommending these guys"
Clarissa Scharinger loved the Toolboys' friendly, no-nonsense work ethic:
"Very impressed! They are super punctual and work neat and fast. Didn't over charge me and they are very friendly. I recommend them!"
2. JustCare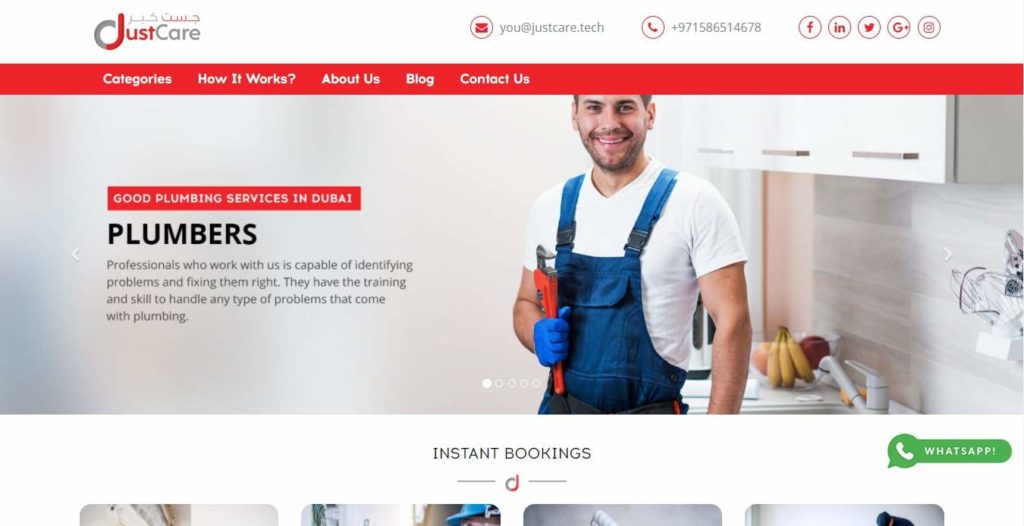 WEBSITE
https://www.justcare.tech/
ADDRESS
Office No. 104 Building Kazem, Beside The Qayadh Metro Station, Hor Al Anza Deira, Dubai, UAE
CONTACT DETAILS
+971 58 6514678


[email protected]

OPERATING HOURS
Saturday – Thursday: 7:00 AM – 7:00 PM
If "simple, cheap, and easy" are the only things on your checklist, JustCare may be the electrician company for you.
Their offerings are simple and sufficient to satisfy most customers. If you require something a little more custom-made, JustCare is also flexible enough to do most custom jobs so no one is ever left out.
They charge simply with AED 95 on the first hour and AED 45 every extra 30 minutes thereafter. This means you don't have to pay double if you exceed your first hour by only 2 minutes.
JustCare also makes sure that customers they made happy will stay happy with the complementary maintenance they provide after the first service. They don't cut any corners for their simple services — they just care (no pun intended).
Our only gripe is that the way they set their final price can be confusing at times. Their mention of extra fees depending on the project may account for anything, and can definitely confuse people setting a precise expectation of how much they'll pay.
Sans the chink in their simplicity, JustCare earns our top recommendation as one of the best electricians in Dubai for how simply and straightforwardly they do their business.
Simple services
Great affordability
Complementary maintenance
Final price can be confusing
Customer Reviews
Mohammad Khalifa Hassan left them this review:
"Excellent service. I needed TV wall mounting service for my 65 inch OLED Tv so I contacted them via WhatsApp and they responded promptly. They asked for details and advised me about the charges. Their team was here on time very quickly. The team was professional and wearing uniform and had all the necessary tools. They were clean and professional and finished the job in less than an hour. All in all I would recommend their service based on the high quality I received. Thanks JustCare"
Anand Krishnamurthy commended JustCare for their brains and brawns in dealing with electricity:
"Prompt efficient service. Very professional and knowledgeable staff. They know their job and execute it with great deal of proficiency. Highly recommend them."
3. Handyman Services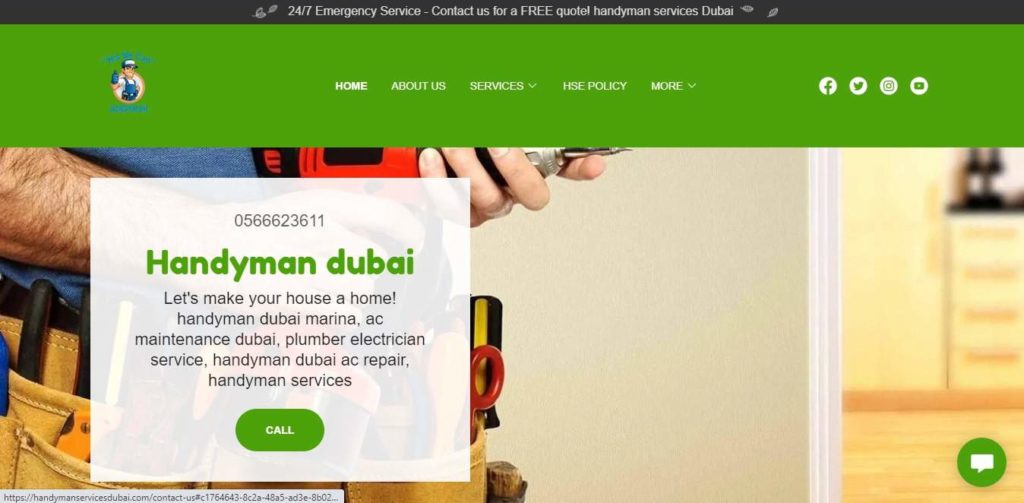 The reason Handyman Services is one of the best electricians in Dubai is that their main tool of the trade is seriously dedicated customer support.
No matter what time it is when their clients need an electrician, Handyman Services send in their best experts in a heartbeat. Through their offered 24/7 emergency service, any client in need of even the simplest services at, say, 2 AM, will get it.
And their electricians, contrary to what we expected given their 24/7 service, will always arrive at your doorstep with a very nice and efficient demeanor.
This demeanor persists even when they're not inside your house, as they dedicate themselves to checking on their customers and making sure that they're happy with their services.
Unfortunately, you may not quite enjoy their electrician services as much as their other handyman offerings, as they're not completely specialized in the former.
Though as we said, their friendliness and gung-ho dedication makes it totally worth putting Handyman Services on speed dial.
24/7 emergency service
Friendly, professional staff
Dedicated maintenance support
Not as specialized in electrical work as the other entries
Customer Reviews
Sam Levi described Handyman Services like they were superheroes:
"Advanced Handyman Services saved my family from these cold nights. I even saved enough money to add something to my man cave. Looks like I will be staying in touch with you guys."
Ahmad H. saluted this electrician firm for always going over and beyond the call of duty:
"Epicwork , calm and chilled and staid above and beyod normal duties , I highly recommend asking for Imran or Jamshaid or even me n ask me about my experience with them setting up my computer inaddition to the TV to the soudnd system and apple tv configuration – sweet they know their stuff"
4. Nojoom Nakheel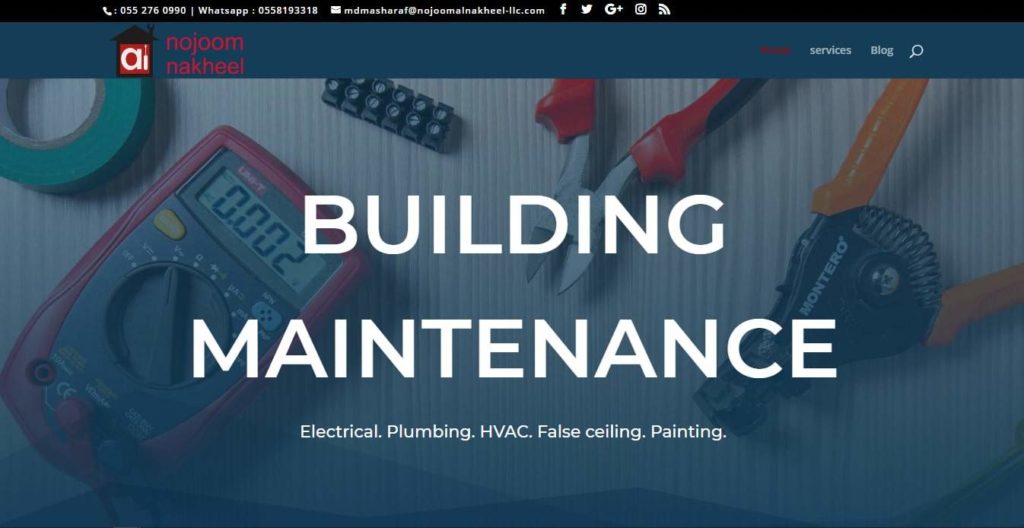 Specializing in commercial infrastructure, Nojoom Nakheel is an electrician firm that caters to those looking for the best electrical services for their business.
This entry deals with slightly more serious tasks than most residential electricians, as their electricians are very skilled in maintaining industrial-grade electronics. Their skillset trickles down very well to more basic services, making them quite versatile in all things electrical.
Speaking of versatility, we also highly recommend Nojoom Nakheel to those who want a versatile handyman provider, as their roster is well-versed in MEP.
Since they're so specialized in servicing commercial clients, entrepreneurs are more likely to enjoy their services more than residential customers.
But if you're exactly a businessman looking for electrician services for an office space, we highly recommend Nojoom Nakheel as your go-to.
Highly specialized in commercial electrical services
Skilled in industrial maintenance
Versatile in MEP
Less focused on residential services
Customer Reviews
Arpi Kaur's office swore by Nojoom Nakheel's electrical services:
"Mohammed is a kind, friendly & responsible young man. I got his number form google and called him in for some electrical work in the office. We have been working with him ever since. Good quality work and always ready to help."
Ruby Jerin, a satisfied client, said:
"Excellent Work!! Am Impressed with the Quality of work!!"
5. Nathan Stars Technical Services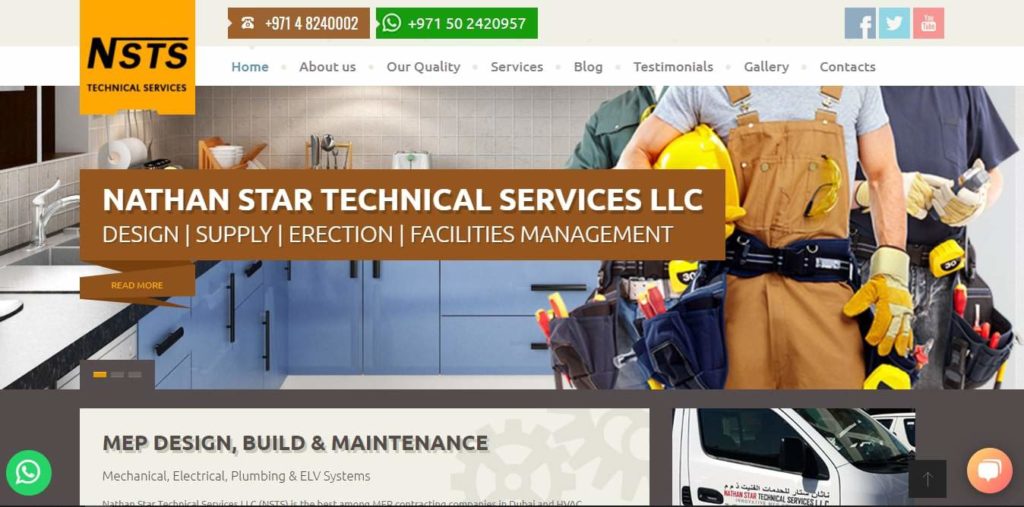 We consider Nathan Star Technical Services — NSTS for short — one of the best electricians in Dubai because they really do mean business.
NSTS is DEWA-approved, which means that they're allowed by the local government to do any MEP work related to generating electricity. This kind of thing is strictly off-limits to anyone who doesn't have DEWA approval.
This gives NSTS a considerable edge over other electrician firms. One illustration of this is the fact that they're authorized to install solar panels.
Top this off with their dedication to following the highest standards and technology in MEP, and you have an electrician firm that doesn't have "basic" in its dictionary.
Following that, NSTS might not be for you if you just need to fix residential issues like wiring or lighting installation, since this electrician firm is highly focused on industrial-level work.
If you do happen to need such kind of work, though, NSTS is precisely the rugged, no-nonsense electrician firm for you.
DEWA-approved contractors
Solar panel offerings
In-depth services
Customer Reviews
Ramis Rami praised NSTS for their versatility and efficiency:
"Good contractor. They can able to do all kind of electrical works and dewa approvals. Fast service!"
Shibu Krishnan placed the "number one" pin on NSTS:
"Best electrical contractors in dubai. Efficient team for electrical design & dewa approvals."
6. HiTech FM

WEBSITE
https://hitechfm.com/
ADDRESS
The Light Commercial Tower – Al Barsha – Al Barsha South – Dubai – United Arab Emirates
CONTACT DETAILS
+971 50 223 3864
OPERATING HOURS
Saturday – Thursday 8AM–9PM
Friday 10AM–6PM
If you're looking for all-around maintenance that includes electrical services, HiTech FM has got your covered. They are known for their extensive services, which also include some of the basic electrical repairing and replacement you may need.
Their range of services includes wire fault rectification, repair, and replacement of circuit breakers, control panels, and light fixtures. They also repair and replace your Electric Leakage Circuit Breaker.
They also fix electrical fittings, install new light fixtures, and switch gears. If you're looking to install or repair your garden lights, they also have those under their roster of services.
What we like about their services is that you can hire them if you're looking to hire companies that offer more than just their electrical repair services. If you want the convenience of having just one company doing your maintenance work, we highly recommend you to go for HiTech FM's services.
One thing that we did notice, however, is that their electrical services cover basic services only. So if you're looking for a company that handles more specific problems, we suggest you skip their services.
Nonetheless, we are impressed with their packaged services. Starting at 95 AED a month, you can have preventive maintenance for your house, including electrical fittings. You also have 6 call-outs to their services that are included in the price that you pay.
Comprehensive packages available
24/7 Emergency services available
Have annual maintainance available
Website does not have prices for ala carte services
Basic electrical service and maintenance
Customer Reviews
"The work is always done to a very high standard from decorating to odd jobs. Hitech Facility Maintenance has worked on our rental flat and our home and always finished the job on time. The staff was friendly and gives good advice about any maintenance jobs. Can't fault."
"For the extraordinary service I give my best reviews. They did complete home maintenance service for me and I am literally very satisfied with the quality work and their professional attitude. Highly recommended.."
How to Choose the Best Electrician in Dubai
Electricity practically runs a large portion of our daily lives. Hence, you shouldn't hire less than the best electrician in Dubai for you to ensure that your life goes along smoothly when you need electrical work done.
It may be tempting to think that you can hire any electrician because they all do the same things. Still, we want to save you the regret of hiring the wrong one, so here are some tips on how to know which electrician in Dubai is the best for you.
1. Predict the response time
In other words, "How soon can they arrive at your place?"
Your time is always important. It's difficult to schedule the rest of your day if the electrician arrives more than 3 hours after you leave your place.
Factors you can use to determine their response time include distance from your place, usual traffic, and means of transportation.
The best electricians in Dubai typically arrive at your place in less than 2 hours after you make an emergency call, already equipped to do the job.
2. Take quotes
How much electricians charge doesn't just depend on how long you're hiring their services for. There's also the size and type of the project.
Luckily, many electricians in Dubai give a free quote to you online after you discuss what you need to get done.
When your search boils down to 3-5 electricians, ask for a quote from each of them. The most affordable one of them all wins.
3. Ask for referrals
If all else fails, ask a neighbor, friend, or loved one which electrician they hired. Referrals are your best sources of information for which electrician to get.
Their answers can vary wildly and may not mention the electrician you're eyeing.
Should that happen, hear them out. One of their suggestions may turn out to be the one for you, even if you didn't consider them before.
FAQs about the Best Electricians in Dubai
---
From small light bulbs to major power surges, our selection of the best electricians in Dubai is more than qualified (and happy) to help you out in all your electrical needs!
Think we missed an electrician or two that you liked? Come and reach out to us with your suggestions!
If you're looking for mechanical services outside of electrical work, check out our list of the best handymen in Dubai!