The 7 Best Office Space Companies in Dubai
Featured Image Source: Nastuh Abootalebi via Unsplash
Problem: there are hundreds, if not thousands, of potential office spaces in Dubai to choose from. Where do you start?
The answer is office space companies. These firms are specialized in helping you find the place that is best suited to your business venture.
We want to make it easier for you to realize your goals, so we rounded up the best office space companies in Dubai. Read and learn here what the top ones can offer for your company's growth.
How Much Do Office Spaces Cost in Dubai?
Rental companies charge different rates for various services that differ in the amount of space used, number of people in the company, and additional amenities provided by the company.
See below for a table of the average price ranges for each typical type of rental in Dubai.
| | |
| --- | --- |
| Meeting room | AED75 – 250/person |
| Co-working space | AED500 – 1,500/month |
| Office space | AED1,000 – 3,000/month |
| Business package | AED5,000 – 8,000/month |
The Best Office Space Companies in Dubai
Expanding your business need not wait any further! Here are our picks for the best office space companies in Dubai.
Note that after the list, we'll give you some useful tips on how to choose the best one for you, should you need assistance in that area. But for now, let's check out the companies themselves and what they can give you.
1. The Executive Centre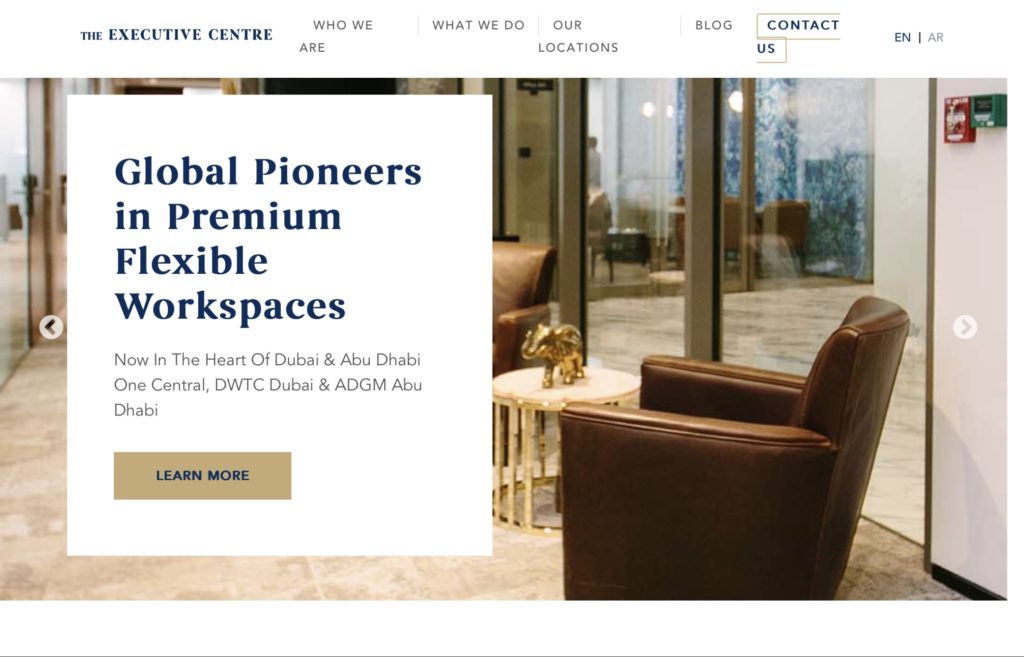 WEBSITE
https://executivecentre.ae/
ADDRESS
Level 3, One Central, Dubai World Trade Center, Sheikh Zayed Road, PO Box 9573, Dubai, UAE

Abu Dhabi Global Market Square
Level 12, Al Sila Tower
Al Maryah Island
Abu Dhabi, UAE
CONTACT DETAILS

[email protected]


+971 4 526 4777 (Dubai) 
+971 2 411 0660 ( Abu Dhabi) 
OPERATING HOURS
Mon – Fri: 08:30 – 18:00
Oh boy, let us tell you about our experience with The Executive Centre. Talk about a swanky office space that makes you feel like a boss.
With nearly three decades of expertise in flexible workspace solutions, The Executive Centre is the third-largest office space provider in Asia.
They have a network spanning Greater China, Southeast Asia, North Asia, India, Sri Lanka, Australia and the Middle East.
We love that their Executive Centres are iconic and immersive spaces that maximise functionality and ergonomics.
They even feature advanced infrastructure and unparalleled service, which blew us away. They're located in Grade A buildings of Asia's most sought-after business districts.
The Executive Centre is the cream of the crop when it comes to office space providers.
With a clientele that includes Fortune 500 companies and top-notch professionals, rubbing elbows with the crème de la crème has never been more accessible. It's like being part of an exclusive club without the pretentiousness.
We found our ideal workspace among their 180+ strategically located business centres across APAC. Our experience with it was impeccable, as it was tailor-made to fit our businesses.
And let's not forget about the perks, which impressed us further.
From high-speed internet that could give The Flash a run for his money to stylish meeting rooms that make you feel like you're about to close a million-dollar deal, The Executive Centre doesn't skimp on the extras.
Unfortunately, they're closed on weekends. We recommend booking a slot with them on weekdays.
Modern offices 
Organized and professional  management 
Flexibility and customizability 
Attractive locations
Limited control and availability 
Customer Reviews
"TEC has been a great support to us since we first started our operations in the UAE. As our business grew, they were extremely flexible in offering us more space according to our needs."
"Their choice of locations in Dubai and Abu Dhabi makes it very easy for emerging businesses to sort for reliable workspace solutions in two active business hubs in the UAE."
"Their add-on services make a great cost-effective option to anyone looking to avoid the extra expense that comes with a traditional office space."
2. Apex Business Center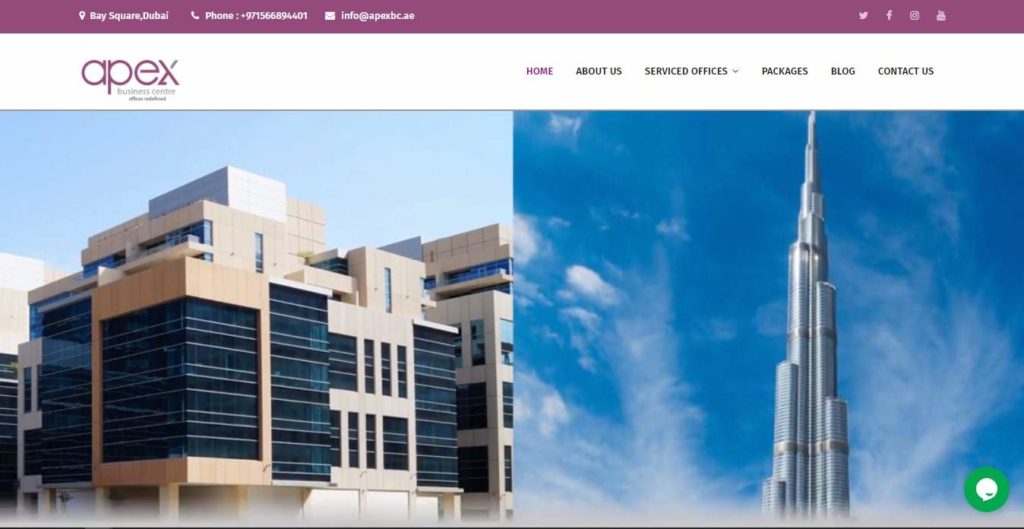 WEBSITE
https://apexbc.ae/
ADDRESS
Office P01-P05, P Floor Building 07, Bay Square Business Bay, Dubai, UAE
CONTACT DETAILS
+971 4 567 3800


[email protected]

OPERATING HOURS
Sunday – Thursday: 8:30 AM – 6:00 PM
Apex Business Center is one of the best office space companies in Dubai thanks to its ease of access and convenience. It earns a spot here for two main reasons.
First, its office spaces are completely serviced and equipped with high-quality equipment and amenities.
Second, it offers only one package: all-inclusive coverage of their top-of-the-line services, facilities, and 24/7 support. No "tiers" to worry about.
This is the office space company for you if you want a "rent-and-forget" experience, based on just how convenient it is. Plus, its location on the beautiful Bay Square Business Bay is icing on the cake, as it breathes air into your company and can motivate employees to work.
However, this streamlined convenience and service comes at the cost of lack of customizability to your company's needs, which means that it may not perfectly hit the mark with what you're looking for.
Even so, we can't help but mention it here. For what it offers, it's a superb choice for a lot of businesses.
Top-of-the-line serviced offices
Single all-inclusive package
Attractive location
Lack of flexibility and customizability
Customer Reviews
Artezaar, an online art gallery company, praised Apex Business Center for its facilities and professionalism:
"A brilliant place to have an office. Parking for offices, for guests, staff is friendly, so convenient with food options. We just love being here!"
Ghulam Rasool gave the company a glowing recommendation:
"Great location with spectacular views of Downtown Dubai and Burj Khalifa.
Professional service & friendly staff.
Would recommend to friends, who are looking space at business center in Dubai."
3. Spider Business Center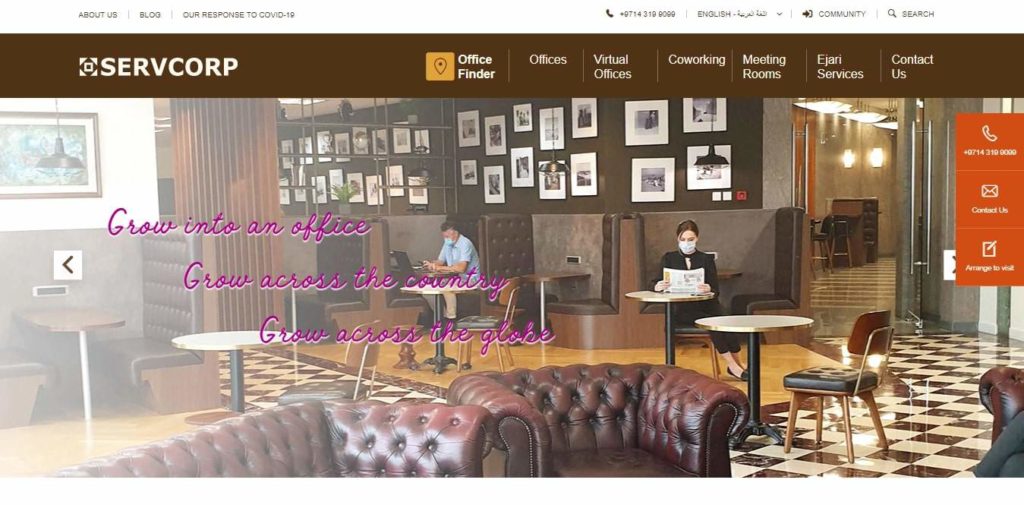 Located in Conrad Hotel's business building, Spider Business Center is a company that offers a wide array of office space services to its clients.
This variety covers both physical and virtual office solutions, ranging from executive offices to virtual offices. Other offerings include meeting rooms, coworking spaces, and private offices.
Spider Business Center's most noteworthy characteristic is probably that it also offers business consultancy services to its clients too. It also offers tax consulting, digital marketing, and even business setups for aspiring entrepreneurs.
Also, the company provides a lot of convenient facilities in its lobby for recreation and administrative functions such as photocopying and printing. You can basically get a support structure here, aside from office space.
Compared to the other entries, though, Spider Business Center is quite young, having only operated since 2009. From what we've seen, this usually means that they're less likely to give more affordable deals than the older or more established office space companies in this list.
For what they offer, however, Spider Business Center's services are in many ways similar to its moniker: versatile, flexible, and formidable. Hence, we still recommend it for a lot of people.
Slew of physical and virtual office solutions
Services inclusive of business consultancy
Access to multiple in-building facilities
Relatively new compared to other entries
Customer Reviews
Shraddha Sharma remarked how Spider Business Center helped her business:
"My experience with Spider Business Center is excellent, I booked an office space, good location with most convenient transportation. They provide coworking space, virtual office, made helped me settling my business in Dubai, people are from the center are quite nice and supportive."
Elizabeth Mary gave a stellar review of her office space and experiences with Spider Business Center:
"Fantastic, Friendly Reception Staff, Affordable Shared Offices Space and Meeting rooms or simply a hot-work area. Great offices Love this spot!Fantastic, Friendly Reception Staff, Affordable Shared Offices Space and Meeting rooms or simply a hot-work area. Great offices Love this spot!"
4. Offispace Business Center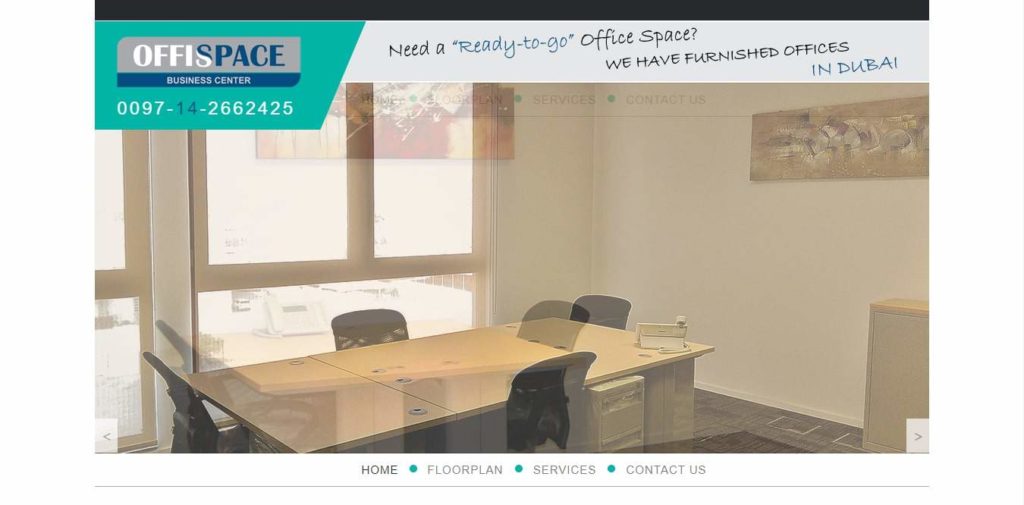 WEBSITE
http://offispace.ae/
ADDRESS
OFFISPACE BUSINESS CENTER, 4th floor, Business building, The Square, Al Mamzar, Deira, Dubai, UAE
CONTACT DETAILS
+971 4 266 2425


[email protected]

OPERATING HOURS
Sunday – Thursday: 8:00 AM – 5:00 PM Saturday: 8:00 AM – 2:00 PM
If you're an aspiring businessman who's looking for a straight-to-the-point office solution, Offispace Business Center gives exactly what you need.
They offer fully furnished office spaces complemented with convenient services in IT, concierge, and even security and maintenance.
Plus, their location is near to business landmarks in Dubai such as Century Mall and Dubai International Airport.
Hence, they give beginner-friendly solutions that never leave even the most novice of entrepreneurs for want of anything.
However, should you want flexibility with your office solutions, Offispace falls short in the types of rentals it can offer you.
On the other hand, what Offispace does offer is anything but lacking for most clients, so they still deserve a place in our list.
Simple, straightforward services
Fully furnished office spaces with convenient amenities
Near major Dubai business landmarks
Customer Reviews
Afsana Jowkar was very happy with the rental that Offispace offered them:
"Very good location. Clean and professional equipped offices. Very good rental offers. Conference room and pantry available. Highly recommended."
Nada Abdul Aziz summed up her satisfaction with the rental company quite succinctly:
"Perfect place for renting shared offices"
5. OBK Business Centre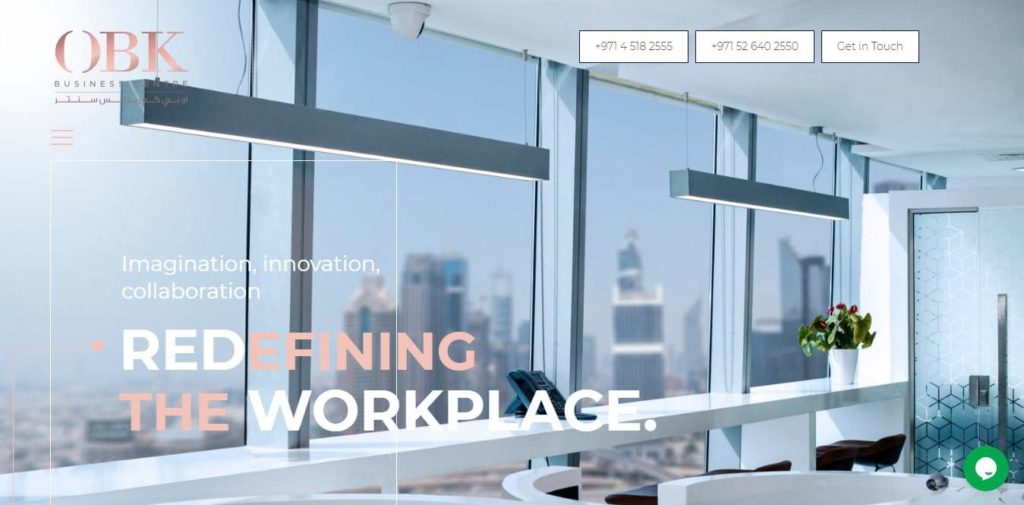 Looking to hustle hard in your business? If so, then OBK Business Center is one of the best office space companies in Dubai for you.
Based in the heart of Downtown Dubai, it's a very strategic location for businessmen looking to make an aggressive expansion in business.
OBK Business Center offers a number of office solutions such as serviced offices, virtual offices, and even business setups.
Thus, no matter how big or small your ambition, this company is very capable of supporting you with its reliable equipment and support staff.
If you think OBK Business Center brings exactly what you're looking for, though, better hurry up: their office spaces are occupied quickly due to high demand.
Strategic location in Downtown Dubai
Variety of rental services
High-end facilities and dedicated staff
Limited availability due to high demand
Customer Reviews
Aarti Asthana loved every time she worked with OBK Business Center:
"I had booked virtual offices in Dubai and my experience so far is fantastic. I am an Indian national and new to this place and business in Dubai. My friends told me Dubai is the best place for budding entrepreneurs. Hence thought of starting my business from this city. And they were right. The way OBKBC professionals guided me, that I did not feel the pain of setting up a business in a foreign land. They took all the pain of documentation and other essentials that could ease my work. I will recommend OBKBC to whomever I meet and am planning to start their business in this city."
Lalit Mohan Rawat said that OBK Business Center is the most reliable provider in Dubai:
"OBK Business Center is amongst the most reliable virtual office provider in Dubai. Few of my friends who are working independently have booked virtual office service with them. Very prompt and impressive services. Thanks a lot to them.OBK Business Center is amongst the most reliable virtual office provider in Dubai. Few of my friends who are working independently have booked virtual office service with them. Very prompt and impressive services. Thanks a lot to them."
6. Austria Business Center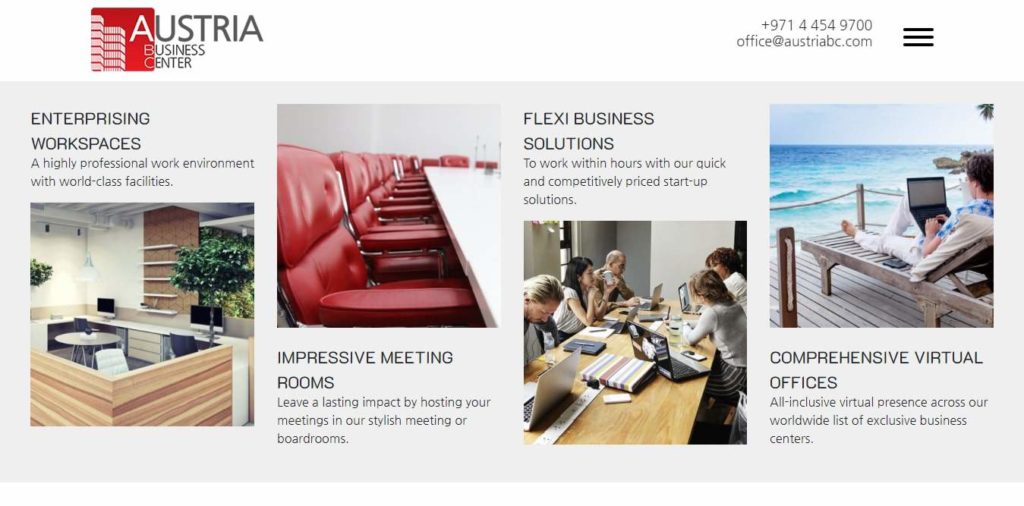 WEBSITE
https://www.austriabc.com/
ADDRESS
Level 3, 16 Jumeirah Lake Towers, Dubai, UAE Level 6, Dubai Media City, Dubai, UAE Level 7, Unit 701-705, Business Bay, Dubai, UAE
CONTACT DETAILS
+971 4 454 9700


[email protected]

OPERATING HOURS
Sunday – Thursday: 9:00 AM – 6:00 PM
Searching for a super-flexible provider with a high level of customizability? Austria Business Center has what you need.
This company is based in three different locations: Jumerai Lake Towers, Dubai Media city, and Business Bay. Each of these is very strategic and attractive to even the most demanding of businessmen
Whichever location you pick, you'll receive reliable support from dedicated administrative assistants, courtesy of Austria Business Center so that you can take care of the major tasks.
Lastly, whatever office needs you have, Austria Business Center tailors its services to satisfy you. This includes the freedom to design and arrange your space while being sensitive to your budget.
Keep in mind, however, that their offered office spaces can hold only a maximum of 50 people. If your company hits just right within that limit, you can enjoy the versatility that Austria Business Center offers.
Multiple locations
Provides in-house administrative assistants
Custom-tailored office solutions
Customer Reviews
Austria Business Center's dedication and service are among the highlights of Tim Booth's experience with them:
"We would like to say a big thank you for all your efforts over the past four years years for the facilities you have provided us. We love the way you keep in contact and are always quick to respond to our enquiries. We are very happy with the service you provide and value your advice"
Khaled Kamel was happy with how his business flourished with the company:
"MAHAM Mnagement Consulting has been doing business with Austria Business Center for two years now. We are extremely happy with our relationship and the services rendered to us.
The staff is super professional and the management is friendly, welcoming and very helpful. This is the right place to setup your business in the United Arab Emirates."
7. Fluidmeet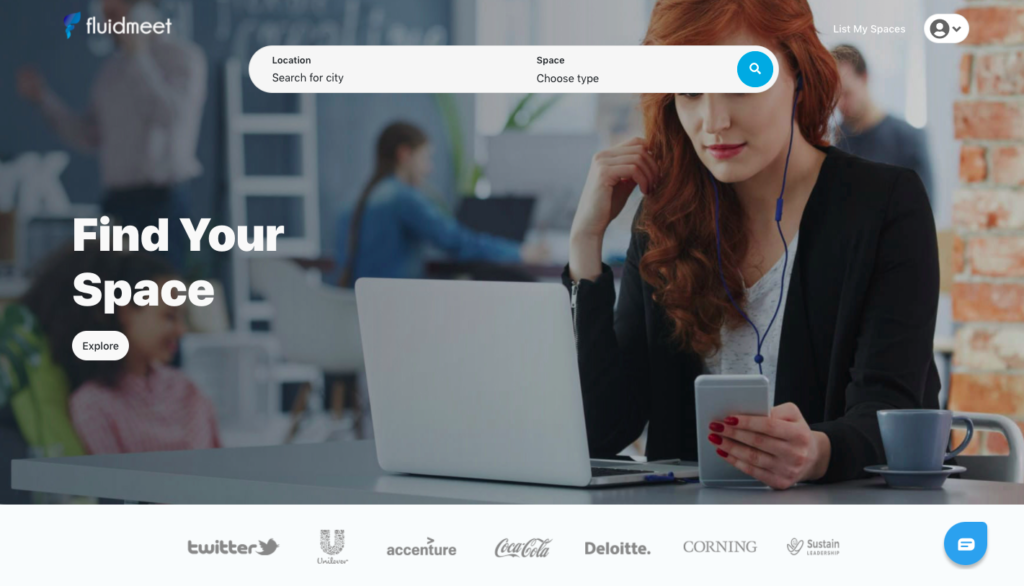 Fluidmeet provides an easy way to search for the workspace that you need in one easy-to-use and "fluid" interface. Through their online portal, you can find a wide array of various venues to suit your needs.
They've eliminated the need for time-consuming research, calling venues individually, and waiting for quotations. With Fluidmeet, you can quickly get all the information that you need to make your decision.
We like that you can even directly book and pay online if you just need the space for a few hours or days. For longer-term rentals (weeks, months or year), however, you'll need to submit a request to the owner of the venue and wait for their approval.
So whether you're searching for an office, meeting room or co-working space, Fluidmeet has got you covered. Although most of their listings are in Dubai, their service is also available globally in cities such as London and Mumbai.
User-friendly interface
Provides short-term and long-term rentals
Offers spaces in multiple cities
Long-term rentals need venue owner's approval
Customer Reviews
Let's take a look at what Fluidmeet's clients have to say:

"If I had four words to describe my experience booking an office with fluid meet they would be, simple, efficient, reliable and organized. They really provide an amazing service and act as an airbnb for work spaces." – Nadeem Zawaideh
"First time I used fluidmeet, I was happy with all the options offered. I placed a few requests within their network of meeting rooms, received proposals and booked directly online. Convenient and well priced. Thank you!" – Ghassan Chammas
How to Choose the Best Office Space Companies in Dubai
We know what you're thinking: "Yeah, these companies look great, but which one should I pick?"
The best office space companies don't just have a large catalog for you to choose from.
They have the expertise to pick the best space for your needs, connections to get the best deal for you, and dedication to support you throughout your rental.
It can be difficult to tell which companies have these, so here are some tips to help you make an informed decision.
1. Evaluate their packages
The best rental companies cater to every company's needs with business packages.
Business packages are one of the highlights of working with a rental company. These can offer not only fully furnished office spaces but also additional amenities such as Wi-Fi and reserved parking.
However, don't just buy the shiniest package. Reflect on what your company needs first.
Are you looking for an office space to use everyday, or do you only need it a few days per week? Do you really need an office space, or can you settle for sharing desks with another company?
Finally, can this specific rental company give you what you're looking for?
When an office space company ticks all your boxes, you've found the one.
2. Compare the costs
This is a little more complex than "going with the most affordable rental company." You have to be more particular with your assessment.
Aside from company-versus-company, view it as package-versus-package. In a specific rental company, is it more budget-friendly to buy into a fully furnished rental or to get an unfurnished one and furnish it yourself?
In other words, look for the best deal not just in terms of company but also of package.
3. Check reviews
Working with a rental company is like living in an apartment. The tenants always have something to say about the landlord.
Always look at a company's reviews by its previous clients, as these give you a perspective of what it's like to rent a space from the company.
Be sure to look at reviews of services that you're looking to buy into. The experience varies not just from company to company, but also among services in each company.
FAQs about the Best Office Space Companies in Dubai
---
No matter what kind of business you have, know that it will grow when you rely on any of the top providers of the best office spaces in Dubai listed here.
Know a rental company that you think we missed here? Feel free to reach out to us with your suggestions!
And if you're still in the early stages of establishing your business, we can help you out with that through some of our other service lists! See our list of the best firms for company registration in Dubai, for instance.