Top 5 Options for the Best Notary Public in Dubai
Featured Image Source: Cytonn Photography via Unsplash
When preparing an important document, it is a must to take it to a notary public for certification. To safeguard you from any kind of fraud, you should hire one of the best notary public in Dubai to authenticate your documents.
In this article, we've provided tips on how to choose the best notary public. We've also included a list of options for the best notary public in Dubai to make your search quick and hassle-free.
To prepare you for the cost of notary services in the city, we've also included a price list which you will see in the table below.
How Much Do Notary Services Cost in Dubai
Below are the costs of some of the most common notary services in Dubai.
Note, by the way, that the price per signature is mandated by the Dubai Courts. However, the professional fee varies from provider to provider.
| | | |
| --- | --- | --- |
| Document | Fee per signature | Professional fee |
| Establishing a business | AED100 | AED750 |
| Trademark registration | AED100 | AED550 |
| Assignment of shares; selling of shares | 0.5 % of the value to a maximum of AED15,000 | AED1,250 |
| Declaration of residency | AED200 | AEd750 |
| Real estate rental dispute | AED100 | AED550 |
| Inheritance | AED100 | AED1,500 |
| Assignment of intellectual right | AED300 | AED950 |
How to Pick the Best Notary Public in Dubai
To guarantee that you're getting the best notary service for your specific needs, choose a qualified notary public. Here are some tips to keep in mind.
Check for credentials
Like getting any other kind of service, it is a good idea to check your public notary's credentials. For this, you can look at a notary public's website for the associations they belong to.
Notary associations usually check a notary public's education, training, and experience before they could become members. This makes memberships to these associations a good sign that a notary public is fully qualified to do their job.
Know their specialisation
Choose a public notary whose field of expertise is aligned with the service you need.
For instance, if you wish to have legal documents certified, it may be best to choose someone who studied law and/or works in the field.
This makes the process seamless and ensures that the notary public will not make mistakes in certifying your documents.
Consider the fee they charge
The Dubai Court mandates a fee for the notary public's signature per type of document in Dubai. This is standard for all notary publics.
However, each public notary charges a different professional fee, so be sure to check this before finalising your choice of a service provider.
You want to choose a notary public who has affordable fees but still has the expertise and provides reliable notary services.
The Best Notary Public in Dubai
With the tips above, you should now be able to choose a reputable public notary. You can find a reputable service provider faster with this list of the best notary public in Dubai too.
1.   Attestation On Time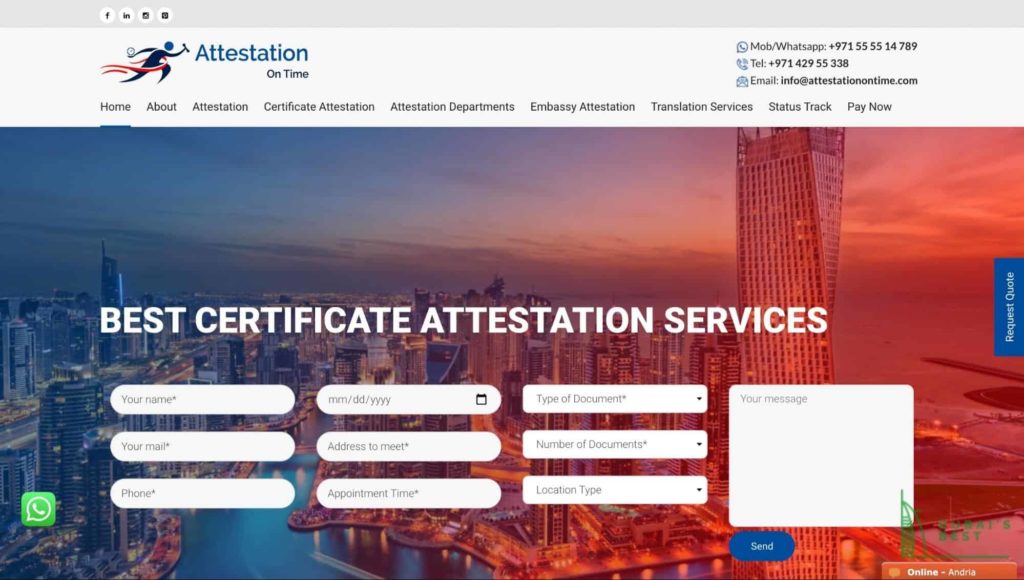 BEST FOR
Notary and attestation
WEBSITE
https://www.attestationontime.com/
ADDRESS
1st Floor, Office No 119, Al Qiyada Building, Al Ittihad Rd, Dubai, United Arab Emirates
CONTACT DETAILS
+971 55 55 14 789
+971 429 55 338


[email protected]

OPERATING HOURS
Saturday – Friday: 7:00 AM – 11:30 PM
Attestation On Time provides reliable attestation services in Dubai. If you're getting your documents attested, they can also provide notary public services, as it is the first step of the attestation process.
The firm has authorised attestation agents. They can arrange for your birth certificate, degree, marriage certificate and more to be attested in several countries.
In particular, they can get your documents attested in the UAE., UK, British Virgil Islands, US, Canada, France, South Africa, India, and China.
The entire process can take as little as 2 days. They can also provide you with legal translation services if required, so that can further help speed up the process.
Attestation On Time has even partnered with international courier companies so documents can reach their clients safely. That's just one more reason they made our list.
Open daily
Provides translation services
Direct network with international courier companies
It is not certain whether their notary actually has deep legal training
Customer Reviews
Mervin Pinto, a satisfied client, reviewed:
"The service provided by AOT is very good and hassle-free. I received my attested degree certificate on time as promised and was kept updated about the status of attestation.
I had a great experience with them and would highly recommend them for your attestation needs in the UAE."
Abbas Khan, another previous client, shared:
"Very pleased with the service provided by Marshall. He updated us regularly until our completed documents were delivered to our door. A trustworthy company with reasonable prices. Highly recommended."
2.   Takhlees Government Services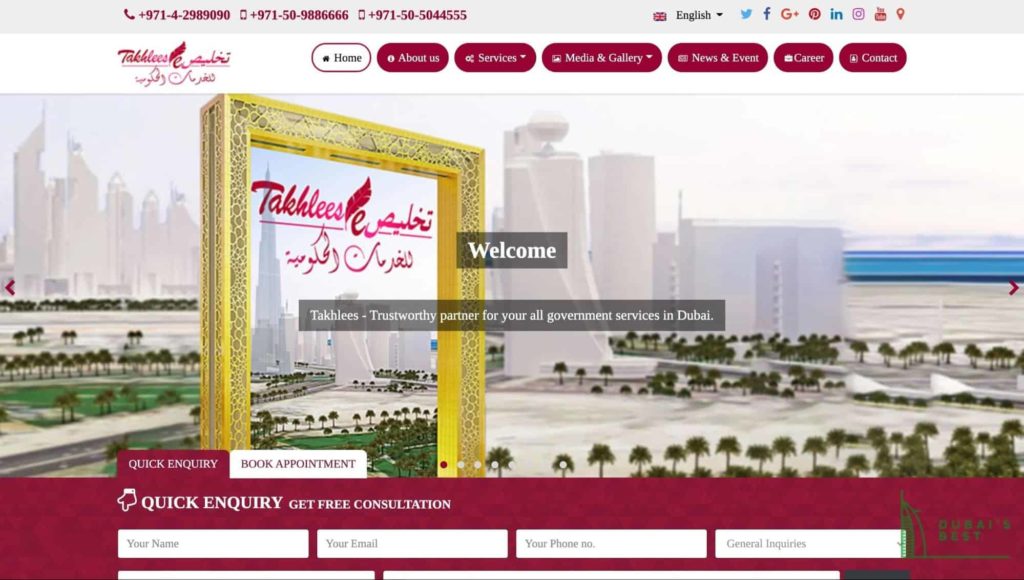 BEST FOR
Wide range of notary services
WEBSITE
http://www.takhlees.ae/index.php
ADDRESS
Ground Floor, Creek Tower, Beside Land Department, Baniyas Road, Deira, Dubai, United Arab Emirates Ground Floor, Inside Land Dept. Building, Baniyas Rd, Near Etisalat Building, Deira, Dubai, United Arab Emirates
CONTACT DETAILS
+971 50 504 4555
+971 50 988 6666
+971 4 298 9090


[email protected]

OPERATING HOURS
Saturday: 9:00 AM – 2:00 PM
Sunday – Thursday: 8:00 AM – 7:00 PM
Takhlees Government Services has provided a variety of government services in Dubai since 2006, including employment and family residency visas for expats.
Besides these, they also provide a wide variety of notary services. They can assist you in your contracts, affirmation, administration, notification, and power of attorney needs.
To provide prompt and effective services, Takhlees Government Services is well-connected with agencies such as the Dubai Municipality and Dubai Courts too. Overall, it's a fairly efficient service that's easy to recommend, as a result.
Provides a range of legal and government services
Has 2 branches in Dubai
Does not provide their notary services out of office
3.   Hussain Lootah & Associates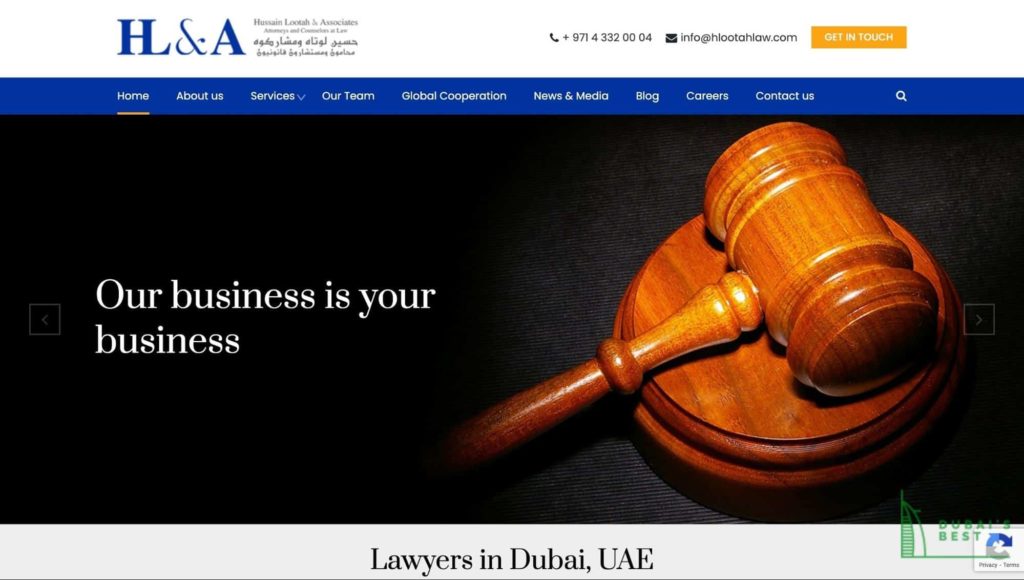 BEST FOR
Strong law expertise
WEBSITE
https://hlootahlaw.com/
ADDRESS
17 Floor, Vision Tower 1, Al Khaleej Al Tejari 1 Street, Business Bay, Dubai, United Arab Emirates
CONTACT DETAILS
+ 971 4 332 00 04


[email protected]

OPERATING HOURS
Sunday – Thursday: 8:00 AM – 5:00 PM
Hussain Lootah & Associates is a legal consultancy firm in Dubai that also offers notary services. They can sign sales and purchase agreements, legal notices, job offers, Memorandums of Association, and more.
Getting their services can be advantageous for business owners in particular. This is because their team is well-versed in a variety of industries, including construction and engineering, real estate, finance and banking.
They are also knowledgeable in local and international laws, with legal practitioners who have practised law in the Middle East, Europe, and Asia.
The best thing is that Hussain Lootah & Associates can provide their notary services anywhere that is convenient for their clients.
Knowledge in different industries and international law
Can notarise anywhere that is convenient to you
Customer Reviews
Ashraf Moussa shared their experience with Hussain Lootah & Associates. They said:
"They provide very good service for notary public such as certified true copy."
4.   HHS Lawyers
BEST FOR
Home notary services
WEBSITE
https://notarypublicdubai.com/
ADDRESS
IBIS Hotel Building, Office Entrance 5th Floor, Office No. 5008, Rigga Road Dubai, United Arab Emirates
CONTACT DETAILS
+971 52 692 2588
+971 55 482 8368
+971 55 370 1232
+971 4 255 5496


[email protected]

OPERATING HOURS
Sunday – Thursday: 9:00 AM – 7:00 PM
HHS Lawyers provides expert private notary services in Dubai.
They are familiar with the procedures and requirements of different embassies, which ensures you a quick, seamless notarization process.
They can even work with any government agency for the legalisation of your papers.
They can authenticate wills, business documents, real estate ownership declarations and the like for people in Dubai and abroad.
To properly cater to their clients, they provide in-office and home notary services. They can also meet with you day or night.
Provides in-office and home notary services
Transparent fees
5.   Agato Legal Translation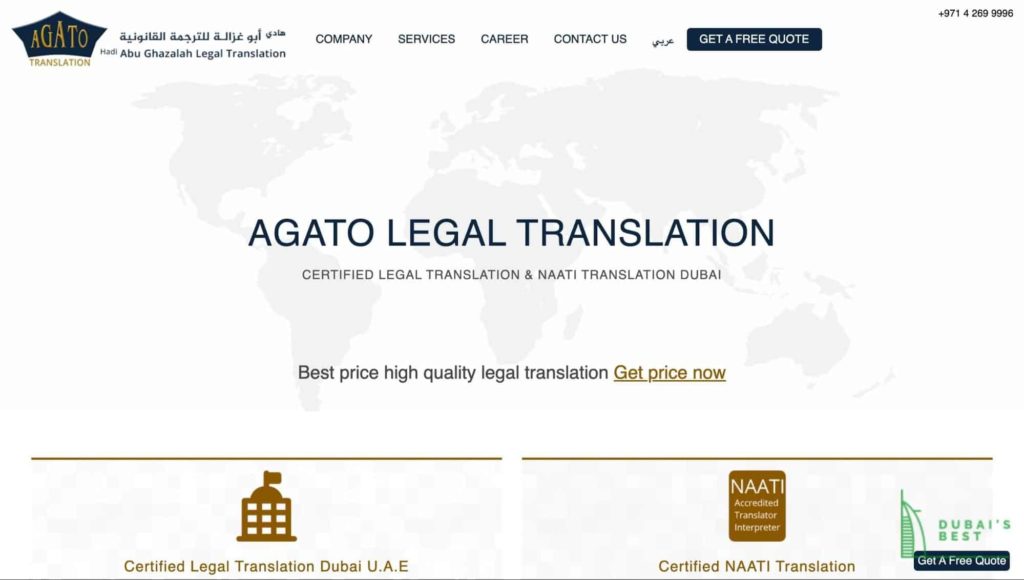 BEST FOR
Legal translation, notarization, and attestation of documents
WEBSITE
https://agatotranslate.ae/
ADDRESS
Office 2101, 21st Floor, Latifa Tower, Sheikh Zayed Rd., Dubai, United Arab Emirates
CONTACT DETAILS
+971 4 269 9996
+971 56 311 3800
+971 056 557 7317


[email protected]

OPERATING HOURS
Saturday: 11:00 AM – 2:00 PM
Sunday – Thursday: 8:00 AM – 6:30 PM
Agato Legal Translation is a translation company in Dubai that offers notarization and attestation services.
They can prepare and legalise contracts, wills, deeds, and other documents which you can use in the UAE or overseas.
They have staff who can translate your legal documents into over 100 languages, making them the ideal provider for international clients.
Agato Legal Translation promises a quick turnaround time from translation to notarisation or attestation. The company also ensures the secure handling of your documents.
One-stop notarization service
Translation services available
Customer Reviews
Hisham Alibs was pleased with Agato Legal Translation's service. They reviewed:
"I have translated a few documents with Agato Legal Translations. I can say that they are professional and quite fast and accurate. The soft copies are sent, payment is made online in various ways. I received my translated records the next day. Highly recommended."
Aiban Alvarez also shared their experience with the firm:
"Agato Legal Translation is highly recommended for their excellent work and quick response to queries and requests. Given the exceptional service, charges are still at a reasonable price. Their sense of urgency is superb without compromising the quality."
FAQs about the Best Notary Public in Dubai
---
With the help of one of these picks for the best notary public in Dubai, you'll have peace of mind knowing that you are safe from any fraud.
Do you know other public notaries we should add to this list? Let us know by sending us a message.
If you're looking for more options for translation service providers, you can also check out our list of firms for the best translation services in Dubai.