6 Firms with the Best Family Lawyers in Dubai
Featured Image Source: Scott Graham via Unsplash
Family conflict can get complicated — even more so when the law gets involved.
Should that happen, what you have to look for are family lawyers. They're experts in matters of family law in Dubai and can help you take care of the legal aspects of your family dispute.
We understand that it can be hard to pick the firm that can best help your cause, so we rounded up the best family lawyers in Dubai here. Let's go over how much you should expect to pay, though.
How Much Do Family Lawyer Services Cost in Dubai?
There are numerous types of arrangements for which law firms can charge you. Generally, costs of family lawyer services vary greatly per firm.
See the table below for the average rates, but keep in mind that these vary greatly.
| | |
| --- | --- |
| Hourly rate | AED400 – 4000/hour |
| Flat rate fee | AED950 – 7500 |
| Retainer fee | AED8,000 – 300,000 |
The Best Family Lawyers in Dubai
Everyone has a right to representation, and we firmly believe that you deserve the best kind. Here is our list of the best family lawyers in Dubai.
By the way, after the list, you can read a guide to how to pick a law firm to represent your case.
1. Aramas Expatriate Lawyers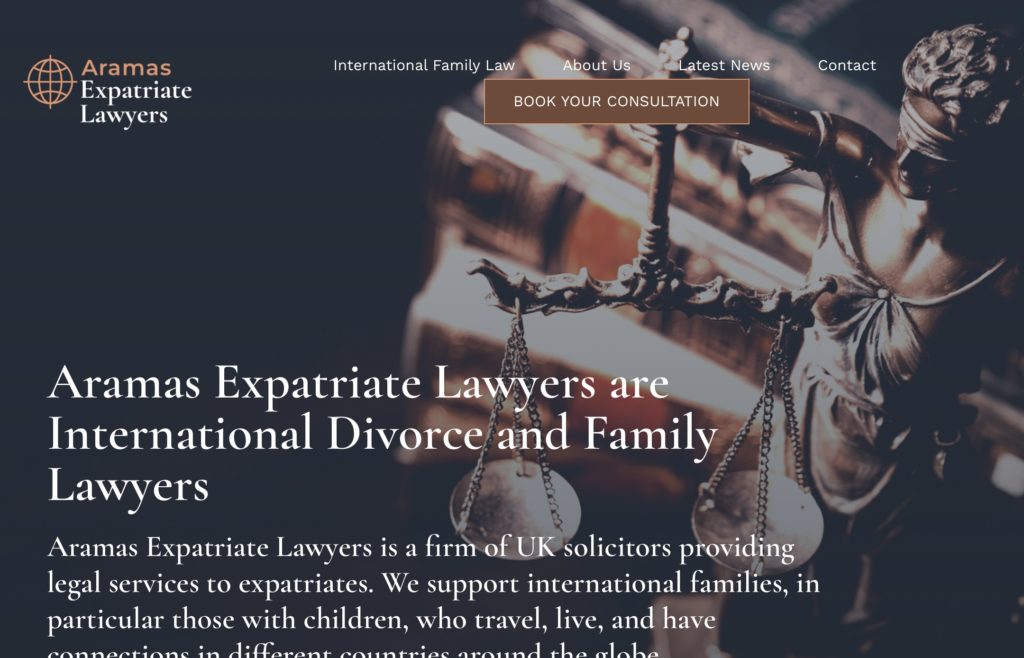 | | |
| --- | --- |
| WEBSITE | https://expatriatelawyers.com/ |
| ADDRESS | United Arab Emirates |
| CONTACT DETAILS | +4401618175014 |
| OPERATING HOURS | Monday to Friday: 9 AM to 5 PM; Saturday to Sunday: Closed |
When it comes to convenience, the folks at Aramas Expatriate Lawyers are the kings and queens of making our lives easier.
They respond faster than lightning on steroids and are available around the clock, as if they've discovered a way to bend time itself. We practically had to double-check if they were secretly moonlighting as superheroes.
Aramas Expatriate Lawyers have a reputation that could rival the most sought-after celebrities. They're like the legal equivalent of Leonardo DiCaprio winning an Oscar – everyone wants a piece of them.
Word on the street is that they've even been whispered about in hallowed courtroom halls. Impressive, right?
But we'll be honest, they can get expensive, but hey, who said high-quality legal services come at bargain-bin prices? They're like that fancy artisanal coffee shop down the street that charges a small fortune for a latte.
It's worth every penny. Sometimes, you just have to splurge for excellence.
And speaking of excellence, Aramas Expatriate Lawyers are masters of their craft. They handled our legal matters with the finesse of a world-class conductor leading a symphony orchestra.
They're the real deal, folks — professional, knowledgeable, and sharp as a tack. We couldn't help but feel like we had the legal A-team on our side.
However, they're closed on weekends. We recommend booking an appointment with them on weekdays to guarantee your slot.
Fast and responsive communication
Excellent reputation in the legal industry
Highly skilled and knowledgeable team
Convenient availability and accessibility
Customer Reviews
"Wow! Aramas Expatriate Lawyers truly exceeded my expectations. Their responsiveness and quick communication made me feel like a top priority. They handled my legal matters with professionalism and expertise. Highly recommended!"
"I was blown away by the reputation and track record of Aramas Expatriate Lawyers. They lived up to their stellar reputation by delivering exceptional results. Their team's knowledge and skills were evident throughout the entire process. I felt confident and supported every step of the way."
2. Ibrahim Khouri Advocates & Legal Consultants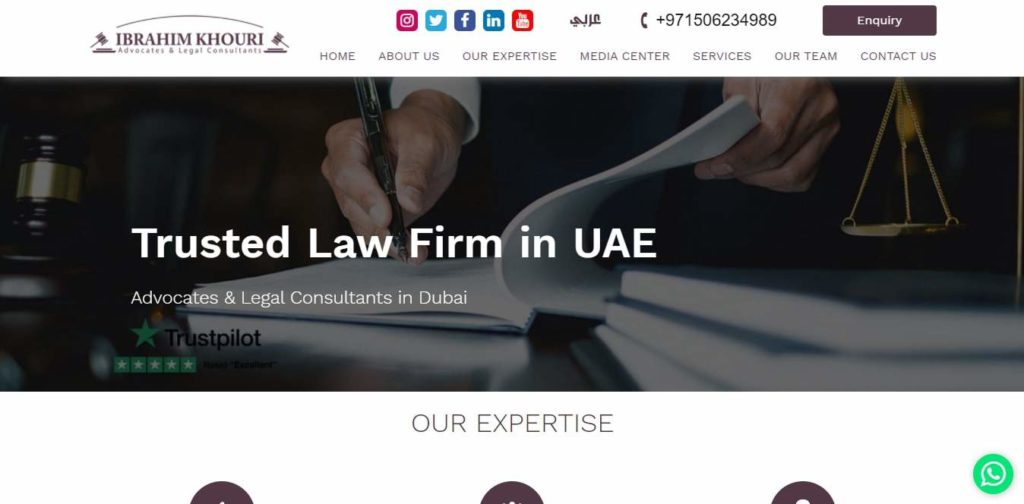 WEBSITE
https://khourilawyers.com/
ADDRESS
2nd December Road, Al Hudaibah Awards Buildings, Mezzanine Floor, M-10
2nd December Road, Al Hudaibah Awards Buildings, Mezzanine Floor, M-10, Dubai, UAE
CONTACT DETAILS
+971 4 3266677


[email protected]

OPERATING HOURS
Sunday – Thursday: 8:30 AM – 6:00 PM
Ibrahim Khouri Advocates & Legal Consultants — Khouri Lawyers, for short — pride themselves greatly on their deeply rooted history as a prestigious law firm, especially with family law cases.
The firm specializes in family law, giving special attention to each and every step of family legal dispute. Over 12 years of experience, they've mastered the craft of all things related to family law.
This mastery is backed by their legal team, which understands the importance of the emotional intelligence of their clients. In keeping with making sure that the client is comfortable, they really strive to keep their business simple, understandable, and effective.
For those looking to make amicable settlements, however, take note that Khouri lawyers tends to resort to invoking divorce law to end cases fast.
On the other hand, you may see this as their means of being efficient. If that suits you, we highly recommend Khouri Lawyers.
Vast experience in family law
Accommodating, dedicated support
Ensures low legal expenses
Inclined towards divorce law
Customer Reviews
Femar Soliguen loved the overall service given to him from the firm:
"Highly recommend, Best Lawyers in dubai always great service well experienced and knowledgeable.They process the cases very well and gave good advice and for that I am gratefully thankful."
After living in Dubai for nearly two decades, Afshin Jafari expressed his delight at being under the care of one of their lawyers:
"We are very happy with mr Ibrahim. i Am living in dubai From 2001 and i never had a Lawyer like him who is always available and careful about his client. Strongly recommended and very trustable person."
3.   ProConsult Advocates & Legal Consultants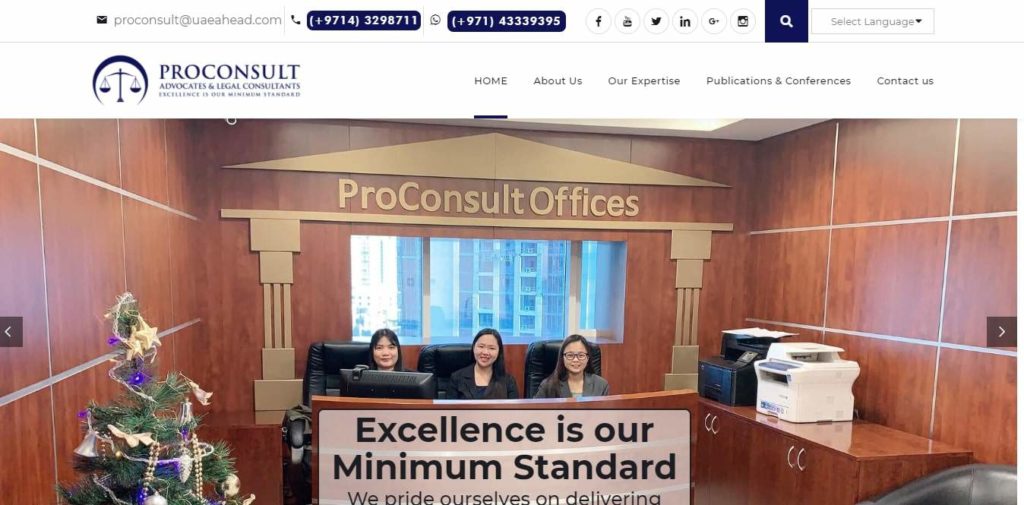 WEBSITE
https://uaeahead.com/
ADDRESS
Burj Khalifa blvd., Westburry Offices Tower, 7th Floor Office 707, Business Bay, Dubai, UAE
CONTACT DETAILS
+971 4 3298711


[email protected]

OPERATING HOURS
Sunday – Thursday: 9:00 AM – 6:30 PM
Saturday: 10:00 AM – 2:30 PM
ProConsult's motto that "Excellence is [their] minimum standard" sounds cheesy until you realize that they're never fooling around.
Their managing partner, the prolific Tony Maalouli, ensures that everything and anything that ProConsult does is nothing short of the best legal services.
Family law is no different. Their general systematic, thorough method of practicing the law very easily trickles down to family-related legal disputes.
In large part, this is thanks to ProConsult's multinational roster of proficient attorneys who'd give their life and limb to win cases.
Although having 12+ years of experience seems short for a law firm, this is actually impressive when you consider how hypercompetitive Dubai's legal industry is. We can't really confirm their "90% success rate," though given their background, we're inclined to give them the benefit of the doubt.
ProConsult's only downside is that they're focused more on business clients, so you may not be immediately accommodated when you ring them up.
This fact notwithstanding, we still consider ProConsult one of the places to go to for best family lawyers in Dubai, thanks to their sheer competence.
Top-quality legal services
Professional, upstanding lawyers
Extensive experience
More specialized in business-related law
Customer Reviews
Throughout his many cases, Karim Abdel Massih was never disappointed with ProConsult's services:
"I have dealt with many in UAE related to divorce and family cases, I can say that ProConsult is a great Professional law firm, very accurate & knowledgeable.I found their advice and guidance to be tremendously valuable .Thank you for the whole team."
Alfred Blasko expressed how ProConsult was, indeed, professional in consulting:
"Tony (of ProConsult) is a master in simplifying complex agreements. I'll never forget how the first agreement he drafted for me had a graph on page one to explain the relationship between all parties. I 'got it' immediately."
4.   BR Law Firm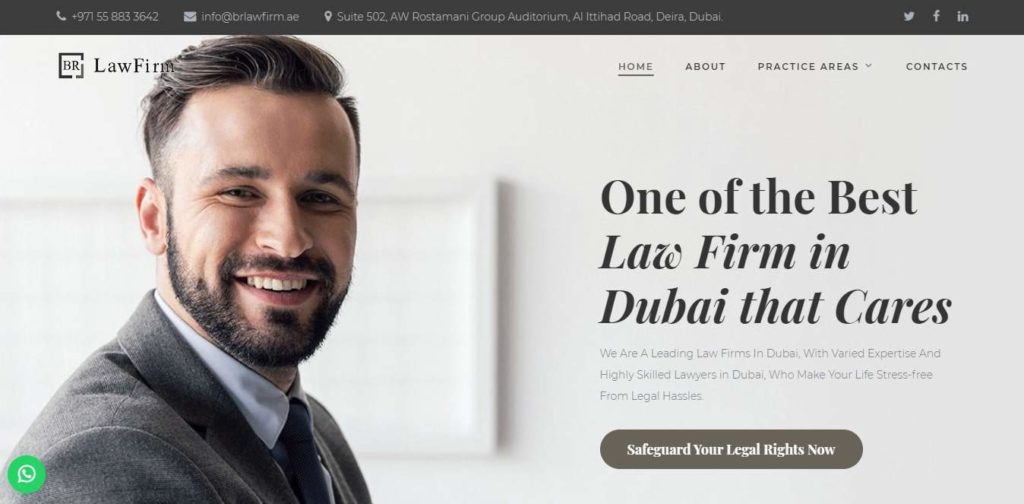 WEBSITE
https://www.brlawfirm.ae/
ADDRESS
Suite 502, AW Rostamani Group Auditorium, Al Ittihad Road, Deira, Dubai, UAE
CONTACT DETAILS
+971 55 8833642


[email protected]

OPERATING HOURS
Sunday – Wednesday: 9:00 AM – 5:00 PM
Thursday: 9:00 AM – 2:00 PM
As far as the concept of diversity is concerned, no law firm in Dubai comes close to BR Law Firm.
Though stationed primarily in Dubai, their experts are far-reaching in knowledge and skills. They boast grasp of 7 languages and over 21 local dialects, allowing them to effectively service a large market.
This is coupled with their top-of-the-line equipment that keeps them constantly updated with the latest in family jurisprudence. In other words, under their care, you will never fall short with your family case.
They also accommodate a large number of family law services, including alimony, domestic violence, child custody, and divorce. Basically, BR Law Firm can be your go-to for all things family-law related.
Of course, we can just let their portfolio speak for itself. Law firms with a decade of experience in family law are few and far between, which makes BR Law Firm stand out from other firms in Dubai.
Unfortunately, they've shifted their focus on a lot of other areas such as Interpol and other legal matters on an international level. If you're willing to wait for them to open up an expert to you for your family case, BR Law FIrm is sure to satisfy your needs.
International expertise
Extensive array of family law services
Decade of experience in family law
Limited availability due to focus on other areas
Customer Reviews
BR Law Firm earned Juveria Khan's praise:
"Best Lawyers in Dubai, Handle my case with proper guidance & honesty, thnx to there Lawyers. I must say one of the best law firms in dubai."
Haaziq Shaik Al Habib's family legal help from BR Law Firm came with a dash of therapy:
"It was hard to explain the situation I was in but had a most bizarre days before I got a best lawyers of BR Law Firm. I'm Lucky to find this Law Firm near me. They went over all of my concerns, present problems and lifted my heavy heart.. Thanks"
5.   Dr. Hassan Elhais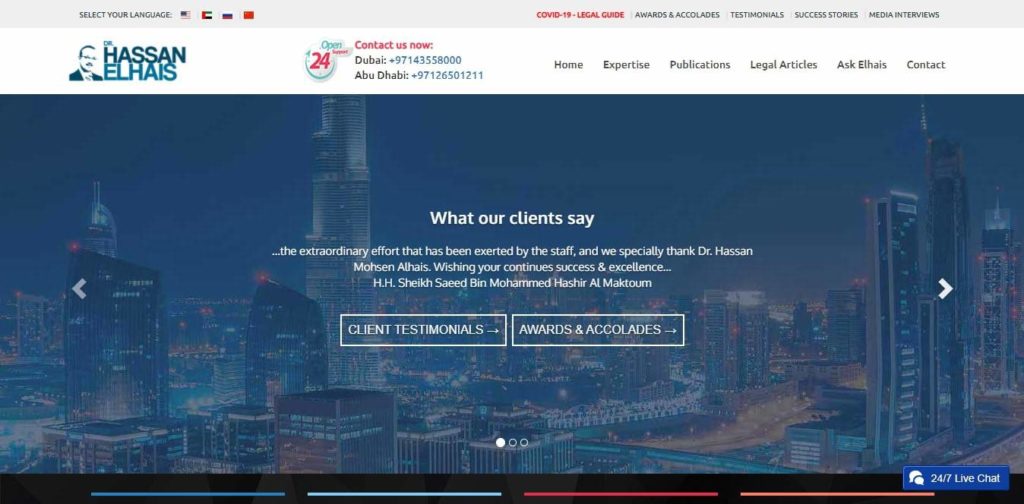 WEBSITE
https://www.professionallawyer.me/
ADDRESS
The H Office Tower 29th floor, Sheikh Zayed Road, PO Box 40073, Dubai, UAE
CONTACT DETAILS
+971 4 3558000
OPERATING HOURS
Sunday – Thursday: 9:00 AM – 7:00 PM
Saturday: 9:00 AM – 3:00 PM
Standing out in this list is Dr. Hassan Elhais, whose skills and experience equal the strength of an entire law firm.
Dr. Elhais' expertise in many aspects of the law — family law especially — is precise and on-point, like a medical doctor and his scalpel. His 15 years of legal experience, coupled with his Ph.D in law, makes him more than capable of handling even the biggest of family law cases.
He has a sharp eye not only for the law but also for serving his clients well. Thanks to that and his support team, you're sure to be always kept posted about the status of your case under their care.
And we mean really posted. Every client Dr. Elhais takes, he tries to keep updated every step of the way, making sure you're never left in the dark.
However, all of these can only be enjoyed if you're finally signed on. Otherwise, you'll have to wait in line with many other clients looking to enjoy the same services.
But if you're patient enough, Dr. Hassan Elhais is very much worth the wait.
Veteran legal expertise
Professional, dedicated support
Quick response time
Limited availability due to high demand
Customer Reviews
In David DeHaven's eyes, Dr. Hassan Ethais worked like a one-man firm (in a sense):
"Dr. Hassan Elhais is a professional lawyer. His team is outstanding! I strongly Recommend him to everyone how the case was going the whole time. It is a sharp strategist & truly cares for his clients."
Chetleis Hikawa found both an excellent lawyer and a great friend in Dr. Hassan Ethais:
"Dr. Hassan Elhais is the only one I trusted when it comes to legal cases, he give incredible, and practical advice. No problem at all and he listens to you very well. Great person to talk to. His reputation speaks great heights for his accomplishments. I surely recommend this lawyer to all the people that I know."
6.   HHS Lawyers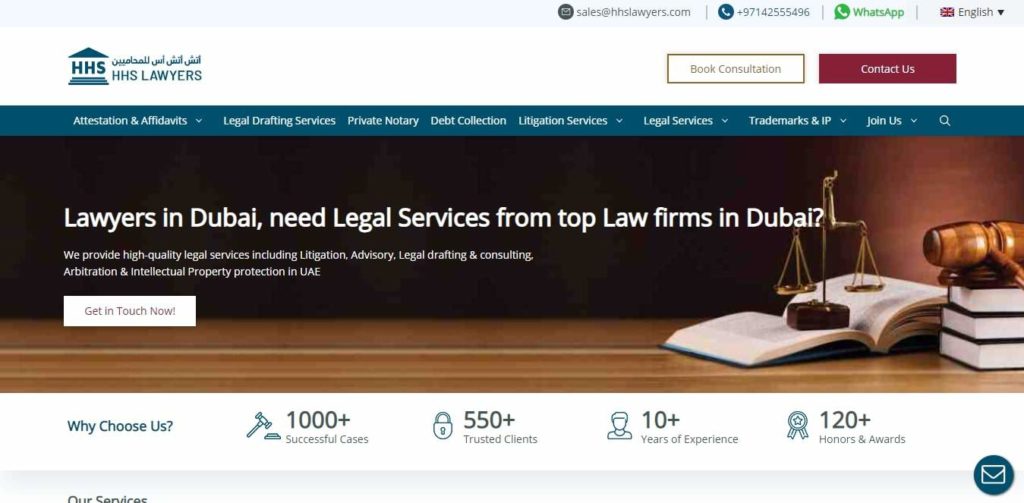 WEBSITE
https://hhslawyers.com/
ADDRESS
IBIS Hotel Building, Office Entrance 5th Floor, Office No.: 5008, Rigga Road, Dubai, UAE
CONTACT DETAILS
+971 4 2555496


[email protected]

OPERATING HOURS
Sunday – Thursday: 9:00 AM – 7:00 PM
We chose HHS Lawyers as one of the best family law firms in Dubai for three main reasons: service, compassion, and experience.
First, their experts in family law boast a large slew of services, from child custody to alimony. In other words, you'll never be for want of anything family law-related with HHS Lawyers.
This is backed by legal experts who aren't just good in practicing law, but are also good at heart. They understand the repercussions brought by family disputes, and will do their best to solve both the case and the anguish of their clients.
And while appealing to emotions usually doesn't take one far in the field of law, it certainly did with HHS Lawyers and their decorated history, boasting over 500 clients, 100 awards, and 1000 victories across 10 years.
You do have to note that, given that compassion is at the core of their practice, finishing family legal disputes quickly isn't quite their forte, since they prefer amicable settlements over court hearings.
But if that doesn't really bother you in your quest to find the best, you're sure to go for gold with HHS Lawyers, in our opinion.
Ample variety of services
Supportive, compassionate staff
Decorated roster
Customer Reviews
Whatever Nibras Hadi went through, HHS Lawyers hit the nail on the head with his case:
"Thorough and professional service. Without going into the details, I had a very unique, tricky case. I previously shopped around and met a few family lawyers in Dubai. I honestly made the best choice by going with these guys. Worth mentioning that I had an amazing experience with Anas Naji. Anas really knew his stuff, very knowledgable and responsive; showed a unique understanding of all legal aspects of my case. Highly recommended and would advise that anyone going with these guys should request Anas Naji to work on their case (if he is available of course)"
Ladell Marshall had a pleasant experience of HHS Lawyers' dedicated legal experts:
"I was looking for a reputable family lawyer that serviced Abu Dhabi and Dubai. After completing my research I decided to contact HHS Lawyers. My point of contact was named Mr. Anas Naji, he provided me with unparalleled service from beginning to end. Anas was responsive to all of my questions, professional and went above and beyond to help me. I would highly recommend Anas and HHS Lawyers for all of your family law needs."
How to Choose the Best Family Lawyer in Dubai
Diving into the mix of legal marketing terms can cause your head to spin. But fear not — there are ways to know which law firms actually put their money where their mouth is.
Here are some tips to help you determine which family lawyer in Dubai is the best one for you.
1. Cross-check the track record
Almost every prestigious law firm boasts how they "won over X thousand cases." Frankly, the number of victories a firm achieved throughout its lifetime is a good indicator of its success.
However, this can be a pretty deceiving blanket statement on how good a law firm is on a certain specialty. Family law cases generally make up less than 10% of 1000 cases won by a firm.
Victories in other fields of law do trickle down to success in a family law case. However, the best way is to research a firm's past successes in family law.
Your best source is online archives storing previous cases in Dubai.
2. Calculate the expenses
Lawyers are very expensive to hire, and hiring the best lawyers can burn a hole in your pocket.
That's why you have to consider how much you'll have to pay under either a fixed payment or an hourly rate.
The latter can be quite pricey if your consultations take long, though the former may prove costly depending on a large number of factors.
Compare how much each firm charges for each payment scheme, and see which one fits your budget best.
3. Read client reviews
Former clients say it best about certain family lawyers, since they'll usually detail how convenient it was to be represented by a specific firm.
When scanning reviews, efficiency, professionalism, and informativeness are keywords you'll have to look for, as well as words along the lines of "peace of mind."
FAQs about the Best Family Lawyers in Dubai
---
Legal conflicts with the family will always end in your favor when you hire any of the best family law firms in Dubai we listed here.
Do you know any firm we missed here that you feel needs mentioning? Feel free to reach out to us and we'll add them to the family!
If you're looking for the best legal help in other areas, we have plenty of service lists to satisfy you in that. Start with our roundup of the top notary publics in Dubai.