4 Firms for the Best Real Estate Lawyers in Dubai
Featured Image Source: Tierra Mallorca from Unsplash
Whether you're purchasing a house, making a property investment, or selling residential real estate, having a dependable real estate lawyer by your side can make transactions as seamless as possible.
With the best real estate lawyers in Dubai, you can achieve that. Here, we'll look at the ones who have the most to offer based on our research!
How Much Do Real Estate Lawyer Services Cost in Dubai?
Because each client has different needs, law firms in Dubai typically don't have fixed rates for their legal services. Instead, fees depend on the duration of the engagement and the list of responsibilities.
Law firms usually offer a flexible cost structure, billing clients hourly, monthly, annually, or on a per-case or project basis. The costs outlined below serve as your guideline but as mentioned, will depend on your individual requirements.
| | |
| --- | --- |
| Service | Estimated Costs |
| General Power of Attorney – Real Estate | 1000 AED |
| Limited Power of Attorney – Real Estate | 1250 AED |
| Limited Power of Attorney – Real Estate Rental Dispute | 550 AED |
| Hourly rate for various legal services (consultations, meetings, written legal opinion, drafting contracts, representation, legal correspondence, legal assistance, etc.) | 1800 AED per hour |
| Legal assistance in real estate-specific transactions | 0.5% of the real estate costs |
Most law firms offer free initial consultations. Try to take advantage of this before acquiring their services and settling on a real estate lawyer.
The Best Real Estate Lawyers in Dubai
Now that you're up to speed on the costs of hiring legal support for your real estate investment, here's our roundup of law firms housing the best real estate lawyers in Dubai.
Also, check out our handy guide for choosing a reliable real estate lawyer after the list!
1. Hadef & Partners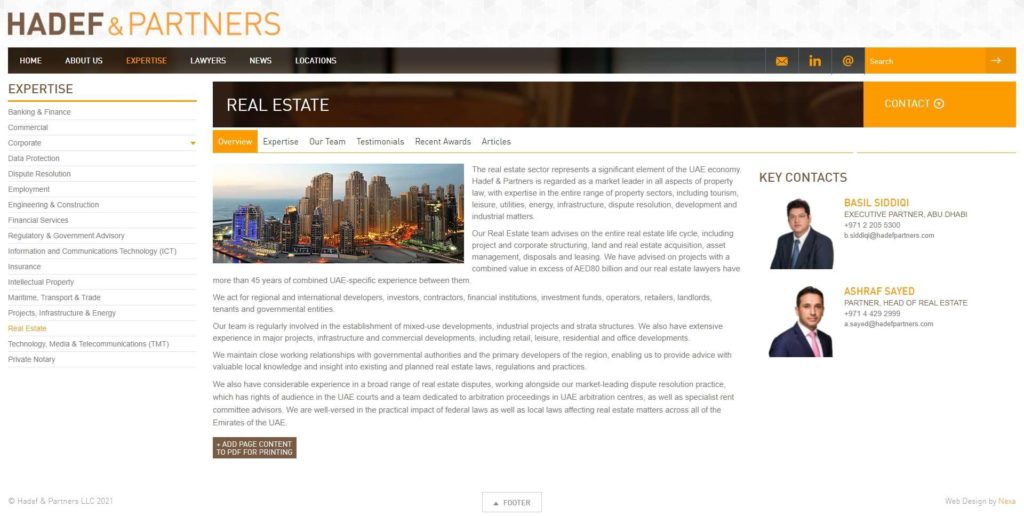 WEBSITE
https://www.hadefpartners.com/
ADDRESS
Emaar Square, Building 3, Level 5, Downtown Dubai, P.O. Box 37172, Dubai, UAE
CONTACT DETAILS
+971 4 4292999 (phone), +971 4 4292888 (fax),

[email protected]

OPERATING HOURS
Sunday to Thursday, 9 am to 6 pm
Founded in 1980 by former Justice minister Hadef Al Dhareri, Hadef & Partners has grown into one of the leading independent law firms in the UAE. Because of its extensive experience, the firm can offer its invaluable perspective and insight into Dubai's legal landscape—traditions, challenges, and unique opportunities.
Its team of real estate lawyers can help you in performing due diligence on the property and prepare sale or purchase agreements. Working with the firm's Banking & Finance team, they can advise on the various financing options you can avail of.
Hadef & Partners can assist you in other transactions you'll need down the line too. It can take the stress out of managing your property by preparing leasing agreements and handling tenancy issues.
Since Dubai is considered a global city, it's a plus that it specializes in foreign ownership laws. In addition, its real estate lawyers have more than 45 years of combined experience and are well-versed in land registration rules.
Hadef & Partners has a diverse portfolio of local and international clients, including Souq Extra, Visa Middle East, Merlin Entertainments Developments, and the Hai Di Lao Group.
Has worked with notable investors, developers, contractors, and property owners
Responsive and reliable real estate team
More focused on government and high-value real estate transactions
Customer Reviews
Hugo, a former client of Hadef & Partners, commends the firm's prompt response to his real estate concerns:
I had more than one problem in real estate and financial services. I contacted their team and they said that the lawyer would call me back in order to make an appointment with me. Half an hour later, he called me back and asked me to check my calendar and tell him a day and time in order to meet. From our first meeting, I found that he was really professional and was able to solve my problems. He asked about everything and finally solved my problems easily and smoothly.
2. Abdulla Al Suwaidi Advocates & Legal Consultants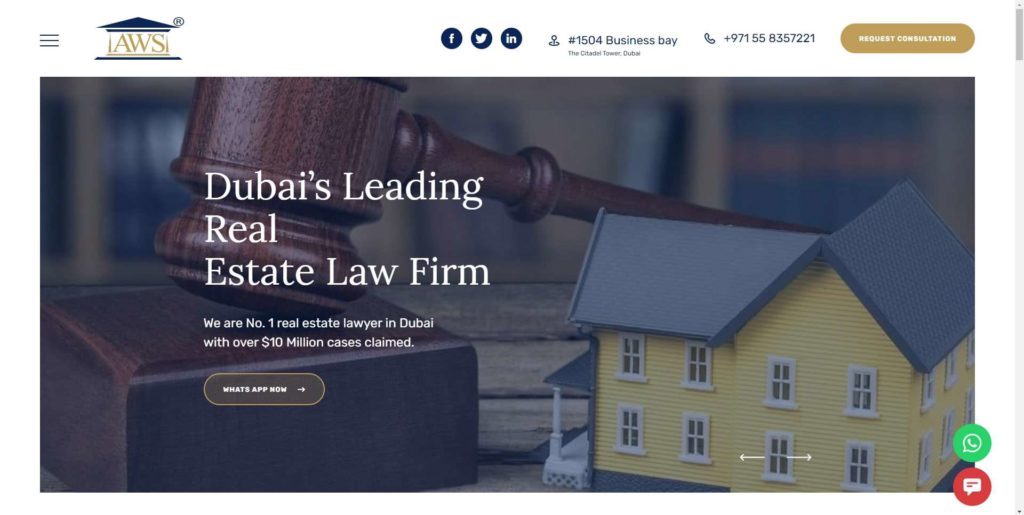 WEBSITE
https://www.awsuwaidi-advocates.com/
ADDRESS
Office # 1504, Citadel Tower, #Business Bay, P.O Box 96070 Dubai, UAE 96070 Dubai, United Arab Emirates
CONTACT DETAILS
+971 4 554 7624, +971 4 554 7624 (phone/fax),

[email protected]

OPERATING HOURS
Sunday to Thursday, 8 am to 7 pm; Saturday, 10 am to 4 pm
As a full-service law firm, Abdulla Al Suwaidi Advocates & Legal Consultants has experience dealing with various real estate issues in Dubai and throughout UAE.
Its friendly and approachable real estate lawyers can guide you through every step of the buying and selling process. They conduct due diligence to ensure the validity of the property's title and handle negotiations with your needs in mind.
Abdulla Al Suwaidi Advocates can also represent you in arbitration courts if you encounter disputes or appeals regarding your property's ownership and borders.
If you're interested in renting out your property, the firm can also supply you with legal support in drafting tenancy agreements, pursuing rental payments, and smoothing out tenant disputes.
Thinking of what lies in the future? Abdulla Al Suwaidi Advocates even has a team of time-tested experts in estate laws that can assist your inheritors in taking over your property assets in Dubai.
Not all real estate lawyers are knowledgeable about inheritance and estate laws, it's worth noting. This added service from the firm completes your property investment plans.
Office is open on Saturdays
Provides free 30-minute initial consultation with one of its senior lawyers
Offers discounted rates and flexible payment options
Has a smaller team of lawyers than most rivals
Customer Reviews
Igor Lukin details his experience with Abdulla Al Suwaidi Advocates:
I would like to express my gratitude to you and personally to lawyer Ekaterina Butseva for helping me to resolve my issues with the not very conscientious company. Despite the fact that I met such a company on my way, my attitude towards your country and your people remains only positive. I hope that my investments in the most progressive and developing country will still find their application. In the future, when visiting the Emirates, I will definitely try to stop by your office and personally shake hands with your employees, as well as bring our Karelian souvenir in memory of our cooperation.
3.   Al Safar & Partners Advocates and Legal Consultants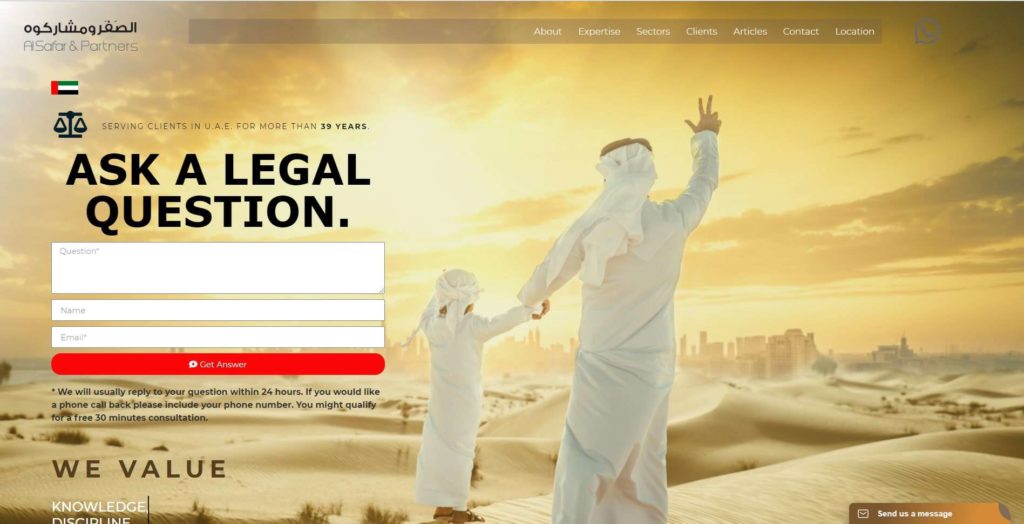 WEBSITE
https://alsafar.dubailawyers.ae/
ADDRESS
Al Safar & Partners Advocates & Legal Consultants | Law Firm Saaha Offices 401A Block D, Oldtown, Downtown Near Palace Hotel – Dubai – United Arab Emirates
CONTACT DETAILS
+971 4 4221944 (phone),

[email protected]

OPERATING HOURS
Sunday to Thursday, 8 am to 6 pm; Saturday, 9 am – 6 pm
If you've found yourself in the middle of a real estate dispute, look no further. Al Safar & Partners Advocates and Legal Consultants is a women-led law firm in Dubai that specializes in real estate litigation.
With nearly four decades of experience as one of the oldest law firms in the UAE, Al Safar & Partners' real estate department will provide a thorough review of your case and strategize a detailed course of action that will benefit you.
The firm's managing partner and real estate department head, Kavitha Panicker, usually handles claims. That can help clients feel more at ease, given her professional experience and seniority.
When we look at the firm's real estate team too, the words efficient and effective come to mind. Since 2010, the team has litigated more than 2,600 real estate cases and achieved favorable results against multinational companies.
Aside from representation, you can also turn to Al Safar & Partners for essential real estate law services. This includes investigating property's legal standing and current compliance issues, examining sales and purchase agreements, and negotiating transaction terms.
Specializes in real estate litigation
Offers free 30-minute real estate dispute consultation with Kavitha Panicker
Can have noteworthy additional charges for administration expenses, travel costs, long-distance calls charges, etc.
Customer Reviews
Amra Zone raves about her experience with Al Safar & Partners Advocates and Legal Consultants:
My experience with Al Safar & Partners Advocates and Legal Consultants has been phenomena. Ms. Kavitha Panickers handled my case smoothly and I honestly couldn't have asked for a better attorney to represent me. Moreover, she was always available and constantly called me to update me on how the case is doing. After every conversation with Kavitha, I knew my case was in the right hands and I felt nothing to worry about. I would highly recommend Al Safar & Partners Advocates and Legal Consultants to anyone looking for legal counsel.
4.   Afridi & Angell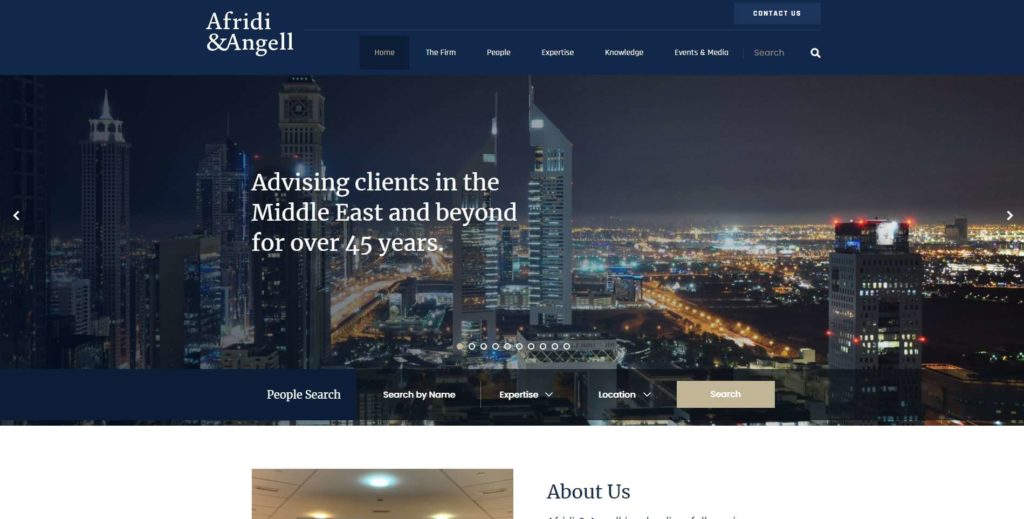 WEBSITE
https://afridi-angell.com/
ADDRESS
Jumeirah Emirates Towers Office Tower Level 35, Sheikh Zayed Road, PO Box 9371, Dubai, UAE
CONTACT DETAILS
+971 4 330 3900 (phone),

[email protected]

OPERATING HOURS
Sunday to Thursday, 8 am to 8 pm
Throughout its 45 years of service, Afridi & Angell's culture of excellence and ingenuity has been integral to Dubai's legal arena. The firm employs a team of specialists with unparalleled experience in real estate law.
Shahram Safai, the real estate practice head, is a highly sought-after lawyer representing high-profile clients. His client list includes multinational and domestic corporations, investment groups, and high-net-worth individuals.
With Safai at the real estate team's helm, you have the assurance that your concerns receive the best treatment from internationally trained lawyers.
However, this also means that fees associated with the services are steep. Top-notch service comes with a price tag, after all.
Aside from primary real estate law legal support such as due diligence and review of agreements, by the way, Afridi & Angell can help you draft management strategies for jointly-owned properties.
Extensive experience as one of the oldest firms in Dubai
Offers services in multiple languages, such as Afrikaans, Arabic, English, Farsi, French, Hindi, Japanese, Sinhalese, and Urdu
Above-average rates for services
More focused on commercial real estate and large acquisitions
Customer Reviews
Clients have high praise for Afridi & Angell based on findings by the research group Chambers Global:
They are well researched and well versed in local law. The way they come across is approachable and friendly, yet professional. I would definitely recommend them. I have been very impressed.
Lawyers go out of their way to meet a client's needs. They are great advisors, so they walk the clients through all the steps. I can really count on them for anything.
Choosing the Best Real Estate Lawyer in Dubai
Picking the right real estate lawyer takes a lot of time and research. It's all too easy to get lost in a sea of legal jargon or bold promises.
We'll try to simplify things here, though. Here are things to consider to help you find the right real estate lawyer in Dubai for your needs.
1. Expertise and Experience
While years of experience can be a safe indicator of quality service, a lawyer's track record tells us more. Find out about the lawyer's education, training, work experience, plus previous and current clients.
You can go the extra mile and study up on notable cases handled as a real estate lawyer.
2. Range of Services
You may think you will only need essential real estate law services for your transactions. However, we cannot predict unforeseen circumstances that require additional legal support.
Hiring a real estate lawyer from a full-service law firm makes consultations with other specialist lawyers easier (e.g., banking, finance, estate).
3. Costs
Real estate is an expensive investment, so, naturally, you'd want the best real estate lawyer you can afford. This doesn't mean that you have to spend every single penny left for legal assistance and settle with the first good firm you can find.
Once you've compiled a list of law firms with real estate law services, request a quote, and compare. Pick a firm or a lawyer that meets your budget.
Remember, additional fees may come up, and it's best to keep a contingency fund to cover these instead.
4. Reviews
Testimonials from previous and current clients will save you from the pitfall of hiring a terrible real estate lawyer.
Don't rely solely on the client reviews section of the law firm's website. Skim through the firm's reviews on Google or check them out on their social media pages.
FAQs about the Best Real Estate Lawyers in Dubai
---
Owning a real estate property can be a worry-free experience with the best real estate lawyers in Dubai by your side!
Did we miss any real estate lawyers and law firms on our list? Send us a message and tell us about them!
Looking for someone to oversee your real estate investments? Check out our list of the best property management companies in Dubai!