5 Clinics for the Best Dental Implants in Dubai
Featured Image Source: Rudi Fargo via Unsplash
Poor dental hygiene and accidents can cause teeth to become beyond repair. Thankfully, modern technology has progressed to allow you a complete set of teeth despite any damage. To regain the perfect smile, go to one of the clinics for the best dental implants in Dubai.
In this article, we've provided some tips on how to find a trusted clinic for dental implants. To make your search faster, we've also included a list of the top clinics for cosmetic dentistry in the city.
So you're prepared for the cost of dental implants in Dubai, we've even compiled their prices in the table which you will see below.
How Much Do Dental Implants Cost in Dubai
The table below contains the prices of common dental implants and related services offered in Dubai. The actual cost may vary depending on your clinic of choice.
| | |
| --- | --- |
| Mini implant | AED1,500 |
| Standard implant crown | AED6,000 |
| Porcelain metal crown on implant | AED6,000 |
| Titanium dental implant | AED7,000 to 13,000 |
| Implant-supported porcelain bridge | AED75,000 |
| All-on-4 | AED35,000 to 220,000 |
| Bone graft | AED1,500 to 10,000 |
| Root canal treatment | AED1,470 to 1,840 |
How to Pick the Clinic for the Best Dental Implants in Dubai
When dealing with dental procedures, it is always best to ensure that you're getting the service of a qualified dentist and clinic. Find the best clinic in Dubai for dental implants using these tips below.
Choose a specialist
There are many good dentists in Dubai. However, not all of them are experts at providing dental implants.
Because getting dental implants is a surgical procedure, you should make sure to choose a dental implant specialist. This guarantees that you will be given a safe and effective procedure.
For this, you can look at the dentist's education, training, and years of experience which you may be able to find on their website. You can also cross-check this with other information you can find about the dentist online.
Read reviews
Medical professionals who claim to be 'specialists' can still provide substandard services. To avoid getting dental implants from a dentist with questionable capabilities, take time to read patient reviews.
Reviews let you know about a dentist's communication style, approach, and rates. Previous patients also tend to leave bad reviews if they were dissatisfied with a practitioner's service.
Ultimately, reviews should help you decide whether a specialist is a right fit for you.
Schedule a consultation
Once you've shortlisted a couple of dentists, you should book a consultation with them. This can help you assess their communication style and expertise first-hand.
On your consultation, the specialist may ask to check your mouth or suggest an x-ray before discussing your procedure. This shows you that the dentist makes calculated decisions based on your personal condition.
The Clinics for the Best Dental Implants in Dubai
With the guide above, you should now be able to select a clinic for the best dental implants in Dubai. To make your search easier, below is a list of the top dental implant providers in the city.
1. New Ivory Dental and Implant Clinic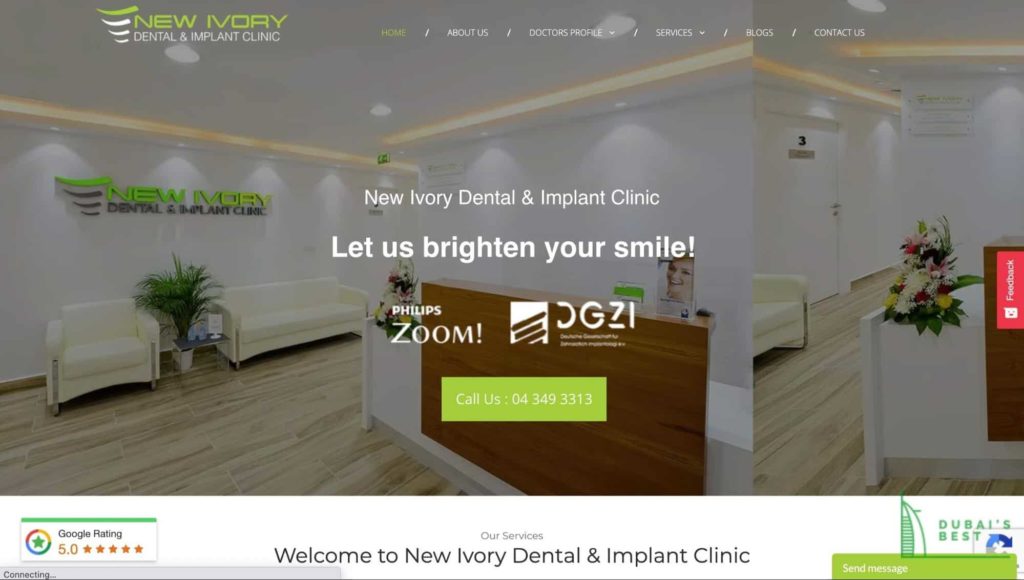 BEST FOR
Latest dental implant technologies
WEBSITE
https://newivory.ae/
ADDRESS
1701, Zone B, Aspect Tower, Executive Towers D, Business Bay, Dubai, United Arab Emirates
CONTACT DETAILS
+971 4 349 3313
+971 56 824 2104


[email protected]

OPERATING HOURS
Saturday – Thursday: 9:00 AM – 8:00 PM
New Ivory Dental and Implant Clinic is one of the best clinics in Dubai that provide dental implants. They offer their clients only the best quality dental implant brands in the world, such as Straumann and Noble Biocare.
Their clinic also has the latest technology which helps them conduct safe dental implant procedures. In particular, their CBCT 3D imaging technology lets their implantologist get a better look at your teeth's condition before planning your implant.
This and the other latest dental technology at their clinic allows them to supply dental implants to their patients on the same day.
Moreover, the clinic's specialists are also capable of bone grafting, soft tissue grafting, and sinus lifts to prepare for your dental implants.
Same-day implants
Lifetime warranty
Free consultation
Customer Reviews
Hirman Asnadi, one of New Ivory Dental and Implant Clinic's previous patients, said:
"Had a couple of implants done with Dr Tanveer at New Ivory Dental and am very impressed with the work and professionalism. Very detailed, precise, and patient first-treatment, with well-explained procedures and follow-ups.
Amazing customer service from the whole team! No hassle, no drama, very friendly, and, most of all, clean and meticulous work on the implants procedure! Highly recommended for anyone looking for any dental work in Dubai! Thank you!!"
Rasha Abdullah, another satisfied client, reviewed:
"Very professional and amazing dental experience! I have a few procedures done with Dr Safiah and implant with Dr Tanveer and other procedures as well. All were very smooth and reassuring, done by talented and professional dentists!
I really appreciate all the efforts of the whole dental team. One of the best clinics I've been to! Thanks a lot."
2. SameDay Dental Implants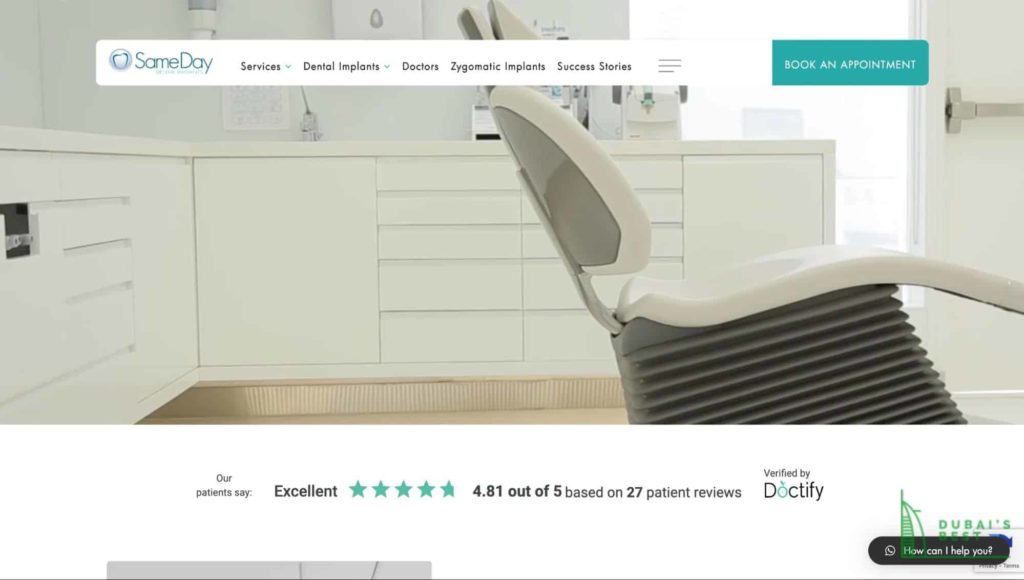 | | |
| --- | --- |
| BEST FOR | Same-day implants |
| WEBSITE | https://samedayme.com/ |
| ADDRESS | Villa 733, Jumeirah Rd, Umm Suqeim 2, Dubai, United Arab Emirates |
| CONTACT DETAILS | +971 4 315 8300 [email protected] |
| OPERATING HOURS | Saturday – Thursday: 8:00 AM – 8:00 PM |
Prior to the implant procedure, SameDay Dental Implants conducts one of their many x-ray procedures or a CT scan to have a vision of exactly where to place your implant.
For multiple-tooth implants, they can provide temporary teeth on the same day and permanent porcelain teeth a week later. Specifically, they offer partial arch, all-on-4, full arch, and full mouth implants.
For a single implant, on the other hand, they can supply their clients with temporary or permanent teeth in a span of just a few hours.
Zygomatic implants are also available for patients suffering from bone loss. Instead of a bone graft, this uses a longer implant that is attached to the zygoma or cheekbone.
Implant removal services available
0% instalment plan for select banks
10-year guarantee
Services can be expensive
Tendency to be fully booked
Customer Reviews
Satisfied client Andraž Kosi said:
"At SameDay Dental Implants Clinic, 3 of my teeth were extracted and I received one implant with the crown, all done by Dr Costa.
The service I received was amazing, The knowledge, professionalism, and level of experience was at the highest level possible. I can say with ease that they will be my choice for any potential dental issues.
Overall, from the beginning until the end, I actually enjoyed being at the dental clinic. Thank you very much."
Sibel Sel also reviewed SameDay Dental Implants. They shared:
"Literally cannot be happier right now! Got an implant in a day. Amazing! Great experience from start to finish. The staff are so friendly. I highly recommend Dr Costa and Dr Ramy. Well done."
3. NOA Dental Clinic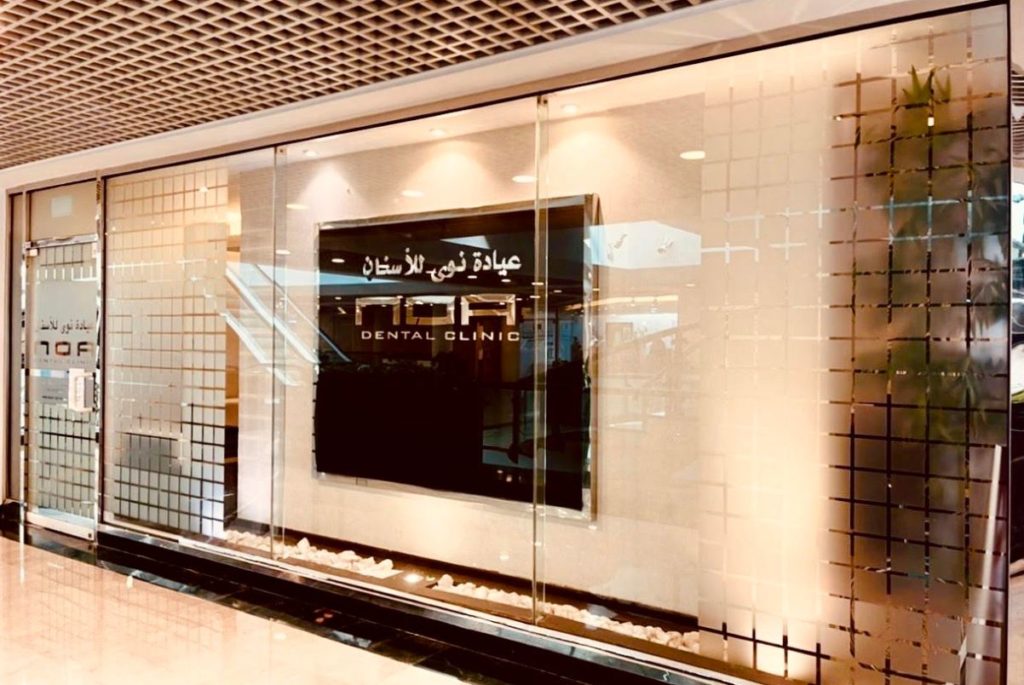 BEST FOR
Dental implant aftercare
WEBSITE
https://www.noadentalclinic.com/
ADDRESS
Unit 109, Al Hana Centre, Mankhool Road, Al Jafiliya, Dubai, United Arab Emirates
CONTACT DETAILS
04 398 7075
+971 4 398 7075


[email protected]

OPERATING HOURS
Saturday – Thursday: 11:00 AM – 8:00 PM
NOA Dental Clinic has provided Dubai with a variety of dental services since 2005. Their dental implant specialist, Dr. Suhail Syed, is fully capable of conducting implant procedures with more than 15 years of experience.
Besides dental braces, Invisalign, and other aesthetic dentistry procedures, they also offer titanium dental implants. They even offer a range of dental services for children.
The clinic can also provide aftercare every 6 to 12 months. This is to ensure that the bone and gums where your implants are attached are in their best condition.
They are partnered with multiple insurance partners and accept payments through all major credit cards. They even offer flexible payment terms and interest-free financing options.
Multi-awarded dental clinic
10-year warranty
Has 6- or 12-month interest-free payment plans for Emirates NBD and RAKBank cardholders
No mention if they offer zygomatic implants
Customer Reviews
Reagan Perumal, a happy client, reviewed NOA Dental Clinic. They said:
"My mother-in-law had a dental implant done at NOA dental clinic. She was initially apprehensive of surgery. The team at the clinic were very warm and put all her fears to rest.
The dental implant has improved the quality of her life significantly. Thank you to the NOA team for looking after her."
Another satisfied patient named Naeema Nazeer reviewed the clinic, saying:
"We just had a consultation at the NIA clinic for a dental implant. The implantologist did not overlook any concerns that I had. I will be definitely moving forward with treatment. Thank you!"
4. Swedish Dental Clinic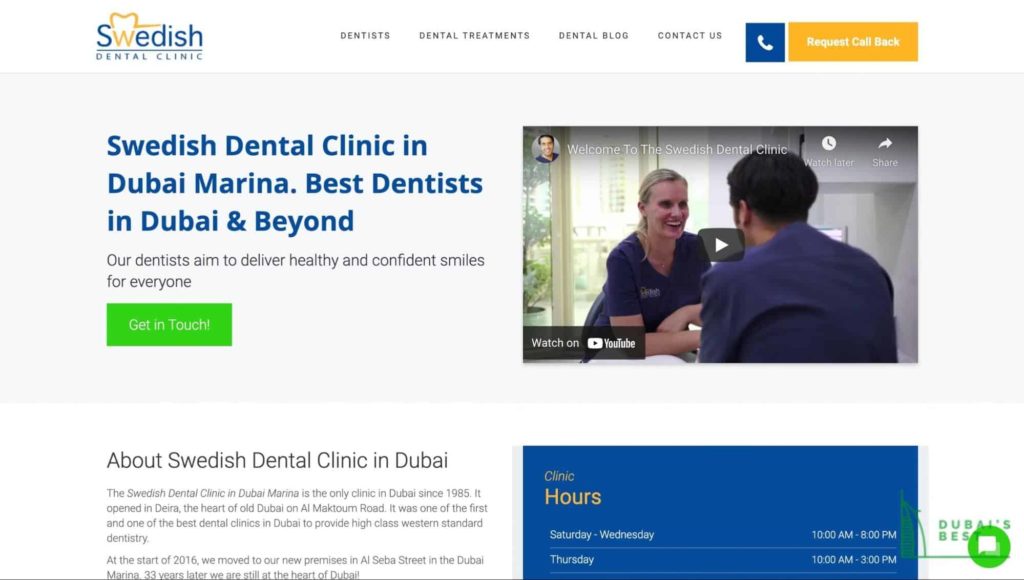 BEST FOR
Different crown options
WEBSITE
https://swedishdentaldubai.com/
ADDRESS
Seba Street, Dubai Marina, Dubai, United Arab Emirates
CONTACT DETAILS
+971 4 456 3366
OPERATING HOURS
Saturday – Wednesday: 10:00 AM – 8:00 PM
Thursday: 10:00 AM – 3:00 PM
Swedish Dental Clinic has earned a good reputation as one of the best dental clinics in Dubai since its establishment in 1985.
Their highly qualified specialist implantologist provides a personalised dental implant plan that is guaranteed to be tailor-made to address your teeth concerns.
First, the dentist places a titanium implant into your jawbone. After that, they allow the wound to heal for 8 to 12 weeks. You can then return to the clinic for abutment and crown placement.
The Swedish Dental Clinic has crowns made from different types of ceramics and in different shades for more natural-looking teeth.
Offers crowns made of different ceramics and in different shades
Accepts emergency dental appointments
8- to 12-week wait time
No mention of a warranty
Customer Reviews
Kevin Iankertis shared their experience with Swedish Dental Clinic. They reviewed:
"I recently visited Swedish Dental Clinic for a free consultation. I was very happy that their approach to treatment made me feel at ease.
Dr Burak Gokdeniz explained all options and advised the best option for me. I decided to go with his advice and had full mouth top and bottom implants.
I am so happy I did it. During my treatment, he explained what he was doing and he was very caring about my welfare. I would recommend Swedish Dental Clinic to anyone. All the staff were amazing, helpful, and kind during my treatment. I would give 10 stars."
Another previous patient, Andrew Squires, said:
"This has to be the best dental clinic I have ever been to. The staff are so friendly and patient care is first-class.
I had to have an implant. Dr Burak explained the whole procedure clearly and made sure I was reassured at every step of the way. His skill is unmatched. If you need a dentist, I have no reservations in recommending Swedish Dental Clinic."
5. Sky Clinic Dental Center JLT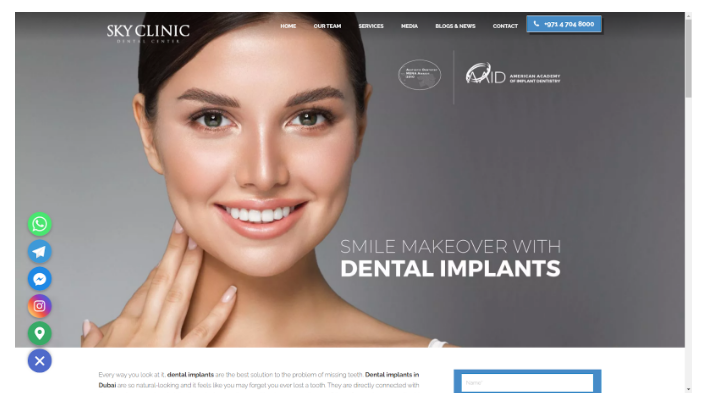 Sky Clinic will welcome you with a great smile. They are committed to offering you top notch dental care services while prioritizing comfortability and efficiency.
They are a team of highly-skilled and knowledgeable dentists that will aid your dental needs and concerns. They are very detail-oriented and will explain everything to you clearly for your understanding and assurance.
Their mplantologist, Dr. Rabih Abi Nader, was awarded in three categories in the aesthetic dentistry MENA awards in 2010, namely first place in the multidisciplinary best case, first place in implantology and red-aesthetic best case, and second place in conservative aesthetic best case. In 2012, he was awarded again with first place in implantology and red-aesthetic best case.
Their place is also very clean and organized which adds to the great atmosphere of the clinic. Overall, Sky Clinic is reliable and will go above and beyond to put a great smile on your face.
Highly responsive
Clean place
Highly skilled dentists
Customer Reviews
Here's a review from one of Sky Clinic Dental Center JLT's clients:
"I had my first dental implant done with Dr Abi Nader and I must say it was an exceptionally good experience. He was very accommodating, professional and friendly. I was informed in detail about the procedure and the invoice matched exactly the estimate. The procedure was done swiftly under pain free conditions. I can recommend Dr Abi Nader without any reservations for dental implants and he will be the first address I will return to, if I should need a similar procedure. Thank you." – David Sinclair
Here's another one:
"I am a new patient with Skyclinic JLT and I can highly recommend them. The friendly and efficient front desk (Mila and Jean), were very welcoming and professional. The two Doctors who treated me, Dr. Rabih Abi Nader and Dr.Siju Jacob we're brilliant. Their treatment was of the highest standards I have yet seen in dentistry, and they are extremely friendly, gentle and accommodating. Thank you all very much." – Samia Hassan
FAQs about the Best Dental Implants in Dubai
---
That's it for our list of the clinics for the best dental implants in Dubai! With one of these providers, you'll surely regain your confidence with the perfect smile.
Do you know other dental implant clinics we should add to this list? Send us a message to let us know.
If you're also looking for reliable providers for other dental services, you can also check out this list of the best dentists in Dubai.