The 5 Best Stock Brokers in Dubai
Featured Image Source: drobotdean via freepik
Investing is a very do-or-die commitment. You either win more or lose it all.
Stock brokers take away that hassle by making sure your money is going where you want it. They have the brains and the grit to help you make the most out of your investments.
Hence, you need to work with a superb stock broker to get the most bang out of your buck. To help you kickstart your investment journey, we made a list of the best stock brokers in Dubai, along with a guide to choosing the best one for your needs.
How Much Do Stock Broker Services Cost in Dubai?
Let's start by noting this: brokerage firms earn a commission from every trade they buy or sell for you. Basically, they get a portion of the money you earn from investing.
Stock brokers in Dubai charge commission fees based on your chosen stock market and stock exchange. Market trends can influence these fees, leading to either raising or lowering the commission that you must pay to the stock broker.
Below is a table showing a breakdown of the average commission based on current trends in the major stock exchanges. Note that the actual commission you may have to pay for your chosen broker may be different.
| | |
| --- | --- |
| Broker Commission | 0.125% (minimum AED30) |
| Market Commission | 0.05% (minimum AED20) |
| Other Commission | 0.05% (minimum AED30) |
| Trading Fee | 0.05% (minimum AED20) |
| Total Commission | 0.275% |
The Best Stock Brokers in Dubai
Ready to make the big leap with your investment? Get started with our top picks for the best stock brokers you can find in Dubai.
If you think you also need some help picking a broker from one of these, though, feel free to scroll down. After the list of brokers, we actually provide a guide on how to choose a good broker.
1. Shurooq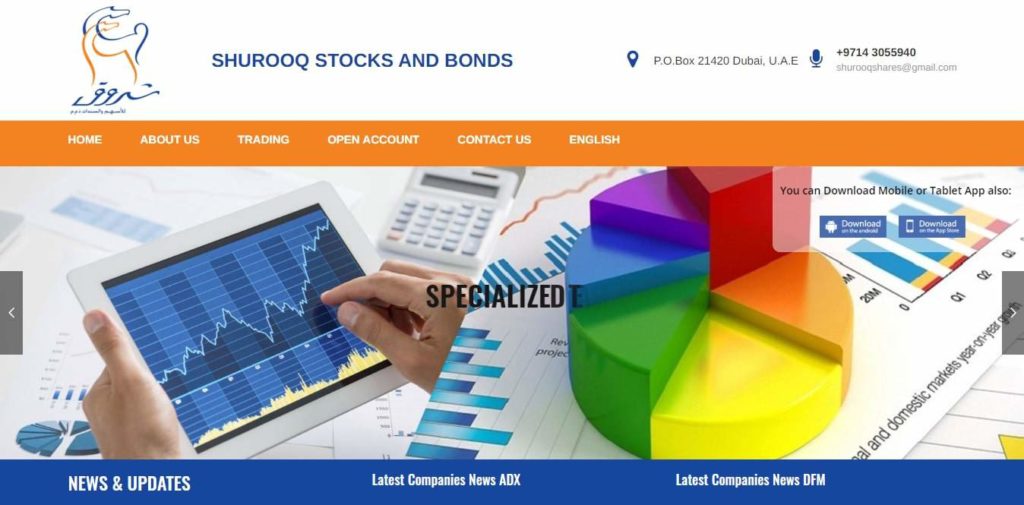 If you aim to invest through cutting-edge technology, Shurooq is one of the best stock brokers in Dubai that can satisfy your needs
Shurooq is the local pioneer for online stock broking in Dubai. Its business model is designed with convenience in mind, making digital trading a breeze for investors.
They provide their customers with regular reports and research findings to help investors come up with the best trades.
Their experts are trained to give you helpful, transparent research analysis to guide you in your trading decisions.
Overall, investing with Shurooq is a very convenient and comfortable experience. Though their market reach is limited to UAE, the quality of the services they provide is topnotch.
Convenience and ease of use
Constant support to investors
Friendly, knowledgeable staff
2. Arqaam Capital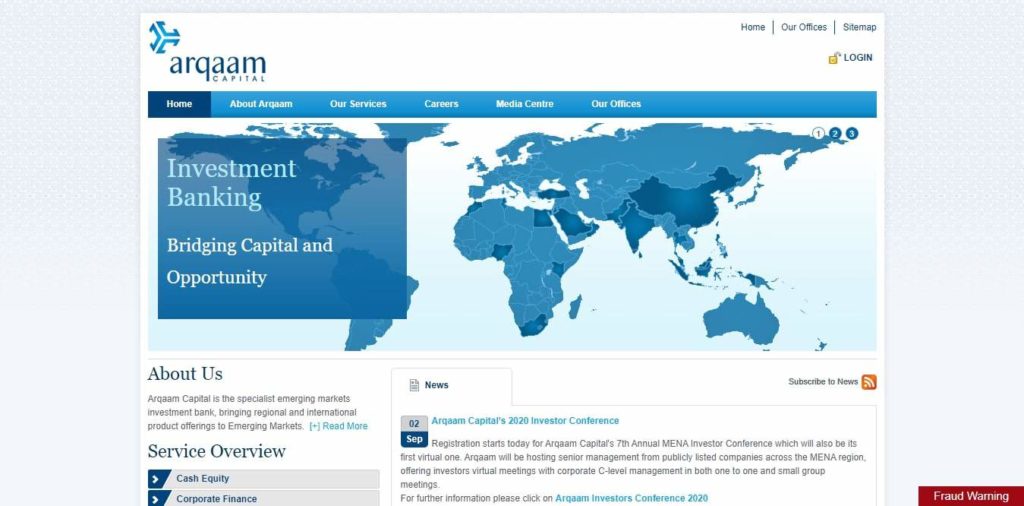 Arqaam Capital is an international stock broker headquartered in Dubai as well as Egypt and Lebanon. It is highly integrated with its bank facilities to establish a trading platform with a variety of financial services for its clients.
Through Arqaam Capital, investors can have access to markets across 26 countries in the Middle East and Africa.
Investors also enjoy top-of-the-line investment data from Arqaam Capital's multinational research team from across 4 countries.
Another benefit is receiving the latest reports on 280 companies situated in the same countries, along with financial services from Arqaam Capital's bank infrastructure.
We would suggest this more to experienced investors, however. Novice investors may struggle with maximizing Arqaam Capital's resources, as the stock broker's advice tends to be very advanced and technical.
Large reach of Middle East and African markets
International market research team
Bank-backed financial services
Not user-friendly to beginners
3. BH Mubasher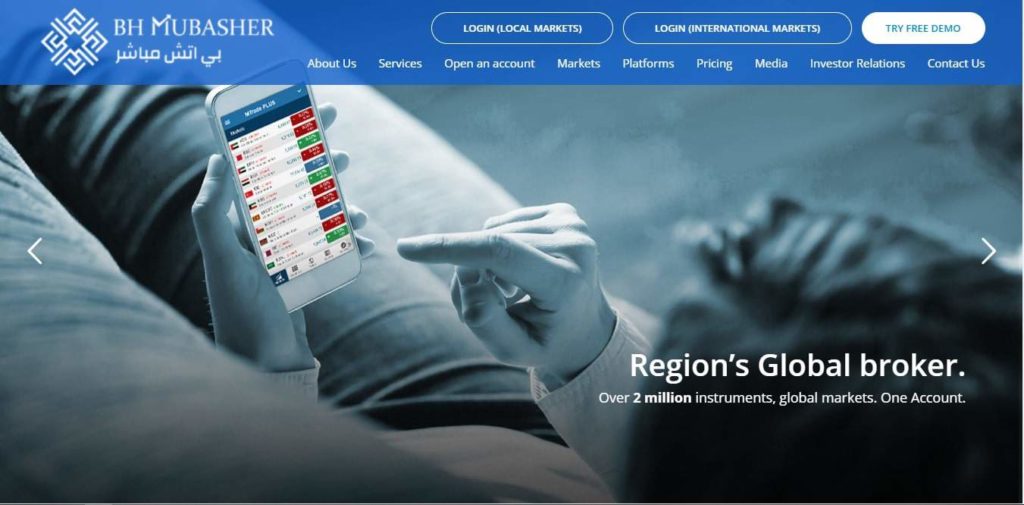 Aiming to reach a wider global trading reach? BH Mubasher is one of the best stock brokers in Dubai that can help you invest on an international level.
BH Mubasher is one of the top firms offering financial services including brokerage and advisory. They offer two major benefits to investors.
The first benefit is that the stock broker has a large market reach in North America, the U.K., and major countries in the Middle East and South Asia, giving investors a sizable avenue for trading.
Within that same reach, investors can trade over 2 million instruments, which means versatility and freedom in investments.
The other major benefit is that investors have access to all of these global markets from just one account. Investors also enjoy the latest research data and tools to help in trading.
As with the last entry, however, BH Mubasher's multiple offerings may be more beneficial to more experienced investors than to novice investors.
Large international market coverage
Versatile account offerings
International research insights
Not user-friendly to beginners
4. CBD Financial Services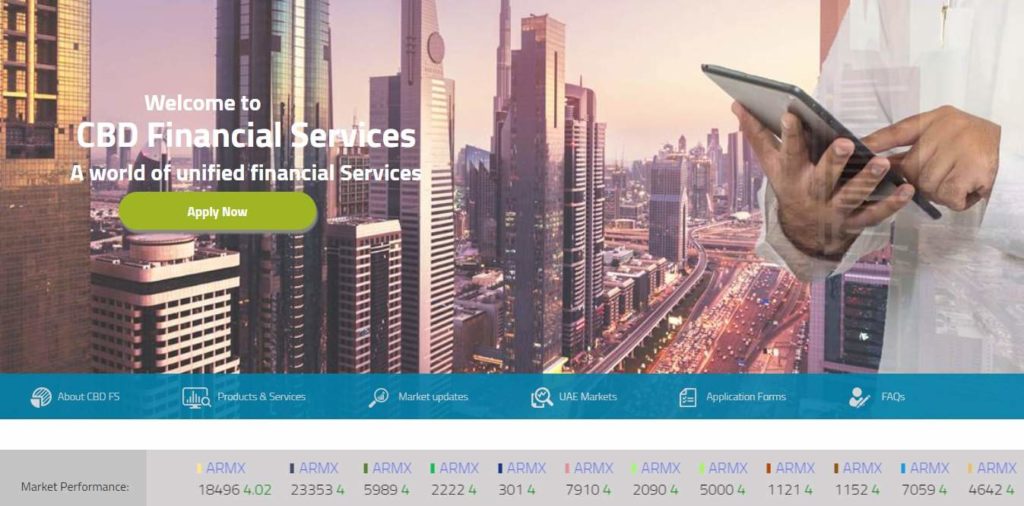 If you prefer stock brokers integrated with banks that use the latest technology, CBD Financial Services is the stock broker that can fulfill your needs.
CBD Financial Services is a recently rising stock broker that maximizes the integration with its bank to best service its customers.
As a trading platform, it offers a variety of financial services drawn from their banking experience, including the most up-to-date reports on UAE market trends.
It also has a very user-friendly interface that appeals to investors of various demographics, making it easy to access and use.
Extensive banking integration
Plenty of financial services
Intuitive interface
Dubai-only market coverage
5. Dubai Islamic Financial Services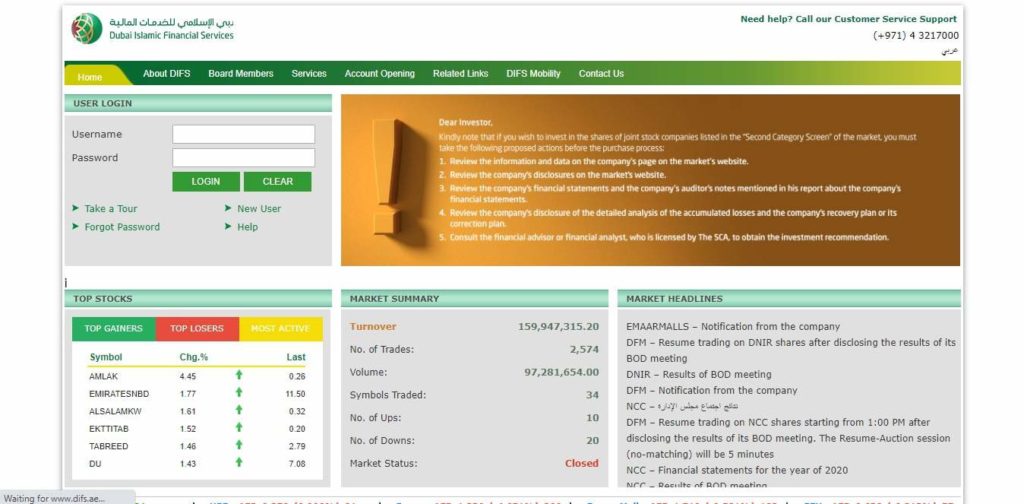 In terms of overall experience, Dubai Islamic Financial Services is one of the best stock brokers in Dubai.
DIFS is a subsidiary of the world's first Islamic bank established in 1975. With over 40 years of banking experience, DIFS possesses a large financial network and a wealth of resources for trading.
Besides that, DIFS sends regular, reliable stock exchange reports and offers a large variety of the latest trading tools to give investors the edge.
They also made their services user-friendly for not only professionals but also beginners by providing constant expert advice and support to help establish a strong investment portfolio.
Though their interface may not be quite "modern" by current standards, investors can easily overlook these for the services that DIFS provides.
Rich experience
In-depth research
User-friendly for both beginners and professionals
How to Choose the Best Stock Broker in Dubai
Every stock broker is different. You have to choose the one that can best reach your goals.
How do you know which one can help you with that? Well, here are some tips to guide you.
1. View offered services
Stock brokers aren't just about trading – they can offer you research insights, analysis, and other features to keep you aware of current trading trends.
In other words, working with a stock broker is a package deal. Some of them even throw in free webinars and learning materials aimed at helping you gain an edge in your investment.
Not every stock broker has the same offerings, however, so take your pick wisely. Try to figure out which one has the package of services you actually want.
2. Look at their market coverage
In Dubai, stock brokers are usually members of local stock exchanges such as DFM or NASDAQ Dubai. Thus, working with stock brokers here guarantees you access to markets in Dubai.
Some stock brokers can give you access to international markets. Keep in mind, however, that the commission rates are often higher.
Hence, consider whether you want to take your investment to a domestic or international level.
3. Check commission schemes
Stock brokers differ greatly in their commission rates. The rate is largely based on the added benefits that come with you hiring them for their services.
Here's the general rule: services that come with more offerings come with a higher price, while those with fewer offerings are more affordable.
One of the features provided by stock brokers is a wider market reach, and as we said before, this often involves you paying more. How much more depends on the stock broker.
Also, there are firms that require a higher minimum cost for a deposit. Other firms set a lower minimum for deposits and allow you to make smaller order sizes.
Before thinking that "more expensive is always better", consider whether you'll make use of the added features that come with hiring a certain stock broker. You're paying for all of these, so it doesn't make sense to spend on getting access to them unless you'll actually use them.
4. Read reviews
Outside opinions can show you what it's like to work with certain stock brokers in Dubai.
Client reviews of brokerage firms usually include their experience of the benefits and overall outcome of their investments working with the broker.
It's not hard to figure out how to use these reviews for your research, of course. If a lot of people are happy investing with a stock broker, it's generally better.
FAQs about the Best Stock Brokers in Dubai
---
Got any suggestions for other stock brokers in Dubai? Reach out to us and we'll be glad to add them to our list!
If you're more into creating a business for profit, you should check out our list of the best firms for company formation in Dubai.