5 Best Life Insurance Providers in Dubai
Whether you're the breadwinner of a big family, married with kids, or single with relatives depending on you financially, having an insurance plan to give them financial security even after you're gone is essential.
If you're thinking of getting insured today, we got you covered. We'll be reviewing our picks of the best life insurance providers in Dubai.
How much does life insurance cost in Dubai?
When it comes to insurance, a good rule of thumb is that the earlier you get it, the better. This is because life insurance policies are generally cheaper when you're young.
Other than age, insurance premiums can also be affected by factors such as gender, pre-existing health conditions, smoking history, and the type and amount of coverage you need.
Some insurance providers have online tools and calculators on their websites to help you get an estimate quote that is specifically customized for you.
Nonetheless, we provided the usual premium rates for the most common life insurance policies offered in Dubai. Just note that the ranges can still change depending on your chosen provider.
| | |
| --- | --- |
| Term Life Insurance | 7 AED per month/ valid for 65-75 years old |
| Whole Life Insurance | 1,200 AED- 1,400 AED per year /valid for 100 years old or an entire lifetime |
The Best Life Insurance Providers in Dubai
To form this list, we assessed each entry based on the following factors:
Now that you know how we came up with this list, let's delve into the best life insurance providers in Dubai.
1. MetLife Gulf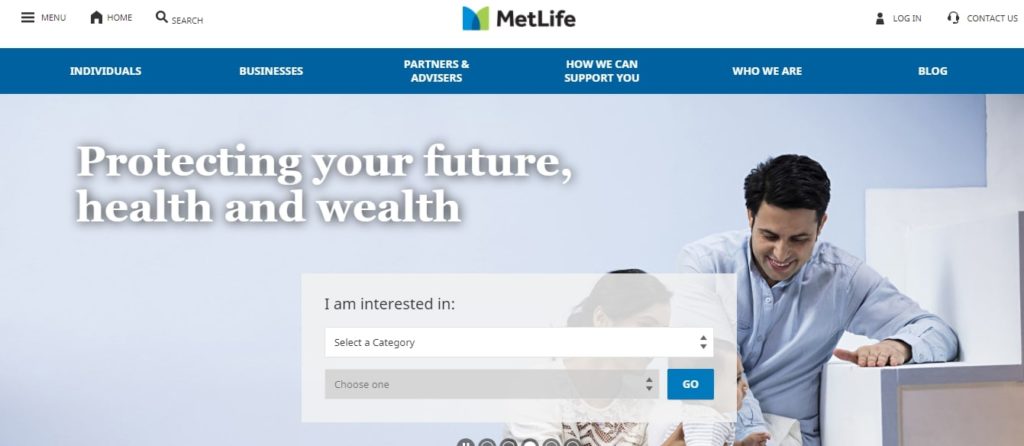 Test
Info
SERVICES

•Individual - Life Insurance, Accident and Health Insurance, Individual Medical, Savings and Investments

•Business - SME Pre-packaged Solutions, Group Life and Disability, Group Medical, other pre-pack

WEBSITE
https://www.metlife.ae/en/
ADDRESS
1st Floor, Building#7W, A Wing - Al Quds Road - Dubai - United Arab Emirates
CONTACT DETAILS
+971 4 415 4555
OPERATING HOURS
Customer service availability: Monday - Sunday 8 AM - 7 PM
MetLife is one of the popular insurance providers not just in Dubai but also in other cities across the globe. With more than six decades in the field, they've expanded their network and now operate in over 115 countries.
MetLife offers three types of life insurance plans: Future Protect Life Insurance Plan, Decreasing Term Insurance Plan, and Live Life Insurance Plan. These plans are pretty popular for a number of reasons.
First, their Future Protect Life Insurance does not just provide life coverage. It is also a potential investment opportunity, so if you want, they can give you access to a range of investment strategies that will suit your risk-bearing capacity.
Second, their Decreasing Term Insurance is a low-cost-high-coverage plan that's tailored to the client's financial capabilities, so you can get the coverage you require for a specified time duration.
Third, their Live Life Insurance is renewable after every five years, so if you prefer to have insurance that can provide you the benefits of life coverage for a short fixed duration, this one can be your best pick.
Among other things, we also appreciate their customer care service. You see, if you become their client, you can register and become a member of myMetlife.
You can conveniently manage your policies and access a range of health and wellness-related content on this platform.
Overall, we think MetLife can be a good pick for customers who want to get insured with the guidance of an experienced provider.
The only problem we notice is that they do not have official business hours. Although their customer service staff are available daily, it might not still be ideal for people who prefer to do one-on-one business onsite.
Registered with UAE Insurance Authority 
Offers a variety of life insurance plans
Business hours are not stated on the website 
Client Reviews
Supportive customer service
"Very supportive customer service and its the best medical insurance I have ever got". – Marwa Azzam
Communication with agent Mr Fawaz is more than great
" I invested in this company this year for 10 years plan…The communication with agent Mr Fawaz is more than great…He responds always to my calls or WhatsApp msgs." – Osama Abdel Qader
2. Noor Takaful Ethical Insurance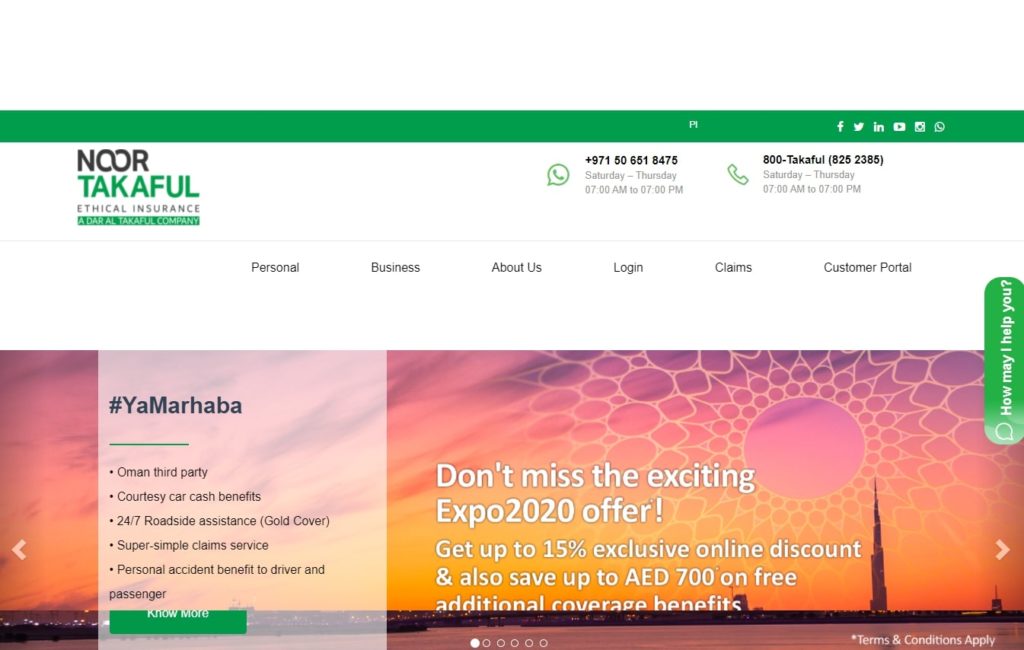 Test
Info
SERVICES

•Personal - Car Takaful, Medical Takaful, Travel, Takaful, Family Takaful, Home Takaful

•Business - Corporate Takaful, SME Takaful

WEBSITE
https://www.noortakaful.com/p/home
ADDRESS
Level 4, The Offices 1 at One Central, Dubai World Trade Centre, PO Box 48883 - Dubai - United Arab Emirates
CONTACT DETAILS
+971 800 8252385
OPERATING HOURS
Sunday - Thursday 8 AM - 4 PM
Noor Takaful Ethical Insurance was established from the sister companies – Noor Takaful Family and Noor Takaful General. Aside from being a prominent firm in the insurance industry, we included this firm for many reasons.
One of them is that they're among the pioneers of the Takaful sector in the Middle East. But why is this sector important?
Most of the common insurance offered in the market has elements that do not comply with Islamic Law (Sharia). Due to this, Takaful insurance products and services, just like what Noor Takaful offers, are made because they are compliant with both the government laws and the Sharia.
We have nothing against their unique insurance policies, but for people who are not originally from the Middle East or those who are fairly new to the term, it can be a bit confusing.
So, here's the difference between conventional insurance and Takaful.
Bear in mind that in normal insurance, the risks that the client may face are covered by the insurance provider. On the other hand, Takaful is based on shared risk, so if ever you suffer from a loss, each participant in the said program will donate to the fund, and you'll fully receive this amount.
This means that you'll be covered by the Takaful contract. Don't worry because the coverage and benefits you'll get are just the same as conventional insurance.
All told, Takaful insurance and plans are not a religious product, so even if you're a non-Muslim, you can definitely sign up for this. Just be patient because, according to some of their clients, there can be delays when it comes to insurance approvals.
ISO 9001:2015certified
Affordable plans 
Focused on Takaful insurance services and products
Some customers experience delays when getting insurance approvals 
Client Reviews
Highly professional and quick response
Had a great experience with Noor Takaful on claims management and renewal service., having 2 vehicles insured with Noor Takaful for past 7 years I have never ever thought to change to any provider. Highly professional and quick response and payment integration by credit card helped a lot in saving time." – Asghar Abbas
Exceeded our expectations
"A special thank you to Ms.M, Contact Centre Agent who has once again, exceeded our expectations in service, follow-up and professionalism. She has a positive and supportive attitude which is rare to find in customer service these days. I have been using this company for the past several years and will continue doing so mainly due to the contact service agent." – Rosanna Stoehr
3. Zurich Life Insurance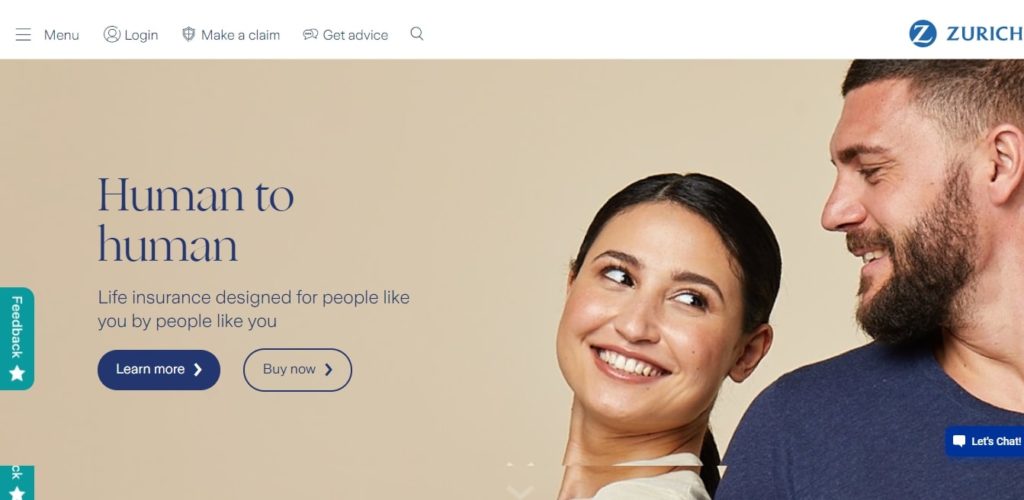 Test
Info
SERVICES

•Life Insurance - YourLife and YourCare, Term Assurance, Futura

•Employee Benefits - DEWS, Group Protection, Pension Plan

•Savings - Simple Wealth, Wealth Accumulation Plan, Regular Savings Plan, Global Choice

WEBSITE
https://www.zurich.ae/
ADDRESS
Zurich International Ltd, Emaar Square, Building 6, Level 6 - Dubai - United Arab Emirates
CONTACT DETAILS
+971 4 363 4567
OPERATING HOURS
Sunday - Thursday 8 AM - 5 PM
If you're looking for an experienced insurance provider who can work around your budget, Zurich Life Insurance is worth checking out.
These folks are popular for a reason, and they have a large client base not just in Dubai but also across UAE and other countries. Now, they have over 55,000 employees who share the same goal of providing quality service in more than 215 countries.
They believe that there's no comfortable way to talk about death or income loss. So, they chose to be a straightforward company that aims to help their clients create a better future for the people they care about the most.
They do this by offering comprehensive consultations and providing cost-effective plans, which we think is a point in their favor. After all, not everyone's well-versed with policies, and some might still need help in determining what coverage they really need.
To give you an overview of their life insurance plans, here are your choices: YourLife, Zurich Futura, International Decreasing Term Insurance (IDTA), and International Term Assurance (ITA). These plans can still be customized depending on your requirements.
Should this not be enough, they also support a bunch of local communities and sustainability initiatives. Having said all that, Zurich can be your go-to pick.
We just notice that their plans and services are pretty varied, which may be the reason why it can be a bit overwhelming to look into each of them. This is especially true if you're a total beginner.
Nonetheless, if you find their policies enticing, we recommend that you reach out to them through their website.
Multi-line insurance provider
Cost-effective plans 
Extensive years of experience
More focused on individual insurance plan
Some customers experienced difficulty getting payouts 
Client Reviews
Reasonable price
"Very informative and provided cover we needed at a reasonable price considering my husband's medical history. " – Ali Imam Tanjir
Comprehensive solutions
"Great team, comprehensive solutions and service set up. Always trying to bring positive changes so that the market can stay Ready for Life!" – Roshni Dutta Gupta
4. Union Insurance Company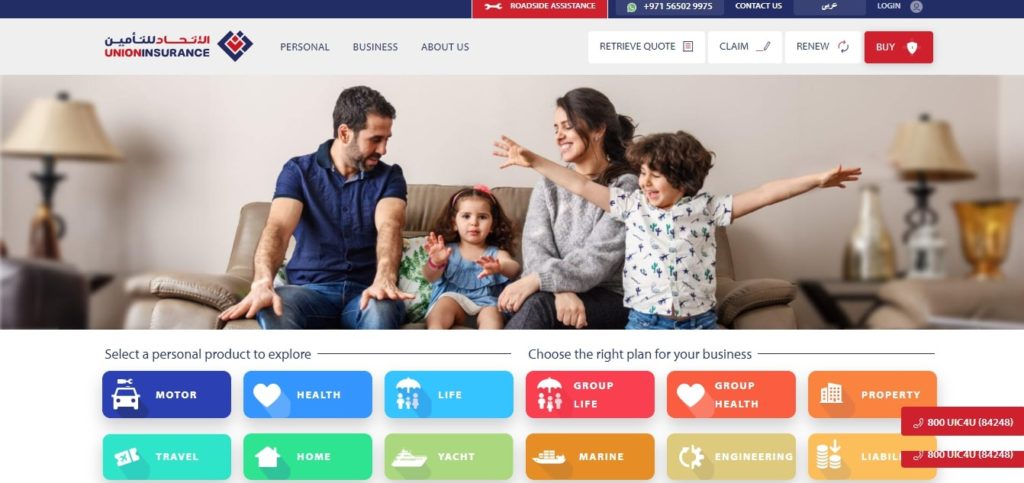 Test
Info
SERVICES

• Personal - Motor Insurance, Health Insurance, Life Insurance, Travel Insurance, Home Insurance, Yacht Insurance

• Business - Group Life Insurance, Group Health Insurance, Property Insurance, Marine Insurance, Engineering Insurance, Liability Insurance

WEBSITE
https://www.unioninsurance.ae/
ADDRESS
Al Ittihad Rd - Al Khabaisi - Dubai - United Arab Emirates
CONTACT DETAILS
+971 4 378 7444

+971 56502 9975

OPERATING HOURS
Sunday - Thursday 8:30 AM - 5 PM
Union Insurance also made it on this list because they offer a range of insurance policies for individuals and businesses. We think it's a good thing that their plans are so varied because you'll have choices.
The life insurance plans they offer are Super Secure, Smart Term Life, Infinity Life, Flexi Life, Single Premium Plan, and Smart Critical Illness.
Whether you prefer whole-life insurance, savings-oriented unit-linked insurance, or flexible and pro-investment insurance, you'll be able to find it here.
All these plans can be customized too, which is good because it means that your life insurance plan can be tailored according to your requirements and preferred coverage.
If you're a business owner, they also have a renewable term insurance plan to help you invest more in your employees.
This Group Life Insurance is not just for big corporations. It also extends to non-banking financial institutions, microfinance organizations, banks, and even NGOs.
Another excellent feature of this plan is that the employees do not need to undergo any medical examination if they meet the free cover limit. Although the limit can vary from group to group, this still makes the enrolment process more flexible and convenient.
All the insurance they provide is supplemented by digital channels, so they say that it will be a lot easier to monitor your policies as well as submit and track claims.
However, in our opinion, they still need to improve in this area because we noticed a few reports from clients about their inability to process claims and refunds promptly.
Vast medical network
Offers digital channels to monitor policies
Some customers experienced difficulty in processing refunds and claims 
Client Reviews
Happy with the sales staff
"Had invested in an insurance and savings plan 7 years ago. Their staff helped me switch funds in the investments in a timely manner and I was able to benefit a lot from it. I am happy with the sales staff. My advise would be to keep in touch with the sales staff and his or her manager so that you have a proper inside contact to speed up your requests." – Ranju A
Arranged the compensation very promptly
"UIC's service was excellent. They assessed the damages very quickly and arranged the compensation very promptly so I can replace my items. Communication was clear from the beginning till the end. Really impressed."- Katerina Maskova
5. AXA Insurance (Gulf)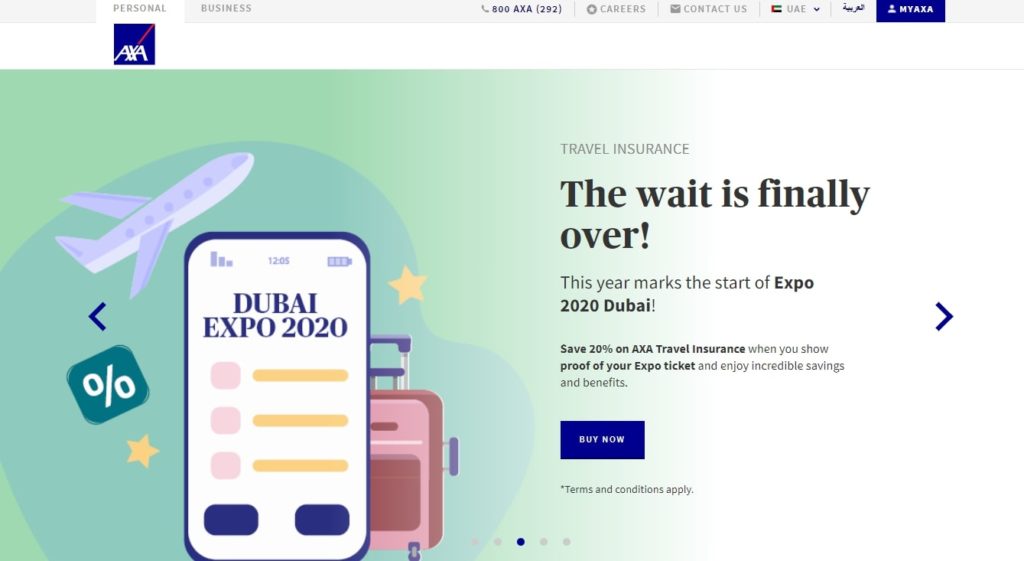 Test
Info
SERVICES

•Personal - Car Insurance, Travel Insurance, Home Insurance, Health Insurance, Yacht Insurance, Life Insurance

•Business - Insurance for Employees, Insurance for Business & Assets, other insurance packages

WEBSITE
https://www.axa.ae/en/personal
ADDRESS
Second Floor, Building 7, Phase 2، Dubai Outsource Zone - Dubai - United Arab Emirates
CONTACT DETAILS
+971 800 292
OPERATING HOURS
Sunday - Thursday 8 AM - 5 PM
With over 65 years of experience in the insurance industry, AXA has become one of the most trusted multinational insurance providers across the globe.
Although its main office is in Paris, this firm has established a reputation in over 57 countries in the Middle East, North America, western parts of Europe, the Indian Pacific Region, and the African subcontinent.
One thing worth noting about this provider is the variety of online integrated plans they offer for individuals and businesses.
In contrast, their life insurance plans are pretty simple, which is not really a bad thing in our opinion.
They only offer two life insurance plans – Life Protect Plan and Simple Life Plan, and it's an advantage for some because it's a lot easier to understand. If you want to grasp the general idea of these policies, just keep reading.
Life Protect Plan is for people who want to provide a financial cushion of up to 50,000,000 USD to their family members in case they encounter an unfortunate demise.
Aside from the loss of life due to sickness or accident, it also covers terminal illness and permanent total disability and offers a waiver of premium for clients who are rendered disabled to pay the plan.
Since it's only available for UAE residents, another option ex-pats can consider is the Simple Life Plan. It's a cost-effective option that can give you coverage of up to 3,600,000 AED with just a premium of less than 10 AED per month.
The only downside we see is that although they claim to provide hassle-free reimbursement and 24-hour customer service, we still notice complaints from some clients regarding their inability to respond to calls promptly.
Moreover, it is best to note that AXA Insurance (Gulf) is now a part of Gulf Insurance Group (GIG), so there can be changes in branding and operations, especially now that everything's not yet finalized.
But we wouldn't worry because they stated that this event would not affect their services, products, and other transactions.
Offers a wide variety of insurance policies both for individuals and businesses
Licensed by the UAE Insurance Authority 
Vast years in the industry 
Some customers have negative experiences with their customer service staff
AXA Insurance (Gulf) is now under Gulf Insurance Group 
Client Reviews
Very good and professional Team
"I needed a Roadside Assistance on 27.10.2020. The driver Faizal Ahmad arrived very fast. He did his job efficiently and quickly. I am very grateful to him. Totally satisfied with his work. Top class! And AXA operator, who received my call, was very helpful and operative and she called me back to be sure that everything has done successfully. Thanks a lot! Very good and professional Team!" – Jannet Idrisova
Very satisfied
"Very satisfied with their car insurance. Excellent customer service. They deal with Europcar for car hire and PAL garage which are among the best." – Abdul Mannan
How to Pick the Best Life Insurance Provider in Dubai
A life insurance policy is not an easy buy, so if you plan to get one, consider the tips we listed below.
Determine your life insurance requirements and goals.
A life insurance policy is a tool that can help give your dependents financial security even after you are gone. That is why it is vital to understand what your requirements and goals are when getting one.
Do you currently have debts or loans? Do you have kids who are still studying?
There can be various factors to keep in mind when getting insurance, so make sure that you list down your priorities. This is so you can discuss them with a trusted financial advisor, and they can help you craft a plan that's best for you.
Check the level of coverage available for each plan.
With all the life insurance policies available in Dubai, you might be tempted to choose the cheapest one. But, in our opinion, this is not always the best choice.
You see, aside from the price of the premium, what's really essential in insurance plans are duration and level of coverage.
We suggest that you go for a plan with comprehensive coverage not just for you but also to your beneficiaries.
Check the reputation and deals of providers.
This industry is a business of trust. Of course, most of them will be promising a lot of good things when you are just about to sign up for a policy, so it is vital to look for the results they produce with their products and services.
We suggest that you consider and analyze different plans from different insurance companies before you commit to anything. You can also see the reviews they receive from their clients.
FAQs about the Life Insurance Providers in Dubai
---
Think we missed a good life insurance provider in Dubai? Share your suggestions with us, and we'll be happy to review them.
Also, if you and your family's health are your top priority, we also have a good resource for you. Look into our list of the best health insurance in Dubai.