7 Best Handyman Services in Dubai
Featured Image Source: Valentina Giarre via Unsplash
To some people, simple home repairs may not be all that simple. For quick and effective repair work and other odd jobs, contact one of the firms for the best handyman services in Dubai.
This article contains a guide on how to choose a reputable handyman firm. To help you find a provider easier, we've also included a list of some of the city's top handyman companies.
We've even gone the extra mile and researched the prices of handyman services in Dubai to prepare you for the cost of your handyman job.
How Much Does Handyman Services Cost in Dubai
The table below contains the cost of common handyman services offered in Dubai. The actual price may vary depending on your handyman company.
| | |
| --- | --- |
| General handyman services | AED109 to 129/hour |
| Electrical repair | AED109 to 129/hour |
| Home appliance repair | AED129/hour |
| AC installation, cleaning, or repair | AED179/unit |
| TV mounting | AED99 to 199/unit |
| Plumbing repair | AED109 to 129/hour |
| Maintenance contract | AED1,500 to 5,000/year |
How to Pick the Firm for the Best Handyman Services in Dubai
For effective handyman work, select only the best handyman company in Dubai. To guide you in choosing a reliable service provider, refer to these tips we've prepared for you below.
Read reviews
Narrow down your handyman options by looking through their ratings online. You should also read their past clients' reviews to know if they can be trusted to provide an effective service.
It's even better if you can get referrals from your family or friends. You can guarantee excellent service if someone you know highly recommends a service provider.
Get quotations
Once you've chosen a few providers that offer the service you need, the next thing you should do is get estimates.
This will reveal the company that offers the best value for money, helping you decide which handyman company to go with.
Note that some handyman companies offer free online quotations. However, you will also encounter others that require a visit to your space for a marginal fee before they can give you a quote.
While this is an added expense, this allows companies to give you a more exact computation of expenses before they push through with the repairs.
Check for a guarantee
The best handyman companies offer a warranty for their work. Extending a warranty to clients usually means that the company is confident about the quality of its materials and service.
Warranties also protect you from spending more money due to substandard repair work as this compels the handyman company to re-do the repair for free.
The Firms for the Best Handyman Services in Dubai
Now that you know what to look for in a reliable handyman service provider, here are some of the firms for the best handyman services in Dubai to make your search quicker and hassle-free.
1. Vfix Maintenance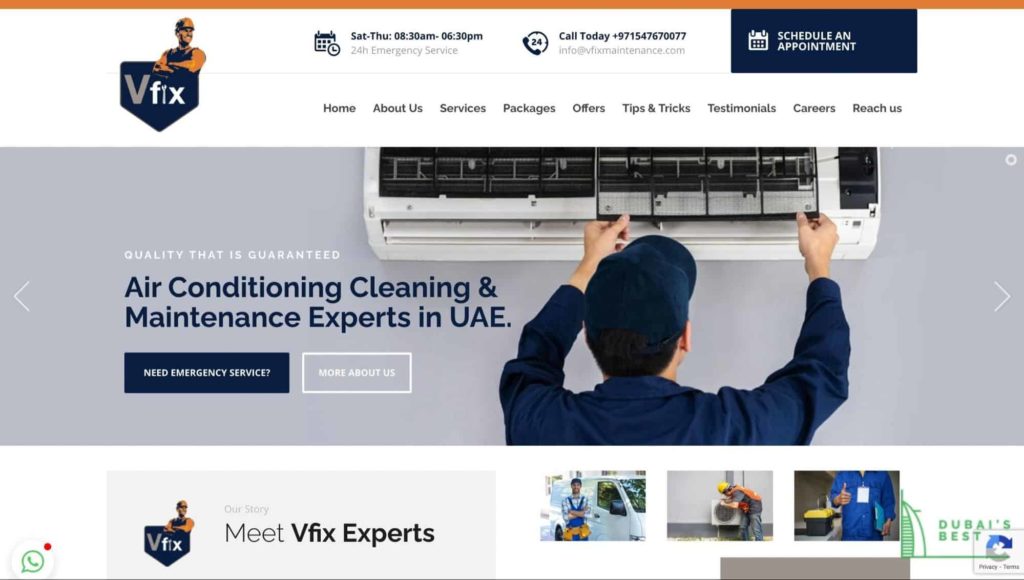 BEST FOR
Large workforce
WEBSITE
https://vfixmaintenance.com/
ADDRESS
Prime Business Centre, Office #402, Block A, JVC, Dubai, United Arab Emirates
CONTACT DETAILS
+971 54 767 0077


[email protected]

OPERATING HOURS
Saturday – Thursday: 8:30 AM – 6:30 PM
What makes Vfix Maintenance one of the best companies in Dubai for handyman services is that they can accommodate many clients with over 80 skilled handymen in Dubai.
Their professional handyman can do furniture and appliance assembly and installation among other installation, maintenance, and repair services. They also have the skills to solve your plumbing and electrical concerns.
To save you from the heavy costs of home maintenance, you can sign up for the company's email newsletter to receive updates on their special offers. Plus, they also offer yearly maintenance contracts for residential and commercial clients.
The best thing is that the company also offers emergency repair services 24/7 so you won't have to wait the next day to have anything in your home repaired.
Provides emergency services
Special offers and promotions
Provides annual contracts
Provides a warranty
Unknown if all services have a warranty
Customer Reviews
Saif Nadeem, one of Vfix Maintenance's previous clients, reviewed:
"Brilliant team! Quick service and very professional. I want to recommend their technicians Subash and Tony who solved a long issue of my AC which 3 other companies couldn't resolve. One company even quoted AED3000 for repair which VFix did for AED499 AED and also provided a 6-month warranty!
Great guys! They have this aura about them. They know what they are doing. They just ask the customer to trust them and they will resolve it!"
Abhishek Shukla, another satisfied customer, said:
"Very happy to recommend VFIX services to one of our clients. The client was also very happy with the turnaround time, cost, and quality of service.
We for sure will be recommending VFIX to more of our clients and customers in the future. Keep up the good work VFIX team!"
2. Man & Van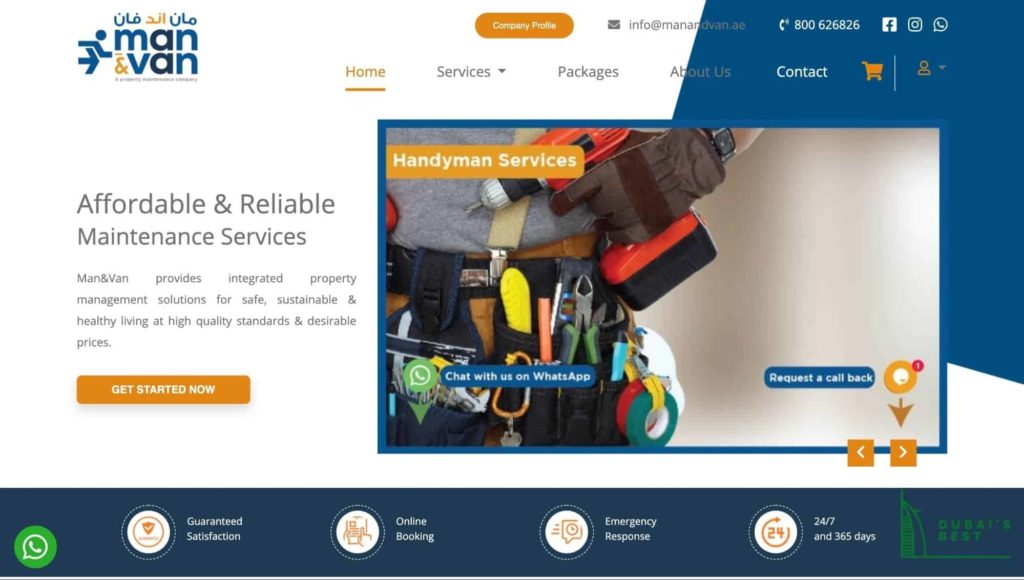 BEST FOR
Affordable contract maintenance
WEBSITE
https://www.manandvan.ae/
ADDRESS
F-59, The Curve Bldg, Sheikh Zayed Road, Dubai, United Arab Emirates
CONTACT DETAILS
0 00 626826
+971 4 577 5874
+971 52 136 7374


[email protected]

OPERATING HOURS
Open 24 hours
Man & Van offers a complete range of property management services 24/7 365 days a year. Like most providers, they can do electrical, plumbing, and appliance repairs.
However, they also provide a variety of cleaning services, including water tank and swimming pool cleaning. For more extensive cleaning, the firm even offers disinfection and pest control.
Man & Van is the best handyman service provider in Dubai for landlords and businesses that require maintenance and repairs often. The company offers 3 annual maintenance contracts starting at AED79 a month.
The basic plan includes unlimited emergency callouts, 10 routine callouts, and a discount of 10% on various services.
24/7 services
Offers different cleaning services
3 annual maintenance plans
Customer Reviews
Satisfied client Lina Herlina shared their experience with Man & Van. They said:
"We want to thank Man & Van for doing a great job. Not only was the work done to our satisfaction but was done in a very professional and complete manner.
I would love to recommend your company to anyone who needs a plumber or any other maintenance service. Keep it up!"
Another previous client, Yaz, shared:
"M&V made my life easier. They're just a call away for my maintenance needs and my ad hoc projects!
Mansoora and Mahboob always provided me with good ideas for my requirements. Such great support."
3. Well Done Handyman Services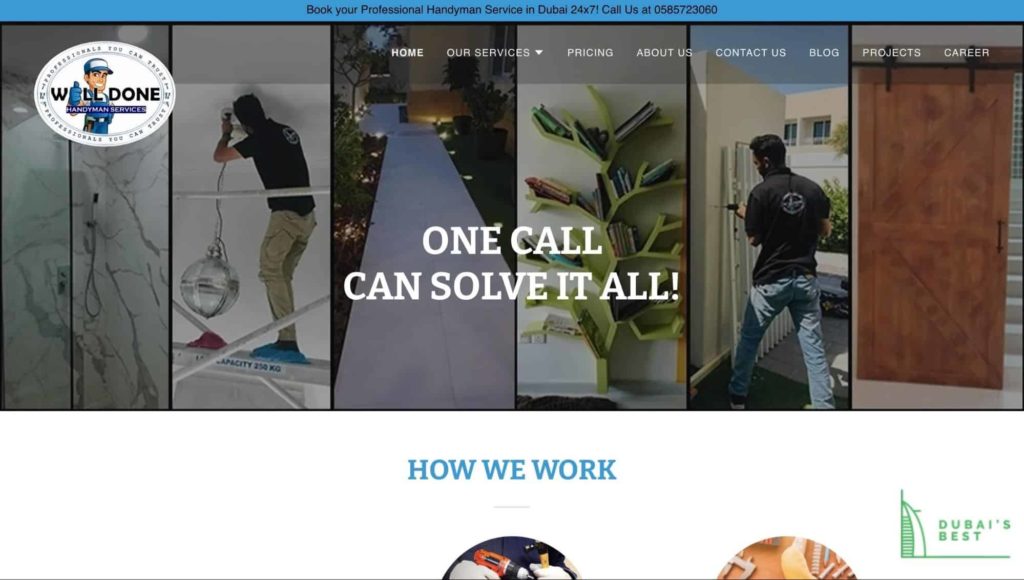 BEST FOR
Lights installation
WEBSITE
https://welldoneservices.me/
ADDRESS
Spectrum Building, Plot No. 6, Dubai, United Arab Emirates
CONTACT DETAILS
058 572 3060
+971 58 572 3060
OPERATING HOURS
Open 24/7
Well Done Handyman Services does a variety of odd jobs and repairs in Dubai.
However, they are best known for their excellent lights installation services. Their highly-capable handyman can carefully install even large chandeliers on your villa or apartment's high ceiling.
Besides this, Well Done Handyman Services' can also put up other fixtures in the home, such as curtains, blinds, and windows screens.
They have the tools to execute these works, ensuring that your items are properly mounted.
You can also trust the company to help you with relocating. They can disassemble and reassemble any kind of home appliance or furniture.
If you wish to supervise their repairs, they can do your repairs on late nights and weekends
24/7 services
Provides relocation services
Available on late nights and weekends
Customer Reviews
Morgane Elisma was impressed with the firm's service. They reviewed:
"Very professional team. I used the service of Well Done Handyman Services to hang shelves, frames, cabinets, and lamps.
I was fully satisfied. They were very efficient and clean. Good quality of service at a good price. I highly recommend it."
Nehal Azziz also left Well Done Handyman Services a positive review:
"It is great to finally find a handyman service company that is dependable, on time, well priced. and has experienced workmen. They installed shade sails for me in my villa terrace and balcony and did an excellent job. Highly recommended company"
4. JustCare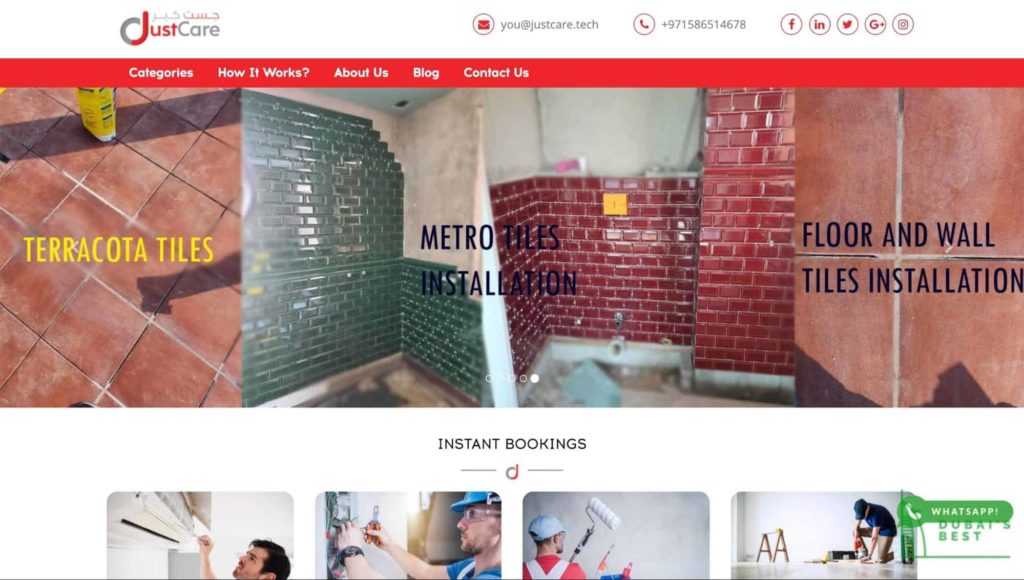 JustCare is a trusted maintenance service provider by residents of Dubai and neighbouring cities Abu Dhabi and Sharjah.
They can address most home maintenance needs. Their highly-skilled handymen can assemble, install, and repair a variety of appliances, furniture, and fixtures in the home.
If you want your home to look brand new, these professionals can also provide solutions for tile cracks and paint scratches in your space.
What makes JustCare one of the best handyman service providers in Dubai is that they are transparent regarding their fees.
The firm's callout fee is AED95, which already includes an hour of service. AED45 is then charged for every half an hour after that.
To guarantee that they're giving you the best handyman services in Dubai, JustCare also provides a 30-day guarantee.
Provides handyman services to Dubai, Abu Dhabi, and Sharjah
30-day guarantee
Transparent fees
Customer Reviews
Mohammad Khalifa Hassan shared their experience with JustCare. They said:
"Excellent service. I needed TV wall mounting service for my 65 inch OLED TV so I contacted them via WhatsApp and they responded promptly.
They asked for details and advised me about the charges. Their team was here on time very quickly. The team was professional, were wearing uniforms, and had all the necessary tools.
They were clean and professional and finished the job in less than an hour. All in all, I would recommend their service based on the high quality I received. Thanks, JustCare."
Amit Gupta also reviewed the firm, saying:
"The team did an excellent job. I had 2 beds to be opened and installed, IKEA shelves to be installed, and some errands in the kitchen. They did it very neatly and were very fast and professional.
Very satisfied with the quality. Thanks."
5. HandyMan Dubai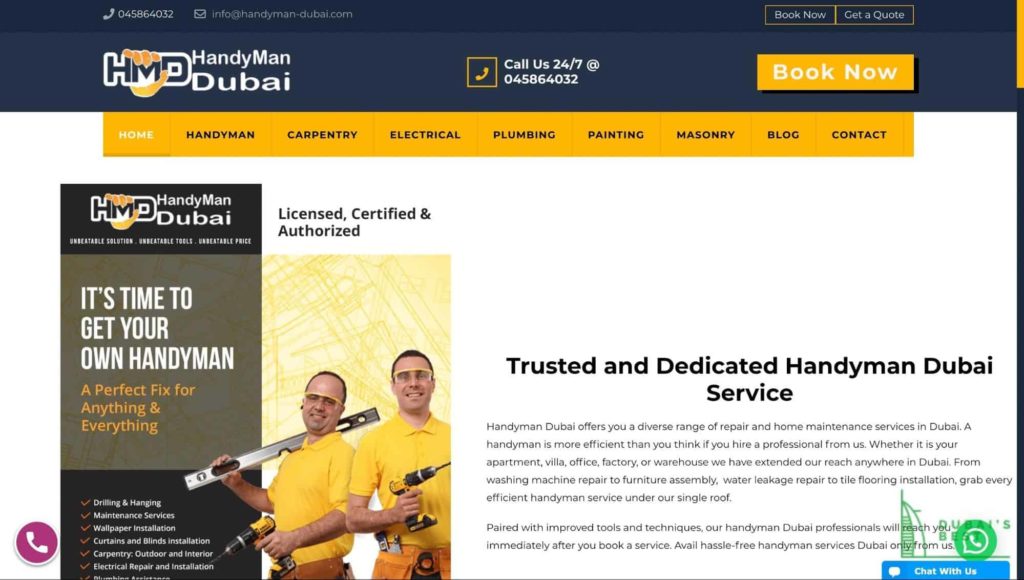 BEST FOR
Drilling and hanging
WEBSITE
https://handyman-dubai.com/
ADDRESS
Millennium Plaza Hotel Tower, Office: 1504, Sheikh Zayed Road, Dubai, United Arab Emirates
CONTACT DETAILS
045864032


[email protected]

OPERATING HOURS
Sunday – Thursday: 7:00 AM – 9:00 PM
Friday & Saturday: 8:00 AM – 5:00 PM
HandyMan Dubai is a duly licensed handyman company that offers its services to Dubai, Abu Dhabi, and Sharjah.
Much like other handyman service providers in the area, they do an excellent job in providing plumbing, electrical, and appliance repair.
Beyond repairs, HandyMan Dubai can perform tasks that help beautify your home such as painting, wallpaper installation. Their staff are also skilled in carpentry and masonry, particularly tile installation.
However, the provider's handymen are most skilled in drilling and hanging. They can mount anything from your picture frames to your TVs, making sure that these are secured in place.
Provides 24/7 emergency services
Does carpentry, masonry, painting, and wallpaper installation
No mention of warranty or guarantee
Customer Reviews
Nikhil Prem gave HandyMan Dubai a five-star rating. They also reviewed:
"Big thanks to HandyMan Dubai and their hardworking handymen.
I have used their services a couple of times for painting my apartment and fixing an electrical problem with the installation. Both times everything was perfect. Highly recommended. I am going to use them again in the future."
Meanwhile, Tamim Ahmed shared:
"Great team. They were on time and did a great job in AC coil & duct cleaning. I gladly recommend them."
6. Save Your Home General Maintenance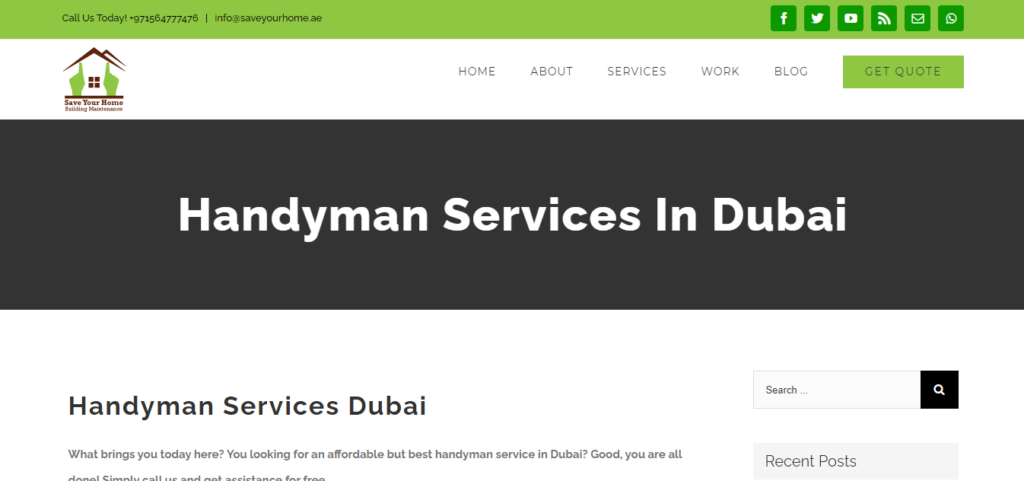 Save Your Home General Maintenance was established in 2009 in Dubai with license no CN–1163570. The company's team is filled with highly professional members that can always meet the requirements of their customers
As opposed to other establishments, Save Your Home General Maintenance provides reliable, timely, and professional property maintenance. One reason why people prefer to contact them is that they are always open and respond immediately.
With the wide range of services they offer, they can already do anything! Previous clients mentioned that they prefer to contact them because they are able to fix many problems in one visit due to the number of their specialties. This made them save money and time.
The areas they cover are compared to the other companies in this list. They serve Arabian Ranches, The Lakes, Downtown Dubai, The Meadows, Dubai, Marina, Jumeirah Beach Residence, Emirates Hills, Festival City, The Greens. Jumeirah Lakes, Towers, The Views, The Springs, The Palm, Tecom, Dubai, Alain, Abu Dhabi, Sharjah, Ajman, Fujairah, and Ras Al Khaima. Just in case your area is not on the list, feel free to call then and they will be happy to assist you.
7. ServiceMarket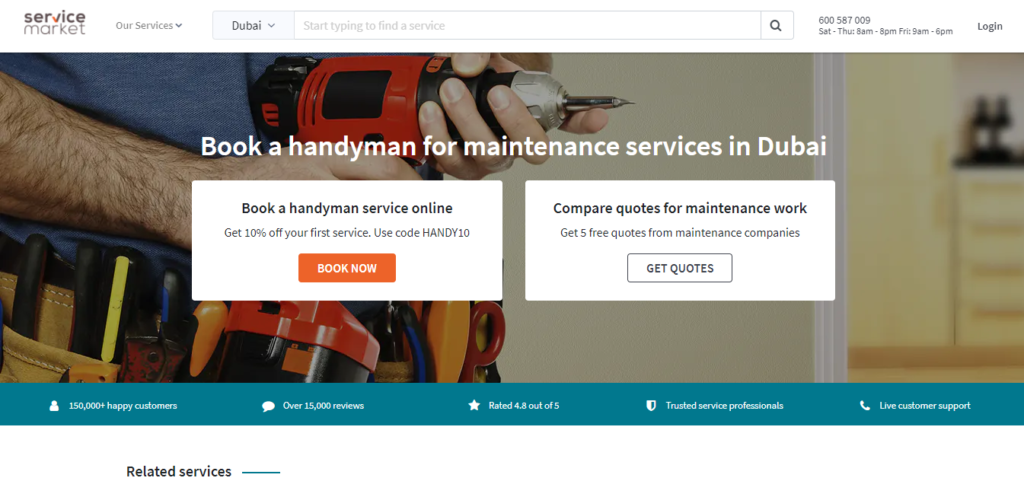 BEST FOR
Handyman and Maintenance Services
WEBSITE
https://servicemarket.com/en/dubai/maintenance-handyman-companies
ADDRESS
Main Office
Ali azizi maktum Al Sharfi Zayed bin Sultan
Street Building No 169
Office No 18 Alain Abu Dhabi.

Sub Office
Villa no 135 Al bada office number c3 Dubai
CONTACT DETAILS
600 587 009
OPERATING HOURS
Sunday to Thursday: 8 AM – 8 PM
Friday: 9 AM – 6 PM
Saturday: 8 AM – 8 PM
ServiceMarket is the largest home services marketplace in the Middle East. Unlike other companies on this list, they have partnered with Dubai's best companies that can give you the service you deserve.
A factor the people like about them is how they can get quotes from five different maintenance companies. Another factor is they can get a 10% off by using the code "HANDY10" on their first handyman service if it will be booked online.
In comparison to the other companies, working with them is easier. You just need to fill out a short form describing in detail the services you need, upload photos if needed, choose what company you prefer, connect with them, and simply confirm your booking!
The maintenance companies featured on ServiceMarket employ the best handyman who can do anything from hanging frames to expanding your kitchen cabinets. On top of that, if you book their services online, your request will be carried out by a team of two professional handymen and you will get a 30-day warranty on the work done in your home
Great customer service
Offers everything your home needs
Has been featured in many articles
Serves many locations (locations can be found at the bottom of their website)
FAQs about the Best Handyman Services in Dubai
---
With one of these providers for the best handyman services in Dubai, you'll be able to install or fix anything in your home quickly and effectively.
Do you know other handyman companies we should add to this list? Let us know by sending us a message.
If you're specifically looking for a firm that can provide excellent carpentry services, you should definitely check out our list of the best carpenters in Dubai.