5 Options for the Best Insurance in Dubai
Featured Image Source: Fabio Comparelli
Unexpected events can bring about unforeseen expenses. To protect you from financial problems, look for the best insurance in Dubai for your specific needs.
This article contains a guide on how to choose the insurance plan that suits your needs the most. There's also a list of options for the best insurance in Dubai so you can start investing in your future as soon as possible.
To prepare you for the cost of getting insurance in Dubai, we've also included a price list which you will see below.
How Much Does Insurance Cost in Dubai
The table below contains the cost of common insurance plans offered in Dubai. Actual price may vary, though.
| | |
| --- | --- |
| Health insurance | |
| Essential benefits plan (for low-income individuals and domestic staff) | AED650 to 725/year |
| Comprehensive plans | AED5,500 to 10,000/year |
| Life insurance | AED1,200 to 1,400/year |
| Education insurance | AED1,500 to 3,160/month |
| Travel insurance | 4% to 10% of your travel expenses |
| Car insurance | 2.75% to 3.25% of the cost of the car |
How to Pick the Best Insurance in Dubai
Insurance plans require you to pay a significant amount of money. So, it is important to get an insurance plan that will give you great returns on your investment.
To guarantee that you're investing your money well, follow these tips below in selecting the best insurance plan in Dubai
Know your needs
While there are insurance plans that are targeted to a type of need, such as car and travel insurance, there are some insurance companies that offer riders or add-on benefits on their insurance offerings.
For instance, one insurance company's education plan may include personal accident insurance. You may also opt to add a health insurance rider to your life insurance.
Knowing which aspects of life you want to protect will help you decide what insurance plan to get.
Consider the coverage
The price you're paying shouldn't be your only consideration when choosing an insurance plan. You should also be sure to check how much you're going to receive in case of an emergency or when your plan matures.
Some insurance providers state these explicitly on their website. However, it is better to read their terms and conditions thoroughly to know if your needs would be covered satisfactorily.
In choosing health insurance, for example, you'd want to choose a plan that covers your existing health conditions as well as most, if not all, emergency hospitalisation costs. This removes the need for you to shell out more money on top of what you've paid for your premiums.
Compare plans
Always compare various insurance providers and plan options before making your decision. Looking at three or more plans is ideal.
You may have to spend some time reading each plan's terms and conditions for this, but it allows you to get comprehensive protection for the best value for your money.
The Options for the Best Insurance in Dubai
With the guide above, you should now be able to choose the best insurance plan in Dubai for your specific need.
Let's make your search quicker and hassle-free with this list of options for the best insurance in Dubai below!
1. ABNIC Outbound Gold Travel Plan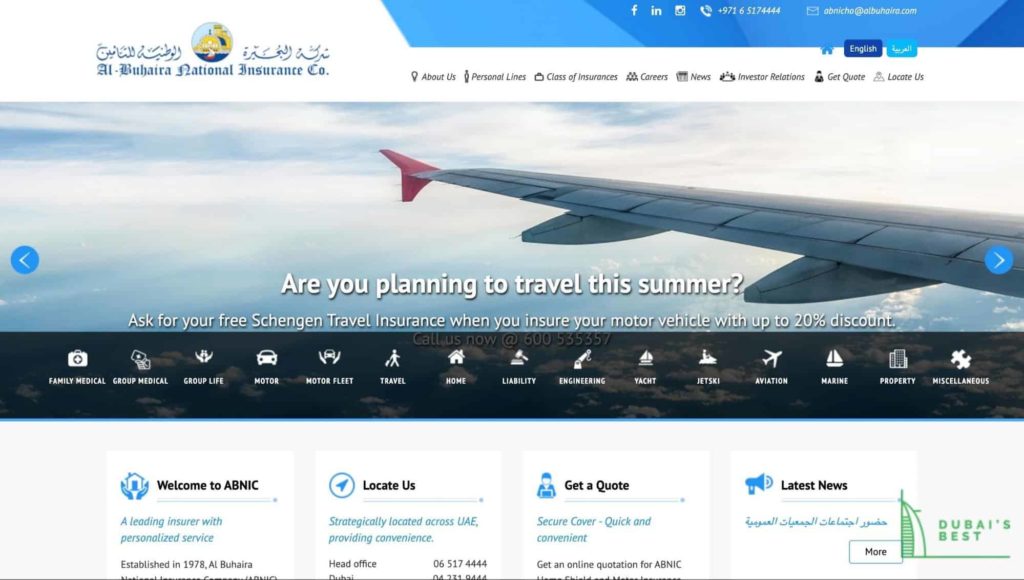 ABNIC offers one of the best outbound travel plans in Dubai. Like many travel plans, the ABNIC Outbound Gold Travel Plan covers the cost of flight, baggage delays, and cancelled trips and hotel bookings.
Their plan also protects you from personal accidents and even protects you from medical emergencies. It even covers hospitalisation due to COVID-19, making it the ideal travel insurance for trips in 2021 and beyond.
ABNIC's annual multi-trip cover offering is also perfect for regular travellers. If you're an adventure-seeker, you can get the option to add a winter sports rider to protect you from accidents that may happen.
The ABNIC Outbound Gold Travel Plan is also available to families and covers an individual and their spouse and up to 8 children.
Has COVID-19 coverage
Has an annual multi-trip option
Available as a family travel plan
High-risk activities that are not winter sports are not covered
2. Tokio Marine Car Insurance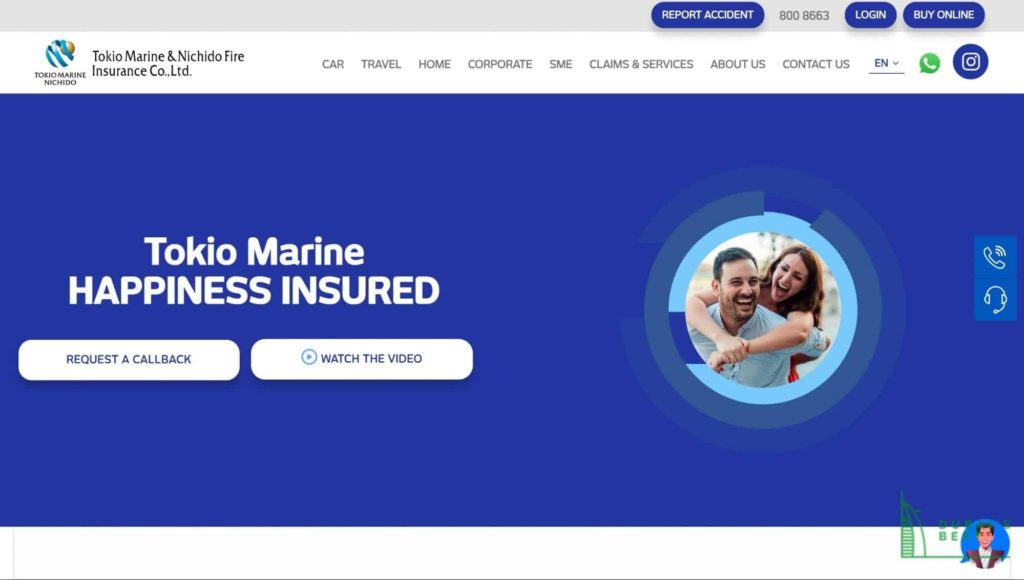 | | |
| --- | --- |
| BEST FOR | Comprehensive car insurance coverage |
| WEBSITE | https://www.tmnf.ae/ |
| ADDRESS | 302-305, Floor No. 3, Single Business Tower, Dubai, United Arab Emirates |
| CONTACT DETAILS | +971-4-3502 777 |
| OPERATING HOURS | Sunday – Thursday: 8:00 AM – 8:00 PM |
Tokio Marine provides a range of covers for your car insurance needs, protecting your vehicle and personal belongings in the event of an accident and natural disaster.
The company even provides premium agency repairs, taking away the added expense and the stress of looking for a highly-skilled car repair provider. If your car gets totalled within 6 months of its registration, Tokio Marine refunds the vehicle's entire value.
The firm also protects you from liability towards people or vehicles harmed during an accident. They also take responsibility for damages due to intrusion and car theft.
On top of these, it is easy to avail of Tokio Marine's car insurance plan. Simply sign up and pay online and you will instantly receive your comprehensive car insurance policy.
Has natural disaster coverage
Offers premium agency repairs
Can be purchased online
Doesn't provide coverage for the driver and passengers
Separate fee for rent-a-car cover
Customer Reviews
Ashraf Ahmed was highly satisfied with Tokio Marine's car insurance. They said:
"I had a great experience with Tokio Marine. The service is great and the prices are pretty reasonable.
The staff I dealt with have been so friendly and polite. I had the pleasure of interacting with Christy and Jahanar. They were always there to help out with any inquiry and they have been very patient.
My car was declared as a total loss and Jahanar has been as helpful as ever with everything I needed. Impeccable service!"
Another previous client, Amit Joshi, shared:
"Amazing experience with Tokio Marine. Great service. Reasonable prices and offered easy confirmation and payment system. My advisor followed up and issued everything quickly with good explanations."
3. Alliance Insurance Higher Education Assistance Plan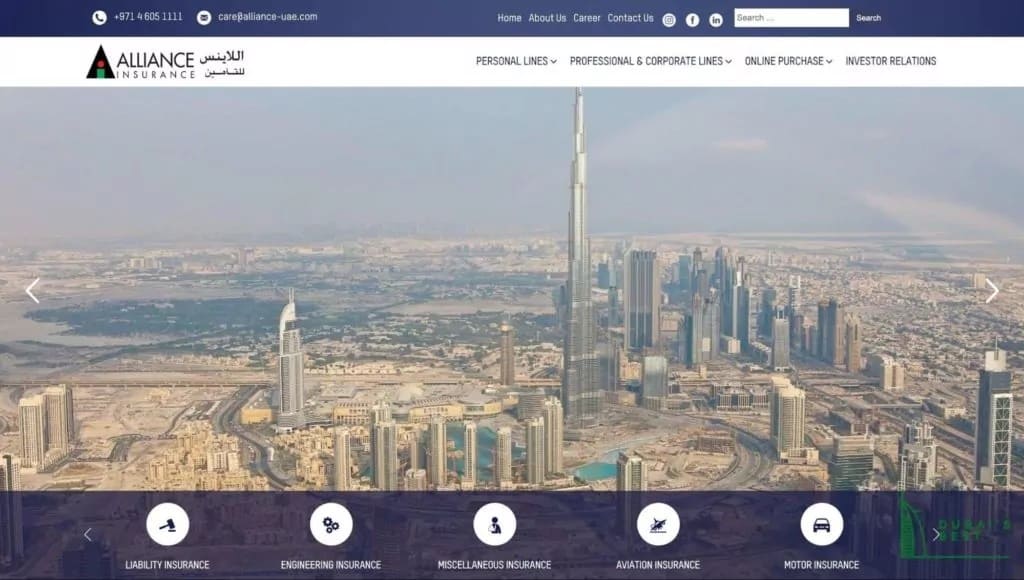 BEST FOR
With-profit educational plan
WEBSITE
https://www.alliance-uae.com/
ADDRESS
2nd & 3rd Floor, Warba Centre, Deira, Dubai, United Arab Emirates
CONTACT DETAILS
+971 4 605 1111


[email protected]

OPERATING HOURS
Sunday – Thursday: 8:30 AM – 5:00 PM
Alliance Insurance Higher Education Assistance Plan allows you to receive payouts in time to pay for your child's university fees.
The payment term ranges from 7 to 17 years, depending on the age of the child at the beginning of premium payment. When the payment ends when the child is 18, you will then receive the basic sum assured and bonuses in four instalments after the payment term.
The plan also protects you and your child from unforeseen circumstances.
In the event of the death of the payer, the remaining premiums are waived but you will still receive all the benefits of the policy. If the child insured dies, you will also receive a portion of the sum assured plus bonuses.
You can also choose to avail yourself of a variety of additional covers, such as a critical illness cover, triple accident benefit, and permanent total disability benefit.
With-profit plan
Protection for the death of the payer and death of the child
No post-graduation benefits
4. MetLife Future Protect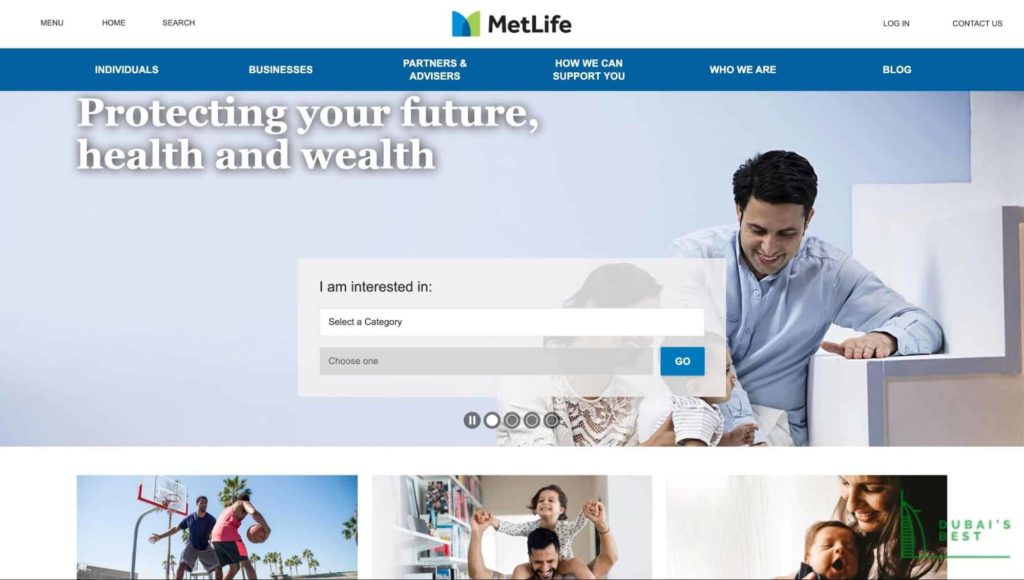 | | |
| --- | --- |
| BEST FOR | Health and financial coverage |
| WEBSITE | https://www.metlife.ae/ |
| ADDRESS | Al Garhoud Star Building, 34 65 Street, Garhoud, Dubai, UAE |
| CONTACT DETAILS | 800 638 5433 |
MetLife offers customisable life insurance solutions to fit your needs, desired payment options, and currency with MetLife Future Protect.
The plan features built-in benefits to prevent illnesses. In particular, MetLife provides discounts on pharmaceutical, dental and optical services as well as second medical opinions.
You can also opt to get hospitalisation coverage so the company would provide for your treatment and recovery in the event of an illness or an accident.
In case you are diagnosed with a terminal illness, the plan's built-in terminal illness coverage will also be activated.
Besides providing healthcare, MetLife Future Protect is also designed to protect you from financial turmoil with a coverage of up to AED200 million. This can cover mortgages, partnership, and business liability, among others.
Customisable plan
Provides terminal illness coverage
Premiums are allocated to your chosen investment
Hospitalisation benefit is optional
5. AXA Smart Health Global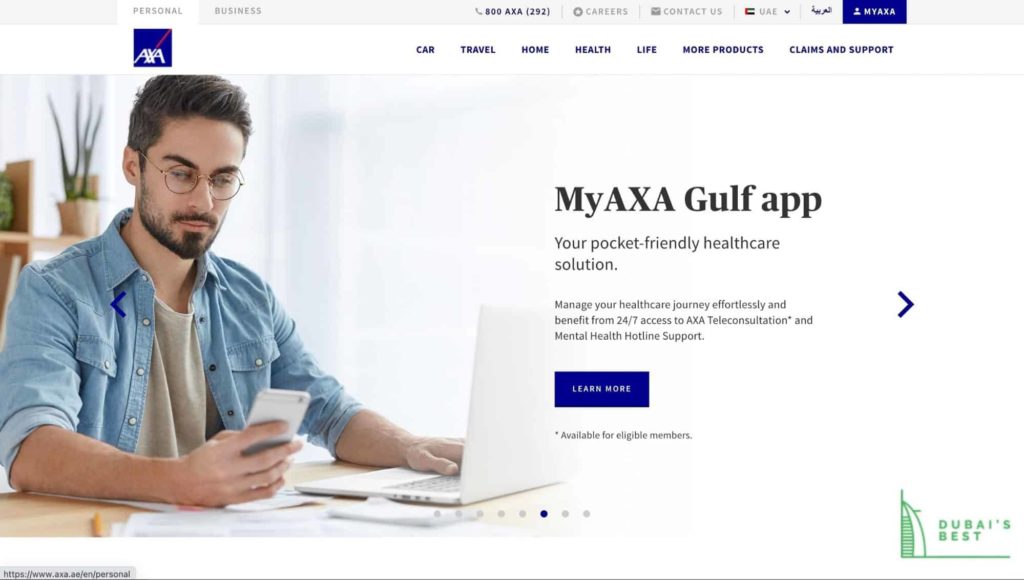 BEST FOR
Large network of hospitals in the UAE and worldwide
WEBSITE
https://www.axa.ae/en/personal/
ADDRESS
Showroom #4, Um Al Sheif Building, Plot #514-0, Makani #19694 80701, Um Al Sheif, Sheikh Zayed Road, Dubai, United Arab Emirates
CONTACT DETAILS
800 292
+971 800 292
OPERATING HOURS
Sunday – Thursday: 9:00 AM – 6:00 PM
Smart Health Global is AXA's most comprehensive health insurance plan offering in Dubai. It offers worldwide coverage of up to AED7,500,000 yearly.
This plan protects you from in-patient procedures, pre-existing conditions, chronic diseases, and even covers cancer. AXA Smart Health Global's outpatient and dental coverage also comes in handy.
AXA Smart Health Global cardholders can also get treatment from AXA's large network of medical institutions. This includes 3,000 hospitals in the UAE and over 800,000 medical facilities worldwide.
They also get free 24/7 teleconsultations with the best doctors in Dubai.
The insurance company also has the MYAXA app for your healthcare forms, hassle-free reimbursement, and 24-hour customer service.
Comprehensive coverage
Free 24/7 teleconsultation
Multilingual customer service
Doesn't cover vitamin deficiencies, congenital diseases, dementia, and Alzheimer's
Doesn't cover injuries due to high-risk activities
Expensive premiums
Customer Reviews
Annie, one of AXA's previous clients, reviewed:
"I had a good experience in seeing the professionalism and responsive management on my raised concern regarding existing AXA Insurances.
I commend two of their staff, namely Rosemarie Macawile and Joannah Paula Mina, for being very attentive in investigating and facilitating my concerns which is now finally resolved. Thanks and stay safe!"
FAQs About the Best Insurance in Dubai
---
That concludes our list of options for the best insurance in Dubai. If you know of other insurance plans we should add to this list, send us a message and let us know.
If you're looking for more health insurance options, you can also check out our top picks for the best health insurance in Dubai!