The Top 7 Providers for the Best Landscaping in Dubai
Featured Image Source: Deeana Creates via Pexels
Beautiful villa exteriors and interiors should be accompanied by an impressive garden. For a garden that will make your property look so much better, get the services of one of the providers for the best landscaping in Dubai.
In this article, we've included a guide on how to choose a reputable landscaping company. To make your search quick and hassle-free, we've even compiled a list of firms for the best landscaping in Dubai.
We figured you'd also want to be prepared for the cost of landscaping services in the city. For this, we've also done the research and compiled the rates in the table which you will see below.
How Much Does Landscaping Cost in Dubai
The table below contains the costs of landscaping services in Dubai. The actual prices may vary depending on the service provider.
Some providers may also charge higher depending on the intricacy of your landscaping project.
| | |
| --- | --- |
| Landscaping | |
| 500sqm | AED5,000 to 10,000 |
| 1,000sqm | AED10,000 to 15,000 |
| 1,500sqm | AED15,000 to 20,000 |
| Junk removal | AED300/truck |
| Maintenance | AED250 to 5,000/year |
How to Pick a Provider for the Best Landscaping in Dubai
To guarantee that your space will be done nicely, make sure to select a reliable landscaping company. Find the top provider that can give you the best landscaping in Dubai with the help of these tips below.
Know what service you need
There are landscaping companies that can simply make your yard look tidy, while others can turn it into an attraction, complete with fountains and sculptures.
As the rates of each kind of landscaping providers can vary greatly, make sure to know what you want prior to searching for a company. This will save you from hiring an expensive company when you only need basic landscaping.
You'll also need to determine the service you want from a landscaping firm so you can check if a provider's abilities match the style of garden you want to achieve.
Check their experience
As you may be spending quite a bit of money on landscaping, it is important to choose an experienced landscaping firm. This ensures you that your garden will turn exactly as you envisioned.
At the same time, this saves you money and time from having to re-do your landscape after a landscape company's bad service.
For this, you can look at their years of experience, training, and portfolio.
Read reviews
Reading reviews from previous clients helps you quickly weed out bad landscaping service providers.
These let you know about a landscaping company's communication style, work ethic, and quality of work, helping you make your choice. While it may take you some time to look at a provider's reviews, it can save you from hassle, time, and added expenses in the long run.
The Providers for the Best Landscaping in Dubai
Now that you know what to look for in a reliable landscaping company, here's a list of providers for the best landscaping in Dubai to make your search faster.
1. Afnan Gardens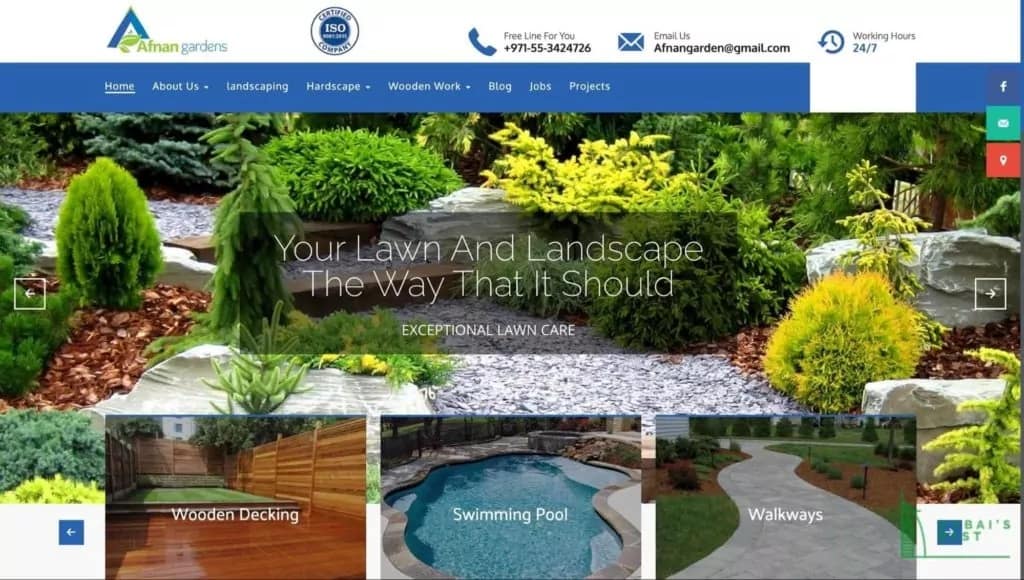 Afnan Gardens offers both softscaping and hardscaping services in Dubai.
For softscaping, their expert landscape artists can provide you with updated garden designs. They can also put up automatic irrigation to make watering the plants more convenient.
However, if you think real grass is still too much work, they can also supply your garden with artificial grass that is easier to maintain.
Afnan Gardens can also equip your garden with light fixtures that will light up the space and add to its aesthetic. Not only that, but they offer hardscaping services, including fixing your patios and walkways.
The company even does woodwork, from fences and decks to gazebos, that can be your garden's centrepiece.
The best thing is that Afnan Garden's service doesn't just stop at setting up your garden. You can also avail of their monthly landscape maintenance plan, which includes grass cutting, plant trimming, and overall caring for your plants.
Softscaping and hardscaping services
Does woodwork
Can set up automatic irrigation
Doesn't provide fountain or waterfall installation
Doesn't install fire safety features
Not suitable for condominiums
Customer Reviews
One of Afnan Gardens' previous clients, Sweena Raj, reviewed:
"By far the most professional team I have ever come across. Best decision ever!
They transformed my very messy backyard into a beautiful retreat-like area. They did everything expected and beyond!
I highly recommend them for any landscaping work! They won't disappoint! Thank you Mohammad and crew! Fab job!"
The company can also be trusted in clearing your property of overgrown plants. Francesca Folley shared:
"The Afnan team were a pleasure to deal with. Helpful, well organised, and efficient in organising the removal of a very large and stubborn tree. Would recommend based on this experience."
2. Hortus Landscaping Works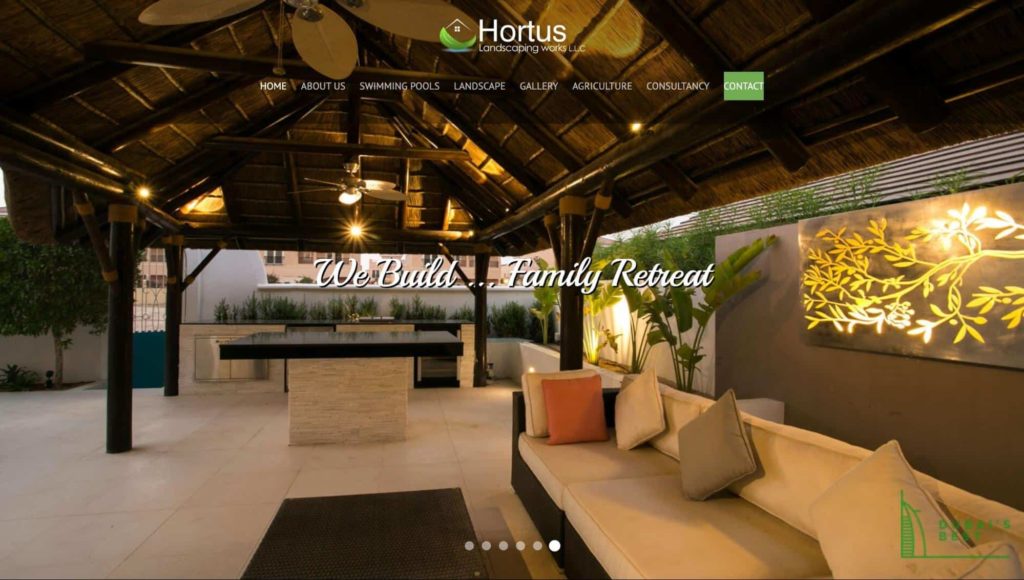 BEST FOR
Landscaping for high-rise buildings
WEBSITE
http://www.hortusuae.com/
ADDRESS
Office #213, The Light Commercial Tower, Arjan, Dubailand, Dubai, United Arab Emirates
CONTACT DETAILS
+971 04 421 9272
+971 050 283 1341


[email protected]




[email protected]

OPERATING HOURS
Saturday – Friday: 9:00 AM – 6:00 PM
Hortus Landscaping Works provides a wide range of landscape design, installation, and maintenance services in Dubai.
They offer planting and garden design services in various kinds of spaces in Dubai. They can accommodate landed homes with lawns to high-rise buildings that require different landscaping needs.
To make watering the plants in your garden easier, the provider can also install irrigation systems. This applies even to rooftop gardens and vertical greenery in condominiums.
Their team is up-to-date with the latest landscaping trends because a large number of their staff are members of horticultural societies around the world.
Providing you with all of your landscaping needs, Hortus Landscaping Works also does hardscaping, from the construction of walkways and patios to the installation of water features such as swimming pools.
Awarded-winning landscaping company
Offers maintenance services
Services residential and commercial establishments
Tendency to be fully booked
No fire safety features
Customer Reviews
Alan Smith left Hortus Landscaping Works a positive review. They said:
"I had a fantastic experience with Hortus Landscaping Dubai. They completely replaced our landscaping and patio at the Ranches.
Nadeem stayed in close contact from start to finish, provided experienced suggestions, never pressured a decision, and worked very well. The employees were professional, courteous, and hard-working. I absolutely recommend them to anyone looking for professional service."
Another previous client shared their experience, saying:
"Just hired Hortus Landscaping for a planting design at my villa. Got topnotch service from this firm. Plant selection was best suited to my taste.
Recommending them for all planting works. 5 stars."
3. Escape Luxury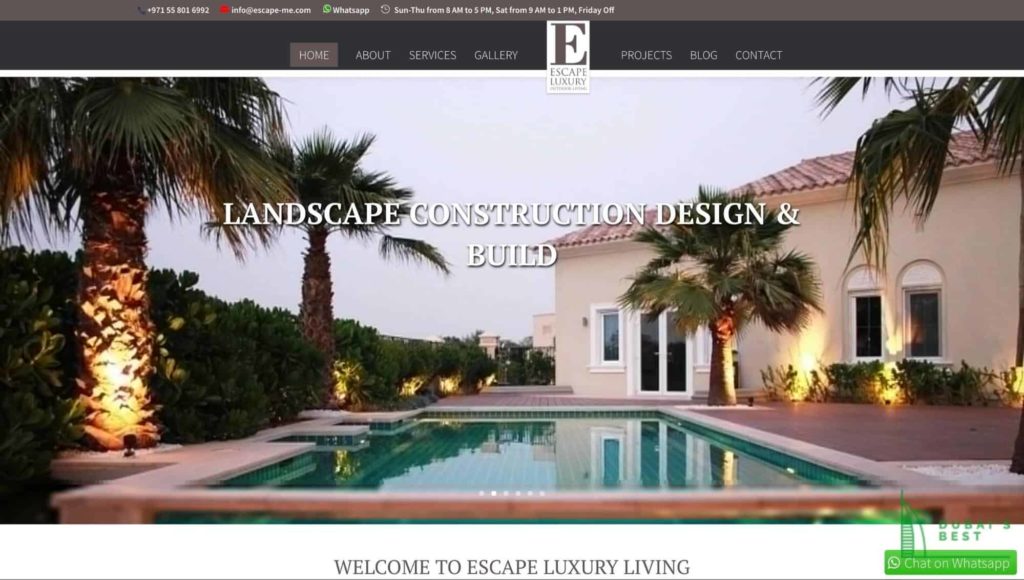 | | |
| --- | --- |
| BEST FOR | Comprehensive landscape design and build |
| WEBSITE | https://www.escape-me.com/ |
| ADDRESS | Office Unit # 1102, Prime Business Centre Tower A, Jumeirah Village Circle, Al Barsha South 4, Dubai, United Arab Emirates |
| CONTACT DETAILS | +971 04 551 6876 +971 055 801 6992 [email protected] |
| OPERATING HOURS | Saturday: 9:00 AM – 1:00 PM Sunday – Thursday: 8:00 AM – 5:00 PM |
Escape Luxury can provide you with all your landscape design and build needs in the UAE with the comprehensive range of services they offer.
Besides the usual landscaping service, the firm installs water fixtures, design and build swimming pools, design and construct shades, and provides cladding works. Escape Luxury also takes care of the finishing touches such as outdoor lights and outdoor furniture such as sun lounges.
The best thing is that you will be able to see the end result of your landscaping project before the construction even starts. Escape Luxury's capable architects can show you a 3D render of your future garden.
Wide range of landscaping services
Provides 3D pre-project renders
Provides interior design services
Not for simple landscaping projects
No maintenance services
Customer Reviews
Riaan Venter was highly pleased with Escape Luxury's Service. They reviewed:
"I have had dealings with Escape Luxury Outdoor Living in Dubai and Saudi Arabia. The level of professionalism coupled with experience and uncompromising attention to detail was refreshing. Further, I was impressed by the quality control system from management.
Keep up the good work. I am looking forward to working with you again."
Hennie Schoemann also reviewed the firm, saying:
"Hassle-free experience from day 1. The team's proactive approach is definitely unique in Dubai. Beautiful work and the highest standard of workmanship. Highly recommended!"
4. LArch Landscaping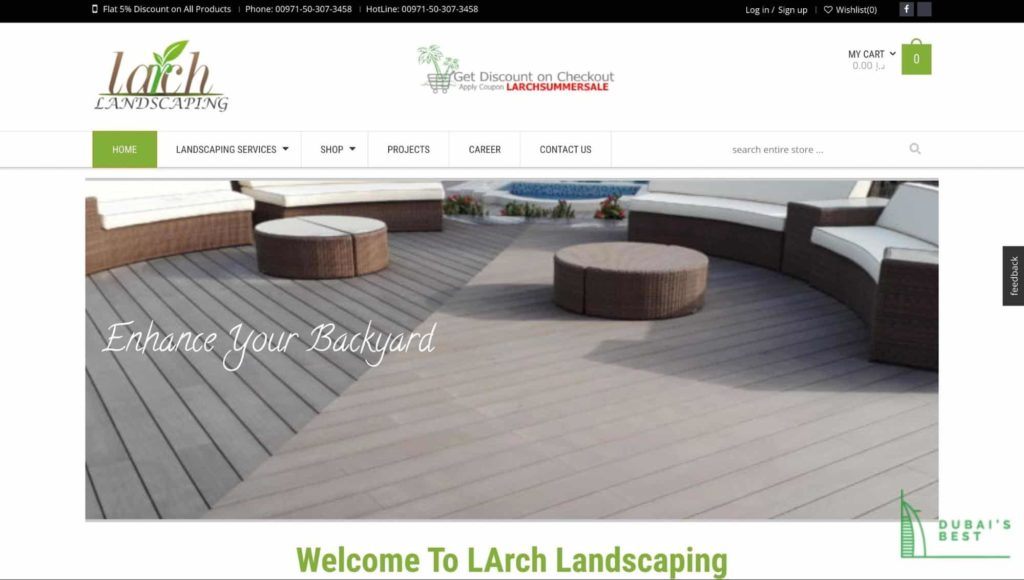 LArch Landscaping offers a lot more than providing soft landscaping, water features, gazebos, and outdoor lighting. With professional landscape architects in the team, they can make you a relaxing outdoor space.
To suit various outdoor space requirements, they can give you an outdoor kitchen, living room, or sitting area. They can even put up a fire pit in your garden, a service that makes them unique from other landscaping service providers.
To help you take care of your garden easier, they also install automatic irrigation systems and provide landscaping maintenance services.
Can create various kinds of outdoor spaces
Offers maintenance services
Free design and quote
Not suitable for simple landscaping needs
Customer Reviews
Tarik Jaber, a satisfied customer, reviewed LArch Landscaping:
"I have checked these guys by giving them a barbecue area to work on. The quality of work is so good and up to the mark. The finishing is amazing. Now, I would go with these guys for landscaping in my new villa."
Hossam Mohamed also said:

"Good work. Their fountain, cladding, and tile work were especially very beautiful and clean. I will call them for my other project, too. Thanks, Jayved."
5. Secret Gardens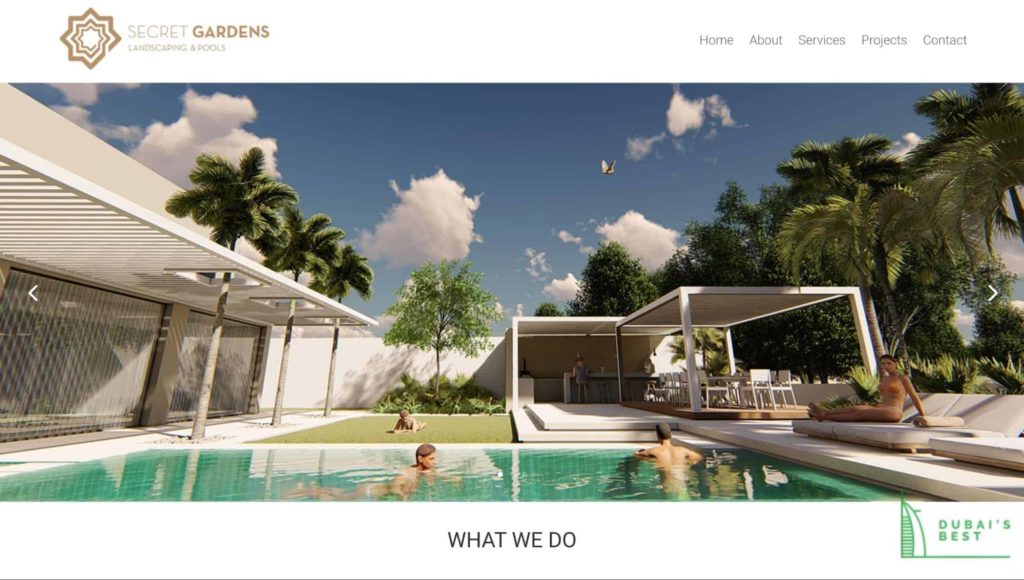 BEST FOR
Hardscaping
WEBSITE
https://www.secretgardenslandscaping.com/
ADDRESS
203 Umm Suqeim St, Warehouse #2, Al Quoz Industrial Area 4, Dubai, United Arab Emirates
CONTACT DETAILS
+971 54 362 0598
+971 4 262 6382
OPERATING HOURS
Saturday – Thursday: 9:00 AM – 6:00 PM
Secret Gardens' landscaping offerings go beyond softscaping. They have Dubai Municipality-licensed engineers and architects and fully-qualified construction workers, making them experts at hardscaping.
They are capable of building your garden's decking and pergola as well as your ideal sitting or lounge area. However, they specialise in designing and building swimming pools.
Their staff can provide you with 3D designs, so you can see the outcome of your landscaping project before it even starts. They also make your landscape project hassle-free, taking care of the necessary approvals from government authorities.
Furthermore, Secret Gardens guarantees that they have the needed manpower to complete your project on time, making the entire landscaping process as smooth as possible for you.
Team of licensed engineers and architects
Provides 3D pre-project renders
Specialises in swimming pools
Customer Reviews
One of Secret Garden's satisfied clients, Nisreen Bajis, said:
"These guys did an amazing job creating a beautiful green space in our front and backyard. Emanuel and his team worked exactly to schedule and we couldn't be happier with the result.
They took into account our vision and contributed creative and practical ideas that complimented the layout of our villa as well as the climate."
Christian Ghammachi also reviewed the company, saying:
"Very efficient, cost-effective, professional, and friendly company. It was a pleasure to have them do our garden!"
6. KCJ Landscaping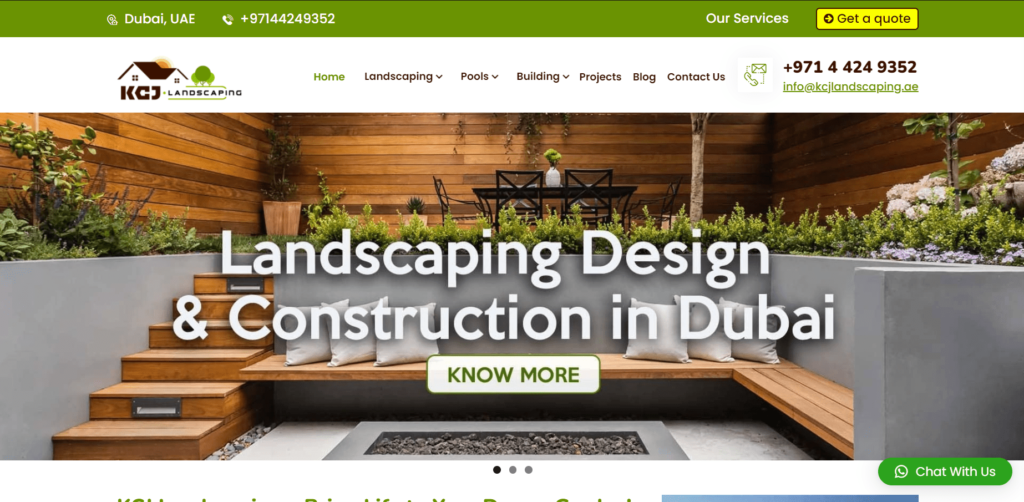 BEST FOR
Landscaping, Swimming Pool Construction, Artificial Grass Installation
WEBSITE
https://www.kcjlandscaping.ae/
ADDRESS
Office No. 308, Diamond Business Center 2, Al Barsha – Dubai – United Arab Emirates
CONTACT DETAILS
Telephone : +971505478110
Email:

[email protected]

OPERATING HOURS
Monday – Saturday : 8:30 AM – 5:30 PM
Sunday: Closed
What does it mean to trust someone with your landscaping needs? To put matters simply, it can mean that you have found a dependable professional whom you can count on no matter the size of the job.
KCJ Landscaping is a landscaping company that first joined the industry in 2012 and has been continually working to improve its service ever since. It's proud to have taken part in numerous projects, which transformed gardens into beautiful landscapes and swimming pools for both residential and commercial purposes.
KCJ Landscaping is a team of dedicated professionals who produce and create the best designs for you that are customizable in way. They work from start to finish with your project, applying a systematic approach during design and execution to make sure everything looks exactly how you want it.
From the beginning, the company's landscaping methods impressed us much. We valued their consultative approach, which includes participation on the project's design and implementation. Although, we wish that they'd have their rates available on their website.
Giving the most bang for your buck is important to many consumers. When trusting KCJ Landscaping with your landscaping needs, you can count on them to deliver quality at great value!
Competitive customer servicing
Timely and affordable quotation
Rates are unavailable online
Best for grander projects
Customer Reviews
Here's a review from KCJ Landscaping's customers:
"Amazing designs and excellent refined custom designs as per our requirement.Best quality wi th convenient pricing. Well coordination and planning. Entire team with effective work completion within the timeline. Thorough commitment towards the project. Must recommend for top most excellent finishing and grandeur outcome."
"Firstly, the team was very timely wrt giving us a quote, the price was very very good compared to other companies. The work done was extremely accurate and professional. The on-site team was very friendly and patient. They gave us ideas to better the place and look. If I can could nitpick on one thing. Is that the promised time for the project was exceeded. But we are very happy with KCJ LANDSCAPING. Highly recommend."
7. Milestone Dubai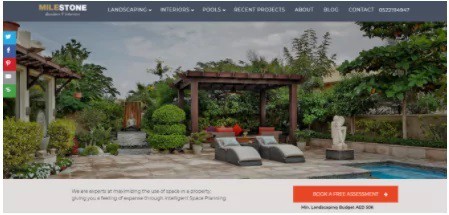 BEST FOR
Creative design solutions
WEBSITE
https://milestonedubai.com/
ADDRESS
13 1 A St – Al Quoz – Dubai – United Arab Emirates
CONTACT DETAILS
Telephone : +97143409404
Fax : +97143409505
Mobile : +971522194947
OPERATING HOURS
Sat – Thurs: 8:30 AM – 6:00 PM
Friday: Closed
Milestone Dubai is geared towards helping their clients have a better living experience and adding a significant value to their assets. Their team is composed of exceptionally innovative and highly trained members.
With them, your satisfaction is guaranteed. They always make certain to provide not only services that are sure to meet your needs but are also within your budget.
They are also for intelligent Space Planning. They take pride in having the expertise to not waste any bit of space in a property.
Intelligent Space Planning
Highly Personalized Service
Top quality design
Rates are unavailable online
Customer Reviews
Here's a review from one of Milestone Dubai LLC clients:
"We engaged Milestone to craft our corporate office in Dubai. Being a software company servicing banks and insurers, we wanted to create an aura befitting the CEOs of these firms who would come visit us. Sejal and her team did a fabulous job, merging our brand, ethos, values and positioning in the design. Needless to say, we gave them a free hand and were absolutely delighted with the results! Do yourself a favor and engage with Milestone."
Here's another one:
"To find a landscaping company that would bring a concept to our outdoor living has always been a challenge.
The whole perspective changed when we found Milestone Landscaping LCC. They responded immediately and came to our villa for a site visit with a lots of suggestions, ideas out of the box, we felt their knowledge and a passion for design.
Our garden is a little paradise now with plants that are easy to take care of and looking great all year long, lighting that give us a feel of boutique hotel and an extension of our house under the roof of waterproof gazebo with dim lights is just a dream come true!
Thank you Mrs. Sejal and your team!"
FAQs about the Best Landscaping in Dubai
---
With one of these providers for the best landscaping in Dubai, you'll surely get a new space in your home where you can relax or entertain your guests.
Know other landscaping providers in Dubai we should add to this list? Send us a message to let us know.
If you're also looking to change the look of your home interiors, check out our list of the best interior designers in Dubai.