The 5 Best Podiatrists in Dubai
Featured Image Source: Jan Romero via Unsplash
Pain in the foot or ankle can be extremely difficult to live with. To receive treatment and regain your active lifestyle, you should go to one of the best podiatrists in Dubai.
This article contains a guide on how to choose a reputable podiatrist. To help you ease your pain as soon as possible, we've also listed some of the best podiatrists in Dubai.
So you're prepared for the cost of podiatric treatments, we've even done the research and included a price list which you will see in the table below.
How Much Does Podiatric Treatment Cost in Dubai
The table below shows the cost of common podiatric treatments in Dubai. The actual cost may vary depending on your chosen provider.
| | |
| --- | --- |
| Consultation | AED500 |
| Laser warts removal | AED920/session |
| Laser fungal nail treatment | AED810/session |
| Ingrown toenail surgery | AED920 to 1,840 |
| Diabetic foot care | AED100 to 600 |
| Orthotics | AED370 to 3,300 |
How to Pick the Best Podiatrist in Dubai
So you can recover from your foot ailment fast and effectively, be sure to go to one of the best podiatrists in Dubai. Select a reputable podiatrist in Dubai with the help of these tips below.
Check their expertise
Check the podiatrist's practice website and look for information about their education and training. Counter-check this information online to be sure that you're getting a fully-qualified medical professional for your treatment.
You should also look for the podiatrist's specialisation. There are podiatrists that specialise in orthopaedics, diabetic care, sports podiatry, and children's podiatry.
A specialist on your case will be able to treat you quickly and effectively.
Go for a doctor you're comfortable with
Choose a podiatrist whose communication style appeals to you.
A good medical professional that cares for you should also listen to your concerns and properly explain your treatment options
Since you can't consult with all your podiatrist options, you can check their patient reviews online to know what previous patients think about their service.
Look for insurance coverage
Podiatric treatments such as diabetic foot care and orthotics can rack up your expenses. So, when choosing a provider for your podiatric treatment, it's best to choose a clinic that accepts your insurance card.
If you want to use your insurance without a hassle, some clinics also help their clients process their claims.
The Best Podiatrists in Dubai
With the guide above, you should now know what to look for in a qualified podiatrists. So you can find a specialist that can treat you as soon as possible, here's a list of the best podiatrists in Dubai.
1.   Dr. Nicola Maffulli – Emirates Sportsmed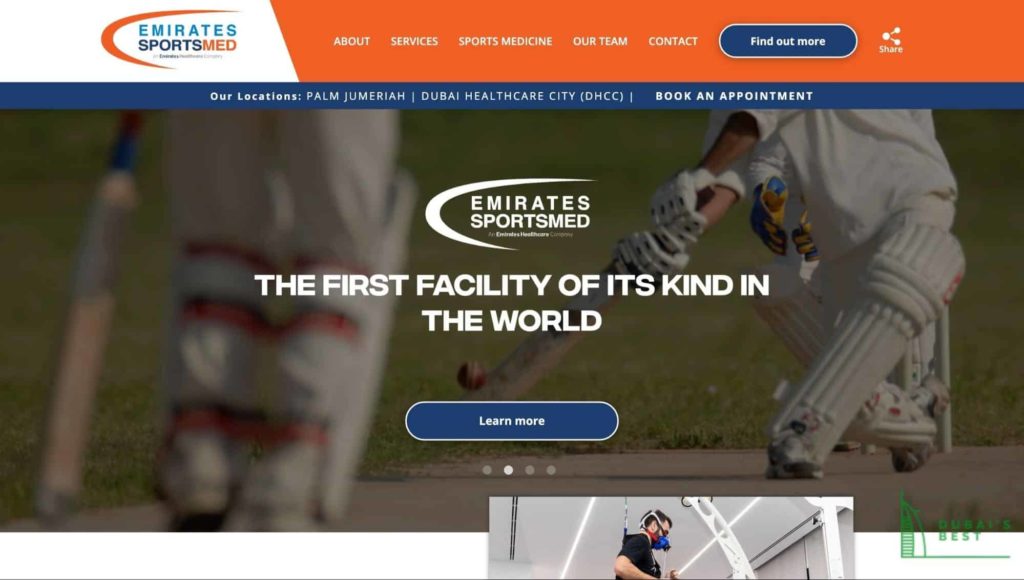 For those who need sports podiatry treatment, Dr Nicola Maffulli is one of the best specialists to approach in Dubai.
He performs minimally-invasive procedures that address orthopaedic concerns and trauma surrounding the legs, ankles, and feet, including those that are caused by sports injury. He also conducts degenerative joint disease management for younger patients.
An expert in addressing sports-related surgery, Dr Maffulli was an undergraduate and postgraduate professor in sports medicine courses in Italy, Hong Kong, and the United Kingdom.
He also consistently contributes in sports science publications and is a sought-after speaker for international sports surgery seminars.
A former athlete with belts in judo, Shotokan karate, and sambo wrestling, you can count on Dr Maffulli to understand athlete's concerns.
Currently, Dr Maffulli conducts his practice at EMIRATES SPORTSMED in DHCC, a state-of-the-art clinic that is purpose-built to assess sports-related injuries.
Minimally-invasive procedures
Former athlete
Works at a state-of-the-art sports injury clinic
Not suitable for diabetic podiatry
Not  suitable for bunion removal and similar services
Customer Reviews
Dr Maffulli is highly recommended by one of his peers, Roger Wade. They said:
"I have worked with Nic over the years and am happy to recommend him to anyone with sporting aspirations as he understands the need of high level athletes.
When we are struggling to resolve any issues with tendinitis especially around the foot and ankle area with both amateur and pro sports people we ask for his help. He has an international reputation for treating these often difficult and frustrating conditions.
Well worth the trip even if you are not local."
2.   Dr Sami Tabib – Chiropody Center Dubai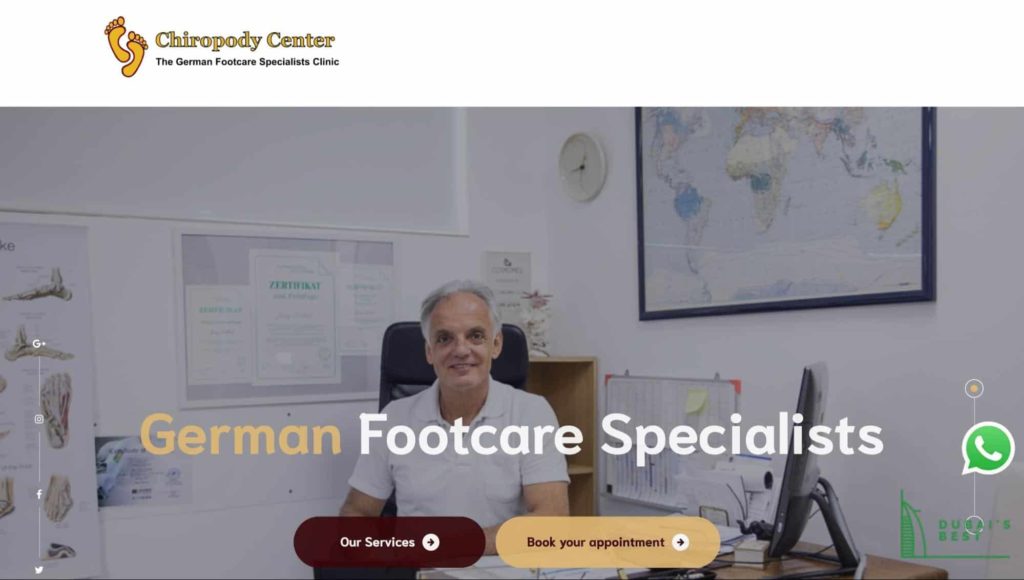 BEST FOR
Diabetic foot care
WEBSITE
https://chiropodydubai.com/
ADDRESS
Office S-49, Sunset Mall, Jumeirah Beach Rd, Jumeirah 3, Dubai, United Arab Emirates
CONTACT DETAILS
+971 50 459 1592
OPERATING HOURS
Saturday – Monday: 10:00 AM – 7:00 PM
Wednesday: 10:00 AM – 7:00 PM
Dr Sami Tabib is a podiatrist in Dubai with over 18 years of experience in easing patients' foot pain.
Although he is best known for addressing nail fungus and ingrown toenails through laser treatments, Dr Tabib is also known for using toenail braces to correct ingrown toenails.
Besides toenail issues, Dr Tabib also treats heel pain due to flatfoot, plantar fasciitis, and the like. He also provides diabetic foot care and focuses on avoiding the need for amputation.
An advocate of diabetic foot care, Dr Tabib presents lectures about diabetic foot ulcer at various conferences in the UAE and abroad. Being a highly-regarded podiatry practitioner, Dr Tabib is an examiner for the Health Authority of Abu Dhabi.
Addresses toenail problems and heel pain
Licensed by the Dubai Health Authority and the Health Authority of Abu Dhabi
Only in Dubai on Saturday to Monday and Wednesday
Not suitable for sports or children's podiatry
Customer Reviews
Gvozden Vidakovic, Dr Tabib's previous patient, reviewed:
"My appointment on time. The session with Dr Sami was great. He gave me just enough information and was straight to the point.
He didn't try to blow up my condition out of proportions. Most importantly, he gave me excellent treatment comes in with healthy conversation."
Ame Haj also shared their experience with Dr Tabib. They shared:
"Good experience. I requested the appointment online and got confirmation online. Very little waiting time in the waiting room.
The doctor was friendly and knowledgeable. He explained why I have corns and treatment options. He removed the corns and I walked out pain free. I highly recommend."
3.   Kersten Elliot – Dubai Physiotherapy & Family Medicine Clinic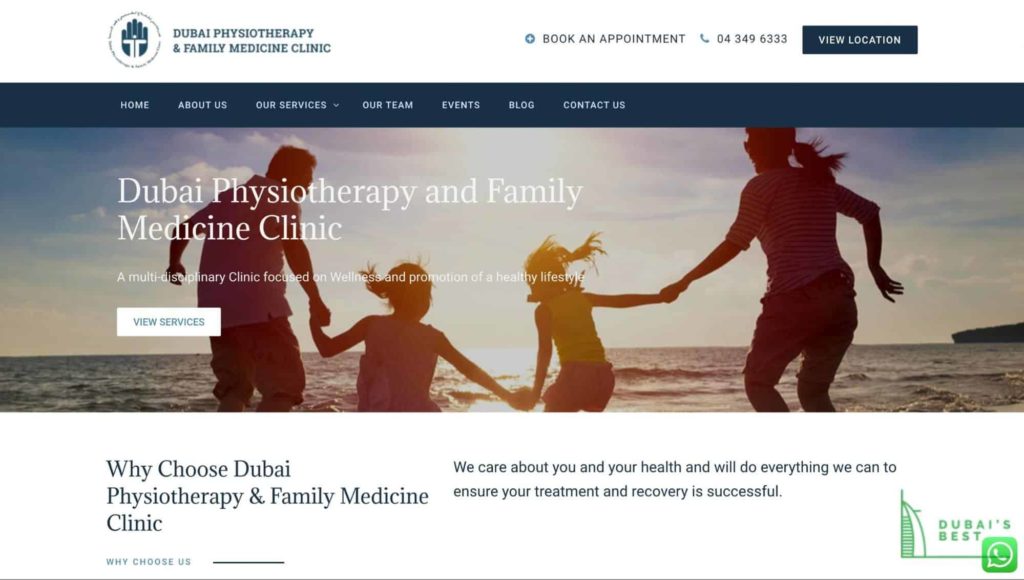 | | |
| --- | --- |
| BEST FOR | Orthotics |
| WEBSITE | https://www.dxbphysio.com/ |
| ADDRESS | 1st Floor, Town Centre Jumeirah, Jumeirah Beach Road, Dubai, United Arab Emirates |
| CONTACT DETAILS | 04 349 6333 [email protected] |
| OPERATING HOURS | Saturday – Thursday: 8:00 AM – 7:00 PM |
Dubai Physiotherapy & Family Medicine Clinic's podiatrist Kersten Elliot provides podiatry and chiropody solutions in Dubai. With more than 15 years in practice, she has vast knowledge in concerns surrounding the legs, ankles, and feet.
Dr Elliot provides removal services for common podiatry concerns like calluses, bunions, and corns. She can address even complex nail conditions, particularly those that require reconstruction due to severe damage or infection.
For severe pain, on the other hand (or foot, rather), Dr Elliot can also provide custom footwear and other orthotics.
Often, athletes also go to Dr Elliot to assess their podiatric health. For this, the specialist applies gait analysis techniques to help them improve their performance.
Does callus, bunion, and corn removal
Conducts nail reconstruction
Does gait analysis for athletes
Not suitable for diabetic foot care
Customer Reviews
Lalitha Bolar shared their experience with Dr Elliot, saying:
"I have not been to a podiatrist before so when my specialist doctor advised me to see one for my feet issues, I didn't know what to expect. I did an online search for podiatrist in Dubai and found that Dubai Physiotherapy Clinic had one and immediately booked an appointment with Kersten Elliot.
When I first met Kersten she was warm, welcoming, pleasant and showed keen interest in my well being. She was very thorough in her assessment and this showed me Kersten's in depth knowledge about her profession. I was very reassured and extremely pleased with her efforts to see me heal and get back on my feet. She always takes extreme and excellent care of my feet issues even with complexities and I left knowing I was in good hands with her.
Her warmth, sincerity, professionalism and genuine care towards her clients, are not something one would see in every health care professional but Kersten is truly a cut above the rest. There is a reason why I have kept visiting her for more than 5 years and will continue to do so. I definitely recommend Kersten at the Dubai Physiotherapy Clinic, to anyone who is seeking an experienced, caring and professional podiatrist."
4.   Dr Michelle Champlin – Dubai Podiatry Centre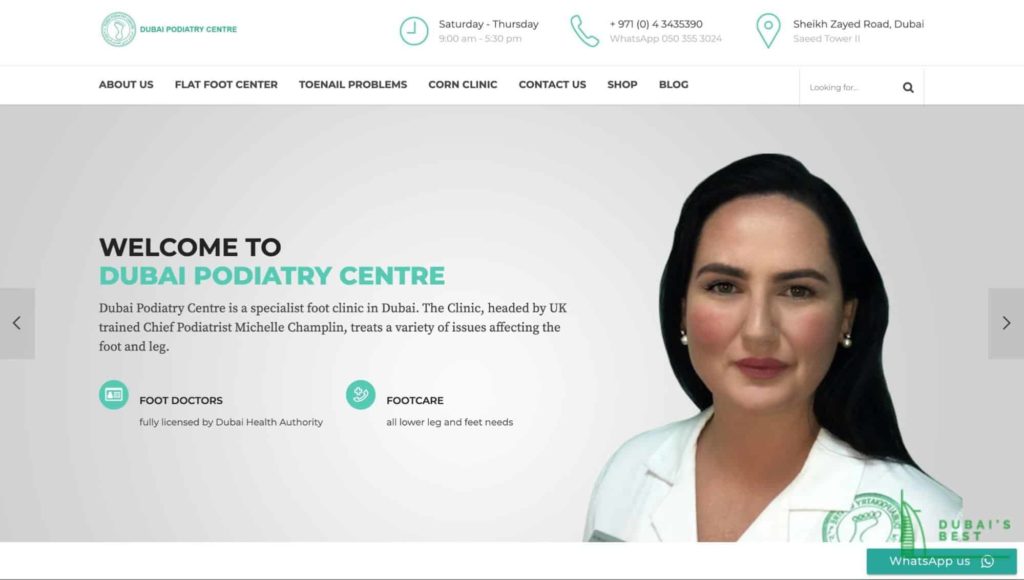 BEST FOR
Children's podiatry
WEBSITE
http://dubaipodiatry.com/
ADDRESS
Saeed Tower 2, Level 5, Sheikh Zayed Road, Dubai, United Arab Emirates
CONTACT DETAILS
+971 4 343 5390
+971 50 3553 024


[email protected]

OPERATING HOURS
Saturday – Thursday: 9:00 AM – 5:30 PM
Dubai Podiatry Centre's Dr Michelle Champlin can treat most podiatric concerns. The clinic's chief podiatrist addresses concerns in women, men, athletes and even the elderly using the latest innovations in podiatric medicine.
She also practices children's podiatrics, providing treatment options to alleviate heel and knee pain.
To help align children's legs and feet, Dr Champlin provides orthotics that is tailored for children. Insoles and other children's podiatry solutions are bought from known manufacturers to ensure their effectiveness.
Dr Champlin discusses each possible solution with the child and parents present so they can decide which treatment option to take.
Provides podiatry services for women, men, athletes, elderly, and children
Not suitable for diabetic foot care
Customer Reviews
Cathy Davin, one of Dr Champlin's previous clients, said:
"Brought my mother, who is visiting, to the Dubai Podiatry Centre. She is elderly and has an ongoing problem with her foot which acted up while here.
She was a little nervous about the appointment but Dr Michelle put her at ease straight away and explained exactly what she was doing.
I couldn't recommend Dr Michelle more for her professionalism, knowledge and also how she deals with her patients. The team on the desk are extremely friendly and also very helpful. Thank you for your help."
Sam Laruta also left Dr Champlin a review:
"My kids have been attending the clinic for almost 1 year now and I must say this place has maintained its charm and standards.
Staff are very polite and helpful. Michelle is still the same very warm, professional and knowledgeable podiatrist. Highly recommended!"
5.   Dr Louise Montels – Novomed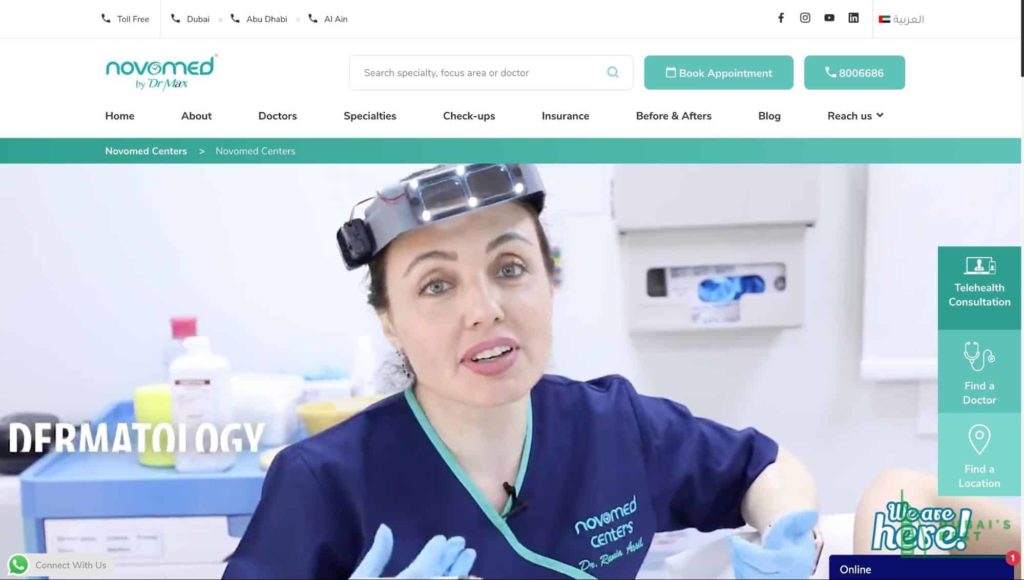 | | |
| --- | --- |
| BEST FOR | Treatment for toenail problems |
| WEBSITE | https://www.novomed.com/ |
| ADDRESS | 30th Floor, Marina Plaza, Dubai, United Arab Emirates; Street 10c, Villa 41, Jumeirah 1, Dubai, United Arab Emirates |
| CONTACT DETAILS | (Dubai Marina) 8006686 (Jumeirah) +97143498800 |
| OPERATING HOURS | Saturday – Wednesday: 8:00 AM – 10:00 PM Thursday: 9:00 AM – 6:00 PM |
After finishing podiatry school in France, Dr Louise Montels studied wound care techniques which allowed her to master the methods she now uses to care for wounds on the feet.
Currently, she has expertise in providing treatment for different toenail problems, including ingrown, thick, and fungal nail. The fungal nail treatments she uses ranges application of ointments to nail reduction or reconstruction.
Dr Montels also treats verrucae through methods like cryotherapy, acid treatment, and laser.
The podiatry specialist can also provide post-surgical care for people suffering from diabetes, which involves cleaning their wounds to prevent infection.
Provides verrucae treatments and diabetic foot care
Offers services at 2 clinics in Dubai
Not for sports or children's podiatry
Customer Reviews
JK Seo, one of Dr Montels' previous patients, reviewed the podiatrist. They said:
"I visited Dr. Louise Montels who is foot specialist to treat my toenail issue and she completely removed my concern with clear explanation within an hour. My toenail became normal immediately after her treatment. You should go to see her if you have any issue on your foot."
Romy Nehme, another satisfied customer, shared:
"Amazing and quick services, super clean, and extra friendly! Dr Louise was a champion, she explained her process every step of the way, she made sure to answer all of my questions and she was very professional.
I am super happy with the results! She was super friendly and funny too!"
FAQs about the Best Podiatrist in Dubai
---
That's it for our list of the best podiatrists in Dubai! With one of these specialists, you'll surely be able to relieve your pain in no time.
Do you know other podiatrists we should add to this list? Let us know by sending us a message!
If you think you need a physiotherapist instead, you can also check out our list of the best physiotherapists in Dubai.