5 Picks for the Best TV Repair in Dubai
Featured Image Source: Samuel Asante via Unsplash
Our home appliances are investments— we spend quite a bit of money on them, so we also expect them to last us long. However, damages are unavoidable. In case you need repairs, get the services of a company for the best TV repair in Dubai.
This article contains a guide on how to choose a trustworthy TV repairman. We've also included a list of the top TV repair service providers in Dubai to help you find a solution faster.
Plus, we've added a table which contains the cost of TV repair in Dubai below.
How Much Does TV Repair Cost in Dubai
The table below contains the cost of TV repair services in Dubai. Actual prices may vary depending on your chosen provider.
| | |
| --- | --- |
| Site visit | AED99 |
| Damage | |
| Remote control | AED49 |
| Backlight | AED109 |
| Motherboard | AED240 to 300 |
| Bulb | AED69 |
| HDMI Port | AED199 to 249 |
| Power Supply | AED249 |
How to Pick the Firm for the Best TV Repair in Dubai
To ensure the fast and efficient repair of your TV, hire only the best TV repairman. Get the best TV repair service in Dubai by following these tips below.
Know their expertise
Find information about the provider's licenses on their website. This tells you that they can be trusted to do your repair. There are also many licensed shops that provide appliance repair services, but they may not be the best at TV repair.
For this, opt for shops that specialise in the repair of TVs. You can also find providers that are accredited by your TV brand.
This usually means they received training from the company which makes them the best choice for your TV repair.
Look for a warranty
Substandard service may cause your TV to break again after a repair. To protect yourself from poor-quality TV repair service, go for a company that provides a warranty.
A warranty usually tells you that a provider is confident in the quality of your service. It also entitles you to free repairs in the event of any malfunction following their repair.
Read online reviews
Before finalising your choice of TV repair provider, take time to look at reviews from their previous customers. Reviews tell you whether they provide prompt response, effective repairs, and value for money services.
Taking time to do this step saves you from spending more time and money on a different provider later on.
The Picks for the Best TV Repair in Dubai
Now that you know what to look for in a TV repair provider, you should be able to choose a skilled repairman that can give you a prompt and effective repair.
To find a TV repair company in Dubai quicker, check out this list of our top picks for the best TV repair in Dubai.
1. Al-Haseeb Appliances Repair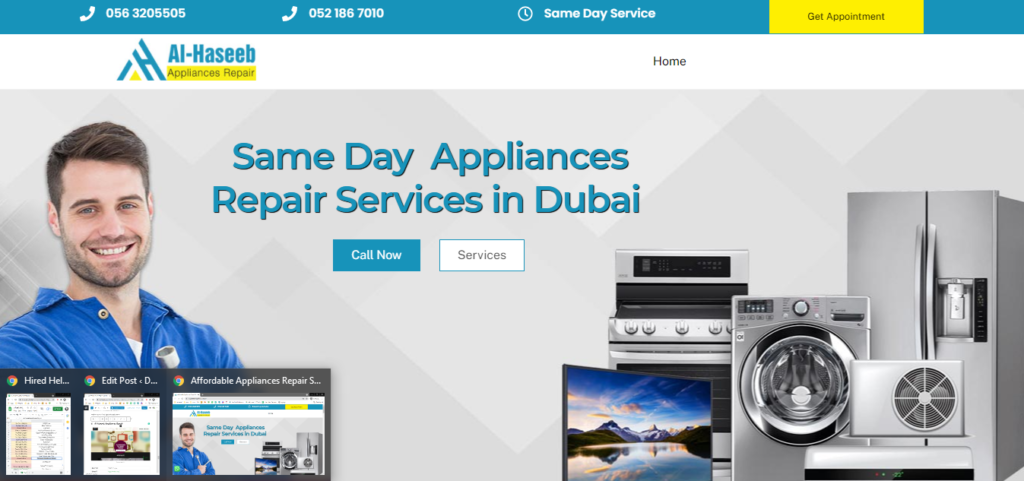 What people like about Al-Haseeb Appliances Repair is their broad range of services. They cannot only repair your television, but also your electric stoves, washing machines, aircons, dishwasher, and basically every appliance that can be found in houses!
Their team is filled with appliance repair experts who are ready to provide customers with classical and value-added residential and commercial appliances repair services.
Unlike other companies, they offer same day repair. In case you have an emergency, calling them would be the best choice!
Either it is about a small job regarding appliances repair or it is a holiday, they are always prepared to deliver top-quality residential and commercial appliances repair services in Dubai!
Wide range of services
Never charge until we complete the job with a 100% success rate.
Has a list of brand they repair on their website
Service can be improved
Complaints about poor workmanship
Complaints about fake promises
2.   Al Emprator Electronics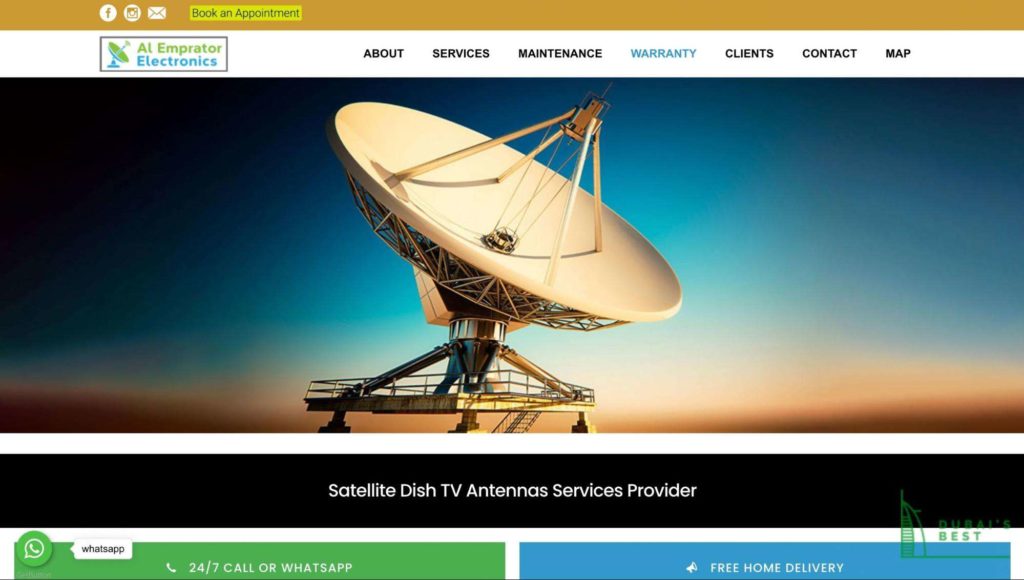 BEST FOR
Satellite dish repair
WEBSITE
https://satelliteindubai.com/
ADDRESS
Dubai China Cluster, Building F-11, Shop 04 International City, Dubai, United Arab Emirates
CONTACT DETAILS
+971 55 277 0700
+971 50 303 5145


[email protected]

OPERATING HOURS
Open 24 hours
If your problem seems to be on cable signal reception, Al Emprator Electronics is the best service provider to call.
The satellite TV servicing company repairs and programs all kinds of satellite dishes. They enable better reception and more cable channels for your home TV.
If cables or any other components are causing the problem, they can also address those for you. Their expertise also includes the installation of new satellite dishes.
Al Emprator Electronics provides these services for LED, LCD, and Plasma TVs. They offer their services to Dubai, Abu Dhabi, Ajman, Sharjah, Al Ain, Ajman, Al Ain, Fujairah, and Ras Al Khaima.
Open 24/7
Provides services in various locations in the U.A.E.
No TV unit repair service
Customer Reviews
Salman Khan left Al Emprator Electronics a positive review. They said:
"Very good service. They are doing a good job from point to point. If we complain about something, they will fix it within minutes. I love their service very much. I strongly recommend Al Emprator Electronics."
Ali Murad also shared their experience with the company, saying;
"Professional workers. They respect their customers and also provide a reasonable price. Very good service."
3. Star Home Appliance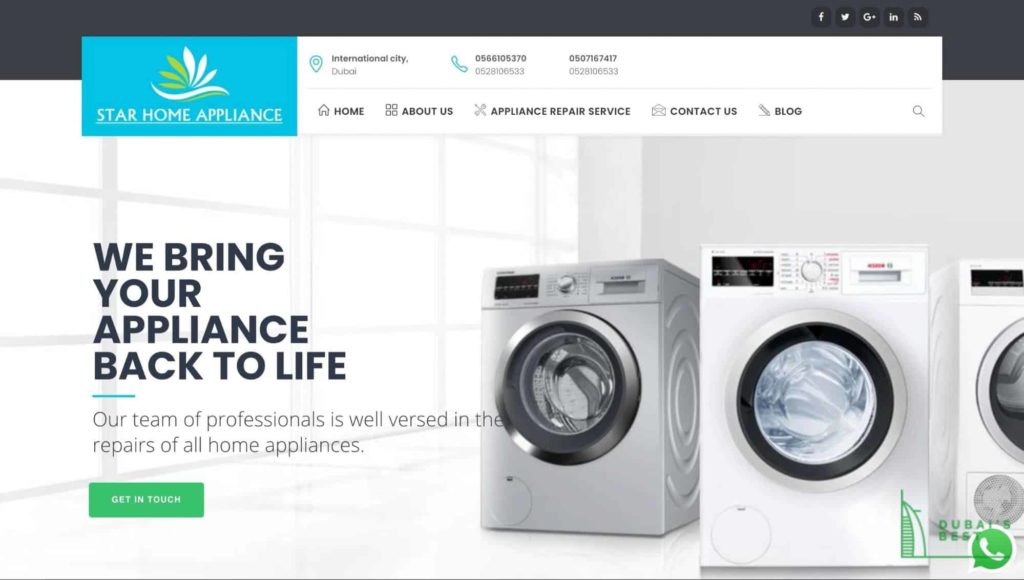 | | |
| --- | --- |
| BEST FOR | TV screen issues |
| WEBSITE | http://www.starhomeappliancerepair.com/ |
| ADDRESS | International City, Dubai, United Arab Emirates |
| CONTACT DETAILS | (Dubai) 05 6610 5370 (Sharjah) 05 0716 7417 05 2810 6533 |
| OPERATING HOURS | Open 24 hours |
Star Home Appliance's team of fully-qualified technicians repairs all TV brands and models, such as Samsung, Panasonic, and LG.
In particular, they specialise in addressing screen problems. They can fix a black or solid colour screen, lines or pixelations on the screen, and frozen picture.
Furthermore, they also solve audio issues, malfunctioning remotes and buttons, and damaged wires. Plus, they can fix your smart TV's Internet connectivity.
They offer their comprehensive range of TV repair services to Dubai, Abu Dhabi, and Sharjah.
3-month warranty
24-hour emergency service
Does not address reception problems
4. Mirza Ijaz Electrical Devices Repairing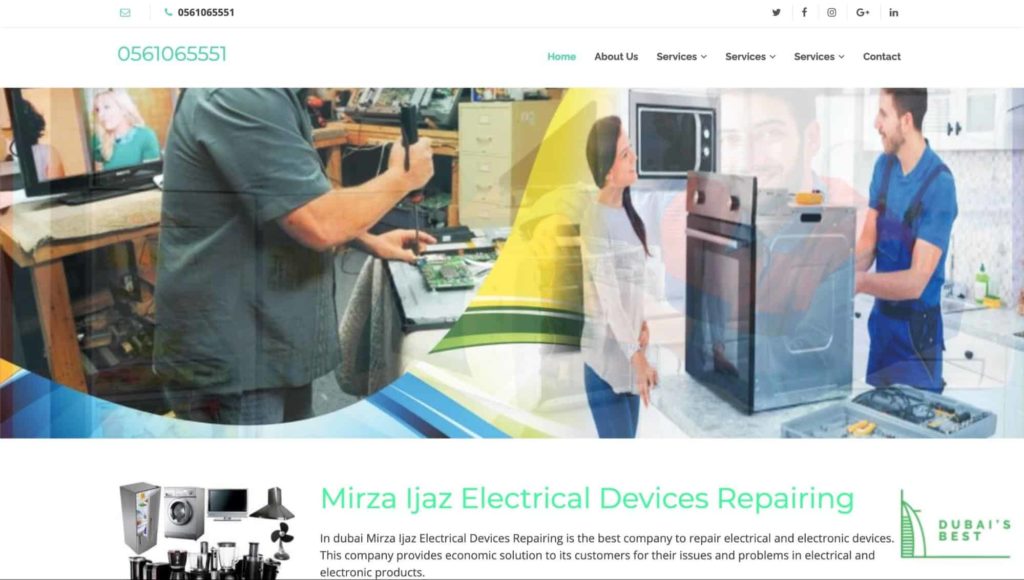 BEST FOR
Plasma TV repair
WEBSITE
https://mierepair.ae/
ADDRESS
Al Satwa, Dubai, United Arab Emirates
CONTACT DETAILS
+971 56 106 5551
+971 56 139 3814
info@mier
OPERATING HOURS
Saturday – Thursday: 9:00 AM – 10:00 PM
Friday: 4:00 PM – 10:00 PM
Since the arrival of the newer LED, LCD, and Smart TVs, manufacturers have ceased to make Plasma TVs. This is why appliance repair providers that offer Plasma TV repair are also rare.
Mirza Ijaz Electrical Devices Repairing is one of the few repair shops in Dubai that still offer repairs on Plasma TVs. They can deal with issues like overheated panels, bad picture, and cracked screens.
Although parts for this older type of TV have also become limited, Mirza Ijaz Electrical Devices Repairing replaces the faulty components of your Plasma TV with original spare parts.
The brands they work with include Toshiba, Sanyo, and Hitachi. While they specialise in Plasma TV repair, they also offer LED, LCD, Smart TV repair services.
Fixes issues in Plasma, LED, LCD, and Smart TVs
24/7 services
Customer Reviews
A happy client named Ali reviewed Mirza Ijaz Electrical Devices Repairing. They said:
"I was able to get an appointment with them for the next day. The 2 technicians (I wish I had written down their names) arrived early! They wore masks and gloves.
They fixed my LED Smart TV quickly and it runs like new now. Both men were very professional and both were an absolute delight. I would definitely call them again. Very pleasant experience from start to finish. A+!"
Farooq Mirza also shared:
"Excellent and very prompt service. It's my second visit to them for different appliance issues. I have found them very knowledgeable in their line of work and professional skills."
5. We Fix TV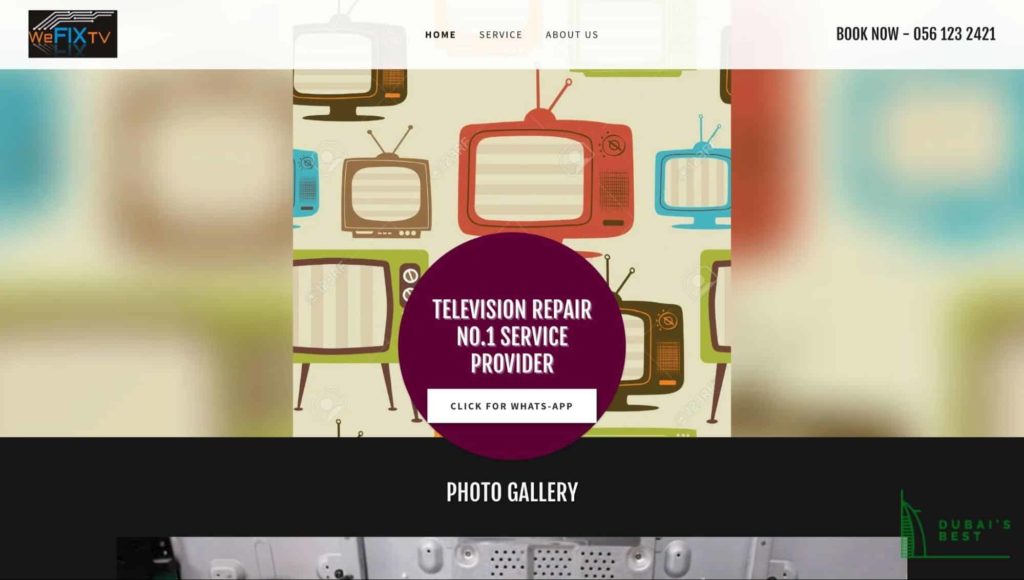 BEST FOR
OLED TV repair
WEBSITE
https://wefixtv.info/
ADDRESS
South Street, Al Barsha South, Dubai, United Arab Emirates
CONTACT DETAILS
056 123 2421
OPERATING HOURS
Saturday – Sunday: 9:00 AM – 7:00 PM
Monday – Thursday: 9:00 AM – 5:00 PM
We Fix TV does various repairs on OLED, LED, and LCD TVs in Dubai and Sharjah.
OLED TV repairs are particularly tricker and are often costlier, but We Fix TV is dedicated to providing their expertise at the best possible price.
Besides the usual screen, backlight, and wifi connectivity issues, they can also resolve screencasting problems so you can best enjoy watching from your TV.
We Fix TV repairs a wide variety of TV brands, including Sony, Philips, Sharp, TCL, and Samsung. Their services are also available 24/7.
Aside from TV repairs, they also provide a whole range of home appliance repair services. These services include repairs for AC systems, refrigerators, dishwashers, washing machines, dryers, and cooker ranges.
Repairs OLED, LED, and LCD TVs
Services Dubai and Sharjah
24/7 services
Doesn't provide a warranty
Customer Reviews
Ramiz was satisfied with We Fix TV's service. They reviewed:
"They did their job on the same day very quickly."
Another previous client, Sajid Mehmood, shared:
"They have fixed our TV very quickly and gave us a very good price "
FAQs about the Best TV Repair in Dubai
---
With this list of providers for the best TV repair in Dubai, you'll surely have your device working again in no time!
Do you know other TV repair shops we should add to this list? Send us a message to let us know.
If you're also looking for companies that can repair your other home appliances, check out our lists of the best dishwasher repair and the best fridge repair in Dubai.