5 Options for the Best Travel Insurance in Dubai
Accidents can happen to us anytime, even when we're on vacation. To protect yourself and your family from expensive emergency fees overseas, find one of the providers for the best travel insurance in Dubai.
In this article, we've provided a guide on how to select the best travel insurance. We've also listed down insurance companies that offer the best travel insurance in Dubai to make your search a lot faster.
To prepare you for the cost of travel insurance in Dubai, we've also done the research and compiled their prices in the table below.
How Much Does Travel Insurance Cost in Dubai
Below is a table containing the expected cost of travel insurance in Dubai. Actual prices may vary.
When travelling, you can expect to pay 4 to 10% of your travel expenses for insurance. However, this may vary depending on your age, the coverage, as well as the number of people to be insured.
| | |
| --- | --- |
| Coverage | One-time payment |
| AED5,000 | AED200 to 500 |
| AED10,000 | AED400 to 1,000 |
| AED15,000 | AED600 to 1,500 |
| AED20,000 | AED800 to 2,000 |
| AED25,000 | AED1,000 to 2,500 |
How to Pick the Best Travel Insurance in Dubai
To make sure you are well-protected from emergency expenses during your overseas trip, get the best travel insurance in Dubai.
Be guided in making the choice with these few tips we've prepared for you below.
Know your needs
You might think travel insurance plans are the same. Reading the fine text will let you know that they're really not.
When choosing a travel insurance plan for you and your family, it is best to look for one that suits your needs.
For instance, if there's anyone in the family who has a pre-existing medical issue, make sure that the insurance company can take care of potential hospital expenses caused by their illness.
You should also consider the activities you'll be doing during your trip. A car accident coverage may come in handy if you're planning on driving a car.
If you're going skiing, skydiving, and the like, look for an insurance plan that covers high-risk activities.
Check how much coverage they offer
An insurance company may cover a variety of things you may need during your trip. However, they may not allocate enough money for the things you need most.
You want to choose a plan that provides an ample amount to actually pay for medical fees and other emergency expenses.
If not, you may just be shelling out more money by spending on an insurance plan and paying for the costs they failed to cover.
Compare insurance plans
Don't settle for the first insurance plan you see. To get the best value for your money, take time to read other insurance policies.
Besides potentially saving you a good amount of money, doing this crucial step also makes sure that you and your family are best protected during your trip.
The Options for the Best Travel Insurance in Dubai
You should now be able to select the best travel insurance for your specific needs with the tips above.
To make your search for the best travel insurance in Dubai faster, we've prepared you this list of insurance plans below.
1. AIG Travel Guard Gold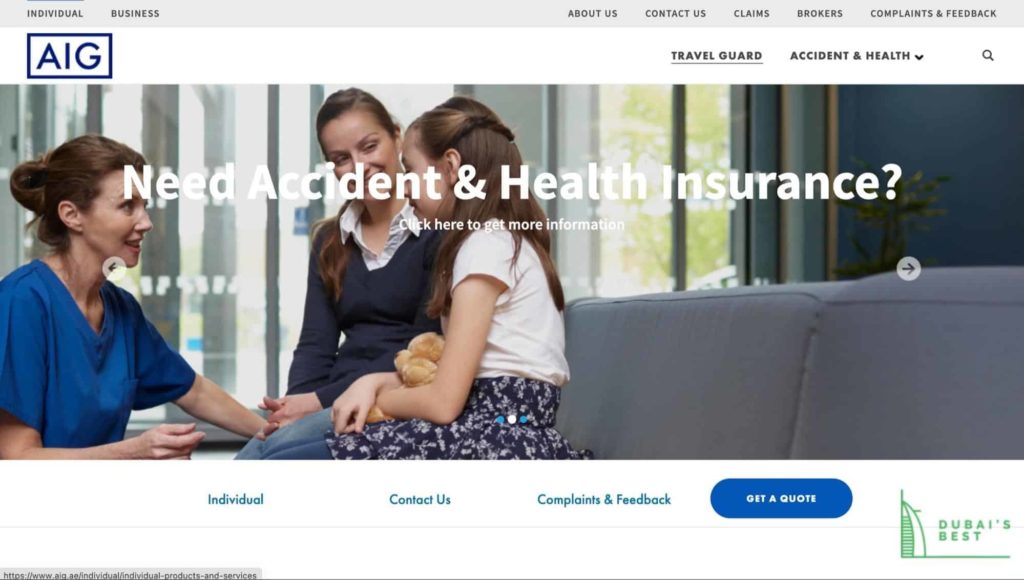 AIG Travel Guard Gold's offerings make it one of the top options for the best travel insurance in Dubai.
Among its many features is coverage of up to USD100,000 for emergency hospitalisation and USD1,000 coverage for baggage loss or damage.
Like the company's other travel insurance offerings, the Travel Guard Gold is also Schengen Visa compliant, making it a great choice for your European trip.
For frequent travellers, AIG also provides an Annual Multi Trip option. Here, you can be covered for an unlimited number of trips for a whole year.
This insurance plan is available for UAE citizens and residents aged 3 months to 74 years. AIG also only charges 50% of their normal rates for those aged 3 months to 17 years.
Schengen visa compliant
Price is 50% off for minors
Quick online purchase
Claims process can take weeks
Age restrictions for coverage
Customer Reviews
Richard R. reviewed the AIG Travel Guard Gold:
"Our planned trip did not happen as American Airlines cancelled the first leg of our flight to Curacao and had no other means to get us there. We had purchased the Gold Trip Insurance Plan from AIG.
I was sceptical and worried that AIG would find a way to wiggle out of paying for the non-refundable portion of our trip. AIG, however, came through and covered all non-refundable costs."
Susan T. was also satisfied with AIG's travel insurance offering, saying:
"We had to cancel our trip on March 2nd due to illness. This was at the beginning of the COVID-19 pandemic.
It took a few weeks longer than usual for the claim to start being processed (which was very understandable). But once the agent opened the case, the process took about a week to complete.
Then once fully approved, we received a check for the full amount of the insurance claim in 3 days. Outstanding service!"
2. Allianz Global Travel Extra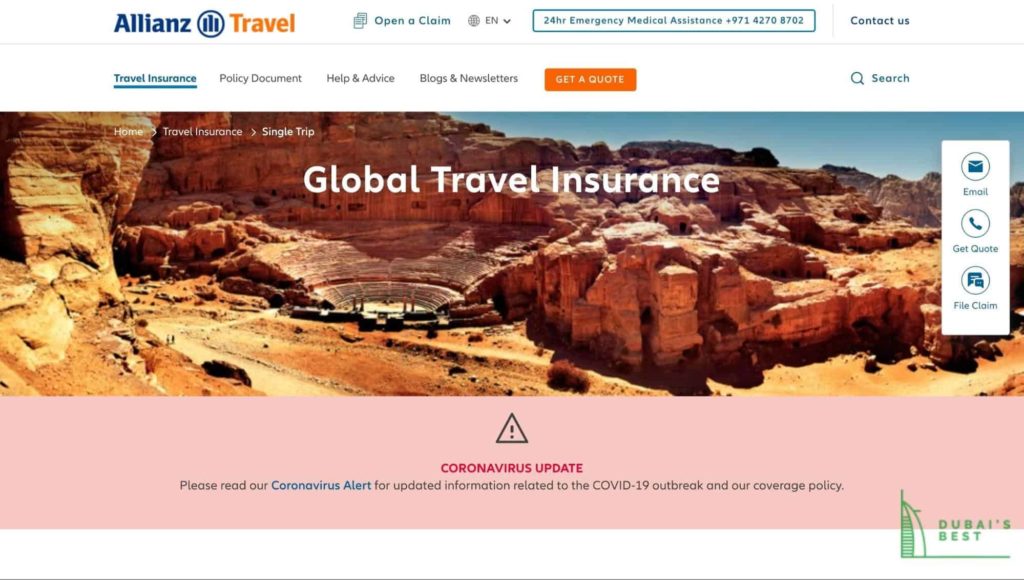 Allianz offers an affordable, Schengen visa compliant travel insurance in Dubai starting at AED69.
While it is cost-friendly, it provides a substantial amount of coverage for any medical need that may arise during your overseas trip. This includes USD250,000 coverage for medical expenses.
What's more, Allianz makes sure you'll have someone to take care of you if you are hospitalised abroad. It supplies an economy ticket for a family member or a relative to go wherever you are.
For non-medical incidents, the Allianz Global Travel Extra also covers your belongings, including valuables, up to USD2,500.
The provider also gives you an option to add coverage for high-risk activities you're planning to do during your trip.
Wide coverage for medical expenses
Provides coverage for personal belongings
Add-on option for high-risk activities during your trip
No coverage for mugging and credit card fraud
Customer Reviews
An article from Reviews.com reads:
"Overall, Allianz Global is a trustworthy travel insurance provider. The company offers a number of plans and add-on policies that fit a wide range of travellers and vacation types. We also like that Allianz offers annual plans, which is ideal for people who travel multiple times each year."
Meanwhile, previous customer Sandi D. reviewed:
"Just want to say a big thank you to Allianz Travel Insurance. We had bought travel insurance for a cruise to Antarctica in November, but due to Covid restrictions, we have had to delay our trip to same time next year (hopefully).
We called Allianz and quickly and easily cancelled the policy, less a few dollars for admin fees. All done over the phone, no problems. We use Allianz for all our travel insurance, domestic and overseas. We will insure for our cruise next year. Thanks again Allianz!!!"
3. Oman Insurance Visitor Health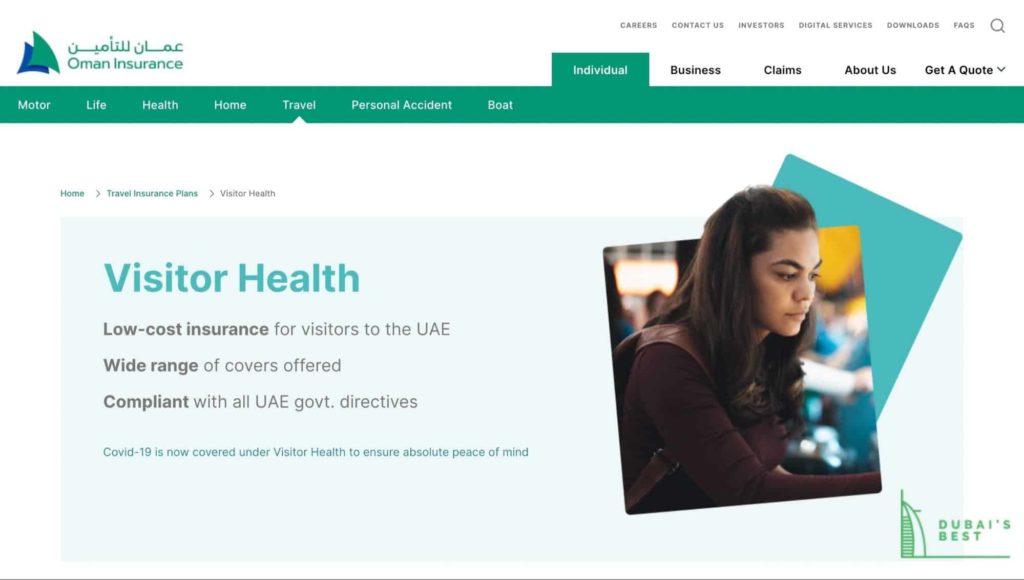 Among Oman Insurance's insurance offerings is the economical Oman Insurance Visitor Health for UAE tourists. It provides basic coverage for just AED40.
This includes an accident or illness coverage of up to AED150,000. With an impressive panel of hospitals, you'll be able to find one of their partner institutions anywhere you are in Dubai.
In the event of death, they can provide coverage of up to AED5,000, with reimbursement for up to AED7,500 for the repatriation of your remains.
Affordable rates
Comprehensive medical coverage
Multi-awarded insurance company
No coverage for personal belongings and other non-medical circumstances
No coverage for  pre-existing medical conditions
4. ABNIC Outbound Gold Family Travel Plan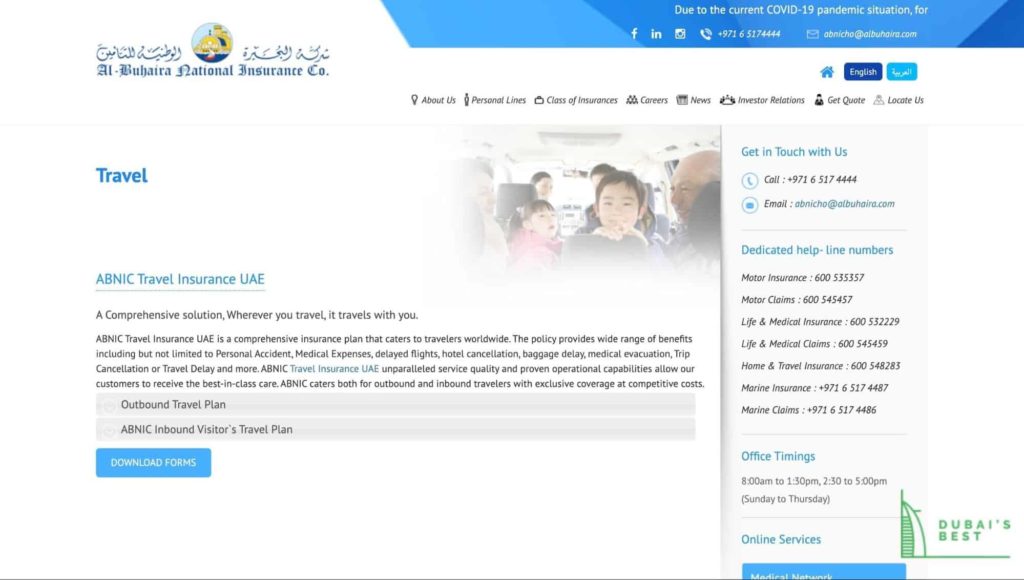 ABNIC provides inbound visitor and outbound travel insurance plans for both individuals and families in Dubai. However, their best travel insurance offering would be the Outbound Gold Family Travel Plan.
This family travel insurance covers husband and wife plus up to 8 children. Specifically, the plan includes personal accident and medical coverage, including coverage from COVID-19.
It also protects your entire family from flight and baggage delays, cancelled hotel bookings, and trip cancellation.
You can even opt to add winter sports or terrorism cover for added safety. For frequent travellers, annual multi-trip cover is also available.
Covers up to 8 children
COVID-19 coverage
50% off for children 18 and below
Family limit for medical coverage is the same as individual limit
5. Arabia Insurance Family Travel Insurance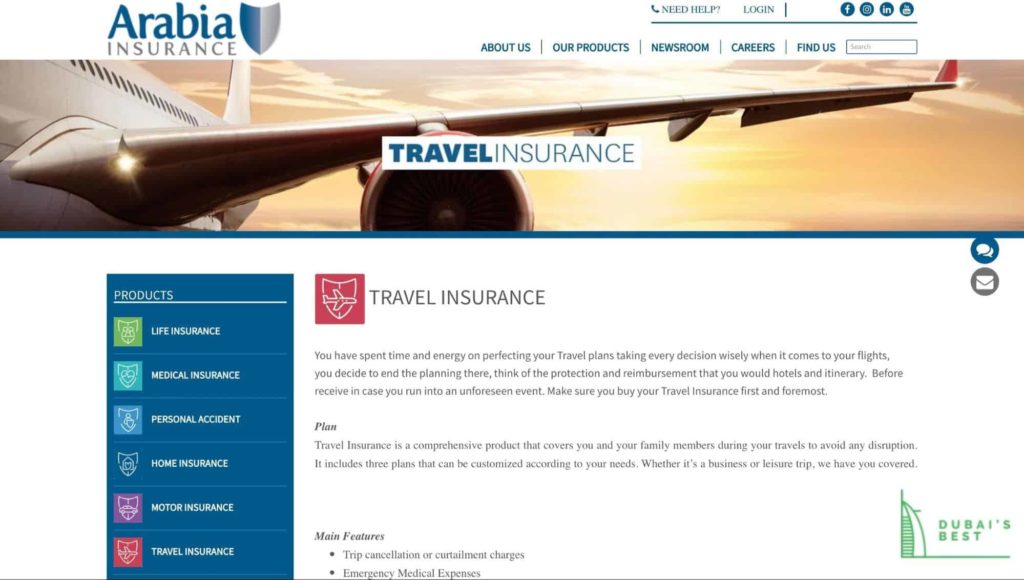 Arabia Insurance's customisable travel insurance plans in Dubai includes a family plan. This plan extends to the spouse and up to 4 children for no extra charge.
It features many convenient benefits, including comprehensive medical coverage. It protects the insured from personal accidents and the cost of medical emergencies.
Plus, it takes care of transportation and accommodation costs in the event of hospitalisation. It also covers the accommodation of the hospitalised person's companions.
In the event of death, repatriation and funeral expenses are also taken care of.
Moreover, the family plan protects you and your family from loss of personal belongings, missed or delayed flights, mugging, and credit card fraud which could happen during your trip.
50% discount for children aged 17 and below
Extreme sports, golf, and terrorism add-ons are available
Amount of coverage not explicitly stated
FAQs about the Best Travel Insurance in Dubai
---
With one of these options for the best travel insurance above, you can enjoy your overseas trip without having to worry about unforeseen events.
Do you know other travel insurance plans we should include in this list? Let us know by sending us a message.
If you're looking for a travel agency that can help you organise your trip, you can also check out our list of the best travel agencies in Dubai.