6 Best Security Companies in Dubai
Featured Image Source: Collin Armstrong via Unsplash
When you think you're at high risk of assault or your establishment could be a target of burglary, having security personnel can make you feel at ease. Whatever your security needs are, be sure to hire one of the best security companies in Dubai.
This article provides a guide on how to choose a reputable security company. We've also included a list of the best security companies in Dubai so you can find your security partner faster.
How to Pick the Best Security Company in Dubai
To guarantee your safety, you should hire the best security company in Dubai. Be guided in making the choice with these tips below.
Check for licenses and insurance
When hiring guards from a security company, make sure that the firm is licensed by authorities in their field. This assures you that they are capable of protecting you or your establishment.
At the same time, you should check if their security personnel are insured. This ensures that they will be compensated in the event of any emergency that could happen to them while providing you protection.
Experience and specialisation
Go for a provider that has experienced security guards. Most companies showcase their staff's credentials on their website, stating the training they've undergone.
In relation to experience, you should also select a security company that specialises in your particular security need.
Some have security personnel that specialise in personal security, events security, or security for establishments such as schools, malls, and hotels.
When it comes to your protection, it is best to choose highly-trained and experienced guards even if hiring them could be pricier than others.
Know their reputation
Read online reviews to narrow down your options for your security partner. This step gives you a quick background on the quality of service they provide.
To be sure, you can also ask your contact at the company for references. If their security services are truly commendable, the people they've worked for would be more than willing to put in a good word for them.
The Best Security Companies in Dubai
Now that you know what to look for in a reliable security partner, let's get you started on your search with this list of the best security companies in Dubai.
1. RANN Security Services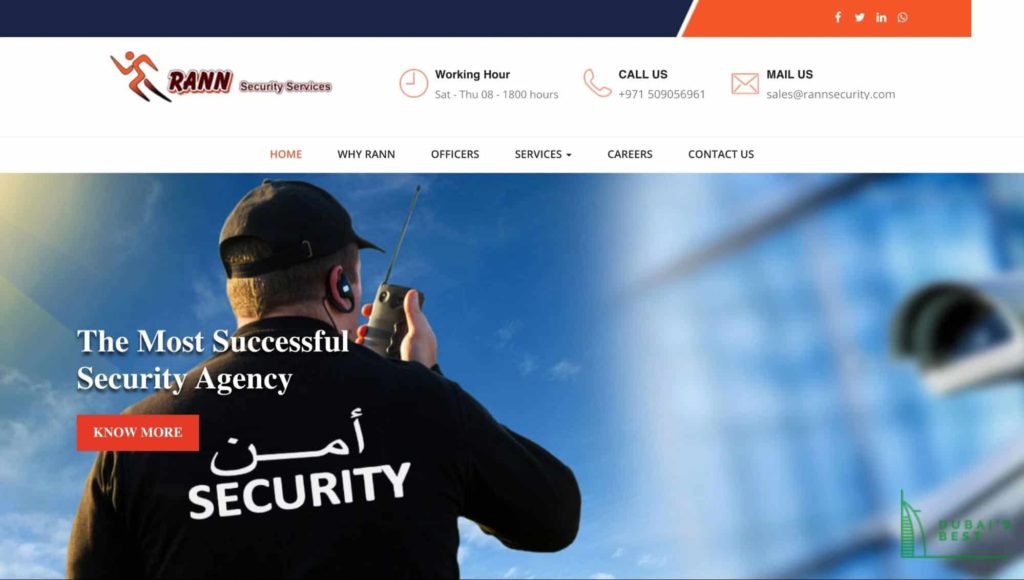 BEST FOR
Technologically-advanced security solutions
WEBSITE
http://www.rannsecurity.com/
ADDRESS
Al Rigga, Dubai, United Arab Emirates
CONTACT DETAILS
+971 50 905 6961
+971 04 259 5952


[email protected]

OPERATING HOURS
Saturday – Thursday: 8:00 AM – 6:00 PM
RANN Security Services has over 10 years of experience in providing security services in Dubai. They have a strict application process that enables them to produce only the highest quality of well-trained security staff.
Because of this, they are trusted by clients from both the commercial and government sectors.
Besides the traditional manned security services, the company also offers technologically-advanced security solutions, including live video surveillance.
While these use the latest technology, they have experienced and talented operators at their command centre 24/7.
To best cater to your security requirements, RANN Security Services also offers customised security packages.
Competitive prices
Accredited by security authorities
Smaller team compared to other companies
Less experienced than other security companies
Staff insurance is not specified
Does not specialise in providing security for events
Customer Reviews
Ravi Kumar gave RANN Security Services 5 stars. They said:
"RANN Security Services is one of the best service providers in Dubai. Their guards are excellent, professional, and well-trained when working at my premises.
I'm very happy with their service, not only the guards but also the office staff, and the rate which they provided me is unbeatable. Thank you once again to the entire team of RANN Security Services."
Another review reads:
"It's a small startup company but they provide quality guards. They really deserve 5 stars. I refer them for cheap and high-quality security guards."
2. Black Horse Security & Cleaning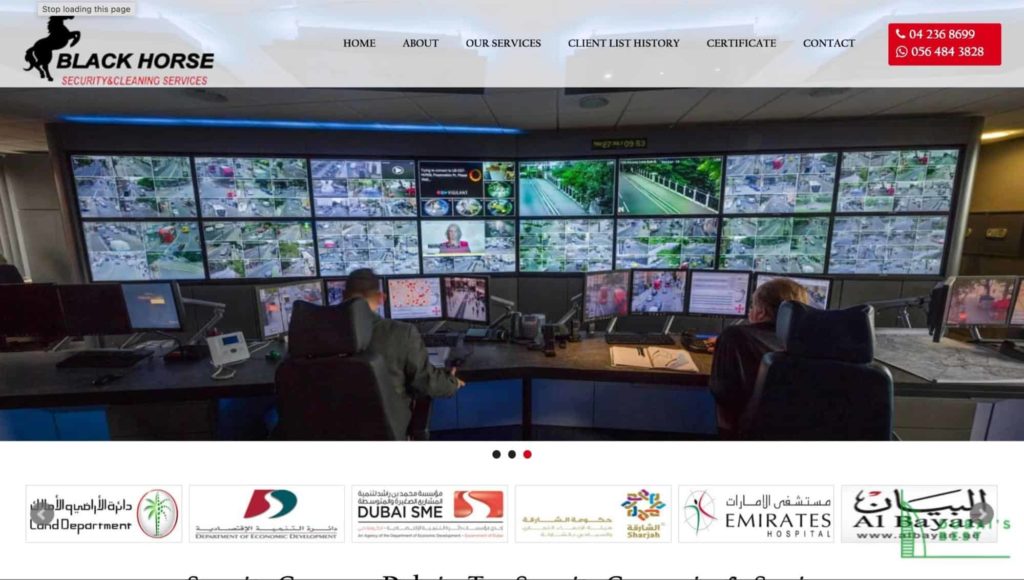 BEST FOR
Event security
WEBSITE
http://www.blackhorsesecurity.ae/
ADDRESS
Sheikh Rashid Rd, Al Khabaisi, Dubai, United Arab Emirates
CONTACT DETAILS
04 236 8699
056 484 3828
+971 4 236 8699


[email protected]

OPERATING HOURS
Sunday – Thursday: 9:00 AM – 6:00 PM
Black Horse's personnel can provide security to government departments, health institutions, high-rise condominiums, and commercial establishments. They can even perform gate security duties.
However, the provider's expertise lies in delivering event security and assistance. In fact, they have successfully assisted multiple celebrities and VIPs at different kinds of events in Dubai.
Their vast client list proves how many firms have entrusted their security needs with Black Horse.
To assure that they're providing services that are at par with their high standards, Black Horse checks on their security staff onsite regularly.
Over 450 security personnel
Conducts regular onsite inspection to ensure quality of service
No mention of insurance for security staff
Customer Reviews
Gideon Antonio, a previous client, said:
"Their services are impressive— security, cleaning, and pest control. They always maintain a high level of professionalism, giving you value for your money. Keep it up!"
Simran Sachdeva also reviewed Black Horse. They said:
"Amazing and efficient security and VIP bouncers team. They follow the procedures very well. Their Dubai-based cleaning services team is also hardworking."
3. Magnum Security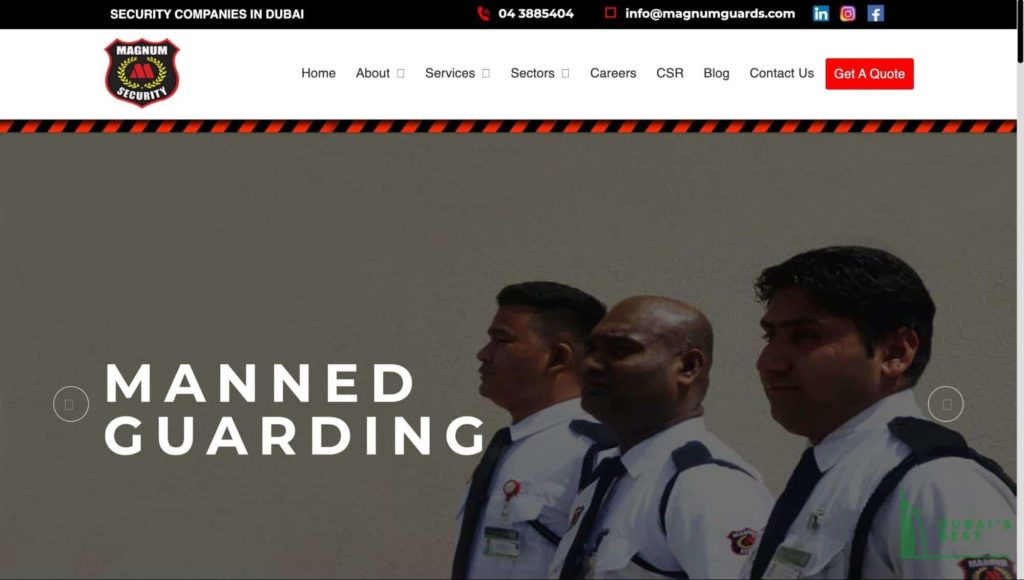 | | |
| --- | --- |
| BEST FOR | Security consultancy |
| WEBSITE | https://www.magnumsecurity.ae/ |
| ADDRESS | The Curve Building, Office 22-23, Sheikh Zayed Rd, Al Quoz 3, Dubai, United Arab Emirates |
| CONTACT DETAILS | +971 4 388 5404 [email protected] |
| OPERATING HOURS | Sunday – Thursday: 8:00 AM – 6:00 PM |
Magnum Security has provided topnotch security services in Dubai since 2003. The company is Dubai police-approved and Security Industry Regulatory Agency-certified.
They have over 700 security professionals who are ex-servicemen or have vast experience in security. To give the best kind of security service to clients, Magnum Security conducts routine checks to ensure their welfare, health, and safety.
The security company offers manned guarding, events security, traffic management, and CCTV monitoring. They also provide consultancy to help you come up with a system that strengthens the safety of your establishment.
What's more, the company has a dedicated account manager to ensure that your concerns are addressed promptly.
Over 700 security staff
Dubai police-approved and SIRA-certified
Provides dedicated account manager
Not liable for third party loss
Customer Reviews
Lemuel Semilla was pleased with Magnum Security's service. They reviewed:
"In terms of professionalism, quality, and services, I would like to recommend Magnum Security. Thumbs-up for all the staff."
A representative from the company Box Builders also said:
"Used their home security services and they did not disappoint. Thanks, guys!"
4. Libra Group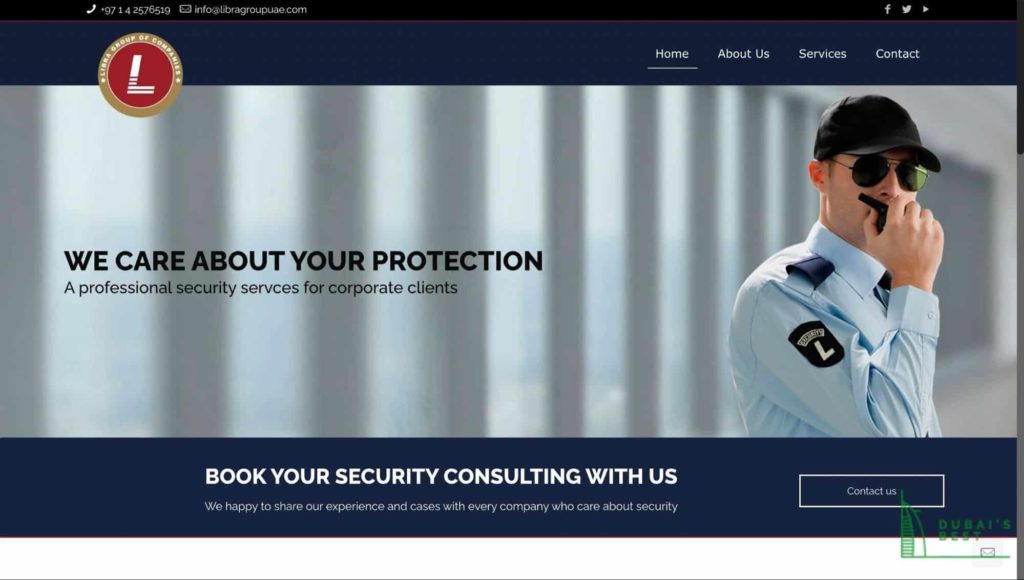 | | |
| --- | --- |
| BEST FOR | Facility management and security services |
| WEBSITE | http://libragroupuae.com/ |
| ADDRESS | City Bay Business Center, Deira, Dubai, United Arab Emirates |
| CONTACT DETAILS | +97 1 4 2576519 [email protected] |
| OPERATING HOURS | Open 24 hours |
Libra Group provides residential, commercial, and industrial facility management in Dubai and the rest of the U.A.E. This includes a variety of security services.
They can provide you with qualified personnel who can give you protection 24/7 for any occasion. Their professionals are either graduates of the Dubai Police Academy or come from a military background.
On top of this, their staff undergo rigorous training in first aid, CCTV operations, firefighting, and more. This is to ensure that they are fully equipped to provide the best security services.
Libra Group also offers security technology such as CCTV systems and security barriers to heighten the security in your establishment or during your event.
Security staff are Dubai Police Academy graduates
Extensively-trained personnel
Lifeguard services available
No mention of insurance for security personnel
Customer Reviews
One of Libra Group's previous clients shared:
"They are one of the best, reliable security companies with experienced and well-trained guards."
5. Guardforce Security Services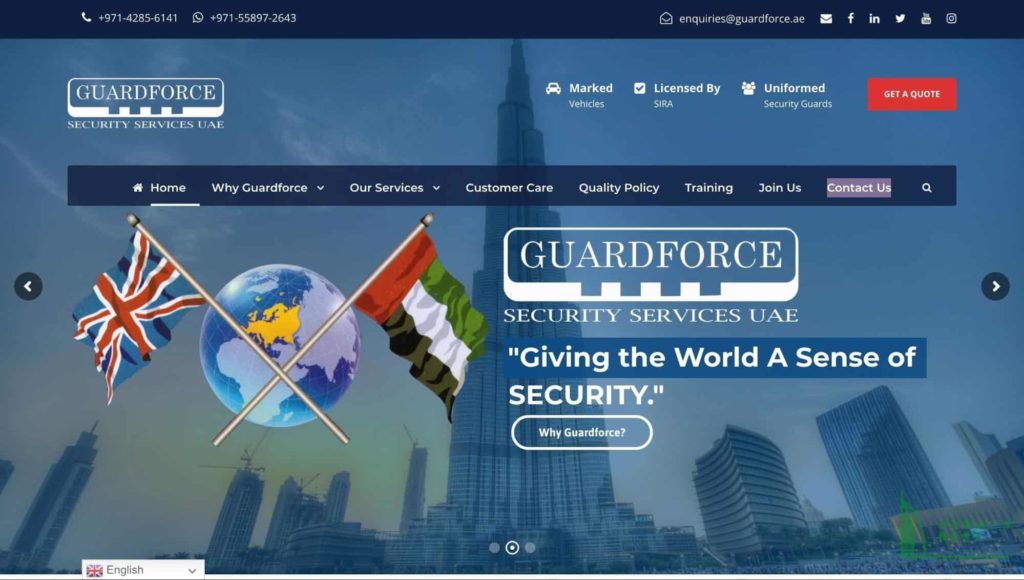 | | |
| --- | --- |
| BEST FOR | Highly-personalised guard services |
| WEBSITE | https://guardforce.ae/ |
| ADDRESS | 1103 B, Tower B, Prime Business Centre, Jumeirah Village Circle, Dubai, United Arab Emirates |
| CONTACT DETAILS | +971-4285-6141 [email protected] |
| OPERATING HOURS | Open 24 hours |
Guardforce Security Services can provide you with uniformed security personnel for manned guarding in Dubai.
To best serve you, they give their staff exclusive instructions based on your security requirements. Their personnel can also do different site documentation methods to monitor who goes in and out of your premises.
The company also offers marked vehicles, and other security services like keyholding, alarm response, and security patrolling.
Guardforce Security Services holds many accreditations from authorities in the security industry, including SIRA. Their guards are also trained based on UK standards.
Multiple accreditations
Wide variety of security services
Trained based on United Kingdom standards
No event security service
Customer Reviews
One of Guardforce Security Services's previous clients, Leolia Maria, said:
"We have used this company for one of our business events. We had about 10 Security guards at the same time. All guards were in a nice and clean uniform. They were very professional and helpful. We will definitely use them for our next event.
Excellent Service! I really recommend you guys to try them once."
Pankaj Kanani also reviewed:
"Best security company in Dubai. They were very reliable and the guards are very active and smartly dressed. They have very competitive rates and provide the service that they say! Recommended to all!"
6.   Al Safwan Gulf Security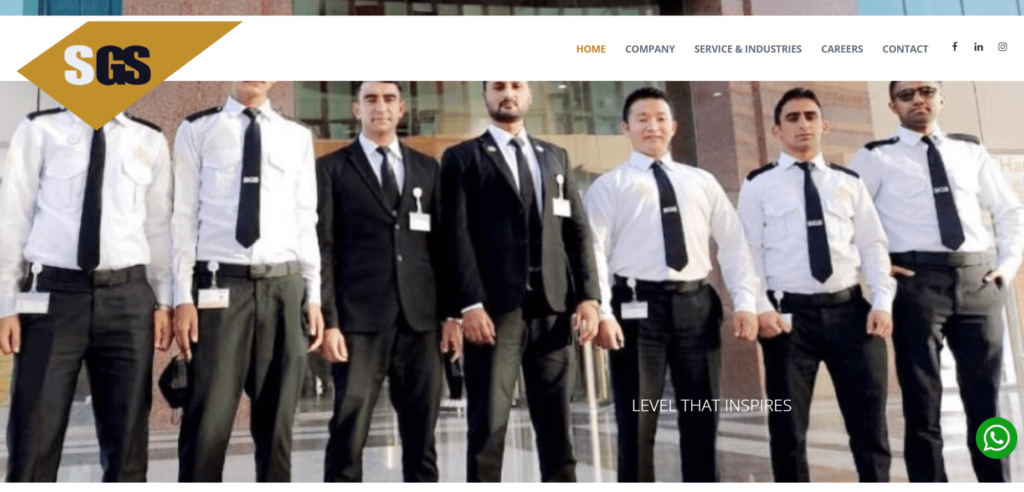 BEST FOR
Access Control, Events Security, Patrolling, CCTV Monitoring, Residential Life Security, Emergency Response & Planning, Security Survey & Inspection, Evacuation Planning, and Incident Management, Corporate Security, Security Management, Event Security Solutions, Security System & Technology, Manned Security Services, Facility Management, Training
WEBSITE
https://www.alsafwan.ae/
ADDRESS
Al Hudaiba Awards building block B office 718 – Dubai – United Arab Emirates
CONTACT DETAILS
+971 4 422 2559


[email protected]

OPERATING HOURS
Monday to Friday: 9:00 AM – 6:00 PM
If you are looking for the best and most well-trusted security providers in Dubai, you might consider Al Safwan Security Group as your next security partner.
Al Safwan Security Group or SGS, has 10 years of experience in dedicated quality service to its clients. Its provision of quality security services with its highly trained staff enables them to provide the safeguard that its clients are satisfied with. Hence, it is frequently dubbed as one of the best security companies out there.
Their wide array of security-related services ranges from hospitality security, security guard staffing, event security, and executive security.
SGS commits to effective management and supervision where they ensure the satisfaction of the client as this is part of their integral and innovative management practice. They also provide a 24/7 Customer Service Center with a dedicated Client Relations Manager.
They also commit to rigorous performance standards in the security industry, which they hallmark top-of-the-line monitoring and security.
It should be noted that they need to provide better access to their site as it takes some time for it to load.
If you are in need of a reliable security company in safeguarding you or your business, then Al Safwan Security Group might be the best choice for you!
Long experience in the security field
Provides a lot of security-related services
Online portal is difficult to load
No physical weekends operation
Customer Reviews
Extremely accommodating and professional at all times
"Our company has been doing business with Al Safwan Security for years now. They have been extremely accommodating and professional at all times. We don't know what we would do without their services (and our guards). I would be happy to give them a recommendation any time!" – Vinmar Nagui
Highly reliable
"A highly reliable security services company with professional and well-trained staff that provides efficient and effective protection for its clients. Keep up the good work! 👍" – Framil Mayo
FAQs about the Best Security Companies in Dubai
---
With one of these best security companies in Dubai, you'll be at ease knowing that you or your space is well-protected.
Know other security companies in Dubai we should add to this list? Send us a message to let us know.
If you're also looking for a luxury car for rent for any event, here's a list of providers for the best luxury car rentals in Dubai.