5 Firms for the Best Company Registration in Dubai
Featured Image Source: Dylan Gillis via Unsplash
With free zones catered to foreign investors, the U.A.E. is the ideal region to start your business. However, getting the required licenses to operate may be confusing for a first-timer. For this, get the services of one of the firms for the best company registration in Dubai.
In this article, we've provided a guide on how to choose the best company registration partner. We've also included a list of firms for the best company registration in Dubai so you can get your license ASAP.
To prepare you for the cost of company registration in Dubai, we've even done the research and compiled the prices in the table which you will see below.
How Much Does Company Registration Cost in Dubai
The table below contains the cost of registration for different types of companies in Dubai. Note that actual prices may vary depending on your chosen provider.
| | | |
| --- | --- | --- |
| | First Year | Second Year |
| Trading LLC | AED84,400 | AED36,180 |
| Professional Services LLC | AED84,400 | AED36,180 |
| Subsidiary LLC | AED84,400 | AED36,180 |
| Joint stock company | AED80,800 | AED36,180 |
| Representative office | AED96,230 | AED18,000 |
| Branch of a foreign company | AED130,200 | AED50,690 |
How to Pick the Firm for the Best Company Registration in Dubai
For hassle-free company registration, pick only a reliable firm that provides business registration services in Dubai. To do this, be sure to consider these tips below when making your selection.
Choose your ideal location
Your choice of location for your business in Dubai matters a lot more than you think. Here, you have the option to start our business on the mainland or in one of the city's many free zone areas.
The free zones are ideal for a wide variety of industries, including, automotive, aviation, academics, media, information and logistics, IT, investment and energy. Businesses located here are also tax-exempted.
Alternately, the mainland is more suitable for enterprises in retail, hospitality, and real estate. Just note that foreign nationals can only own 29% of a mainland business.
Go for an experienced firm
For a quicker company registration process, select an experienced company registration firm. For this, you should look at their years of experience and track record in providing their services.
This is important because the U.A.E. has many rules on business registration. An experienced provider lessens the need of going back and forth to fulfil the government's requirements.
At the same time, a seasoned company registration firm can guide you in selecting a licensing option that works best for your business.
Choose a well-connected company
For the registration process to be quick and seamless, it helps to choose a well-connected company registration partner.
Primarily, they should have a close working relationship with the Ministry of Economy and the Dubai Municipality.
It also helps if they know people from the Dubai Land Department, Real Estate Regulatory Authority, Department of Economic Development, Foreign Direct Investment, Department of Tourism and Commerce Marketing, and the Dubai Health Authority.
The Firms for the Best Company Registration in Dubai
Now what you know how to select a registration firm in Dubai, you should now be able to choose a business registration partner for your business.
Let's get you started on your search with this list of firms best company registration in Dubai.
1. Emirabiz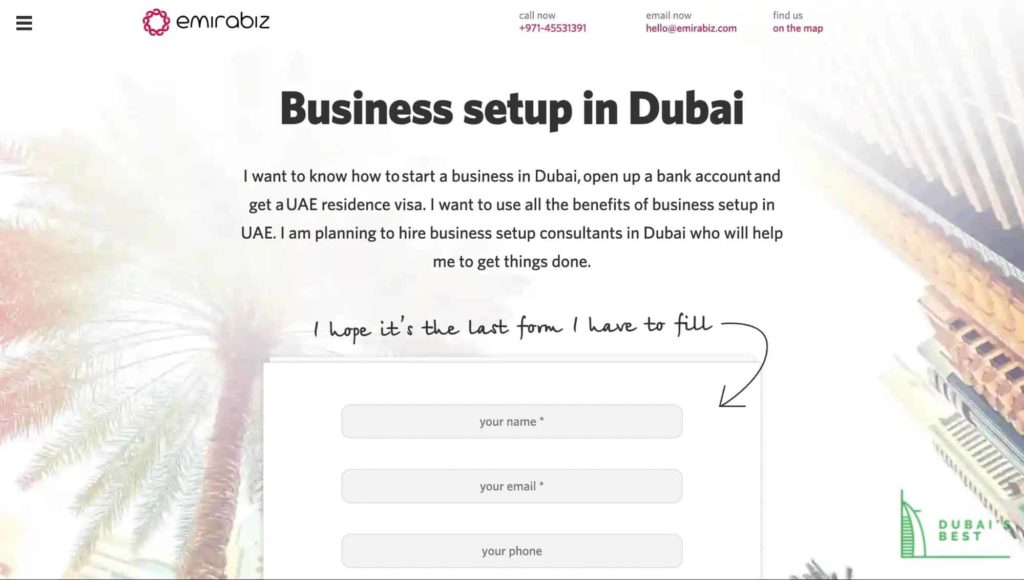 | | |
| --- | --- |
| BEST FOR | DMCC company registration |
| WEBSITE | http://emirabiz.com/ |
| ADDRESS | 301, Indigo Icon Tower, Cluster F, Jumeirah Lake Towers, Dubai, United Arab Emirates |
| CONTACT DETAILS | +971-45531391 [email protected] |
| OPERATING HOURS | Sunday – Thursday: 9:00 AM – 6:00 PM |
Emirabiz has helped 3,000 businesses register in the U.A.E. since 2013. They can assist you in starting your business offshore, online, on the mainland, or in one of U.A.E.'s free zones.
However, Emirabiz's DMCC company formation package is arguably its best offering. The firm can help you register your enterprise in the promising DMCC free zone where a foreigner can have full ownership of a business.
The package comes with their excellent business registration services and flexi-desk, office, or warehouse rental in DMCC. Emirabiz can also take care of your and your employee's visa and the renewal of your license for a fee.
The best thing is that your DMCC business license can accommodate 6 similar business activities, which is twice more than the U.A.E. average.
If you're interested in Emirabiz's services, their team of knowledgeable business consultants would be very willing to share their expertise with you on a free consultation.
Helps register offshore, e-commerce, mainland, and free zone businesses
Free consultation
Pricey fees
Requires personal appearance
Customer Reviews
Danilo Campisi reviewed Emirabiz:
"I had a meeting with Olivia to discuss potential opportunities of setting up a business in Dubai or take the freelance license. I have been impressed by the fast communication, precision, professionalism.
During the meeting, Olivia discussed with me all the possible options. She was very competent, not pushy at all, a real advisor. I definitely recommend Emirabiz to anyone who is considering moving to Dubai and is a self-starter."
Rafael Andrade also said:
"I had a very good experience with Emirabiz. The entire company set up process with them went smoothly. Timi was their consultant assigned to me and she truly cared about my needs and went above and beyond to make sure my project timeline was met.
In several occasions Timi even came up with alternative solutions to my specific situation using her network and previous experience. I do highly recommend Timi and Emirabiz."
2. Savvy Setup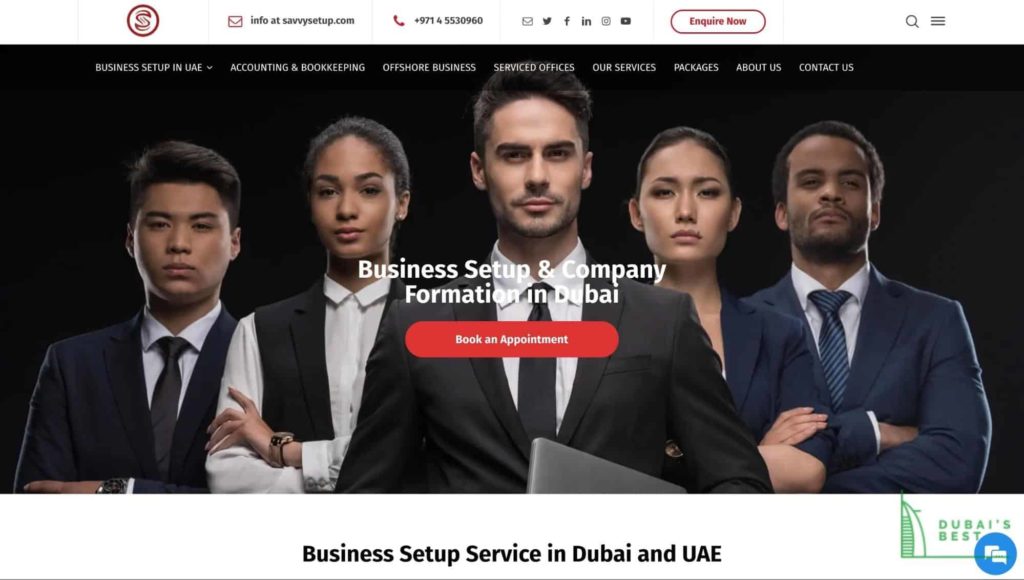 BEST FOR
Dubai mainland company registration for entrepreneurs and SMEs
WEBSITE
https://www.savvysetup.com/
ADDRESS
25th floor, Citadel Tower Business Bay Dubai, United Arab Emirates
CONTACT DETAILS
800 36524
+971 4 553 0960


[email protected]

OPERATING HOURS
Saturday: 12:00 PM – 6:00 PM
Sunday – Thursday: 9:00 AM – 6:00 PM
Savvy Setup can help you open your startup in Dubai, Abu Dhabi, Ajman, Fujairah, Ras Al Khaiman, and Umm Al Quwain.
They work with several government authorities such as the Dubai Municipality, Dubai Economy, U.A.E. Ministry of Economy, and many more.
With their years of experience working with these offices, they already know all the documents you'll need to submit for your company registration. This enables a smooth registration process for your enterprise.
What's more, Savvy Setup also takes care of your trade license and provides assistance for visa application, visa renewal and bank account opening.
They also offer an affordable Dubai mainland commercial license package, which also provides local sponsorship and an attractive business address.
Affordable
Experienced in working with government agencies
No free zone packages
Not suitable for big companies
Customer Reviews
Anita Morris was impressed with Savvy Setup's service. They said:
"Thank you Savvy Setup Team for accommodating me as I had a few days left on my visit visa.
The prompt and smooth setup of my free zone company was unprecedented and then completing my visa application within 7 days was just amazing! Thank you, Ashar, for your professional work."
A client named MD Prakash has this to say:
"Thank you so much, Savvy Setup, for opening my tailoring shop and helping me get my license. You guided me to the correct way to open my shop. All the best to your company."
3. Make My Firm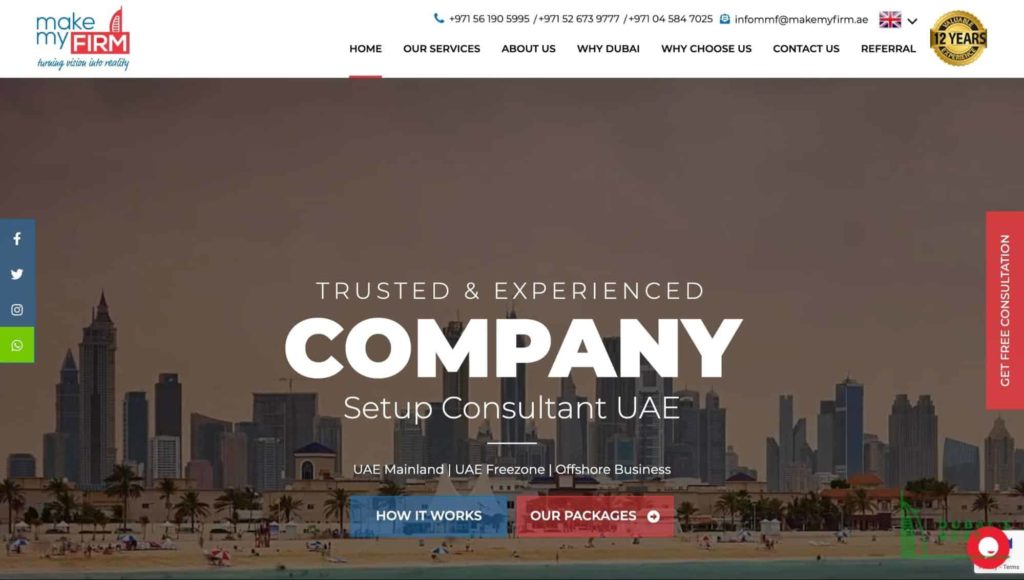 BEST FOR
Dubai LLC company registration
WEBSITE
https://www.makemyfirm.ae/
ADDRESS
Office No. 903, Burlington Tower, Business Bay, Dubai, United Arab Emirates
CONTACT DETAILS
+971 56 190 5995
+971 52 673 9777
OPERATING HOURS
Saturday: 1:30 PM – 7:30 PM
Sunday – Thursday: 9:00 AM – 7:00 PM
Make My Firm has 12 years of experience in helping people start their business in Dubai and the rest of the U.A.E.
For foreigners who want to start a business in Dubai mainland, they encourage starting a Limited Liability Company (LLC) company. This gives them maximum ownership of 49%.
Make My Firm also takes care of finding a local sleeping partner or a service agent for the rest of the shares in the company. With this set-up, a foreigner can hold the company's papers and operate the business as they wish, allowing them to also open up branches in Dubai.
An LLC company entitles foreign investor visa privileges that extend to their family. A foreign owner of an LLC company can also open bank accounts and get credit cards in Dubai.
If a Dubai LLC company is not for you, you can also opt for an offshore or a free zone business. Make My Firm's consultants can help you decide on the license and area that would be more advantageous for you.
Can help set-up offshore, mainland, or free zone businesses
Consultants can discuss what's best for your company
Affordable services
Not suitable for big businesses
Customer Reviews
Vivek Hamer left Make My Firm a positive review. They said:
"We connected with Make My Firm to set up our operation in Mainland Dubai.
The team is extremely supportive, courageous and punctual about their work. With the team, I found myself relaxed as they have made the process of business setup in Dubai a breeze. Thanks is not enough to express my gesture."
Another client named Gulshan Khaturia wrote this review:
"Very excellent services by Make My Firm. They have given me a very quick and easy process for my company set up and visa process. Their explanation for everything was very clear.
I recommend every new investor to choose Make My Firm to start their new business in Dubai.
Madam Fareena and Ms. Meenakshi are the best professional advisors ."
4. Xpand Business Services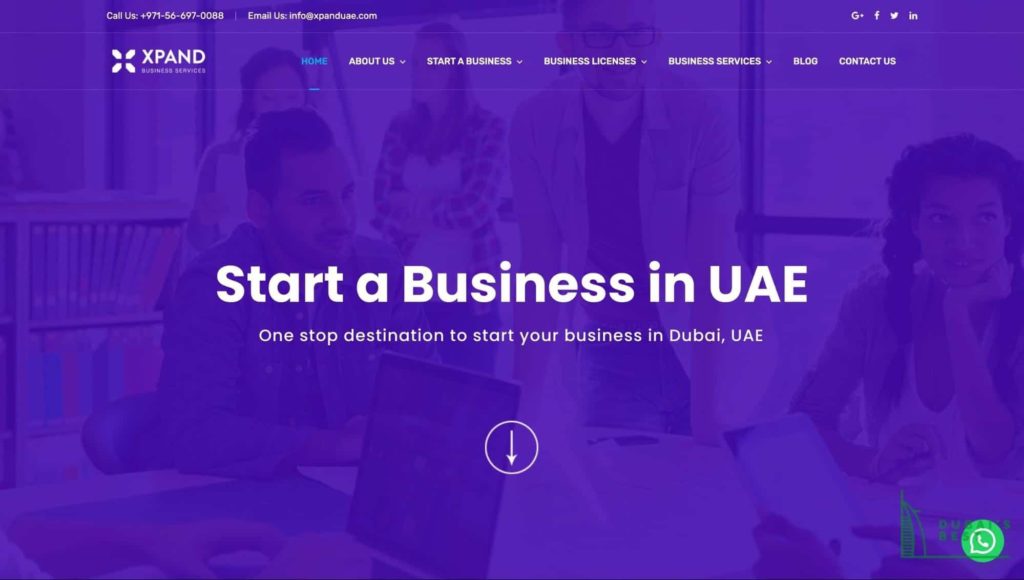 BEST FOR
Comprehensive business setup services
WEBSITE
https://www.xpanduae.com/
ADDRESS
#602, Single Business Tower, Business Bay, Dubai, United Arab Emirates
CONTACT DETAILS
+971-56-697-0088


[email protected]

OPERATING HOURS
Saturday – Thursday: 9:00 AM – 6:00 PM
Xpand Business Services team has a deep understanding of mainland, free zone and offshore company registration processes.
The firm specialises in providing a comprehensive range of business setup services, including business incorporation and registration. They can also help you with your tax, accounting, audit, business advisory and legal needs.
What's more, Xpand Business Services provides you with a dedicated account manager that makes sure all your needs are met and that your business registration is done fast. In the case of hiccups, they also have a network of people who can help them solve your problems fast.
They also offer a free consultation to answer all your questions and guide you to make the best choices for your business.
Dedicated account manager
Wide network that can help them solve business registration problems
Free consultation
Not suitable for small businesses
Customer Reviews
Xpand Business Services's previous client, Mohammed Ajmal Amminissery, shared:
"Their outstanding performance and ardent support makes them the prominent organization in the business development field. I strongly suggest their services as they will support your business ideas."
Sidharth Surendran also said:
"Xpand Business Services provides great assistance to people who wish to start their own venture in the UAE. Keep up the good work."
5. Global Link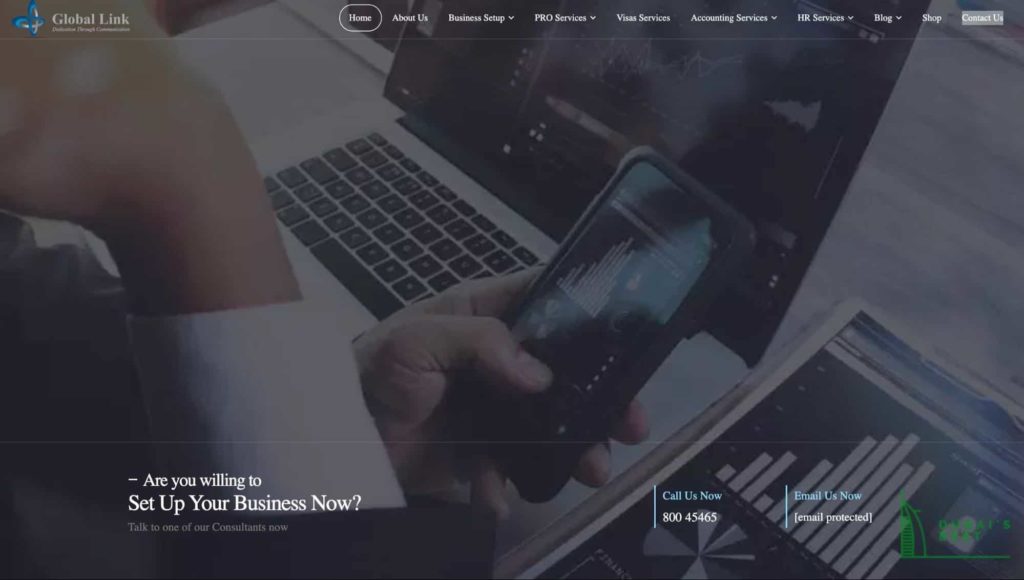 BEST FOR
DIFC business setup
WEBSITE
https://globallink.ae/
ADDRESS
Office 706, Bayswater tower, Business Bay, Dubai, United Arab Emirates
CONTACT DETAILS
+971 55 624 8982
+971 4 553 9901
+971 4 447 1286 800
GLINK

[email protected]

OPERATING HOURS
Sunday – Thursday: 9:00 AM – 6:00 PM
Global Link has over 16 years of experience in providing business setup services in the entire GGC area.
The firm aims to make the process of business registration as simple, fast, and cost-effective as possible for you. They do this through their connections with various government agencies.
At Global Link, an account manager will keep in touch with you for updates regarding the papers you're processing.
They have a vast knowledge regarding setting up businesses in free zones in Dubai, especially in the Dubai International Financial Center.
Well-connected with government agencies
Dedicated account manager
Not suitable for entrepreneurs, startups, and SMEs
Customer Reviews
Kannan, a previous client, reviewed Global Link:
"If you are looking at promises being delivered promptly without excuses and aiming at high professional approach for your business PR solutions, Global Link is the company you need.
They have very professional staff that offer great service. It is not surprising when they exceed your expectations when they have a quality team. Kudos to the team."
Meanwhile, Vikrant Singh, shared:
"Mr Mujeer Abbas at Globalink AE has been excellent and professional in all service support for us in Dubai.
With his knowledge and experience, he handled everything in an efficient and professional manner. He is compassionate and ready to walk that extra mile for his clients. All the best to him as always."
FAQs about the Best Company Registration in Dubai
---
That's all for our list of firms for the best company registration in Dubai!
If you know other company registration service providers we should add to this list, send us a message and we'll check them out.
If you're also looking for a digital marketing partner that can help you promote your business in Dubai, check out this list of the best digital marketing agencies in Dubai.