The 6 Best Cosmetic Dentistry Clinics in Dubai
Featured Image Source: Peter Kasprzyk via Unsplash
A great smile can brighten up any day, but dental issues like crooked teeth or a missing tooth can hold you back! With a trip to a cosmetic dentistry clinic, you'll gain the confidence to flash those pearly whites whenever you want to!
If you've been wanting to get braces or have your teeth bleached, we've listed down the best cosmetic dentistry clinics in Dubai!
But before we get to our list, let's talk about the cost of cosmetic dentistry services in Dubai.
The Cost of Cosmetic Dentistry Clinics in Dubai
Cosmetic dentistry clinics in Dubai differ in rates based on the expertise and background of the clinic's dentists, their location, facilities, and the technology they use.
Check out this table of the common services cosmetic dentistry clinics in Dubai offer and their average rates:
| | |
| --- | --- |
| Service | Average Rate |
| Teeth Whitening | AED 300 to AED 1,000 |
| Laser Teeth Whitening | AED 1,000 to AED 2,300 |
| Composite Filling | AED 500 to AED 1,000 |
| Temporary Crown/Veneers | AED 200 to AED 500 |
| Porcelain Veneers | AED 1,500 to AED 3,000 |
| Complete Dentures | AED 4,000 to AED 10,000 |
| Partial Dentures | AED 150 to AED 300 per tooth |
| Braces | AED 10,000 to AED 15,000 |
| Dental Implants | AED 5,000 to AED 12,000 |
The Best Cosmetic Dentistry Clinics in Dubai
Now that you know more about the cost of cosmetic dentistry services in Dubai, choose a clinic from our list of the best cosmetic dentistry clinics in Dubai!
1. Dentzz Dental Care Centre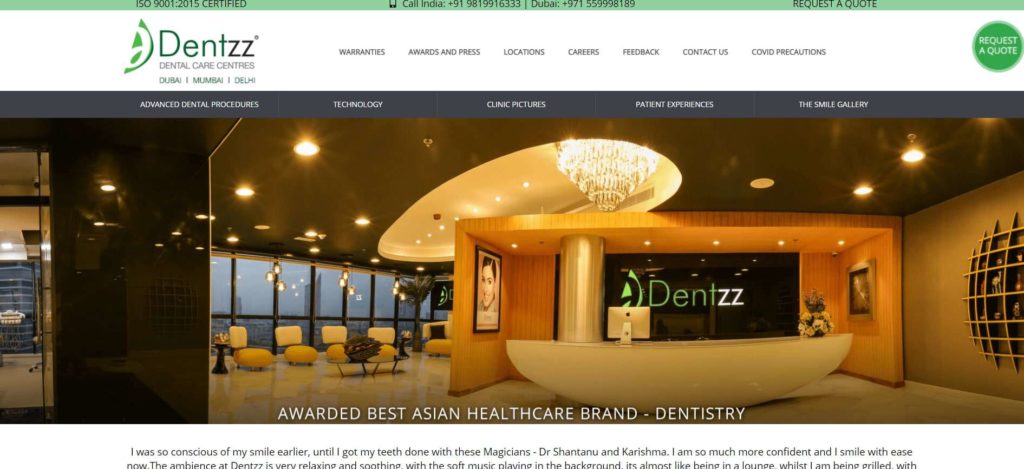 | | |
| --- | --- |
| WEBSITE | https://www.dentzzdental.com/ |
| ADDRESS | 1806, 18th floor, Jumeirah Business Centre 3 Cluster Y, Jumeirah Lake Towers Dubai, UAE |
| CONTACT DETAILS | +971 559 998 189 |
| SERVICES | Porcelain Veneers, Composite Veneers, Bonding, Crown Lengthening, Gum Depigmentation, Instant Tooth Whitening, Recontouring of Teeth, Composite Restorations and Build-ups |
Awarded the Best Asian Healthcare Brand in Dentistry and a member of the prestigious American Academy of Cosmetic Dentistry, Dentzz Dental Care is one of the most sought-after cosmetic dentistry clinics in the UAE and India.
The clinic boasts of a team trained by some of the best dentistry institutions in the world. They are also known for their high-profile patients, including international athlete, Brett Lee and actor-director, Deepak Tijori.
The Dentzz Dental Care clinic at the Jumeirah Lake Towers is impressive with clean, state-of-the-art facilities, the latest in dental technology, and a gorgeous city view for patients to enjoy while the procedure is ongoing.
While the clinic offers general dentistry services, they are best known for their cosmetic dentistry services, specifically their smile makeovers. They deal with problems like yellow teeth, protruding teeth, and misaligned teeth.
We're seriously amazed by the cases the clinic's handled over the years. If you look at the before and after photos of patients on their website, you'll see that even the most crooked teeth can be fixed!
Online appointment available
Multi-awarded
No website chat support
No free consultation
Patient Reviews
Check out the feedback Dentzz Dental Care received from their patients:
Aiana Bekturganova said: "I experienced kindness, efficiency, and professionalism to the highest degree. The reception staff, doctors, and nurses were very nice and professional. The clinic is very beautiful and has an amazing view and great location!"
Jabar Jari said: "Great experience. They gave me a beautiful smile makeover. I would recommend Dentzz to my friends."
2. Dr. Michael's Dental Clinic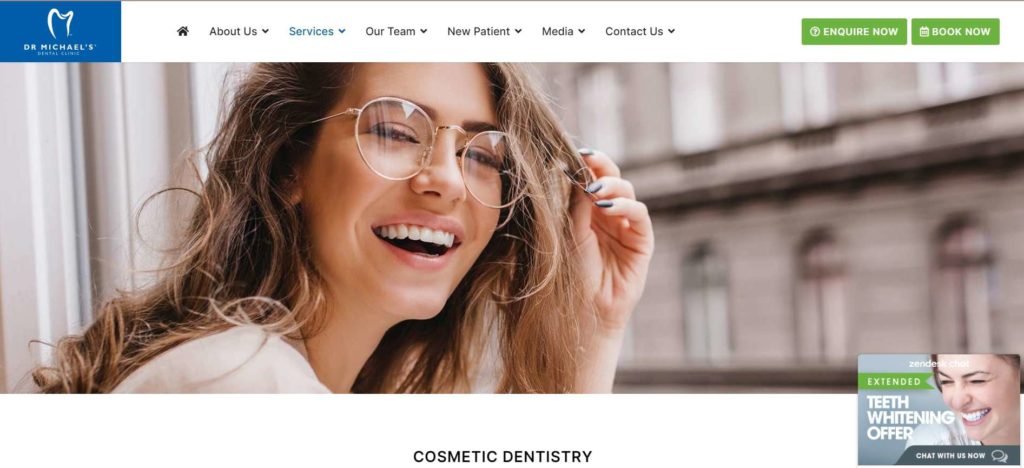 WEBSITE
https://www.drmichaels.com/
ADDRESS
Villa 1016, Al Wasl Road Umm Suqeim 1 Dubai, UAE
CONTACT DETAILS
+971 4 394 9433


[email protected]

SERVICES
Hollywood Smile, Veneers, 3D Guided Implant Surgery, Invisalign, Teeth Whitening, Dental Implants
With almost 40 years of experience, Dr Michael's Dental Clinic is considered to be one of the most trusted dental clinics in the UAE and Sweden. Promising world-class dentistry, the clinic offers services in all fields of dentistry, from general dentistry to dental surgery.
While experts in many fields of dentistry, many patients go to Dr Michael's to avail of services that will make their teeth whiter, cover broken teeth, or improve their misaligned teeth. Some of their dental solutions include veneers, 3D guided implant surgery, and teeth whitening.
One of their most popular services is the Invisalign, a discreet alternative for patients with misaligned teeth who refuse to go through the hassle and pain of getting metal braces. It also takes less time to show visible results and you can simply wear the invisible aligners without having to make several appointments for adjustments!
If you drink coffee or tea regularly, their Zoom Teeth Whitening can help get rid of the stains these coloured drinks have left on your teeth. Patients are given the option of having it done in the clinic or bringing home a customized teeth whitening kit.
Just take note: if you're having your teeth whitened, the clinic will still require you to have regular cleaning done and teeth whitening consultation. This allows the dentist to check if your teeth are fit for whitening.
Provides services under all fields of dentistry
Website chat support available
Easy website booking
No free consultation
No insurance partners
Patient Reviews
Many patients have left Dr Michael's Dental Clinic rave reviews:
Sean Kernan said: "Excellent, knowledgeable, and friendly service."
Chef Ingerella said: "From the beginning of my appointment to receiving professional dentistry from Dr Eman, who was absolutely fantastic. I came out with a big smile and extremely happy. Very positive and excellent professional staff."
3. New Ivory Dental & Implant Clinic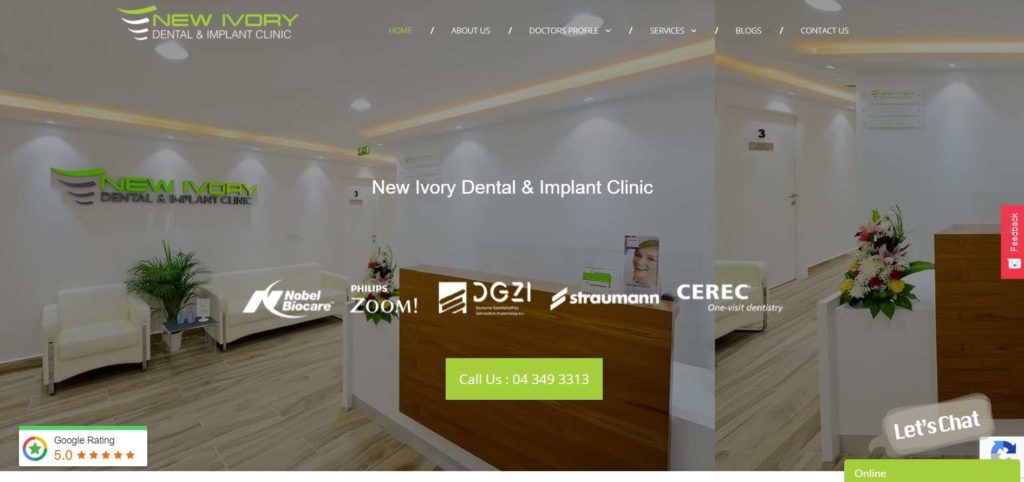 WEBSITE
https://newivory.ae/
ADDRESS
1701 Zone B, Aspect Tower Executive Towers D, Business Bay Dubai, UAE
CONTACT DETAILS
+971 4 349 3313


[email protected]

SERVICES
Hollywood Smile, Bleaching and Teeth Whitening, Porcelain Veneers, Invisalign, Cosmetic Recontouring and Reshaping, Periodontal Gum Surgery, Dental Implants
Located in the heart of Dubai's business hub, New Ivory Dental and Implant Clinic promises their patients "optimal oral health and beautiful smiles."
While the clinic may be smaller compared to the other clinics on our list, New Ivory is still known to be one of the few with the latest and highest standard dental technology. They offer services such as CBCT 3D Scanning, Digital Dentistry and Digital Smile Design, 3D Root Canal, and Invisalign.
As their name suggests, the clinic is best known for their dental implant treatments. Unlike most clinics, New Ivory offers same-day implants and one-day crowns and bridges.
If you're not willing to spend all in one go, New Ivory gives you options for instalment at 0% interest, which we think is a pretty good deal since the service comes with a lifetime warranty as well.
Several patients also avail of their Hollywood Smile treatment, which is meant for patients who need a total dental makeover. The package includes smile design and consultation and procedures like whitening, enamel reshaping, orthodontics, and veneers.
Website chat support available
Free consultation
Instalment plans at 0% interest
Less services compared to other clinics on the list
Smaller team of dentists compared to others on the list
Patient Reviews
Patients who've left reviews for New Ivory think they deserve perfect 5-star ratings.
Sabih Shaikh said: "Excellent facility. Great doctor, team, and state-of-the-art equipment. They are patient-centric, providing all relevant information around procedures and follow up. Both my children visit the clinic, and as parents, we are highly satisfied with all the results!"
Mohammed Hamza said: "Well-equipped and relaxing clinic. Friendly staff and professional dentists at a reasonable cost."
4. Swedish Dental Clinic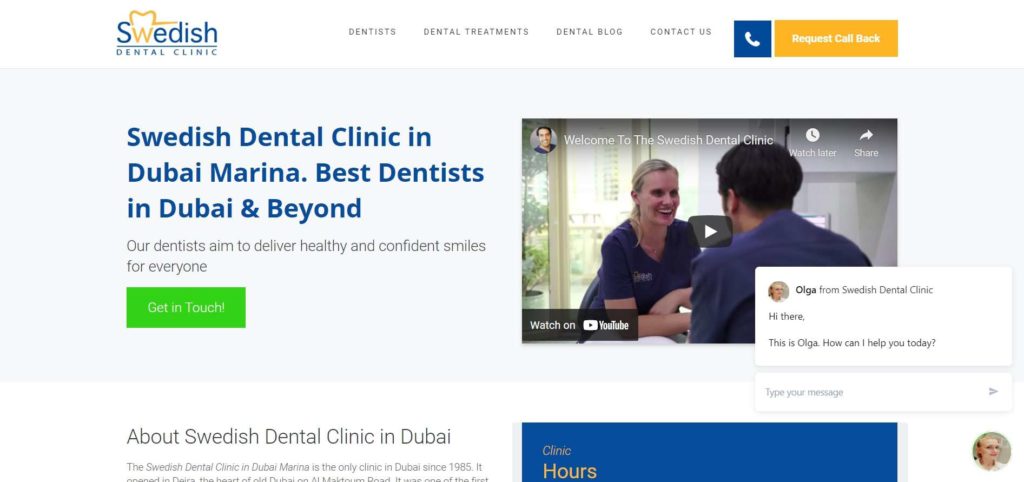 | | |
| --- | --- |
| WEBSITE | https://swedishdentaldubai.com/ |
| ADDRESS | Seba Street (opposite Choithrams Supermarket) Dubai Marina Dubai, UAE |
| CONTACT DETAILS | +971 4 456 3366 |
| SERVICES | Teeth Whitening, Teeth Straightening, Bonding/Fillings, Veneers, Hollywood Smile, Invisalign, Dental Implant |
For more than 30 years, the Swedish Dental Clinic has been the go-to for many locals for their dental needs. While general dentistry and orthodontics is the clinic's primary focus, their cosmetic dentistry services still remain among the most recommended in Dubai.
An internationally distinguished prosthodontist and implantologist, Dr Burak Gokdeniz is the clinic's cosmetic dentistry expert. His work spans from minimally invasive smile build-ups to sophisticated implant procedures.
If you're looking to get veneers soon, the Swedish Dental Clinic may be the best choice. Having mastered the procedure, the clinic has placed more than 5,000 veneers on patients over the years.
They also offer various kinds of braces, too. You can choose among traditional metal braces, the less visible ceramic braces, and the thin and clear Invisalign braces.
While their dental services are excellent, what we think really separates the Swedish Dental Clinic from others is their attention to patient relations. Many patients have commended the clinic for always keeping track of their treatments, the responsiveness of their dentists to queries, and the friendliness of the clinic staff.
Free consultation
Accepts insurance
Smaller team of dentists compared to others on the list
Slow website chat support
Client Reviews
Swedish Dental Clinic's patients have had positive experiences at the clinic.
Alexa Weber said: "I had a great and very positive experience with Dr. Burak Gokdeniz, who fixed a crown issue which had been poorly done by another dentist. He was always happy to answer any questions I had and did a great job. I am also a fan of Dr. Ines, who cleaned my teeth. She is always really kind and professional."
Florence Kashat said: "I had my ceramic braces done by Doctor Nabil a couple of years ago and we also did the Invisalign for my daughter last year. Great results! We have done other procedures with Doctor Nabil and Doctor Ines and they are both great and very professional. Our whole family has been going to Swedish Dental Clinic for years and the doctors, dental assistants, admin staff and overall staff are just wonderful and friendly. Excellent clinic."
5. Shine and Smile Clinic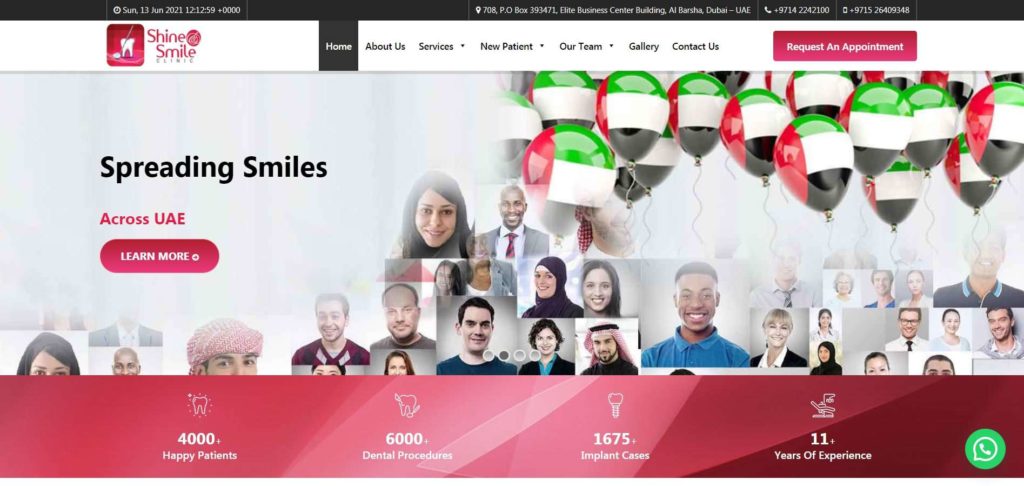 | | |
| --- | --- |
| WEBSITE | http://www.shineandsmile.ae/ |
| ADDRESS | 708 Elite Business Center Al Barsha Dubai, UAE |
| CONTACT DETAILS | +971 4 224 2100 |
| SERVICES | Tooth-Colored Fillings, Zoom Teeth Whitening, Veneers, Braces, Enamel Shaping, Dentures, Crowns, Bridges, Dental Implants, Invisalign |
A full-service dental clinic in Al Barsha, Shine and Smile has over 25 years of experience in fields such as orthodontics, endodontics, dental hygiene, implantology, periodontics, and prosthodontics. Committed to high-quality and cost-efficient dental services, the clinic prides itself in having over 4,000 thousand patients under their care.
Like the other clinics on our list, cosmetic dentistry is one of Shine and Smile's strong points. Some of their most availed treatments are Zoom teeth whitening, Veneers, and Braces.
You can also opt to reshape your teeth through their Enamel Shaping treatment. If you feel that your teeth appear a bit too long or pointy, Shine and Smile can help by contouring your teeth's enamel.
What we really appreciate about Shine and Smile is their 24-hour emergency service! You'll never know when you might encounter embarrassing or painful dental issues, so it's great knowing there's a clinic you can count on even when you chip a tooth at 3AM.
Easy website appointment booking
24-hour emergency service
No website chat support
No free consultation
Patient Reviews
Shine and Smile has been given excellent reviews by patients.
Jonnah Maramot said: "I had the best experience in this clinic! I was so afraid to see a dentist until I found this clinic. The doctor is very gentle. I was so happy with the service! I will make sure to recommend it to all my family and friends."
Mustafa Al Bashir said: "I had a pleasant experience at the clinic. The doctor and staff were reliable and professional. I'm very satisfied with the service I had. Definitely recommend."
6.   Zykova Yevhenia Alexandrovna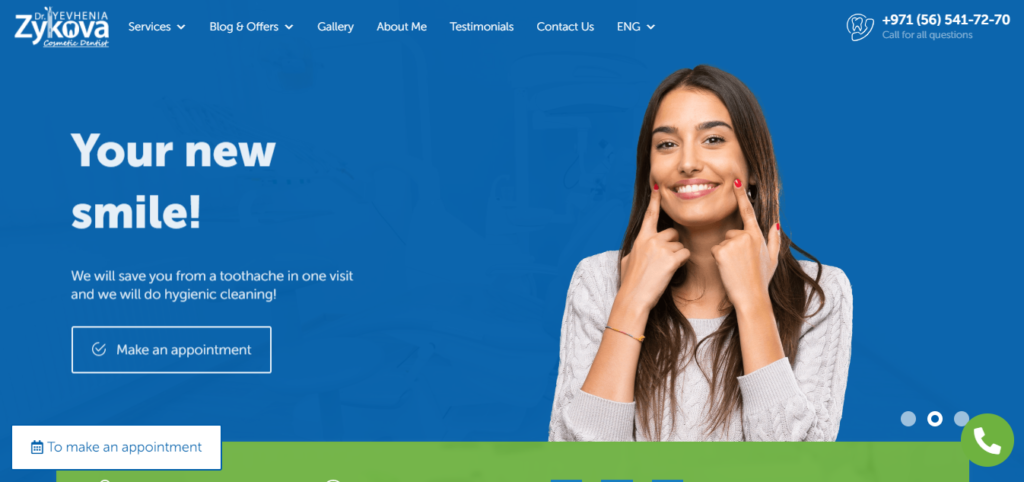 WEBSITE
https://dental-clinic.ae/
ADDRESS
1142 Al Wasl Rd – Umm SuqeimUmm Suqeim 2 – Dubai – United Arab Emirates
CONTACT DETAILS
+971 (56) 541-72-70
SERVICES
Porcelain Veneers
Full Mouth Rehabilitation
Zoom Teeth Whitening
Lumineers
Hollywood Smile
Cosmetic Dentistry
Root Canal Treatment
Endodontic Treatment
Therapeutic Dentistry
Tooth Extractions in Children
Children's Dentistry
Extraction of Wisdom Teeth
Tooth Extraction
Aligners
Braces
Dental Implantation
The doctor behind Zykova Yevhenia Alexandrovna is Doctor Yevhenia who graduated from the Faculty of Dentistry of Kyiv Medical University in 2009. As of now, she has worked as a dentist for over 12 years.
Based on the testimonials of her previous patients, they mentioned that Doctor Yevhenia's work is outstanding and incomparable. That she was able to give them back their confidence in their smiles. They also said that they love how she recommends other services that can help improve their teeth more.
Some patients said that even though the process was a bit long, it was definitely worth the wait because now they can smile without feeling insecure and shy. They gave positive reviews on how the pain went away quickly and did not last long.
People prefer to get cosmetic dentistry services from them because their work is very light, soft, and delicate. Plus, they always give what they promise!
In case you do not know what to do about your issue, feel free to call them and they will happily assist you in knowing what kind of service you need.
Open on Sundays
Responds immediately
The clinic has a beautiful atmosphere and design
Friendly staff members
Closed on Fridays
Some complaints about long procedure
Patient Reviews
Here are some reviews from their previous patients:
"My husband and I had big problems with our teeth, Doctor Yevhenia in a very short time to fixed all the issues and prosthetics. Dr. Yevhenia has created a friendly atmosphere in the office and confidence that everything will be done well. So it happened. We are very satisfied."
"I have been attending Dr. Yevhenia for a year now and this has been the best decision of my life.. my look have improved which have increased my confidence while i smile.. i strongly recommend her for whoever looking for cosmetic treatment"
Tips on Choosing a Cosmetic Dentistry Clinic in Dubai
Go to a clinic that specializes in what you need.
Cosmetic dentistry clinics specialize in different services. While clinics may offer more or less the same set of services, some clinics may be better at certain services.
For example, if you need to get dental implants, try to go to a clinic that's known for that service.
Set a budget and stick to it.
If you have a budget, try not to go beyond it. Many cosmetic dentistry clinics offer quality services at affordable rates and package deals.
Before you get started with your treatment, ask the dentist for a final price too. Some dentists tend to surprise patients with a higher rate right after they've treated the patient already.
Read up on reviews.
A clinic can have the best technology and facilities but deliver bad service. Instead of just relying on their website and social media pages, check what other patients have to say about their experience.
FAQs on Cosmetic Dentistry Clinics in Dubai
---
It's time to get your Hollywood smile and confidently flash your picture-perfect teeth wherever you go! We hope our list of the best cosmetic dentistry clinics in Dubai helped you decide where to go!
Know of other excellent cosmetic dentistry clinics you'd like us to include? Message us with your recommendations!
If you need a clinic that specializes in dental braces, check out our list of the best dental clinics for braces in Dubai!