The 5 Best Centers for Reiki in Dubai
When conventional Western medicine and treatments don't work, many look to alternative healing — one of which is the Japanese form of healing, reiki.
Our energies are just as important as our physical and mental health, so we scoured the city to give you the best centers for reiki in Dubai.
We also explain the different factors we considered in choosing them and answer some FAQs about reiki in Dubai.
How much does a session of Reiki in Dubai cost?
The cost of a reiki session depends on where you live, the duration of the session, and the type of reiki treatment. In general, a reiki session costs around AED180 to AED3,700.
The Best Centers for Reiki in Dubai
Before we get right into our list of centers for Reiki in Dubai, here are the criteria we considered in choosing them:
1. Cosmic Rhythm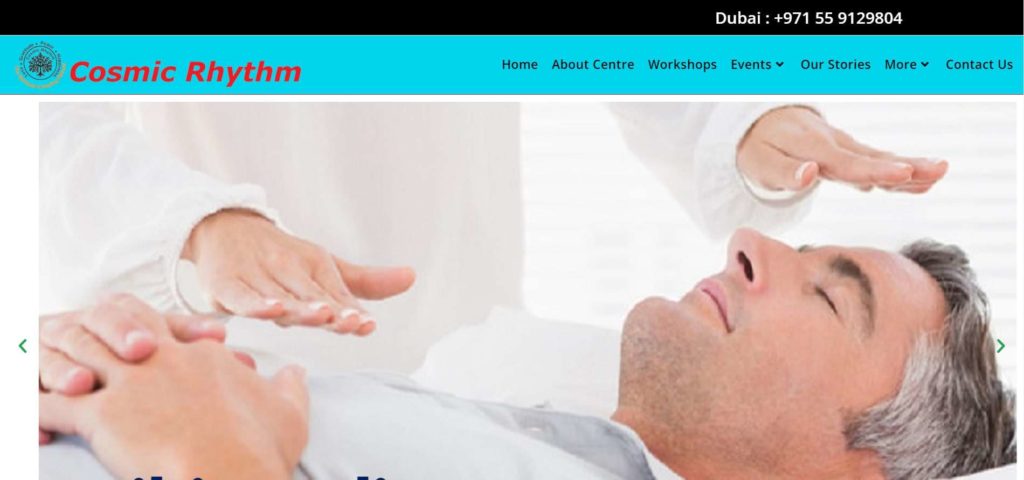 | Test | Info |
| --- | --- |
| SERVICES | Reiki |
| WEBSITE | https://cosmicrhythmworld.com/ |
| ADDRESS | The Greens - Dubai - United Arab Emirates |
| CONTACT DETAILS | +971 55 9129804 |
| OPERATING HOURS | Every day: 8 AM–5 PM |
| | |
| --- | --- |
| Criteria | Ratings |
| Experience | ★★★★★ (5/5) |
| Range of Treatments | ★★★★☆ (4/5) |
| Attitude | ★★★★★ (5/5) |
| Process | ★★★★★ (5/5) |
Integrating a holistic approach to foster growth in everyone, Cosmic Rhythm has built a transformational institute both in Dubai and in India.
The reiki master and co-creator of the center, Akhilesh, has been practicing and conducting psycho-spiritual workshops for the past 20 years.
He has gone through the teachings of many Western reiki masters and has created his own approach that focuses on introspection.
We think it's highly impressive that a reiki master has managed to not only practice the art for 2 decades but also build a center for personal growth in 2 countries. It speaks volumes about the dedication that Akhilesh has.
Akhilesh conducts workshops that walk through negative energies such as Regression Sessions, Deep Memory Healing & Freedom Workshop, and many more.
Suffice to say, these workshops lean toward Akhilesh's learnings from the Western Usui form of reiki, which involves innovative approaches to the healing journey.
That being said, it's definitely not for everyone, as some may be looking for a much more traditional Usui reiki experience.
We tried out a regression session, and we were surprised at how cheerful our reiki practitioner was. It really helped because we knew it involved sharing personal experiences, and his demeanor instantly helped us let our guard down
We also enjoyed the whole process. It was more social than we expected — in a great way.
Our master guided us to experience our own depth/subconscious where all the past memories are stored. This helped us gain insight, and shift our mindset to a positive light.
All in all, we were delightfully surprised at its unique approach to reiki. We love that our master engaged with us so easily and helped us open up so that they can heal our negative energies.
Reiki master has 20 years of experience
Has a wide range of reiki treatments
Reiki master was engaging and sociable
Does not have traditional reiki treatments
Customer Reviews
A surprisingly amazing experience
"I honestly went without any expectations but I was pleasantly surprised with this course. I never thought I could feel the energy. Master Akhilesh is sooo humble and the whole process was sooo effortless that I am definitely coming for the level 2. Thank you soo much." —Insiya Tinwala, Google Reviews
Kudos to the skilled reiki masters
"I had a reiki healing session at Cosmic Rhythm. One session brought my emotional balance back. Kudos to these skillful and kind people. I highly recommend their service to folks with stress/anxiety issues." —Anatoly Shamkin, Google Reviews
2. Hands in Hope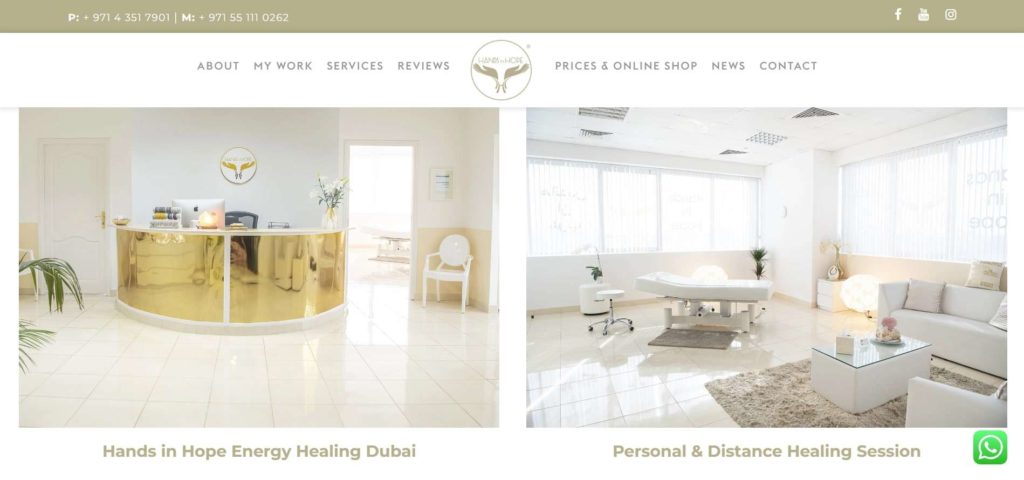 Test
Info
SERVICES
Reiki
WEBSITE
https://www.hands-in-hope.com/
ADDRESS
Hands in Hope Meditation Centre L.L.C., Jumeirah Terrace Building. Office 214, 2nd floor, Jumeirah 1, P.O. Box 75590, Dubai, UAE
CONTACT DETAILS
+ 971 4 351 7901

+ 971 55 111 0262

OPERATING HOURS
Every day: 8 AM–6 PM
| | |
| --- | --- |
| Criteria | Ratings |
| Experience | ★★★★☆ (4/5) |
| Range of Treatments | ★★★☆☆ (3/5) |
| Attitude | ★★★★★ (5/5) |
| Process | ★★★★☆ (4/5) |
Believed to be destined to become an energy healer since she was a child, Barbara inherited the talents of her grandmother and now uses it to heal people from all over the world.
She has been learning the art of reiki since she was young in Germany, and has slowly earned the trust of doctors and operated with them for quite some time.
But surprisingly, she has only been licensed and started operating in Dubai back in 2013.
And while we think this doesn't matter since she has 3 decades worth of experience under her belt, her only working in Dubai for 9 years means that she is still learning about the culture of the country.
When it comes to her range of treatments, she does two things best: energy healing and distance healing.
And while having two treatments may not seem much, these actually have an array of benefits to mental, physical, and spiritual health.
Her treatments have helped countless clients who suffer from stress, anxiety, depression, and other mental challenges.
However, these treatments are also of the Western Usui forms, and widely divert from the traditional teachings of Eastern Usui reiki. So if you're looking for the traditional reiki experience, you won't find it here.
When we had a session with Barbara, we loved how warm she was. Besides that, we can really tell how masterful she is at what she does.
Every movement she made during the treatment was full of intention, and the way she would phrase her questions during our pre-session was expertly done to help us slowly open up.
The process got us there, too. Everything we did, we were surrounded by the bright sunlight that poured into her center's windows. The whole place felt heavenly and calming, even though at times, the white upholstery, sheets, and furniture felt a bit clinical.
All in all, Hands in Hope is one of the best reiki places in Dubai, solely because of Barbara's mastery of the craft.
Master reiki with 3 decades of experience
Warm and masterful attitude during sessions
The place is warm, bright, and peaceful
Only offers the Western style of reiki
Master reiki only started practicing in Dubai in 2013
Customer Reviews
Changed my life for the better!
"Barbara is the most loving caring and warm-hearted lady. She has helped me in ways I'll never be able to describe. When I first saw Barbara I was in a dark and cloudy place I felt lost even though I had what some may describe as a wonderful life and so much to be grateful for. I was so emotional, Sensitive, and very down. She has completely gotten rid of the negative energy, that I felt and has awakened my body and soul. I now feel alive again and so so happy I can't thank Barbara enough! She is wonderful. Please do
go and experience this life-changing experience." —Fiona Nash, Google Reviews
Saw a huge difference within myself
"I went to Barbara for two sessions. I noticed a huge difference after just one session. I felt much more calm and happy. Barbara is a very professional, warm, and welcoming lady. I have already recommended family and friends to go to her." —Niamh Boyle, Google Reviews
3. Illuminations Well Being Center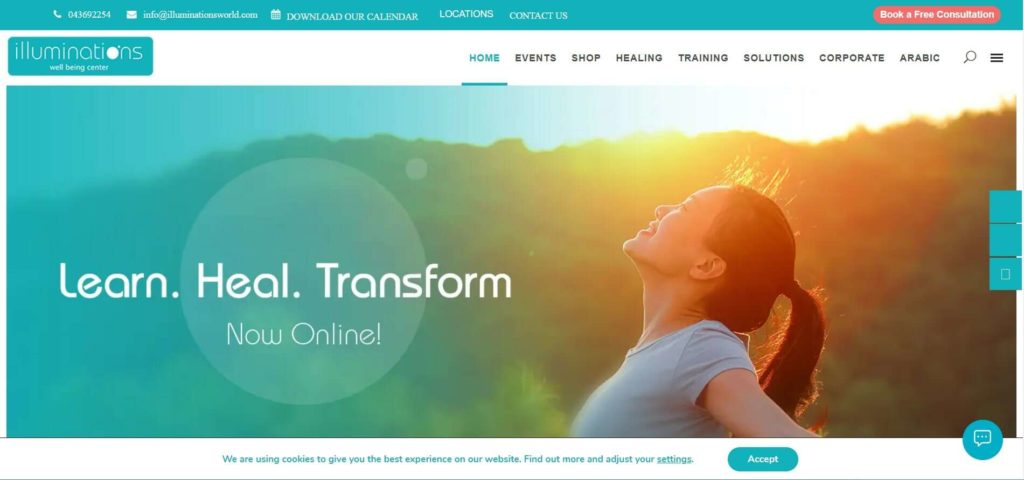 | Test | Info |
| --- | --- |
| SERVICES | Reiki, Mind Sciences, Energy Healing, Meditation Classes, Yoga Classes, Wellness Retreats, Therapy, Personal Growth Workshops, Readings |
| WEBSITE | https://illuminations.ae |
| ADDRESS | 409, Fortune Executive Towers, Cluster T, Plot T1, Jumeirah Lakes, Towers – Dubai –UAE |
| CONTACT DETAILS | +971 4 448 7043 |
| OPERATING HOURS | Every day: 8:30 AM–9:30 PM |
| | |
| --- | --- |
| Criteria | Rating |
| Experience | ★★★★☆ (4/5) |
| Range of Treatments | ★★★★★ (5/5) |
| Attitude | ★★★★☆ (4/5) |
| Process | ★★★☆☆ (3/5) |
A pioneer in Dubai's well-being movement since 2006, Illuminations Well Being Center began by organizing non-profit events about discovering and exploring the powerful resources residing within the inner self.
While a younger center compared to others, Illuminations started out with a bang. It paved the way for all other reiki masters to start doing their craft in Dubai.
The result is a multi-award-winning well-being center with holistic services and treatments, on top of a loyal community that has been going to it for years.
And we found that it's easy to be a part of one because of its wide range of healing therapies. From energy medicine and spiritual healing to mind sciences and meditation classes.
For reiki, the center has numerous styles which it offers, such as the Usui System of Reiki, the Karuna Reiki System, and also the Violet Flame Reiki System.
However, when it came to our reiki session with Illuminations, we found that our reiki session felt disconnected and common.
The reiki master asked generic questions, and we felt like she was just going through the motions. We were a bit underwhelmed by our whole session.
And the center didn't help get us to the right mindset, either. It felt cluttered and a bit hectic because of so many things happening all at once.
With classes, sessions, and workshops happening left and right, our minds were already distracted before we even stepped into our session.
Despite that, it is undeniable that Illuminations Well Being Center is the best when it comes to offering a wide range of healing treatments.
Pioneers of Dubai's well-being movement
Multi-award-winning well-being center
Offers numerous styles of reiki
Offer numerous healing therapies
Reiki sessions are underwhelming
The center felt hectic
Customer Reviews
Absolutely amazing experience!
"I had a Reiki training with Nada Sader. Absolutely amazing experience. It is with great pleasure to recommend Nada as a teacher. She is the best teacher I ever had. Very precise with huge knowledge. Individual approach to each student. She has a power to inspire the people and you can feel she is doing things from the heart." —Edyta, Google Reviews
Always consistent with their services
"Because so far experience and in particular with Irina as a specialist and her services and her training has been one of the best received. Always consistent and you can tell she delivers whatever she's doing with passion a high level of integrity and care for her students and her clients.
Also I feel a part of the space because you recognize and serve me well. Thank you" —Ghada Zakaria, Google Reviews
4. Shiromi Divine Healer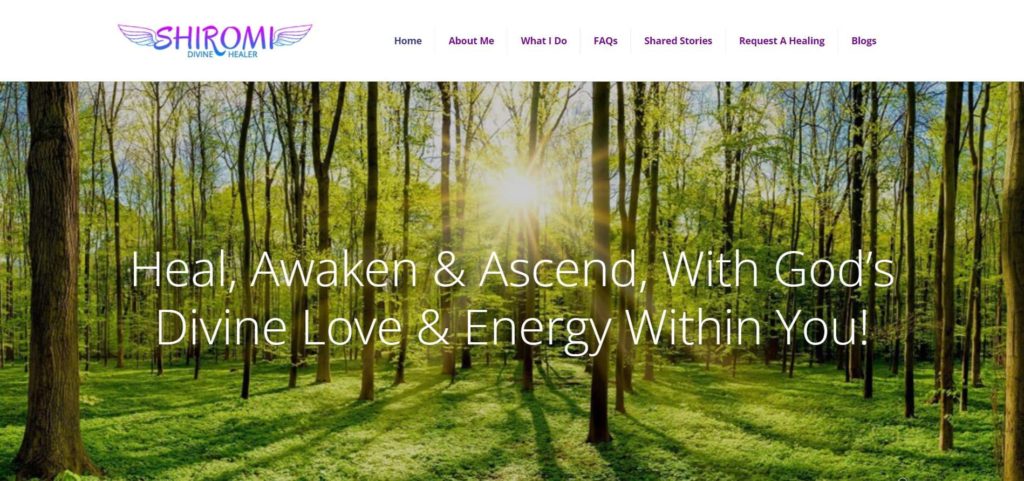 | Test | Info |
| --- | --- |
| SERVICES | Reiki |
| WEBSITE | https://yourdivinehealer.com/ |
| ADDRESS | Plazzo Heights District 10, Street 9 Jumeirah Village Circle, JVC - Dubai - United Arab Emirates |
| CONTACT DETAILS | +971 50 879 9481 |
| OPERATING HOURS | Open 24/7 |
| | |
| --- | --- |
| Criteria | Ratings |
| Experience | ★★★★☆ (4/5) |
| Range of Treatments | ★★★★☆ (4/5) |
| Attitude | ★★★★★ (5/5) |
| Process | ★★★★★ (5/5) |
If you're looking to experience reiki more of as a spiritual healing experience, then Shiromi is a favorite master.
With the strong belief that she works with divine beings to send the energy of deep healing vibration to her clients, Shiromi awakens the soul and helps them shake off the negative energies surrounding them.
We love Shiromi is a veteran and has been learning and practicing reiki for multiple decades now. Her dedication to becoming a healer is not only amazing, but it also has shown its fruits in the mastery of her skills.
The range of treatments she offers is only limited to 4: private healing sessions, distant healing, group healing, and pet healing.
And while it is fewer than other entries, we found that these 4 basically cover up all the bases, and even include niches like healing animals, too.
When we came for a session with Shiromi, we loved how open and unassuming she is. She first opened up about her practice so that we can open up to her easily.
And it's amazing to see a woman of such authenticity to the extent that we can really tell that her healing process, guided by diving forces, surprises her up to this day.
All in all, going to Shiromi is more than just alleviating pain, in every sense of the word. It's also a spiritual experience that uplifted us and opened us to forces that we surely will never take for granted.
Spiritual-centric approach to reiki
Range of treatments cover all basis of energy healing
Down-to-earth and open reiki master
Case-to-case process
Lacks accolades
Fewer treatments compared to others
Customer Reviews
She helped me feel better
"First of all I wanna say Thank you Shiromi, Thank you for coming in my life! Thank you for you amaizing person! Thank you for helping me overcome my traumas and my fears, Thank you for helping me opening my heart again! Thank you!
I had experienced big traumas in my life in whereby one trauma had broken my heart and soul with alot of scars and blockages, and then another big trauma in the same time, I was so emotionally unstable and unbalanced from being such a happy person, I had forgoten myself 1.5 year. Shiromi came in my life and helped me in a very short period of time to become a happy positive and open person again. Amaizing experinece and amaizing person who helped me with alots of love and peace. Thank you!" —Ines Durak, Google Reviews
The best person for the healing journey
"Shiromi is blessed with the gift of healing, which has supported me on my journey of rediscovering myself. She is extremely welcoming and her home is equally as inviting and peaceful. Her sessions are a space in which a person can truly be their authentic self, without judgement or reservation. The healing left me feeling balanced, joyful and purposeful. I have gained clarity, serenity and positivity – I am a new person! If you are seeking inner transformation, I would highly recommend Shiromi!
Thank you for being a part of my journey Shiromi 🙂" —Balwinder Kaur, Google Reviews
5. Miracles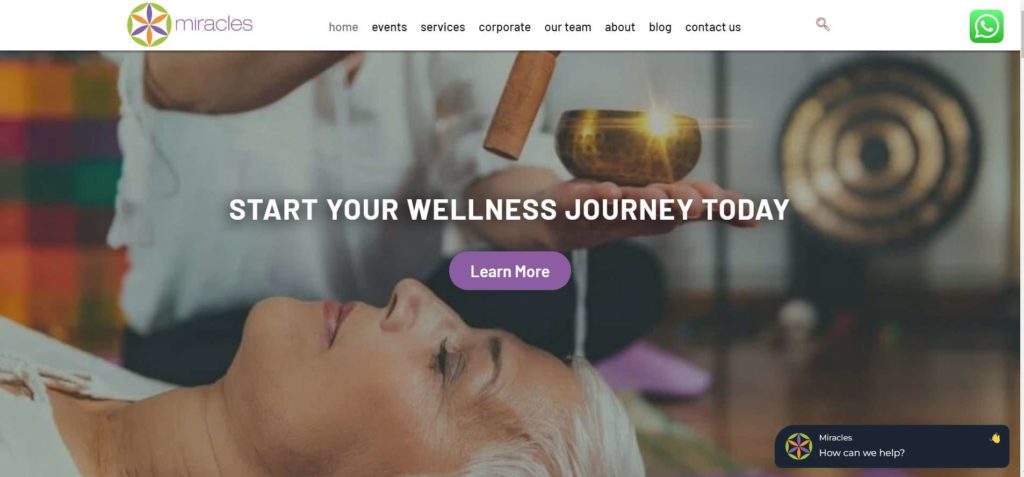 Test
Info
SERVICES
Mind mastery and life skills, energy healing, consciousness therapy, love and relationship counseling, health and body therapy
WEBSITE
https://miraclesworldwide.com/
ADDRESS
Icon Tower - 306 - Dubai - United Arab Emirates
CONTACT DETAILS
+971 (0) 4 363 9307
OPERATING HOURS
Monday to Friday: 9 AM–7 PM

Saturday to Sunday: 9 AM–9 PM
| | |
| --- | --- |
| Criteria | Ratings |
| Experience | ★★★★☆ (4/5) |
| Range of Treatments | ★★★★★ (5/5) |
| Attitude | ★★★★★ (5/5) |
| Process | ★★★★☆ (4/5) |
Committed to improving lives through alternative therapy techniques, Miracles employs the power of reiki to guide clients out of emotional turmoil and provide peace of mind.
What we love about the center is that no two of its practitioners offer the same approach to energy healing. Each one of them does a different form of reiki, thus, our experience varied.
However, the more we think about it, the more we start to realize the lack of consistency throughout their reiki masters is for the lack of focus that comes with the center's young age.
This is very apparent in the varying process of each reiki master. While all of them are keen to adapt to what we were comfortable with, everyone started off vastly different from the other
It has only started in Dubai a few years ago, and it is noticeable that Miracles lacks focus on the type of reiki it wants to offer to its clients.
All of the reiki masters have something in common, though, and that is the calm and peaceful demeanor that we all expect from a spiritual healer.
All in all, Miracles offers variety in a service that provides stability and peace, for better or for worse. While seemingly unconventional, this newcomer to the reiki scene may be the solution for individuals looking for something different.
Reiki masters have different approaches
Accommodating and calming reiki masters
Reiki experience varies depending on the reiki master
Center lacks focus on one reiki form
The process is inconsistent
Customer Reviews
Never felt that sense of peace before
"Had the most amazing unexpected experience at Miracles Dubai with Jane Elizabeth, I've never meditated before but a friend recommended to help with stress and not sleeping. I attended a sound healing class and have to say it was life changing! I came out feeling relaxed, happy, like I could conquer the world again and had the best nights sleep in months!!! Thank you so much Jane, I can't wait to be back and try some of the other classes! 🌙 I can't recommend this enough to anyone feeling sad, stressed or even just wants a night of total relaxation." —Laura Wojciechowski, Google Reviews
Worth every cent
"I attended the Self Acceptance Meditation by Helen. The cost was 84 AED and I feel it was worth every cent. A blanket, eye mask and water were all provided and it was very peaceful. I will definitely be back for other Meditations and workshops." —Mazen Hasan, Google Reviews
FAQs about Reiki in Dubai
---
We hope this helped you find centers for reiki in Dubai. If you're looking for other self-care articles, then check these out: