The 5 Best Car Financing Companies in Dubai
Cars are expensive. Getting one without financial assistance will reduce a huge chunk of your savings, provided you have enough to manage to pay it all in one go.
Unfortunately, not everybody has a lot of money to buy a car without relying on a loan or financing. Even if some can afford to do so, they choose to rely on a loan's method of installment payments because it would be lighter on their bank account.
If you're aiming to grab your dream car soon, here are the best car financing companies in Dubai to help you!
How Much Does Car Financing Cost?
It depends on the financial institution (eg. third-party loaning services, banks) you're engaging with.
The usual minimum for most banks is around 20,000 AED ($5,445.19). In addition, the average maximum ranges from 500,000 AED ($136,124.79) to 1,000,000 AED ($272,249.59)
Banks usually ask for 20% of the total price of the car as a down payment from you, so keep that in mind!
The following is a table showing the average interest rates of some of the companies' auto financing offers in Dubai. Included are the company's processing fee, the total amount to be financed, and the interest rate.
| Test | Info | additional 1 | additional 2 |
| --- | --- | --- | --- |
| Company | Max Finance Amount (in AED) | Interest Rate (in %) | Processing Fee |
| ADCB New Car Loan | 500000 ($136,124.79) | 2.75 | 1% |
| ADCB Used Car Loan | 500000 ($136,124.79) | 3.25 | 1% |
| Dubai Islamic Bank Al Islami New Car Finance | 1000000 ($272,249.59) | 2.99 | 600 AED ($163.35) |
| Dubai Islamic Bank Al Islami Used Car Finance | 1000000 ($272,249.59) | 3.49 | 600 AED ($163.35) |
| Emirates Islamic Bank Intaleq Used Car Finance | 250000 ($68,062.40) | 4.99 | 2% |
| Emirates NBD Fixed Deposit New Auto Loan | 250000($68,062.40) | 4.25 | 2% |
The Best Car Financing Companies in Dubai
Making a decision that entails you engaging in a monthly payment basis with a bank or a loan provider is no easy feat to make. Financial-related decisions are always difficult.
To decide on what financial assistance you'll be availing yourself when you purchase your dream car, you need to consider a lot of information first.
To help you out just a little bit, we assessed the following companies based on different factors:
1. MoneyDila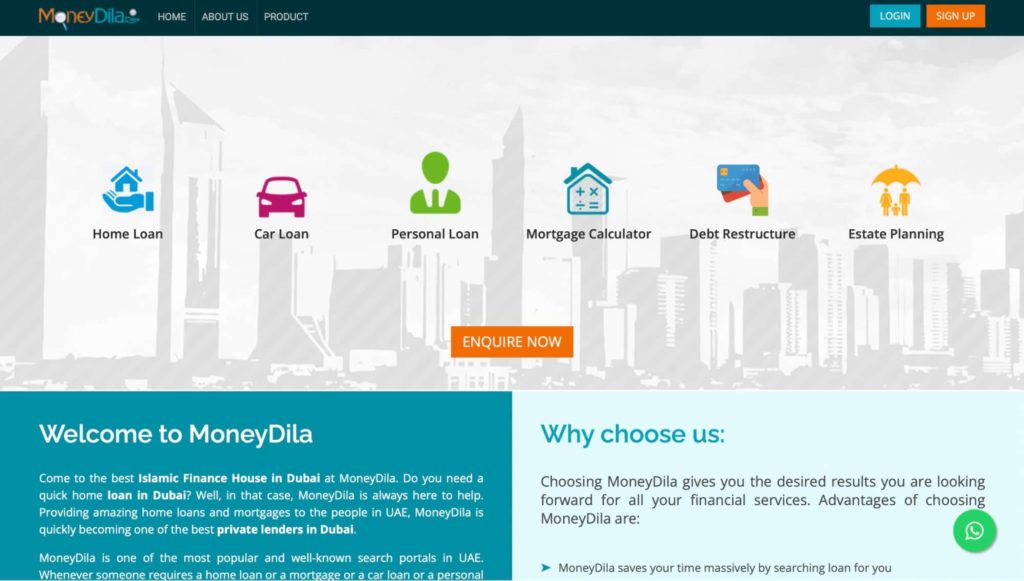 Test
Info
PRODUCTS
Home Loan

Car Loan

Personal Loan

Mortgage Calculator

Debt Restructure

Estate Planning

WEBSITE
http://www.moneydila.com/about-us.php
ADDRESS
507, Burlington Tower, Al Abraj Street, Opposite Oberoi Hotel, Business Bay, Post Box number 28173, Dubai, United Arab Emirates
CONTACT DETAILS
Phone: +971 4 332 0030

E-mail: [email protected]

OPERATING HOURS
10:00 AM – 7:00 PM (Saturday - Thursday)
| | |
| --- | --- |
| Criteria | Ratings |
| Requirements | ★★★★★ (5/5) |
| Loans | ★★★★★ (5/5) |
| Process | ★★★★☆ (4/5) |
| Service | ★★★★★ (5/5) |
MoneyDila is a financial house dedicated to providing different personal loans for its customers. The company houses most of its services in an online portal, where potential clients can browse available plans and offers through their online catalog.
The company offers different loans for new and used cars from banks and financing companies they've partnered with. While they don't directly offer their loans to customers, MoneyDila becomes a mediator of sorts for a processing fee.
They offer services that allow customers to choose how their plans would go, such as picking the interest rates, amount of loan, time to pay it back, and more. From there, the company would find a partner company that can fulfill those factors.
However, if you're not keen on third-party companies that don't offer their loans, then you might want to look elsewhere.
What we like about this company is its search engine method of presenting the information. Clients can look in advance for loans or financing that fit them before sending a call for a consultation with the staff.
Unfortunately, this is also where we will point out something we didn't like. The website, for all its functionality, gets confusing. MoneyDila markets its online platform as something that is easy to read and browse through.
Sadly, it isn't as user-friendly during our test. The "search for car loans" feature gets confusing, and some errors were spotted.
We recommend calling them instead for a personal, one-on-one consultation. This recommendation also coincides with the next point we'd like to raise: their service.
Customers that we've conversed with shared their great experience iterating and engaging with the staff of MoneyDila. Staff were amiable, insightful, and fast to respond.
Loans for new and used cars
Fast response
Insightful staff
Matches a loan to your specific needs
Indirect loan offers
Website
Customer Reviews:
Great Service
"Mr. Ashfaq was very amiable and insightful from start to the very end. He provided an informative and coherent introduction to estate planning at our first consultation, collected relevant information from me, and brought up important points to consider. I give Mr. Ashfaq a high recommendation for the reasons being the care he took to incorporate my input into the documents. As well as, providing professional feedback and letting me decide what I thought was best for my family in specific . The documents he drafted provided for thorough handling of a variety of scenarios and were very well contextually executed. Mr. Ashfaq and staff at MoneyDila provided a beneficial service. Could not have done anything better and we have already recommended MoneyDila to some people." -Mohammed Nadeem
2. Carswitch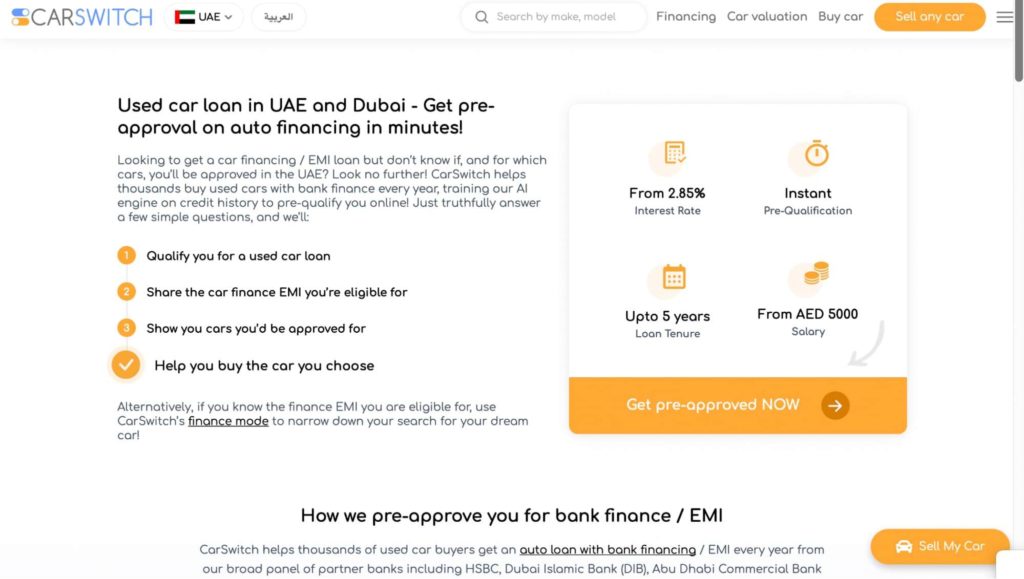 Test
Info
PRODUCTS
Financing

Car Valuation

Car Selling

WEBSITE
https://carswitch.com/car-financing
ADDRESS
Cluster O, Jumeirah Lakes Towers, Dubai, United Arab Emirates
CONTACT DETAILS
Phone: +971 4 506 1300

E-mail: [email protected]

OPERATING HOURS
10:00 AM – 8:00 PM (Sunday - Thursday)

11:00 AM – 8:00 PM (Friday)
| | |
| --- | --- |
| Criteria | Ratings |
| Requirements | ★★★★★ (5/5) |
| Loans | ★★★★★ (5/5) |
| Process | ★★★★★ (5/5) |
| Service | ★★★☆☆ (3/5) |
Carswitch is a buying and selling platform for used cars. Aside from facilitating or assisting car owners and potential car owners to get the car they want, the company also specializes in financial assistance.
The company works with other partner financial institutions to provide loans for customers who wish to buy a used car from their roster. If you're not a fan of this kind of loan service, then we suggest looking the other way.
Carswitch does not shy away from informing its website visitors on which banks they partnered with. Partner institutions include HSBC, Dubai Islamic Bank, and Emirates NBD.
This wide range of partner banks allows them to provide more loan offers to their customers. So if you're looking for a company that can give you many options, and pre-process your chosen loan for you, then you could give Carswitch a try.
While all those previously mentioned points make the company great in our eyes, we must also point out something we didn't like about the company.
First is that their customer service tends to vary since customers we've talked with shared mixed opinions on the company staff's response. Some staff was reported to be very good and responsive, while some were just either bad or inexperienced.
Overall, we recommend this company for their wide range of car loans available. In addition, Carswitch specializes in handling financing for used cars.
Definitely check them out if you're looking for a used car financing plan!
Up to 5 years for loan tenure
Wide range of partner banks for loans
Varying customer service quality
Used car financing only
Customer Reviews:
Timely Coordination
" Carswitch is a best platform for buying and selling cars in uae. As one of their customers in buying a car, I have experienced their loyal and timely coordination during each level of car buying process. As I was living in ruwais, for us, it was very difficult and almost impossible to view the cars at seller's location during weekdays. Carswitch's comprehensive and sophisticated inspection process earned my trust in certain level so that I decided to rely on their inspection report rather than my basic car pre-purchase inspection. After paying the reservation fee, Mr mohammed Ashar, who's is one of the efficient and supportive member of carswitch's team continuously and effectively coordinated with me and seller the whole time. They also helped me to clear all the paper work from dubai without even my presence there. I specifically thank Mr. Sufiyan for that. He was very supportive. They have contacted my recovery vehicle guy and transported my car to abudhabi where my friends collected the car there.The next day I travelled to abudhabi to register the car. I am very happy with their service and extend my warm regards to Ashar and Sufiyan." – Anas Akbar
3. UAE Auto Loans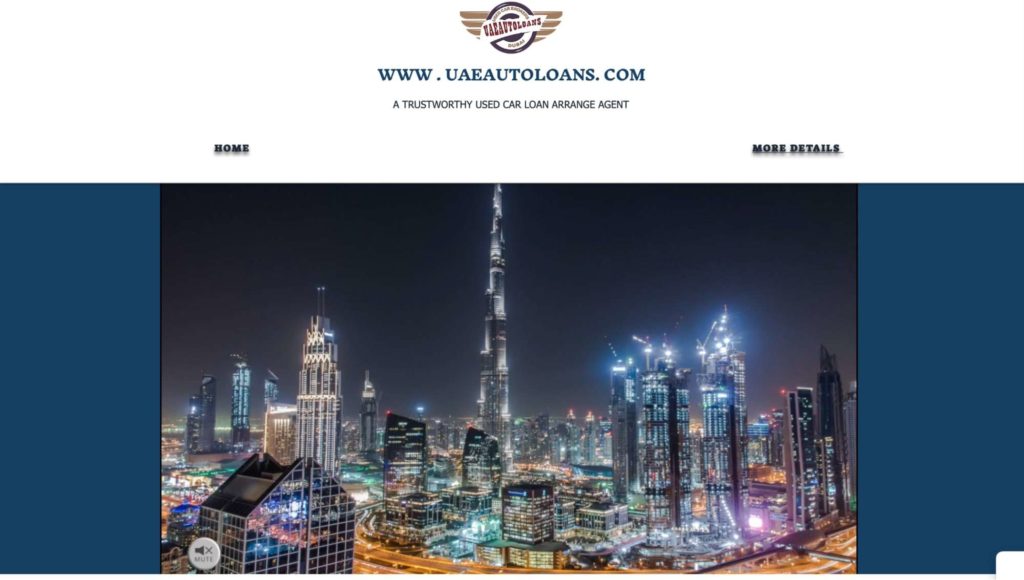 Test
Info
PRODUCTS
Auto Loans for Used Cars
WEBSITE
https://www.uaeautoloans.com
ADDRESS
148 Beirut St, Muhaisnah, Muhaisnah 4, Dubai, United Arab Emirates
CONTACT DETAILS
Phone: +971 4 259 2116

E-mail: [email protected]

OPERATING HOURS
9:00 AM – 8:00 PM (Saturday - Friday)
| | |
| --- | --- |
| Criteria | Ratings |
| Requirements | ★★★★★ (5/5) |
| Loans | ★★★★☆ (4/5) |
| Process | ★★★★☆ (4/5) |
| Service | ★★★★★ (5/5) |
UAE Auto Loans is a company that specializes in offering used cars with or without the bank assistance. They provide services for individuals and companies alike.
Established in 2014, the company allows its clients to purchase used cars through cash or via a car financing package offered by a bank. UAE Auto Loans allows a loan tenure of one to five years provided that the car you will be buying is within the range of models they support.
This is where one of the not-so-great things about this company comes in. The establishment only offers car loans for models made from 2013 and above.
In addition to this, they don't provide a list of banks they've partnered with. It's best to visit their location or give them a call to get more details.
Amidst these limitations, the company is notable for its efficient service to its customers. According to the people we've conversed with, regardless of the 500 AED ($136.13) service charge, UAE Auto Loans provides experienced and great service.
When it comes to processing transactions or the loans, the customers we've talked to shared that they only handed the necessary documents. The company then did the rest and made sure to update them every step of the way.
Now that's great, right?
Regardless of the company's limited range in terms of the product themselves, UAE Auto Loans provides quality service for its customers. We recommend checking this company out if you're on the market for a used car that was made post-2013.
Good staff response
Great service
2012 models and below not supported
Used cars only
Customer Reviews:
Excellent Service, Easy Process
"They are very genuine people who will be with you through out buying process untill your dream car get registerd in your name . Especially Mr. Deepak who have very good experience with used car. They will make your paper works very easy. Give you time to time update on steps to follow. They will explain the process clearly from the first meeting itself . Mr Gopu and Vishnu are your go to man. Excellent service, easy process .just get your documents ready ,they will take care of the rest ,even though there are so many hurdles to clear." – ijaz411, via Google Reviews
4. Dubai Islamic Bank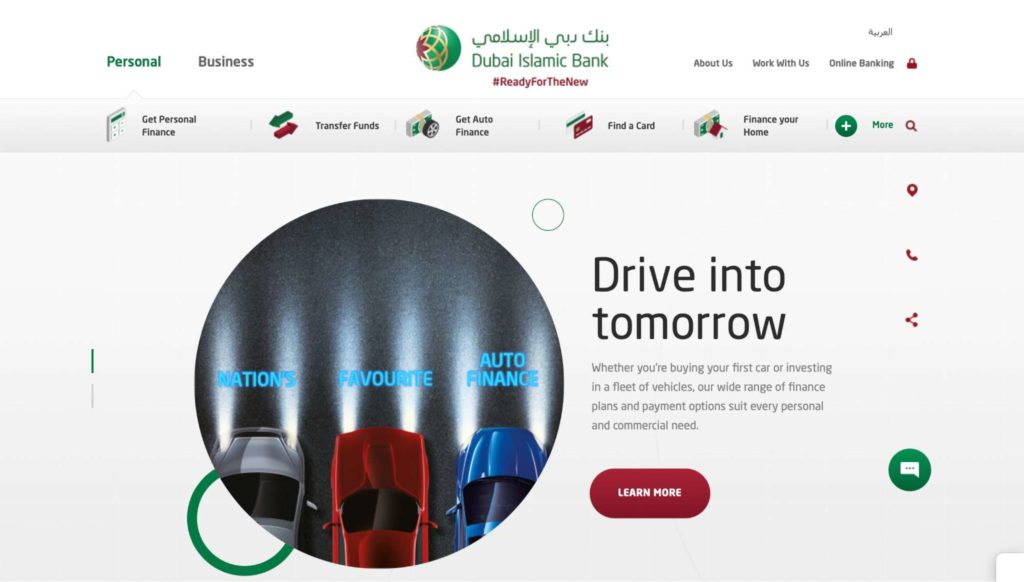 | | |
| --- | --- |
| Criteria | Ratings |
| Requirements | ★★★★★ (5/5) |
| Loans | ★★★★★ (5/5) |
| Process | ★★★★★ (5/5) |
| Service | ★★★☆☆ (3/5) |
Established in 1975, the Dubai Islamic Bank has a lot of years of handling different financial services and inquiries.
When it comes to lending money to customers, the company provides different plans and types of loans. Auto or car financing is one of the many services the bank offers.
One of the things we observed about this company is that aside from the different loan offers up for grabs, they also offer up to 5 years of tenure. This means that you can pay your loan on a five year-installment basis!
Unfortunately, the bank only offers financial assistance for a limited range of car models. You cannot avail of their loaning services with a car model that's past ten years old.
This limited support is unfortunate, and one of the things we didn't really like about them. If you're eyeing a model that was made more than ten years ago, then this bank cannot help you with financing.
Another thing we would like to point against this establishment is their varying quality of customer service. Since the company has varying branches around Dubai, we got reports of mixed opinions about staff assistance and response.
Some dealt with rude staff and slow or inefficient assistance during their visit. On the other hand, other branches had good staff that provided great service.
Overall, we recommend this bank for their experience in handling loans and other financial services. This bank is one of the common partners you'll see when looking at companies that provide third-party loan services.
That means they have interacted with other customers with varying needs, and have the experience to provide the loan you'll need.
Different financing plans
Up to 60 months tenure
Finances models up to 10 years old only
Varying customer service quality
5. Emirates NBD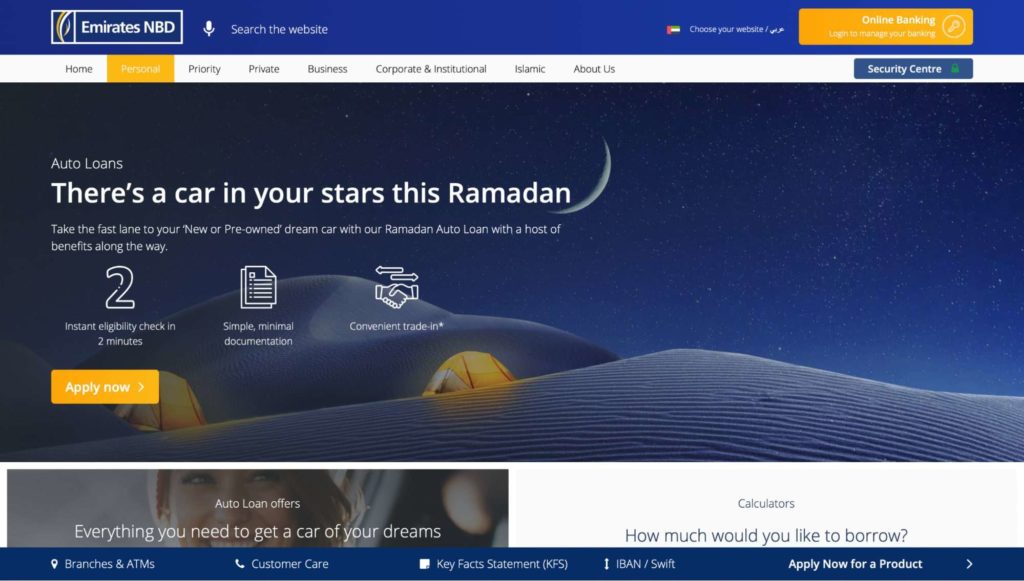 | | |
| --- | --- |
| Criteria | Ratings |
| Requirements | ★★★★★ (5/5) |
| Loans | ★★★★★ (5/5) |
| Process | ★★★★★ (5/5) |
| Service | ★★★☆☆ (3/5) |
Emirates NBD is a banking company that offers various financial services for individuals and companies.
This bank, initially established in 1963, was meant to be the first national bank of Dubai. Now it sits as the main flagship banking institution of Dubai.
When it comes to car financing, the company provides various auto loans that can cater to their customer's needs. As mentioned earlier, these offers are available for companies or individuals.
We must point out that there are certain differences depending on who's asking for a loan. Take, for example, the bank's auto loan downpayment policy.
Unfortunately, only companies can get the 10% to 0% downpayment requirement. Individuals are required to pay a 20% downpayment to the bank when availing of a car loan.
There are no limitations when it comes to which cars can be put on loan. So that's a plus point from us!
Aside from various loan options, the company also provides a 24×7 contact center for inquiries and concerns. This is great for contacting them outside their on-site location.
Unfortunately, we would like to point out the customer service on the site itself. The customers that we've conversed with shared that they had bad experiences with the bank's staff.
Some, however, report that they got a staff member that was helpful and energetic. This mixed quality when it comes to customer service is something we'd like you to put into consideration.
Different loan options
24/7 contact center
Limited customer support
0% downpayment only available for companies
FAQs About Car Financing in Dubai
---
And that's a wrap! We hope that this piece has given you an outlook on some of the companies that offer car financing in Dubai.
If you're interested in looking for other financial-related information, check out our piece on the best accountants in Dubai. Click on the link here!