The 5 Best Vinyl Flooring Shops in Dubai
Vinyl flooring is one of the cheapest options for homeowners.
Coming in different looks and prints, this kind of flooring has attracted the attention of buyers for its price and how easy it is to maintain. If you're on the lookout for good flooring shops that sell them, we got you covered.
Here are our recommendations for the best vinyl flooring shops in Dubai, to help you pick the right establishments for your next shopping trip!
How Much Does Vinyl Flooring Cost?
There are different kinds of vinyl flooring in the market. Namely, they are regular vinyl floorings and luxury vinyl tiles (LVTs).
In general, regardless of type, vinyl floorings are made of polyvinyl chloride plastic (PVC). Even if they are made with a plastic material, they can still look like hardwood, stone, or ceramic thanks to the design on the flooring's surface layer.
Pricing usually depends on different factors: the brand, the distributor, the color, the finish, and the type of vinyl flooring, to name a few. We can provide an estimation based on what we've seen so far, depending on the design of these vinyl floorings.
See the following table for the price estimation of vinyl flooring, per square meter:
| Test | Info |
| --- | --- |
| Vinyl Flooring Type | Price (per m2) |
| Plain-colored | 135 AED - 235 AED |
| With design/printed | 73 AED - 136 AED |
| LVT | 85 AED - 235 AED |
This estimation does not come with the installation costs. On average, you can expect prices to start around 25 AED per square meter or more, depending on the method you choose for the installation (and the company, of course).
The Best Vinyl Flooring Shops in Dubai
We've assessed the companies in this list based on the following criteria:
1. Floorworld LLC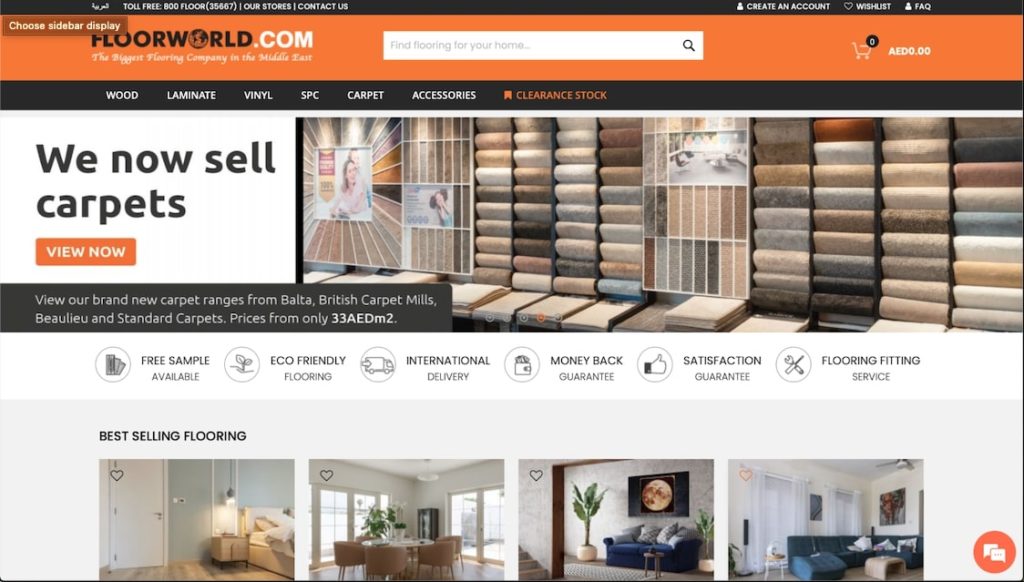 Test
Info
PRODUCTS
Wood Flooring

Engineered Wood Flooring

Parquet Flooring

Laminate Flooring

Vinyl Click Flooring

Luxury Vinyl Tiles

SPC

Carpet Tiles

Rugs

Accessories

WEBSITE
https://www.floorworld.com/en/luxury-vinyl-tile-flooring
ADDRESS
Dubai Festival Plaza (more branches here
)
CONTACT DETAILS
Phone: +971 4 251 4898


E-mail: [email protected]

OPERATING HOURS
10: 00 AM - 11: 00 PM (Sunday - Wednesday)

10:00 AM - 12: 00 AM (Thursday - Saturday)
| | |
| --- | --- |
| Criteria | Ratings |
| Variety | ★★★★★ (5/5) |
| Services | ★★★★☆ (4/5) |
| Pricing | ★★★★☆ (4/5) |
| Space | ★★★★★ (5/5) |
This place does not shy away from giving you options!
Floorworld, a flooring company established in 2009, specializes in supplying and installing different kinds of floorings. We've noticed that the company focuses more on selling European branded products such as Swiss Hardwoods and Karndean.
When it comes to variety – there are a lot of options to choose from, truly. The company offers two types of vinyl flooring: (a) vinyl click flooring, and (b) luxury vinyl tiles.
These vinyl products also come in different colors, designs, and finishes.
When it comes to services, the company offers installation and delivery services for its customers. However, we must note that their installation… is a little pricey.
Compared to the average pricing that we've observed, Floorworld LLC's installation offers start at 25 AED on average, which is great – but you can easily rake up charges up to 50 AED per square meter.
They also charge more if your flooring needs extra preparation for the installation.
Aside from installation, the company also offers removal of existing flooring and subfloor preparation. We like that they offer a lot of services related to floor maintenance and installation.
Now, of course, the company does have a variety of services, but how do their staff fare in giving them to their clients? Well, we noted that the company has helpful and efficient staff and technicians.
Speaking of prices, Floorworld LLC offers average prices for their floorings. For their two types of vinyl flooring, prices range from 83 AED to 235 AED.
The company lands in the cheap starting price range, compared to what we've seen in the market. If you have the extra budget, you can splurge more on their high-end floorings.
Overall, their wide pricing range allows clients to pick depending on their budget and allows others to splurge for more expensive ones if the opportunity presents itself.
Now, when it comes to the space itself – Floorworld LLC has multiple branches around Dubai. For this review, we'll be talking about their Festival Plaza branch.
The company actually does a nice job when it comes to their showroom – because when you enter their location, you can easily discern where specific flooring types are.
They are displayed nicely on the wall as well. While you can't see how it will look on an actual floor, the company's wide, white walls allow you to scrutinize the design and finishes of their products closely.
Their space is also wide enough for easy exploration without being lost or overwhelmed – so that's a plus point for them!
When it comes to parking spaces visitors might have a difficult time with their cars. We recommend not visiting during peak hours to avoid the hassle.
Floorworld LLC is a convenient place to visit for its multiple branches and a wide variety of products to choose from. With its overall average prices, potential customers can give this company a try for their flooring needs!
Variety
Provides installation services
Has multiple branches in Dubai
Pricey installation fees
Not a lot of parking space
Customer Reviews:
Great Quality
"One of the best flooring companies to work with. We are so satisfied with the team of Floorworld for our recent projects. I must say that, they have best finishing results, collaboration. Best wishes. We'll be together for further projects too. Thank you (Floor World & Mohammed Junaid)." – Zaawaya Interior Design
2. Floors N Decks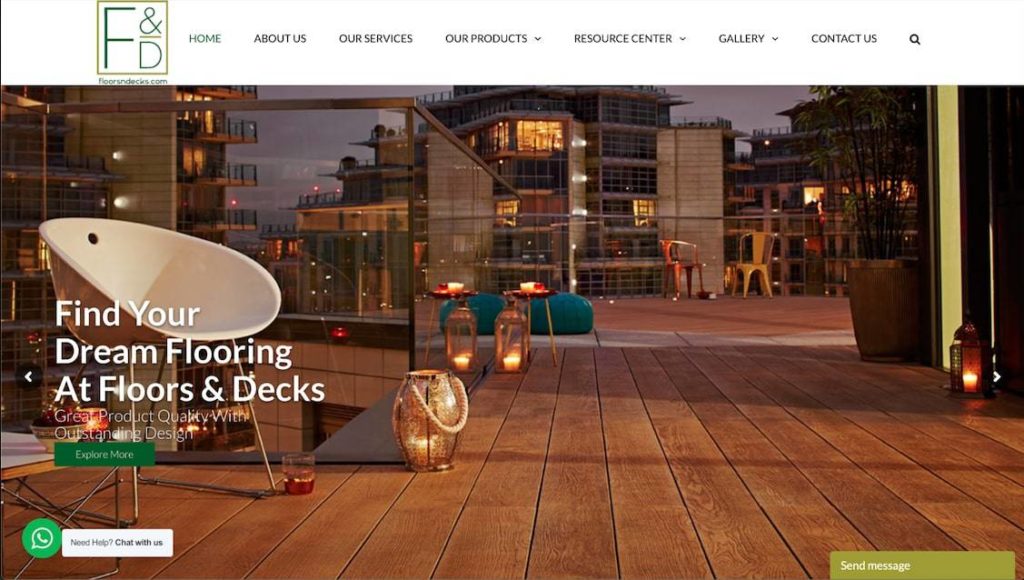 Test
Info
PRODUCTS
Millboard Decking

Einwood Decking

Timber Decking

Engineered Parquet Flooring

Solid Wood Flooring

Laminated Flooring

Luxury Vinyl Tiles

WEBSITE
https://floorsndecks.com
ADDRESS
Warehouse 8, Street 4 - Al Quoz 3 - Dubai - United Arab Emirates
CONTACT DETAILS
Phone: +971 4 343514

Fax: +971 4 3435149


E-mail: [email protected]

OPERATING HOURS
8:00 AM - 6:30 PM (Monday - Saturday)
| | |
| --- | --- |
| Criteria | Ratings |
| Variety | ★★★☆☆ (3/5) |
| Services | ★★★★☆ (4/5) |
| Pricing | ★★★★☆ (4/5) |
| Space | ★★★★★ (5/5) |
Floors N Decks (F&D) is a flooring store that was launched in 2002 by an already well-established flooring company called Nahar Group. Compared to its parent company, which specializes in wooden and laminated parquet flooring, F&D focuses on outdoor floorings.
When it comes to variety, however, F&D falls short of the wide range we expect from a flooring company.
The company offers only one type of vinyl flooring, which are luxury vinyl tiles (VLT). They do have VLTs in different colors and prints though, so there are some choices for you.
We'd like to point out that they focus more on outdoor floorings, such as decks for pools and gardens. This means that although they do specialize in installations and other services, they have more experience in outdoor floorings.
Regardless of this inclination, they still offer great service for installing indoor LVTs. When it comes to pricing, the customers we spoke to cited their fair rates.
In addition, F&D also offers wood floor refurbishment services, such as hardwood floor repair, wood floor sanding, wood floor staining, and varnishing.
Unfortunately, you do have to give them a call or schedule an appointment at their store to get a specific quotation to know more details about the flooring you will choose, and the rates of their products and services.
When it comes to customer service, the staff are very helpful and willing to answer any inquiries. Also, the company also has a team that helps customers pick the right flooring to match the look of their homes.
While they offer great customer service, we can't help but notice that there are other companies who provide a wider range of options for what might be a better price. F&D can be a good choice, but we honestly think they are a better… secondary option.
On the other hand, the company excels in providing a preview of how products will look when applied to surfaces in your home. F&D has two different showrooms, an outdoor one, which lets its customers see what their decks can look like on their lawns.
The second showroom features their vinyl flooring products as well, showcasing the designs on their walls. In addition, the company also has an indoor showroom that has a makeshift living room with its floorings applied to it.
Overall, we recommend checking out this company if you're looking for more options. With their stellar services, F&D certainly can help you achieve a great aesthetic look for your home!
Offers installation services
Good customer service
Limited variety
Requires appointments for more details
Customer Reviews:
Top Notch Services, Quality Floorings
"Does top notch work, high quality material and very professional.
Their employees are always on time, and worked hard to get the job done in a timely manner.They are not only professional at what they do but also reliable and dependable." – Sania Zehra
3. Zayaanco Trading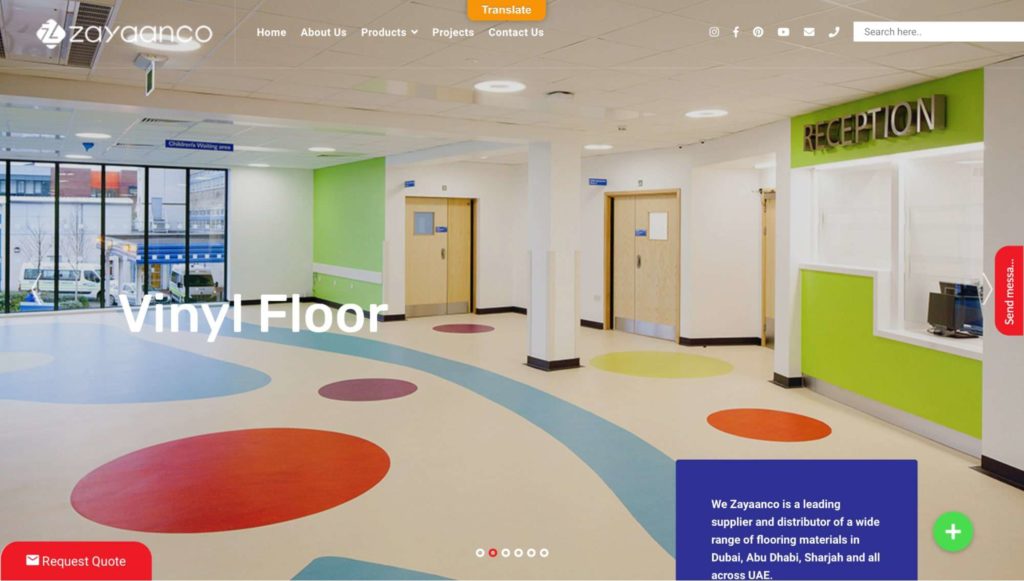 Test
Info
PRODUCTS
Wooden Floor

Vinyl

Sports Flooring

ESD and Conductive Flooring

Kitchen Floors

Wet and Safety Flooring

SPC and LVT

Carpets

Gym and Fitness [flooring]

Rubber Floor

WPC Decking

Underlays

Adhesive and Accessories

WEBSITE
https://www.zayaanco.com
ADDRESS
Maleha St - Industrial Area - Industrial Area 17 - Sharjah - United Arab Emirates
CONTACT DETAILS
Phone: +971 5555 6 4004


E-mail: [email protected]

OPERATING HOURS
9:00 AM - 6:00 PM (Monday - Thursday, Saturday)

9:00 AM - 12:00 PM, 2:00 - 6:00 PM (Friday)
| | |
| --- | --- |
| Criteria | Ratings |
| Variety | ★★★★★ (5/5) |
| Services | ★★★☆ ☆ (3/5) |
| Pricing | ★★★★☆ (4/5) |
| Space | ★★★★☆ (4/5) |
Zayaanco, established in 1997, is a flooring company that specializes in distributing and supplying such materials to both big and small clients.
When it comes to the variety of products, this company goes all out. Aside from the various types of floorings available, Zayaanco also offers different types of vinyl floorings.
The company sells homogenous vinyl flooring, heterogeneous vinyl flooring, and luxury vinyl tile flooring. These come in different colors, shapes, and designs– so customers will have a lot of options to choose from!
We noticed that compared to the other shops we've looked at, Zayaanco doesn't just provide Europe-exclusive brands. They also provide other flooring products from other countries such as the US, Canada, and Asia.
Variety, indeed!
When it comes to service, the company falls a little behind its competitors a tiny bit. Unfortunately, since the company focuses on supply and distribution, they don't provide installation services.
So if you get some flooring from this company, you have to consider installing it on your own or paying for another person or company to handle the application of them on your home.
The company does have a great team that assists clients and customers in picking the right designs and flooring types. In addition to this, what we like about them is that they have a hotline that's available 24 hours.
If you'd like to know about their rates, we recommend giving them a call or asking for a quotation from them. The limited amount of information on their website pushed us to call for further information, which is another point we didn't like about them.
According to the customers we've conversed with, the company, aside from its variety, does provide fair pricing that is comparable to other stores. So expect something around the estimated average pricing we've given in the earlier section as an estimate.
Aside from calls and emails, you can also visit a physical location to look at their products. Their store is actually pretty huge and has clear displays of their products.
There's also relatively enough parking space for customers, so it will be easy to travel to their place.
Overall, Zayaanco is definitely a place to check out if you're just starting to look out for possible options for your home. With its wide variety of floorings (especially vinyl), you certainly will look for quite a while!
24 hours hotline
Wide variety of products
No installation services offered
Limited information on website
Customer Review:
Professional Staff, Good Quality Products
"Honestly, I found their work to be very professional. The team continuously followed up with my requirements. After the order was made I also found a well established process, covering all details. Finishing up with the professional installation of the good quality product with required profiles added to the great experience. Highly recommend Zayaanco!" – Jobin Joseph
4. Zia and Sagor Carpets (Z and S Carpets)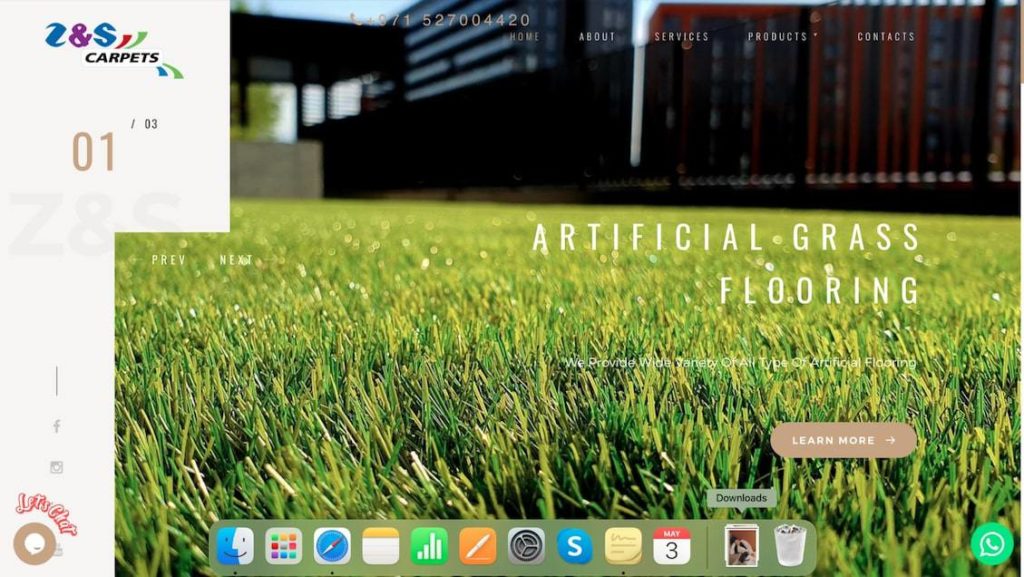 Test
Info
PRODUCTS
Artificial Grass

Vinyl Flooring

Gym and Sports Flooring

Deck Flooring

SPC Flooring

LVT Flooring

Laminate Flooring

Carpet Flooring

Wood Flooring

Rubber Flooring

WEBSITE
https://www.zandscarpets.com
ADDRESS
Warehouse No:5, Street No:2, Al Warsan -3, Dubai (UAE)
CONTACT DETAILS
Phone: +971 527004420


E-mail: [email protected]

OPERATING HOURS
10:00 AM - 11:00 PM (Saturday - Wednesday)

2:00 PM - 11:00 PM (Friday)
| | |
| --- | --- |
| Criteria | Ratings |
| Variety | ★★★★☆ (4/5) |
| Services | ★★★★☆ (4/5) |
| Pricing | ★★★★☆ (4/5) |
| Space | ★★★☆☆ (3/5) |
Zia and Sagor Carpets, also known as Z&S Carpets, is a flooring importing and exporting company. The company specializes not only in selling different types of flooring across the UAE, but they also export to Oman, Saudi Arabia, and Africa, to name a few.
We've noticed that the company mostly handles supply and distribution, aside from importing and exporting products.
When it comes to their product range, the company offers two kinds of vinyl flooring: regular vinyl flooring, and luxury vinyl tiles. These come in different colors and prints, so there's something to choose from.
What we noticed though, is that the selection isn't as many compared to the others we've observed. Certainly not the shop with the least amount of products sold, but also not one with the most number of choices.
The company offers its installation services for clients as well! In addition, the company also allows clients to order samples of their products online.
According to the customers we've conversed with, the samples are of high quality, and come with images that show how they look when applied in a room.
The company's staff are also very helpful to their customers and respond well to inquiries and concerns thrown their way. In addition, clients cite the great quality of work their fixing and installation team does for them.
On the other hand, when it comes to presenting information to potential clients, we've noticed that the company requires customers to give them a call or visit their shop to obtain more information about their products.
In terms of pricing, the company determines its rates after a quotation. Customers have cited their rates as fair and comparable to the rates of other shops, though.
Now, let's talk about space. It's not bad, but it's also not the prettiest we've seen.

The store looks more like a wholesale hardware store, with products displayed on shelves and stacked together. It's certainly more for picking up the flooring you want from them or checking to see how many items the company has.
Overall, Z&S carpets offer a wide range of vinyl flooring items to choose from. In addition, the company's quality service and response are factors as to why we picked them for our recommendation!
Detailed samples
 Wide variety of products
Delivers and installs flooring
Limited product information
Requires calling or visiting for more details
Customer Reviews:
Good Service
"We have had very good experiences with Zandscarpets. Kumar was our salesma. He helped us a lot.The fixing team was excellent. They were on time, polite and efficient. They carefully moved all the furniture and cleaned it completely after the job was done. We are very happy and hope the new mats will last as well as the service we received. at zandscarpets" – QMATIC GAMING, via Google Reviews
5. Carpetland LLC Dubai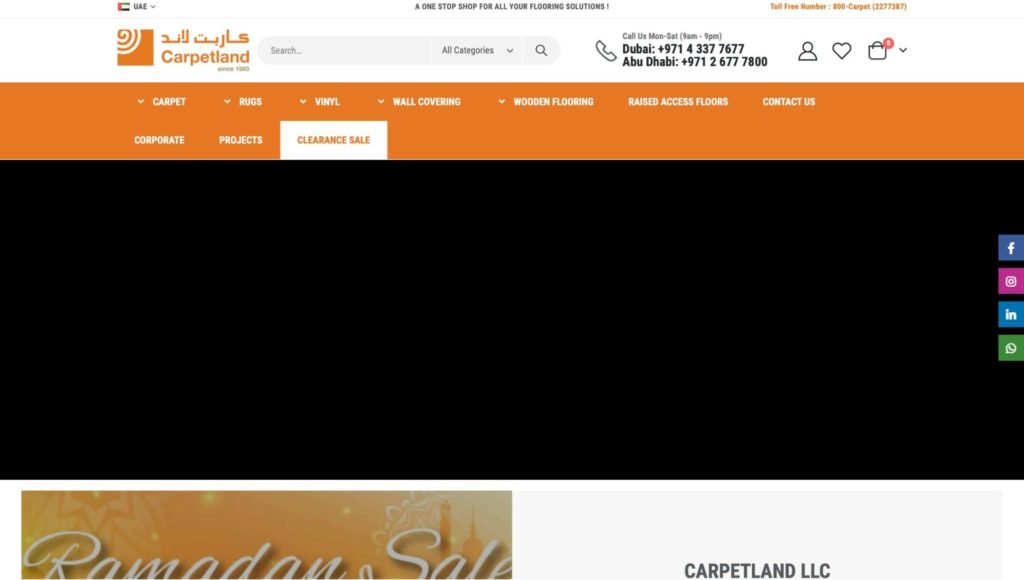 Test
Info
PRODUCTS
Carpet

Rugs

Vinyl

Wall Covering

Wooden Flooring

Raised Access Floors

WEBSITE
https://carpetlandme.com
ADDRESS
Pyramid Centre - Umm Hureir Road - Oud Metha - Dubai - United Arab Emirates
CONTACT DETAILS
Phone: +971 4 337 7677


E-mail: [email protected]

OPERATING HOURS
9:00 AM - 9:00 PM (Saturday - Thursday)

9:00 AM - 12:30 PM, 2:00 - 9:00 PM (Friday)

(Closed on Sundays.)
| | |
| --- | --- |
| Criteria | Ratings |
| Variety | ★★★★★ (5/5) |
| Services | ★★★★☆ (4/5) |
| Pricing | ★★★★☆ (4/5) |
| Space | ★★★★☆ (4/5) |
Now this company has been in the industry for a very long time. Carpetland, established in 1993, has been providing its products and services to big and small projects all throughout the Middle East.
This company does not play when it comes to providing a wide variety of products for their clients. While they do not have a lot of vinyl flooring types available, the company does make up for that with the options customers can choose from.
In addition, their vinyl flooring types can be used for different purposes– such as for sports or for regular indoor rooms. That's a plus!
We have noticed that Carpetland, true to its name, is inclined more to provide different types of carpets and rugs, though. This does not mean they're not proficient in flooring services though.
Speaking of services, the company also offers installations for their clients. The customers we've spoken to note that Carpetlandhas a team that listens and understands your needs and requirements.
Vinyl floorings from Carpetland range from 120 AED to 200 AED. Their price range is on the expensive side a bit, seeing that the prices start at a very high point.
We're thankful that their most expensive flooring retails for 200 AED though– that's at least on par with the average pricing!
If you ever plan to visit their in-store location, be prepared to be wowed by a nicely organized shop. Everything is easy and pleasing to the eye when you walk in.
There's enough space for you to walk around without compromising the way the products are displayed and organized.
Overall, we recommend Carpetland for its product variety and its customer service. Definitely put this store on your list when you're canvassing for vinyl floorings!
Product variety
Offers installation services
Expensive
Focuses more on carpets and rugs
Customer Reviews:
Great shopping experience, Helpful staff
"Wonderful experience shopping here for curtains, flooring tiles, carpets and interior lights. Staff is very humble and most importantly listen and understand your requirement from selection till installation, the service is just amicable. I highly recommend to must give a try you will find something that will fit your home and budget." – Geeky Sami , via Google Reviews
FAQs About Corporate Events in Dubai
---
And that's a wrap! Hopefully, our recommendations can help you look for the shops you can check out while looking for some new vinyl floorings for your home!
Looking for more home-related articles? Check out our tips on how to maintain your home here!