The 5 Best Auctions In Dubai
Auctions, alternatively called auction houses, are companies that manage the buying and selling of different assets. These products could come from other people, who use these establishments as mediators to find a buyer that can buy their item at the highest price possible.
Various types of assets can be found being sold in an auction held by these companies. Products include jewelry, artwork, furniture, manuscripts, and other trinkets that were appraised and studied.
If you're looking for a good place to get some interesting collectibles, we've got you covered. We're breaking down the top auction houses you can find in Dubai!
The Best Auctions in Dubai
The establishments featured in this list specialize in facilitating biddings of different objects. Some focus on artwork while others exclusively assist in selling construction equipment or automobiles.
We've assessed the companies we've included on this list based on the following criteria:
1. Christie's Dubai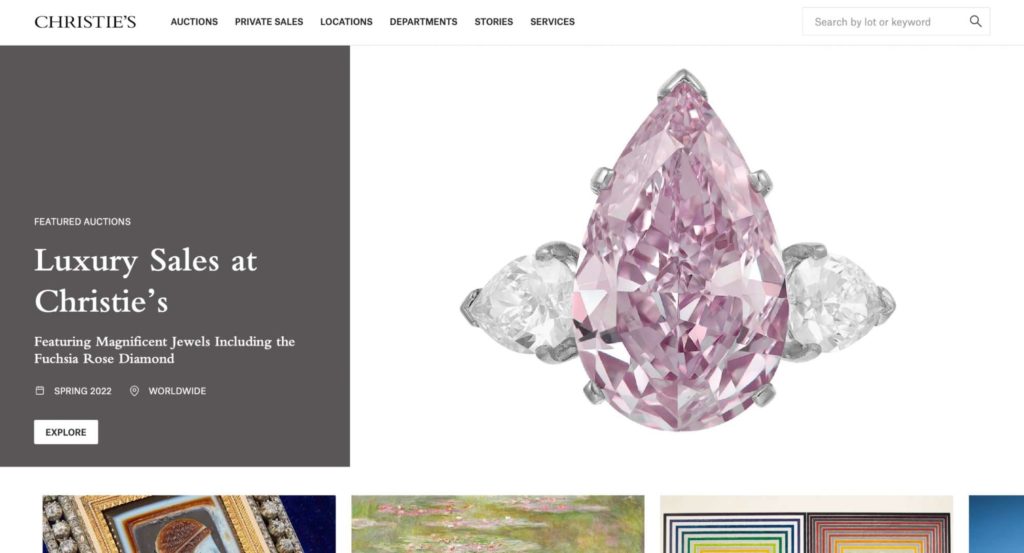 Test
Info
PRODUCTS
Artwork

Jewelry

Wine

Watches

Decorative Pieces

Books

Prints

Bags

Ceramics,

WEBSITE
https://www.christies.com
ADDRESS
Gate Village, Building 5, Podium Level Dubai International Financial Centre Dubai, UAE
CONTACT DETAILS
Phone: +971 (0) 4 425 5647

E-mail: [email protected]

OPERATING HOURS
10:00 AM – 6:00 PM (Sunday - Thursday)
| | |
| --- | --- |
| Criteria | Ratings |
| Variety | ★★★★★ (5/5) |
| Security | ★★★★★ (5/5) |
| Service | ★★★★★ (5/5) |
| Price | ★★★★☆ (4/5) |
| Payment Options | ★★★★☆ (4/5) |
Christie's Dubai is one of the many branches of the one of the most well-known auction houses in the world. A hub for unique and exceptional timepieces and artworks, the company provides amazing service and variety for auction-goers and collectors alike.
The company provides auctions on a variety of items, such as artwork, jewelry, decorative pieces, and timepieces. This branch holds biannual watch auctions, where they managed to sell a rare Patek Philippe watch for a whopping $1.6 million!
Christie's provides top-notch security to ensure that the identity and private information of their customers or bidders remain hidden from prying eyes. Their website and registration portal alone use well-developed cybersecurity protocols to ensure safety.
In addition, they also dispatch security personnel in their stores and have CCTV cameras that record footage for maximum security.
When it comes to service, the company provides different things. Aside from providing assistance before and after auctions, Christie's Dubai also provides workshops, exhibitions, panels, lectures, appraisals, and advising services for clients and potential customers.
What we like the most about these varying services is that it shows how hands-on they are in providing different amenities for clients. Whether it's for education (and by extension, attracting potential clients), or for artwork and item appraisals, their assistance shows that they are helpful and passionate about their work.
The company accepts payments in credit or debit cards and bank transfers. Unfortunately, we'd like to point out that there is a set limit for using cards, set at US$100,000 / HK$1,000,000 / €100,000 / CHF 100,000.
Of course, when it comes to bidding, we know that prices will get really high. When it comes to additional fees, this company does not ask for any.
Christie's also does not require an initial deposit before bidding, so that's nice.
Unfortunately, this company auctions off Non Fungible Tokens (NFTs). Basically, NFTs are units of data on a digital ledger that can be sold.
These tokens can be associated with photos, videos, and audio. However, aside from the legal uncertainties, NFTs yield high energy costs and large carbon footprints.
This comes as an effect of the transactions used in validating the ownership in these digital ledgers. If the environmental effect doesn't faze you, well, here's another drawback: they're also frequently used in art scams.
This doesn't mean that this company sells fraudulent items, mind you! The selling of these tokens is something we didn't like because they also become an establishment that encourages practices that further deteriorate our environment.
Credit/debit card limit
Sells NFTs
Customer Reviews
Great Display, Variety
"(Translated by Google) This is a great window for viewing and offering things that can be sold to people who would like it, as well as getting acquainted with the offers and collectibles offered. It is an excellent gesture. Thank you very much for managing this window." – Mahamood Saz
2. Ritchie Bros. Auctioneers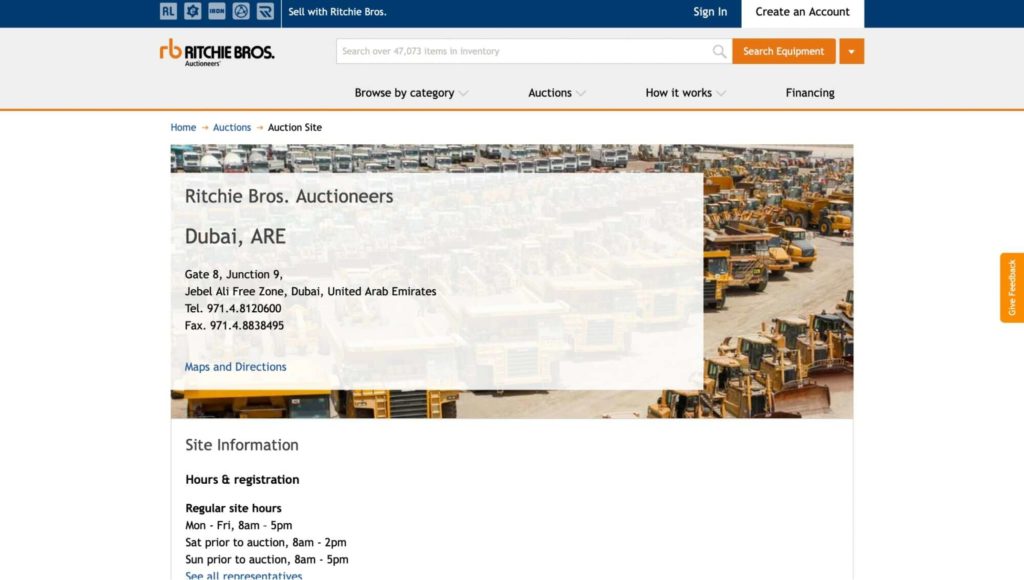 Test
Info
PRODUCTS
Heavy Equipment

Trucks

Construction Equipment

WEBSITE
https://www.rbauction.com/
ADDRESS
Gate 8, Junction 9, Jebel Ali Free Zone, Dubai, United Arab Emirates
CONTACT DETAILS
Phone: + 971 4 8120600

Fax: + 971 4 8838495

OPERATING HOURS
8:00 AM - 5:00 PM (Monday - Friday)

8:00 AM - 2:00 PM (Saturday, prior to auction)

8:00 AM - 5:00 PM (Sunday, prior to auction)
| | |
| --- | --- |
| Criteria | Ratings |
| Variety | ★★★★☆ (4/5) |
| Security | ★★★★★ (5/5) |
| Service | ★★★★☆ (4/5) |
| Price | ★★★★★ (5/5) |
| Payment Options | ★★★★☆ (4/5) |
If you're looking for used heavy equipment, trucks, and other construction equipment, this auction house is for you!
Initially established in 1958 in Canada, this international company opened a branch in Dubai in 1997 to provide its services to more customers in the country.
The global asset management and disposition company provides online and on-site buying and selling platforms. This variety of choices does give customers an easier time engaging in business with them!
When it comes to security, the company has a center that focuses on warding off scammers through its cybersecurity protocols. In addition, they also offer advice, such as what to look out for to avoid malicious people that use the company's name.
Unfortunately, we are not aware of their on-site security protocols. The company does not provide any information on the precautions they take to provide safety for their on-site customers.
What we like the most about this company is their variety. We have established that Ritchie Bros. Auctioneers specialize in heavy machinery and equipment.
This specialization does not hold them back from providing various products for auctions. They buy and sell a wide range of equipment for construction, mining, transportation, agriculture, and more!
As for their service, aside from buying and selling machinery, the company tries its best to provide staff assistance during auctions.
Unfortunately, we noticed that this assistance can be limited especially during busy days, such as auction days.
In terms of pricing, aside from how high auctions usually go, the company does not require additional fees, such as reservation payments. In addition, there is also no minimum amount set for bidding.
Customers can pay for the items they've successfully bid on via wire transfer or credit card. As far as we know, this company does not have a set bank limit for card transactions.
Variety of heavy equipment
No reserve payments
limited staff assistance during auctions
No information on on-site security protocols
Customer Reviews:
Great Staff
"Great and helpful staff, good service in auction dates, if you are looking for construction machinery, RB is the best." -Haval Darwesh, via Google Reviews
3. Emirates Auction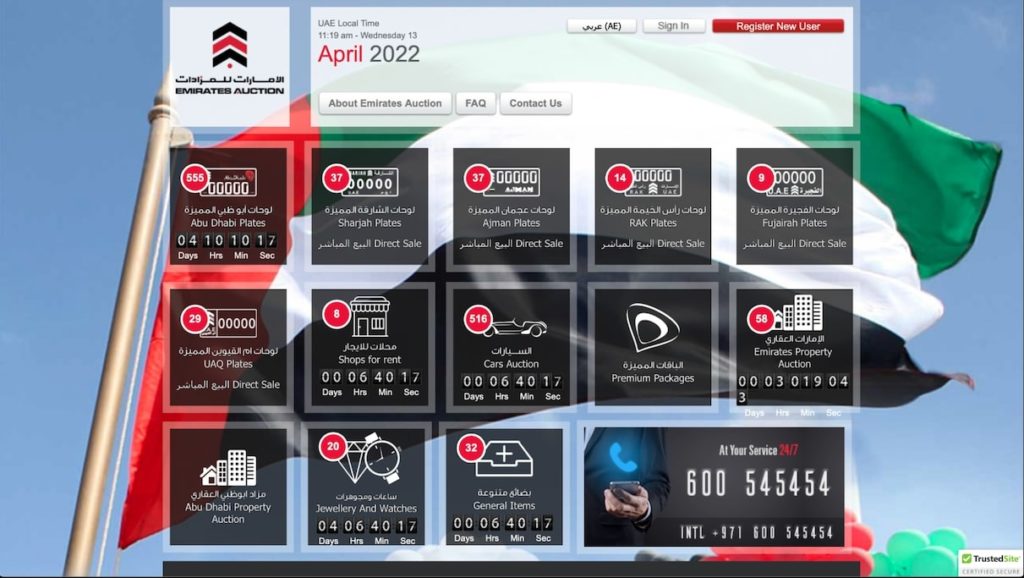 Test
Info
PRODUCTS
Vehicle License Plates

Automobiles

Real Estate Properties

VIP Mobile Numbers

Asset Liquidation

Jewelry

Heavy Machines

Time-Sensitive Items

Construction Equipment

WEBSITE
https://www.emiratesauction.com/en/default.aspx
ADDRESS
Ras Al Khor, Industrial Area 2, Opposite Auto Market
CONTACT DETAILS
Phone: +971 4 331 3333

Fax: +971 4 320 3333

E-mail: [email protected]

OPERATING HOURS
9:00 AM - 3:00 PM (Sunday - Thursday)

9:00 AM - 12:00 PM (Friday)

10:00 PM - 1:00 AM (Sunday - Friday, Nightshift)
| | |
| --- | --- |
| Criteria | Ratings |
| Variety | ★★★★★ (5/5) |
| Security | ★★★☆☆ (3/5) |
| Service | ★★★☆☆ (3/5) |
| Price | ★★★★☆ (4/5) |
| Payment Options | ★★★★★ (5/5) |
When it comes to local auction houses in Dubai, Emirates Auction LLC is one of the well-known companies that provide various auctions or bids on different products.
Established in 2004, the company specializes in managing bids on different items such as automobiles, vehicle license plates, real estate, and properties, asset liquidation, VIP mobile numbers, jewelry, time-sensitive items, and heavy machinery, plant, and construction equipment.
So when it comes to variety, Emirates Auction definitely has it!
The company provides on-site auctions. In addition, it also facilitates online bidding through its mobile application which can be installed from the official app stores for mobile devices.
When it comes to security, what we observed is that the company is meticulous in maintaining the accounts of registered customers. Instances such as resetting passwords need to be forwarded to staff instead of a bot instantly handing in new password codes.
Aside from this, the company also utilizes companies such as McAfee to provide cybersecurity services for their customers. Unfortunately, we are not that aware of the security protocols they employ for on-site biddings.
According to the customers we've talked with for this review, we get a lot of mixed opinions about the company's customer service. While their online support is impeccable, clients had issues with the on-site staff that was in charge of taking care of the customers after they purchased in the auction.
Some report that the staff made their bidding experience easier. These mixed reviews are something that we'd like you to take note of while engaging with this company.
This means that your experience with the company may vary, and that's not a comforting thought.
When it comes to payments and prices, the company, unfortunately, requests a security deposit. This is computed by getting the 20% of the price of the item you'd like to buy.
That's a heads up for you in case you're planning to bid for an item. You need to shell out money first in advance, sadly.
The deposit is refundable if you didn't get to purchase the item, or don't have any withstanding payments due to the company.
The company accepts payments via credit card, cheque, or bank transfer. We like the variety of options!
Variety
Multiple payment methods available
Security deposit required
Limited customer service
Customer Reviews:
Perfectly Organized
"Everything was perfectly organised. Plus the end-to-end process itself was very smooth. Thanks to the helpful staff who made everything easy. **" – Ahmed Labhan
4. Artiana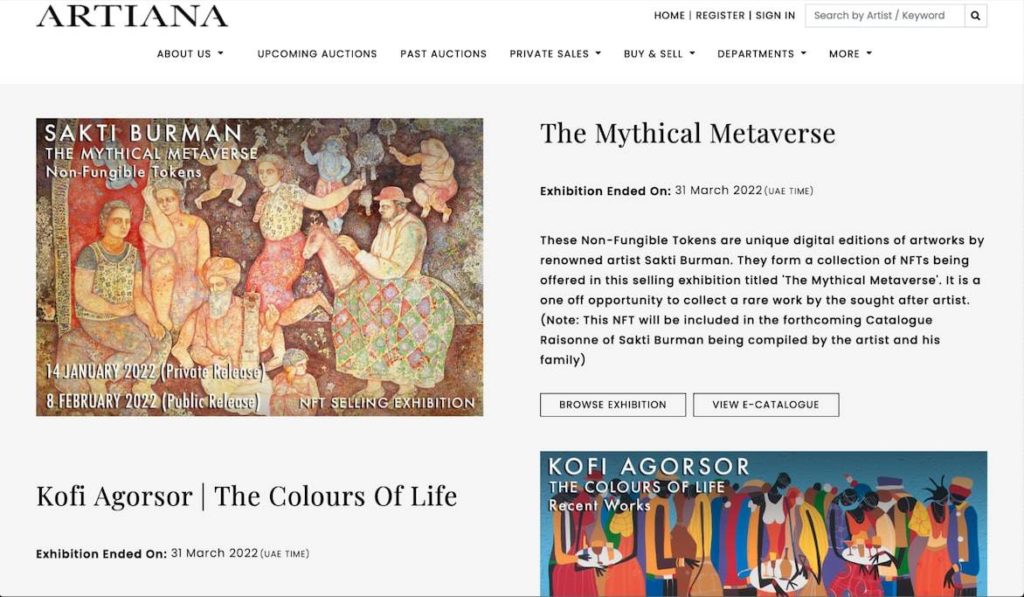 Test
Info
PRODUCTS
Oil paintings

Sculptures

Other Artworks

WEBSITE
https://artiana.com
ADDRESS
DIFC: P2-22B, Park Towers, DIFC, Dubai, UAE.Downtown: 903, The Metropolis, Business Bay, Dubai, UAE.
CONTACT DETAILS
Phone: +971 55 815 3030

E-mail: [email protected]

OPERATING HOURS
10:30 AM - 5:30 PM (Saturday - Thursday)
| | |
| --- | --- |
| Criteria | Ratings |
| Variety | ★★★☆☆ (3/5) |
| Security | ★★★★★ (5/5) |
| Service | ★★★★☆ (4/5) |
| Price | ★★★★★ (5/5) |
| Payment Options | ★★★★☆ (4/5) |
Artiana is an online auction platform that allows on-site viewing of available artworks and other related exhibitions. Established in 2016, the company has been putting different artworks by leading contemporary artists from South Asia on sale.
When it comes to variety, Artiana focuses more on paintings. Aside from artworks on canvas, they also manage auctions and exhibitions on sculptures.
This small amount of variety does not discount the company's service, though. If you are looking for an auction house that exclusively auctions off oil paintings and other artworks by artists from South Asia, we recommend looking into this company.
Since the company solely holds auctions online, they focus their security protocols in making sure that the information their customers provide will not reach malicious people.
In addition, they offer a guarantee considering the authenticity of the products they sell. Called the Artiana Guarantee, this lets customers sue the company should the items they bought from them be fake or not the quality as advertised.
Artiana offers varying services for their customers aside from auctions. They let customers actually visit their site to look at the products to be placed at an auction.
Aside from that, they also offer appraisals, insurance valuations, and storage for customers. They also have a client service center that caters to the concerns and inquiries of their customers.
When it comes to pricing and payment options, the company, in addition to whatever the winning bid would be, requires its bidders to pay a reserve price beforehand. There is no transparency as to how this would be computed, only that it would be always equal to or lower than the lowest estimated price for an item.
The company accepts payments through bank transfers, and credit or debit cards. No limiting amount has been set for credit or debit transactions.
Overall, we think that Artiana provides excellent services and an excellent online platform for auctioning timeless art pieces. Their focus on South Asian artists also provides a new way for people to appreciate the artworks from that region.
allows lot viewing before auction
Customer service
Reserved price required
Online bidding only
5. Euro Auction FZE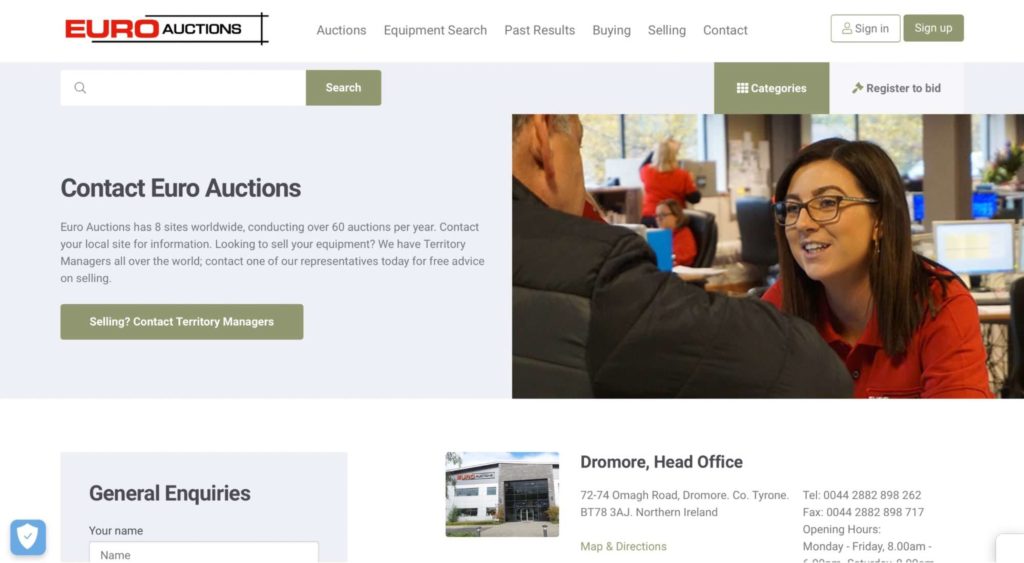 | | |
| --- | --- |
| Criteria | Ratings |
| Variety | ★★★☆☆ (3/5) |
| Security | ★★★★☆ (4/5) |
| Service | ★★★☆☆ (3/5) |
| Price | ★★★★☆ (4/5) |
| Payment Options | ★★★★☆ (4/5) |
Euro Auctions was established initially in Northern Ireland. It was in 2017 when they opened a branch in Dubai and started buying and selling equipment in the country.
The company, when it comes to variety, tends to lean on machinery and equipment. They hold auctions on industrial plant equipment, construction equipment, and agricultural machinery.
While not a lot of variety, they still strive to deliver products to their customers.
When it comes to security, the company makes sure to take care of the information they take from their customers during registration. Security personnel and staff are dispatched during auctions as well.
We've conversed with some of the customers of this company, and when it comes to service, we have obtained a mixed bag of opinions.
According to some, the waiting time to get the official sale documents of a purchase takes hours. The said customer waited for almost a day to get the documents he needed.
Some, on the other hand, report good and efficient service during auctions. Those two varying opinions are something we advise you to consider.
In addition, we recommend— should you proceed to attend and register for an auction in this company, to bring a lot of patience with you. Just in case you need to wait long.
When it comes to pricing and payment, registered bidders are required to pay a deposit, which determines your max credit limit during auctions. The minimum deposit that can be given is £/€/$ 1,000, which gives the bidder a maximum credit limit of £/€/$10,000.
The company accepts payments in different avenues. Customers can pay via debit card, online payment services, bank transfer, or cash.
multiple payment methods
Credit limits
Deposit required
Customer service
Customer Reviews
Great Selection
"Great auction company! Always has a good selection of equipment and vehicles. Excellent customer service!" -Matt Hostetter
FAQs about Auctions in Dubai
---
There you have it, our recommendations of the best auction houses in Dubai. We recommend inquiring and browsing through the auction place that specializes in obtaining collections that include your item of interest.
Maybe you're going through these auctions to find the right gift for yourself or for a special person. If so, check our gift-giving guide here!